OK so you want me to hold this cable with my right hand?
Si, and if you feel you're going too fast, just pull down.
And I just sit like normal the whole time?
Si!
And what do I do with my left hand?
You just hold onto the cable here, like this.
And if I go too slow? What if I pull too hard? Is it OK if I start twisting around? What should I look at?

Chica, you ask too many questions. Vamos!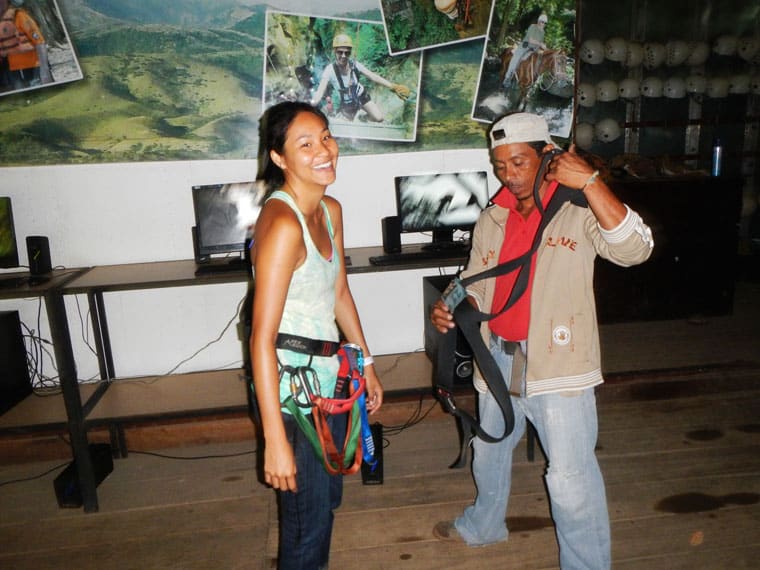 Here I am, about to go on my first extreme ziplining in Costa Rica. I had gone ziplining once before in Nicaragua years ago, but that one was a piece of cake compared to the ones I've done in Costa Rica. As my guide was hooking, clipping and snapping all these random doodads and thingamabobs to my harness, I began to question exactly what did I sign up for. Yes it was a canopy tour, but it definitely seemed more intense than the first one I did!
This is because Costa Rica takes their ziplining tours very seriously, even coming up with fun names for certain positions and creating canopy tours in far fetched places. And they have to be, as they're known for establishing the original ziplines, the first in the world.
Want to zipline over a 230 foot waterfall? Or towards a 5,500 foot volcano? Or over the ocean? You can do it all in Costa Rica.
So if you're on the fence about this unique adventure activity, let me convince you why you should go ziplining in Costa Rica. After 4 years of traveling and 10+ something canopy tours later, we're still excited by every single zipline we go on!
Why You Have to Go Ziplining in Costa Rica
It's One of the Essential Experiences and Best Adventures
Ziplining and Costa Rica go hand and hand, that's a fact. It's one of the essential experiences to have when traveling in the country! If you don't zipline… well it's basically like visiting a destination and not experiencing what it's known for.
If you go to Canada, you have to taste maple syrup. Visit Las Vegas and you gotta gamble (at least a little bit). Travel to Thailand and temples are mandatory. You get the idea.
Visit Costa Rica and ziplining is probably the number one activity everyone, both foreigners and locals, will tell you that you have to do. If you've already done a bit of research, I bet you anything that you've read about how awesome ziplining in Costa Rica is and that it's one of the top adventure activities.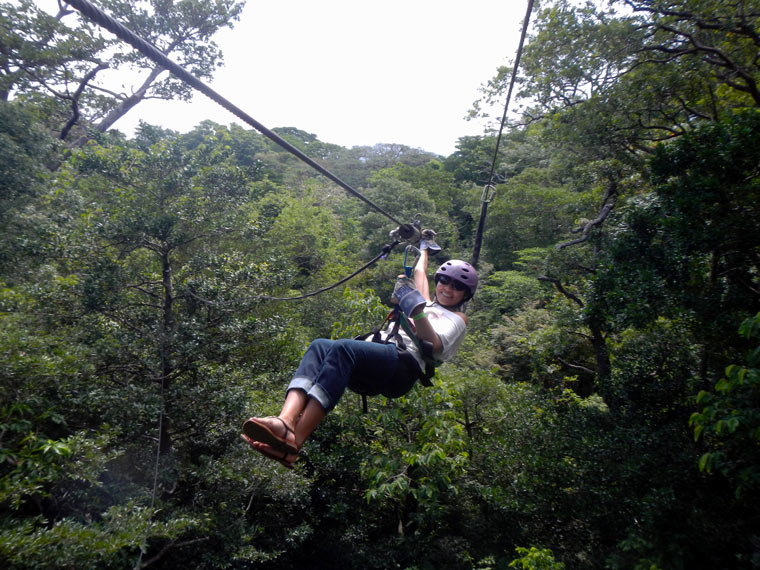 To Conquer Your Fear
I know not everyone is keen on getting strapped to a cable and tossing themselves 100 feet off the ground to zip through trees. In fact, a friend who visited me is afraid of heights but she realized that if she didn't go ziplining, she would be missing out on an amazing adventure in Costa Rica. She didn't want to be sitting around for 2 hours while we went flying through the jungle!
We cheered her on as she prepared for her first cable and though she wasn't quite convinced after the first two lines, the excitement on her face and huge grin by the end of the tour said it all.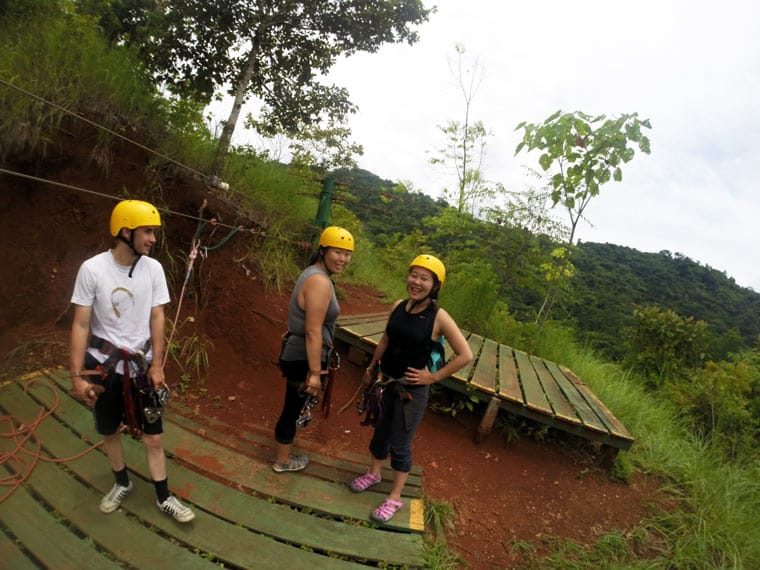 Even if it's something you'll "do once and never again" you can pat yourself on the back that you took the plunge and conquered your fear. And you can now tell the awesome story of how you ziplined in Costa Rica – and that's not something people get to do every day.
Not every canopy tour is the same in Costa Rica. There are ziplines for every excitement level and you don't have to go on the most extreme one. There are some that aren't super high or long, so they're perfect for first timers. Actually, all of my friends who were initially scared of ziplining loved it and said they'd do it again in a heartbeat!
It's a Great Family Activity
I've seen 7 years old fearlessly hop on a cable and go upside, eagerly cheering their own parents on. I've seen teenagers hesitantly looking down, doubting if they made the right choice to zipline. Then turning to their mother and father for comfort and encouragement. I've seen brothers and sisters congratulate each other as they land on the final platform of the tour, fiercely high fiving and hugging one another. And only an hour earlier, they were squabbling and bickering before the tour even started.
Ziplining is an excellent activity for families, in fact I'd say it's one of the top. It's an activity that brings everyone together as they must lean on each other for support, bonding them over the adrenaline pumping adventure they embarked on in Costa Rica.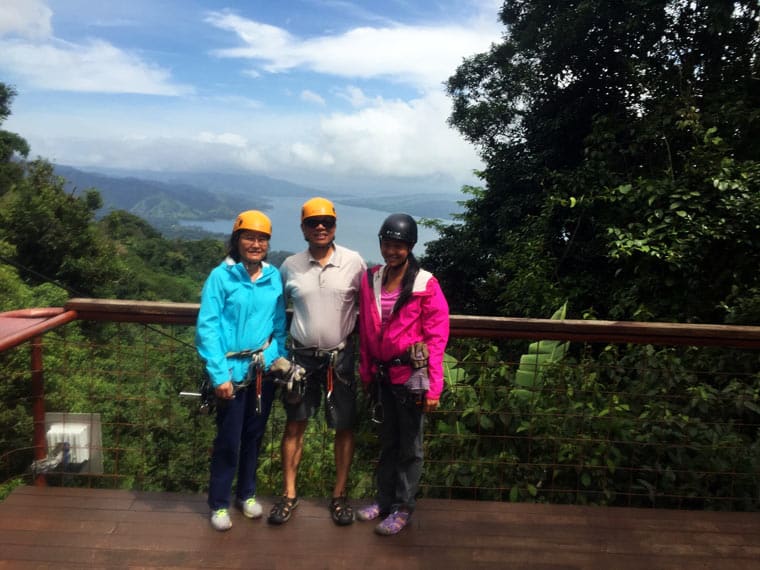 I'll never forget one canopy tour we did in Tamarindo. It was just Yeison and I and a father and his young son, perhaps around 6 or 7. It seemed like this was their first vacation together and the son was scared as we climbed up to the first platform, almost to the point where he looked like he was going to turn around and sprint home. But his father calmed him down, stroking his hair and reassuring him it was going to be great. He said his son really wanted to go ziplining in Costa Rica, but got scared when he saw the steps. The guide let them sit together on the first zipline and by the time we saw them at the last platform, they were different people.
They were laughing rambunctiously, the young boy jumping up and down with a giant smile. He kept shouting, "Did you see me Dad? Did you see me fly?" (much like Squirt in Finding Nemo after he swam back to the East Australian Current). His father exclaimed "Yes! You were amazing!" as he scooped him up in his arms and kissed him on the forehead. It was an incredible moment to witness, the strengthened bond between father and son thanks to ziplining.
It's Damn Fun
Do I even have to explain this one? Forget the cables, forget the "what if's", forget the fact you're 200 feet off the ground. You're in Costa Rica! You're going to experience something unique and different – you're going to soar through the trees! See the world from a different perspective! Be a bird!
Ziplining is more than being attached to a cable and allowing gravity to pull you to the other side. It's about letting your inner child free, letting yourself laugh and cry and feel the adrenaline coursing through your veins. It's about getting an unforgettable view!
Like I mentioned earlier, Costa Rica has a ton of different ziplines. We've gone upside, Superman (no hands), super chica (two people) and ziplined a 1 kilometer cable and over the rain forest. We've even ziplined in the dark! And it is fun every single time. Damn fun.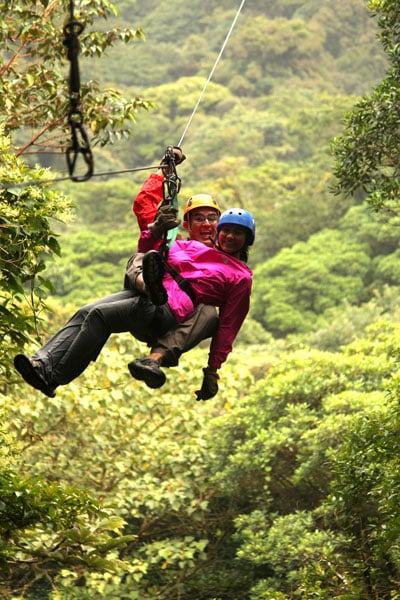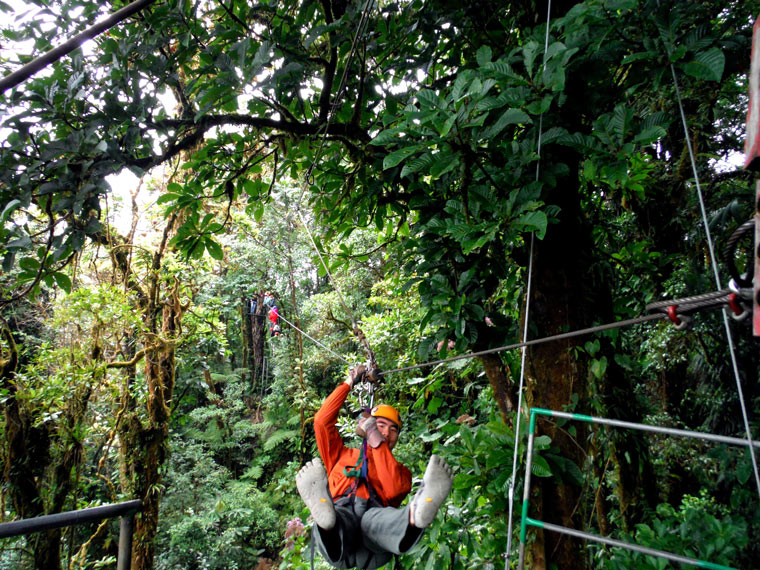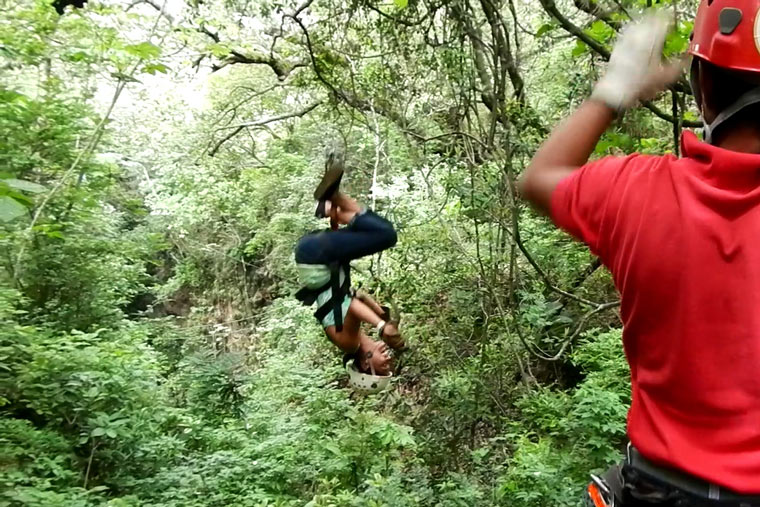 Pictures can only say so much. Watch our videos for proof.
Our favorite canopy tours we've done so far are SkyTrek and Selvatura Park and there are a bunch of smaller ones. The best areas for ziplines are Guanacaste (has the most), Arenal and Monteverde (where the original canopy tour is).
Tips for Ziplining in Costa Rica
Do not wear flip flops! I wore flip flops to a canopy tour once and worrying about my flip flops and intensely scrunching up my feet took away a lot of the fun.
If you have a GoPro, bring it and the helmet mount. Majority of the zipline companies have helmets with the clip so you can record the whole experience.
Don't put anything in your pockets and if you do, zip them up. Don't wear a hat.
If you go upside down, hold onto your glasses!
Listen to the safety instructions the guides give at the beginning so you know how to brake, go faster and what to do if you get stuck.
Read about other fun activities in Costa Rica!