Welcome to Mytanfeet Costa Rica Travel Blog!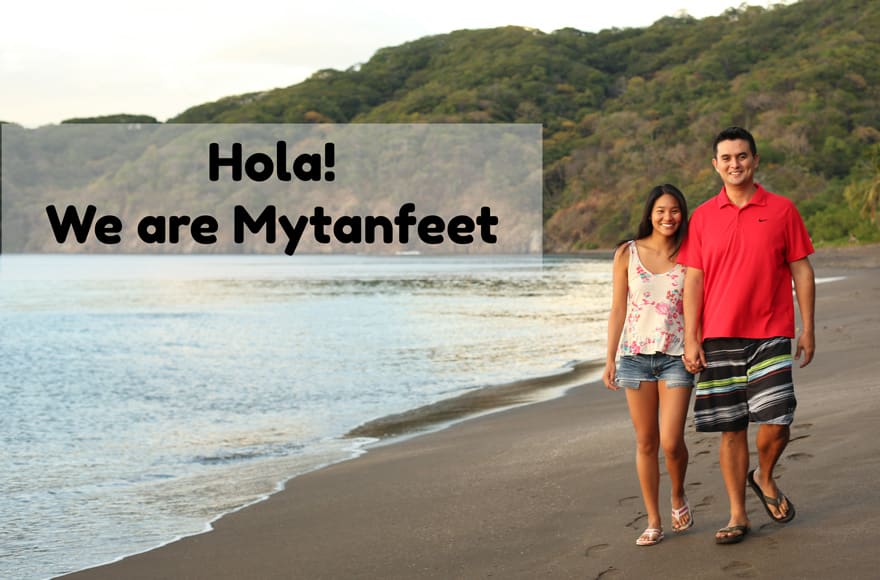 Thanks for checking out our Costa Rica Travel Blog and we're happy you want to know more about us!
Who are we?
We are Yeison and Samantha, a married couple living in Costa Rica. Yeison (pronounced like Jason) is Costa Rican, born and raised. Samantha moved to Costa Rica in 2012 from the United States and ever since then, we have been traveling around Costa Rica and sharing our stories, tips and experiences on our Mytanfeet blog. It's a lot of fun and we're very lucky to have been doing this for many years!
About Mytanfeet Costa Rica Travel Blog
Mytanfeet is a travel blog and resource where you will find all sorts of information on traveling in Costa Rica. We also share some stories of our life in Costa Rica.
Why we started Mytanfeet Costa Rica Travel Blog
When Samantha first moved to Costa Rica, she started this Costa Rica travel blog as a way to document her new life abroad but it grew into much more than just a journal. Back in 2012, there weren't many travel blogs about Costa Rica. There weren't even Instagrammers. So the more we wrote blog posts, made videos and posted photos the more our blog grew.
We love Costa Rica and our goal is to help everyone fall in love with it, especially Yeison. He wants everyone to have a wonderful time in his country and discover pura vida!
We wanted to share our stories and tips from not just a foreigner, but also a local point of view which we think sets us a bit apart from other blogs and websites. Yeison has worked in the tourism industry for over 20 years and has traveled extensively in Costa Rica. He loves sharing his insider local knowledge so people can experience his country a little bit like a local. We both know what to look for since we travel internationally quite a bit as well.
Ever since the blog started, we haven't stopped blogging or traveling. We love traveling, we love Costa Rica and we love blogging so we want to share that love with all our readers and inspire them to take a life-changing trip to Costa Rica one day.
What you can find on this Costa Rica travel website
If you're looking for a Costa Rica travel blog that's chock full of information but not written like a dry guide book, this is the site for you. On the blog, you'll find all of our personal stories and experiences traveling around Costa Rica. We produce our own videos, take our own photos and write our own observations and recommendations. We hope you enjoy reading them as much as we enjoy writing them!
Costa Rica COVID-19: Latest information about the coronavirus situation in Costa Rica.
COVID-19 Costa Rica travel: Entry requirements, what's open, what's closed, tourist restrictions and more.
Costa Rica destinations map: We put together a map with all our guides and articles.
Costa Rica restaurant map: We know finding a place to eat is one of the toughest things when traveling internationally. Use our map for our personal recommendations!
Guides. We write a ton of guides and you will find all our personal recommendations in them. Find our guides to popular destinations like Tamarindo, Monteverde, La Fortuna, Manuel Antonio and Jaco.
Costa Rica travel tips. Everything from what to pack, traveling safely, traveling on a budget, renting a car and more.
Adventure. You can read all about our favorite adventures in Costa Rica like white water rafting, canyoning, and ziplining.
Itineraries. We plan a lot of trips for our families and friends and this is what Yeison did for many years when he used to work for a travel agency.
Discounts. We have created exclusive partnerships with companies in Costa Rica to give discounts to our readers on hotels, tours and transportation. Click here to get all our Costa Rica travel discounts. We want to help you not just have a great time in Costa Rica, but save some money doing so!
Our main goal for the blog is to help visitors experience Costa Rica with confidence so that everyone has a fun, safe and worry free time in Costa Rica. We write every single one of our posts with that in mind.
What sets up apart from other Costa Rica travel blogs
There are a lot of influencers and blogs about Costa Rica now and some of them have good information, some don't. But something most don't have is the local perspective since they are all mostly written by foreigners who visit Costa Rica once or twice a year or are here temporarily. Nothing wrong with that of course but since Costa Rica is such a touristic country, it can be hard to find that local flavor with continuously updated information that doesn't sound like regurgitated or copied information.
Since we live here and travel throughout Costa Rica all the time, we're always updating our blog posts with the sole purpose of helping our readers in mind. Additionally, we love seeking out the lesser known places and sharing that with those who enjoy off the beaten path adventures. We are also always updating our blog posts and guides to bring you the most updated and relevant information possible. You will find a lot of local tips and perspectives on our site that you won't really find on other blogs.
So we decided to focus heavily on bringing that Costa Rican flavor to our blog since we want to make sure every visitor leaves with amazing memories and experiences of Costa Rica.
We constantly update Mytanfeet to bring you the latest information as we personally visit the places ourselves and add more personal tips, more recommendations and more stories every single day.
This project is a dream come true for us and because Costa Rica is our home, Mytanfeet will be around for a long time. Mytanfeet is a registered Costa Rican travel consulting company based in Guanacaste.
Join Our Mytanfeet Family!
We love hearing from our readers so feel free to connect with us via our social media channels such as Facebook and Instagram. You can also join the Mytanfeet mailing list to get all our articles straight to your inbox and be first to know about our new deals, partnerships, discounts and other news!
For advertisers or businesses, you can check our Work with us page to learn more.
We also rescued two dogs and you can read about our first dog, Patacon here!