Before Arenal and La Fortuna became a leading tourist destination in Costa Rica, it was a vast farming area. Blessed with such fertile and rich soil, locals raised livestock and grew crops as their livelihood. But everything changed when Arenal Volcano erupted and people attracted to the powerful volcano that made international headlines back in 1968 started to visit the area.
As Costa Rica become a top eco-tourism country, one family decided to preserve the 600 acres of land given to them near Arenal to maintain the rich biodiversity living within. This ambitious project grew immensely over the next decade and is now one of the top attractions in the Arenal area: the Mistico Arenal Hanging Bridges.
The concept of the Mistico Arenal Hanging Bridges is simple: To protect flora and fauna while offering visitors a safe environment to discover the rain forest in a sustainable way. So if you're looking to experience the famous hanging bridges of Costa Rica or want a nice hike in Arenal to learn about the rain forest and see wildlife, the Mistico Arenal Hanging Bridges is the best place to go.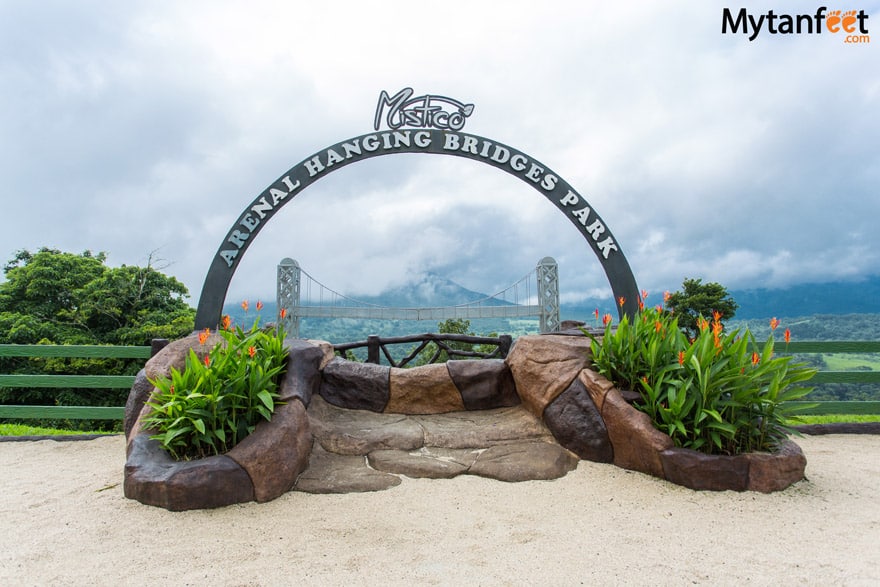 Mistico Arenal Hanging Bridges Map
Though this park now has more activities other than hiking, the hanging bridges are still the highlight. The 3.2 kilometers (2 miles) hanging bridges trail has 10 regular bridges and 6 hanging ones with the tallest standing at 148 feet. The bridges allow for spectacular views of the rain forest and Arenal Volcano.
Here is a map of the Arenal hanging bridges trail.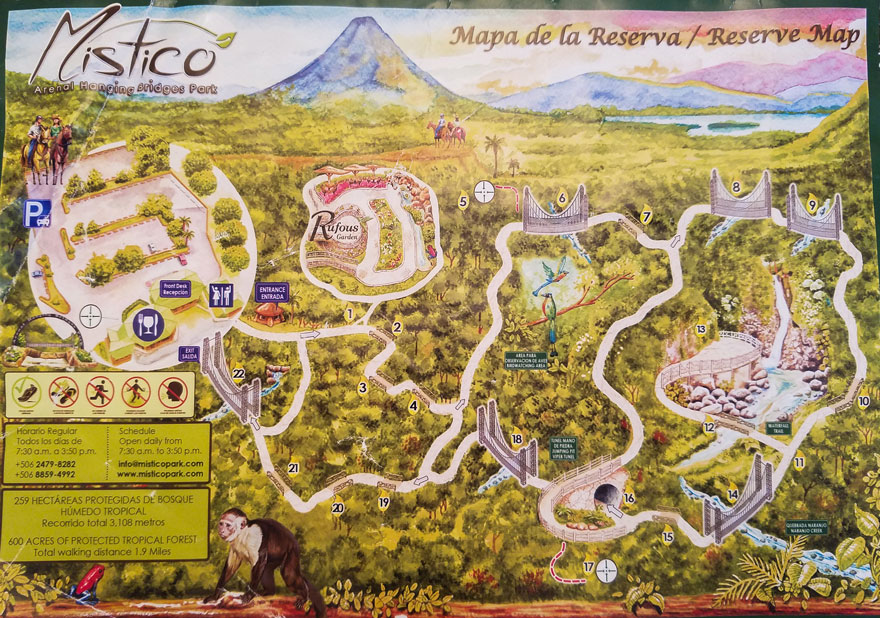 Arenal Hanging Bridges Trail
The hanging bridges trail is extremely well maintained and the bridges are in excellent shape so this is a hike for all ages. It is not too difficult: no steep hills and not many steps.
We went on a guided hike of the Arenal hanging bridges so that we could learn more about the rain forest and the Arenal area. From the moment we started walking, our guide stopped and pointed out a myriad of different flowers and plants we've never seen before.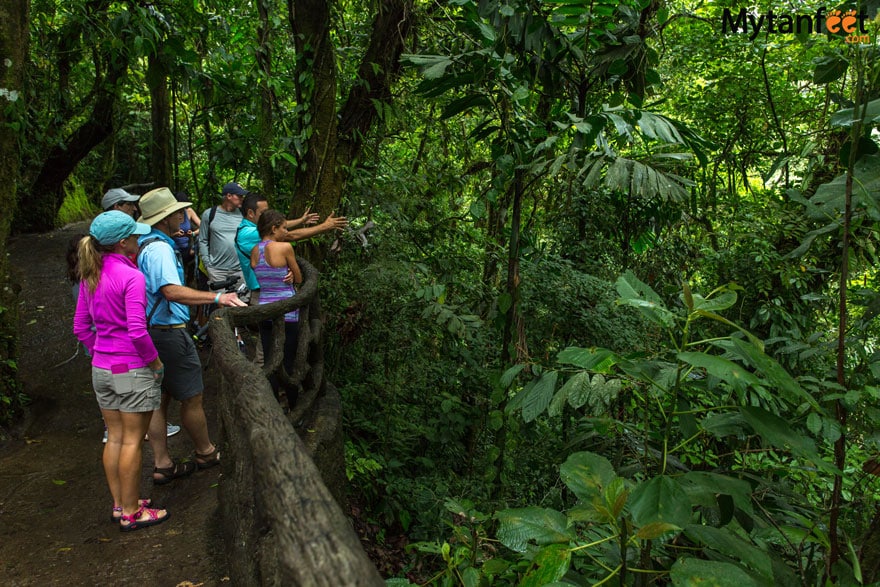 The trail's design makes you feel like you're walking deep into the rain forest, rather than in a well maintained park as you're immersed in a sea of deep green and surrounded by a symphony of cicadas, tropical birds and monkeys.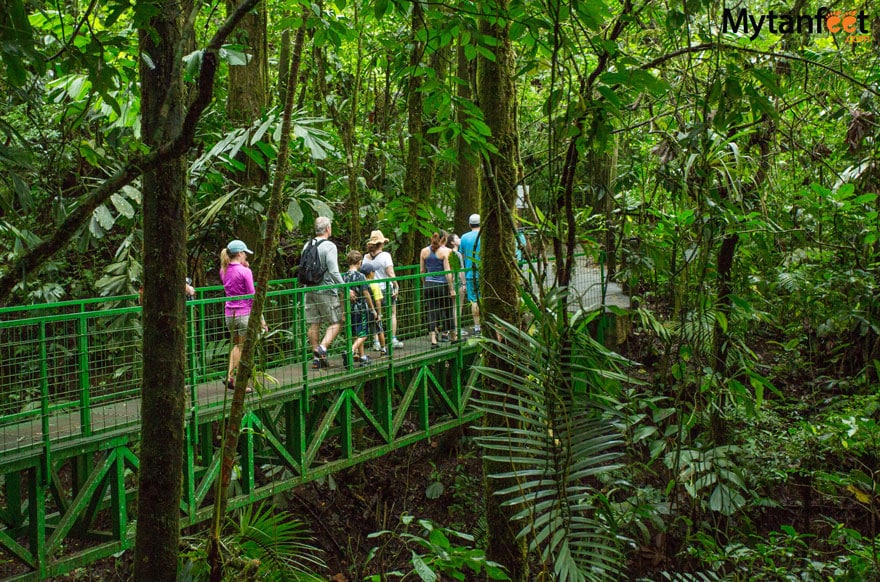 The tropical rain forest in the Arenal area houses a plethora of wildlife and the hanging bridges are an excellent way to see them.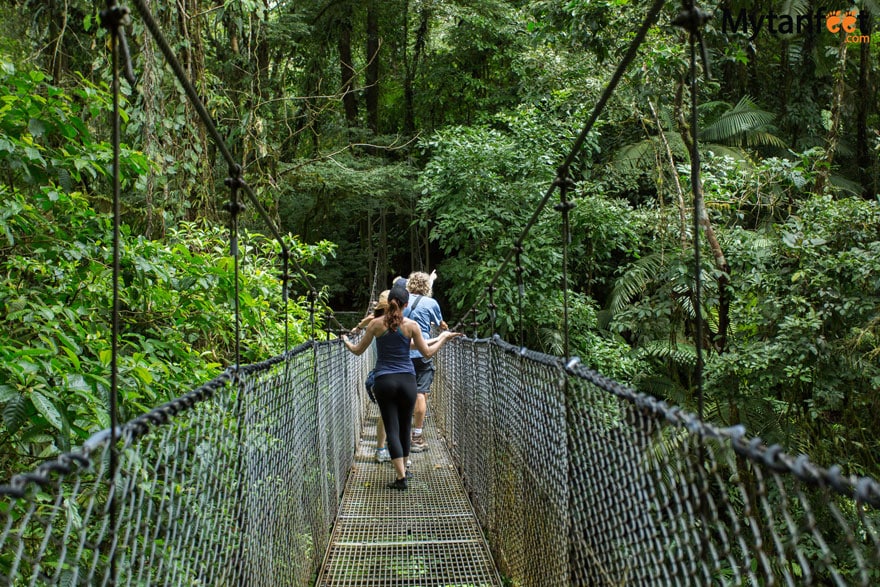 Birds such as toucans and mammals like sloths and monkeys are just a few of the many creatures you can run into on the hike. We were extremely lucky to see several animals thanks to the sharp eyes of our guide.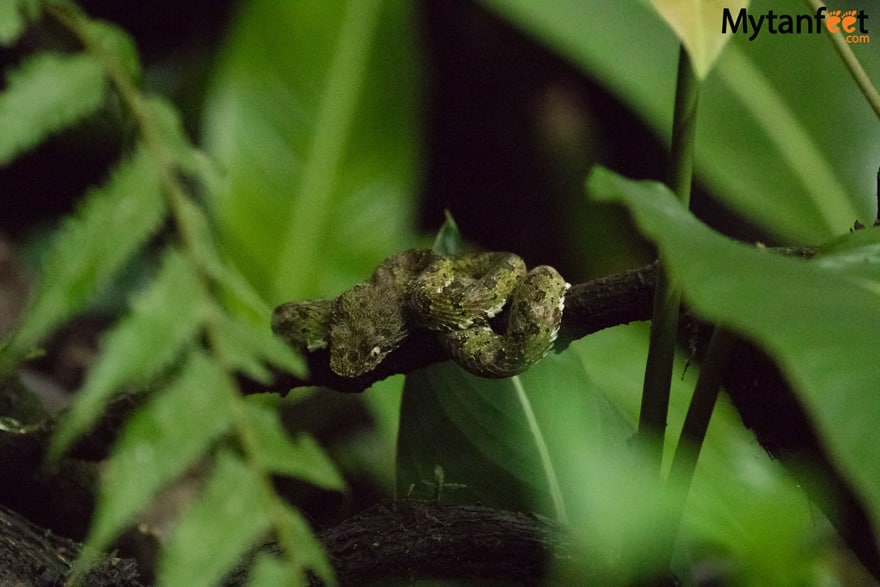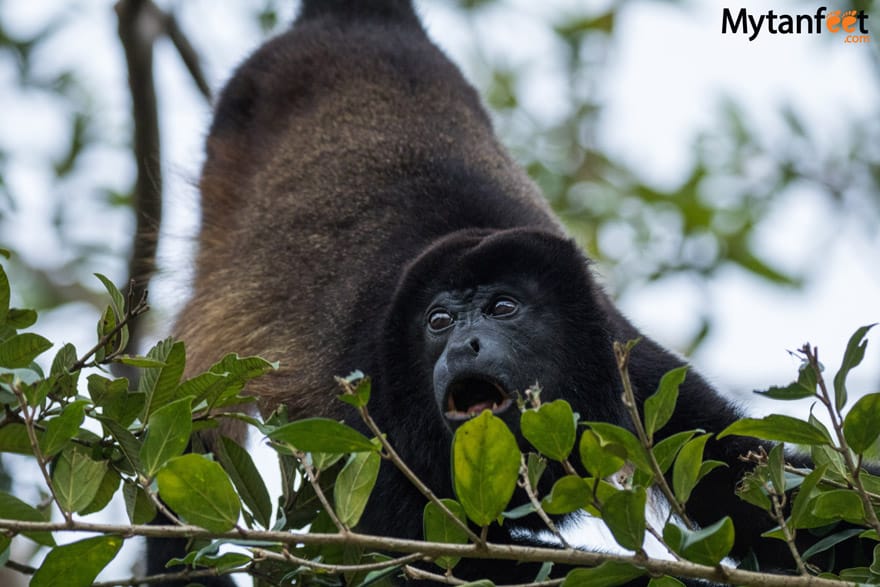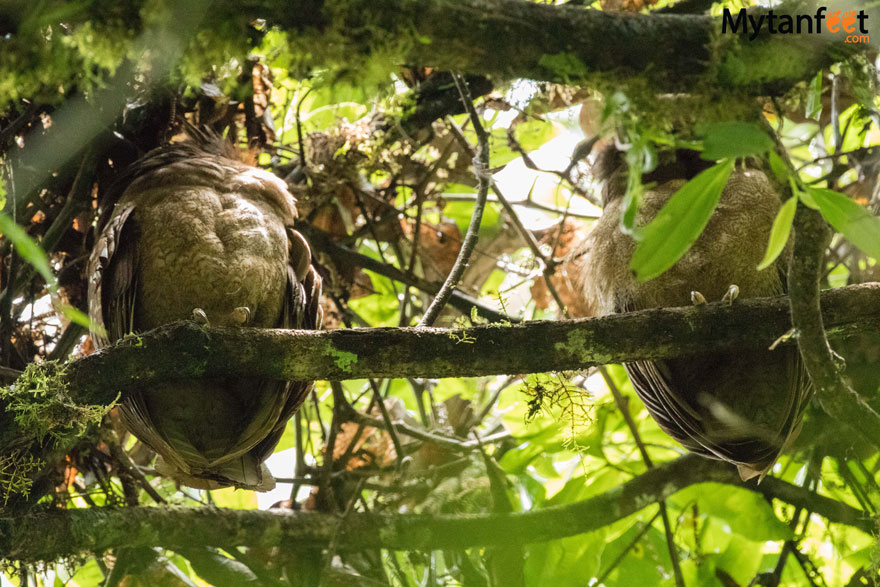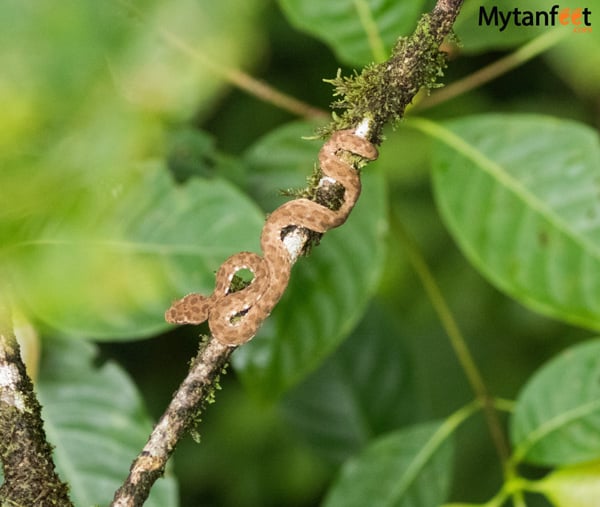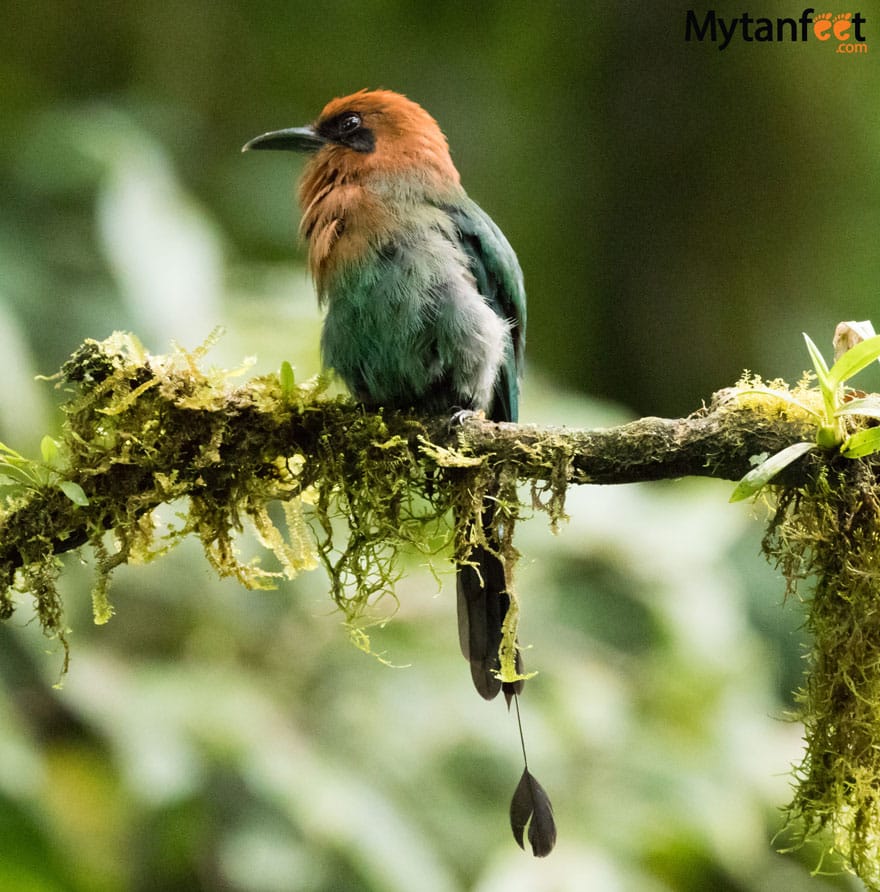 Many of the animals, like the snakes and Mot Mot were just hanging out close to the hanging bridge so we got a very close look at all of them.
The viewpoints along the hanging bridges are breathtaking. One of the highest bridges, the Arenal View Hanging Bridge has a great view of the volcano and rain forest.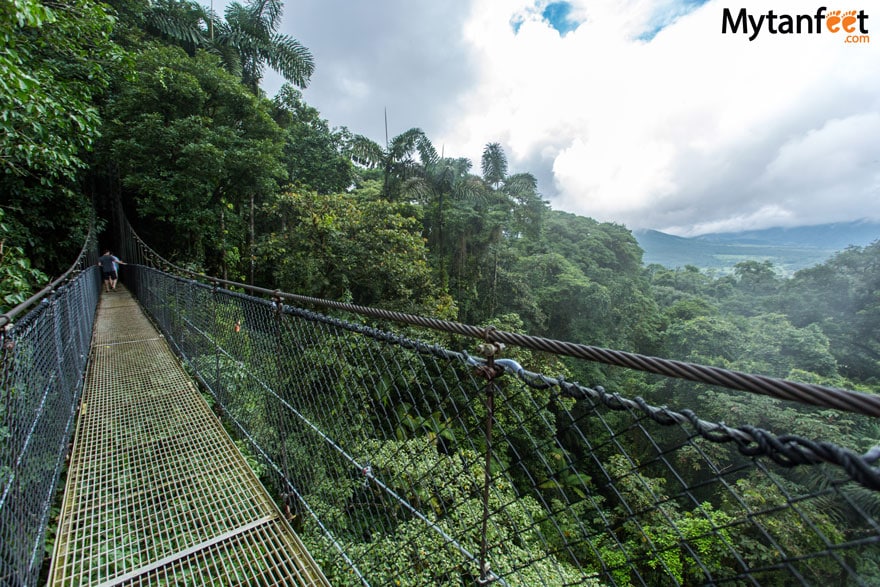 On a clear day, it is impressive the see the towering volcano looming in the distance!
Watch our video below to see more of the Mistico Arenal Hanging Bridges. We did the hanging bridges and La Fortuna waterfall combo tour which is a popular tour to see 2 highlights of Arenal.
Can you do the Arenal Hanging Bridges self guided?
Yes. If you don't want a guide, you can purchase the entrance ticket and do a self guided walk. We saw many self guided groups, but I personally enjoyed having a guide and highly recommend it for first time visitors or those who want to learn more about the area. A guide will point out various plants, flowers and wildlife and teach you about their importance in Costa Rica. Additionally, the tours include transportation which is nice if you're not renting a car.
Read more thoughts about booking guided tours in Costa Rica in this post.
What to know about the Mistico Arenal Hanging Bridges
Don't touch anything or stray off the path
It is imperative that you do not stray off the path or touch things without supervision. Many animals, such as snakes hide on trees and in plants so you don't want to accidentally get too close to them. Also please do not walk off the path as it is destructive.
Wear closed toed shoes
If you don't, you need to sign a waiver just in case you get bit by an animal or step on something, the park can't be liable. We wore our KEEN closed toed hiking sandals which worked very well but even though we had a toe bumper, we still had to sign a waiver.
Arenal Hanging Bridges Entrance Fee and Hours
The park is open every day from 7:30 AM to 3:50 PM (last entrance).
Takes about 2.5 hours for a guided hike
And it takes about 2 hours for a self guided hike.
It's better to go in the morning
Especially in rainy season as it is typically sunny in the morning and rainy in the afternoon so it's better to go in the morning. That way you can also do other activities after the hanging bridges. Many tours combine activities such as hanging bridges + La Fortuna waterfall.
Reservations are required
You can book on their website if you're going on your own. If you book a tour, then you don't need to do anything extra as the tour company will make the reservation for you.
If you are interested in this tour, we offer a special 7% deal for all Mytanfeet readers!
Read about other things to do in Arenal here.
Visiting Monteverde too? Check out our 5 day Arenal and Monteverde itinerary.