Marino Ballena National Park (directly translated to marine whale national park in English) in Uvita is one of the best national parks in Costa Rica for vast beaches and beautiful jungle landscapes.
If you are going to visit this national park, here is our guide to plan your trip.
About Marino Ballena National Park
Even though it is one of the youngest national parks in the country, it is a favorite for visitors looking for a low key beach and jungle experience. It also has one of the most special and unique characteristics of all the national parks in Costa Rica, a beach shaped like a whale's tail, formed by the union of two separate beaches!
Established in 1990, Parque Nacional Marino Ballena protects 110 hectares of land, 5,400 hectares (13,345 acres) of water and the largest coral reef in the Pacific coast of Central America. With over 14 kilometers (8.6 miles) of coastline backed by lush jungle covered mountains, Marino Ballena National Park is one of the most picturesque places in Costa Rica.
If you're visiting the South Pacific coast of Costa Rica, Marino Ballena National Park is one not to miss. It's one of the top things to do in Uvita and Dominical and one of our favorite national parks in Costa Rica.
Marino Ballena National Park Hours and Entrance Fee
There are 4 different entrances to the park and the hours are below.
The entrance fee is $6 USD for adult foreigners. Children under 11 and senior citizens are free. Ticket prices are the same for every sector and is valid for 1 day.
Sector Uvita: open Thursday – Tuesday 7 AM to 6 PM. Closed Wednesdays.
Sector Colonia: open Thursday – Tuesday 7 AM to 6 PM. Closed Wednesdays.
Sector Ballena: Closed
Sector Piñuela: Closed
Marino Ballena National Park Location
Map of Marino Ballena National Park
Marino Ballena National Park is in Puntarenas province, 16 km (10 miles) south of Dominical and 180 km (112 miles) SW of San Jose.
How to Get To Uvita Sector
To get to the Playa Uvita entrance, drive all the through Uvita town towards the entrance near Dolphin Tours. If you are using Waze, enter "Parque Nacional Marino Ballena" and look for "Entrada sector Uvita". You will see a couple parking lots right as you pull up to the entrance. They charge around 2-4,000 Costa Rican colones (~$3-8 USD) per day last time we were there.
If you use Google Maps, there isn't an option for the Uvita sector but you can set "Parqueo Bahia" as your destination. To get to the Uvita sector, you do not need a 4wd or 4×4.
Things to Do in Marino Ballena National Park
Visitors can enjoy the beach or do water activities such as stand up paddling boarding, swimming and yoga. For stand up paddle boarding, you will have to book a tour with a company that provides equipment.
For a lazy beach day, Marino Ballena is one of the best places to go for the day in the Costa Ballena (Dominical, Uvita and Ojochal) area. The main beach, Playa Uvita is a gorgeous beach and one of the best beaches in Costa Rica!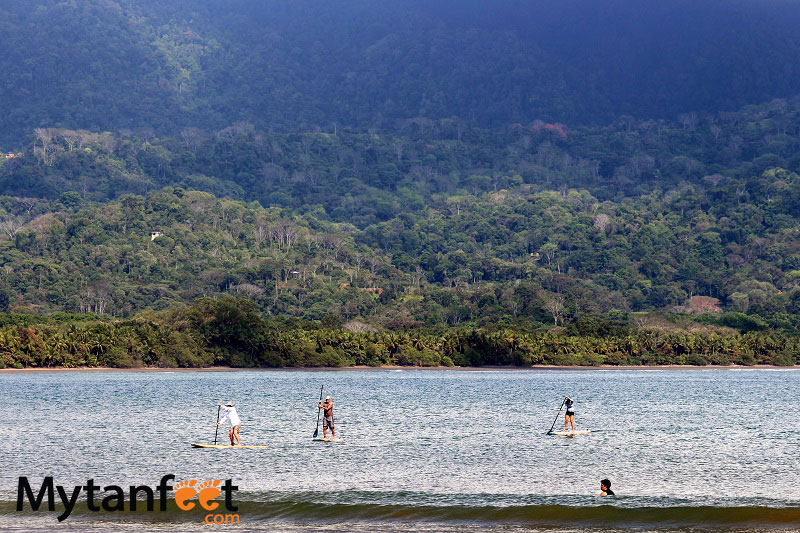 You can dip your toes or take a swim. The water is clear but be very careful about rip tides.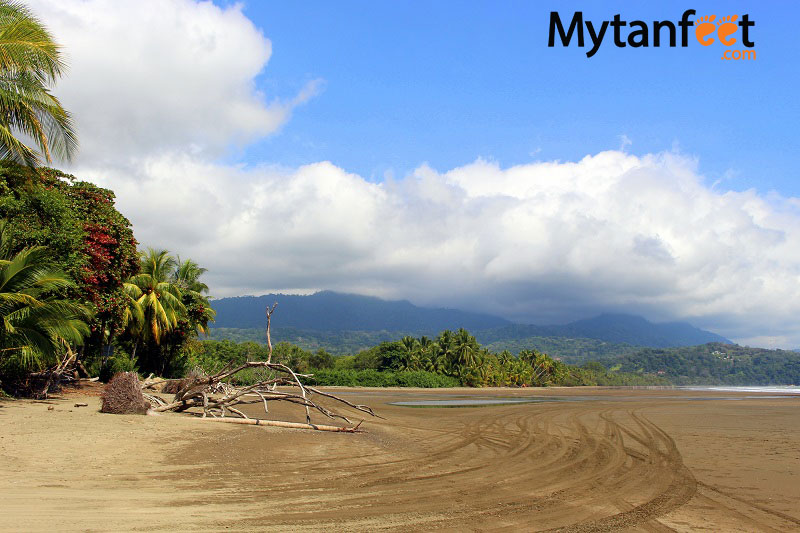 This national park is very big and you can spend a whole day there. Most of the visitors we saw were near the whale tail or lounging around in the shade. We highly recommend walking on the beach throughout the national park. As Uvita is a very lush rainforest area, you can see wildlife such as toucans, Scarlet macaws and monkeys in the park.
Whale Watching
Marion Ballena National Park is actually one of the best places in Costa Rica to see humpback whales. So if you're visiting December – March or July – September, then you must take a whale watching tour to see humpbacks breaching, babies playing and mothers nursing.
Caño Island Snorkeling and Scuba Diving
Unfortunately, snorkeling at this park isn't the best all year round. So if you want to do good snorkeling in Uvita, you must book an excursion to Caño Island Reserve which is about a 1 hour or so boat ride from the national park.
This reserve is known as the second best place for snorkeling and scuba diving in Costa Rica! Tours include guide, snorkel equipment, lunch and is full day. If you're a scuba diver, you definitely need to dive there to see turtles, manta rays, dolphins and more animals.
Marino Ballena National Park Whale Tail
During low tide, the water recedes to reveal a marvelous formation of rocks and sand in the form of a "tail". It's been affectionately named the Whale Tail, paying homage to the fact that it is the best humpback whale watching place in Costa Rica. Not to mention, it does look just like a whale's tail! Isn't nature amazing?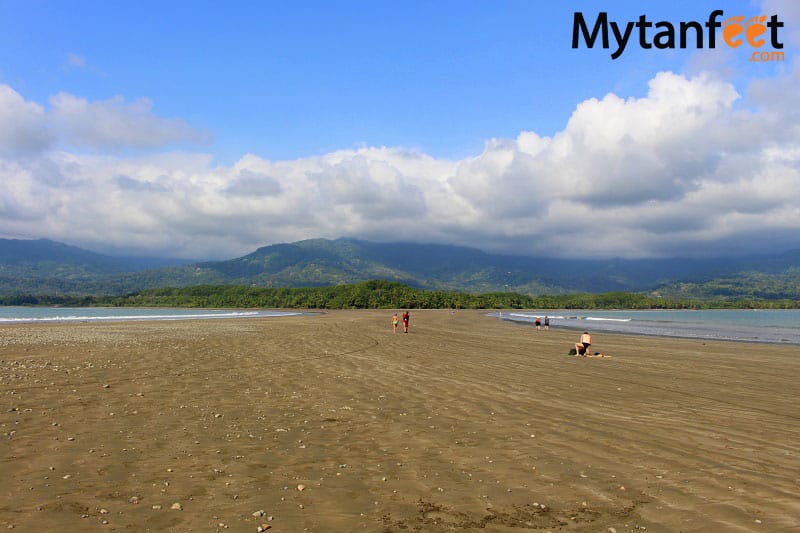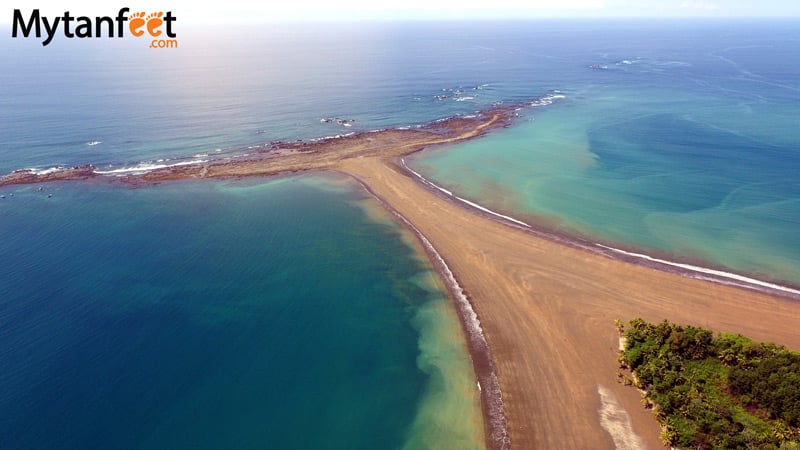 Everything about this park is stunning – the whale's tail, the formation of land, the coral reefs, the mangroves, the beaches and the wildlife. You can see why so many people fall in love with this national park and why we recommend to visit. It's easy to have a whole vacation centered around this national park itself as one of the best ways to enjoy the beautiful South Pacific Coast of Costa Rica.
As this area is not overly touristic and due to the size of this national park, it never feels crowded here. Even in the busiest times of the year, you will have plenty of space to lay down a towel and enjoy a peaceful day at the beach without many others around.
What to Know About Visiting Marino Ballena National Park
Weather: This area is extremely humid and is prone to rainfalls, even during the tropical dry season. We visited once in February and it poured rain for 4 days straight. Make sure to bring appropriate gear, clothing and equipment for rain.
Bring snacks and water (no drinkable water available). Bathrooms available near the ranger station. No facilities inside the park.
If you want to walk to the whale tail, you must go during low tide so check the tide chart. If you go at high tide, you won't be able to walk all the way down as the sand will be covered.
Bring lots of sunscreen and water, this area is really hot and humid.
Marino Ballena National Park Hotels
There are several hotels and hostels outside Marino Ballena National Park if you want to stay in the area. We love Manoas, a glamping and villa rentals resort right outside of town. For honeymooners, Oxygen Jungle Villas is a top choice with glass villas and an infinity pool.
For those more on a budget, Flutterby House and Cabinas Los Laureles are good options.
Best Time to Visit Parque Nacional Marino Ballena
Anytime of the year is a great time to go as this national park doesn't get super crowded. Plus it is very big so even if there are a lot of cars in the parking lot, it won't seem like that in the park as everyone is spread out.
If you visit May, June, September, October and end of November after Thanksgiving to mid-December, the park is extremely empty because those are the least busiest tourism months of the year. These months coincide with rainy season and it can get quite rainy in May, June, September – November. Usually it'll be cloudy and dry in the morning and then start raining in the afternoons. September – November, it can rain even during the day or mornings.
Best weather: Dry season. Generally end of December to end of April and it'll be sunny and hot. However, this area can still rain in January and February!
Whale watching: July, August and September are the best months. They hold the yearly Whale Festival in Uvita during the last couple weeks of August. But you can also see whales during January – March. Whale watching tour companies operate almost all year long due to the great humpback whale watching opportunities in the Uvita area.
Read about other national parks in Costa Rica here!
Rincon de la Vieja National Park