Relaxing in the La Fortuna hot springs is one a must do in Costa Rica. Many hotels in La Fortuna have their own hot spring for guests to enjoy. However, if your hotel doesn't have its own hot springs, you can purchase day passes to the hot spring resorts and hotels.
Not sure which one to visit? Here are our recommendations on the best La Fortuna hot springs.
Prices are in USD.
Tabacon
Tabacon hot springs is the most popular hot spring resort in La Fortuna. This is mostly due to their beautiful gardens and pools landscaped around the Tabacon river, creating an absolutely stunning lush setting.
Since the pools are created from the river, these are the only hot springs that are truly natural. They don't use of pumps or systems to reheat or circulate the water.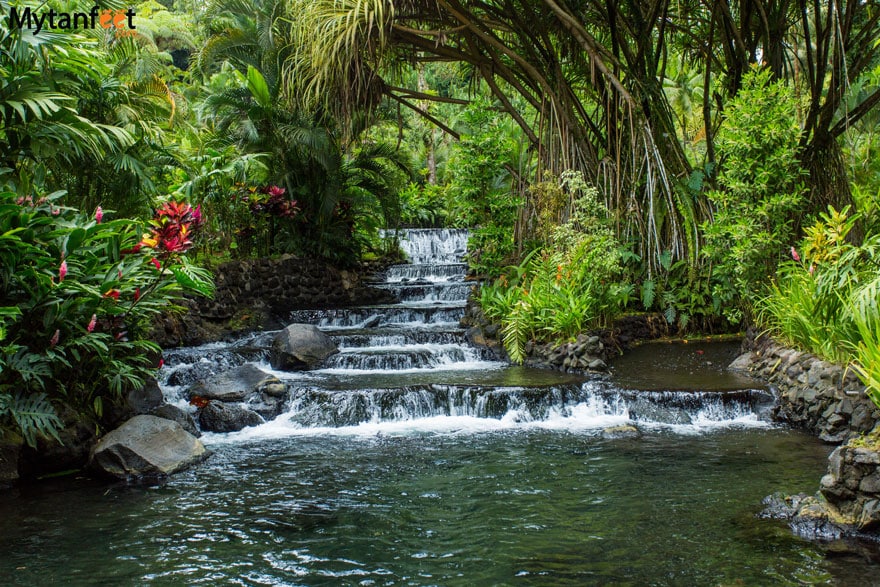 With a handful of intricately built warm waterfalls, hot pools and sitting areas blending in with the natural environment, you'll feel like you've wandered deep into a magical rain forest.
Although Tabacon hot springs are more on the romantic and intimate side, families with kids of all ages are allowed. They do have strict rules regarding young children that you will need to follow to keep in line with the facilities' atmosphere and environment.
The gardens are gorgeous and is a reason why Tabacon is so popular. So if you're visiting in high season, just know that it gets packed. If you want more privacy, I recommend staying at the Tabacon Hotel. Hotel guests get an extra 2 hours of the hot springs exclusively for them.
If you are visiting during the months of December through April, June or July, we highly recommend to book at least a couple months out for Tabacon. This resort limits the number of tickets sold and they sell out incredibly fast.
Baldi
The Baldi hot springs is one of the cheaper hot springs resorts in La Fortuna. Their resort is a lot of fun and we highly recommend it for kids, friend groups, teenagers and families because they have water slides, a dedicated kids play area, caves and swim up bars. Baldi also has hotel rooms.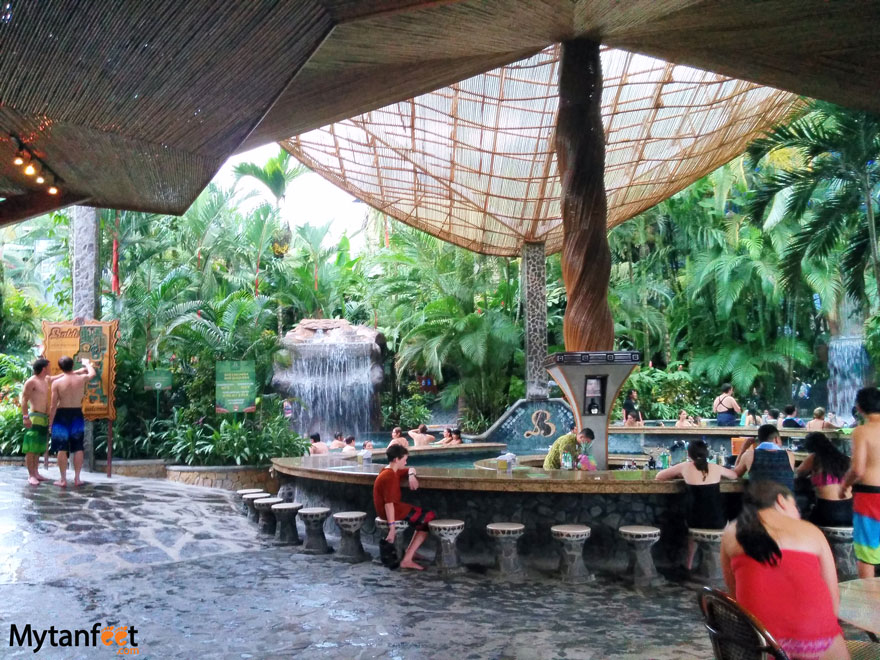 This particular hot spring resorts is popular with school groups, so if you're not interested in being around kids, check out Ecotermales (more on that one below). We've taken our friends and family to Baldi and they loved the waterslides and caves.
The dedicated Baldi kids area is awesome. It's in a separate section than the rest of the pools which is super nice as the kids can have fun and play as much as they want without bothering other people.
Baldi day pass fee with lunch or dinner 9 AM – 10 PM: Starts at $57 for day pass with lunch/dinner per adult.
Ecotermales
The Ecotermales hot springs are best for couples or adults with very nice gardens and quiet atmosphere. They have several pools and waterfalls sectioned off in different areas so that there is a tranquil area and a more lively area with a swim up bar.
They also have a terrace bar next to a pool with plenty of seating so you can have a nice cold drink after relaxing in the hot spring until you're ready to go back in.
It doesn't get quite as crowded since Ecotermales is a hot spring facility only. They also break up the visiting times and limit the amount of visitors for more privacy which is super nice!
Ecotermales hot spring day pass: Starts around $62 per adult, $40 for children with lunch or dinner.
Paradise
Paradise hot springs are another excellent option for those who are on more of a budget but still want to enjoy natural pools with beautiful gardens.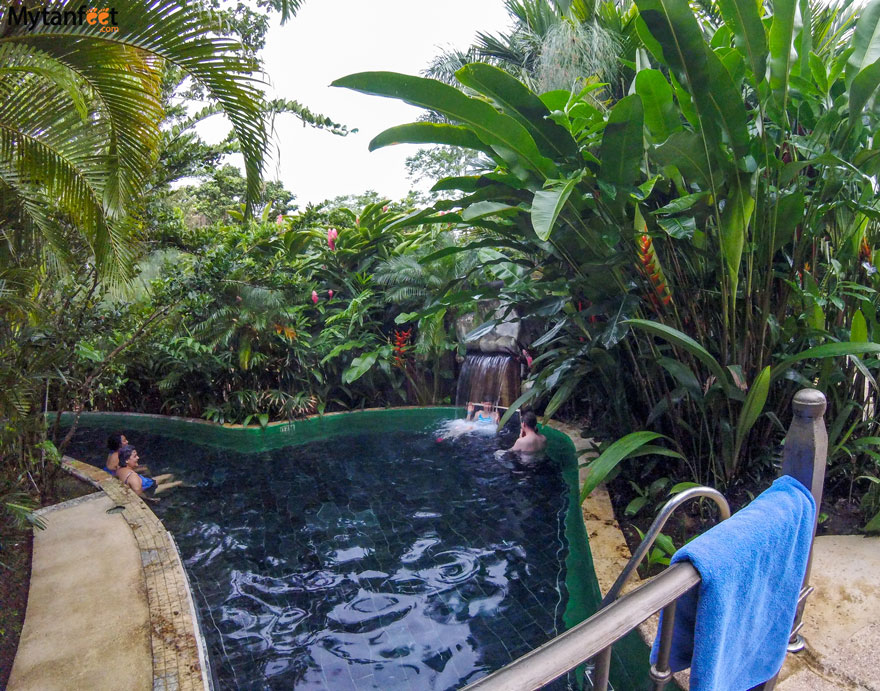 They have 5 pool areas, 2 Jacuzzis with waterfalls and a swim up bar. We didn't see any kids in Paradise nor that many people when we went. We had pools all to ourselves which was awesome!
Paradise now has their own hotel rooms and suites.
Paradise hot springs day pass 11 AM – 9 PM: $45 per adult and $27 per child 3 – 11 with lunch or dinner. $28 per adult, $16 per child for basic day pass.
Hotel Los Lagos Resort
Hotel Los Lagos has their own hot springs with a sweet view of Arenal Volcano. No reservations are required and you can drive to the gate to pay for passes there.
Their pools are very natural and big, perfect for families and couples alike. They also have two fun waterslides, pools with waterfalls and one with a fake volcano so it's an excellent place for families with little kids. You also get access to the grounds which has a frog and butterfly exhibit.
Another upside to Los Lagos is that most people don't know that they allow outside visitors so it won't be super packed, only hotel guests. The Los Lagos Hotel is a cheaper hot spring in La Fortuna and one of the best values you can find!
Day Pass: Prices are around $17 for hot springs, $31 for hot springs and lunch or dinner, $50 for hot springs, lunch and dinner for adults. Children ages 6-9, $9 for hot springs, $20 for hot springs and lunch or dinner, $30 for hot springs, lunch and dinner.
Titoku
Titoku hot springs is the smallest hot spring facility in Arenal with 8 small pools of different temperatures. Guests of Arenal Kioro Suites & Spa receive complimentary passes.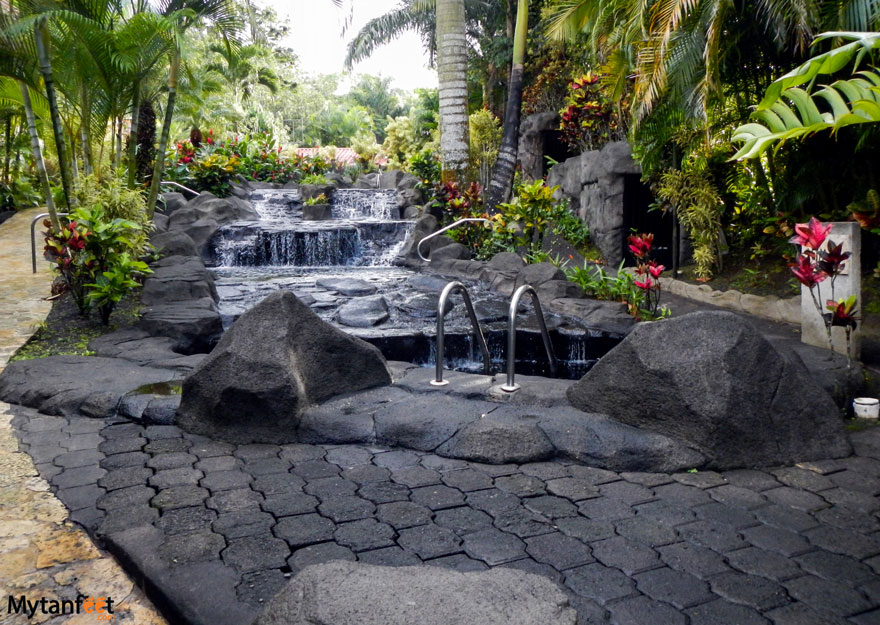 Since this facility is small, it is likely you may be the only one there. We were the only ones there when we visited. We loved our time at Titoku as we had the whole place to ourselves for one hour.
Titoku hot springs day pass: $50 per adult with a meal, $32 for day pass
The Springs Resort & Spa
The Springs Resort & Spa is not only one of the most luxurious hotels in La Fortuna, they also have some of the nicest hot springs. Their large property has two hot spring sections, Las Lagunas and Los Perdidos.
Las Lagunas has 12 pools with 4 chlorinated pools and 8 natural. Los Perdidos hot springs connect to Las Lagunas by a short trail and has seven pools.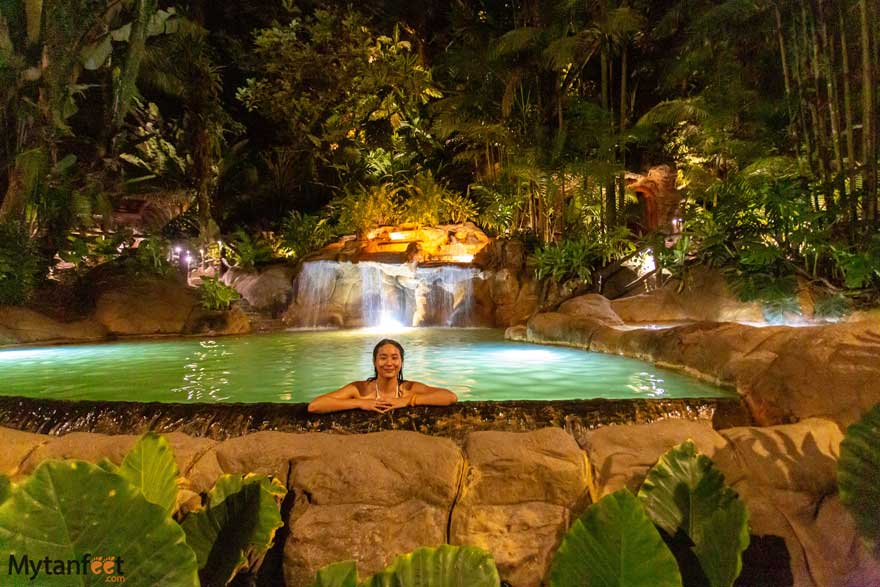 The Springs Resort & Spa is an excellent choice for families as they also have an animal sanctuary which they can add to their pass. They also have a waterslide!
Club Rio
The Springs Resort also has an outdoor adventure club, Club Rio. They offer a multi adventure package where guests choose two activities (tubing/kayaking/horseback riding/rock wall/guided nature walk/guided animal sanctuary tour) to do. It also includes lunch and a 2 day hot spring pass. Read more about Club Rio and get $10 off in this link: Club Rio discount.
Springs Resort & Spa day pass: $68 per person. Reservations required in high season
Club Rio multi adventure package: $133.56 per adult, $110.96 per child and you get $10 off those prices.
The free La Fortuna hot springs
Don't want to spend a huge chunk of your travel money to enjoy the hot springs? (Hey I don't blame you, they are expensive for those traveling on a budget.) Check out the free hot springs in Arenal!
The entrance is across from the Tabacon hot spring building, about 100 meters down. You can park along the road and walk down to the hot spring, which is actually the Tabacon river, naturally warm from volcanic activity. On Google Maps, it is called "Free Natural Hot Springs River."
You'll see mostly locals here and it gets super crowded on weekends so make sure to go early so you can grab a spot! Click here to read our La Fortuna free swimming holes guide to visiting El Choyin, the free La Fortuna hot spring and also El Salto, the swimming hole!
Our Personal Favorite La Fortuna Hot Springs Resort
Tabacon is the most popular hot springs in La Fortuna. However, for us personally, it was too crowded and very expensive. The gardens are absolutely gorgeous though!
I'm sure we would've enjoyed it more if we were hotel guests and got the 2 exclusive hours but it felt a little too like Disneyland during our visit. We had to wait in line to use the bathrooms and go into the pools. I almost felt like we couldn't enjoy the pools as much as we wanted because there were always lines and people staring at us waiting for our spot. But I won't lie, the pools and gardens are absolutely gorgeous.
With that being said, we personally prefer The Springs Resort. The Spring Resort's property is very big with two separate sections. The pools are very spread out which is super nice. We loved the pools that overlooked the river and also the pools with the swim up bar and view of Arenal Volcano. The Springs hot spring pass is also good for 2 days and cheaper than Tabacon's 1 day pass.
We also loved Baldi with family and friends. They loved the caves, waterslides and swim up bar with music. If you're going with family, I'd recommend Baldi, especially for kids. It's more budget friendly too.
Arenal Combo Tours with Hot Springs
If you are doing tours in Arenal, you can add on the hot springs to many of them. One of the most popular tours is the Arenal Combo Tour (hanging bridges, La Fortuna waterfall, lunch, Arenal Volcano hike and hot springs) and tour companies normally go to Tabacon, Baldi or Ecotermales, guests' choice. Get a discount off this tour!
Read about other things to do in Arenal and La Fortuna here!
There are affiliate links in this post.