After a day hiking to waterfalls and volcanoes through the lush tropical rainforest, the best way to end the day is to immerse yourself in the world famous hot springs in La Fortuna. The many hot spring resorts, rivers and natural pools makes this area Costa Rica's paradise of thermal relaxation and a top destination in Costa Rica for wellness seekers.
As a visit to La Fortuna is not complete without a trip to the hot springs, here is our guide to help you decide which La Fortuna hot spring resort is best for you. From the luxurious offerings of Tabacon Thermal Resort to the kid friendly Baldi Hot Springs, each spot delivers a unique and rewarding experience.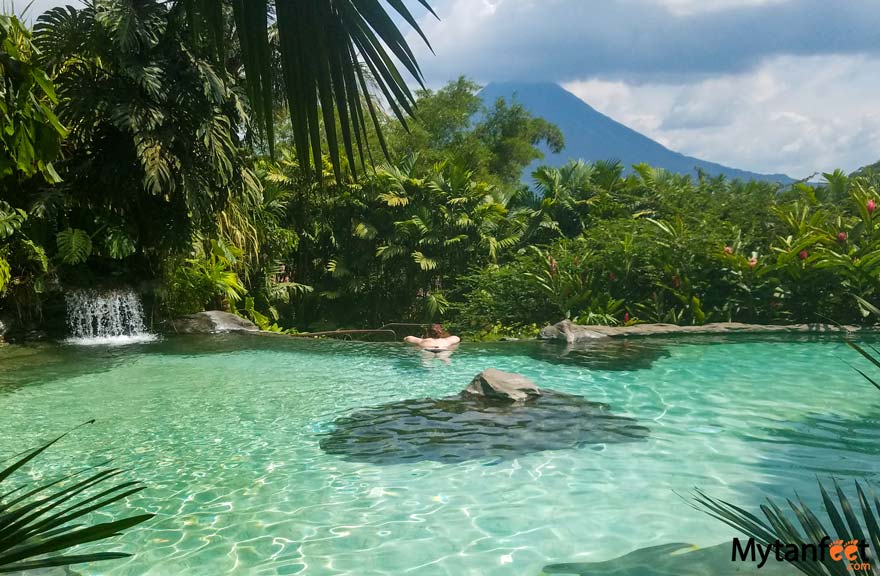 We offer discounts on La Fortuna tours including hot springs such as the Arenal 4 in 1 (hanging bridges, waterfall, volcano and hot springs). Click to check the Fortuna tours discount here!
Quick La Fortuna Information
La Fortuna is in the Alajuela province.
~3 hour drive from both Costa Rica international airports: SJO International Airport and LIR International Airport.
Known for thermal springs, natural hot springs, hiking, Arenal Volcano National Park, La Fortuna waterfall, tropical rainforest, outdoor adventure (ziplining, white water rafting, waterfall rapelling, mountain biking, ATV), birdwatching and wildlife watching. Read about other things to do in La Fortuna here.
Has hundreds of hotels and vacation rentals in the area of all budgets. Has some of the most high end resorts in Costa Rica.
4×4 not required to reach La Fortuna from either San Jose and Liberia
Hot and humid all year long. Average year round temperatures are 70-85 F or 21 to 29 C. Dry season months are December through April and rainy season months are May through November. However, as tropical rainforest, this area can rain any time of the year.
All prices are in USD. There are affiliate links in this post.
Tabacon Hot Springs
Tabacon hot springs is the most popular hot springs in La Fortuna and arguably Costa Rica. With a handful of intricately built warm waterfalls, hot pools and sitting areas blending in with the natural environment, you'll feel like you've wandered deep into a magical rain forest. You'll have a hot springs experience you won't forget!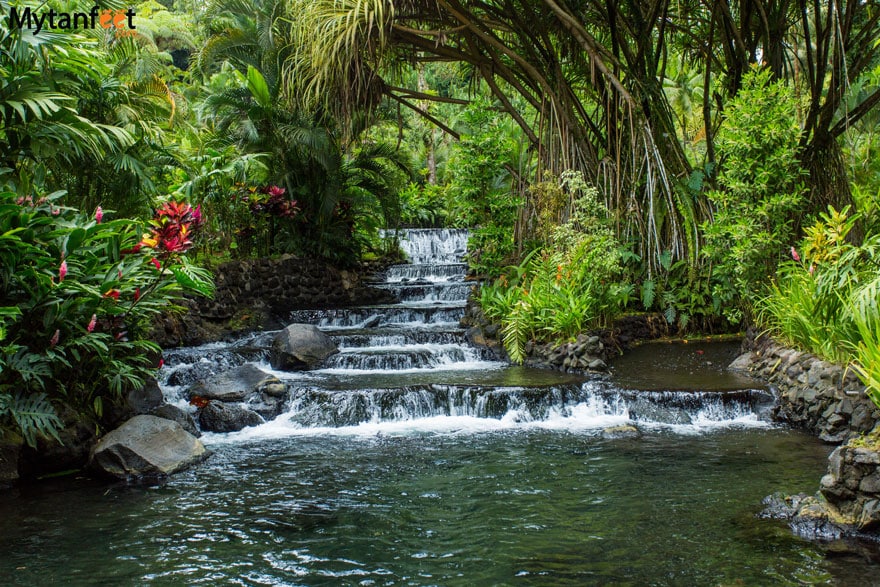 The Tabacon hot springs gardens are gorgeous and is a reason why Tabacon is arguably the best hot springs in La Fortuna and in Costa Rica. So if you're visiting in high season, just know that Tabacon hot springs get extremely crowded and you will need to purchase your Tabacon hot spring pass well in advance during busy times like Christmas, New Years, Holy Week and summer vacation
For the ultimate Tabacon hot springs experience, I recommend staying at the Tabacon Hotel, right next door to the hot springs resort. Hotel guests get an extra 2 hours at Tabacon hot springs exclusively for them. They also have access to the exclusive adult only Shangri La Gardens and can book spa services.
The Tabacon hot springs is not for those on a budget as their hot springs pass starts at $80 per adult, more expensive than other hot springs in La Fortuna. No food included. Tabacon hot springs is a 16 minute drive from downtown La Fortuna.
Baldi Hot Springs
The Baldi hot springs is one of the best hot spring resorts in La Fortuna for groups, boasting that they are the world's largest hot springs. Their hot springs resort is a very kid friendly hot springs resort. They have water slides, a dedicated interactive kids play zone with a splash pad, caves, hot and cold pools and swim up bars. Likewise, Baldi hot springs is popular with school groups so it's a great place for friend groups and multi generational families.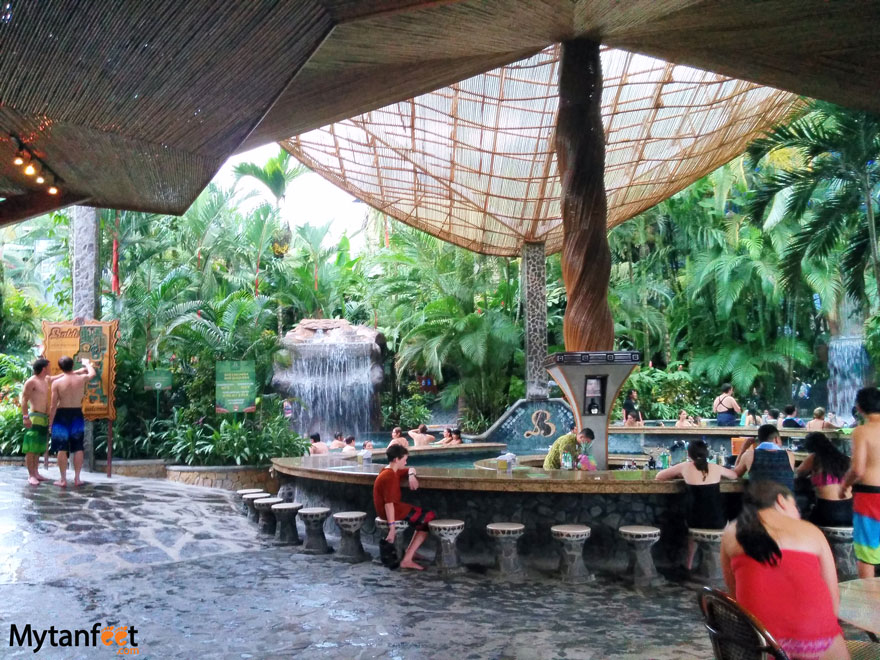 Baldi hot springs is a large hot spring resort with 25 different thermal water pools. They have one thermal pool that is extremely hot, perfect for those inclined to soak up a sweat. In another section, they have a cold water pool surrounded by a large warm water pool.
Their caves are very fun as it provides a sauna experience, something other hot spring resorts don't offer. Their swim up bar pool also has tvs and water beds.
You can stay at the Baldi Hot Springs Hotel, but they don't really offer more exclusive special perks to hotel guests.
I will say that the food at Baldi Hot Springs Hotel is not the best.
Baldi hot spring day pass fee: Starts at $44 for day pass without meals. $66 per adult with one meal. Baldi hot springs resort is an 8 minute drive from downtown La Fortuna.
Ecotermales Hot Springs
The Ecotermales hot springs offer a very relaxing and natural hot spring experience in La Fortuna. They have a waterfall, several thermal pools, a cold water pool, natural pool and swim up bars so you can enjoy a yummy cocktail while soaking in the mineral waters. Their hot spring facilities are well maintained with concrete paths, lush gardens, ample clean changing rooms, bathrooms and lockers.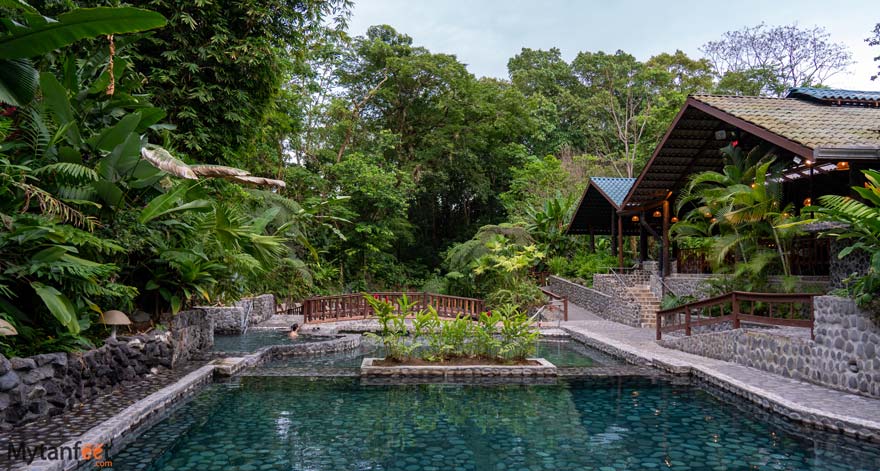 Ecotermales hot springs is one of the best La Fortuna hot springs for both couples and families with their 8 different thermal water pools with temperatures from 32-41 C (90- 106 F) and cold water pools. Their hot spring pools don't offer as much hydrotherapy as others (no water jets or hydromassages) as they only offer 2 small waterfalls. Ecotermales hot springs is best for a good long soak accompanied a nice cold drink.
They offer a lunch and dinner buffet which has delicious food, all farm to table. Ecotermales hot springs resort limits how many people can visit per time slot as not to let the thermal pools get overcrowded.
Ecotermales hot spring day pass: $45 per adult, $73 per adult with a meal. It's a 9 minute drive from La Fortuna downtown.
We have also visited Ecotermales as part of the Arenal Volcano San Jose day trip. Get our San Jose day tours discount and check out what other San Jose day trips we recommend!
Paradise Hot Springs
Paradise hot springs is another great hot spring option for those looking for a beautiful hot spring resort that doesn't break the bank. It's a great option for couples, solo travelers and families alike.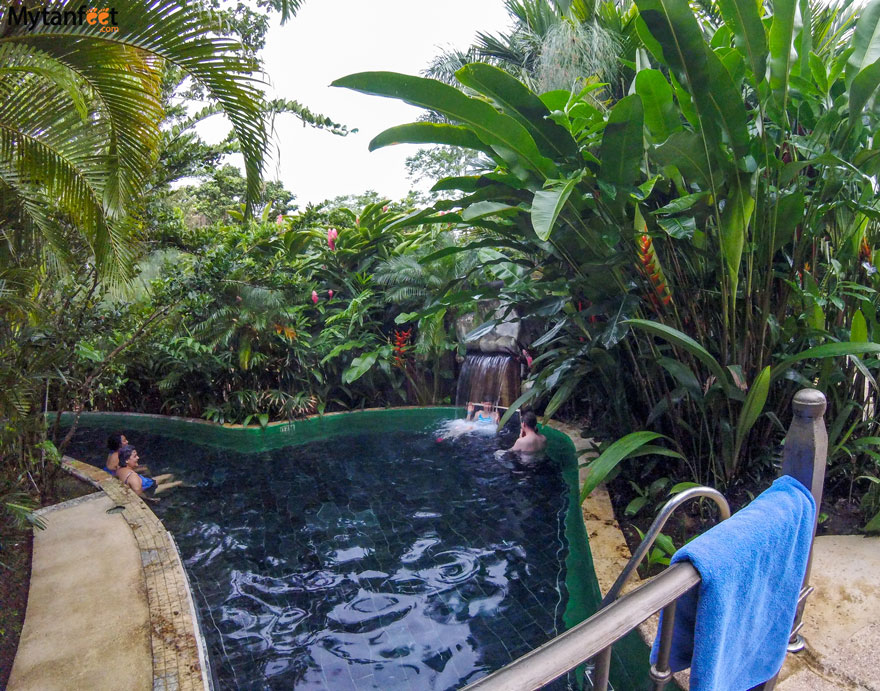 All of Paradise hot springs thermal pools and jacuzzis have natural mineral thermal water, built for guests to enjoy hydrotherapy (therapeutic use of thermal water). Guests can enjoy various hydromassages, water jets and waterfalls of different pressures to take full advantage of the rich mineral water benefits.
Their thermal pools temperatures range from 35-41 C (95-104 F) so they have very nice hot pools of thermal water. You can also book a hotel room at Paradise to have a full hot spring stay in Costa Rica.
Paradise hot springs day pass: $38 per adult. $58 per adult for day pass with a meal. $170 for premium day pass. Paradise is an 8 minute drive from downtown La Fortuna.
Los Lagos Hot Springs
Hotel Los Lagos has their own hot springs open to hotel guests and to the public. The Los Lagos hot springs are not the most natural, it is a bit more like a waterpark. They are very fun though, especially for families as they have a long water slide and pools of different temperatures. However, their hottest hot spring pools gets up to around 37 C (100 F) which is not the hottest temperature if you enjoy very hot thermal pools.
Their hot spring facilities are nice and big with a swim up bar, two fun waterslides, pools with waterfalls and one with a fake volcano. Included in the Los Lagos day pass is a visit to their butterfly garden and turtle pond.
The Los Lagos hot spring is a great budget friendly hot springs facility in La Fortuna so it's one of the best hot springs for those traveling to Costa Rica on a budget. We also highly recommend the Los Lagos hotel which is very nice. Their hotel rooms are spacious and comfortable with standards, superiors and villas. One of the best features of their hotel property besides the Los Lagos hot springs is their view of Arenal Volcano and emerald lake.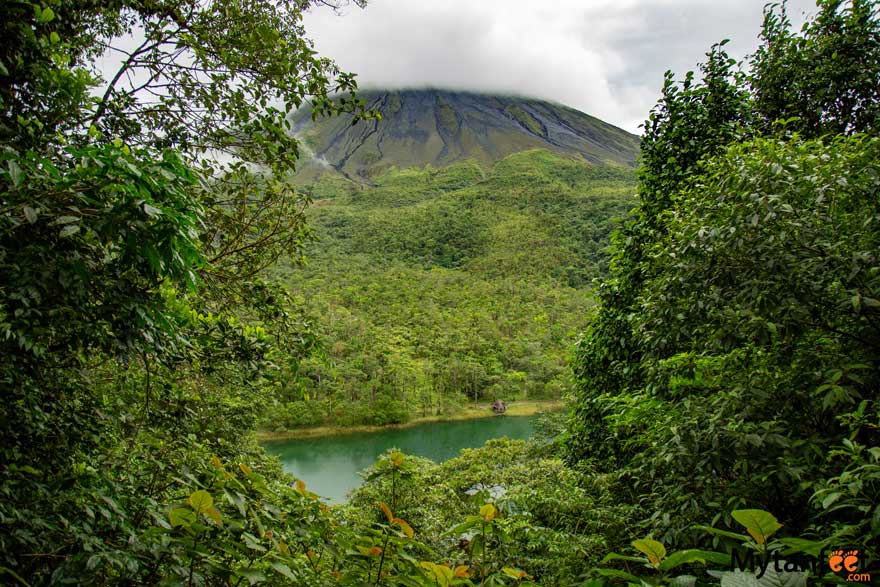 Los Lagos hot spring Day Pass: $18 USD per adult and $10 for children ages 7-10. Children under 6 are free for basic day pass hot springs pass. With one meal, it is $37 USD per adult, $23 for children ages 7-10 and $6 for children under 6. Open 10 AM to 10 PM. Lockers included, towel rental is $2 per towel or you can bring your own. Los Lagos hot springs is a 9 minute drive from La Fortuna downtown.
Titokú Hot Springs
Titoku hot springs is the smallest hot spring facility in Arenal with 8 small hot spring pools of different temperatures. They also have a waiting room, bar and meeting room with a maximum capacity of 80 people at a time. Guests of Arenal Kioro Suites & Spa receive complimentary passes.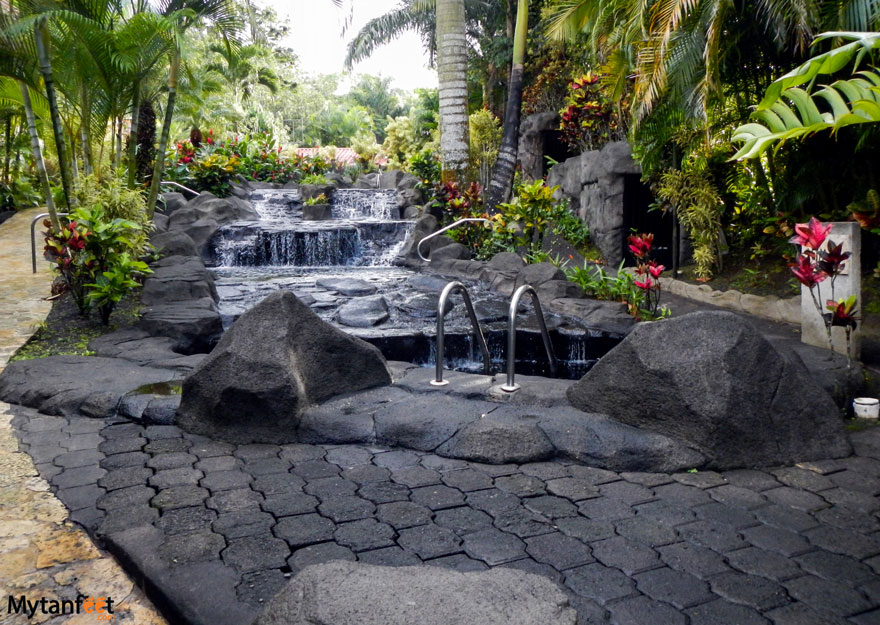 When we stayed at the Arenal Kioro Suites and Spa Hotel, we decided to take advantage of their complimentary Titokú hot springs pass. Even though Arenal Kioro has their own exclusive on-site hot springs for only hotel guests, we had a nice experience hot springs at Titokú.
However, for how small it is, it isn't the cheapest hot springs compared to other hot springs resorts. Additionally, they closer earlier than other hot springs resorts at 8 PM but they do open at 10 AM. I would personally not choose to go there if it wasn't already included in our stay at Arenal Kioro.
Titoku hot springs day pass: $33 per adult for basic day pass. $52 for day pass and meal. Lunch or dinner is in the restaurant of Arenal Kioro with a special a la carte menu. Titoku hot springs reservations required by calling 506 2479 1700, it is an 8 minute drive from La Fortuna town.
The Springs Resort Hot Springs
The Springs Resort & Spa is not only one of the most luxurious hotels in La Fortuna, they also have some of the nicest hot springs. Their extremely large property has two hot spring sections, Las Lagunas and Los Perdidos.
Las Lagunas has 12 pools with 4 chlorinated pools and 8 natural. Los Perdidos hot springs connect to Las Lagunas by a short trail and has seven pools.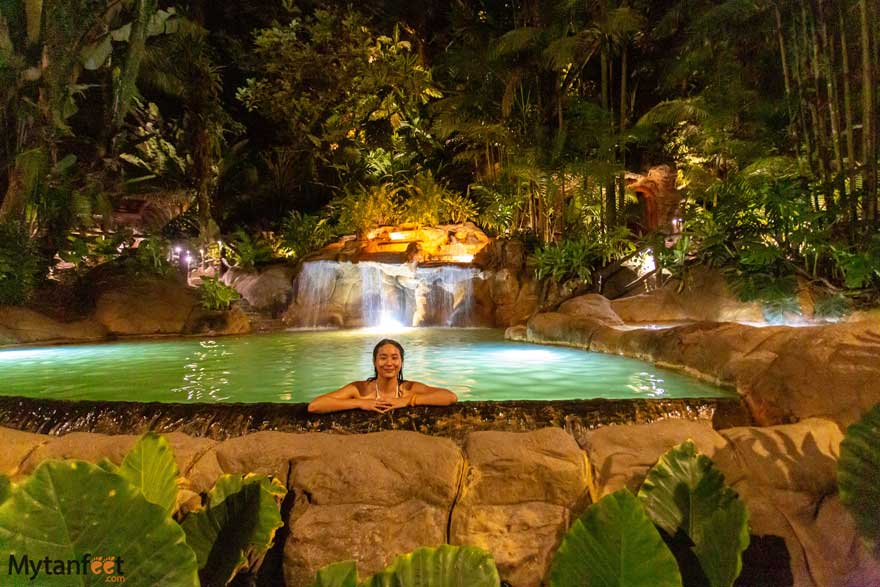 Since the Springs Resort hot springs property is so big, they offer a two day hot spring pass. Visitors can spend two full days enjoying their property going on the waterslide, walking down to the river and soaking in all the natural and non natural pools. One of their waterfall pools down by in Los Perdidos has an awesome river view.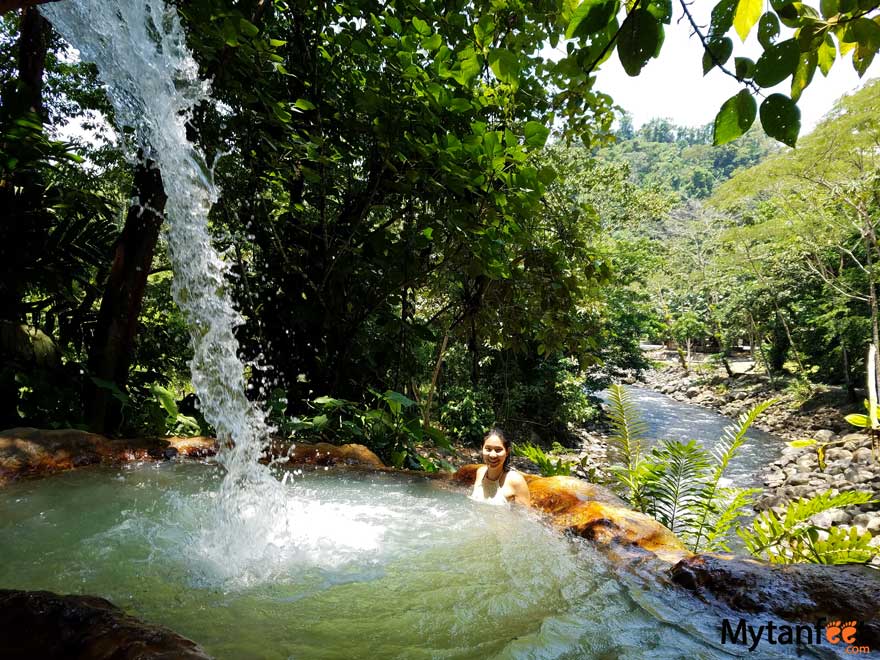 One of their pools has a swim up bar with an amazing view of Arenal Volcano. Their bartenders are very funny and entertaining and make absolutely delicious ice cold drinks and cocktails. Guests can enjoy lunch or dinner at one of their restaurants, included in their hot spring day pass.
The Springs Resort hot springs are one of the best hot springs in La Fortuna adn they are our favorite Arenal hot springs. When we visited in May, we were the only ones down by the river pools. The Springs Resort has the perfect mix of natural hot springs, thermal pools, swim up bars, secluded pools and chlorinated pools for all visitors.
The downside is that their day pass is not cheap so it's not for those looking for budget friendly hot springs in La Fortuna. The Springs Resort hot springs is definitely for those who are not concerned about the cost.
Club Rio Outdoor Center
The Springs Resort also has an outdoor adventure club, Club Rio located on the banks of the Arenal River. They offer a multi adventure package where guests choose two activities: Tubing/kayaking/horseback riding/rock wall/guided nature walk/guided animal sanctuary walk. It also includes lunch and a 2 day hot spring pass. Read more about Club Rio and get $10 off in this link: Club Rio discount.
Springs Resort & Spa day pass: $126.80. Reservations required and there are blackout dates.
Club Rio multi adventure package: $140.34 per adult. We offer a $10 USD discount per person here!
If you have the budget to splurge, we highly recommend staying at their hotel. Their hotel rooms have spectacular views of Arenal Volcano, the restaurant is top notch, their spa is amazing and it's a popular resort for celebrities to visit in Costa Rica.
The Springs Resort is a 20 minute drive to La Fortuna center.
The Free Hot Springs
Don't want to spend a huge chunk of your travel money to enjoy any of the Arenal hot springs resorts? Want to see where locals go to in La Fortuna to bathe in the naturally hot waters of the Tabacon river? Then head to the free hot springs in La Fortuna.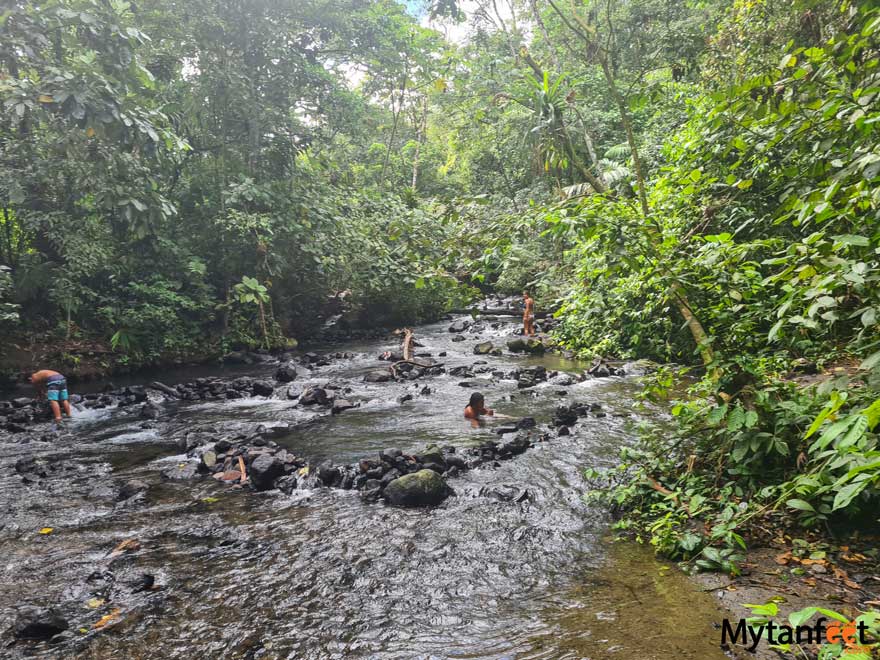 The entrance is across from the Tabacon hot spring building, about 100 meters down. You can park along the road and walk down to the hot spring, which is actually the Tabacon river, naturally warm from volcanic activity. On Google Maps, it is called "Free Natural Hot Springs River." This is the same river that supplies the Tabacon hot springs and other Arenal hot springs in the area.
It gets super crowded on weekends so go early. Read our La Fortuna free swimming holes guide for more details.
Pro tip: there is a "parking lot" along the side of the road. You will be greeted by locals wearing an orange/yellow vest. They will charge you to park and they will "offer" to watch your car. Unfortunately this is not a secure parking lot and they are not insured parking guards but they will insist on a tip. You can give them a small but do NOT leave anything in your car if you drive. Then when you are at the river, we highly recommend to stay by your stuff. Do not ever leave your wallet/keys/phone/valuables out in the open. Bring a waterproof pouch to keep them with you. Theft is not uncommon here. Also be careful of the slippery rocks. It will be better to wear water shoes or hiking sandals.
Other Arenal Hot Springs
Other hot spring resorts in La Fortuna that are worth checking out are Los Laureles Hot Springs, Kalambu hot springs and Termalitas del arenal hot springs. Kalambu Hot Springs is more like a waterpark with an interactive kids water playground, tobagan, big waterslides and an adult swim up bar.
Los Laureles hot springs is better for those on a tight budget. Many city Costa Ricans like to go to Los Laureles hot springs because they have a campground, ranchos for barbecues, seven pools, restaurant and salon. Los Laureles hot springs is not exactly a resort like the other ones but it is one of the cheapest hot springs in La Fortuna at 5000 CRC per adult (~$9).
Termalitas del Arenal hot springs is also another budget friendly hot spring. Their adult day pass entrance fee is $15 USD with lunch included. Termalitas del Arenal hot springs is another popular place for Costa Ricans.
Which Hot Springs Should You Visit?
This depends. There are some hotels in La Fortuna that have their own on-site hot springs for hotel guests. Some of these hotels are Arenal Kioro, Volcano Lodge & Springs, Hotel Montana de Fuego, Arenal Manoa, Hotel El Silencio del Campo, The Royal Corin Thermal Water and Arenal Springs Resort and Spa.
If you're not staying at a hotel with its on hot spring pools, then you definitely should buy passes to one of the Arenal hot spring resorts.
When it comes down to it, a lot of it will depend on your budget. We recommend to book a hotel with their own hot spring facilities but if not, Baldi, Ecotermales and Paradise are great moderate hot springs. Tabacon and The Springs are the most expensive. Los Lagos is the budget friendly and the free river is the best for saving money.
Our Recommendations
With that being said, we personally love Baldi (except the food), Ecotermales and The Springs Resort. The Spring Resort's property is very big with two separate sections. The pools are very spread out which is super nice. We loved the pools that overlooked the river and also the pools with the swim up bar and view of Arenal Volcano. The Springs hot spring pass is also good for 2 days which is fantastic.
Tabacon hot springs is gorgeous and one of the most popular hot springs in Costa Rica but we felt that it was a bit too expensive and too many people for our taste. It was a little like going to the Blue Lagoon in Iceland. It is very nice but crowded, expensive and a little over rated when there are so many other excellent options.
We do love bringing our friends and family to Baldi hot springs since it's a bit more fun with the caves, music and waterslide. Baldi is great for families too.
If your group is not on a budget, The Springs is a fantastic choice. When it is just us as a couple looking to relax and soak, Ecotermales or Paradise.
Arenal Combo Tours with Hot Springs
If you're booking any tours in La Fortuna or Arenal, you can add on the hot springs to many of them. One of the most popular tours is the Arenal Combo Tour. This tour is hanging bridges, La Fortuna waterfall, lunch, Arenal Volcano hike and hot springs. Get a discount off this tour!
Read about other things to do in Arenal and La Fortuna here!
Costa Rica Vacation Checklist