Renting a car is the best way to explore Costa Rica and get around. You have the flexibility, freedom and convenience of a car and you can go wherever you want! However, if you're renting a car in Costa Rica, then you have to research beforehand how the road conditions in Costa Rica are because roads here aren't known for being in great shape.
It's hard to find thorough up to date information about certain destinations and routes so I created this handy guide detailing what the road conditions in Costa Rica are like. Find out if you need a 4×4, what the routes are like from both San Jose and Liberia international airports and more tips!
Planning on renting a car? Get our car rental discount!
Click here to get your car rental discount
Not sure what kind of car to rent? Check out our most popular types of cars to rent in Costa Rica article with videos!
Road Conditions in Costa Rica: Popular Routes and Destinations
Click to skip to the section.
Arenal and La Fortuna

The roads around Arenal are in good condition. There are a few unpaved roads, such as the one to the national park and to some of the hotels located out in the hills but they are not that bad, just gravel.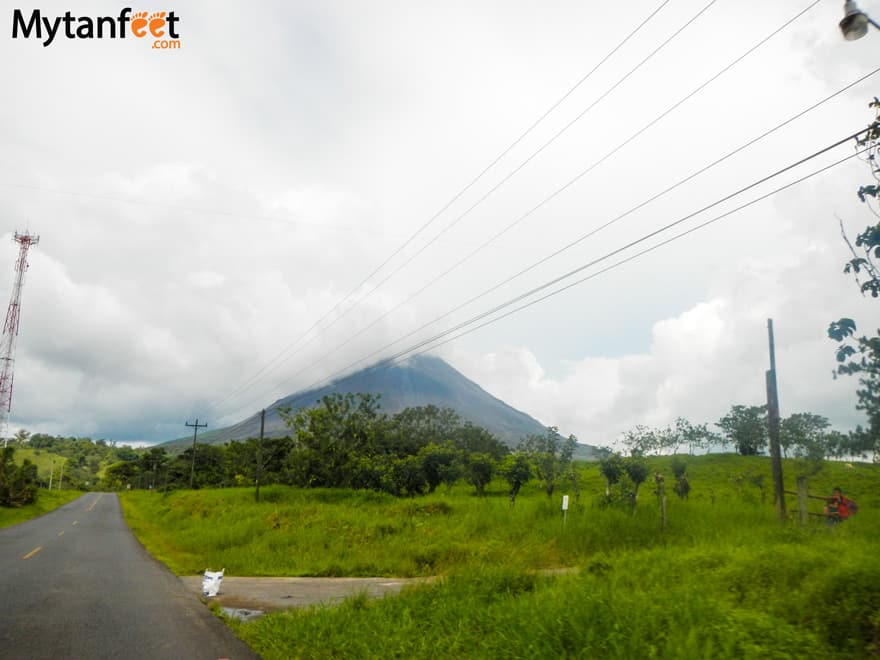 You don't need a 4×4 for Arenal, you can drive a sedan perfectly fine around Arenal and Fortuna.
San Jose to Arenal (3-3.5 hours)
The route from San Jose to Arenal is also in good shape. It gets a bit windy and curvy after San Ramon so go slow, but you won't run into bumpy roads or need a 4×4. You can see what the drive from San Jose to La Fortuna is like here.
Liberia to Arenal (3 hours)
Liberia to Arenal is also in good shape. You go on the InterAmericana highway 1 for a little bit from Liberia to Canas and then you will pass through Tilaran and around Nuevo Arenal. It's a beautiful route and does get very curvy around the lake.
We have a video of us driving from Liberia to Arenal you can watch here:
Arenal to Monteverde (3 hours)
You can also drive from Arenal to Monteverde. You can go through Tilaran or get back on Highway 1. This is an unpaved road for most of it but has gorgeous views. A 4×4 is recommended since you're driving to Monteverde where the roads in that area are not in good shape.

Monteverde
Monteverde is one of the destinations in Costa Rica where it is highly recommended to have a high car. Several roads around Monteverde are unpaved and has big holes. The two main routes going to Monteverde, Route 145 (Las Juntas) and Route 606 (Sardinal) have undergone some construction the past couple years. The 606 is much smoother going up the mountain but still is not a 100% paved or asphalt road, 145 has many concrete sections but is super narrow.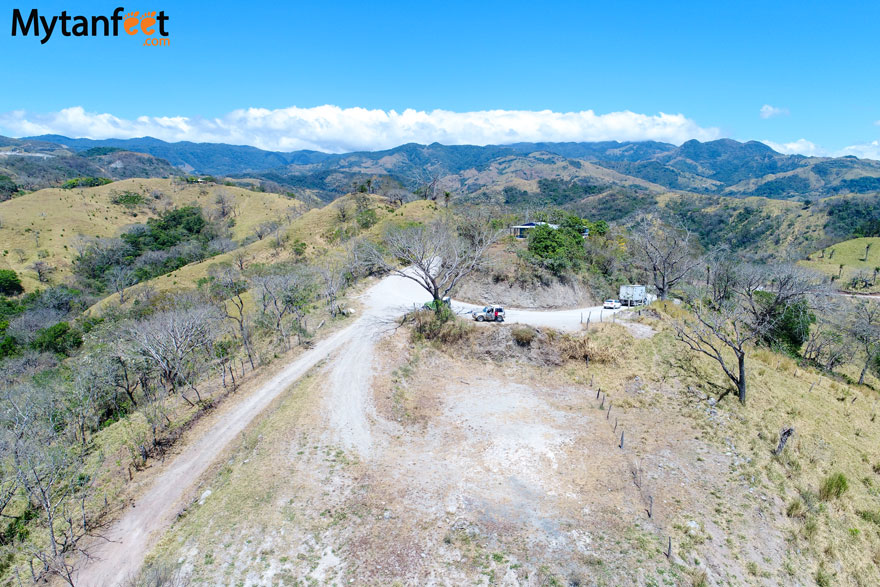 You can take either of these routes from San Jose and Liberia. Las Juntas is closer from Liberia, the Sardinal route is closer from San Jose. It takes about 3.5 hours both ways depending on how fast you drive and we recommend to go slow.
We have a video of us driving to Monteverde from San Jose you can watch here:
Puerto Viejo
The roads around Puerto Viejo are in fairly good shape for the most part. The main road that goes into town and along the beaches is paved. There aren't any painted lines but at least the road is paved. You can watch our video to see what the roads in Puerto Viejo are like.
San Jose to Puerto Viejo (4 hours)
You don't need a 4×4 to Puerto Viejo. There are some unpaved roads around Puerto Viejo but no steep hills or that it's so bad you will need a 4×4. We took our sedan there back in 2010 when there were a lot more unpaved roads and our car was fine.
The road from San Jose to Puerto Viejo is on a major highway, route 32 and even passes through Braulio Carrillo National Park but it is all on a well paved road with lines.

Costa Ballena (Dominical, Uvita, Ojochal)
For the Costa Ballena in the South Pacific, it is highly recommended to have a 4×4. Though the main road through this area, the Costanera Sur is a very well paved road, all the roads going up into the mountains and into Ojochal town are unpaved and steep.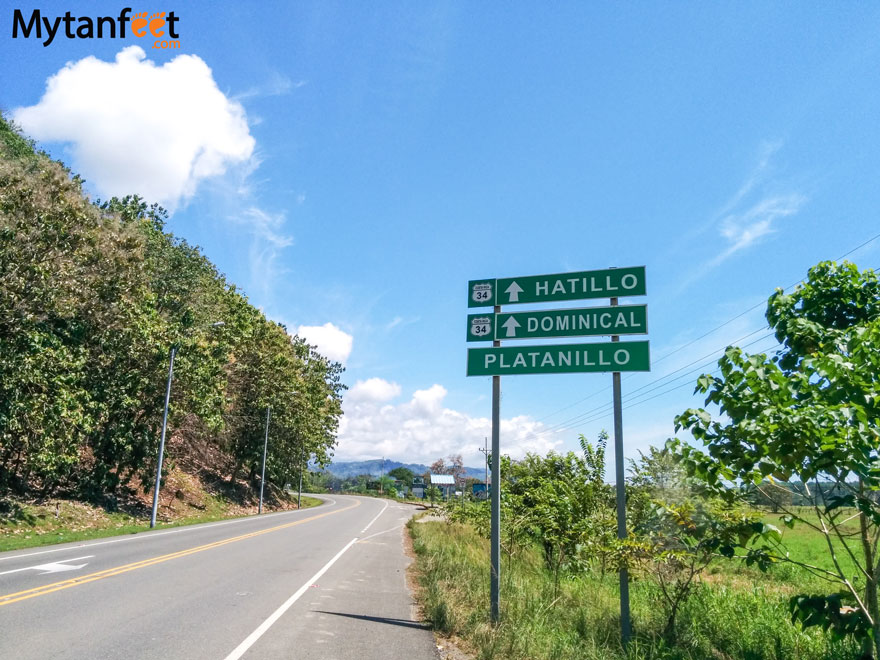 If your hotel is up in the mountains of Uvita or Ojochal, definitely get a 4×4. Hotels like Oxygen Jungle Villas and Manoas require a 4×4. Some restaurants like Jolly Roger also require a 4×4 s so it is worth renting one but if you plan to book a hotel/hostel in town and stay in the town area, you may not need one.
San Jose to Costa Ballena via Interamericanca 1 and Costanera Sur (~3 hours)
This route is goes part of the time on the highway which is well paved and then onto the Costanera Sur, which is a very well paved road. It is super easy to drive since there aren't a lot of cars and it has nicely painted lines.
San Jose to Costa Ballena via Cerro de la Muerte (~3.5 hours)
The Cerro de la Muerte is the route that goes from Cartago down past San Isidro de Perez Zeledon, Platanillo and ends up in Dominical. It's paved but super curvy (hence the name which means hill of death). It's more straightforward to go through the Costanera Sur and you can drive a lot faster on it since it's just a straight road instead of tons of curves.
Dominical, Uvita and Ojocal
The town of Dominical has unpaved roads but it is not too bad. Uvita has paved roads through the town and Ojochal has unpaved roads. If your hotel is up in the hills of Uvita or Ojochal, it is required to have a 4×4.
We have a video of us driving through Dominical you can see here:
Central Valley (Alajuela, San Jose, Heredia, Cartago including Grecia, San Ramon and Zarcero)
Since these are the cities, roads are paved. There are pot holes here and there (especially San Jose) but not really any unpaved roads. Most of the city Costa Ricans drive small compact cars so you don't need a big car if you'll be going around these areas.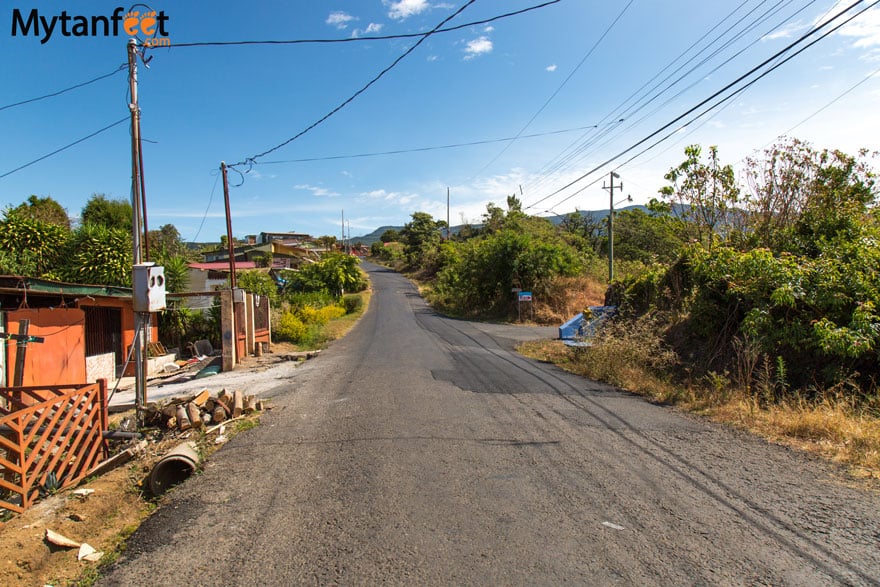 Some roads may not have painted lines and raised pavement markers aren't very common. But roads are paved with a pot hole here and there.
Some hotels in the mountains outside the cities may have unpaved roads but most of them are not too bad. I would check with the hotel just in case if yours is out in the hills.

Manuel Antonio
The roads around Manuel Antonio are mostly all paved and in good shape. There is a pretty steep hill going from Quepos to the national park but it is paved so you won't need a 4×4, you can drive a sedan.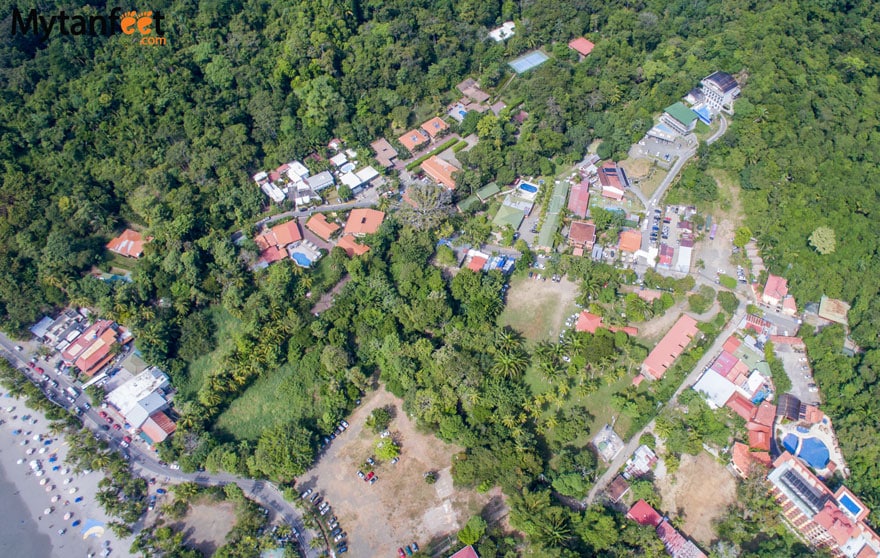 This route is the same as it is down to the Costa Ballena since Manuel Antonio is on the way. You'll get onto the highway, exit at Jaco and then go all the way south on the Costanera Sur.
San Jose to Manuel Antonio (2 -2.5 hours)
Depending on how traffic is getting out of San Jose, this will take roughly 2 hours. It's all on paved roads as it's only through major highways.
Liberia to Manuel Antonio (4 hours)
Paved road. You'll get onto the Interamericana highway like you're going to San Jose and then exit at the same exit on the highway to Jaco.
Tamarindo to Manuel Antonio (5 hours)
Go by way of the friendship bridge, it's faster than going to Liberia. All paved roads in good condition.
If Manuel Antonio is the only destination you're going to, or Jaco + Manuel Antonio from San Jose, you can rent a sedan or even a compact for your whole trip.

Jaco
Jaco town has one of the nicest roads with painted lines and even parking lines! You can see what the town looks like in this video:
But there are a couple spots outside of Jaco that do require a 4×4 if you want to explore. The viewpoint up to the abandoned white building requires a 4×4 (or you can walk, a lot of people hike up) and the waterfalls up in the mountains require a 4×4. The road is the one that goes up to Rainforest Adventures and continues through the mountain.
But if you don't plan to go to those spots, you can rent a sedan and drive that fine.
San Jose to Jaco (~1 hour)
Route goes onto the highway, past Tarcoles bridge and to Jaco. Great well paved road.
Liberia to Jaco (~3 hours)
Same route as Liberia to Manuel Antonio as Jaco is just 1 hour north of Manuel Antonio.
Tamarindo to Jaco (4 hours)
Same as the route from Tamarindo to Manuel Antonio.
So if you're only visiting Jaco from either SJO or LIR airport, you can rent a sedan.

Osa Peninsula
As a very remote destination in Costa Rica,  a4×4 is absolutely necessary. The main road down to the Osa Peninsula from the east side (Puerto Jimenez) is all paved but that's it.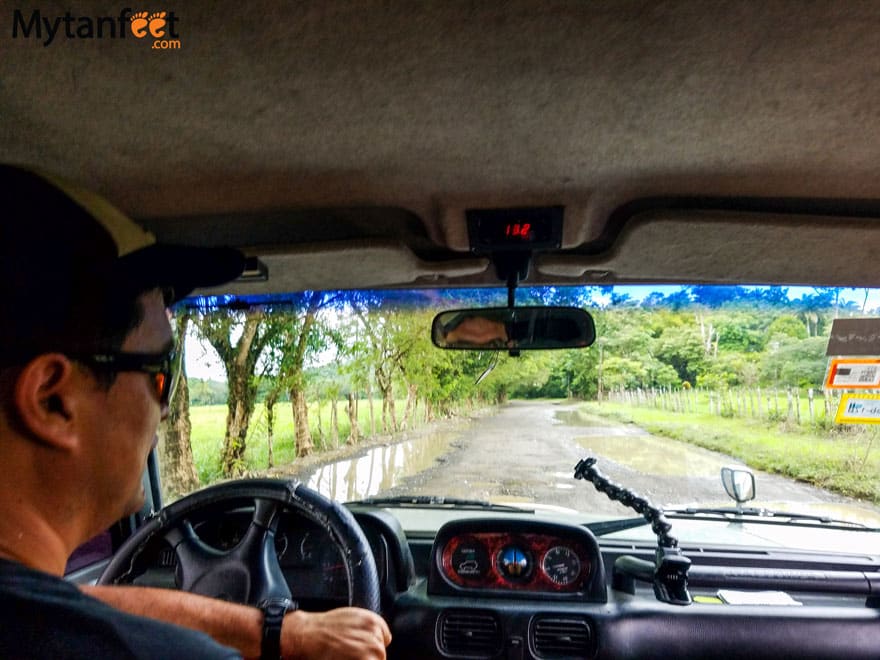 Puerto Jimenez
The main road to Puerto Jimenez is very nicely paved since it goes from the Costanera Sur, past Palmar and all the way down south but it ends once you get to town.
Carate/Matapalo
The road to Carate/Matapalo is extremely bumpy and has a ton of holes. If you're going all the way to Carate, make sure you check tides because there's a couple of rivers and in rainy season, they get very full.
Drake Bay
Drake Bay road is very very bumpy. You can drive it in dry season but you do need to cross a couple of rivers so it is recommended not to drive in rainy season since you could get rained in. You should take the boat from Sierpe instead.

Perez Zeledon
The roads to Perez Zeledon are on well paved roads as you go by way from Cartago and the route Cerro de la Muerte. The roads around town are paved and if you go outside of town, there are some unpaved roads but nothing too bad.
From Perez Zeledon, you can keep going on the Cerro de la Muerte road down to Dominical.
Tamarindo
The roads around Tamarindo are in good shape. You don't need a 4×4 and can rent a sedan if you're only staying in Tamarindo or the area. The road to Playa Langosta is unpaved but they are planning on paving it soon (it has been in the works for awhile). The road to Playa Avellanas and Negra are unpaved and gets pretty bumpy in rainy season.
You can see what Playa Tamarindo looks like in this video:
Liberia to Tamarindo (1 hour)
All on a well paved road. A section of it doesn't have lines or street lights so drive carefully as that part is also a little curvy.
San Jose to Tamarindo (4 hours)
This route goes by way of the Friendship bridge and is all paved. A lot of it doesn't have painted lines or lights but it's all paved.
There are some roads to nearby beaches that have bumpy roads. The road to Playa Avellana, Negra, Junquillal and to the JW Marriott is on a bumpy unpaved road. But they recently re-did the first section so it's a lot better. You can drive a sedan but you will need to go slow to avoid all the holes, it'll be a very bumpy ride.

Ostional
We recommend getting a SUV to go to Ostional as that road is extremely bumpy. Update 2019: They have now built a small bridge over the last river before reaching town. We still recommend a high car in rainy season but in dry season, a standard car can make it and they fill the pot holes. It'll be a bumpy drive so if you're visiting in rainy season when the holes get big, a high car is best for that area.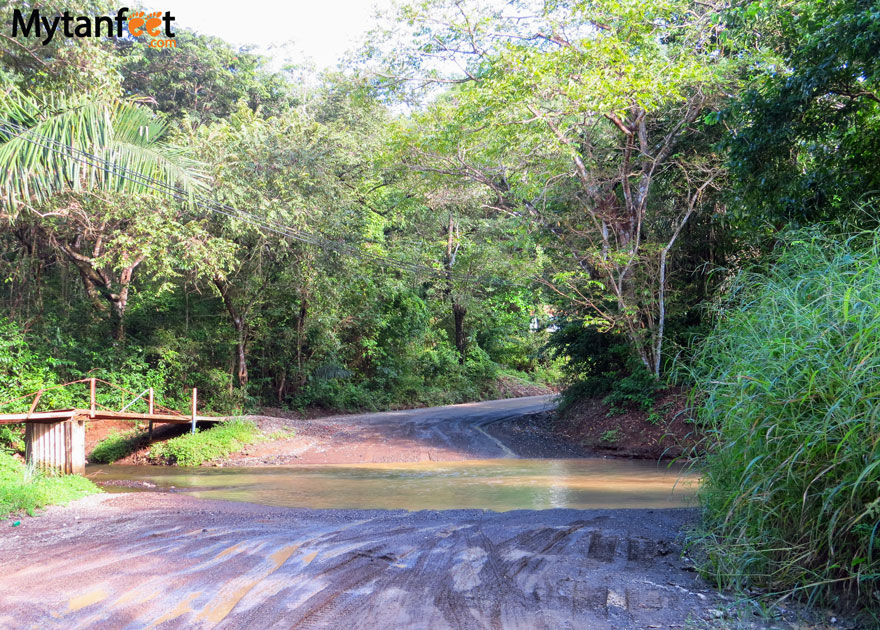 Once you enter Ostional, the town has some paved roads but most of it is still unpaved.
From Liberia, it is about a 3 hour drive. The fastest way is from Santa Cruz, turn right towards the coast.

Samara
Samara town has paved roads and doesn't require a 4×4. A section is unpaved but it is nothing bad and can be driven to with a sedan.

Santa Teresa/Mal Pais/Montezuma
Even if you're taking the ferry and going through Cobano, rent a 4×4. The section is mostly paved but there are some that are not and the roads around Santa Teresa and Montezuma are largely unpaved and are dirt roads.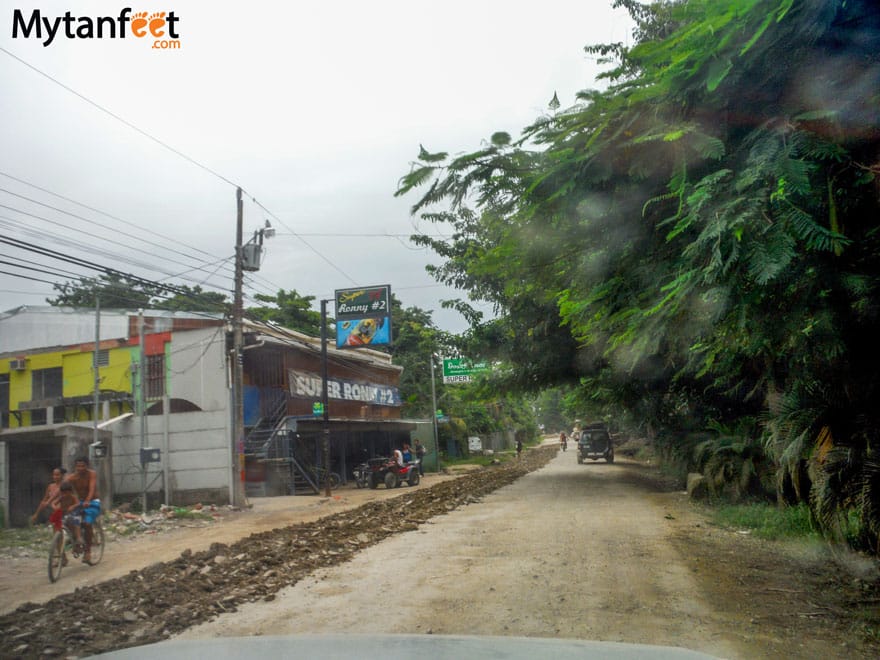 If you're driving all the way around (not taking the ferry), make sure you keep on the road towards the ferry so you have more paved roads. It's longer but is in much better condition.
If you are using Waze, make sure it takes you all the way around the Nicoya Peninsula and not the shortcut. The shortcut has very bad roads and gets washed out in rainy season or flooded since there are around 5-6 rivers to cross.
You want to take this longer route from both San Jose (6 hours) and Liberia (4 hours).

Turrialba
You can get by without a 4×4. The road up to the Turrialba Volcano National Park is mostly paved, the last several kilometers are dirt but not bad. It gets unpaved around Guayabo monument but it is nothing horrible.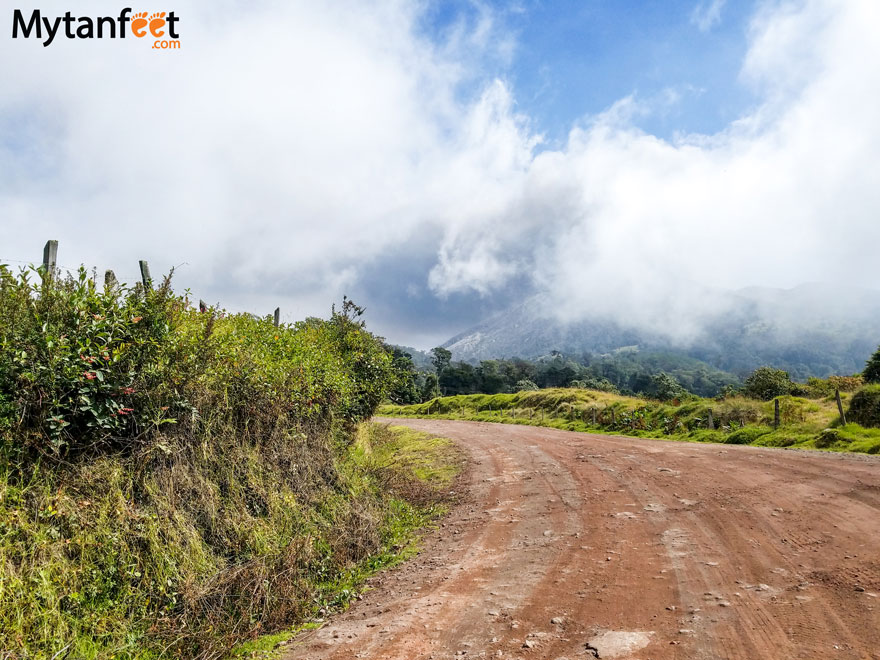 Since Turrialba is a large city, roads are well paved in town and up to the neighborhoods in the mountains like Santa Cruz. You can drive a sedan there from San Jose (2 hours).

Playas del Coco/Hermosa/Ocotal/Panama
The Gulf of Papagayo is easily accessible via Liberia and on a good road. You can see what Playas del Coco town looks like here:
The roads to the other beaches nearby like Hermosa, Ocotal, Panama and Four Seasons are all on a good road as well. There are just some "hidden" beaches that require a 4×4 like Playa Iguanita.
If you're staying at the Riu, you don't need a 4×4. It's a bumpy road but nothing too bad and no hills.
Liberia to Coco (20 minutes)
Super easy short drive on a well paved road.
San Jose to Coco (3.5 hours)
All paved roads, goes through Interamericana highway 1.

Tenorio Volcano National Park (Rio Celeste)
There are 2 ways to Tenorio Volcano National Park: from La Fortuna or Liberia in Guanacaste. Both ways now have freshly new paved roads to the national park, with only an short unpaved section.
You can watch in the video below hat the road is like from Bijagua to the entrance of the park. As of December 2018, the road from Bijagua to Tenorio Volcano National Park is completely paved!
La Fortuna (1.5 hours)
This route takes you by way of Guatuso and Upala and is unpaved for a small section to the national park entrance. You can also go by way of Tilaran, Canas and InterAmericana highway 1.
Liberia (1 hour)
Drive on InterAmericana highway and you'll turn left a little before Canas to get to Bijagua, the closest town to the national park. It's all paved except for once you get up to Bijagua.

Rincon de la Vieja National Park
The road to both sector entrances of the national park are unpaved but you don't necessarily need a 4×4 since it's a flat road. We drove our sedan once and though super bumpy, we made it.

Irazu Volcano National Park
You can drive a sedan up to Irazu Volcano from San Jose, the road is all paved. It is a bit curvy as you're going high up into the mountains of Cartago.

Palo Verde National Park
Though this road to Palo Verde is unpaved, no 4×4 is necessary since it's flat with no hills.

Poas Volcano and La Paz waterfalls
All great roads, well paved. No lines and gets very curvy so be careful (there have been major accidents).
Now you know what the road conditions in Costa Rica are like for popular destinations and routes and it will help make your trip planning a lot easier since you know what to expect!
Read other Costa Rica travel tips below!
Renting a car with Adobe Rent a Car in Costa Rica