If you're renting a car in Costa Rica, then you absolutely have to research how the road conditions are for where you are going in Costa Rica so that you rent the appropriate vehicle. In this post, we will share how the road conditions are for popular destinations in Costa Rica.
Planning on renting a car? Get our car rental discount!
Costa Rica Road Conditions: Popular Routes and Destinations
Arenal and La Fortuna
When it comes to Costa Rica road conditions, the roads to La Fortuna are fairly good from both international airports. Then the roads in and around La Fortuna are paved, as well as roads to popular attractions such as La Fortuna Waterfall and Mistico Hanging Bridges.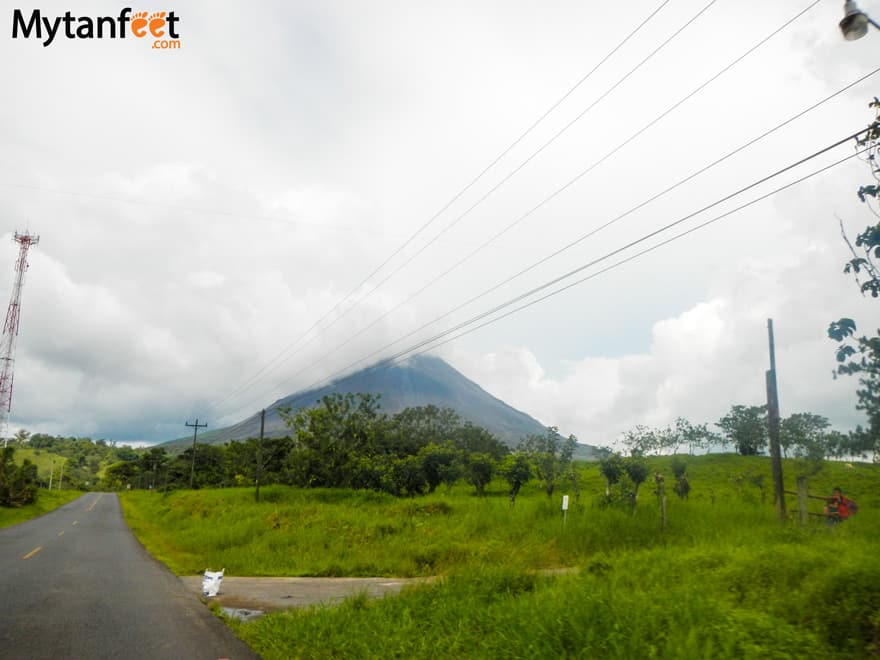 There are some unpaved roads in the area such as the road to the Arenal Volcano National Park Peninsula sector but it is not horrible. Majority of hotels have paved roads.
Therefore, a 4×4 is not necessary to go to La Fortuna.
San Jose to Arenal (3-3.5 hours)
The route from San Jose to Arenal is in good shape. It gets a bit windy and curvy after San Ramon so go slow, but you won't run into bumpy roads or need a 4×4. You can see what the drive from San Jose to La Fortuna is like here.
Liberia to Arenal (3 hours)
Liberia to Arenal is also in good shape. You go on the InterAmericana highway 1 for a little bit from Liberia to Canas and then you will pass through Tilaran and around Nuevo Arenal. It's a beautiful route and does get very curvy around the lake. There may be some big potholes once you get around the lake so watch out.
We have a video of us driving from Tamarindo to La Fortuna you can watch here:
Arenal to Monteverde (3 hours)
You can also drive from Arenal to Monteverde. You can go through Tilaran or get back on Highway 1. This is an unpaved road for most of it but has gorgeous views. A high clearance car is recommended.
Monteverde
Monteverde is one of the destinations in Costa Rica where it is highly recommended to have a high car and is necessary in rainy season. As a small mountain village up in the cloud forest, the road infrastructure is still rural.
There are two main routes going to Monteverde, Route 145 (Las Juntas) and Route 606 (Sardinal), both of which are mostly asphalted/concrete. However, it can be slippery when wet and very curvy. The one main road through downtown Santa Elena is paved, but outside the town center, the roads are mostly unpaved.
Read our detailed post about Monteverde road conditions for more information.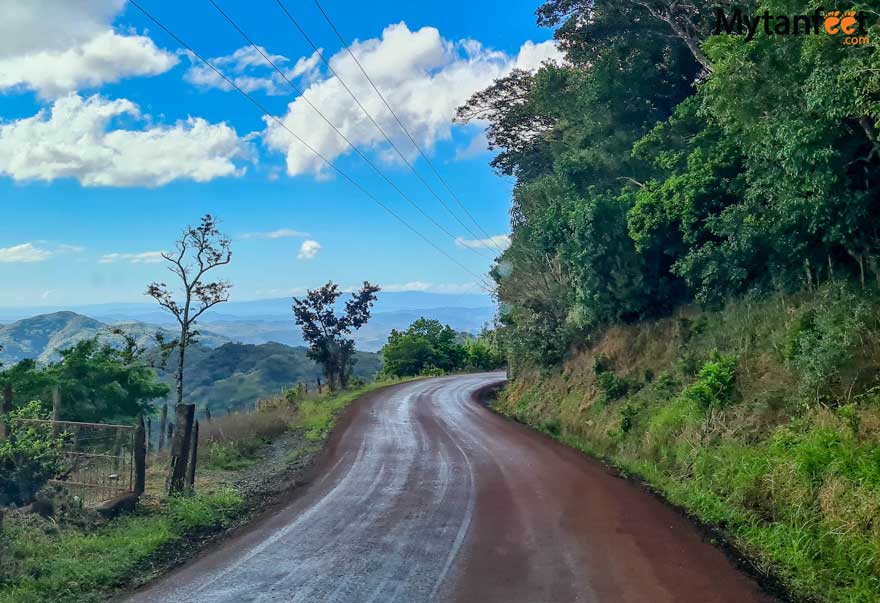 If driving from San Jose, take Route 606. If driving from Guanacaste, take Route 145. It takes about 3.5 hours both ways depending on how fast you drive. Due to the nature of the road, please drive slowly and carefully as the road goes up a mountain with no guard rails.
Additionally, we do not recommend to drive to Monteverde in the dark (it gets dark by 6 PM everyday in Costa Rica).
Puerto Viejo de Talamanca
Puerto Viejo has fairly good roads in town. The main road that goes along the beaches from town is paved (Route 256).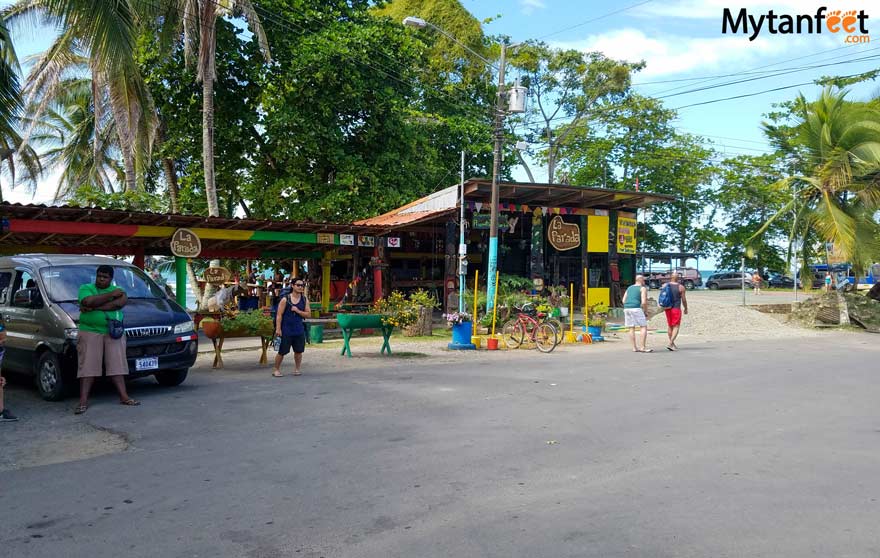 A 4×4 is not required for Puerto Viejo or Cahuita, nor is it required to get from San Jose to Puerto Viejo.
Costa Ballena (Dominical, Uvita, Ojochal)
For the Costa Ballena in the South Pacific, it is highly recommended to have a 4×4. The main highway, Route 34 is fully paved as well as the roads into the town centers of Uvita and Dominical, outside those areas, roads are not.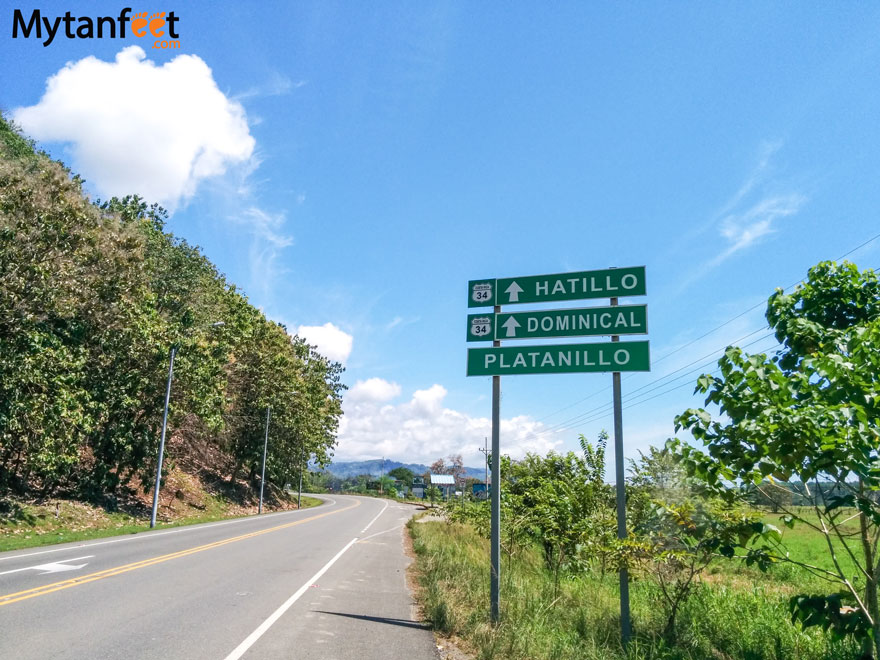 Specifically, the roads going up into the mountains are unpaved and steep and the roads in and around Ojochal are not fully paved either.
If your hotel is up in the mountains of Dominical, Uvita or Ojochal, definitely get a 4×4 as many require it. Some restaurants like Jolly Roger also require a 4×4 so if you plan to explore the area, you must rent a 4×4.
However, if you plan to stay only in the town center and not explore, then a 4wd is not necessary as the main road is paved.
There are two ways to get from San Jose to the Costa Ballena area.
San Jose to Costa Ballena via Interamericanca 1 and Costanera Sur (~3 hours)
This route is goes part of the time on the highway which is well paved and then onto the Costanera Sur, which is a very well paved road. It is super easy to drive since there aren't a lot of cars and it has nicely painted lines.
San Jose to Costa Ballena via Cerro de la Muerte (~3.5 hours)
Route 2, or locally known as Cerro de la Muerte is the route from Cartago down past San Isidro de Perez Zeledon, Platanillo and ends up in Dominical. It's fully paved but super curvy and gets incredibly foggy near San Gerardo de Dota (hence the name which means hill of death).
It's more straightforward to go through the Costanera Sur and you can drive a lot faster on it since it's just a straight road instead of tons of curves.
Central Valley (Alajuela, San Jose, Heredia, Cartago and other small cities like Grecia, San Ramon)
Since the Central Valley is the main known as the greater metropolitan area of Costa Rica, roads are paved. There are pot holes here and there but for the most part, all paved. Most of the city Costa Ricans drive small compact cars so you don't need a big car if you'll be going around these areas.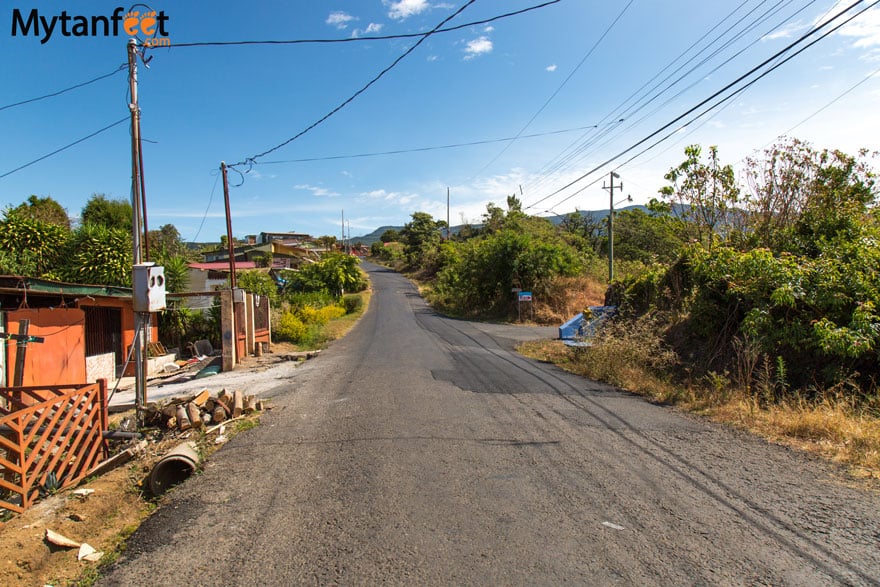 Some hotels in the mountains outside the cities may have unpaved roads but most of them are not too bad. I would check with the hotel just in case if yours is out in the hills.
Manuel Antonio
The roads around Manuel Antonio are paved and in good shape. There is a pretty steep hill going from Quepos to Manuel Antonio National Park but it is paved so you won't need a 4×4, you can drive a sedan.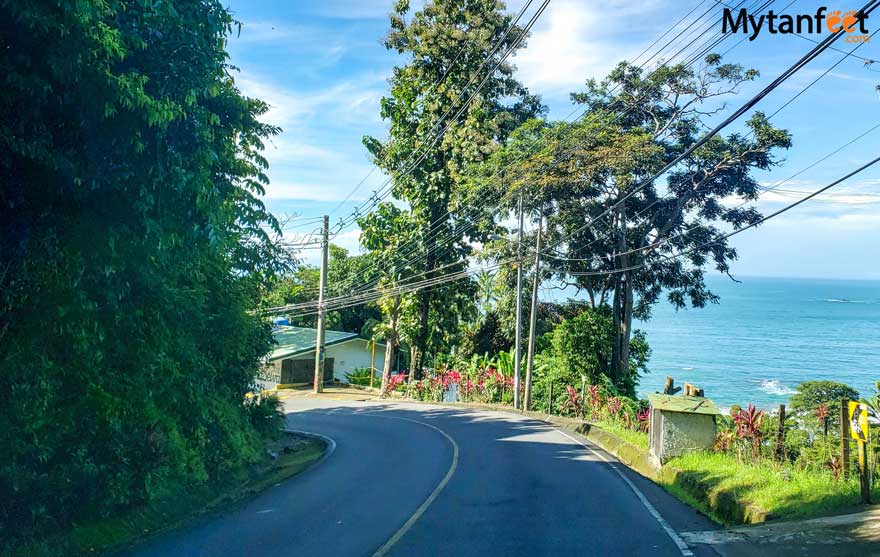 This route is the same as it is down to the Costa Ballena since Manuel Antonio is on the way, driving mostly on Route 34 down south.
There are some attractions outside Manuel Antonio that do require a 4wd like so in case you plan to explore, then rent a 4wd.
San Jose to Manuel Antonio (3 hours)
Depending on how traffic is getting out of San Jose, this will take roughly 3 hours.
Liberia to Manuel Antonio (4.5 hours)
Paved road. You'll get onto the Interamericana highway like you're going to San Jose and then exit at the same exit on the highway to Jaco.
Tamarindo to Manuel Antonio (5 hours)
The best route from Tamarindo to Manuel Antonio is via Route 21, Route 18 (Friendship Bridge), Route 1 and Route 34. All paved roads.
If Manuel Antonio is the only destination you're going to, or Jaco + Manuel Antonio from San Jose, you can rent a sedan for your whole trip.
Jaco
Jaco beach town has one of the nicest roads with painted lines and parking lines! Make sure to pay attention to the parking signs because the police does give parking tickets in Jaco.
San Jose to Jaco (1.5 hours)
Route goes onto the highway, past Tarcoles bridge and to Jaco. Great well paved road.
Liberia to Jaco (~3 hours)
Same route as Liberia to Manuel Antonio as Jaco is just 1 hour north of Manuel Antonio.
Tamarindo to Jaco (4.5 hours)
Same as the route from Tamarindo to Manuel Antonio.
So if you're only visiting Jaco from either San Jose or Liberia, you can rent a sedan.
Osa Peninsula
As a very remote destination in Costa Rica, a 4wd/4×4 is absolutely necessary for the Osa Peninsula. The main road down to the Osa Peninsula from the east side (Puerto Jimenez) is all paved but that's it, it ends in town.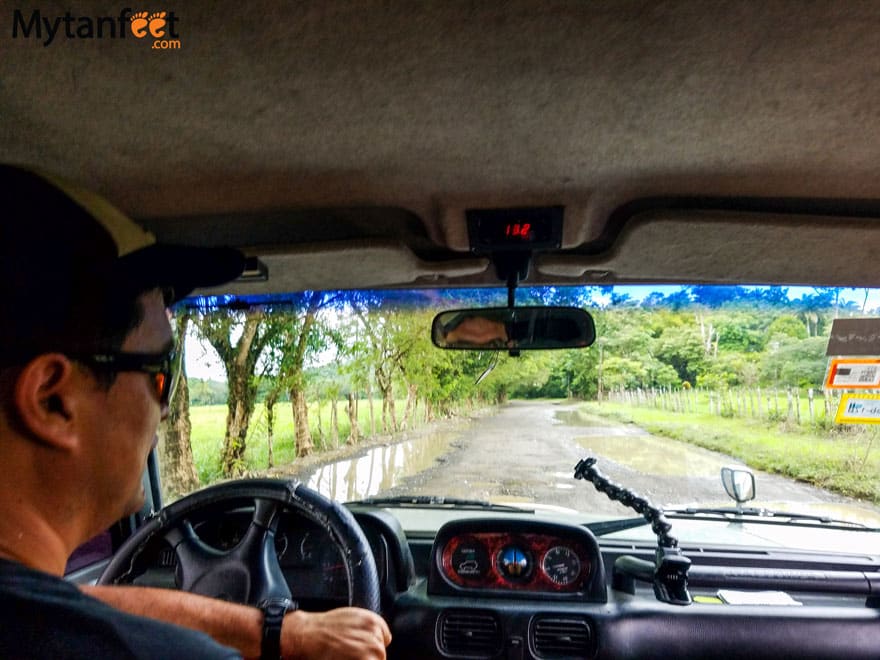 Puerto Jimenez
The main road to Puerto Jimenez is very nicely paved since it goes from the Costanera Sur, past Palmar and all the way down south but it ends once you get to town.
Carate/Matapalo
The road to Carate/Matapalo is extremely bumpy and has a ton of holes. If you're going all the way to Carate, make sure you check tides because there's a couple of rivers and in rainy season, they get very full. You can only pass in low tide.
Drake Bay
The road to Drake Bay has improved greatly in the last couple years as they have sort of asphalted the main road. It is not a fully paved road but you can make it in a high car or 4wd in rainy season. There are now makeshift bridges over the rivers/creeks.
However, the best way to get to Drake bay is to either take a domestic flight or take the boat from Sierpe to Drake Bay. The drive to Drake Bay is long from San Jose and it's more fun to fly or boat.
Tamarindo
The road to Tamarindo is a paved main road. You don't need a 4×4 and can rent a sedan if you're only staying in Tamarindo or the area.
If you plan to visit other beach towns around like Playa Conchal, Brasilito, Potrero or Flamingo, a sedan is fine. If you plan to visit some more remote beaches such as Playa Mina, Playa Real, Playa Negra, Playa Junquillal, Playa San Juanillo or further, a high clearance car will be required.
Liberia to Tamarindo (1 hour)
All on a well paved road.
San Jose to Tamarindo (5 hours)
This route is all paved and goes mostly on the highway.
Ostional
From Liberia to Ostional Wildlife Refuge, it is about a 2.5 hour drive via Route 21 and Route 160. From Tamarindo, we take Route 160 going down the coast.
We recommend getting a SUV to go to Ostional as that road is extremely bumpy being unpaved with lots of potholes. There are some steep hills and there is one main river before you reach Ostional. Although this river does have a small bridge, sometimes it is under construction or out of commission due to weather conditions since it is not in great shape.
If you are visiting in peak rainy season months like September, October and November, check the Ostional Guide Association Facebook page for updates on this bridge status.
You can watch the video below (the one for Nosara) to see how the road is to Ostional and the river.
Samara
Samara has paved roads and doesn't require a 4×4. A section is unpaved but it is nothing bad and can be driven to with a sedan. Make sure you take the route through Nicoya when driving from Liberia as it's all paved (Route 21 and Route 150).
Nosara
A 4×4/4wd is required for Nosara. You can drive down along the coast via Route 160 and this road is unpaved nearly all the way through. This route requires you to cross two rivers to get to Nosara. Watch our video of driving from Tamarindo to Nosara below (Mid April).
In the rainiest months of the year, the rivers can overflow so be extremely careful and ask how conditions are if you're visiting September to December.
Santa Teresa/Mal Pais/Montezuma
From San Jose, the best route is to take the Puntarenas ferry to Paquera. That route is completely paved and the road from the Paquera ferry to Montezuma is paved.
Beyond Montezuma starting at Cabuyal towards Mal Pais and Santa Teresa, the road is not paved at all. For Santa Teresa and Mal Pais, it is recommended to have a 4wd/4×4.
If you are coming from Liberia, make sure to take paved road around the Nicoya Peninsula (route 21 past Paquera). There is no coastal road connecting Liberia to Santa Teresa completely.
Turrialba
4×4 highly recommended the last section of the road towards Turrialba Volcano National Park is not paved and goes up the mountains. The road to Turrialba is paved.
Playas del Coco/Hermosa/Ocotal/Panama
The Gulf of Papagayo including Playas del Coco are easily accessible and on a good road. The road to other beaches like Hermosa, Panama and Ocotal is also on a good road. A 4×4 is not necessary for the Riu Guanacaste Resort.
Rio Celeste (Tenorio Volcano National Park and Bijagua)
The road to Tenorio Volcano National Park where Rio Celeste is is paved/concrete. It is not necessary to have a 4wd in the dry season, however as this area tends to rain more and the road to the park is narrow and can get slippery when wet, we still recommend a 4wd or car with high clearance.
The roads in Bijagua, the main town near the national park are not paved – only the main one through town.
Irazu Volcano National Park
You can drive a sedan up to Irazu Volcano National Park from San Jose, the road is all paved. It is a bit curvy as you're going high up into the mountains of Cartago.
Poas Volcano National Park
The road up to Poas Volcano National Park is completely paved but narrow and curvy. Drive slowly!
La Paz Waterfall Gardens and Peace Lodge
The road to Peace Lodge and La Paz Waterfall Gardens is completely paved but is narrow, curvy and windy. Make sure to drive slowly, especially in rainy season. Do not ride your brakes when coming down this hill, you may burn them out.
Car Rental Discount
Now you know what the road conditions in Costa Rica are like for popular destinations. Don't forget to get our Costa Rica car rental discount with our extra benefits in this link to save some money!
Read other Costa Rica travel tips below!
Costa Rica ultimate survival guide
Tips for driving in Costa Rica
10 best places for 1st timers in Costa Rica