La Fortuna, Costa Rica attracts visitors from all over the world with its fantastic outdoor adventures, lush rainforests, beautiful hotels and stunning volcano views. For these reasons, La Fortuna is one of the best destinations in Costa Rica.
If you are visiting La Fortuna, here is our guide to help you plan your visit to this adventure capital of Costa Rica!
Things to Do in La Fortuna, Costa Rica
Fortuna is an excellent home base to explore the surrounding natural attractions and is known as the adventure capital of Costa Rica. Here are some of our recommended activities.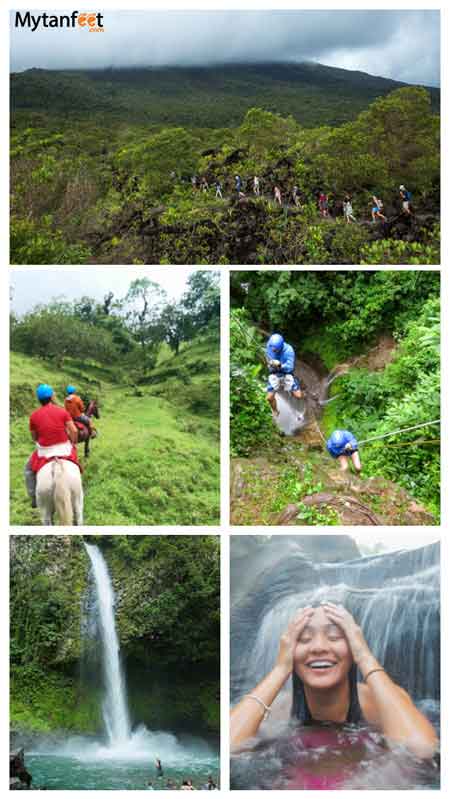 Canyoning
Canyoning is one of our favorite adventures in this area. Rappel down waterfalls in the lush rainforest. This activity is perfect for adventure seekers! Read about canyoning in Arenal. Desafio also has an excellent canyoning adventure tour.
Hanging bridges hike
There is a very nice private reserve called Mistico Hanging Bridges near Lake Arenal that has several hanging bridges. The bridges let you get high in the rain forest canopy for beautiful views and better wildlife watching opportunities.
Fortuna waterfall
This emerald green waterfall is only 15 minutes from town and you can swim and lay in the refreshing water. Read our guide to visiting Fortuna waterfall here. You can also visit El Salto, which is the local spot downriver of the Arenal River.
Hot springs
You have to go to at least one hot spring in Arenal. The Tabacon river, which got very hot due to the 1968 eruption supplies water to the many hot spring facilities in the area. Tabacon, the Springs, Baldi, Ecotermales and Paradise are just a few. If you're on a budget, head to the free hot spring river. You can read more about Arenal hot springs.
Bogarin Trail
This easy 2 kilometer (1/2 miles) Bogarin trail is the best place to see sloths in La Fortuna. It's right in town and used to be a cattle farm until a local decided to grow it back into rainforest. In one hour, we saw 6 sloths! Highly recommended to go with a guide.
Horseback riding
Get gorgeous views of the Arenal Volcano and surrounding mountains on an Arenal horseback riding tour. This is one of our favorite places in Costa Rica to go horseback riding because of the unbeatable views and spirited horses!
Volcano Hike
You can hike in the Arenal Volcano National Park or at the several private reserves nearby such as Arenal 1968 for great views of the Lake Arenal and volcano.
Read our other top picks for things to do in Fortuna and get our tours discount here!
La Fortuna Hotels
There are over 100 hotels and vacation rentals in this area at every single price point. You can find cheap hostels from $15 USD a night per bed in a dorm to $850 USD a night luxury hotel. Here are some recommended places to stay.
Cheap/budget hostels and hotels
Hotel Las Colinas: Charming family run hotel. Great location, comfortable rooms, hot breakfast. Right in downtown so it's a bit noisy and there isn't really parking.
Selina Fortuna: Popular hostel chain in Costa Rica.
Hotel El Secreto: Cute family run hotel, 5 minute walk to downtown. Hot breakfast included.
Arenal Poshpaker: A hostel right in town with a pool
La Choza Inn and Hostel: Dorms and private rooms. They also offer one free shuttle to and from the hostel and free hot spring. Breakfast included.
Mid to high range/luxury
There are also many Airbnbs, vacation rentals and VRBO's in the area.
La Fortuna Restaurants
Tons of yummy food and cheap eats in town.
Soda Coloso #2: Cheap local food. Big portions!
Rainforest cafe: Across from Hotel Las Colinas, delicious empanadas, cake and coffee.
Snappers Marisqueria: Great place for seafood.
Marisqueria Del Carajo: Very reasonably priced and good seafood restaurant
La Parada Restaurante and Pizzeria: Right in downtown, good local food and decent pizza
Ohana Pitaya Bowls: Fruit bowls, crepes, waffles and ice cream
Don Rufino: Great place for steak and seafood and for a nice dinner out.
Lava Lounge: Fun place for craft beer, bar food and night life.
La Casa de la Hormiga soda: Cheap local restaurant behind Arenal Hostel Resort.
Chocolate Fusion: Cute cafe and bakery with coffee, chocolate, ice cream and pastries.
Panaderia La Principal: Great bakery
Santa Paletta Granizados: Ice cream and shaved ice treats
Zacate Fast Food: Cheap fast food stand with burgers, sandwich, etc.
Piura: Amazing Peruvian restaurant. Great place for meat, seafood, ceviche, etc.
Restaurante Pollos Fortuenos: Delicious chicken, burgers, nachos and sandwiches.
Mercadito Arenal: Nice food court with pizza, tacos, burgers, sushi and a bar.
Soda Viquez: Another decent local restaurant next to Rainforest Cafe.
Spectacolar Cantina: Mexican food and beer
Soda Garra-Pata: Great place for barbecue and steak, a local favorite and one of ours.
Organico Fortuna: Vegetarian and vegan food. Great coffee, smoothies, desserts and fresh breakfasts
Soda Nene: One of the best places for local food. Awesome ceviche and coconut flan.
Fortuna Pub: Enjoy craft beer with delicious food. Also has plenty of vegetarian options.
Urbano: Cheap but yummy sandwich truck in town.
La Fortuna Town
La Fortuna is a cute, Costa Rican town. It used to be primarily a farming town but thanks to its proximity to many natural attractions, it became the main tourism hub of the Arenal area, all the way from Arenal Lake and Arenal Volcano.
From wherever you are in La Fortuna, you can get a view of Arenal Volcano. La Fortuna downtown is one of our favorite local parks in Costa Rica because of how picturesque it is. When the volcano is clear, it is truly an impressive sight to see!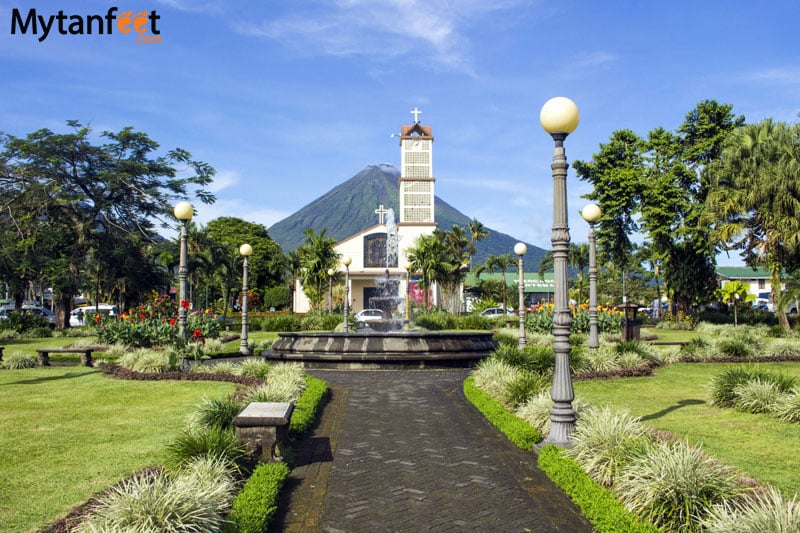 Although Fortuna is a popular tourist destination, you still get a good local vibe. One interesting fact about this town is that majority of the businesses are owned by local Costa Ricans which is a rare occurrence in the touristic areas of Costa Rica.
As one of the more popular destinations in Costa Rica, the months of December – April and July and August are extremely busy. You will need to pre-book your tours and hotels for these dates. May, June, September, October and November are in the low season with much less tourists.
Video of the Town
Here is a walking video of downtown (no editing, ambient sound at night).
Location of La Fortuna, Costa Rica
La Fortuna, Costa Rica Map
La Fortuna is located in the Alajuela province, 18 kilometers (11 miles) from Arenal Volcano National Park and 140 (87 miles) kilometers from San Jose.
How to Get to La Fortuna
By public bus
There is a bus from San Jose to La Fortuna at 8:40AM from Terminal 7-10, Ave 7-9, calle 12 and takes 4 hours. From Guanacaste (like Tamarindo, Flamingo, Playas del Coco), you need to get to Liberia first. Then take the bus to Canas (one every thirty minutes from 8:30 AM to 3PM), then to Tilaran (one every hour from 5AM to 10AM, 11:30AM, 13:00,15:30 and 17:00) and then to Fortuna (one at 7 AM and 12:30PM).
From SJO Airport, if you can't make the direct bus, you can take a bus to San Ramon – La Fortuna or Ciudad Quesada – La Fortuna.
By shuttle
You can book a private shuttle to La Fortuna from San Jose and Liberia for around $200 USD one way. Shared shuttles from San Jose and Liberia to La Fortuna cost around $59 USD per adult one way with Interbus, Ride CR, Easy Ride and Caribe Shuttle.
Air
La Fortuna has its own local airport. Airlines like Sansa flies into this airport. A flight is around 20 minutes from San Jose and costs around $90 USD one way.
Driving
Driving to Fortuna from Liberia and San Jose takes around 3.5 hours one way. You can read about the Guanacaste to Arenal drive and the driving San Jose to Arenal in these posts. If you're renting a car, make sure to take advantage of our Costa Rica car rental discount.
Boat
If you are coming from Monteverde, you can take the taxi-boat across Lake Arenal. Costs from $30-60 USD per person.
Adventure transfers
You can also take a rafting trip as an interconnection. Some rafting companies offers the one day white water rafting Pacuare tours where they can pick up in either San Jose or Puerto Viejo and drop off in La Fortuna (get $5 off this tour here). They can also go vice versa to pick up in La Fortuna and drop off in San Jose/Puerto Viejo.
Video of Driving from Guanacaste to La Fortuna (from Tamarindo/Playas del Coco)
We made a video of us driving from Tamarindo to La Fortuna including places to stop for food, coffee, drinks and bathroom.
If you want to follow our exact route we took in this video, check the map here!
How to Get Around La Fortuna, Costa Rica
You can easily walk around La Fortuna since the town is not big. The main bus station is in downtown next to the Mega Super and you buy bus tickets at the Red Lava stand next to it.
However, the best and easiest way to get around the area is by car since the points of interests all spread out without a direct public bus or shuttle. Therefore, you will have to taxi everywhere or book tours with transportation if you don't have a car.
You can find plenty of red taxis in La Fortuna. Estimated prices are from town center to Fortuna waterfall, at least $15 USD one way and at least $20 USD to the national park one way.
If you rent a car, there is plenty of street parking in the town center but it can be tight on the weekends. Be aware that there aren't any parking meters or dedicated secure parking lots, it's all street parking so be cautious not to leave any valuables in your car.
There is a gas station in downtown.You can also rent scooters, there are rentals for $5 per hour, $25 for 6 hours and $40 USD per 24 hours. There are scooters by Hotel Regina and in Downtown La Fortuna Boutique Hotel.
Uber is in La Fortuna and you can find Ubers in downtown. We have known people to book Uber from La Fortuna to San Jose.
La Fortuna Weather
The weather experiences typical dry and rainy tropical seasons. During dry season (December to April), the temperature is around mid 80s F (30 C) during the day and cools off at night.
Keep in mind that since it is the rainforest areas, this area is very humid and there is a possibility of some rain during dry season. Once, we visited mid-March, normally the driest and hottest month and it rained for about 30 minutes around 5-6 PM. It was completely dry and super sunny during the day and the rain came all of a sudden! It stopped around 7 PM.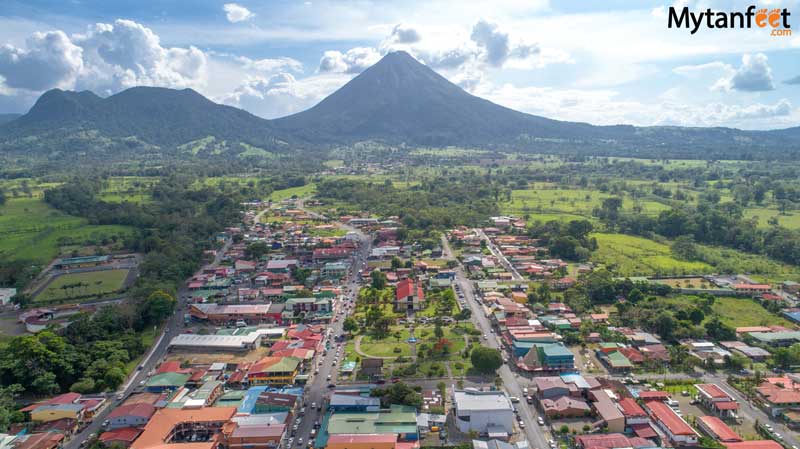 During rainy season (May to November), the temperature stays in the high 70s F and low 80s F (25-28 C). This area does rain a fair amount in rainy season, receiving about 15 feet (4.5 meters) a year. The typical day in rainy season will be sunny in the morning, off and on rains during the day and rainy at night/evening.
The rainiest months are September and October.
What to Pack for La Fortuna
Whether you're visiting in dry or rainy season, it is ideal to pack clothes that dry fast and are moisture wicking due to the high humidity. Also make sure to pack the appropriate items if you plan to do any adventures like ziplining, horseback riding, hiking, etc.
Clothes: You can bring shorts, short sleeve shirts and tank tops. You don't need long sleeve shirts or sweaters but a light jacket for nights is useful.
Shoes: A pair of sandals and hiking sandals/shoes/trail running shoes. If you plan on doing activities like ziplining, hiking or white water rafting, make sure to bring closed toed shoes.
Mosquito repellent: Always a must in Costa Rica.
If you're visiting in rainy season, you will also need a waterproof rain jacket and a waterproof backpack or rain cover. Read our guide to packing for rainy season in Costa Rica to be prepared. You can also check our Costa Rica packing list for more tips.
Shopping
There are several souvenir stores in town such as Green Forest Souvenir, Cianikal Galeria, Souvenir Leo, Souvenir Quetzal Art and the Galeria Esudio Art. There is also a handmade art shop next to Hotel Las Colinas. I like the store Bambamboo for eco-friendly clothing.
You can get pre-paid SIM cards at the Kolbi office or the Tecnocell store.
Supermarkets
There is a fruit and veggie stand called Sarchisenos and there are several supermarkets called Super Christian #1 and #2. There is also a Mega Super, Super Market Arenal, Maxi Pali and a Super Rovil grocery store all in town.
Read more about grocery shopping in Costa Rica.
Banks
There are plenty of banks with 24 hour ATMs. There is a Bac San Jose and Banco Nacional by the gas station.
Laundry
Two places called Tuanis and Burbajas in downtown La Fortuna.
Sample La Fortuna Itineraries
We recommend to spend at least 3 nights in La Fortuna so you can have 2 full days to enjoy the area. Here are some sample itineraries for your full days in La Fortuna. Remember, you can perfectly visit La Fortuna without a car and book tours with roundtrip transportation.
Nature and wildlife lovers
Day 1: Full day of hiking and wildlife. Hanging bridges, La Fortuna waterfall and Arenal Volcano hike to see the highlights of the area. Then hot springs at night. Best done as a tour or you can go on your own if you have a car.
Day 2: Bogarin Sloth trail in the morning and safari float in the afternoon.
Adventure
Day 1: Canyoning in the morning and white water rafting Class 2 & 3 for a full day of adventure. Hot springs at night
Day 2: Stand up paddle board at Lake Arenal in the morning. Afternoon relax/hot springs. If you want to see animals, take a night tour.
Family Activities
Day 1: Wildlife safari float in the morning and chocolate/coffee tour in the afternoon. Hot springs at night
Day 2: Volunteering at Proyecto Asis wildlife center. Other ideas are ziplining or canyoning for adventure in the morning.
Why We Love Fortuna, Costa Rica
La Fortuna has the perfect balance of touristic and local. With reasonably priced sodas, souvenir stores, hotels and hostels, visitors will have everything they need within walking distance.
Yes it is touristic but like we mentioned earlier, majority of the business owners are Costa Ricans. You can see plenty of local families at the park and around town.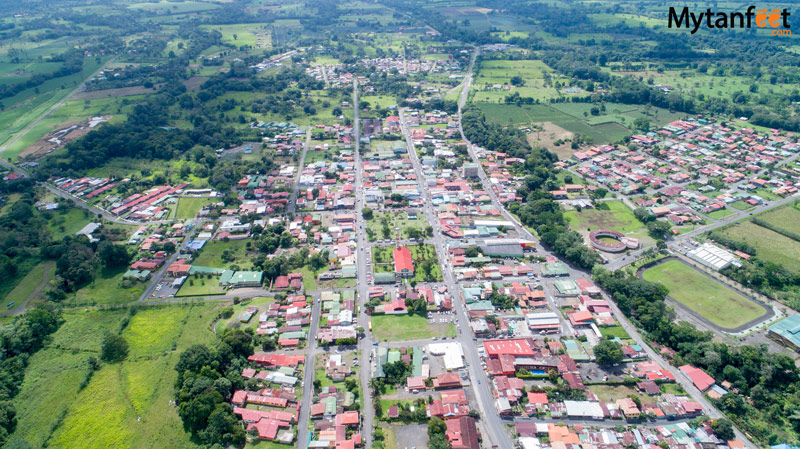 This is one of our favorite places in all of Costa Rica and no matter how many times we've visited, we always find something new to fall in love with. There is so much to do and see and you get a wonderful experience of the rainforest and volcano.
Read More Costa Rica city guides here!
There are affiliate links in this post