If you're visiting any of these places in Costa Rica: Monteverde, Manuel Antonio, Jaco or Montezuma, you'll be visiting the Puntarenas province. The town, with the same name, is another popular place for tourists since this is where the ferry is.
Many Costa Ricans, including Yeison have a strong tie to the town since it used to be the largest fishing port and is a popular coastal escape for city locals. Yeison's father was a fishing boat captain and he spent most of his childhood in Puntarenas so he has seen this small town go through many changes over the past few decades.
In this article, you'll learn some important facts about the province and city including some useful travel tips.
This post has been updated February 2018.
What do you want to read about first? Click the section to skip to it.
Puntarenas Province Facts

The biggest province in Costa Rica, it is 22% of the country.
Density: 83 per square mile.
Capital city is Puntarenas.
The province has several natural reserves and national parks. One of the most important is Coco Island which is a World Heritage Site located 532 kilometers from the coastline.
The province is so large that it is home to the majority of popular tourists destinations such as Manuel Antonio, Osa Peninsula, Jaco, Nicoya Peninsula (Santa Teresa, Mal Pais and Montezuma) and Monteverde.

Location of Puntarenas city

Puntarenas, Costa Rica map
Puntarenas is about a 1.5 hour drive from
San Jose
. As the biggest beach town near the capital city, it's a popular place for city locals to go for the weekend to escape the city life and get some fresh ocean air.
The Town
Puntarenas, the capital city of the province is a very local, simple and humble town. It's nickname is El Puerto since it used to be the largest fishing port in the country.
The town comprises of the entire peninsula and has one road going through the middle, called the Paseo de los Turistas. They have a nice boardwalk running parallel to the shore and there are restaurants, hotels, shops and food stands up and down this road.
To see what the town is like, we have a video driving through The Paseo de los Turistas you can watch below.
Puntarenas Costa Rica Beaches
The main beach is Playa Puntarenas. It's not the prettiest beach and most people don't swim in the ocean since it's a fishing port so the water isn't the nicest to swim in.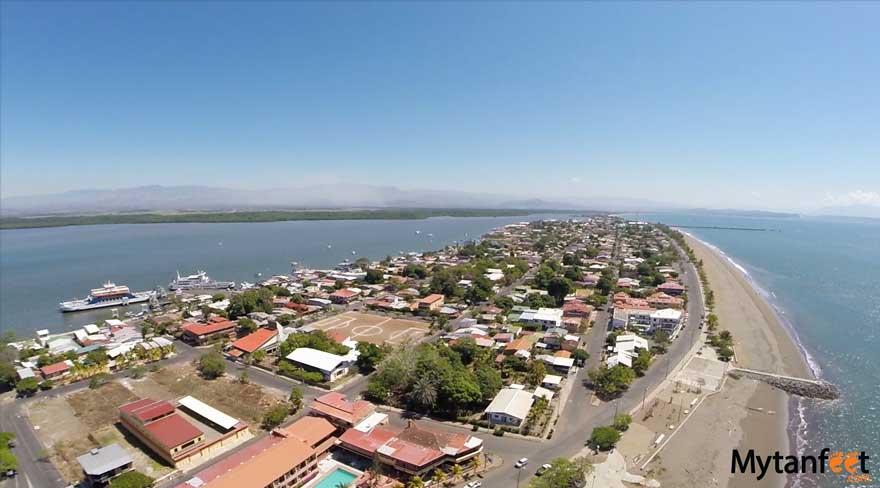 But sunsets here are really nice and you can walk along the shore to see birds and little fish.
People and Local Life
The "Puntarenense" or "Porteños" are very happy people and you will notice it as soon as you arrive. At night, you will see them sitting outside their homes in rocking chairs, talking to family and neighbors all night long. They like to party, are super proud of their town and love their local team.
Unfortunately Puntarenas is not the prosperous fishing town it used to be back in the 70's and 80's. Yeison's father used to be the captain of a tuna fishing boat for many years and the fishing industry was excellent before Costa Rica allowed the Chinese to fish in their waters. As soon as that happened, all the locals went out of work and many of them hit hard times, like Yeison's father.
You will still see today lots of boats at the port but many are in bad shape, having been unused for so long.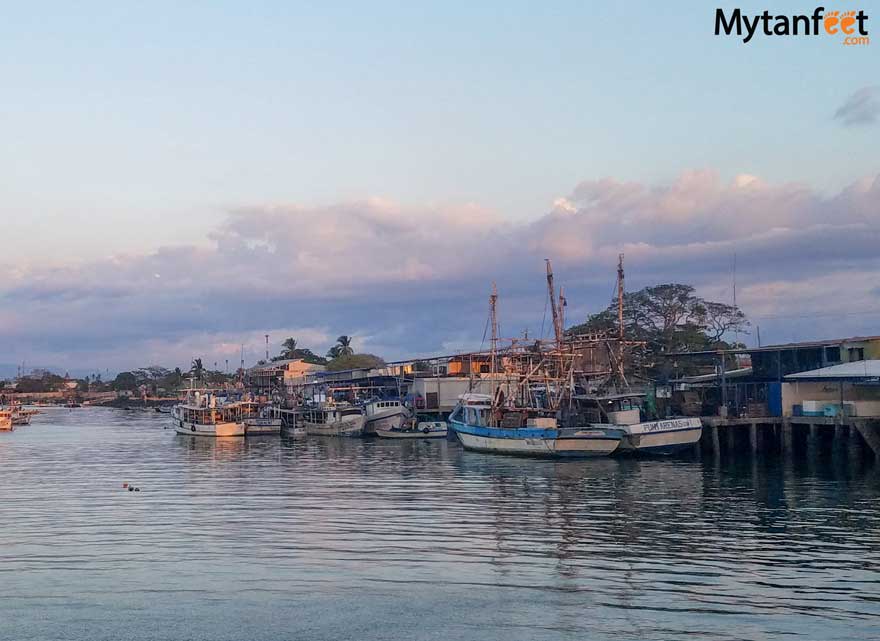 Tourism is growing little by little, helping the locals find work other than fishing but it's still tough. Fishermen constantly go on strike, protesting the government's new laws since many of them work for the Chinese and the government has enacted many regulations and laws against shark fishing, over-fishing and any practices harmful to the environment.
Things to Do in Puntarenas Costa Rica
When it comes to tourism in Puntarenas and things to do, the main attraction is the Puntarenas ferry to Paquera or Naranjo. Tourists pass through the town to take the ferry, most of them don't stay overnight.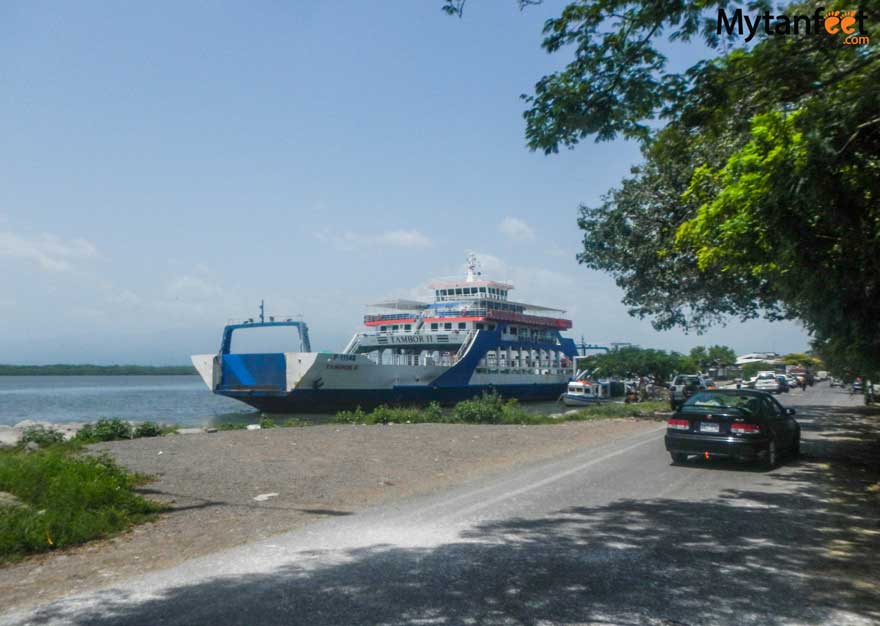 There aren't a ton of things to do in Puntarenas itself but it is a really nice little town to experience local life because it is not super touristy. Most tourists just spend a couple hours in the town waiting for the ferry which is enough time to get a taste of this small town.
But if you really want to experience staying in a small, non touristy Costa Rican coastal town, I recommend staying in Puntarenas for at least one night so you can walk on the Paseo de los Turistas, eat some delicious local seafood and observe local life.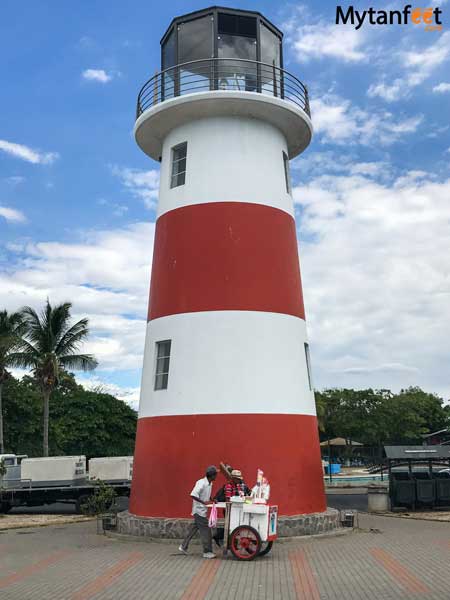 If you go in February, Puntarenas becomes the party town in the country and it's a great time to visit. They host famous carnivals, there are concerts with international artists and thousands of Costa Ricans go. It's an excellent place to take your family since there are little kid rides and games.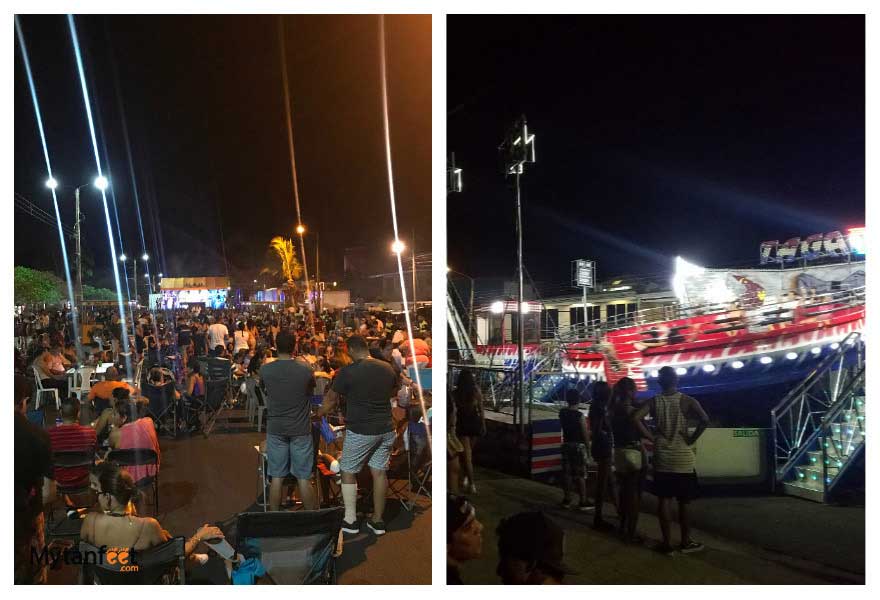 Here are some more ideas of things to do.
Isla Tortuga Cruise
Several companies depart from Puntarenas to do the one day Tortuga Island cruise. It's a nice day tour that cruises through the Gulf of Nicoya for 1.5 hours to Isla Tortuga which has a beautiful white sand beach. You can read our experience on the Tortuga Island cruise and get $10 USD off the tour!
Chuchill
This town is famuos for churchhills, a shaved ice/ice cream dessert in Costa Rica. In many beach towns, you will find vendors selling Costa Rican copos but chuchills were created in Puntarenas and it's a more intense version of the copo.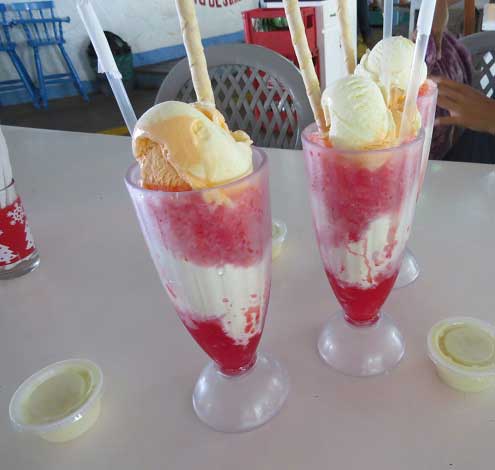 You will find several restaurants and shops selling churchills on Paseo de los Turistas.
Watch a futbol match
There is the local futbol club and if you're here during the season, you can watch a futbol match. he locals call the stadium La olla mágina (the magic pot) because it gets super crazy hot but the real name is Estadio Migue "Lito" Pérez. If you're in town at the right time, you can watch a futbol match.
This stadium is very famous because when Costa Rica played in the snow against the US a couple years ago, the Costa Ricans wanted to change the stadium to the Puntarenas one when the US came to play in CR because it is so hot. It didn't happen though!
Walk Paseo de los Turistas
The best thing to do is to walk the whole Paseo de los Turistas. You'll see lots of Costa Rican families, get nice views of the ocean and try local food.
Weather
Like I mentioned earlier, this area is very hot. It experiences typical tropical weather with a dry and rainy season. Dry season is from mid December to end of April and rainy is from beginning of May to beginning of December. In dry season, it can get up to 90-100 degrees F (32-37 C) every day for months. In rainy season, it normally rains at night and is sunny in the mornings.
Puntarenas, Costa Rica Hotels and Restaurants
There aren't any fancy hotels or resorts in town but you will find small cabinas and standard hotels.
We stayed at Puerto Azul Marino and Resort, a couple kilometers out of downtown and it was a decent hotel with clean rooms, a pool and private parking lot. Michael's Surfside Hotel, Cabinas Madeleine and Hotel Praiamar are other good hotels in Puntarenas.
When it comes to food, you can find great seafood in town. Check out Shrimp Shack, Isla Coco's Bar & Grill, Soda El Buen Sabor and Restaurante Mar Abierto.
Read About Other Cities in Costa Rica Here!
Zarcero, Costa Rica: Really cute small town in the Central Valley with a beautiful church and topiary gardens.
Grecia, Costa Rica: Small town in the Central Valley that is popular with American expats.
La Fortuna, Costa Rica: Main tourism hub and town at the base of Arenal Volcano. One of the most popular tourist destinations with lots of adventure, wildlife, nature and more.
San Vito, Costa Rica: Small mountain town in the South with lots of wildlife and nature. Off the beaten path destination.
There are affiliate links in this post.