When it comes to the best waterfalls in Costa Rica, Nauyaca waterfalls are definitely one of our favorites. Here is our guide to visiting this amazing natural beauty including tips for what to wear, how to get there and what you need to know about these waterfalls before you go.
How to get to Nauyaca Waterfalls: 2 Options
The waterfalls are located on a private property owned by a Costa Rican family, Don Lulo – this is the original Nauyaca Waterfalls Park. You will arrive at their office to pay the entrance fee and then head to the waterfalls from there.
These are the GPS coordinates to plug into Google Maps or Waze: 9.280789 , -83.822594. The plus code is 75FJ+68 Santa Juana, Puntarenas Province, Pérez Zeledón.
Driving
From Route 34 (Costanera Sur), the Nauyaca waterfall office is about a ten minute drive from where you turn left onto Route 243 on the way to San Isidro de General. If you crossed the bridge and passed Dominical, you have gone too far. The turn is at a very obvious intersection with signs to Platanillo.
The main road is well paved and as of June 2021, they have just paved the road from the main street down to their parking lot. It is accessible for all cars and no longer required to have only 4×4 or 4wd. This is for the Cataratas Nauyaca Waterfall office.
The Nauyaca waterfalls are located 160 kilometers (100 miles) from San Jose and 10 kilometers (6.2 miles) from Dominical in the South Pacific of Costa Rica.
Nauyaca Waterfalls Entrance Fee and Hours
There are three ways to get to the waterfall from the Don Lulo office. You can hike, go on a truck or go horseback riding. Must make reservations beforehand.
They are open Monday – Friday 7 AM to 2 PM and on Sundays 8 AM to 2 PM.
The entrance fee for the waterfalls is $10 USD per person.
The horseback riding tour is $85 USD per person.
The 4×4 truck is $32 USD per person and they have schedules at 7 AM, 9 AM, 10 AM, 11 AM and 12 PM. They bring you back two hours after you arrive at the waterfall.
They also offer a premium truck experience which includes light breakfast, entrance fee, roundtrip truck ride, lunch and guide for $85 USD per person. Starts at 8 AM and ends at 130 PM ish.
Parking is $3 USD.
Nauyaca Waterfalls Nature Park
There is a new nature park that provides access to the eastern side of Nauyaca Waterfalls. They offer a 10 minute truck ride to the waterfall access and once you get off, it is a 600 meter walk down to the waterfalls. It costs $27 USD per adult and includes entrance fee, trolley ride, parking, bathrooms, changing rooms and access to their nature park hiking trails. Must make reservations beforehand. You can find them on Google Maps/Waze under Nauyaca Waterfalls Nature Park.
You can visit Nauyaca Waterfalls via this nature park or the Don Lulo family office (horseback ride, truck and the 4 km hiking trail).
Should You Hike, Truck or Horseback Ride?
The trail is about 4 kilometers (2.5 miles) through the dense rain forest. You can choose any of the 3 options to get to the waterfall.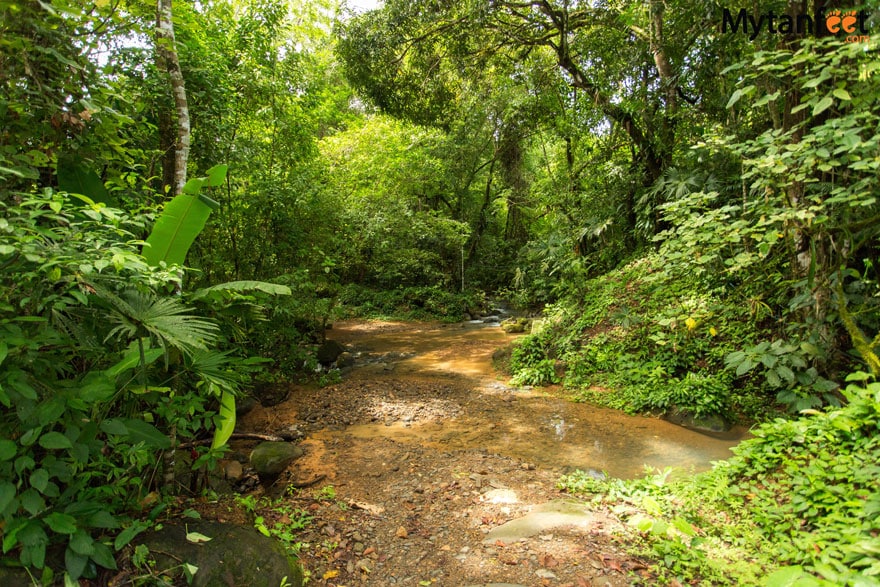 Nauyaca Waterfall Horseback Riding
We have gone horseback riding twice and it's a very nice ride through the forest. They include lunch on the tour after you visit the waterfall.
The horse back riding tour runs everyday Monday – Saturday. Duration of the tour is 8 AM to 130 PM which includes light breakfast, horse, guide, lunch and admission fee. Additionally, the weight limit for the horseback ride is 104 kg or 230 lbs. Nauyaca Waterfalls horseback riding tour costs $85 USD per person.
Nauyaca Waterfalls Hike
For the Nauyaca Waterfalls hike, I recommend people to be in moderate shape. It is hot and humid with bugs so if that doesn't sound appealing to you, then I recommend going on the horseback riding tour. And if horses don't appeal to you, then there is the pick up truck option.
The trail is the same for both hiking and horseback riding so if you are hiking, make sure you are prepared to get a little bit dirty and wet, especially in rainy season. There are some puddles and muddy spots along the way (not to mention some horse poo).
The hike takes about 1-1.5 hours one way depending on how fast you walk to the waterfalls. As for the hike, it is wonderful since you can take your time, take pictures and spot wildlife (lots of sloths and toucans in this area). Definitely worth every step!
Nauyaca Waterfalls Truck
Don't want to pay for horses but don't want to walk? Take the Nauyaca Waterfalls 4×4 truck! This is by far the easiest and fastest way to get to the waterfalls. The truck tour fee includes entrance fee and truck ride. Or you can opt for the premium tour and get a guide, light breakfast and lunch included.
Nauyaca Cataratas
Upper Falls
The upper falls comprises of several cascades and you can't swim or bathe in this area. You can walk around the rocks (careful it's slippery) to get amazing views of the upper fall and the top of the lower falls.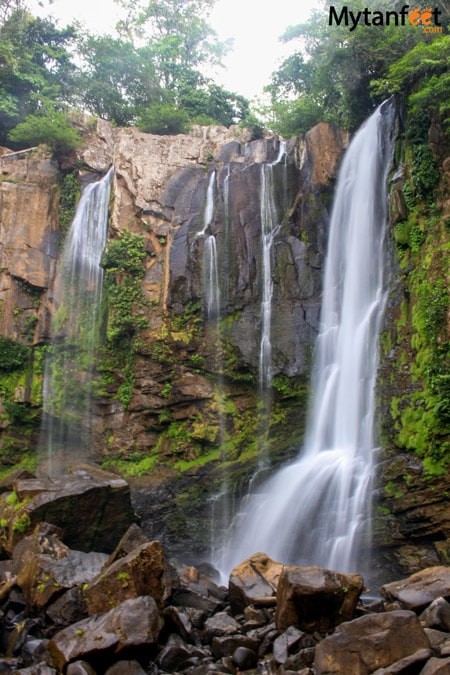 This upper falls is a 45 meter (147 feet) drop. Also keep your eyes out when you go up there because I saw an otter jump into the water once!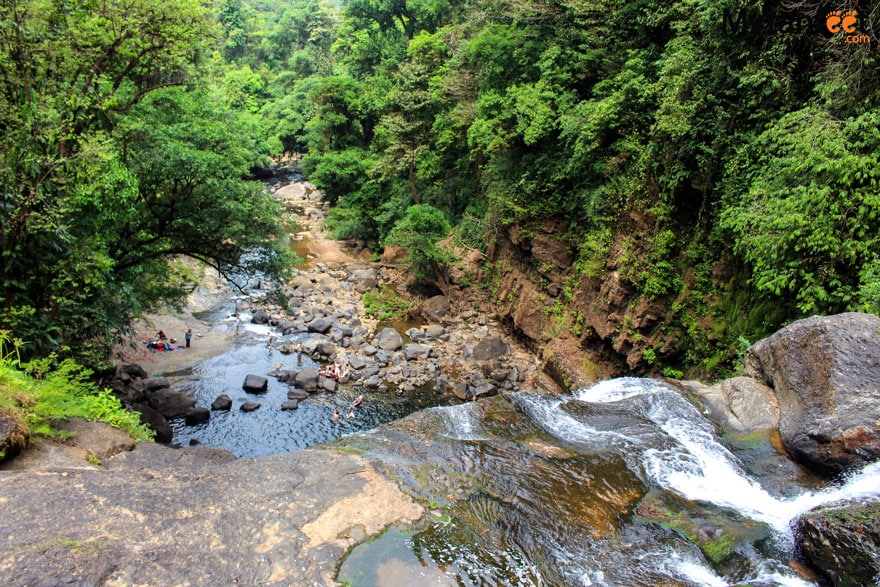 Lower Falls
This is where most people spend their time, the lower falls. There is a lovely deep pool you can swim and bathe in and plenty of rocks to sit on. You get a stunning view of both waterfalls surrounded by lush green jungle and the sounds of nature.
This second fall is a tiered waterfall of 20 meters (65 feet) and the pool is six meters (19 feet) deep.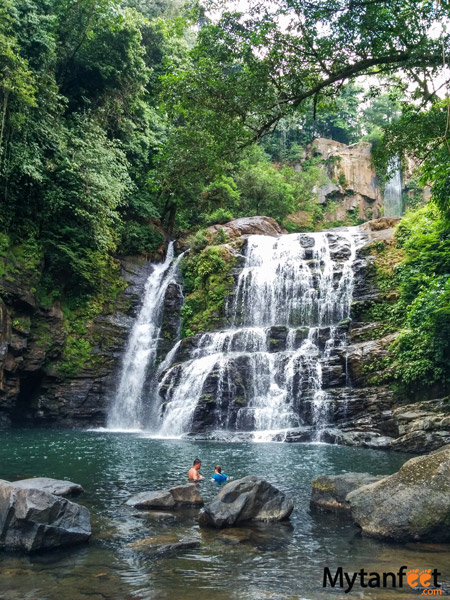 You can have a picnic, lay around, swim and relax. The local guides tie a rope onto the rocks and help visitors so they can climb up and jump off. Be very careful and do not climb up there on your own if there's no guide, it is slippery!
Videos
Yeison brought his drone and took an awesome video of the waterfalls from the air. See what it looks like from above and watch one of the guides leap off a high ledge of the waterfall. Truly amazing! (And don't try this yourself!)
We also took a video of the Nauyaca horseback riding tour. Watch it below!
What to Wear and Bring
You can bring your swimsuit and change at the office.
Bring lots of water, bug repellent and sunscreen.
There are no food or snack stands so bring your own.
Bring waterproof equipment if you plan on bringing electronics. A waterproof backpack is highly recommended.
Wear closed toed shoes (no flip flops) since it get muddy/steep on some parts of the trail. The rocks are slippery at the waterfall. If you wear tennis shoes, you're going to have wet socks and shoes by the end of the hike.
Wear shorts and a tank top/short sleeve shirt that dry fast. It is very humid! If you are visiting in rainy season, I do recommend a rain jacket.
What to Know About Visiting Nauyaca Waterfalls
First, I recommend going there as early as possible if you want to have it for yourself. This waterfall has gotten very popular and it gets crowded in the afternoon, particularly the months of December – April.
Second, when it comes to water levels, we visited in February and August. The photos and videos above are from our visit in February. The photo below is from August. When we visited in August, the waterfall was SO full, we couldn't walk down to the pool because it wasn't there! It was extremely windy and not nice for swimming.
This is something to know about visiting Costa Rica during rainy season as waterfalls are a lot fuller. If you're visiting August – October, see how the conditions are first. All we could do is stay near the steps as it was raining too hard.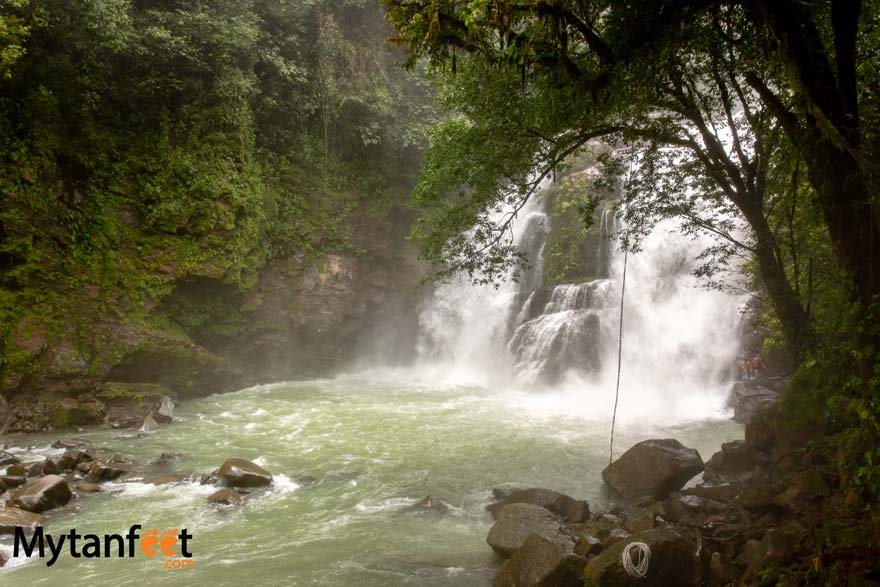 Remember, this is the South Pacific of Costa Rica where it is very humid and can rain even in the dry season so pack appropriately. When we visited in February, it poured every day for almost a week! Check out our ultimate Costa Rica packing list and rainy season packing list for more tips.
Third, there are no facilities at all at the waterfall itself. So if you get hurt, need assistance or anything, help won't come quick. Cell phone reception is pretty much nonexistent too. Bring plenty of food and water.
Fourth, make sure to keep an eye on your belongings while at the waterfall. Don't leave your phones and cameras sitting out in plain sight.
Lastly, please be very careful on the rocks!
Where Can You Visit From?
You can visit the Nauyaca Wateralls from Manuel Antonio, Dominical, Uvita and Ojochal. From Manuel Antonio, it is about a 45 minute drive. From Uvita, it is about 25 minutes. The best way to get there is via car, it is very complicated to get there via bus.
If you don't have a car, there are some tour companies from Manuel Antonio who offer this tour such as Paddle 9.
This is one of the most magnificent natural attractions I've ever seen in Costa Rica. It is now one of my top favorite waterfalls along with the Catarata Llanos de Cortes in Guanacaste and Catarata del Toro in the Central Valley. You can read about other Costa Rica waterfalls we love in this post.
Looking for more things to do in Dominical? Check out our top 10 things to do in Dominical and Uvita post!
There are affiliate links in this post