La Fortuna is famous as one of the best adventure destinations in Costa Rica. To help narrow down your itinerary, here is our list of the best things to do in La Fortuna. It also includes day trips from La Fortuna.
You can also find our hotel recommendations, sample itineraries and tour discounts below. Don't forget to get our La Fortuna tours discount!
Canyoning
Jump down 200 foot waterfalls and tall cliffs deep into the rain forest on a adventure canyoning in La Fortuna. Canyoning, or waterfall rappelling may seem a bit intimidating, but once you start your journey down surrounded by the sights and smells of a lush rain forest, you'll leave all your fears behind.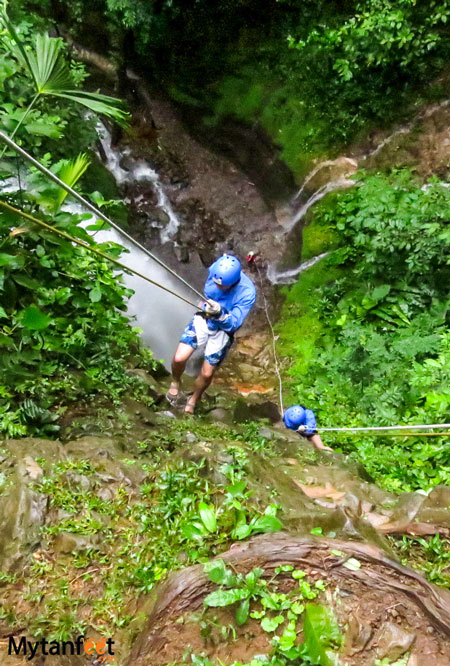 This is an adventure for those who don't mind getting down and dirty, as you'll end up leaving a lot more wet than when you started. But it's all worth it, as you experience the rain forest in a unique and exciting way.
You can see more pictures and watch a video of our Canyoning Arenal adventure.
Rio Celeste Hike
See the magical blue river in Costa Rica on a day trip from La Fortuna. You'll hike through the rainforest of Tenorio Volcano National Park along side the stunning Rio Celeste. There is a gorgeous waterfall, a hanging bridge and many view points.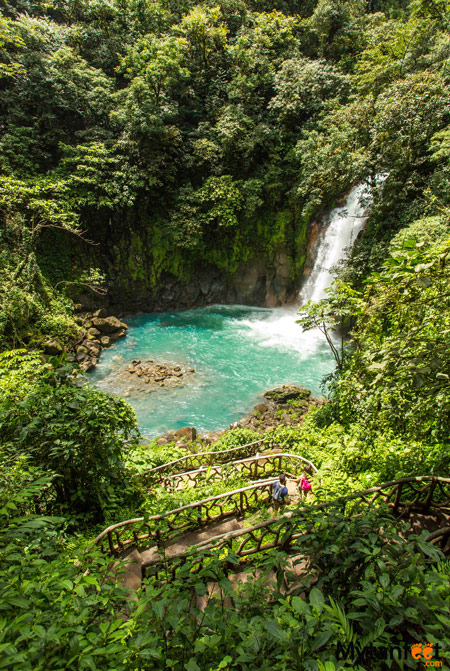 At the end of the hike, you can see where the two rivers come together to create the spectacular sky blue color. It's one of the most beautiful places in Costa Rica and well worth a day trip from La Fortuna! It is a 1 hour and 45 minute drive from La Fortuna to Rio Celeste.
SkyTrek Ziplining (For Extreme Ziplining)
There are many zipline (canopy) tours in Arenal but our favorite is Skytrek for extreme ziplining. You get the most spectacular views of Lake Arenal and Arenal Volcano when you're flying 2000 feet through the air, 600 feet high.
You'll never feel closer to being a bird than on this zipline tour, as you're soaring over the rain forest with the lake in front of you and the volcano next to you.
If you rented a car, you can drive to the adventure park entrance and pay for the tour there but make reservations. This place gets packed December – April and July so we recommend to make reservations.
Arenal Canopy Adventure for Families and First Timers
If you're not quite that ambitious, there are other canopy tours such as Arenal Canopy Tours and Ecoglide that aren't as high or fast, but are perfect for first timers and young families.
You can see what the Arenal Canopy Adventure zipline is like in the video below.
This ziplining tour also has a tarzan swing so you can add some extra excitement to your day!
Rio Frio Safari Float (Pure Nature)
Soak in the splendid nature on this pure safari float down Rio Frio, a slow moving river in the Cano Negro Wildlife Reserve. This area is considered one of the best for wildlife as it's home to animals like toucans, three toed sloths, caimans, kingfishers and more.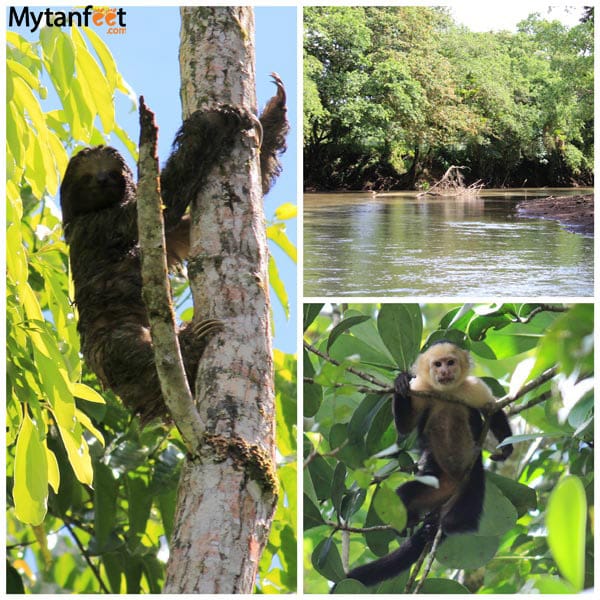 You float down the river for about 2 hours on a raft, using paddles to move along. This also allows you to get up close with the wildlife. All you hear is the soft lap of the water as it brushes up against the raft and the sounds of a dozen birds gliding above your head. It is truly a pure nature experience.
Find out more about the Pure nature Rio Frio safari here.
Another option if you don't have a full day for the safari float it is to do the Penas Blancas Safari Float since it's only 30 minutes from La Fortuna.
The safari float rides are one of the best things to do in Costa Rica with kids since it's a very easy going, laid back way to see wildlife and nature.
Hot Springs
No trip to Arenal and La Fortuna is complete without a visit to the hot springs. It's the best way to relax and wind down a busy day. Soak in the hot thermal pools to soothe your muscles while enjoying the fresh night time air.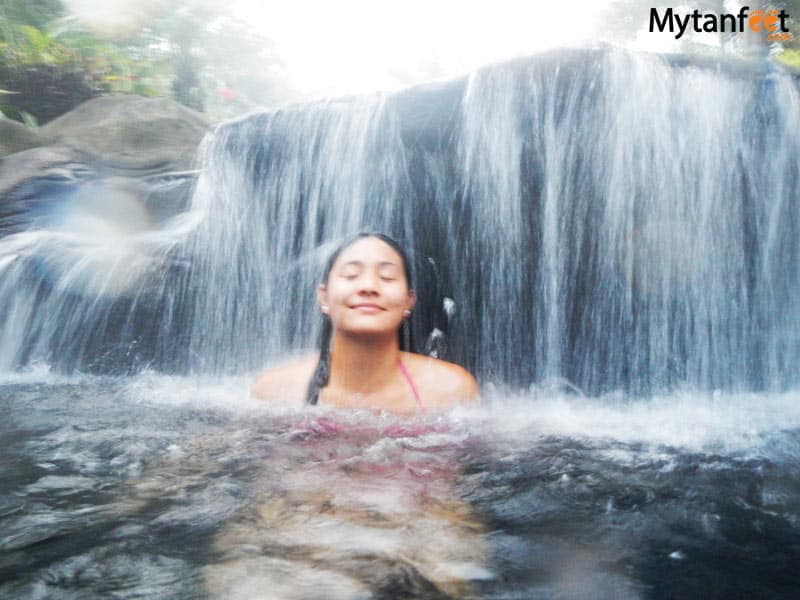 Many hotels and resorts have their own hot springs with day passes available. Some of the most well known ones are Tabacon, Baldi, the Springs, Titoku, Kalambu, Ecotermales and Paradise. There are also a few hotels also have their own exclusive hot springs like the Kioro. One of the benefits of staying at a hotel with their own hot springs is that you can go anytime during your stay and enjoy the pools as much as possible!
You can read more about the different Arenal hot springs here.
One of the cheap things to do in La Fortuna is to visit the public entrance of Tabacon river where all the locals go. This is the free hot spring in La Fortuna and it's across from Tabacon Resort. There is a small parking lot and you can walk down the river from there. You can also visit El Salto, the free swimming hole. Click the link to find out how to visit both spots.
Mistico Arenal Hanging Bridges
Explore the rain forests of Arenal in an eco-friendly way with the hanging bridges, which sits on 600 acres (243 hectares) of private land by the lake. It is an easy 3.1 kilometer (1.9 miles) trail with 16 suspended and hanging bridges, so that visitors can get different perspectives of the rain forest.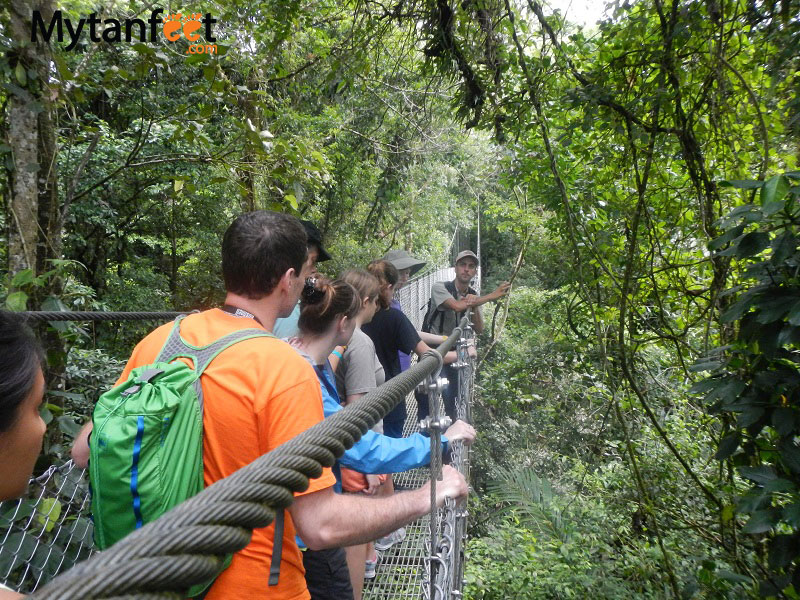 Along the way it's common to spot wildlife like bats, snakes and birds. Though the hanging bridges are one of the more popular activities in Arenal, you'll still get a true sense of the forest when you're that high up!
The Mistico Hanging Bridges are near the bridge/dam and you can go by yourself if you have a car or book it with a tour company. Either way, we definitely recommend hiring a naturalist guide for the park.
Read more about the Arenal Hanging Bridges.
La Fortuna Waterfall
If you're itching to visit waterfalls in Arenal, the best and biggest one is La Fortuna. This is one of the top things to do in La Fortuna as this waterfall is stunning. Dropping 75 feet, the emerald La Fortuna waterfall impresses visitors with its postcard perfect rainforest views.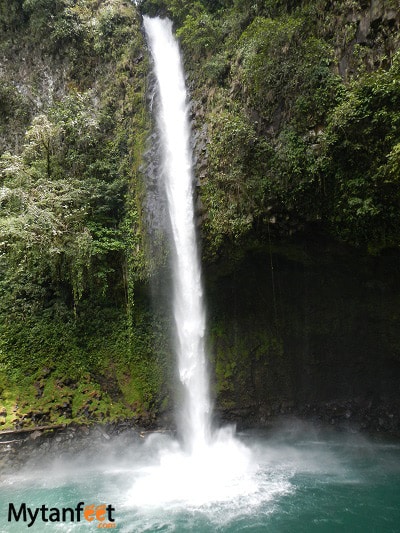 The entrance fee is $18 USD per adult and it is only a few kilometers from La Fortuna town. You can take a taxi which will cost about $20 USD one way or go as part of a tour. This is one of the cheap things to do in La Fortuna and you can spend as much time as you like at the waterfall if you go on your own.
Read more about visiting La Fortuna waterfall here.
White Water Rafting
There are a couple of rivers for white water rafting in Arenal but our favorite is the Rio Pacuare. Raft your way through one of the best rivers in the world for white water rafting one Class 3 and 4 rapids. Paddle under waterfalls, swim in the calm pools and see toucans on this exciting rafting adventure.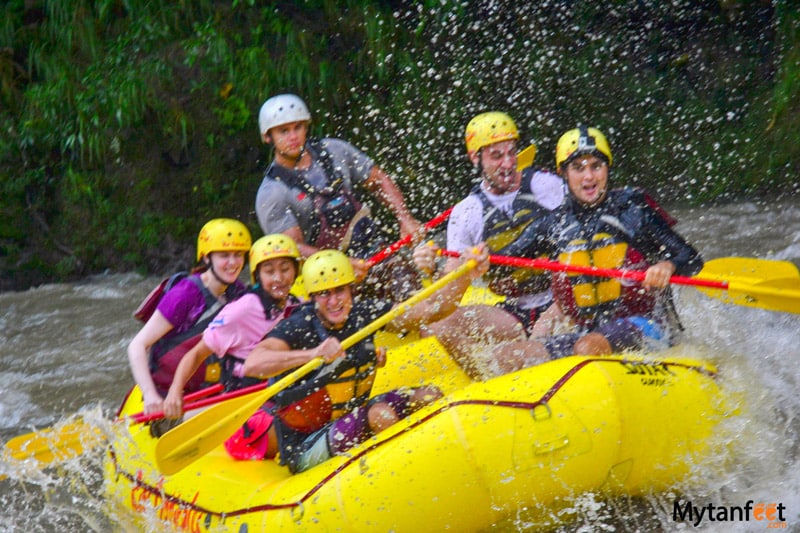 If that sounds a bit too exciting for you, there are other rivers with Class 2 and 3 rapids such as the Balsa River rafting. It's still a fun day trip from Arenal and La Fortuna that is fun for the whole family. In case you don't want to be in the car that long, Sarapiqui also offers Class 2 and 3 and 3 and 4 rapids and it's only about a 1.5 hour drive from La Fortuna.
One of the awesome things about the Rio Pacuare rafting is that you can make the rafting trip your transportation method to and from San Jose or Puerto Viejo. Many companies can pick up at La Fortuna and can drop you off in San Jose or Puerto Viejo. Instead of sitting in a bus or shuttle, you get to river raft your way over!
Want to book the Rio Pacuare white water rafting? Get our Pacuare rafting discount!
Horseback Riding
Venture into the country side of Arenal by way of horseback, one of the best to discover the intricate corners of the land. You'll ride through rivers, under trees and up to stunning viewpoints of the valley and surrounding hills, places you can't reach by car and foot.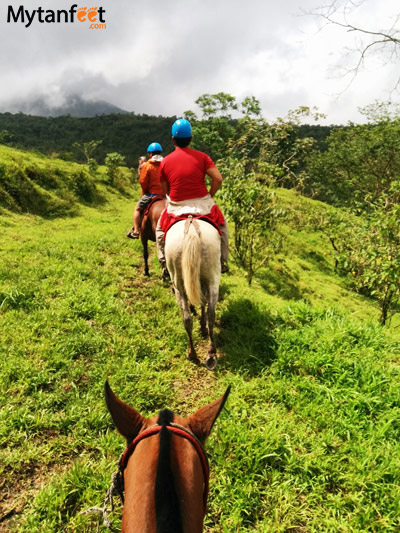 On a clear day, you can horseback ride with Arenal Volcano as your backdrop. Not a bad view while sauntering though the open country! This is a half day activity but you can also combine it with something else like ziplining or ATV.
See more photos and read what it's like to go horseback riding in Arenal.
Lake Arenal
Lake Arenal is the biggest lake in Costa Rica. Though it's man made, it initially created to produce hydro electric power. However, it's is also a place for recreation. Take a sunset boat ride, go fishing, jet ski, stand up paddle board, kayak, sail, windsurf or boat across to Monteverde.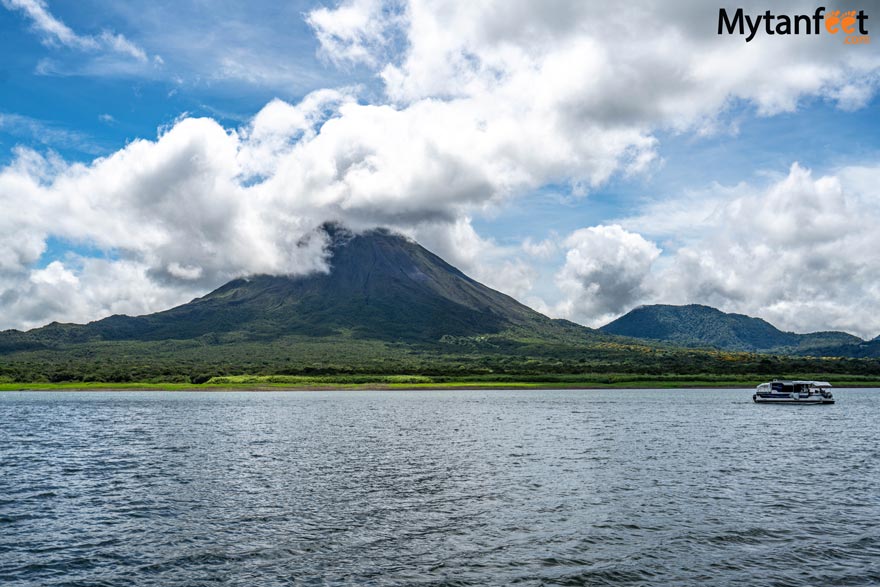 The lake offers spectacular views of Arenal Volcano and is a great place to enjoy the water and rainforest.
Club Rio Outdoor Center
The Springs Resort and Spa has their own on-site adventure park open to outside guests and it's a wonderful place for families. They offer hot spring day passes and a multi adventure package.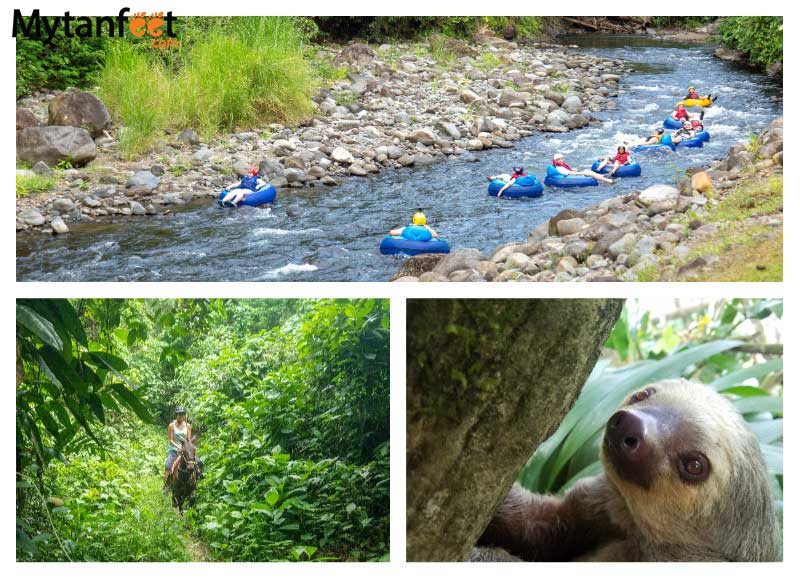 The multi adventure package includes transportation, lunch, hot springs (2 day pass) and 2 of the following activities: horseback riding, tubing, kayaking, rock wall and guided nature walk. Enjoy the hot springs, go on an adventure and visit one of the most beautiful properties in La Fortuna!
We have a partnership with Club Rio to give discounts to our readers. Read our review and get $10 USD off the Club Rio Costa Rica multi adventure package here!
Arenal Volcano Hike
Go on your own or take a guided hike to see Arenal Volcano. You can hike in Arenal Volcano national park to see the original lava rocks and lava trails from the big eruption. The trails give you a nice opportunity to see the lasting effects of the volcano eruption.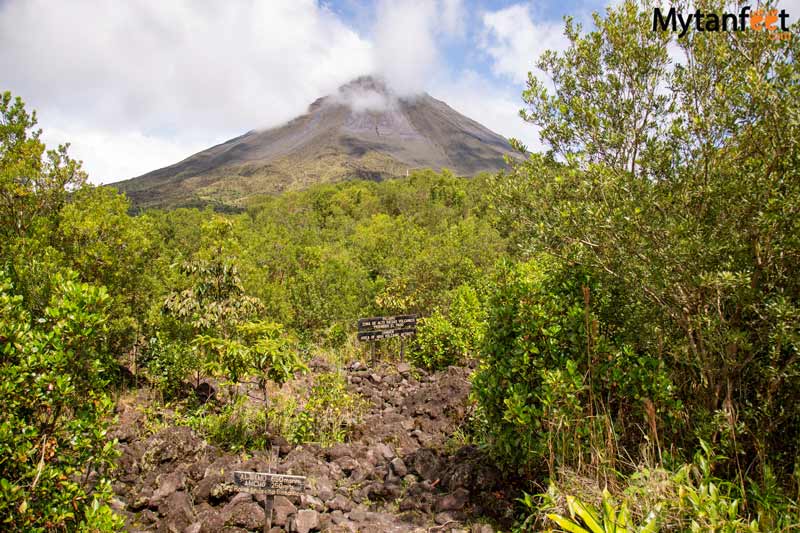 There is also a nice viewpoint where you can see both the volcano and lake.The national park is $15 USD for adults and you can hike it on your own or go with a guide. This is a great cheap activity in La Fortuna and you get beautiful views of the volcano.
You can also hike in the private reserves near the national park such as Arenal 1968 for equally as impressive views. The reserve opens until 6 PM and is open everyday.
Sloth Walk
If you really want to see sloths in La Fortuna, then you have a few great options to.
One easy option are the sloth reserves right in town. You can't miss it, there are huge signs that say sloth walks and another one is the Bogarin Trail. This is great for those who have their own transportation or are staying right in town and can walk to the trail.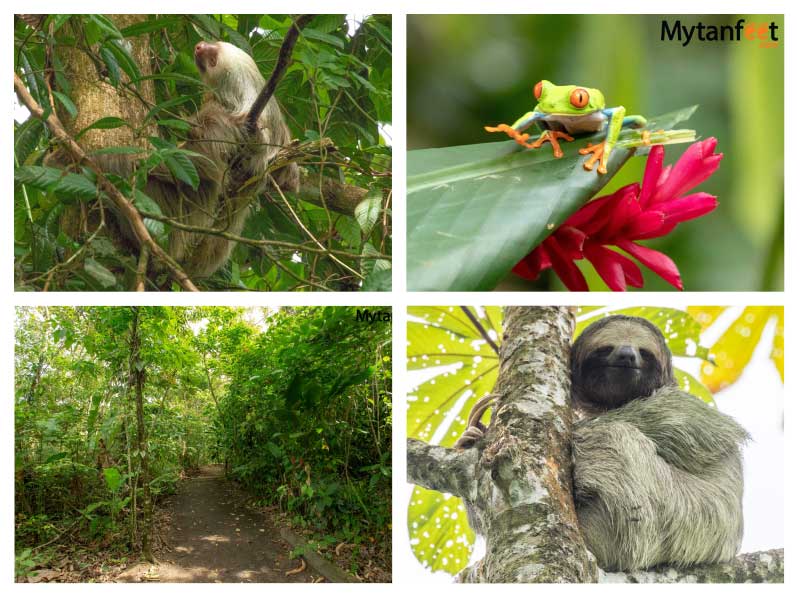 If you don't have your own transportation and want to see sloths, we highly recommend a dedicated sloth and bird watching tour. Our tour partner runs a tour that goes around La Fortuna to private reserves and natural forests to see sloths and birds like toucans and hummingbirds. Get a discount for this tour here (called Slothies and Birdies).
La Fortuna Cooking Class and Farm Tour
Enlighten your taste buds on this interactive and fun cooking class and farm tour. You'll learn about the farm to table concept, traditional food of Costa Rica, staple foods and ingredients of Costa Rican cuisine and how to cook certain dishes.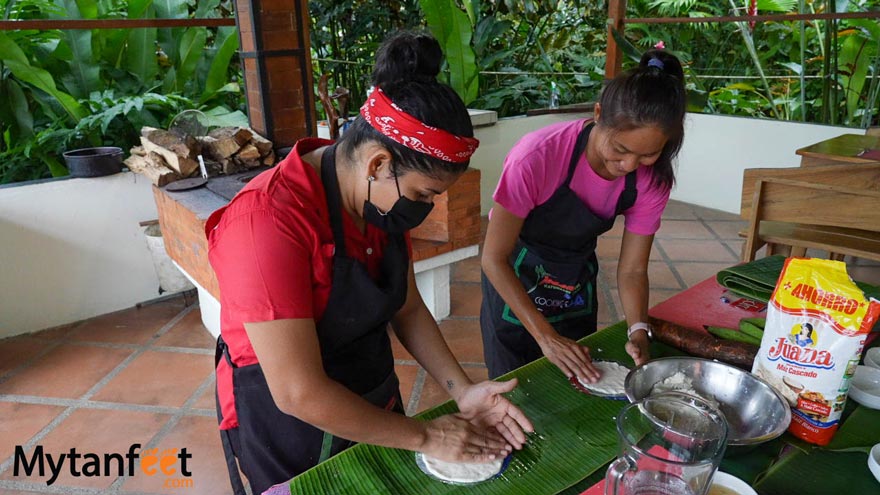 This is one of our favorite cooking classes in Costa Rica, it's a wonderful experience for foodies and families.
Sample Itineraries
If you're not sure what activities to do or when to schedule them, here are some ideas. For the tours, get our discount here!
2 full days in La Fortuna: hiking, nature, wildlife, relaxation
Day 1: For a full day out – Arenal hanging bridges in the morning, La Fortuna waterfall, lunch and then Arenal Volcano hike. End the day at the hot springs!
Day 2: Sleep in and then go on a wildlife watching river safari float to see animals. Afterwards, relax at the local central park in the evening, your hotel or head back to the hot springs.
If you plan to eat dinner out in town, check out Soda Nenes for local food or La Fortuna Pub for craft beer and a fun night out. Don't forget to get an ice cream at the Chocolate Fusion sweet shop in downtown for dessert!
2 full days in La Fortuna: adventure, hiking
Day 1: Enjoy a full fun day of ziplining and white water rafting Class 2 and 3. It includes lunch and afterwards, shower, rest, nap and relax. Enjoy your hotel or go into town to get dinner and dessert at the town square.
Day 2: Sleep in, rest and visit either Arenal Volcano National Park or one of the private reserves like Arenal 1968, El Silencio or Arenal Observatory Lodge to hike the trails for close views of the volcano. This will take around 3-4 hours if you hike a couple of the trails.
A Few Recommended La Fortuna Hotels
Hotel Las Colinas – Cute hotel in the middle of town across from the park. They have a terrace where you get a great view of Arenal volcano. Basic, comfortable rooms.
Arenal History Inn – Nice mid-range/budget hotel a little outside downtown La Fortuna. Bungalows with a volcano view and pool.
Selina – Hostel for digital nomads and backpackers in town.
Arenal Observatory Lodge – The only hotel actually in the national park with the closest view of the volcano. This lodge has a huge property with their own trails.
Arenal Kioro: This high end hotel has a spa, their own private hot springs, a Jacuzzi in every room and a stunning view of the volcano with floor to ceiling windows.
This post has affiliate links.