Located on the South Caribbean coast of Costa Rica, Puerto Viejo's eclectic Caribbean vibe, stunning beaches, abundant wildlife and delicious food attracts visitors from all over the world.
If you plan on visiting Puerto Viejo de Talamanca, then read our guide so you know what to expect and how to make the most of your time there.
Location
Puerto Viejo is 217 kilometers (135 miles) from San Jose and is about a 4-5 hour drive one way.
The town is in the Limon province on the Caribbean coast.
How to Get to Puerto Viejo, Costa Rica
By bus
There is a bus from San Jose to Puerto Viejo every day at 6, 10, 345 PM and 4 PM. The bus leaves from Terminal Atlantico Norte (Autotransportes Mepe), Calle 12 Ave 7-9, takes 5 hours and costs around 6100 colones (~$10 USD) one way per person.
We recommend to get to the bus station at least 1 hour before to purchase your tickets. Buses do not allow foot passengers anymore due to COVID and you must wear a face mask the whole time.
By driving
From San Jose, the quickest way is by route 32 through Braulio Carrillo National Park. This is about a 4 -5 hour drive and you can use Google Maps, a GPS device or Waze.
Do you need a 4×4 to Puerto Viejo? No. This route is on a well paved road as they are major highways. Do expect to run into traffic as there are a lot of trailer trucks on this route and most of the time, it is only one lane.
We do not recommend to drive this route at night since it is very long. It's better to leave early in the morning to drive during daylight with plenty of time.
Renting a car? Get our Costa Rica car rental discount to save $$ and get extra freebies!
By plane
Limon airport is the closest local airport to Puerto Viejo, Costa Rica. Sansa flies into Limon and then you have to take the bus or shuttle to Puerto Viejo. It is a 40 minute flight and costs around $85 USD one way and the shuttle from Limon to PV is about 1.5 hours.
By shuttle
There are shared shuttles from many destinations in Costa Rica. This costs around $57 USD per adult from San Jose with Interbus, Caribe Shuttle, Ride CR and Easy Ride. You can also take private shuttles, ~$220 USD depending on number of passengers. You can read more about Costa Rica shuttles in this post.
Adventure transfers
If you are going to Puerto Viejo from La Fortuna or San Jose, you can go white water rafting as the interconnection tour. Companies pick up travelers in San Jose or La Fortuna, go rafting and then drop off in Puerto Viejo. Costa Rica Roots also does one from Tortuguero.
How to Plan Your Trip Getting to Puerto Viejo
Since Puerto Viejo is quite of a long (and not fun) drive from San Jose, most people do these two options:
Book a private or shared shuttle (or do the adventure transfer) from San Jose to Puerto Viejo and then rent a car in Puerto Viejo for their time there. Shuttle back to San Jose or their next destination.
Fly into Limon, pick up their rental car or bus/shuttle to Puerto Viejo. Return the car and fly from Limon to San Jose.
How Long Should You Stay in Puerto Viejo?
It is really up to you. We have known people who stayed for their entire 1 week vacation in Costa Rica. We have also known people who stayed for 3 nights. As Puerto Viejo is a bit hard to get to in terms of driving times and distances, we do recommend a minimum of 3 nights the very least.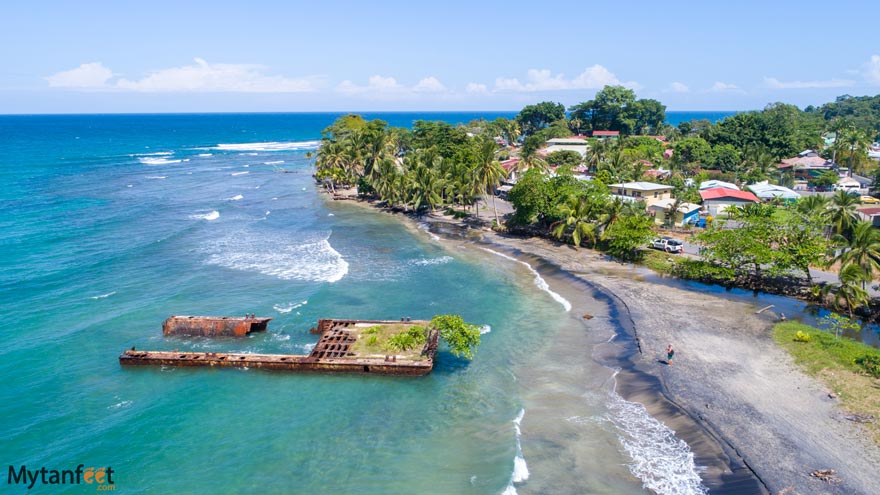 Many people do this itinerary: San Jose – Puerto Viejo – La Fortuna and leave for Puerto Viejo immediately after arriving at San Jose International Airport. You can check this 1 month Costa Rica itinerary and a 10 day Costa Rica itinerary that includes Puerto Viejo for ideas.
How to Get Around Puerto Viejo, Costa Rica
The main road through town to the beaches is nicely paved and is suitable for a sedan.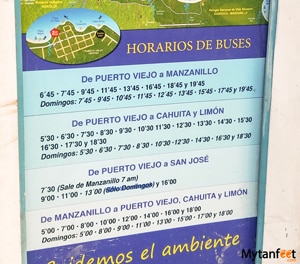 There is a bus that runs between Limon and Puerto Viejo and Puerto Viejo to Manzanillo every day. This costs ~500 colones.
The main bus stop called "La Parada" is near the entrance of Puerto Viejo. This is where all the buses will stop from San Jose. The main bus terminal is right in town by the beach with a huge sign that says "Bienvenidos Puerto Viejo." The ticket station is across the street with a huge sign that says "Boleteria."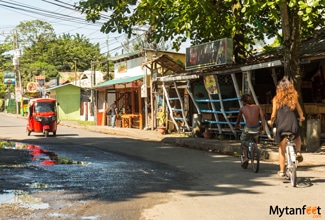 The most popular way to get around Puerto Viejo is by bike. You can rent bikes for $3-12 USD a day or scooters for $35-40 USD a day. If you are going out after dark or early morning, it is best to take a taxi. A taxi from Puerto Viejo to Playa Cocles is around 2000 colones. From Manzanillo, it is about 5000 colones.
Another way to get around is by tuktuk which are fairly common in Puerto Viejo.
The Town
Puerto Viejo town is small with narrow roads and limited parking, making it a bit congested at times. The town center has a ton of hotels, hostels, restaurants, banks, souvenir stores and pharmacies.
You can see what Puerto Viejo looks like in our driving video below!
Beaches and Neighborhoods
There are six main neighborhoods around Puerto Viejo. Each of the neighborhoods has their own little community and you can find hotels, hostels and restaurants in all of them.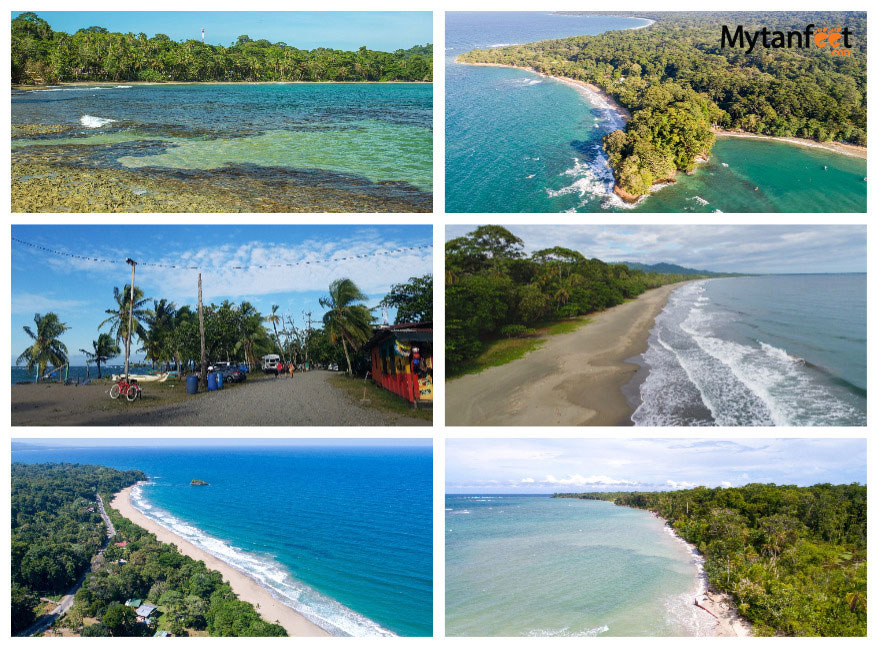 There isn't too much at Playa Negra, the beach north of Puerto Viejo. It has blackish sand, a low key atmosphere and vast empty shores. It is about 2 kilometers (1.2 miles) from Puerto Viejo.
Playa Cocles is the most popular beach in the area. It's easily accessible, has good surfing waves and not too far from Puerto Viejo. The beach is gorgeous and you can find several hotels in the small community. It is about 3.5 kilometers (2.1 miles) from town.
Chiquita is another stunning beach with sparkling turquoise water and natural tide pools. If you stay at Chiquita, you will feel like you have the beach all to yourself. It is about 4.5 kilometers (2.8 miles) from town and very close to the popular Jaguar Rescue Center.
Modern rustic cabinas, bright green water and several beautiful beaches make up the small town of Punta Uva. Best location to truly get away from it all as there isn't much there, you will need to go to Chiquita to stock up on supplies. It is 9 kilometers (5.6 miles) from Puerto Viejo.
Manzanillo
This is a small fishing village 13 kilometers (8 miles) from Puerto Viejo next to Gandoca Manzanillo Wildlife Refuge. It's a cute little town but gets absolutely crazy on the weekends with the local excursions and parties.
This is a small town about 17 kilometers (10.5 miles) north of Puerto Viejo. Home to Cahuita National Park.
Puerto Viejo Weather
Weather in Puerto Viejo is different than the rest of Costa Rica. Instead of the typical tropical seasons, the Caribbean has a more temperate weather throughout the year. This means it can rain all year long but average temperatures don't vary much in Puerto Viejo.
The driest and sunniest month in Puerto Viejo is October (which is the rainiest month for the rest of the country).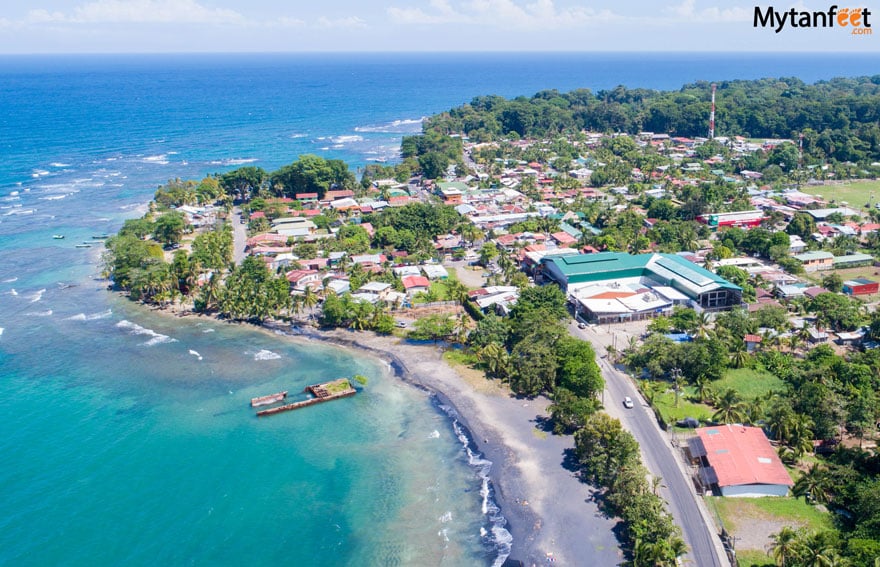 It's extremely humid in this area, keeping temperatures cooler than the Pacific side. Average temperatures usually around mid 80s F (28 Celsius), cooling off at night. When you're visiting Puerto Viejo, don't be surprised if it's raining while it's sunny in other parts of Costa Rica!
Puerto Viejo Hotels
You can find all sorts of hotels in Puerto Viejo, Costa Rica except huge resorts. Much of Puerto Viejo's charm is that it isn't super commercial or developed and the community wants to keep it that way. You can find still luxury hotels with air conditioning and high end amenities, all built harmoniously with nature.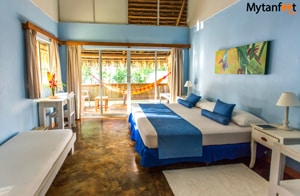 Hotel Banana Azul: Beach front resort on Playa Negra. Offers a variety of rooms and suites. Has an on-site restaurant, beach club, gardens, ponds and massage hut. Click the link above to read our review.
Villas del Caribe: Beach front hotel on Playa Chiquita with its own entrance to the beach. Rooms are spacious with private decks and hammocks, has a large pool and on-site restaurant.
Relax Natural Village: 6 villas each with a private deck and hammock, close to Playa Cocles. Nice boutique hotel with very personal service and gourmet breakfast.
Cariblue: Another hotel in Playa Cocles, it's more like a resort with two swimming pools, a swim up bar and jaccuzis. They also have spa, restaurant and surf school on the property.
Tree House Lodge: 5 luxury eco-houses very close to Playa Punta Uva. Each house has something unique about it and is spread out throughout the 10 acre property. Definitely a splurge for couples but a great option for groups.
Airbnb and Vacation Rentals
Airbnb and vacation rentals are very popular in Puerto Viejo. We stayed at one called Reservas Kalawa run by an Italian family. It was a very nice apartment walking distance to Puerto Viejo downtown. Read more about using Airbnb in Costa Rica in this post and get $40 off your first booking.
Puerto Viejo Hostels
Puerto Viejo has a large amount of hostels since it is a popular backpacker destination. These are three popular hostels in Puerto Viejo: Playa 506, Selina Hostel and Lionfish Hostel.
Puerto Viejo Nightlife
You'll get your fill of reggae music, bonfires, shots and dancing in Puerto Viejo as it's one of the biggest party towns in Costa Rica. There's a party every weekend!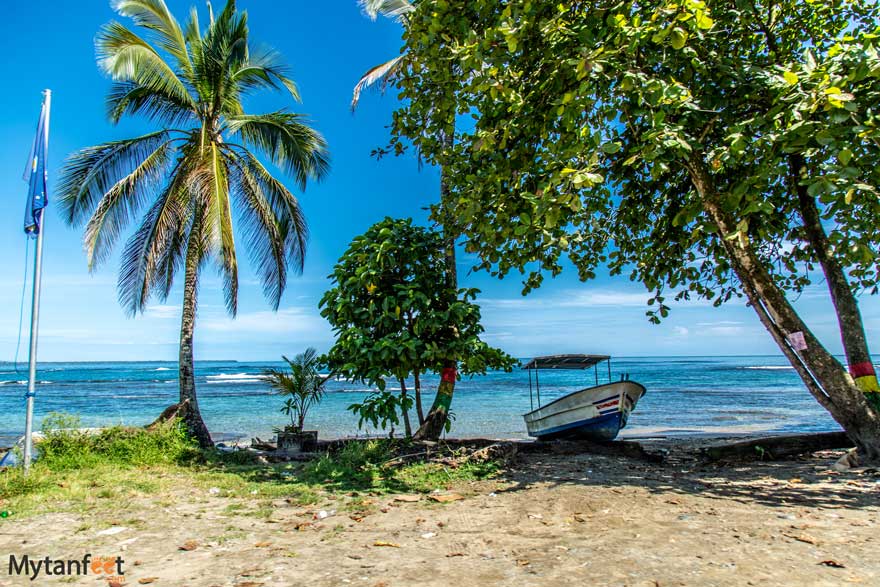 Head to Salsa Brava, Roots Reggae and Tasty Waves for a good time. You can also find bars and discotheques like Johnny's Place and Tex Mex.
Our Recommended Restaurants
Make sure to try the unique Caribbean-Costa Rican dishes such as rice and beans and rondon!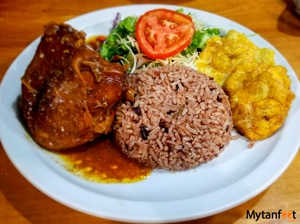 Soda Lidias: Our favorite place for local food. They have delicious hot sauce and their rice and beans are our favorite.
Bread and Chocolate: Great bakery.
Tasty Waves: Has your typical burgers, tacos, beers and cocktails. Tuesday nights have 2 for 1 tacos and they have wild parties.
De Gusticos Bakery: Another nice bakery.
Koki Beach Lounge: Excellent seafood and steak. Right in downtown and has a nice atmosphere.
Deelite: Amazing gelato!
Stashu's con Fusion: Great drinks and dessert we loved the most.
La Pecora Nera: One of the best places for Italian food, their pizza was really good.
Things to Do in Puerto Viejo, Costa Rica
Although Puerto Viejo is not big, there are a lot of fun things to do. Within a 30 kilometer (18 mile) radius, you have a national park, a wildlife refuge, several beautiful beaches, waterfalls, a river and two animal rescue centers.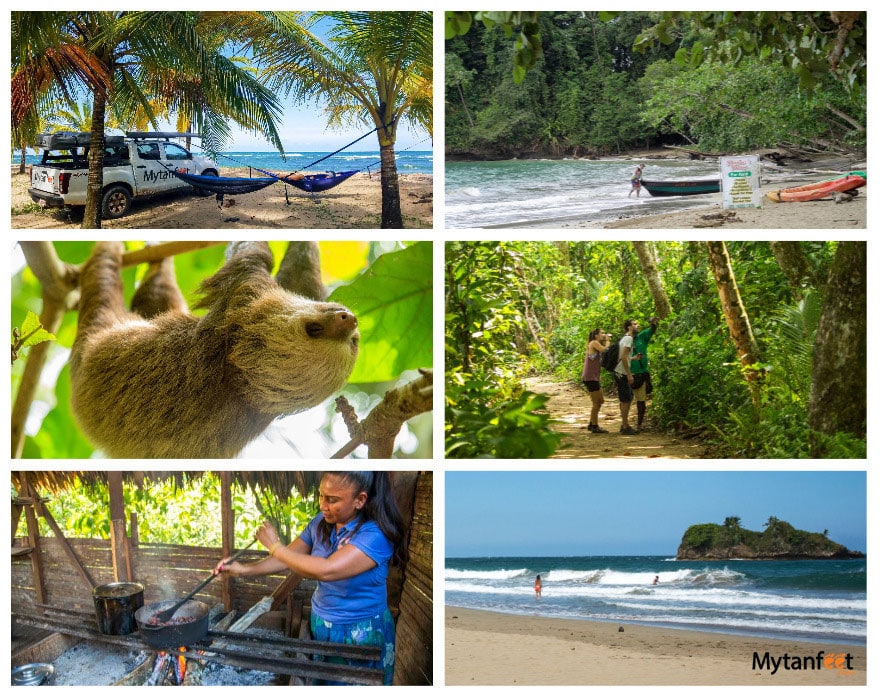 Jaguar Rescue Center: Learn about how they rescue, rehabilitate and reintroduce animals such as sloths, monkeys and owls back into the wild. You can also visit the Macaw Recovery Project.
Cahuita National Park: Visit Cahuita National Park to see wildlife or take a snorkeling trip since it's an incredible park to experience both beach and jungle. Plus it's free!
White water rafting Rio Pacuare: When it comes to adventure in Puerto Viejo, it falls short compared to other destinations in Costa Rica. But you can go white water rafting on the Rio Pacuare, one of the top 5 five rivers in the world!
You can read about other fun things to do in Puerto Viejo de Talamanca.
We Hope You Fall In Love with Puerto Viejo
Puerto Viejo de Talamanca is one of the top destinations in Costa Rica for very good reasons. It's unique mix of people, gorgeous beaches, abundance of wildlife and special blend of cultures create a vibrant and fun atmosphere for tourists.
Not sure if you want to visit Puerto Viejo? Check out our post "Differences between the Caribbean and Pacific coast of Costa Rica."
There are affiliate links in this post.