When it comes to wildlife watching and nature adventures, the Central and South Pacific of Costa Rica reigns as top place for these activities. Due to the wet rain forest that starts at Carara National Park, the biodiversity increases greatly with a plethora of thriving flora and fauna unlike any other place in the country. So if you're visiting the Central Pacific such as Manuel Antonio, make sure to take advantage of all the incredible wildlife refuges and national parks in the area, especially if you're an animal lover.
One such wildlife refuge that should be on the top of any eco-tourists' list is Hacienda Baru in Dominical. Hacienda Baru is a 330 hectares (815 acres) finca that combines adventure, wildlife and eco-tourism so that visitors can have it all in one day. With seven kilometers of leisurely hiking trails in both secondary and primary rain forests, a canopy tour, bird watching, an eco-tram and a tree climb, Hacienda Baru offers one of the best educational eco-tourism experiences in the Central/South Pacific.
So if you are looking for a day full of excitement, nature and wildlife all while learning about the spectacular biodiversity of Costa Rica, head to Hacienda Baru. Read more about our day at the Hacienda and why we loved it!
Hacienda Baru – A Private Wildlife Refuge in Dominical
Location and Directions
Hacienda Baru is about 33 kilometers south from Quepos Airport off of the Costanera highway.
From San Jose via Quepos, continue on the Costanera highway 33 kilometers past the Quepos Airport. You will cross a bridge over the river "Rio Hatillo Viejo" and 2 kilometers after that you will see a large sign for Hacienda Baru. Turn right right before the gas station.
Activities
There are plenty of activities at Hacienda Baru including hiking, ziplining, an eco-tram and a night tour. Great for all ages!
Butterfly and Orchid Garden
As soon as you enter Hacienda Baru, there is a butterfly and orchid garden on the way to the cabins. The butterfly garden has many different species as well as larvae and pupa so you can see the entire metamorphosis.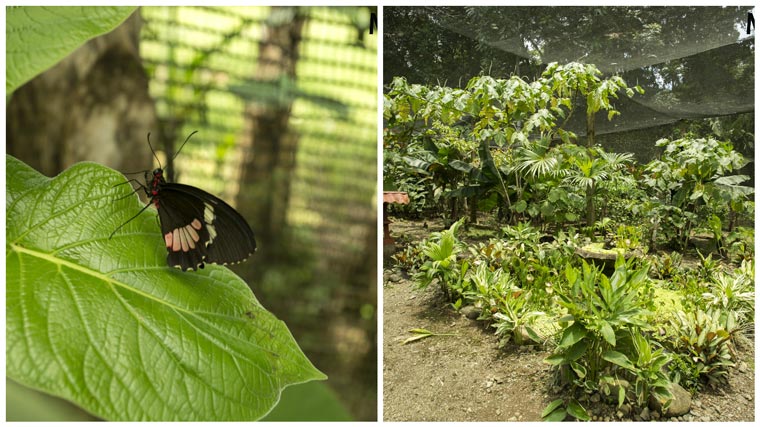 You can do this as a self guided tour as it's a simple walk through the garden and lab or you can get a guide to learn more about the butterflies.
Hiking Trails
You can take a guided hike through the forest or do a self guided hike. The trails are well marked and easy for all levels with some passing by the beach and some going purely through the forest.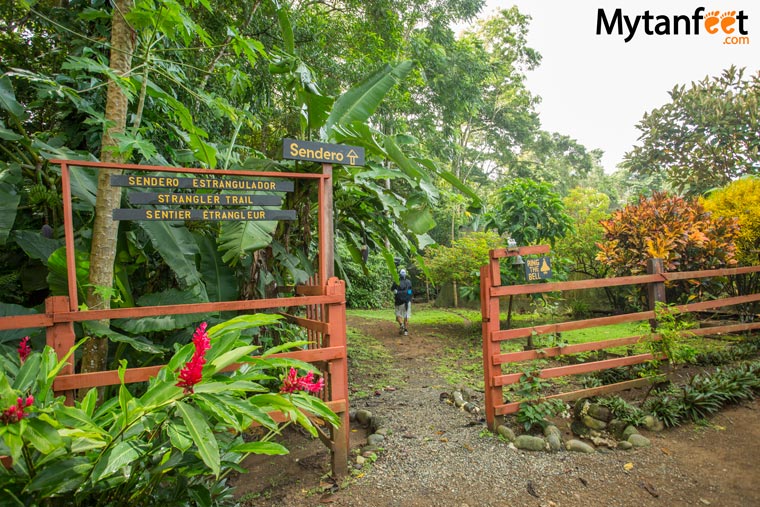 On the trails, it's possible to see monkeys, sloths, peccaries, lots of birds, anteaters and other wildlife. I do recommend taking a guided tour so you can have someone point out wildlife you would otherwise probably not see. We saw monkeys, a sloth and a female Great Currasow thanks to our guide!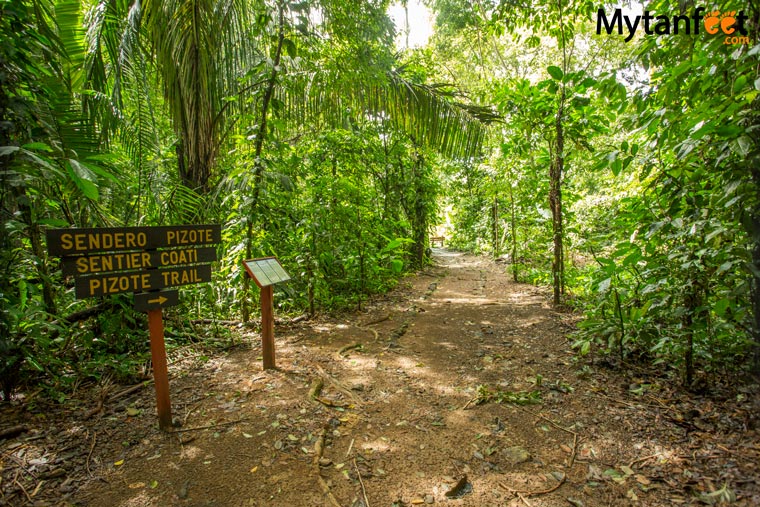 The Pizote Trail, Teak and Canal and Strangler Trail are the main trails on the hacienda, each about 1.5-2 kilometers long. If you walk through Pizote Trail to the highway and cross the street, you'll end up at the Paso de la Danta which leads to the tree climb and canopy tour.
Zipline and Tree Climb
Their canopy trail called Flight of the Toucan consists of 8 cables on land and tree platforms. They call it flight of the toucan to imitate the flight of a Chestnut-mandibuled Toucan as it flies through the trees.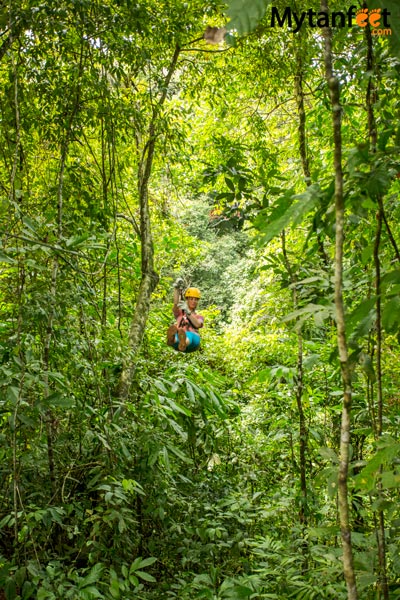 The canopy tour isn't crazy high or fast so it's the perfect zipline for all ages and first timers. They call it an ecological experience as they combine adventure and education.
The tree climb is definitely an activity for those who want more excitement. They strap you up to a rope tied to a tree about 30 meters up and all you have are your own hands and feet to get to the top. It's challenging but so worth it. When you get to the top, all you see is the ocean and jungle!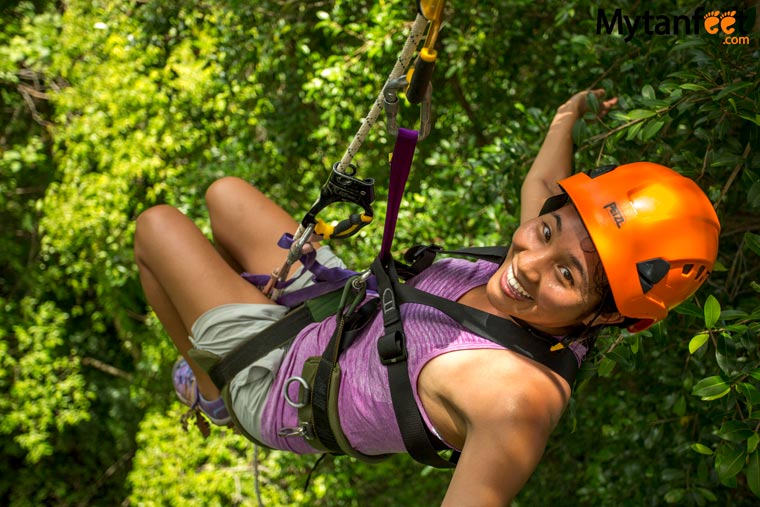 It is a tough climb up but it felt so good to reach the top. I even saw some monkeys in the trees nearby, staring at me! It was such a cool feeling to be so high up in the trees. You definitely need to be in decent physical condition and use your legs, not your arms for most of the work.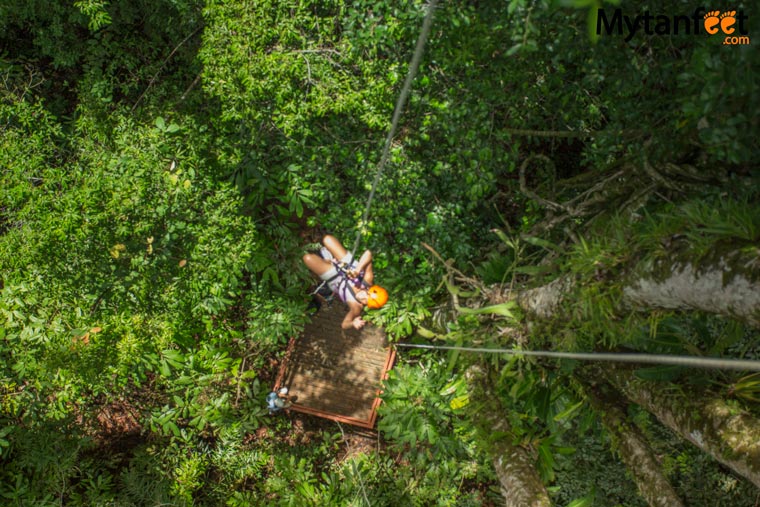 Other Activities
Hacienda Baru has a platform for bird watching and they also offer night time hikes, both of which is necessary to have a guide. Bird watching is excellent on the Baru Wildlife Refuge as you hike through their research center in secondary forest to see toucans, herons and many other birds.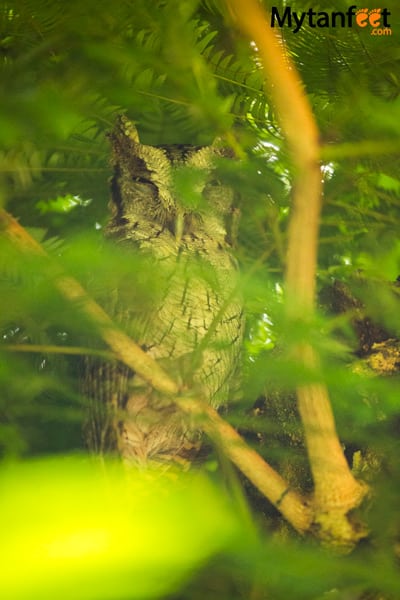 Lodge
Hacienda Baru also has lodges so you can stay surrounded by the pristine nature. They have a pool and good size cabins for mid-range prices.
Definitely put Hacienda Baru on your list of places to visit when in the Central Pacific and Costa Ballena for a fun and educational day enjoying the nature and wildlife of Costa Rica!
Oh and don't forget to look in the trees at the parking lot, we saw this guy chilling out by us 🙂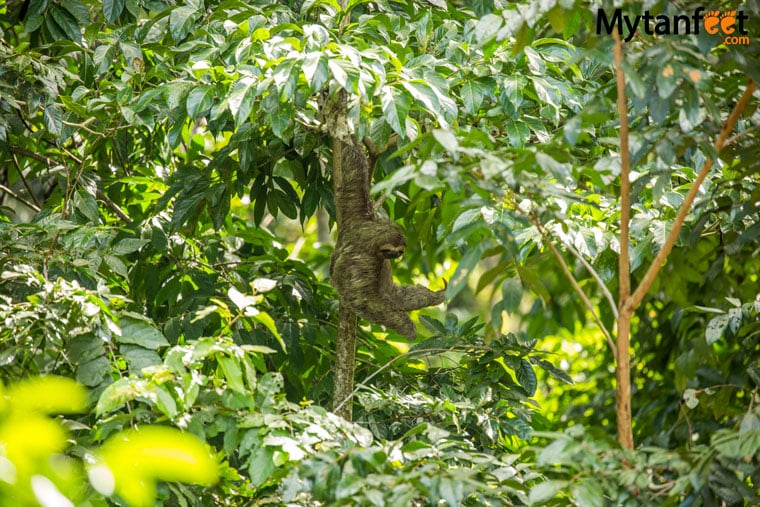 Tips for Visiting Hacienda Baru
Wear long pants, sunglasses and sunscreen
Mosquito repellent is a must
I recommend wearing closed toed shoes especially if you're doing the tree climb and hiking the trails.
Bring lots of water as it's hot and humid in that area
You can go by yourself to do the self guided hikes and pay the entrance fee ($8 for whole day, free for lodge guests)
Read about more things to do near Dominical here!
Or about other wildlife refuges in Costa Rica!