When you visit Costa Rica and you want good local food, you have to eat at a soda. Trust me. You haven't experienced real Costa Rica if you don't eat at a soda. Oh and no I don't mean eat next to a pop can.
Sodas are what Costa Ricans call their local restaurants. A Costa Rica soda are normally small open air restaurants that serves only traditional Costa Rican food. It's the best place to experience eating out like a local.
Costa Rica Soda

Every town you visit in Costa Rica has a soda. Most of them hang a Pepsi or Imperial sign outside and the name is something like "Soda Tipica." If you want to eat like a local, then you must eat at a Costa Rican soda.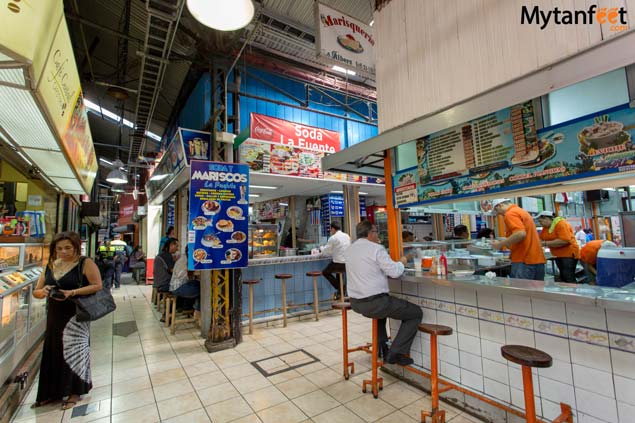 Eating in a soda in Costa Rica is best and only way to get a taste of true Costa Rican food and a glimpse into the life of a Tico. Sodas are usually set up two ways: buffet or menu.
We personally like buffet style because they will have a bunch of different choices. It's a lot easier if you're vegetarian/vegan or have food allergies. You can read this post for more information on eating vegetarian in Costa Rica.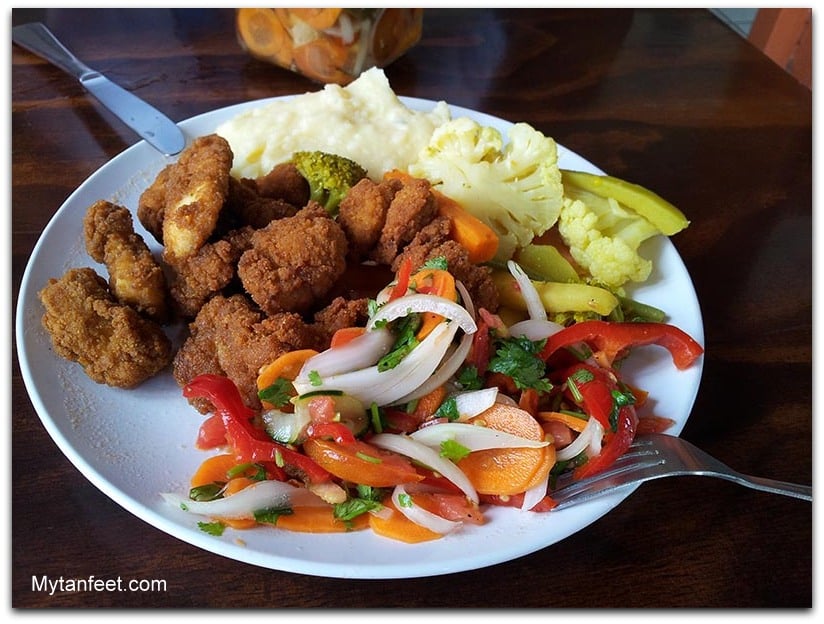 A typical menu for a soda in Costa Rica goes like this: entradas (appetizers), platos tradicionales (traditional food) casados, pasta, arrozes (arroz con pollo/mariscos/camarones/calamares) and platos fuertes. Platos fuertes are usually a whole fish, steak, the special of the day or something like that.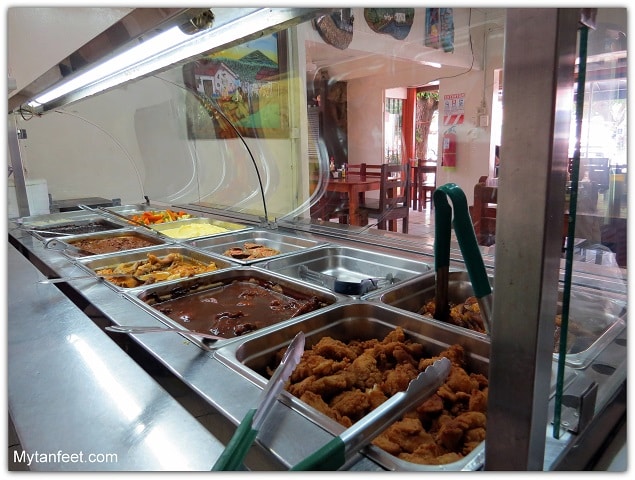 Another thing sodas usually have are chileras which are pickled spicy vegetables. If you like spicy food, you have to try this! Great addition to any traditional Costa Rican dish.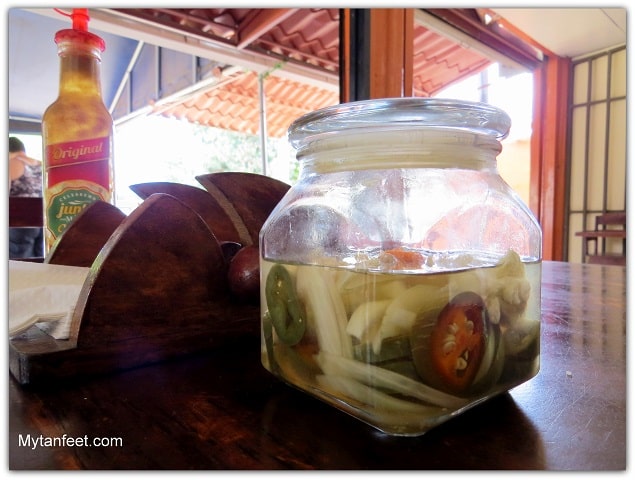 For drinks, they usually have sodas and natural juices like cas, mora and strawberry. It is normal in Costa Rica to have fruit juice with meals instead of water.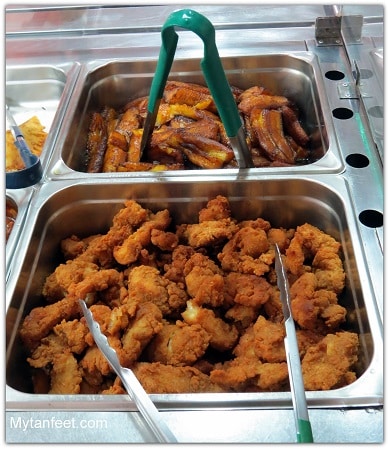 Eating at a Costa Rican soda is probably one of the best ways to get to know the locals and meet people. It's easy to spot sodas and you can find them everywhere. Even if you're driving on what seems to be a road into the middle of nowhere, you'll find a soda!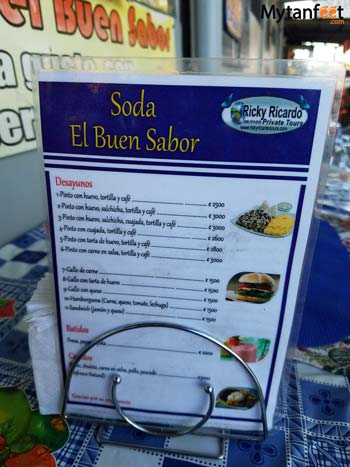 If you're staying at an Airbnb or if your hotel doesn't include breakfast, we recommend going to a soda for a hearty cheap breakfast. All of them will have gallo pinto, the rice and beans traditional breakfast.
Check out what this soda in Costa Rica is like! This is a 360 video so move your cursor around in the video.
This was taken at Soda Brasilito, in Brasilito town.
Best Sodas in Costa Rica
Here are some of our favorite sodas in Costa Rica. We always eat at sodas when we're traveling because they're cheaper and it's what Yeison is more used to since he is Costa Rican. I would say that we've eaten at a soda in every town in Costa Rica!
Los Pelones: This is our favorite soda in Playas del Coco. It's buffet style and has Yeison's favorite gallo pinto.
Brasilito: In Playa Brasilito. This is the one in the video above. Has good rice with shrimp and seafood.
Tipica Las Palmares: In Montezuma. This is my favorite soda we've been to. Their patacones and guacamole were amazing and it has an ocean view.
Ardilla: Near La Paz waterfall. Nice little soda with good Costa Rican tacos.
Coloso #2: Our favorite soda in La Fortuna. Soda Viquez is another good one.
Sabor Tico: Our favorite soda in Monteverde. They have a very expansive menu with items you don't normally see at every soda which is super nice.
Almendros: A great soda in Uvita by the entrance of Marino Ballena National Park. Huge portions!
El Arado: Great soda in Quepos near Manuel Antonio. They have delicious hot sauce.
Rustico: The best soda in Jaco, it's so good it's been on the local news.
Tapia: One of the best sodas in San Jose, Costa Rica.
Marea Baja: Nice soda a little outside Jaco for when you need food late at night as it's 24 hours. Super cheap too.
La Tiquicia: Our favorite soda in Santa Teresa.
If you're in San Jose, I recommend going to the Central Market in downtown. You can find several good sodas in side, even one that has been there for over 100 years!