**If you're ready to book the Caño Island snorkeling tour, scroll to the bottom of the post to fill out your booking request!*
I peered over the side of the boat to check out the water, as the rest of the group started getting their snorkel gear ready. From first glance, I could already see schools of fish swimming around in the brilliant blue waters.
Flashes of bright yellow from the stripes on large Sergeant majors winked at me from below the water, while streaks of dazzling silver from jacks glimmered deeper down.
Excitement came over me, erasing any sign of sleepiness I had on the 1 and a half hour boat ride. I quickly donned my mask and snorkel to dive into the warm welcoming waters and I have to be honest, I had high hopes for snorkeling at Cano Island.
It didn't disappoint.
Snorkeling at Caño Island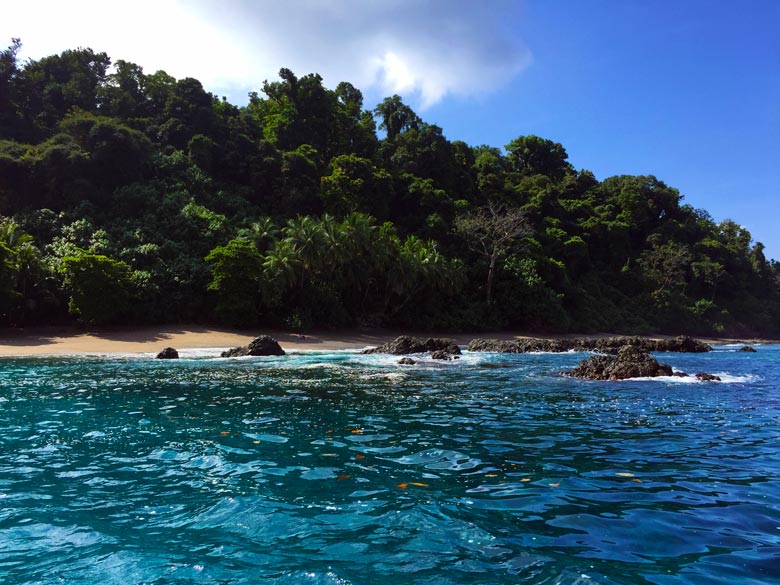 Designated as the 2nd best snorkel and scuba diving site in Costa Rica, Caño Island, or Isla de Caño sits in the Pacific Ocean about 52 kilometers (32 miles) from Marino Ballena National Park. This biological reserve is home to a copious amount of marine wildlife such as sharks, eagle rays, fish and turtles.
On any given day, visibility is fairly good and visitors have the chance to see all sorts of wildlife. On the boat ride over, we saw dolphins and turtles. Sometimes you can see humpback whales if it's the right time of year!
Best Snorkeling in Uvita
Scuba diving and snorkeling at Caño Island is one of the top activities to do in Uvita and the Osa Peninsula and it was one of our favorite experiences in Costa Rica so far. From the moment we jumped into the water, we were surrounded by all of those who call the ocean home.
It was like snorkeling in an aquarium.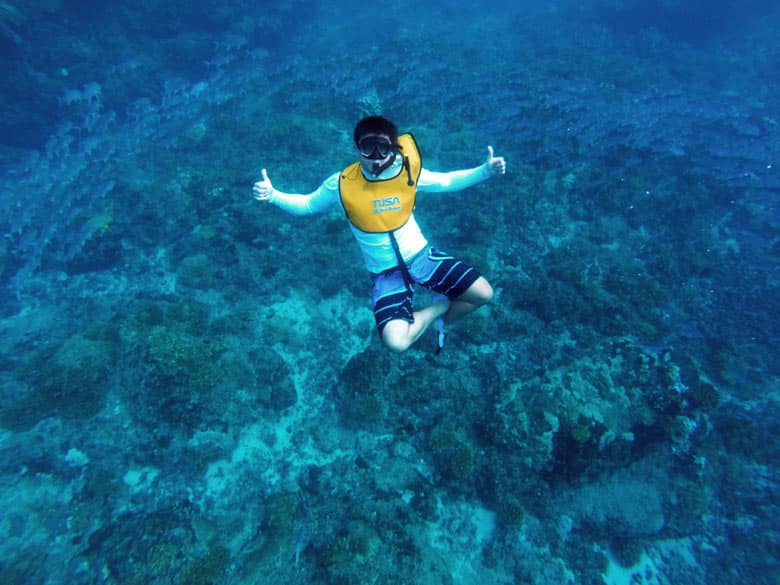 Our guide called us to follow him, and no less than a minute later we were swimming with a juvenile Hawksbill turtle, grazing on the reef.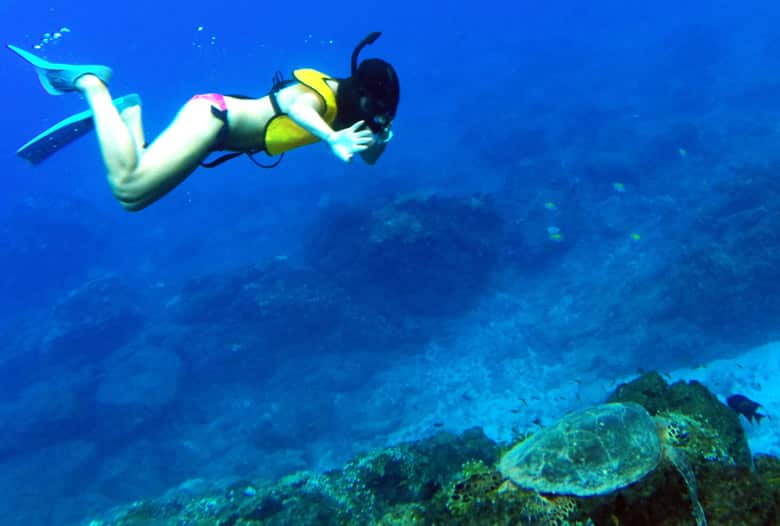 He didn't mind us at all, focusing only on finishing his lunch. He swam with us for a bit, even coming all the way to the surface to take a breath and dive back down.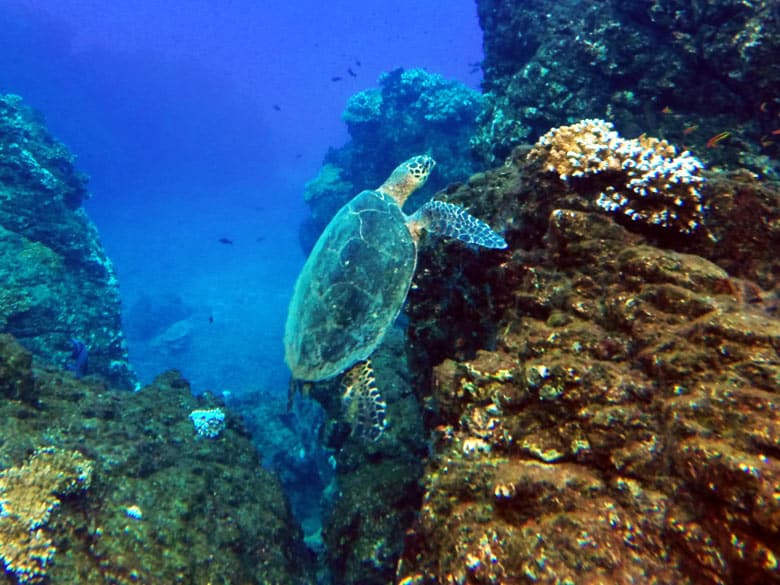 I could have watched him all day and been very happy.
But after 10 minutes or so, our guide signaled for us to follow him. He opened his hands to show us the size of the fish swimming ahead.
They were huge.
And there were so many of them.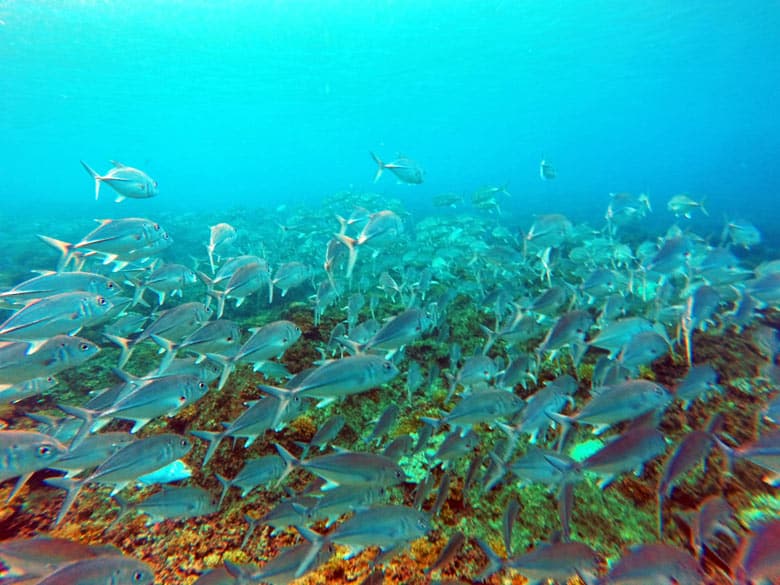 All the Fish!
A large school of Bigeye Jacks were swimming around underneath us, with so many dashes of silver my eyes couldn't quite focus just on how many there were.
The only way to find out was to dive down and swim with them, so I did just that.
Going deeper into the water makes everything so much clearer and more vivid. I love snorkeling, but only when you dive as far down as you can to get a much better view of all the wildlife.
The Jacks quickly sprinted out of my way as I approached, but there were so many they ended up surrounding me. I could also see my favorite angel fish and purple parrot fish slyly swimming around with the jacks, taking advantage of the big school to hide.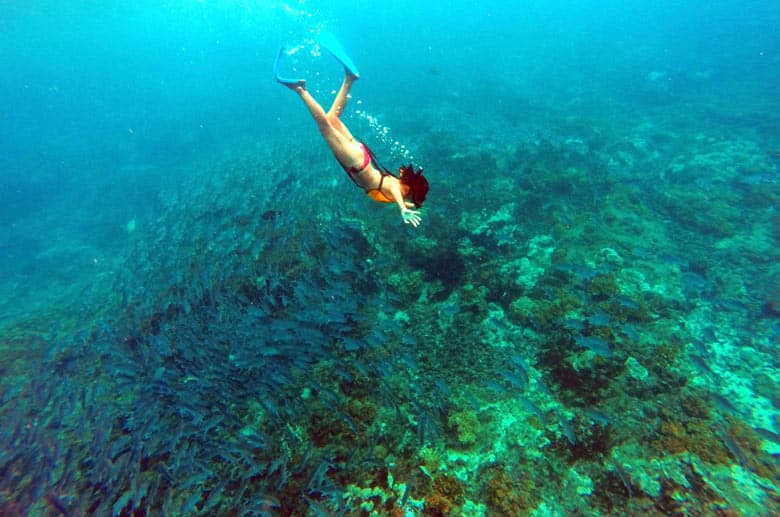 As I was happily floating alongside a very long trumpet fish, I bumped into Yeison. We had lost each other when we were swimming with the Jacks, as he was taking the pictures and videos. As we surfaced the water at the same time, I pulled the tube out of our mouths and exclaimed, "It's so clear!"
We couldn't believe that it took us 3 years to finally go snorkeling at Caño Island! Especially considering how much we love snorkeling and the ocean.
Our guide then waved us over to our next spot to look for whitetip reef sharks but to no avail. As we were snorkeling, we couldn't see all the way down in the crevices of the reefs. However, the group next to us happened upon a large group of eagle rays.
Either way, the snorkeling at Caño Island was beyond anything what we had expected.
The Second Best Snorkeling in Costa Rica
I can definitely see now why the snorkeling at Cano Island is one of the best in Costa Rica. The clarity of the water was absolutely insane, even though it looked cloudy and dark above water! Underneath was as clear as day.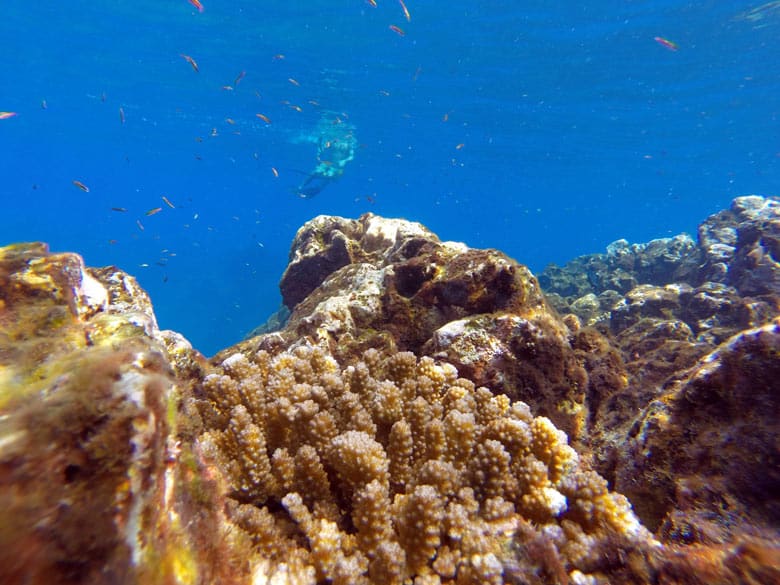 Watch our video to see what snorkeling at Cano Island is like!
Tips for Snorkeling at Cano Island
Wear a rash guard. I forgot mine and got stung a bunch of times by those annoying jellyfish!
Put on sunscreen! And please use reef safe sunscreen.
Take anti-nausea medicine if you get sea sick easily. Even though the waves were calm the day we went, they go fast and it is still a bit bumpy.
The boat ride from Uvita is around 1 hour and a little more one way.
Bring a waterproof camera or GoPro. You'll want to take lots of pictures and videos!
There are Amazon affiliate links in this post.
Where to Stay in Uvita
Hotel Cuna del Angel: Charming hotel off Costanera Sur close to Uvita. Spacious rooms with resident sloths!
Los Laureles Cabinas: Budget friendly cabinas on a beautiful property with a river and nature trail. Excellent restaurant.
Manoas: Villas and glamping resort up in the mountains. The glamping tents are awesome and is located by a river.
Book Your Tour!
Use the form below to book your Caño Island snorkeling tour from Uvita!
This post has affiliate links.