Tucked away in the slopes of the Talamanca Mountain Range lays a small charming town called San Gerardo de Dota. Although not grand in size, it offers visitors year round crisp mountain air, incredible birdwatching and breathtaking cloud forest views. For these reasons, San Gerardo de Dota is an ideal destination in Costa Rica for hiking and nature lovers, looking for city getaway.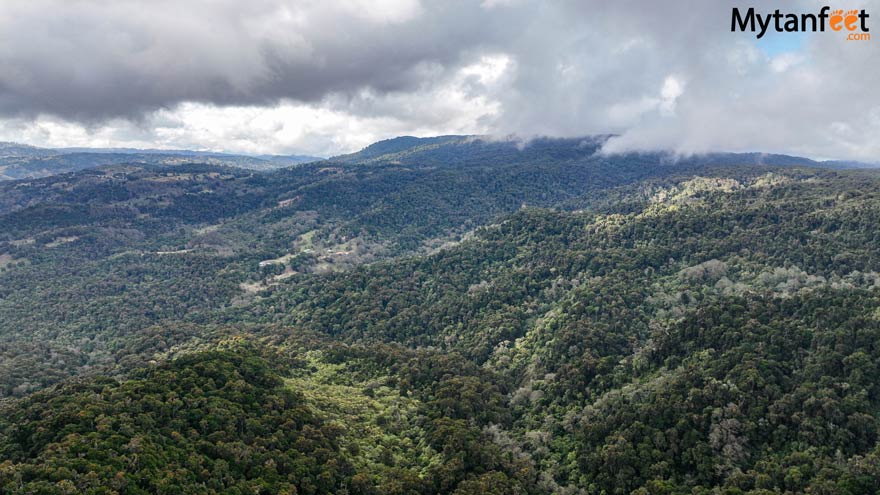 Where is San Gerardo de Dota
San Gerardo de Dota is in the San Jose province, 87 kilometers (54 miles) from San Jose, approximately a 2 hour drive.
How to Get to San Gerardo de Dota
Driving from San Jose to San Gerardo de Dota is very straightforward as it is all on Route 2, a major highway.
Driving tip: The Route 2 is otherwise locally known as Cerro de la Muerte which means hill of death in Spanish. This route, once you pass Cartago, climbs in elevation up the mountains and becomes extremely curvy. Additionally, this route is commonly covered in fog which contributes to the nickname.
Although this highway is fully paved and in good condition, there is a lack of street lights, shoulders, sidewalks and street humps. Make sure you use your low beam lights in the fog and drive slowly. If the car behind you starts tailgating you, do not stress out. Just drive the speed you are comfortable at and let the other person pass as many locals drive very fast. We do not recommend to drive this route at night. Get our driving in Costa Rica tips here.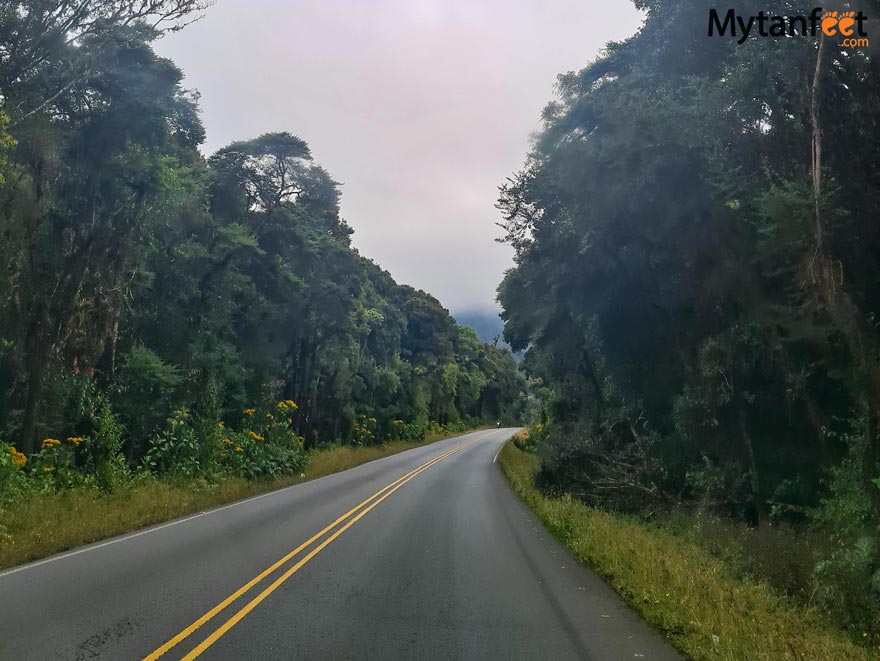 Travel tip: If your flight lands in SJO in the late afternoon and San Gerardo is your next destination, stay the night near the airport and leave the next morning. Remember, it gets dark by 6 PM everyday in Costa Rica. We also recommend to download the Google Maps of this area as there isn't good signal for a good section of this road.
The Road Down to San Gerardo de Dota
Once you turn right off Route 2 down to the town, the road is asphalted over but extremely steep. You need to drive down using a low gear, do not ride your brakes or you can easily overheat and burn them. There are signs everywhere along the road to use a low gear. Using a low gear keeps the descent stable and prevents the brakes from overheating.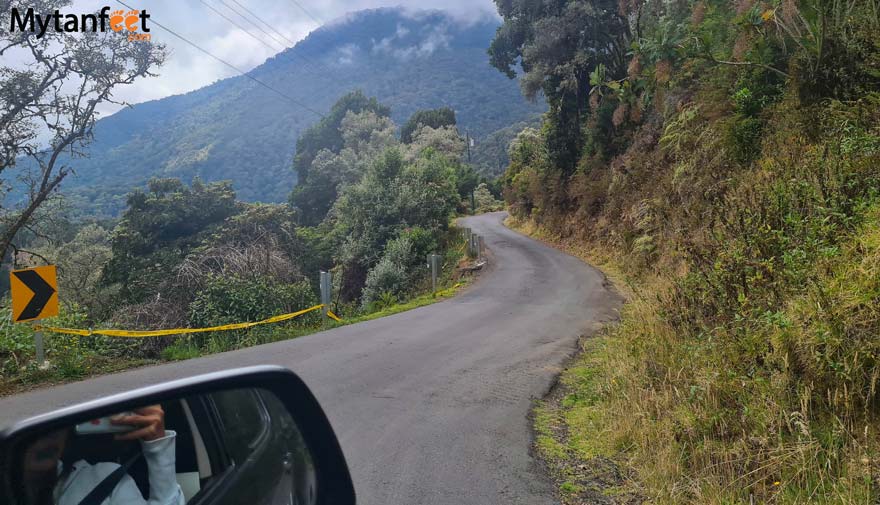 Although the road is fully paved (but does have some pot holes here and there), we recommend a 4wd or 4×2 high clearance car for the most comfort and safety due to the steep roads. Additionally, you will need a car with a strong enough engine to get you up the hill so a sedan or compact sedan fully loaded with people plus luggage will have trouble going up. Get our Costa Rica car rental discount here!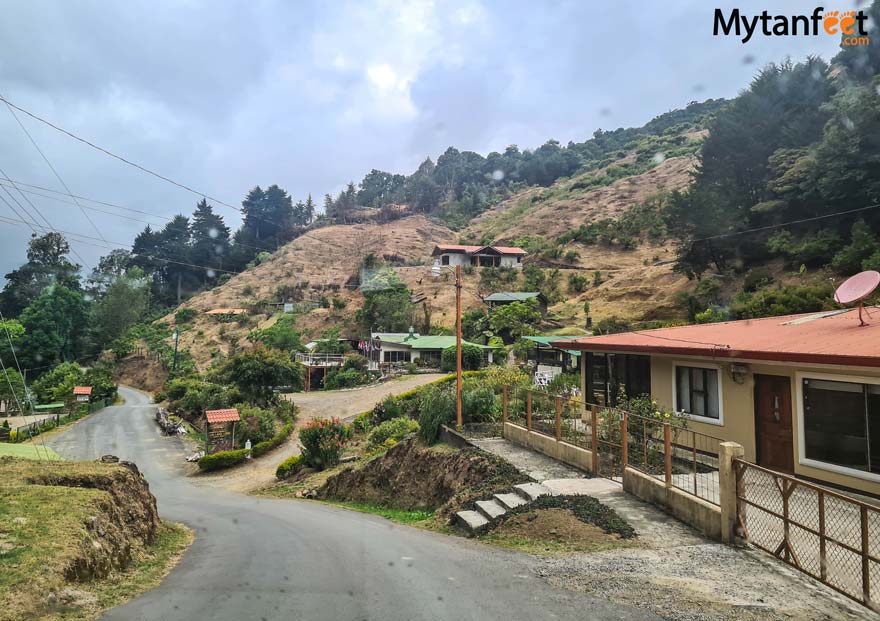 You will reach the small quaint town of San Gerardo de Dota as soon as you drive a bit down.
Not Renting a Car
If you don't plan to rent a car, the best way to get to San Gerardo de Dota without a car is by private shuttle. Shared shuttles do not go to San Gerardo de Dota. If you don't rent a car, you need to stay in a hotel (not vacation rental or Airbnb) for easy planning. Then you can arrange your activities with your hotel.
A private shuttle from San Jose to San Gerardo de Dota costs ~$180 USD for 1-8 passengers. Contact us to book your private shuttle!
What to Do in San Gerardo de Dota
Birdwatching (Resplendant Quetzals)
The best thing to do in San Gerardo de Dota is birdwatching. The tropical cloud forest is home to many birds, the most notable is the Resplendant Quetzal which can be seen all year long in Dota! You must take a birdwatching tour to see Resplendant Quetzals.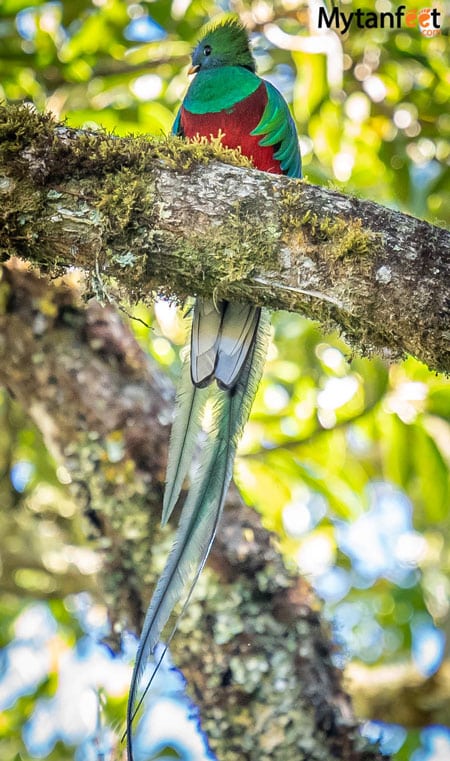 San Gerardo de Dota is known as the "Cuna de los Resplendant Quetzales" as these birds can be seen year round in the area. The best months to see Resplendant Quetzales in the Dota area is from about January to June as it's their feeding and mating times. Other times of the year offers opportunities to see them as well but it is not guaranteed.
All the lodges in the area offer birdwatching tours and most of them have their own nature trails. To see the Quetzales, you will need to hire a guide as they are trained to see them and are very familiar with the area. We did a birdwatching tour just outside the Los Quetzales National Park – click here to watch our video of our Resplendant Quetzal experience!
Hiking
Many lodges have their own hiking trails and you can also hike two trails in the Los Quetzales National Park. There are also many hiking trails in the Cerro de la Muerte area that you should ask your hotel to arrange for you as you'll need to go with a local guide.
Trout Fishing
Due to the abundance of trout in the nearby river, trout fishing is extremely popular. Nearly all hotels have their own trout pond or can offer local guides to take you fishing in the river. Best fly fishing months are May and June.
Savegre Waterfall (Catarata Savegre)
There is a waterfall off of the Savegre River which is a 5 kilometer roundtrip trek (3.1 miles). Beautiful views and waterfall. The river itself is absolutely beautiful with lush mossy trees and crystal clear waters.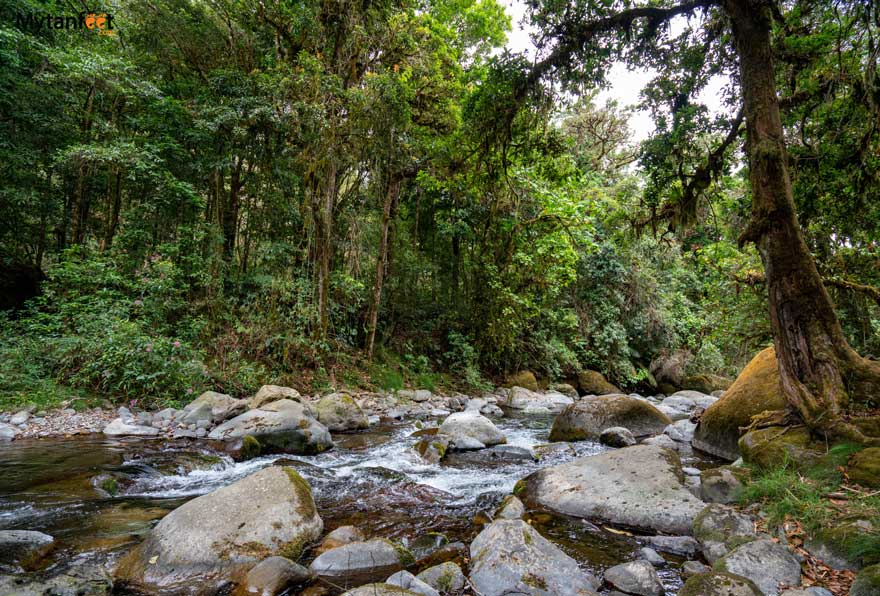 Some hotels also offer horseback riding and spa services. Another recommendation is to visit the KM 80 Mercadito Local to check out local artists and products. You can also visit Providencia, a small local town about 30 minutes away on the other side of the mountain. It is home to a couple of waterfalls and offers a rural local town experience.
San Gerardo de Dota Hotels
There are many quaint little lodges and hotels in town and in the surrounding area. Here are some recommendations.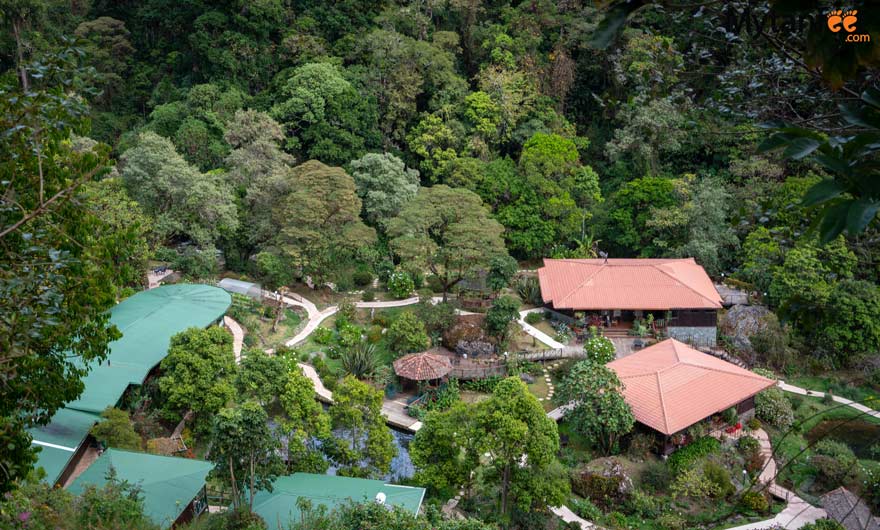 We actually stayed at an Airbnb a bit outside of Dota (about 15 minutes), right next to Paraiso Quetzal Lodge and Mirador de Quetzales. The Airbnb was a two bedroom wooden cabin with a fireplace, trails and beautiful views. We loved it and had some of the best nights of sleep of our life there!
San Gerardo de Dota Restaurants
Los Chespiritos 1: Cafeteria right off of Cerro de la Muerte in front of the Los Quetzales National Park entrance. Also has a small candy and convenience store. All the locals and truck drivers stop here!
Cafe Kahawa: Riverside cafe with coffee, sandwiches, wraps, pasta, snacks and smoothies. Try their trout ceviche.
Soda Doña Marlen: Best place to get traditional Costa Rican food. A must!
Soda San Gerardo: Another place for local food at the entrance of town
Alma de Arbol: Cozy place with sandwiches, soup, burgers, trout, pizza and pasta. A must.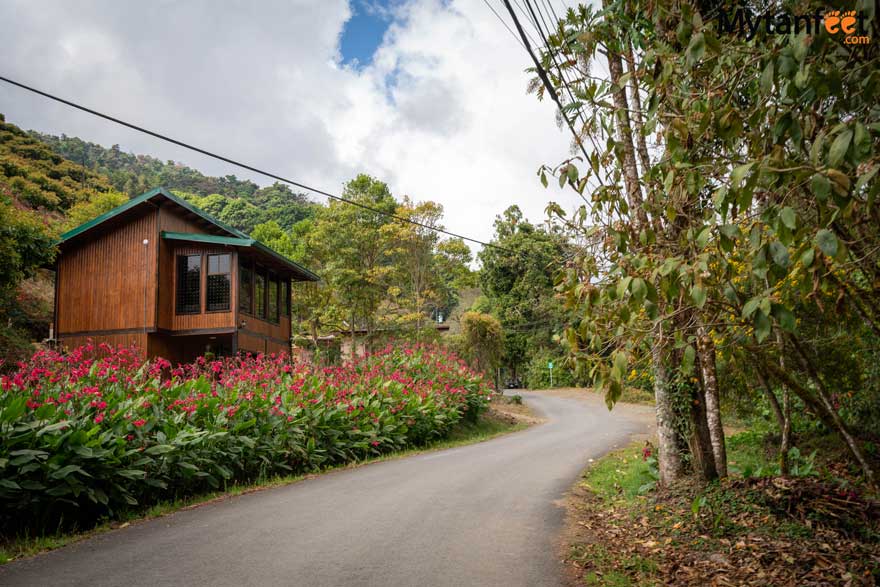 Things to Know to Plan Your Trip
There are some very important things to know about visiting this area.
Weather and What to Pack
The weather in this area is colder due to the elevation. San Gerardo de Dota sits around 1800 meters in elevation (6200 feet). The daytime temperatures average around ~21 C to 24 C (70 to 75 F) during the day. Night time temperatures dip down to 7 C to 12 C (44 F to 54 F) so make sure you bring long pants, socks, sweaters, long sleeves, a beanie hat and warm clothing. If it's windy, it can feel even colder at night.
It can also rain anytime of the year. Make sure to bring a rainjacket and waterproof hiking/trail running shoes. The rainiest months are September, October and November and driest are February and March. December and January are windy. February and March has the best weather in terms of clearer and sunnier skies.
Gas, Supplies, Services
The closest gas station to San Gerardo de Dota is about a 25 kilometer drive away so fill up!
There are a couple of mini marts in Dota. One near Las Cataratas Lodge, open Monday to Sunday, 9 AM to 6 PM called Mini Market Vista Cerro. Another called Mini Market San Gerardo, near Hotel Suria. Open Monday to Saturday, 1030 AM to 730 PM. Open Sunday from 1030 AM to 530 PM. Basic mini markets with supplies.
No ATM or bank in town but we found all places we went to took credit card. However, it is always handy to have some cash (USD or local currency) on hand.
How to Visit (Sample Itineraries)
San Jose —> San Gerardo de Dota (2 hours) —> Dominical (beach town, 2 hours). This is a great way to start your trip off in the cool cloud forest mountains to do some hiking and birdwatching. Then you'll head down to the coast for the sun, ocean and rainforest.
You can also go the other way around to visit San Gerardo de Dota last. For beach towns, you can substitute Uvita for Dominical as they're very close to each other.
You can also visit as a day trip from San Jose if you rented a car. Some lodges such as Paraiso Quetzal Lodge and Mirador de Quetzales offer day passes to their property to hike and have lunch.
Read Other Costa Rica Destination Guides Below!
Monteverde: Another mountain town up in the cloud forest. More popular as it also offers hanging bridges, ziplining and more adventures.
San Vito: Small mountain town near the Panamanian border that also has cloud forest and offers rural tourism activities.
Bajos del Toro: Small town up in the Alajuela province, home to many waterfall hikes.
There are affiliate links in this post.
Costa Rica Vacation Checklist