As the most developed beach near Puerto Viejo, Playa Cocles is also the most popular. With great surfing waves, soft tan sand and bright blue waters, Playa Cocles is considered as one of the most beautiful beaches in Costa Rica. It is right in between Playa Chiquita and Puerto Viejo making it very easily accessible.
Location
Playa Cocles map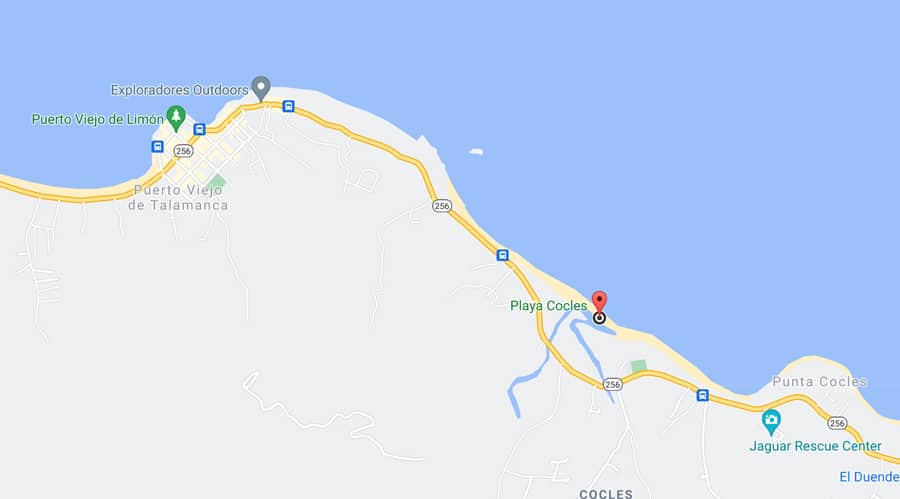 Playa Cocles is 3.8 kilometers (around 2 miles) from Puerto Viejo and 220 kilometers (137 miles) and a 4.5 hour drive from San Jose.
4×4 and parking
The road between to Cocles is well paved. There isn't really a designated parking lot for the beach but you will see many cars parked on the road or in the area between the beach and road. There aren't any security there, so make sure not to leave valuables in your car, roll up windows and lock doors.
How to get to Playa Cocles from Puerto Viejo
If you don't have a car, biking in Puerto Viejo is the most popular way to get around. You can also take the bus as there is a bus that goes from Puerto Viejo to Manzanillo at 6:45, 7:45, 9:45, 11:45, 13:45, 16:45, 18:45 and 19:45. On Sundays it leaves at 7:45, 9:45, 10:45, 11:45, 12:45, 13:45, 15:45, 17:45, 19:45. You can get off at Playa Cocles on this bus.
Cocles Beach
Cocles beach stretches about 2 kilometers (a little over a mile), its shore dotted with graceful palm trees. Since it is one of the few beaches in the area suitable for surfing, you will also see rows of colorful surf boards propped up in the sand.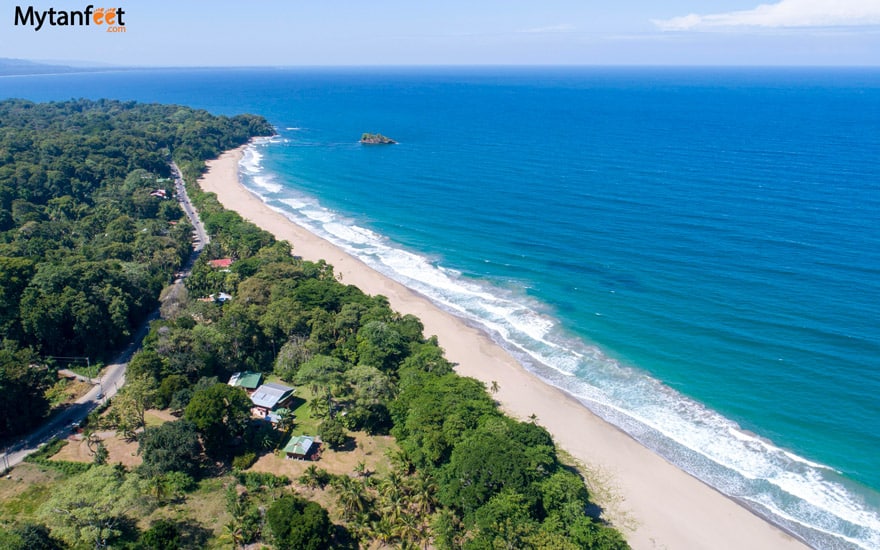 Cocles gets very busy during the weekends and high season so if you want to have a spot all to yourself, walk all the way down to the south end where less people go. We set up our hammocks on the south end of the beach near a river and had it all to ourselves!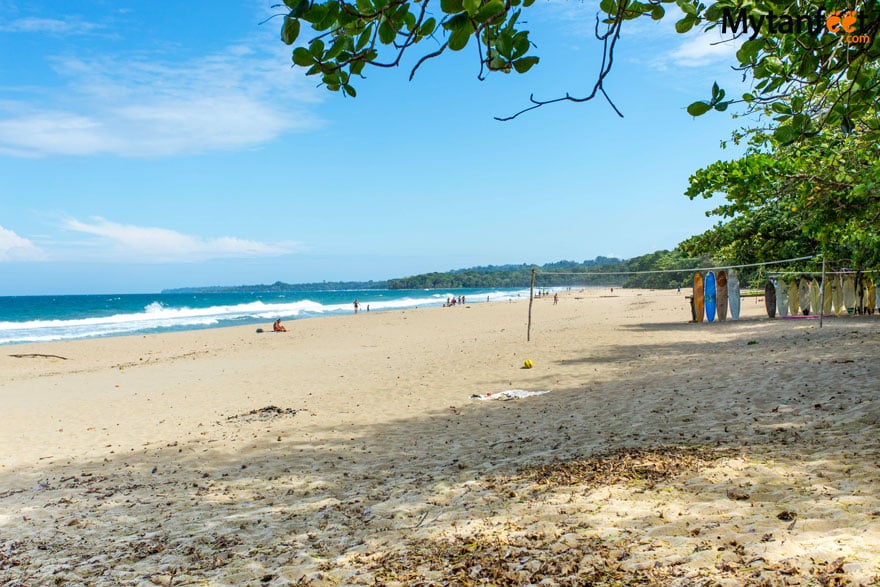 Waves are not the best for swimming as the current is strong but you will see many people playing volleyball or futbol on the beach and soaking up the sun. This is the only beach in the area that has lifeguards.
Playa Cocles Surfing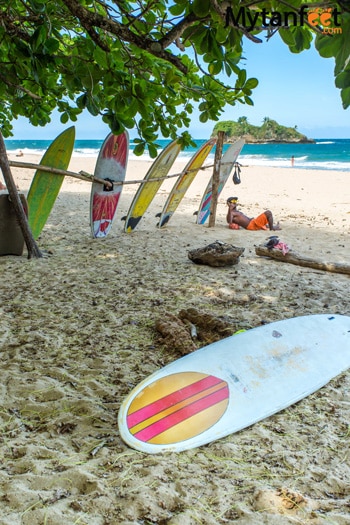 January through March are best for surfing since it has bigger swells.
The break (nicknamed The Beach Break) generally isn't very long at Cocles so the ride is short and very close to shore making it a bit tough for beginners, especially for long boards.
But when waves are big, they are a lot of fun for beginners and they can get a taste of what it's like to surf the warm Costa Rican waters. It's best to go during high tide to get a longer ride.
Shortboarders will love Cocles as it has a consistent left and right break close to the beach. The waves are definitely geared more for intermediate and expert surfers so if you already know how to catch a wave, you will definitely want to surf at Playa Cocles.
Near the island, there is a nice left break when swells are big that goes almost all the way down the beach. And when the good swells arrive, waves get big!
But no matter what time of year it is, you will still see classes going on and locals promoting their surf lessons all day.
If you don't want to go surfing, boogie boarding is another fun thing to do at Playa Cocles and the waves are great for it. You can rent boogie boards on the beach.
Playa Cocles Weather
Weather at Playa Cocles doesn't follow the typical tropical dry and rainy season. The Caribbean side has its own unique climate than the rest of Costa Rica so it is humid and can rain all year long.
The summer months in the Caribbean are September and October and the rainiest are generally June and November. February and March are usually drier and can be windy.
Playa Cocles Hotels
There are a handful of hotels and hostels at Playa Cocles and you can find even more vacation rentals. For our first time in Puerto Viejo, we stayed at a rental house close to Cocles and the location is super convenient. There is a range of accommodation for every budget. Prices are listed in USD.
Budget hotels
Jaguar Inn Hostel: This hostel is owned by the Jaguar Rescue Center which is close by at Playa Chiquita. They have dorms with 4 beds and private triple rooms.
Hostel Playa 506: This hostel has free Wi-Fi, private parking and a shared kitchen on the property. They have private rooms with shared bathrooms, dorms and a private twin room. A bed in the dorm starts at $18 and a private room with shared bathroom starts at $60.
Mi Casa Hostel: They have mixed dorms and private rooms and is super budget friendly. A bed in a dorm starts at $10. They're right next to Tasty Waves Cantina, a restaurant bar with a fun nightlife.
Mid range and high end hotels
Caribe Town: This resort right across the beach has 5 private bungalows, a swim up bar and a spa. Two bungalows have AC, great options for families and honeymooners since they also have a honeymoon bungalow.
Cariblue Beach and Jungle Resort: The hotel sits on a 5 acre property with an on-site restaurant and two pools, swim up bar. They have a range of rooms such as standards, bungalows and ocean apartments. The Totem Surf School and Aqua Caribbean Spa is also on the property so it's a good choice for those who want those amenities.
Le Chameleon Boutique Hotel: If you're looking for something more high end, this 5 star hotel has an on-site restaurant, swimming pool, massage bar, a yoga studio and spa. Rooms have air conditioning, a flat screen TV and ipod docking station.
Physis Caribbean B&B: This hotel has 4 rooms with one especially for honeymooners. Good option if you want something more quaint and small.
Azania Bungalows: Elegant rustic bungalows, each equipped with a minibar and flat screen tv. Bungalows also have a private deck with hammocks. Nice option for something other than the standard hotel room as each bungalow has a thatched-palm roof so it gives the impression of a jungley building with modern amenities inside.
Relax Natural Village: Very nice property with 6 villas, each with a terrace and hammock. Gourmet breakfast included, excellent option for couples who want more privacy and personalized service.
Community and Town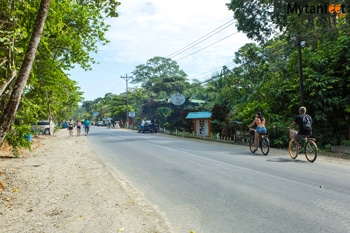 The Cocles community is small but very proud of their beautiful beach and neighborhood. Compared to Puerto Viejo town, it's relatively quiet and peaceful as most of the craziness is contained to downtown Puerto Viejo.
Tasty Waves, the beachfront cantina has the best nightlife in the area with karaoke night, trivia night and live music but other than that, Cocles is quiet.
It's an excellent place to stay in Puerto Viejo if you want to be close to town but not too close so it's a great choice for families and couples who want more privacy.
There is a popular yoga studio called Om Yoga that attracts yogis from all over the world and one grocery store. Since surfing at Playa Cocles is the most famous thing about the area, you will also see several surf camps and schools at Cocles. The locals love their Beach Break!
You can see a bit more of Playa Cocles and the other Caribbean beaches like Playa Negra in this aerial video below!
Read more posts on the Puerto Viejo area here!
This post has affiliate links.