Named as one of the bio-diverse spots on earth, Corcovado National Park attracts nature and wildlife lovers from around the world. As the crown jewel of Costa Rica's national parks, the government works hard to preserve the natural environment and maintain the lowest amount of disturbance possible while allowing visitors to hike, camp and view wildlife in their natural habitat.
Most people take day trips to the 163.7 mi² park but you can also hike to the various ranger stations and camp. The most popular place for day tours are San Pedrillo and Sirena Station. Both are easily accessible by boat and allow for wonderful wildlife watching.
If you only have one day to visit Corcovado National Park but aren't sure which station to go to, I'm going to describe my experiences hiking at both of them. There are some significant differences which will help you decide.
Corcovado National Park Location
San Pedrillo Station
San Pedrillo station is the northernmost station in the park and is the closest one to Drake Bay, a 20 minute boat ride. It's about 1.5 hours from Uvita.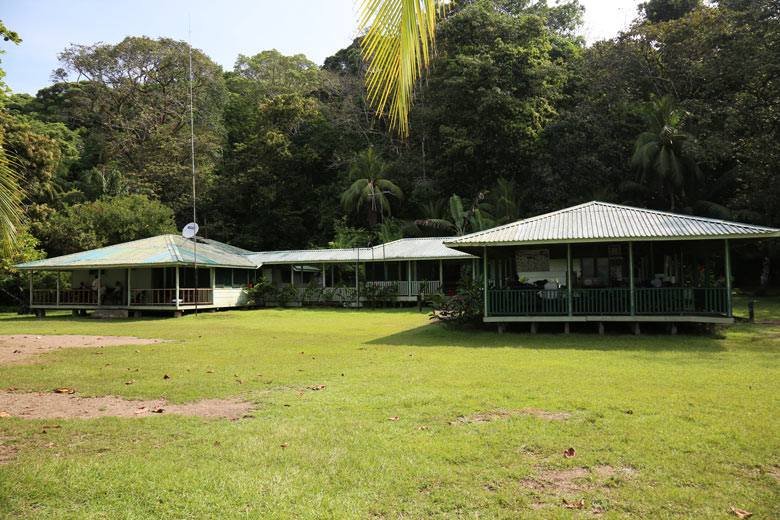 We visited San Pedrillo Station by way of Casa Corcovado Jungle Lodge since they have their own private trail to the station. However, for those not staying at the lodge, you'll take a boat ride to the station.
The station has bathrooms and picnic tables. Day tours to this station include lunch and a couple hikes on the trails. The beach is right in front (where you disembark if you boat there), so you can also walk along the shore or check out the river mouth.
Hiking Trails
The trail we took from the lodge connects to one of the main trails from the station that splits into two: along the beach or through the forest. We stuck to the forest since we were nearing high tide.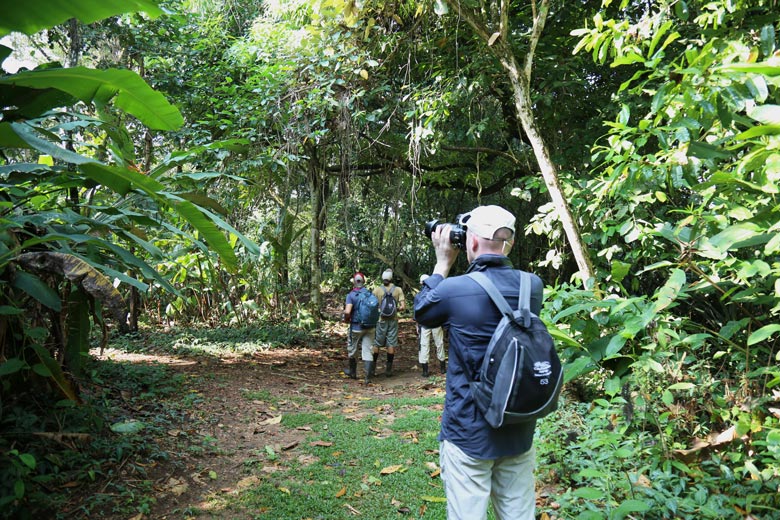 Then we went to a waterfall that took us about 30 minutes. The trails at San Pedrillo station are fairly well laid out, but there are some spots that get slippery and muddy when it rains.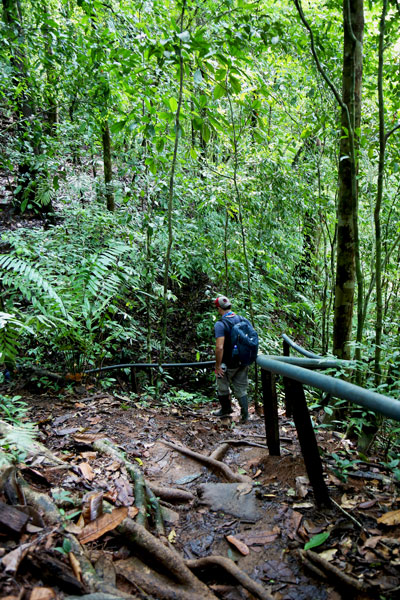 I really liked this hike. We crossed a river by walking on a small plank and there are a couple viewpoints, so you can stop and see if you can spot any crocodiles or other wildlife.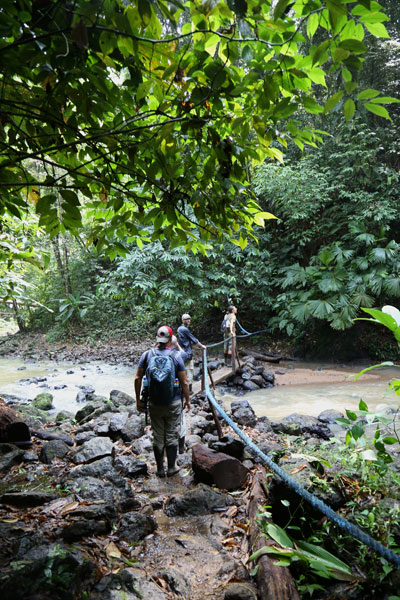 The waterfall is the end of the trail but unfortunately, it was very strong from the previous rains so we couldn't go in the water. Normally, you can take a dip when the falls aren't too full.
It's not the prettiest waterfall but it was a nice spot to rest after hiking.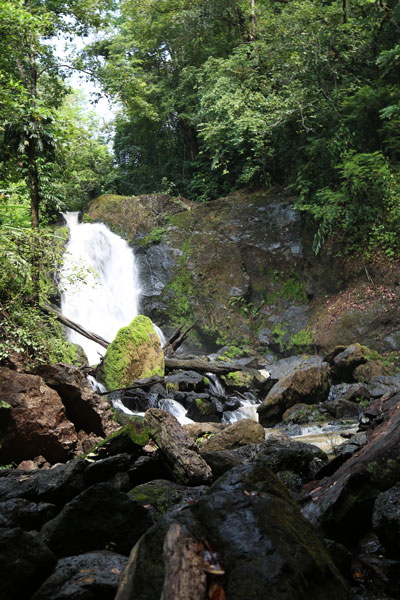 Wildlife
As one of the most biologically diverse places in the world, there is a ton of wildlife at Corcovado National Park.
However, it is known that San Pedrillo doesn't have as many mammals so if you're intent on seeing anteaters, tapirs and the pumas, it's not easy to see them here. That doesn't mean it's impossible or that there aren't mammals at San Pedrillo at all, just your chances of seeing them are fairly slim.
We only saw two mammals: the spider monkey and an agouti for a fleeting second. We did see tapir and coati footprints on one of the muddy trails, so they are definitely there.
However, if you like birds, we saw a ton of cool birds like hawks, tanagers and trogons. We even saw the Black-cheeked Ant Tanager which is endemic to the Osa Peninsula in Costa Rica.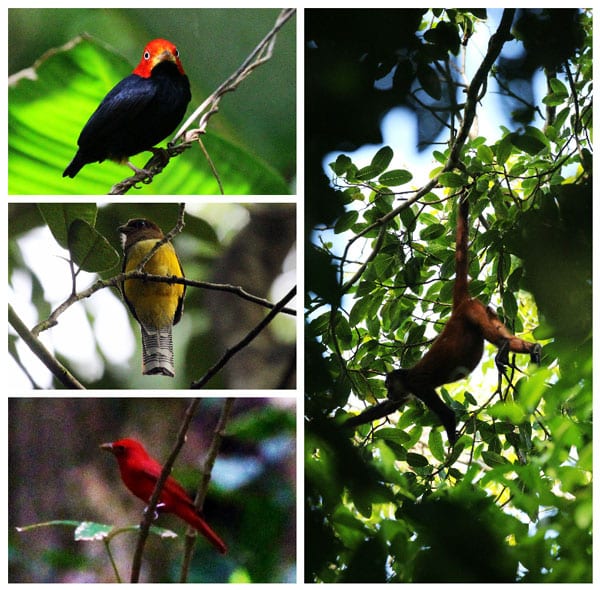 Sirena Station
Sirena Station is the biggest station in the park and this is where most people camp and hike to from the other stations.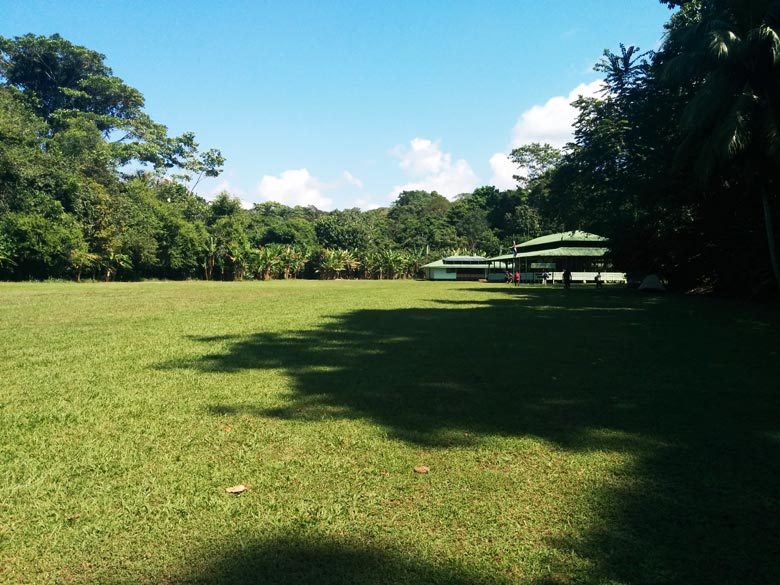 All day tours arrive at Sirena station by boat which is about an hour from Drake Bay. When you depart for Sirena, I recommend wearing flip flops for the boat ride and bringing your socks and hiking shoes because it's a wet landing. Also bring a small towel to wipe off the sand and dry your feet.
There are bathrooms at Sirena station but no convenience stores so bring plenty of water and snacks. When people spend the night here, they usually bring a tent, sleeping bag or hammock.
**They have recently renovated the Sirena station with new rooms, bathrooms and living space.**
Hiking trails
There are several trails from Sirena Station which loop around the area. We walked along the Sendero Rio Claro, along the beach and one of the loops.
The trails are really well laid out and easy to walk. Our guide would sometimes walk off the trail to look for animals but if you're not with a guide, I don't really recommend doing that on your own unless you see another guide do it. You never know what you might step on!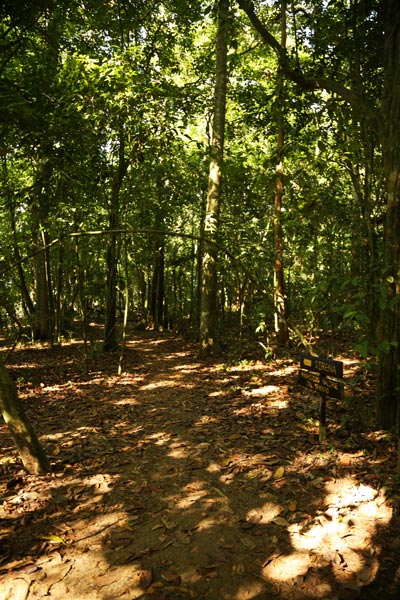 We walked through both secondary and primary forest and it was a really nice hike. Since there are many trails, we walked for about 5 hours. People who camp overnight have the advantage of spreading the hikes out during optimal wildlife viewing hours.
As Corcovado National Park was established back in 1975, the flora and fauna have grown freely and without major disturbances.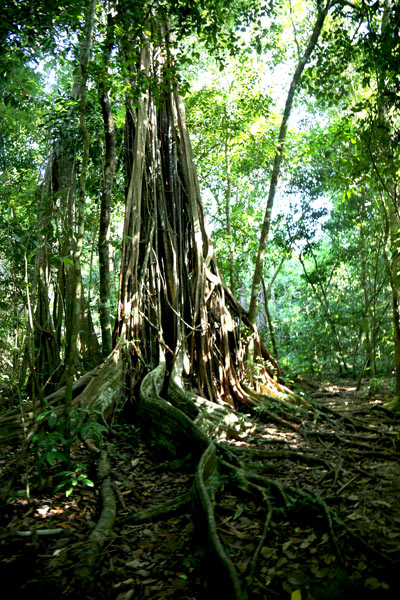 Wildlife
Wildlife watching at Sirena Station is considerably more than San Pedrillo. Since Sirena is in the Corcovado Basin, there is a larger diversity and concentration of wildlife. That is why majority of people who spend just one night see tapirs, anteaters, peccaries and the elusive pumas.
Unfortunately we didn't see any jungle cats but we did see a tapir which I had been hoping to see. It was happily taking a nap in the river. They're more active in early morning and dusk so people who camp often see tapirs out and about on the beach or on the trails.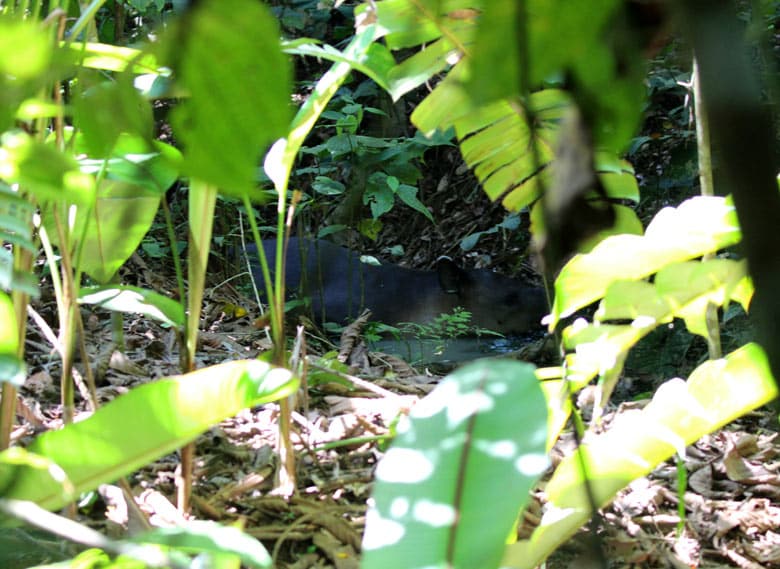 As for other wildlife, we saw plenty. As soon as we got off the boat, we could hear spider monkeys screaming and howler monkeys grunting. When it comes to mammals, there are considerably more of them at Sirena than San Pedrillo. Within 5 minutes of walking the trail, we ran into three coatis fighting over territory with a troop of spider monkeys right above us.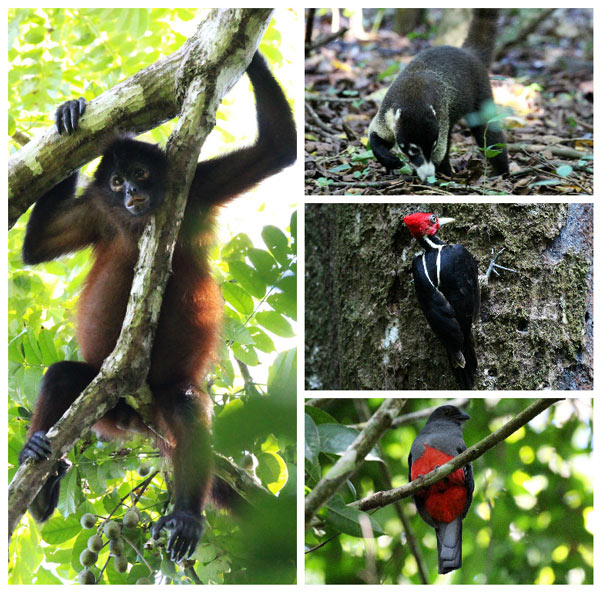 An animal I wasn't expecting to see were sharks. We saw bull sharks when we walked on the beach and they were swimming very close to shore. That part of the ocean connects with the Sirena river mouth so sometimes sharks will swim into the river which I've heard, people cross.
We also saw bats, squirrel, white face and howler monkeys, scarlet macaws, an osprey, Black-mandibuled toucan, a Great Curassow and a deer. Other animals that can be seen are peccaries, jungle cats like pumas, ocelots and jaguars, snakes, turtles, anteaters and sloths.
Tips for visiting San Pedrillo and Sirena Station in Corcovado National Park
I recommend wearing rubber boots if you're going in rainy season which you can buy in Puerto Jiminez or Drake and some hotels may provide them for you. In dry season, regular hiking shoes will be fine. Read more about best shoes for Costa Rica.
Wear long pants and a fast drying t-shirt or long sleeve shirt. It is insanely humid in this area and we were sweating buckets. I highly recommend getting an outdoor shirt that has insect blocker, UPF 30 and fast drying/advanced evaporation technology to protect you from bugs and the sun while keeping you cool. It also helps to bring a small towel to wipe your face. Columbia is a good brand to check.
Insect repellent is also a must but the best protection is long pants and shirts. However, you should still put bug repellent on the exposed areas since you're going deep in the jungle. I wore a tank top because I didn't have a long sleeve t shirt, put on 98% DEET bug spray and it worked like a charm.
If you're there to photograph wildlife, you absolutely have to have a good zoom lens. We used our 100-400mm Canon lens along with our Canon T5i (crop). One of our fellow hikers brought a Tamron 150-600 on his Canon 7d and his pictures were amazing. A good pair of binoculars doesn't hurt either. If your guide brings a telescope, you can take pictures with your phone on the eyepiece.
Use sunscreen. Even though you're walking under the canopy, the sun is still intense. You'll definitely need it for the boat ride and when you walk on the beach.
At both San Pedrillo and Sirena Station, you'll be able to see plenty of wildlife. However, if you are intent on seeing as many mammals as possible, go to Sirena. You may not see the puma, but you will have a much higher chance of seeing them plus other mammals than at San Pedrillo.
If you're not dying to see mammals, San Pedrillo station is perfectly fine. You can see many birds and you still have a chance to see tapirs, sloths, monkeys and other animals. Corcovado National Park is rightly named as one of the most bio diverse places in the world, once you step off the boat you'll see exactly why!
Read about other things to do in the South/Osa Peninsula here!
10 things to do in Uvita and Dominical
If you're planning on going to Manuel Antonio National Park, another wildlife hot spot, check out our post on hiking the Manuel Antonio trails.
There are affiliate links in this post.