Jaco, Costa Rica is one of the best beach towns in Costa Rica for relaxation, adventure and excellent food. It's only 1.5 hours from the San Jose International Airport so you can stay in Jaco as your homebase in Costa Rica or for just a couple days.
Whether you're in Jaco for 2 days or 1 week, here are our favorite things to do in Jaco. If you want to do any day tours in Jaco, please contact us for 7% off tours!
Surfing
Surfing has to be on this list as it's the top thing to do in Jaco. Since this beach is said to be one of the best for beginners due to the long consistent waves, don't miss out on taking a surf lesson or joining a surf camp.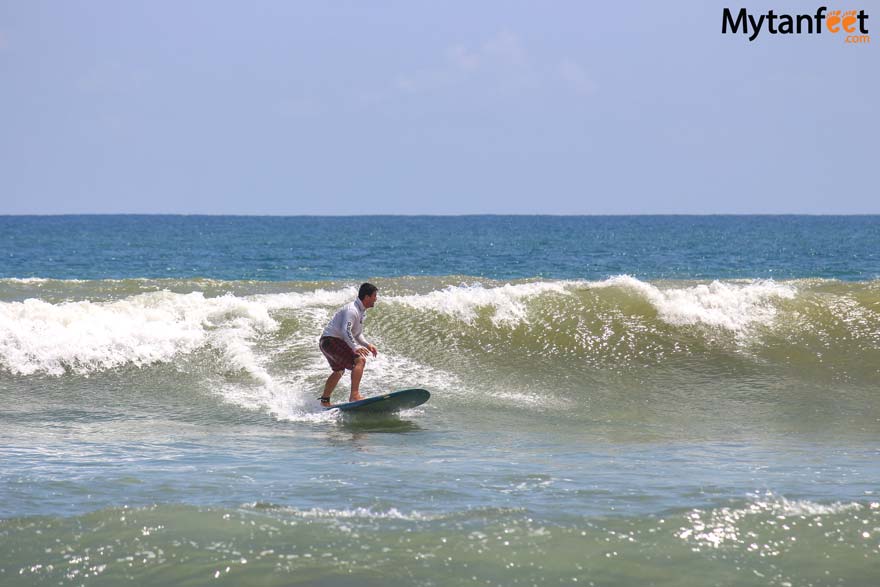 A 2 hour surf lessons runs around $50 per person and there are a ton of surf shops in town you can go with. School of the World, Surfer Factory, Selina, Tortuga and Jaco Surf School are a few good ones.
The most popular and best spot for beginners is the south end of the beach called Madrigales. For more experienced surfers, head to the middle and more norther section of the beach.
Waterfall Tour
There are many waterfalls near Jaco, Costa Rica. Right outside town lies lush mountains, home to many rivers and waterfalls.
We did a Jaco waterfall tour with Costa Rica waterfall tours (their office is in Jaco Walk) a few years ago which took us to those waterfalls right outside town. We got to trek through the pristine rainforest, jump off waterfalls and swim in the pools!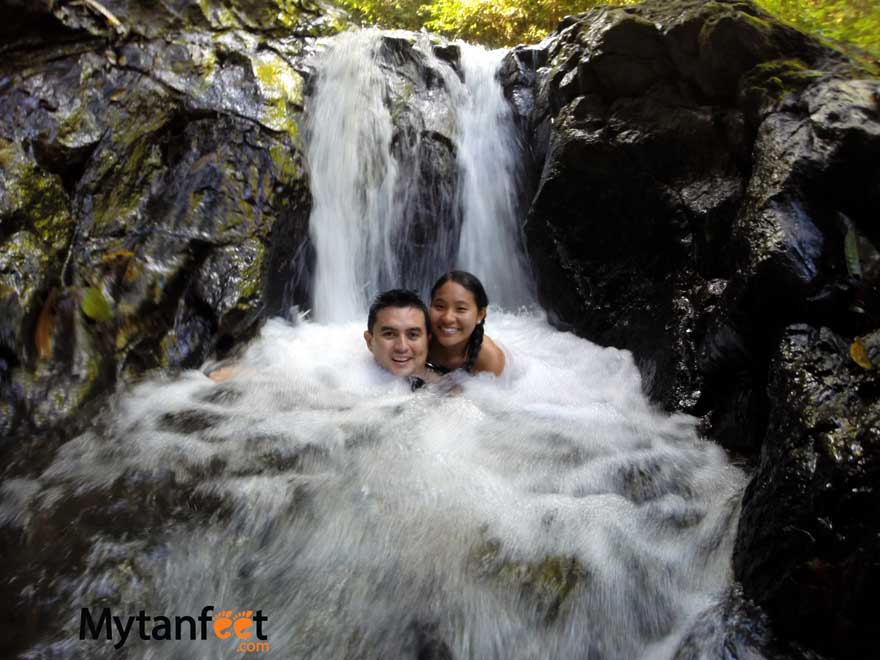 Another waterfall nearby is Bijagual, about a 20 minute drive from Jaco. It costs $20 to enter the private property and it is about an hour hike to this impressive waterfall. You can also do a horseback riding tour to Bijagual waterfall which is incredibly nice.
This is definitely one of the must do things in Jaco!
Miro Mountain View Point
Head to Miro Mountain for an amazing viewpoint of Jaco. It's an abandoned building a little bit outside the south end of Jaco up in the mountains. They have closed the road so you can't drive up there anymore however. You will have to park your car and hike up.
It's a gorgeous view but quite a bit of a steep hike so not recommended for anyone who cannot walk for long periods of time or have trouble walking on non-groomed steep paths.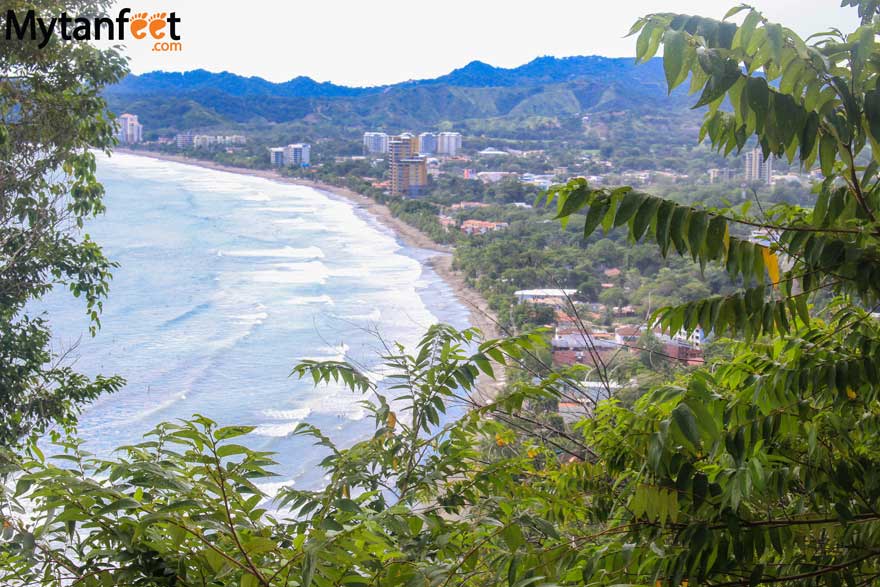 The entrance to this viewpoint is across from the southern most road off the highway to Jaco. The parking lot is very small so try to go early to avoid the crowds as it gets popular, especially during sunset and weekends. Don't leave valuables in the car, roll up your windows and lock your door if you park.
If you have a car and want to visit another coastal viewpoint, head to Peñon de Guacalillo in your 4wd, about a 1 hour drive from Jaco.
Vista Los Sueños Adventure Park (ziplining, horseback riding, canyoning, ATV, chocolate)
Looking for adventure? Jaco's got it! And one of the best adventure parks is just ten minutes outside of Jaco: Vista Los Sueños. They have an awesome ziplining, super crazy fun ATV tour, and a lovely horseback riding tour. For more adventure, they also offer waterfall rappelling!
To add some culture to your day, they also offer a chocolate tour.
Check out our video of Vista Los Sueños above and get our special Vista Los Sueños discount here!
Birdwatching
Since Jaco is right where the tropical rainforest starts, the wildlife and nature greatly increases. You can see much more wildlife in this area than you would up in the North Pacific. Bird watchers from all over the world come to the Jaco area to seek out some of the most interesting birds in Costa Rica.
In this area, you can see toucans, birds of prey and one special bird in particular, the Scarlet Macaw. Carara National Park has the largest breeding area of Scarlet Macaws, whose population was decimated years ago from deforestation and hunting.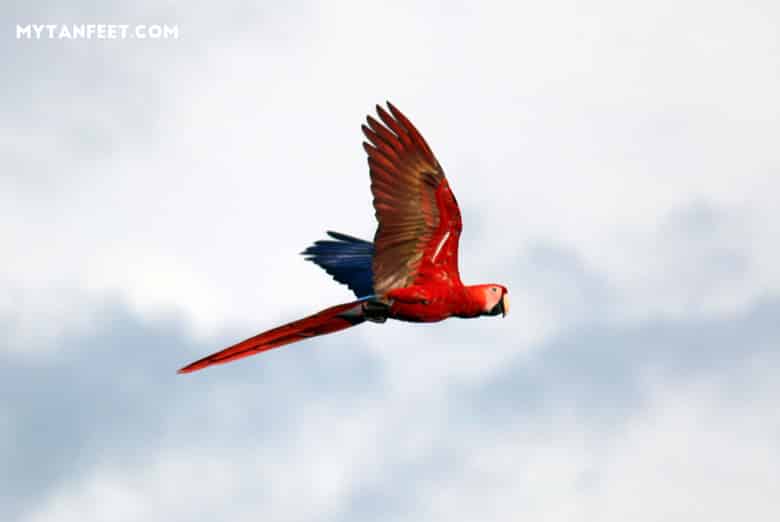 If you are an avid birdwatcher, consider staying at Macaw Lodge or Villas Lapas as they were built for birding. Villas Lapas also has their own sky way walk! They have a 1.5 kilometer (2.5 mile) trail with hanging bridges suspended 180 feet (55 meters) high up in the forest canopy for great views and birding.
SUP (Stand up paddle board)
Stand up paddle boarding is a great way to experience the ocean and enjoy the coastal views.
We did a stand up paddle boarding tour with Kayak Jaco from Playa Agujas, a 20 minute drive from Jaco. We paddled all the way to Playa Mantas and Playa Blanca, a beautiful white sand beach by the Punta Leona resort. At Playa Mantas, there were huge groups of manta rays everywhere which is amazing!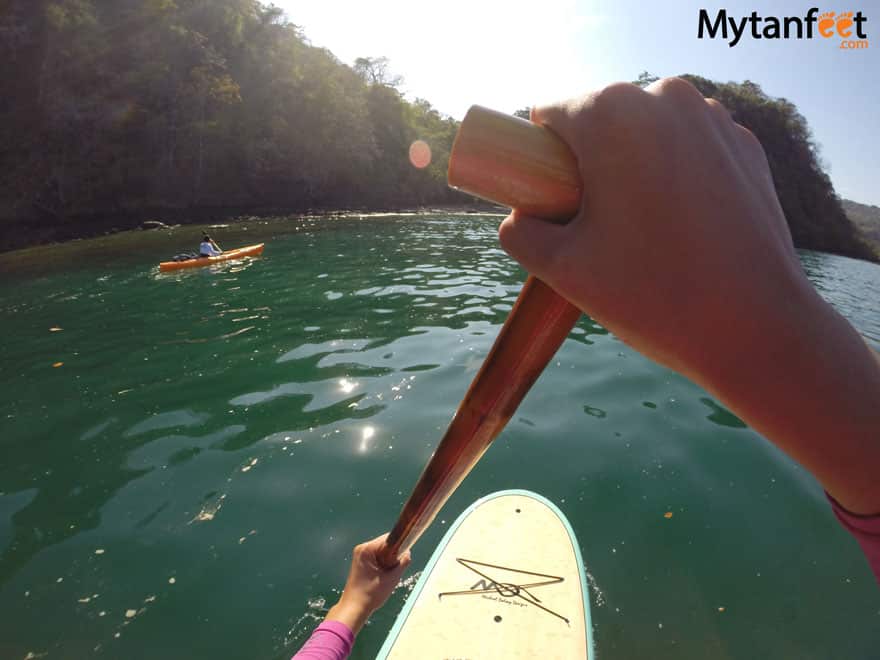 Stand up paddle boarding is a great exercise, making you feel connected to the ocean. This was my first time ever stand up paddle boarding, it was hard at first but once you get your balance, it's not too bad!
Visit Playa Blanca/Punta Leona and Herradura Beach
Even though the Central Pacific doesn't have as many nice beaches as the North, they are still worth visiting. Playa Blanca is the sole white sand beach in the area and definitely worth climbing through Playa Mantas at low tide. You can also purchase a day pass at the Punta Leona resort to enjoy the resort and have easy access to Playa Blanca.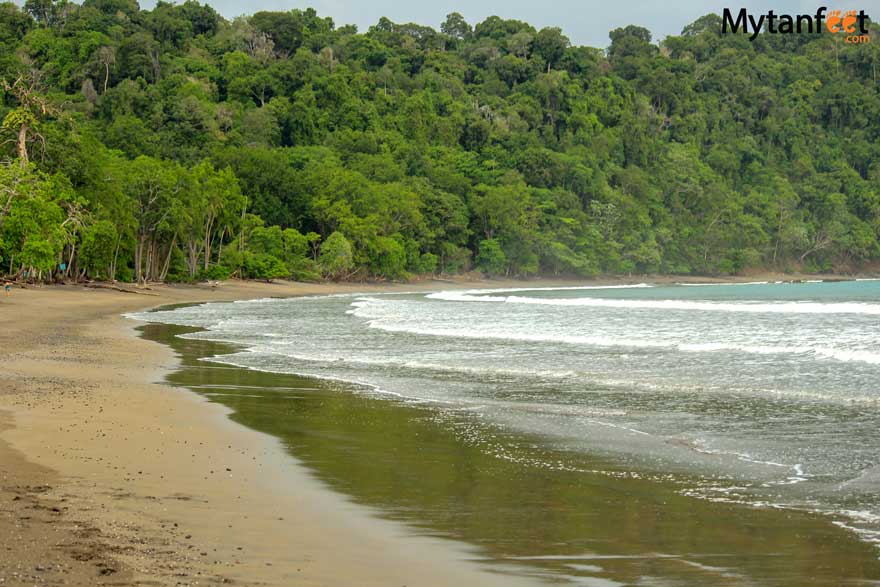 We also really like Herradura Beach. It's a small beach nearby that has calm waves and a marina. Perfect for swimming, stand up paddle boarding or a sunset sailing tour with Kayak Jaco.
Watch the Surfing Competition at Hermosa
Every Saturday, there is a surf competition at Playa Hermosa where the Backyard Hotel is. Hermosa beach is widely regarded as the best surfing beach in Costa Rica and all the international competitions are held there. If you're there on a Saturday, you can watch the locals battle out the waves while sipping a nice cold beer at the Backyard Hotel and Bar.
Tortuga Island Cruise
If you're looking for a day trip to see a beautiful white sand beach and more nice scenery, take the Tortuga one day tour! You'll cruise through the Gulf of Nicoya to Tortuga Island on this fun one day trip.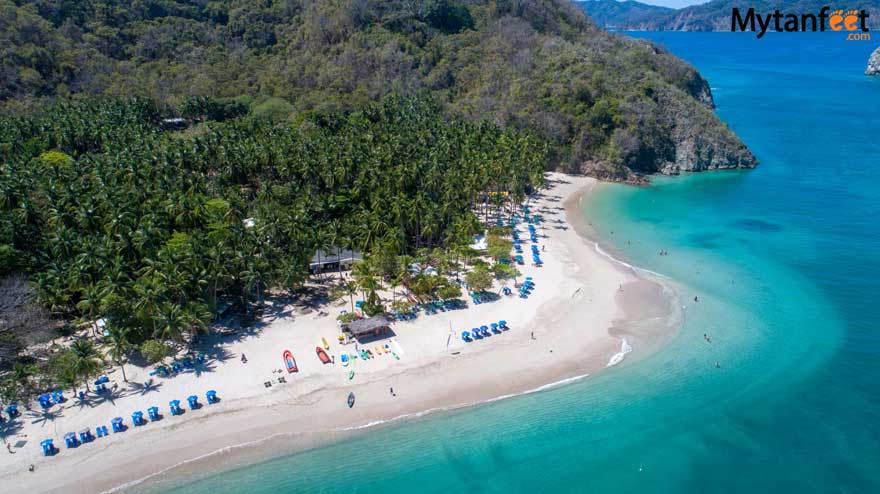 There aren't many white sand beaches or snorkeling spots in the Jaco area so if that's what you're looking for, then you have to go to Tortuga Island! Transportation is included from Jaco and it's one of the best day trips from Jaco!
You can more about the Tortuga Island one day tour here and get $10 off with our Tortuga Island discount!
Villa Caleta Sunset and Happy Hour
For an amazing happy hour sunset, head to Villa Caletas. The hotel has a grand amphitheater that faces the ocean and is hands down, one of the most incredible places to watch the sunset in Costa Rica. They have fine dining restaurants and a bar so you can enjoy happy hour cocktails while watching the sunset.
Manuel Antonio and Carara National Park
There are two national parks near Jaco: Carara and Manuel Antonio, both excellent for hiking and wildlife watching. Manuel Antonio National Park is about 1 hour away driving and Carara is about 15 minutes.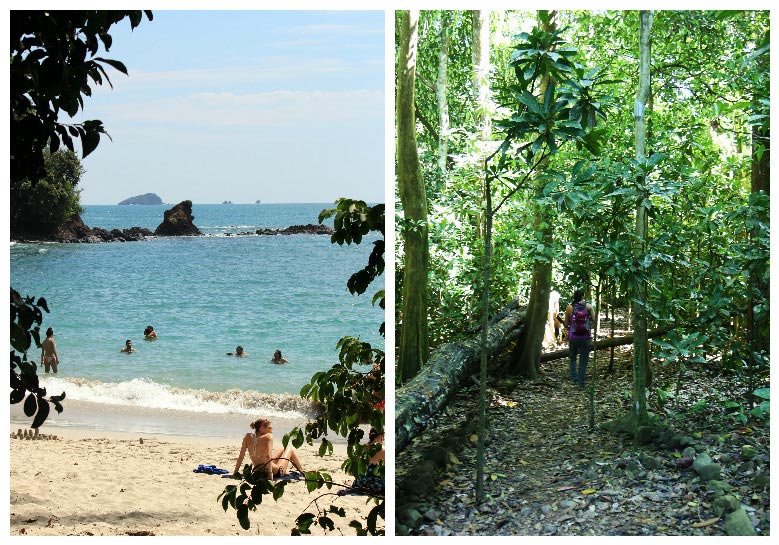 Both are beautiful national parks but each one has their own special characteristics. Carara National Park is best for bird watching and hiking and they also have a universal access trail for the handicapped.
Manuel Antonio National Park has several gorgeous beaches and is more touristic with dozens of hotels strewn around the national park. It's also one of the best places to see sloths in Costa Rica!
You can take the bus from Jaco to Manuel Antonio or book tours to both parks. A tour is highly recommended for Carara since there is no direct bus and the wildlife is harder to see there. You can also take a Manuel Antonio National park day tour from Jaco that includes roundtrip transportation and bilingual guide (contact us for bookings).
Deep Sea Fishing
Although Jaco itself doesn't have good fishing, all you have to do is head over to Herradura beach and you can go deep sea fishing. Herradura is home to Los Suenos Marina, a luxury resort and marina in Costa Rica.
Fishermen can fulfill their dream of catching a marlin, roosterfish, sailfish or tuna. Herradura is one of the best places to go fishing in Costa Rica.
Nauyaca Waterfalls
Head down to the Dominical area and hike to one of the most beautiful waterfalls in Costa Rica, the Nauyaca Waterfalls. These impressive waterfalls require a 4 kilometer (2.5 mile) hike in the jungle but it is worth every step to see with your own eyes!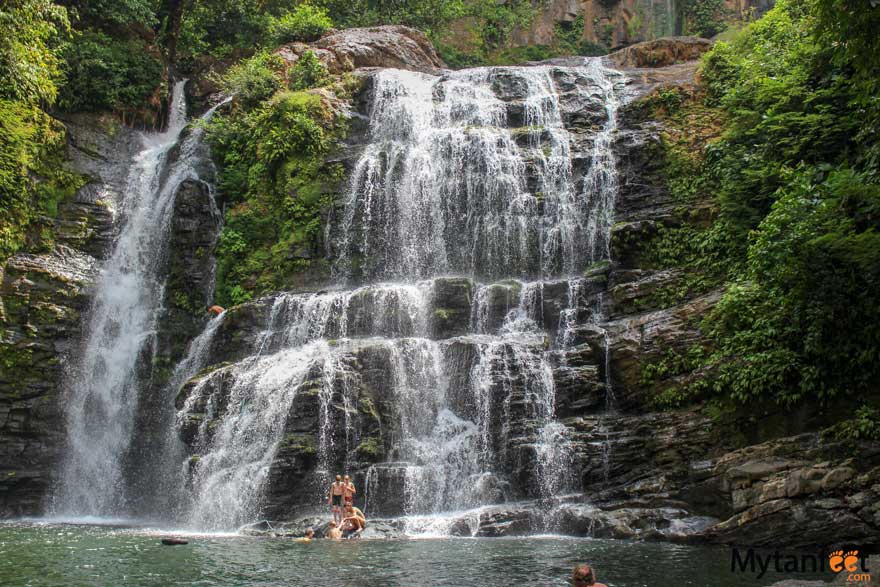 The waterfalls are on a private property so you can pay the $8 entrance fee to hike or take the horseback riding tour the local family offers for $78 USD per person which also includes a light breakfast and lunch. You do need to drive yourself or you can take a tour with Paddle 9 from Jaco. It's about a 1 hour and 40 minute drive to the Nauyaca Waterfalls office from Jaco (one way).
Things to Do in Jaco at Night
Gamble
Jaco is a party town and you can hit up Croc's Casino Hotel for a fun "Las Vegas" style night. It's actually a really nice casino with blackjack, roulette, tournaments and slots. Their food and drinks are top notch too!
Hit Up the Bars
Likewise, you can have a very fun night out or two in Jaco hitting up various bars and clubs. You can find the fancy clubs with bottle service like Le Loft or dance the night away at Orange Club. Puddlefish Brewery and the Beer House are two great places for craft beer, games and food.
Eat
Speaking of food, foodies will love Jaco. In our opinion, Jaco has some of the best restaurants in Costa Rica! Check out Graffiti, Koko Gastro Pub, Arigato's, Tsunami Sushi, Soda Rustico, Pachi's Pan, Tacobar, Amancio's, Lemon Zest, Ridiculous Burgers or Green Room.
Jaco Walk
We love Jaco Walk, the open air shopping center with restaurants and stores. Sometimes they'll be live music there which is really nice and a lot of Costa Rican families like to go there with their kids. We had dinner one night at PuddleFish and there was live music which was very relaxing. There is a small stand to rent out the remote control ride on cars for kids so lots of local families were there.
Map of Jaco Attractions
Here is a map of the Jaco excursions and things to do in Jaco.
Playa Jaco Hotels Quick Recommendations
Beds on Bohio Hostel – Hostel right in town. Gets noisy because of the parties but it's decent for a cheap place to stay within walking distance to the bars and restaurants. Bed in a mixed dorm starts at $12
Croc's Casino Resort: Upscale all inclusive resort on the north end of the beach. Rooms start at $350.
Hotel Doce Lunas – Best luxury hotel especially for honeymooners. It's two minutes outside of Jaco so you're not in the middle of the hustle and bustle. They have spacious rooms with separate sitting section and tall ceilings. Rooms start at $160
Considering moving to Jaco? Check out what I thought about living in Jaco as a foreigner.
Read about other things to do in Costa Rica below!
Things to do in Puerto Viejo: What to do in the South Caribbean town
10 Things to do in San Jose: What to do in the capital city
Things to do in La Fortuna: What to do in the town near Arenal Volcano
Day trips from Dominical: Things to do in Dominical and best day trips
This post has affiliate links.