Getting a prepaid SIM card in Costa Rica is very easy and not that expensive. We recommend getting a Costa Rica SIM card so you can have a local phone number and data which is very useful in case of emergencies. With that being said, in this article you will learn all about getting prepaid SIM cards in Costa Rica.
**Please check our Costa Rica Coronavirus and Costa Rica COVID-19 Travel posts for latest information.**
Where Can I Get a SIM Card in Costa Rica?
At the San Jose International Airport, there is a Claro (name of the phone company) stand left of baggage claim 5 where you can purchase a SIM card. It is open from 6 AM to 9 PM and sometimes to 11 PM on weekends. He'll help you insert the SIM card and set up your phone to use it.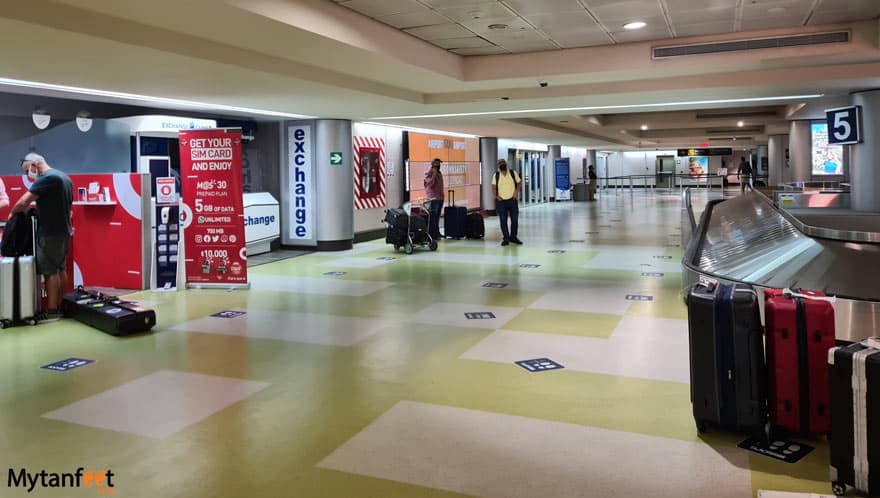 They offer a plan for 10,000 CRC (~$16 USD) that includes 5 GB of data, unlimited Whatsapp, 700 mb of Instagram, Facebook, Twitter, Waze and Pinterest.
In the Country
You can go to any of the phone companies' offices in Costa Rica. Additionally, you can get a SIM card at most cell phone or computer stores in Costa Rica. Some supermarkets sell prepaid SIM cards, these are the ones that come with a prepaid plan (already have a set amount of credit on them).
For tourists, we recommend to get a Kolbi SIM card. Kolbi is the government cell phone network company and has the widest coverage in Costa Rica (I'll talk a bit more about the other phone company options below). You can buy prepaid SIM cards at any of their branches.
There are Kolbi offices throughout the country and close to the airports. Search for the closest one to you in Google Maps or Waze. Just look for the office with a big green frog on it that says Kolbi.
Do keep in mind that most offices close from 5-7 PM. If you fly into Liberia International Airport, there is a Kolbi office in Liberia 15 minutes driving away where you can get a SIM card.
Car Rentals and SIM Cards
Our partnership with Adobe Rent a Car includes a free Costa Rican SIM card with 1000 CRC preloaded that you can put in your unlocked phone for the duration of your car rental booking. This way, you can have a Costa Rica number in case of emergencies and you can recharge it if you need to. 1000 CRC gives you about 30 minutes of local minutes.
Requirement to get a SIM card in Costa Rica
To get a prepaid SIM card in Costa Rica, you must have your original passport or photo ID (passport works best) and cash. You have to fill out a short form and present your photo ID to purchase a prepaid SIM card in Costa Rica which costs around 2000 colones or (~$3.50 USD). It is also best to pay in Costa Rican colones, not USD or credit card. When you purchase your SIM card, you can then load as much credit on there as you want.
Additionally, your smartphone must be quad band, it must use a SIM card and it has to be unlocked. The type of phone doesn't matter. It can be an iPhone or Android, Samsung, HTC, Blackberry, whichever, as long as it fits those three requirements.
Make sure you call your home provider to see if your phone it unlocked and can accept international SIM cards before you leave. Once you purchase a SIM card in Costa Rica, you can't refund it if you find out your phone is still locked.
Prepaid SIM cards typically expire after 90 days of no use.
Costa Rica Cell Phone Companies
The 3 major phone companies in Costa Rica are: Kolbi, Liberty and Claro. With these companies you can buy the SIM card for 1-2000 colones (around $2-4 USD) and they will give you the same amount for phone credit on the SIM card itself.
Some prepaid SIM cards already have a plan and credit loaded. You will see signs like this at the supermarket for them: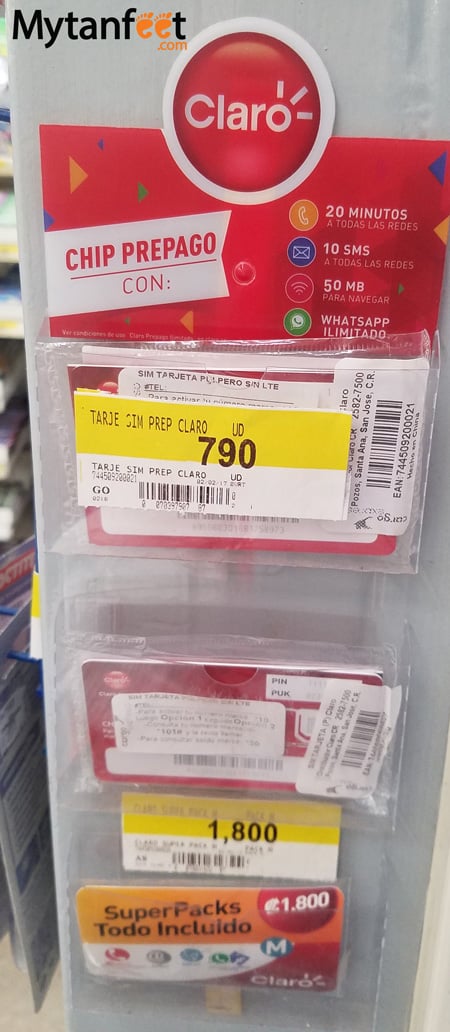 This is an option if you're not sure how much credit you want to put. However, most people like to do the pay as you go and then recharge when needed.
Our Recommendations for Costa Rica Prepaid SIM Cards
Kolbi is best for nationwide use, especially if you plan to stay in the city and main destinations. However, Claro also has good coverage nationwide, but more for rural areas.
For example, Kolbi does not have as good coverage down in the Osa Peninsula. Instead, Claro worked well there. When we visited Pavones, Kolbi had 0 service but Claro had 3g. So if you plan to go to more rural areas, we would recommend to get Claro instead.
Using T-Mobile in Costa Rica
Samantha has used a Samsung Note 9 with T-Mobile in Costa Rica before. T-Mobile offers free international data so Wi-Fi calling and texts are free. You don't need to switch your SIM card, keep your T-Mobile SIM card in your phone.
You won't be able to call Costa Rican phone numbers but many companies use Whatsapp. We highly recommend to download Whatsapp for your trip if you don't normally use it.
The free Internet from T-Mobile is not super fast but it works well enough for simple emails, Whatsapp texts and Google Maps/Waze. They also offer high speed Internet plans for $5 USD a day or weekly plans which is very convenient.
How to Recharge Your SIM card in Costa Rica
You can recharge your phone at the supermarket, pulperia (convenience store), cell phone stores or the phone company's office. Business will have a sign with the phone company's logo to indicate they can recharge SIM cards.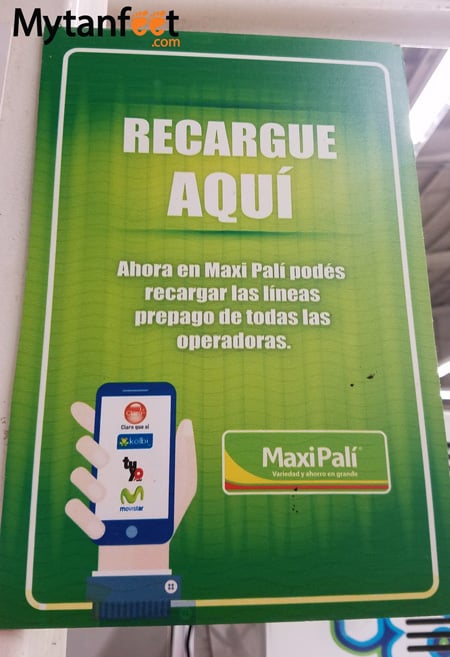 To add more credit, you must pay in Costa Rican colones cash. Just tell the cashier Me puedo recargar mi X (Kolbi/Libery/Claro/etc.) and tell them how much or give them the cash. Or just hold out your phone and say the name of the company if you don't feel like trying to speak Spanish.
You will also need to give them your phone number. Your phone number will be on your original receipt. There's a good chance you'll throw it away so I recommend taking a photo of your phone number.
How Much Credit Should I Put On My SIM Card in Costa Rica?
This depends on what you plan to use it for and how long you're in Costa Rica. For one week in Costa Rica, we recommend to put 5000 colones on your SIM card (~$9 USD) at first and then you can recharge it later if need be. This is usually a good amount to start with for those just using it for email and occasionally surfing the web.
Remember that sending and watching videos will suck up your data on your SIM card fast so do that on Wi-Fi only. If you plan to be uploading and using Instagram and Youtube a lot, I recommend to add more than 5000 colones to begin with because those apps suck up a lot of data.
With Kolbi, if your SIM card has not been used, recharged or have any activity, the card will expire after 90 days.
How to Check Your Balance (Kolbi)
For Kolbi customers, type *888# and then select option 1 to check your balance. You can also send a text to 888 with the word SALDO.
Get ready for Costa Rica with these other posts!
Guide to finding accommodation