Although Costa Ricans love their beer, there isn't a great variety. Their light flavors make for a great thirst quencher on a hot day but many tourists find their mouths itching for something different after drinking the same one every day. Even locals wondered why Costa Rica doesn't have a bigger beer scene. So about 5 years ago, micro-breweries started popping up here and there as ambitious locals tried their hand at brewing.
Since then, Costa Ricans have found a new way to develop their passion for beer into a business, satisfying the craving from tourists and  locals. Now in 2019, craft beer in Costa Rica is no longer a dream with over 85 craft beers registered with the Ministry of Health compared to just 3 in 2010.
We've just discovered the Costa Rican craft beer scene recently and were pleasantly surprised that it's actually quite good. If you're interested in sampling Costa Rican craft beer, here are some of our favorites as well as recommendations for best places to drink craft beer in Costa Rica.
Beer in Costa Rica
First, here are the local beers which you will find in every supermarket, bar and restaurant. Most of these are pale or dark lagers.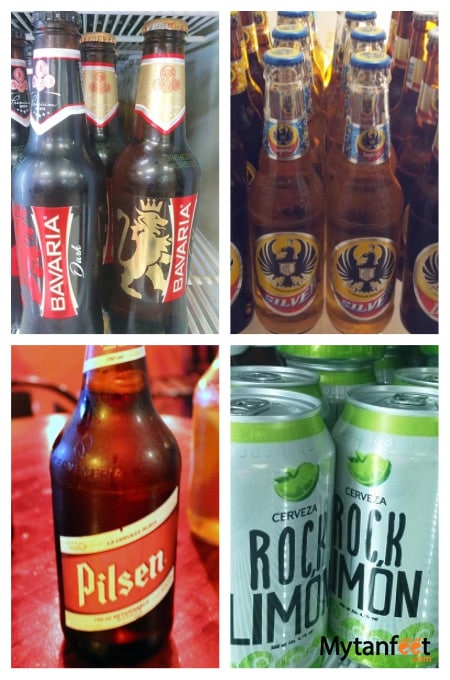 Imperial
Imperial is the favorite of many Costa Ricans and is the most popular local beer. There are 3 variations: light (~3.5%), silver and normal (4.6%) Yeison loves silver as it's a bit sweeter.
Pilsen
Pilsen (5.1%) is another lager with a darker flavor. People who want more flavor should choose Pilsen as it packs a bit more of a malt tang.
Bavaria
Bavaria comes in three flavors: gold, light and dark. Yeison isn't a fan of Bavaria at all. I's supposed to be a German inspired lager but doesn't do much in terms of flavor except tiny hints of chocolate.
Rock Ice
Rock Ice is the newest Costa Rican beer with an "ice brewing" process. It's more of a spritzer since they have flavors like Rock Ice Lime and Golden Monkey which taste like alcoholic soda.
Imported Beer in Costa Rica
You can find a variety of imported beer in Costa Rica from many countries at the supermarket. You can also find them at the bars and restaurants but they will mostly have Heineken or Corona. If you check the nicer supermarkets, you can find Tona from Nicaragua, Corona, Bud Lite, Coors Lite, beer from Germany and Sapparo from Japan.
Costa Rican Craft Beer
Alright, let's get down to the good stuff – Costa Rican craft beer!
The microbreweries are spread throughout the country so it's hard to talk about them all, especially since most don't sell outside their town of origin. So I'll outline our favorite ones we've tried so far and some other popular Costa Rica craft beer to try. One thing to note is that outside San Jose, most of the craft breweries are owned and operated by foreigners.
Costa Rica's Craft Brewing Co.
Costa Rica's Craft Brewing Company is the most widely available craft beer in Costa Rica. Yeison's favorite beer from them is the Iztaru (smoked wheat IPA, 4.6%) but that one is seasonal. Segua (red ale 5%), Libertas (tropical golden ale 7%) and Malacrianza (Scottish Ale 6%) are other popular ones but flavors are still a bit mild. Great for those like Yeison who doesn't really like strong hoppy flavors.
Treintaycinco
Treintaycinco is another big brewery in Costa Rica with a large variety of stouts, IPA's and barley wine. Their signatures are Maldita Vida (9.8%) which has a really nice dark fruity undertone, Tumba Calzones (Hibiscus fruit beer 5%), Pelona (India pale ale 6%) and Majadera (pale ale 5%).
Cerveceria del Centro
We took a tour of this German inspired brewery in Santa Ana, San Jose and were pleasantly surprised. Yeison especially loved their signature Ambar, a premium Pilsner 5% with its crisp citrus flavor.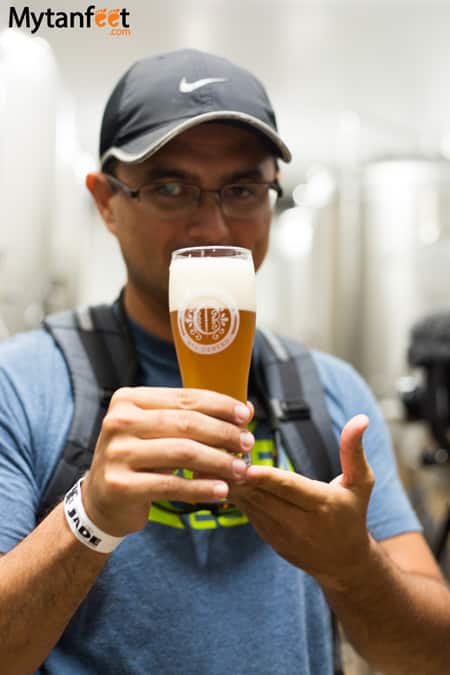 I particularly liked Onix (Dunkelweiss 8%), their dark German lager with chocolate and coffee undertones. They also have an Ambar Pilsen and Triguena (Weissbier 5%).
Lake Arenal Brewery
In Tilaran on Lake Arenal is the first microbrewery in Costa Rica, Lake Arenal Brewery. Here you can try their 8 house beers including Pradise Pale (Pale Ale) and the IPA as favorites. It has one of the best views of the lake to enjoy a burger and beer.
Other Breweries
These are the most popular and biggest brewing companies but there are a handful of smaller ones popping up throughout the country. We have also tried Beeche, Cerveceria Calle Cimarrona, Cerveceria Independiente (Potrero), 5incoAmigosCerveceriaArtesanal (Alajuela) El Granero (from Atenas) and Manada Coyote Cerveza Artesenal (San Ramon).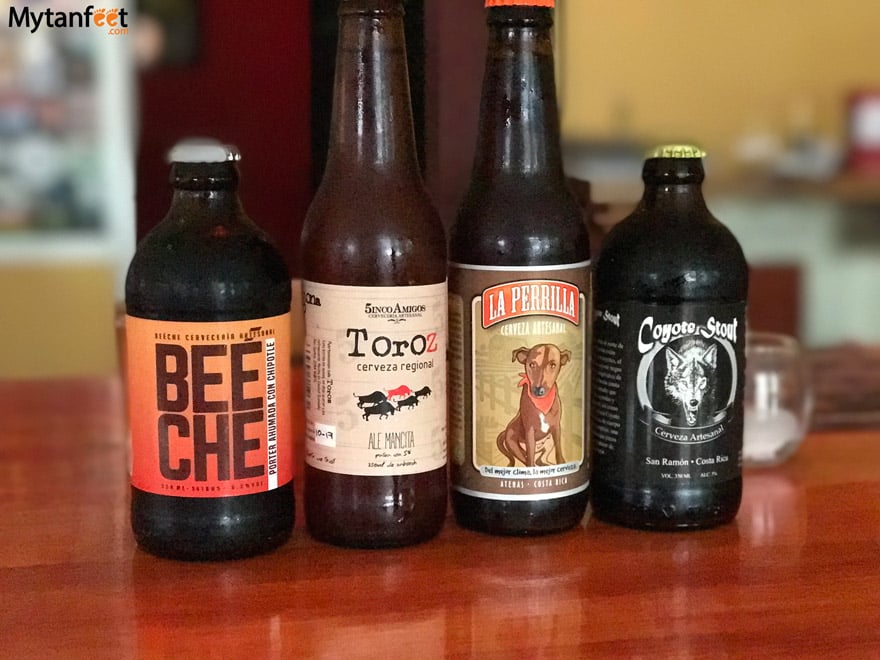 Where to Drink Costa Rican Craft Beer
You can't find craft beer in all restaurants or bars in Costa Rica. You will need to research where the breweries or pubs are that have craft beer.
San Jose has the most amount of craft beer and breweries and you can find some in popular tourist destinations like Puerto Viejo, Montezuma and Guanacaste. You can also find Costa Rican craft beer in many of the large supermarkets.
A glass of Costa Rican craft beer is around $5-6, depending on which one it is.
Lake Arenal Brewery
They not only have a brewery but they also have a hotel so you can stay the night and wake up to amazing views of the lake. It's located in Tilaran so it's a nice stop between Guanacaste and La Fortuna.
Bri Bri Springs Brewery Puerto Viejo
With 8 different house beers, the Bri Bri Springs Brewery is quickly making a name for itself, especially as one of the only breweries from the Caribbean side. They have stouts, ales, pale ales, barley wine and other beers inspired by Caribbean flavors.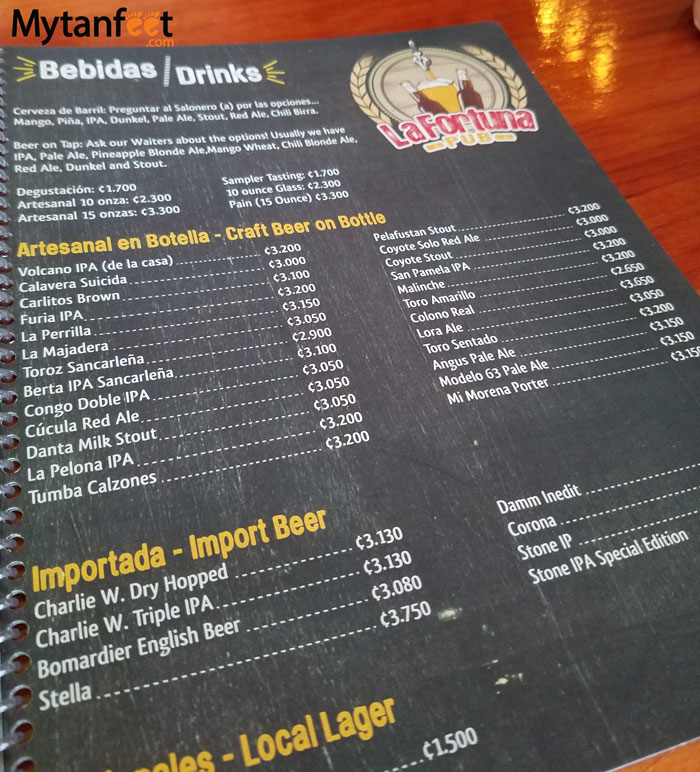 La Fortuna Pub
This pub in La Fortuna was a nice surprise for us. They are pretty new so we hadn't heard too much about it but we were so glad we stopped by. The food is excellent (they make their own bread), they have a variety of craft beers, the owner is planning on producing his own and they also have live music.
La Fortuna pub is definitely one of our favorite places for craft beer in Costa Rica and it's in a nice location in La Fortuna.
Apotecario
Beer garden in San Jose. Fun atmosphere and they serve Calle Cimarrona and Wild Brews beer.
Burgers and Beers
In Guiones, Nosara. They have great burgers and beer!
Las Olas Brewing
At Playa Grande. Nice little brewery for artisan beer.
Coconutz Bar Playas del Coco
This sports bar in Playas del Coco serves Angry Goats craft beer, the first microbrewery in Guanacaste. They have 8 house beers on tap, try the Pura Vida Porter if you like dark beer.
Clandestina  & Butterfly Brewery
Hill top brewery in Montezuma that also has a butterfly observatory. Great craft beer!
Stiefel Pub
Strictly a pub, this is one of the most popular places in Costa Rica for craft beer. They have around a dozen taps of Costa Rican craft beer from various companies. In San Jose.
Witch's Rock Tamarindo
Witch's Rock Surf Camp in Playa Tamarindo pioneered craft beer in Guanacaste when they started their own microbrewery in 2011, the Volcano Brewing Company.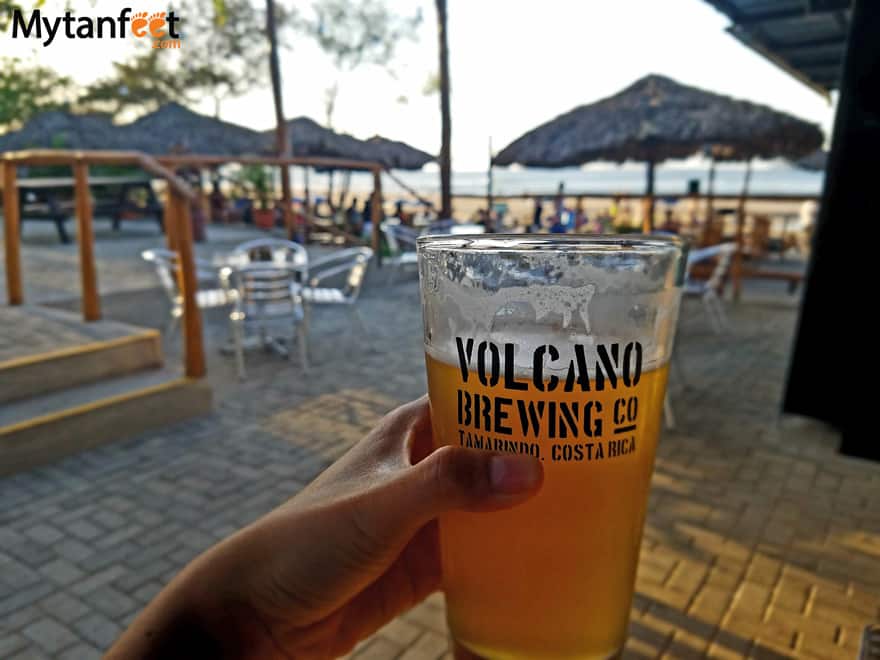 They have their own house beer: the Witch's Rock IPA (6%), Witch's Rock Pale Ale (4.6%) and Gato Malo (dark beer 5%) and serve it alongside other craft beers from Costa Rica's Craft Brewing, Stone Brewing Company and Treintaycinco.
Monteverde Beer House
You can try Adama craft beer at Monteverde Beer House, a cute establishment in Santa Elena (Monteverde). They have 4-6 craft beers at a time and serve Middle Eastern food.
Craic Irish Pub San Jose
Although the food wasn't the best, the craft beer was very good. I can't remember which ones we tried but it has a nice atmosphere and was a fun place to go for a night out.
The Beer House Jaco
A new place in Jaco that stocks a great selection of local and import craft beer. Food is also great with cheap eats.
Puddlefish Brewery
Great place for a fun night out with homemade craft beer, live music, good food and fun atmosphere.
Costa Rican Craft Beer Tours
We took a tour of Cerveceria del Centro and you can also take tours to Costa Rica's Brewing Company. As most of the breweries are in San Jose, it is a great activity to do in the city. It's really interesting to learn about the different philosophies and methods as every company has a different idea but there is no doubt that the Costa Rica craft beer scene is flourishing and growing rapidly.
Read other Costa Rica posts below!