Manuel Antonio is one of the most popular destinations in Costa Rica and is one of the best places for first timers for many good reasons. First, it's insanely beautiful. Pair that with incredible wildlife watching and beautiful beaches and you can easily see why visitors fall in love with the area.
So if you're planning on visiting Manuel Antonio and wondering "What is there to do in Manuel Antonio besides beach?" don't worry! Manuel Antonio has plenty of fun things to do to keep your days busy. Whether you're staying 2, 3 4 days, or even a whole week, you won't be bored. Here are our top things to do in Manuel Antonio and you can also check our Manuel Antonio hotel recommendations and travel tips.
Don't forget, if you need help booking any tours in Manuel Antonio, get our Manuel Antonio tours discount and book your tour here!
This post was updated October 2019.
Visit Manuel Antonio National Park

This is definitely a must for things to do in Manuel Antonio. Forbes once called Manuel Antonio National Park one of the most beautiful in the world! The national park has well maintained hiking trails with the perfect combination of jungle and beach and is absolutely teeming with wildlife. In 2019, they opened a brand new universal trail so it's handicap friendly too!
The national park is open Tuesday- Sunday 7 AM to 4 PM and the entrance fee is $16 USD. There are buses that run from Quepos to the national park entrance all day long and they make stops on the hill. If your hotel is on the hill and you don't have a car, take this bus which costs 340 colones. You can get off at the last stop and walk to the park entrance.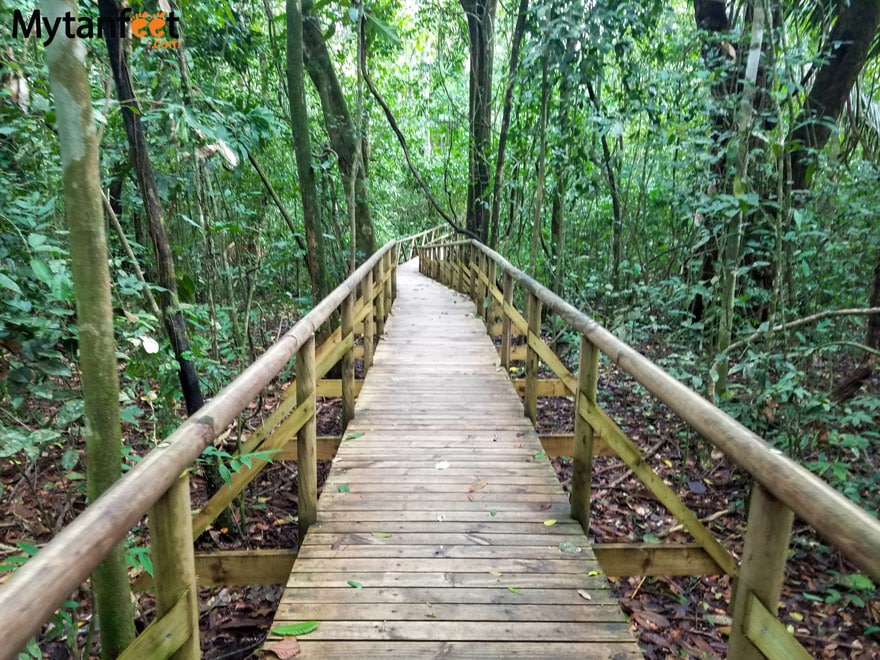 You can easily hike the national park in one day. There are several trails that lead to beaches and viewpoints and along the way, you can run into monkeys, frogs, snakes, deer and more. We wrote a guide to hiking Manuel Antonio National Park you can read here.
Guided Walk
Since a lot of wildlife live in the park, you can hire a guide if you'd like to learn more about the flora and fauna in the area. Most guides have a telescope so you can see the animals up close and use your phone to take a photo. The first sloth I ever saw was thanks to a guide in Manuel Antonio National Park!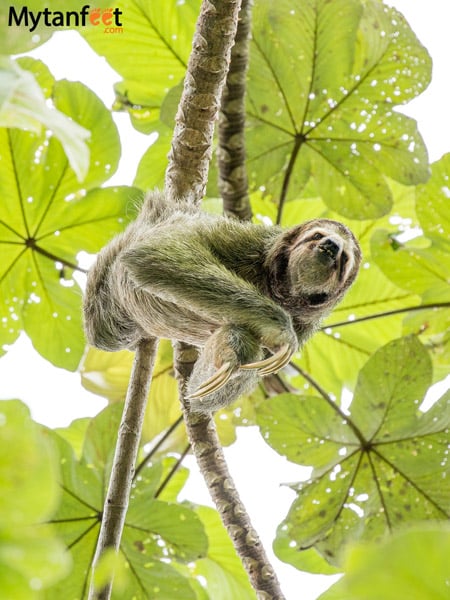 If you really want to see a sloth in Costa Rica, this is one of the best places to see them and having a guide with trained eyes will almost guarantee you a sloth sighting.
We highly recommend hiring a guide or booking a tour if you want to learn more about the flora and fauna and see more animals. Great experience for kids! If you're interested in booking a national park tour, please feel free to contact us and we can help.
Go on a Night Walk at the Si Como No Private Wildlife Refuge
If you want to see more wildlife, go on a night walk at the Si Como No Hotel private wildlife refuge. This is an excellent option for wildlife photographers who want to get macro shots of frogs, insects, snakes and more. It's one of the best things to do in Manuel Antonio at night!
During the 2 hour walk, your guide will point out the different creatures that come out when the sun goes down and it's a great opportunity to learn more about them. The jungle changes completely when night comes around! This is also a nice tour for kids who want to see more wildlife since the national park closes at 4 PM.
It costs $39 for adults and $29 for kids under 12. You can book the night tour at the Si Como No Hotel online or when you get there. The luxury hotel is on the hill between Quepos to Manuel Antonio.
Parasailing
On Playa Espadilla Norte, the beach outside the national park, you can go parasailing. You get a spectacular view of the national park from the air, a view that you can't get any other way!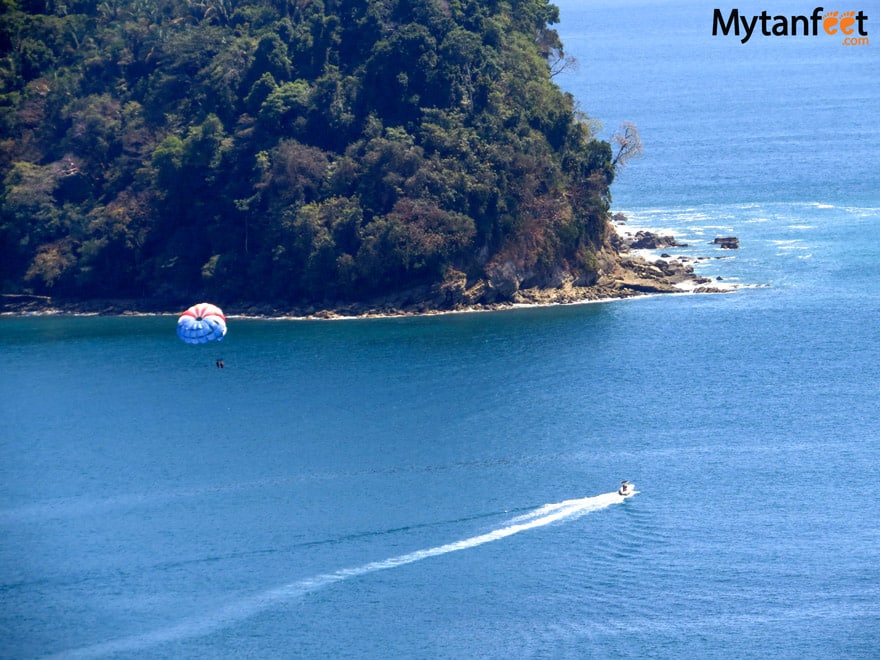 A lot of things to do in Manuel Antonio aren't cheap but it's worth splurging! You can take a 15 or 30 (luxury) minute ride. It costs $85 for a single for 15 minutes, $140 for a double and $185 for a triple.
You can book it right on the beach or contact the parasailing company Aguas Azules. They offer transportation to and from hotels in Manuel Antonio.
Visit Kids Saving the Rainforest Sanctuary
This sanctuary works hard to rescue and rehabilitate injured animals in the Manuel Antonio area and it was indeed founded by kids, in fact two 9 year old girls in 1999. Kids Saving the Rainforest helps the local communities to educate, promote and raise awareness about the environment. Visitors can take a tour of the sanctuary to learn about how they heal and rehabilitate various wild animals such as monkeys and sloths.
A tour costs $60 for adults and $45 for children under 12 with transportation included. The sanctuary is about 4 miles outside of Quepos on the Blue Bayann Inn property.
Another option is if you're staying at the Tulemar Vacation Rentals and Resort, you can go on a sloth walk with the Sloth Institute to see more wildlife and learn about the work they do.
Catamaran Cruise
Experience the ocean by taking a sunset cruise or a snorkeling tour. The visibility in this area is not the best for snorkeling but it's a super fun way to enjoy the gorgeous coastal views and possibly see some wildlife like dolphins. There are a couple of catamaran companies in Manuel Antonio, each catering to different travelers.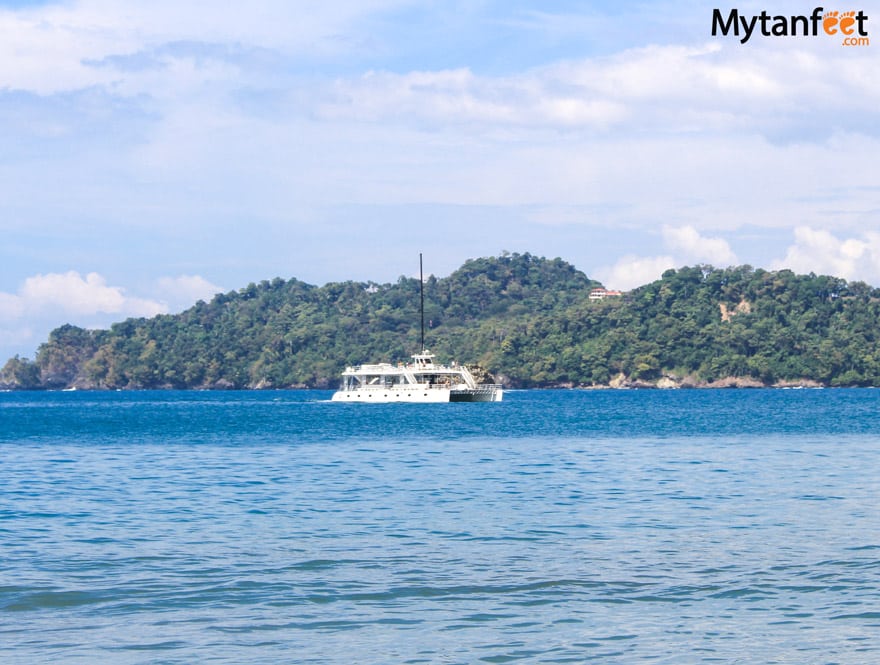 If you want to party on a booze cruise, go on the Ocean King. They have a huge boat that fits up to 250 people, has two floors with jaccuzzis, slides, bathrooms, showers and trampolines. For a quieter cruise, check out other companies like Planet Dolphin.
If you visit during the peak Costa Rica humpback whale season (August and September), there is a possibility to see humpback whale moms and babies!
Zipline/Rappel/ATV
For an adventure near Manuel Antonio, there is an adventure park called MidWorld that offers ziplining, ATV tours, rappel and more. If you want to add a bit of excitement to your vacation, this is one of the most fun things to do in Manuel Antonio. You can also check out El Santuario that is right in town.
Fishing
Near Manuel Antonio is the Quepos marina, home to many gorgeous million dollar yachts and luxury fishing boats. Quepos is one of the best places in Costa Rica go in shore and off shore fishing so if you love to fish, then you have to book a fishing charter for the day.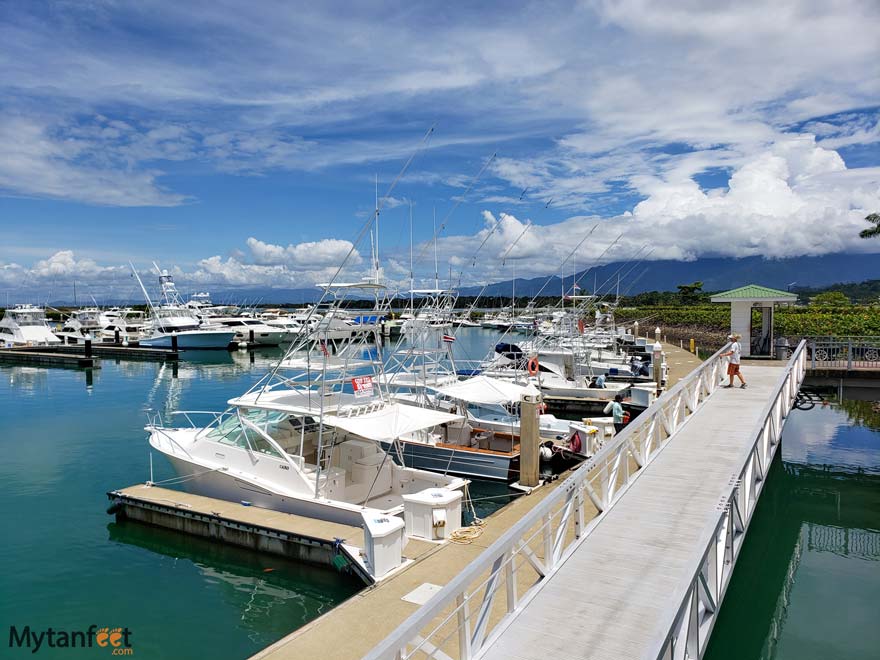 The marina is only a 10 minute drive from Manuel Antonio and you can check companies like Reel In Luxury Fishing, Quepos Fishing Charters or Jackpot Fishing.
Visit Playa Biesanz
Playa Biesanz is a fun beach to visit for the day. It's close to the national park but with a little bit of a tricky entrance. You have to walk a ways to this beach and it's very rocky so wear water shoes or closed toed sandals. Make sure to check the tide because it comes in really high so it's best to go before high tide. If you don't want to climb up the rocks back to the path, you can walk to the Shana Hotel.
The entrance to this beach is on the hill, all the locals know this beach so you can ask them for the directions. There are vendors selling drinks, offering chairs and umbrellas and renting snorkel equipment. Playa Biesanz is ideal for kids because it's in a bay so the waves are very calm.
We visited Playa Biesanz on an ocean kayak trip. Although we tried to go snorkeling, visibility was very bad so we just hung out at the beach instead.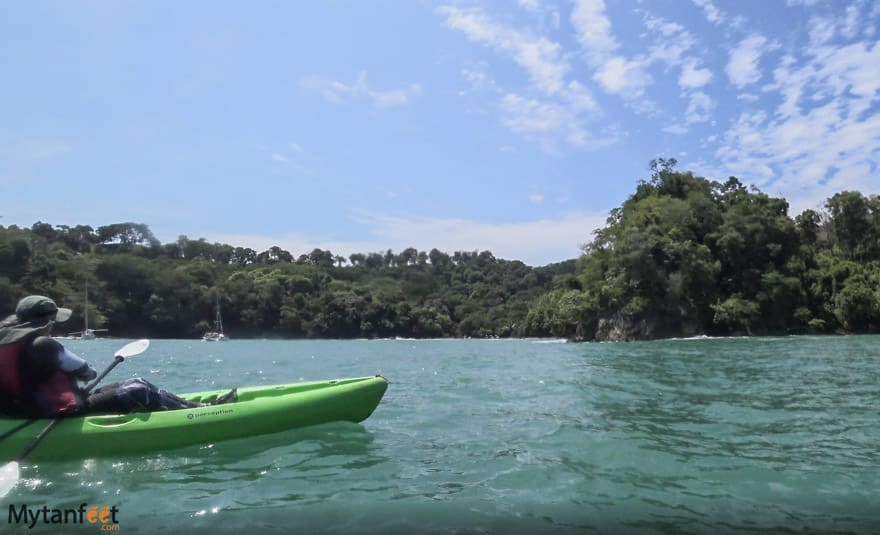 Damas Island Mangrove Kayak
The Damas Island mangrove is an excellent place to enjoy a leisurely day wildlife watching. You can kayak which is the best way to see wildlife as you are not disturbing them with a motor or take a boat ride if you don't feel like exercising. Your guide will point out different wildlife like anteaters, snakes, birds and more.
We saw a crocodile, mangrove boa snake, woodpeckers, iguanas, monkeys, kingfishers and herons during our kayak and boat ride in Damas Mangrove.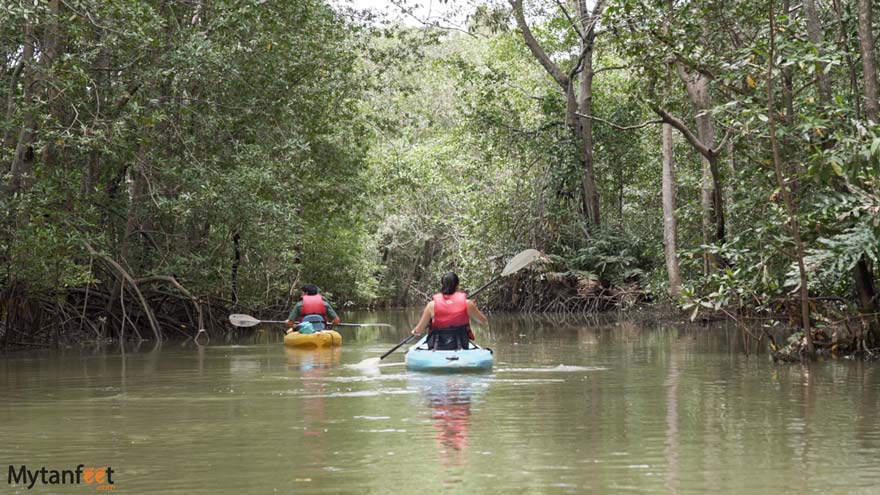 Even though you can see plenty of wildlife in the national park, the mangrove is home to different animals. We highly recommend the kayak. It's so peaceful and I love the feeling of gliding silently over the water to get up close to the wildlife, surrounded by only the sounds of the jungle.
Get our Manuel Antonio tour discount here for the Damas Island mangrove!
Watch the Sunset

You can't miss watching the sunset! This is one of the best things to do in Manuel Antonio to wind down the day. Since all the high end hotels in Manuel Antonio offer a splendid view of the park and the beach, you'll have a wonderful view of the sunset. The first time we visited Manuel Antonio, we stayed at Hotel La Mariposa which has an amazing infinity pool.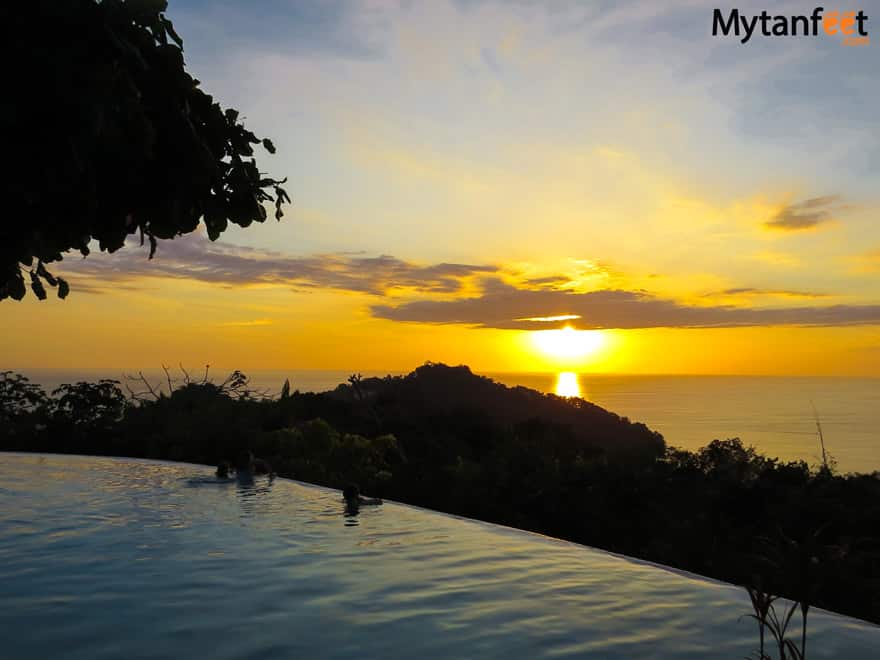 If your hotel doesn't have a view, watch the sunset from the beach, Playa Espadilla Norte. It is equally as lovely!
Many restaurants on the hill also have a beautiful view and offer happy hour from 4-6 PM. Cafe Agua Azul, Rafaeles Las Terrazas, Emilio's Cafe, Barba Roja and El Avion all have amazing ocean views and are great places to enjoy a drink and watch the sunset.
White Water Rafting
Looking for a fun outdoor adventure? Go white water rafting! From Manuel Antonio, you can raft El Chorro, Naranjo or Savegre. El Chorro is best March and April and is for extreme and experienced rafters, Naranjo is June to November and Savegre is all year round. Savegre is best for first timers or families.
And there you have it. Our top ten things to do in Manuel Antonio!

Manuel Antonio Hotels
If you want to splurge on a luxury hotel, Manuel Antonio is one of the best places to do it, especially if you are on your honeymoon in Costa Rica! Otherwise, there are hotels of all price points.
High end luxury hotels ($250 and up)
Mid Range ~$100, 150
Budget (hostels)
Manuel Antonio Travel Tips
Manuel Antonio is 3 hours from San Jose. From San Jose, you can fly to the local Quepos airport or take the bus to Quepos (6, 9, 12, 2:30 PM, 6 PM and 7:30 PM from Calle 5, AV 19/20 Terminal Transportes Tracopa) and then take the bus from Quepos to Manuel Antonio. Get 10% off your local flight here. Or you can rent a car from San Jose and drive. The route goes through two main highways and are all paved.
This area is very hot and a bit humid so bring plenty of sunscreen, a hat and mosquito repellent.
The busiest times in Manuel Antonio are mid December – April and July/August. Quietest times are September – November.
In rainy season, it is usually sunny in the morning and rains in the late afternoons. Go as early as possible for best weather.
Quepos is the closest town to Manuel Antonio and there is a bus from Quepos to the national park that runs all day and costs 340 colones.
It is best to book tours before your trip in high season (December – April).
You don't need hiking shoes/boots for the national park. Closed toed sandals like KEEN are excellent. This is what we always wear at Manuel Antonio because wearing socks is so stuffy and uncomfortable in that humidity! Also wear clothes that dry fast and wick away moisture.
Read about other things to do in Costa Rica below!
Awesome things to do in Puerto Viejo
Best things to do in La Fortuna
This post has affiliate links.