Manuel Antonio is one of the most popular destinations in Costa Rica and is one of the best places for first timers. If you plan to visit and are wondering "What is there to do in Manuel Antonio besides beach?" don't worry! Manuel Antonio has plenty of fun things to do to keep your days busy.
Here are our top things to do in Manuel Antonio and you can also check our day trip recommendations, Manuel Antonio hotel recommendations and travel tips.
Also if you want to book any tours like night walks, guided national park walks, mangrove tours, you can get our Manuel Antonio tours discount!
Map of Activities
Click here to go to our interactive map.
Visit Manuel Antonio National Park
This is definitely a must for things to do in Manuel Antonio. Forbes once called Manuel Antonio National Park one of the most beautiful in the world! The national park has well maintained hiking trails with the perfect combination of jungle and beach and is absolutely teeming with wildlife.
The national park is open Wednesday – Monday and the entrance fee is $16 USD plus tax per adult foreigner. Tickets must be purchased in advance on the SINAC website.
How to get to the park: There are buses that run from Quepos to the national park entrance about every ~30 minutes and they make stops on the hill. If you take this bus, get off at the last stop and walk to the park entrance. If you're driving, drive all the way to the park entrance and you will see a couple of local parking areas.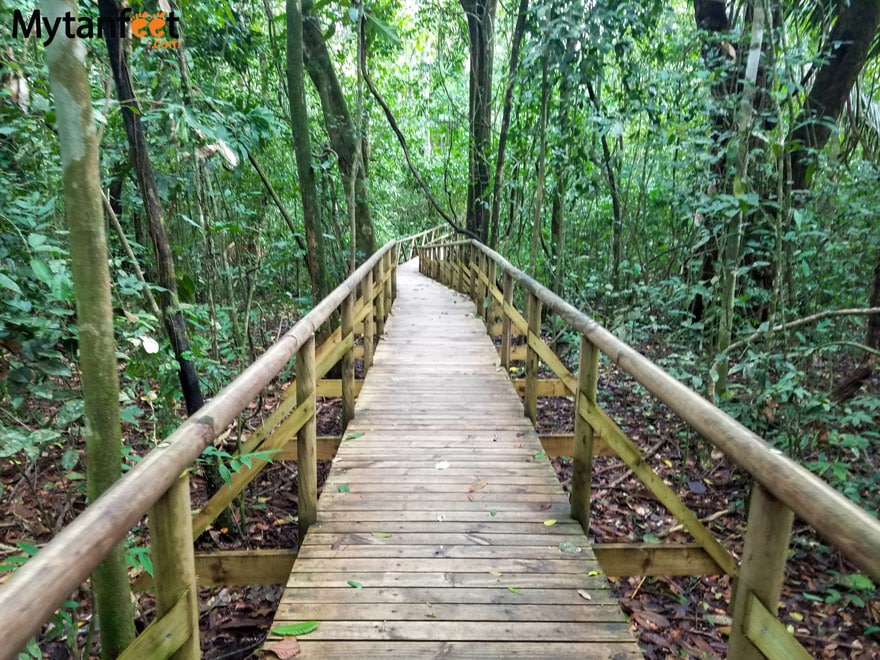 The park has several trails that lead to beaches and viewpoints and along the way, you can see monkeys, frogs, snakes, deer and more.
Plan your visit to Manuel Antonio National Park.
Should You Do a Guided Walk in Manuel Antonio National Park?
Since a lot of wildlife live in the park, you can hire a guide if you'd like to learn more about the flora and fauna in the area. Most guides have a telescope so you can see the animals up close and use your phone to take a photo. The first sloth I ever saw was thanks to a guide in Manuel Antonio National Park!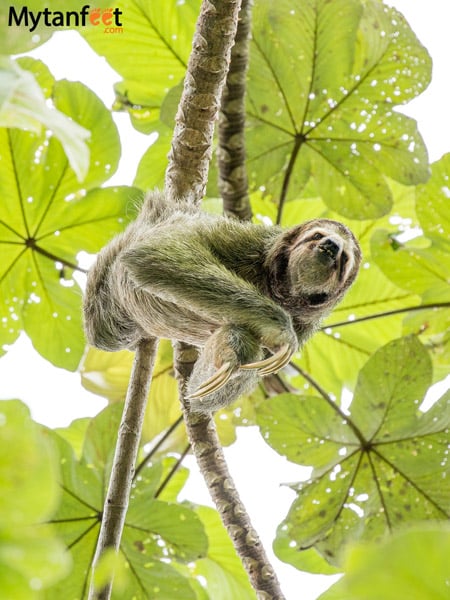 If you really want to see a sloth in Costa Rica, this is one of the best places to see them and having a guide with trained eyes will almost guarantee you a sloth sighting.
We highly recommend hiring a guide or booking a tour if you want to learn more about the flora and fauna and see more animals.
If you're interested in just hiking, swimming and enjoying the park at your own leisure, a guide is not necessary.
Night Walk
If you want to see more wildlife, go on a night walk! Manuel Antonio is a fantastic place in Costa Rica to explore the jungle at night such as frogs, insects and snakes. Many of these creatures wake up when the sun goes down.
Parasailing
On Playa Espadilla Norte, the beach outside the national park, you can go parasailing. You get a spectacular view of the national park from the air, a view that you can't get any other way!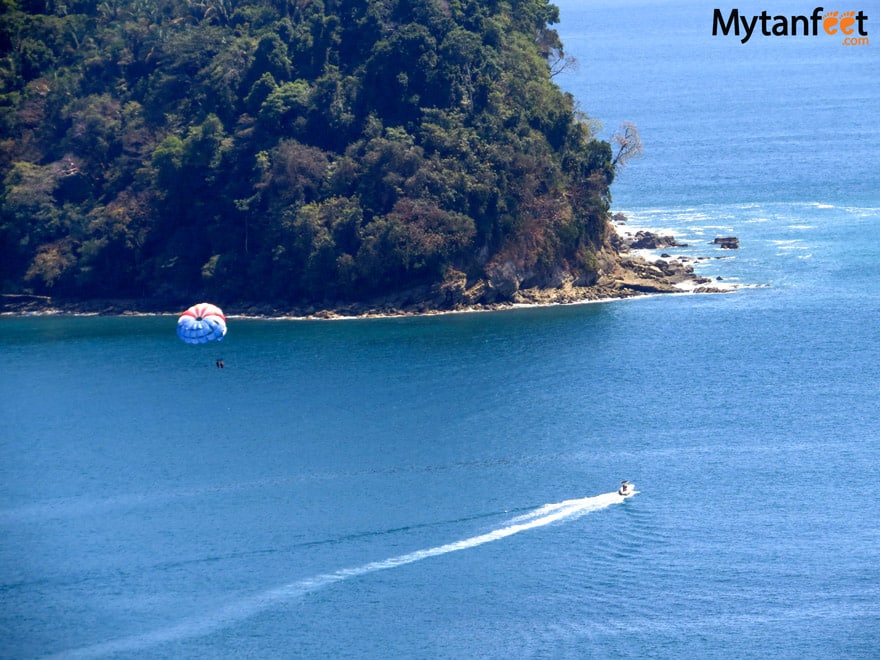 I did a 15 minute ride with my parents which was one of the BEST things we've ever done together. It was so much fun and I'm really happy I got to experience it with them! 15 minutes felt way longer than it sounds and it was worth it.
You can book it right on the beach. We went with the company Aguas Azules and I highly recommend to reserve your tour in advance if you are visiting during high season (December through April).
Catamaran Cruise
Experience the ocean by taking a sunset cruise or a snorkeling tour. The visibility in this area is not the best for snorkeling but it's a super fun way to enjoy the gorgeous coastal views and possibly see some wildlife like dolphins. Read what our Manuel Antonio catamaran cruise experience was like!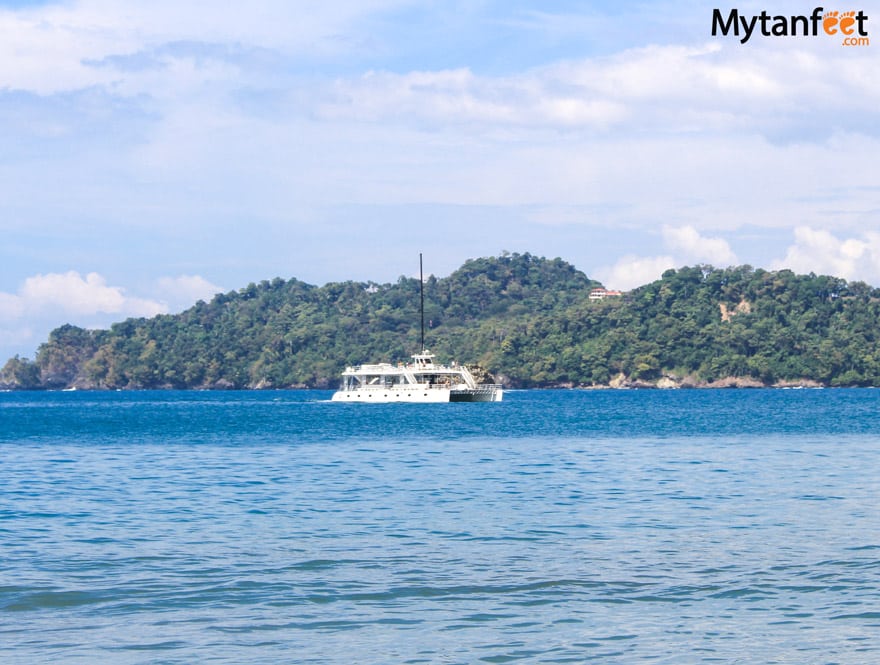 If you visit during the peak Costa Rica humpback whale season (August and September), there is a possibility to see humpback whales during the trip.
Zipline/Rappel/ATV
For an adventure in Manuel Antonio, go ziplining! This is one of the most fun things to do in Manuel Antonio that's great for anyone looking to spice up their vacation.
Fishing
Near Manuel Antonio is the Quepos marina called Marina Pez Vela. This marina is home to gorgeous million dollar yachts and luxury fishing boats. Quepos is one of the best places in Costa Rica go in shore and off shore fishing so if you love to fish, then you have to book a fishing charter for the day.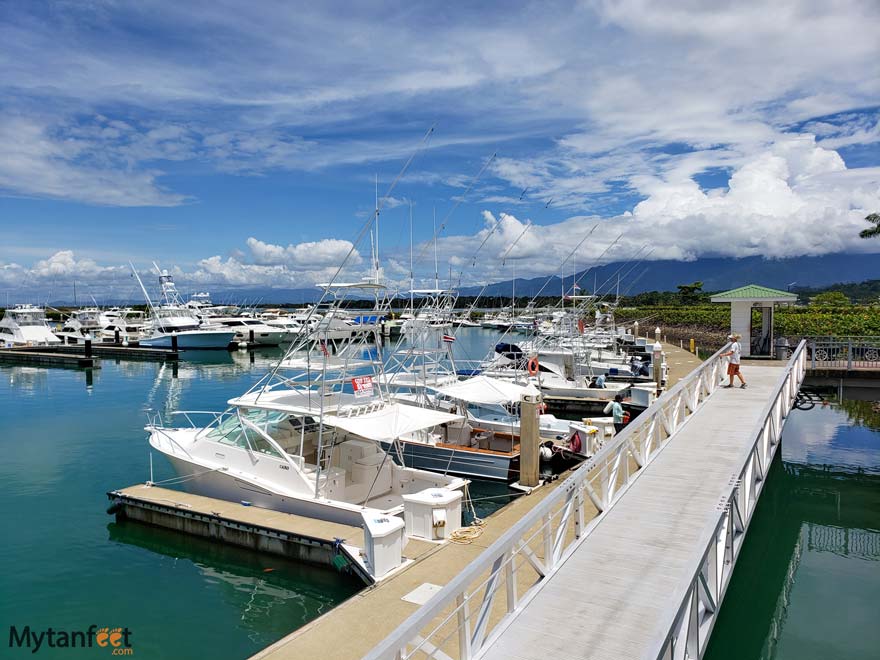 The marina is only a 10 minute drive from Manuel Antonio. There are a ton of fishing charters at the marina which you can contact about reserving a charter.
Visit Playa Biesanz
Playa Biesanz is a fun beach to visit for the day. It's close to the national park but with a little bit of a tricky entrance. You have to walk a ways to this beach and it's very rocky so wear water shoes or closed toed sandals. Make sure to check the tide because it comes in really high so it's best to go in low tide. If you don't want to climb up the rocks back to the path, you can walk to the Shana Hotel.
The entrance to this beach is on the hill. All the locals know this beach so you can ask them for the directions. There are vendors selling drinks, offering chairs and umbrellas and renting snorkel equipment. Playa Biesanz is ideal for kids because it's in a bay so the waves are very calm.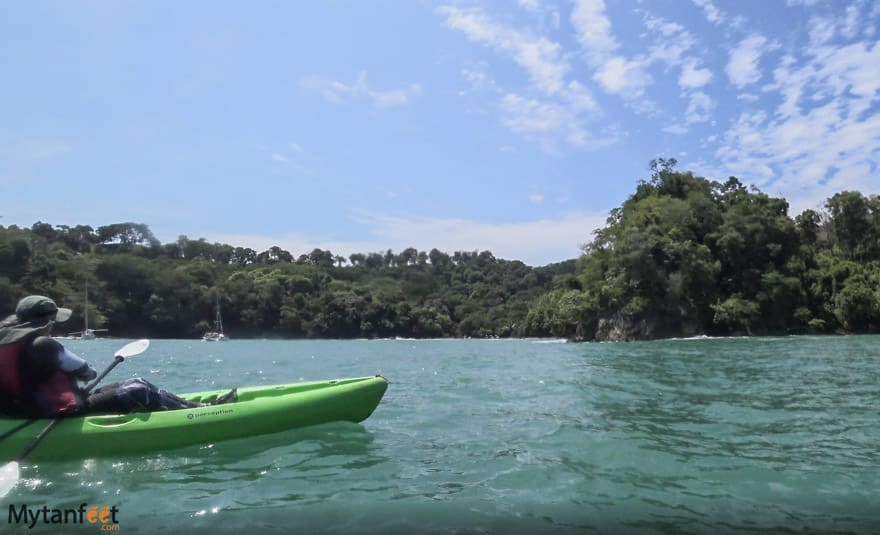 We visited Playa Biesanz on an ocean kayak trip. Although we tried to go snorkeling, visibility was very bad so we just hung out at the beach instead.
Damas Island Mangrove Kayak
The Damas Island mangrove is an excellent place to enjoy a leisurely day wildlife watching. You can kayak which is the best way to see wildlife since you can get close up to them without much noise. Or you can go on a motorized boat ride which is great for seniors. Your guide will point out different wildlife like anteaters, snakes, birds and more.
We saw a crocodile, mangrove boa snake, woodpeckers, iguanas, monkeys, kingfishers and herons during our kayak and boat ride in Damas Mangrove.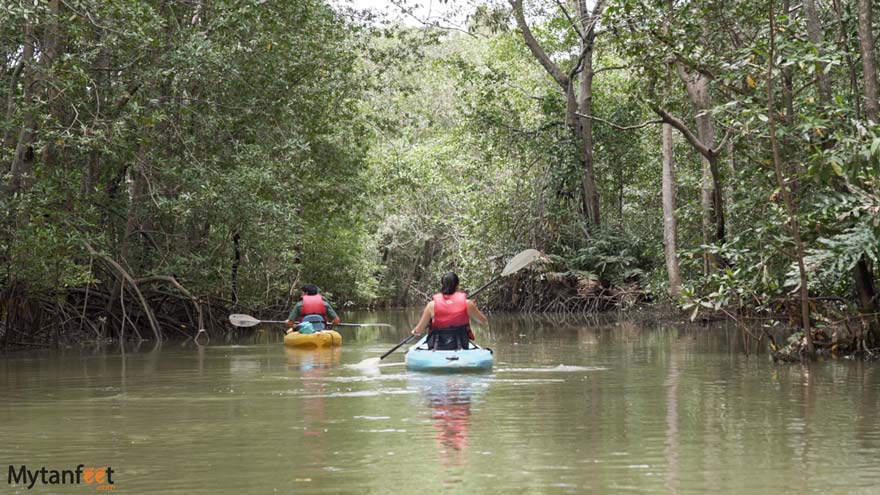 Even though you can see plenty of wildlife in the national park, the mangrove is home to different animals. We highly recommend experiencing the mangrove by kayak. It's so peaceful and I love the feeling of gliding silently over the water to get up close to the wildlife, surrounded by only the sounds of the jungle.
Get our Manuel Antonio tour discount here for the Damas Island mangrove!
Watch the Sunset
You can't miss watching the sunset! This is one of the best things to do in Manuel Antonio to wind down the day. Since all the high end hotels in Manuel Antonio offer a splendid view of the park and the beach, you'll have a wonderful view of the sunset. The first time we visited Manuel Antonio, we stayed at Hotel La Mariposa which has an amazing infinity pool.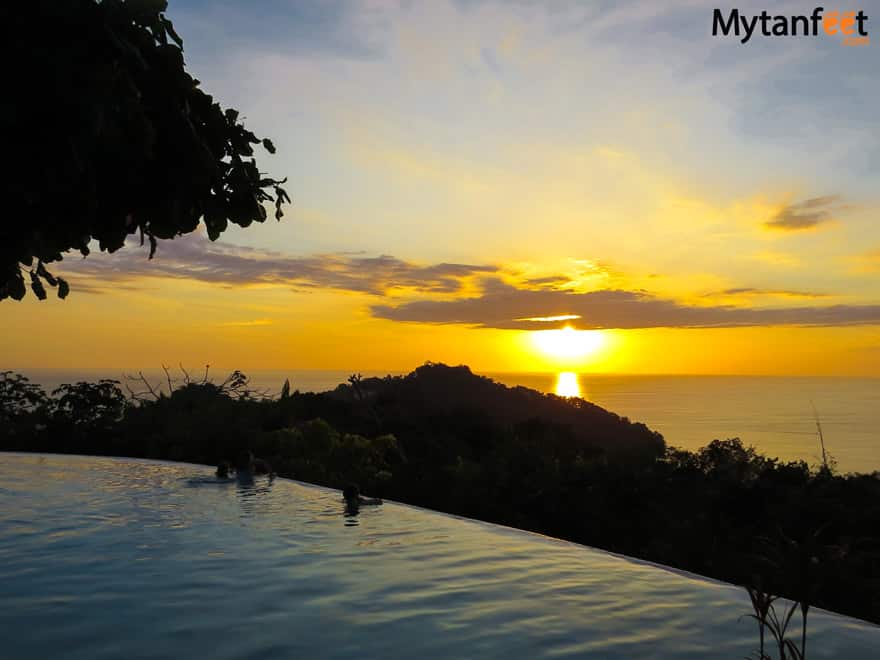 If your hotel doesn't have a view, watch the sunset from the beach, Playa Espadilla Norte. It is equally as lovely!
Many restaurants on the hill also have a beautiful view and offer happy hour from 4-6 PM. Cafe Agua Azul, Rafaeles Las Terrazas, Emilio's Cafe, Barba Roja and El Avion all have amazing ocean views and are great places to enjoy a drink and watch the sunset.
White Water Rafting
Looking for a fun outdoor adventure? Go white water rafting! From Manuel Antonio, you can raft El Chorro, Naranjo or Savegre. El Chorro is best March and April and is for extreme and experienced rafters, Naranjo is June to November and Savegre is all year round. Savegre is best for first timers or families.
Manuel Antonio Day Trips
If you plan to use Manuel Antonio as a homebase, there are many day trips you can take from there thanks to its excellent location. Here are some of our favorites.
Nauyaca Waterfalls: These waterfalls are deep in the jungles outside Dominical. Hike, take a 4×4 truck ride or horseback ride to these gorgeous waterfalls. About a 50 minute drive one way. You can also take a tour with transportation with Paddle 9.
Tortuga Island day cruise: Cruise through the Gulf of Nicoya to Tortuga Island's beautiful white sand beach. Snorkel, jet ski, hike, banana boat or just lay out in the sun. From Manuel Antonio, tour companies usually require a minimum of 4 passengers. You can also drive to Jaco (1 hour) or Puntarenas (2 hours and 20 minutes) to meet the boat.
Los Campesinos Ecolodge Waterfall: This lovely lodge in the rainforests outside of Manuel Antonio has waterfalls, natural pools and hiking trails on their property. Great for a less touristic activity for those who love nature and hiking.
Caño Island snorkeling: For great snorkeling, drive 1 hour to Uvita to do the Caño Island snorkeling tour. The Manuel Antonio area doesn't have good snorkeling but Caño Island Biological Reserve does!
Jaco: If you didn't stop by Jaco on your way to Manuel Antonio, you can spend a day there to watch the surf competitions at Playa Hermosa or explore the town.
Marino Ballena National Park: This national park in Uvita is completely different to Manuel Antonio National Park with dark sand beaches, way less people and awesome humpback whale watching!
Manuel Antonio Hotels
If you want to splurge on a luxury hotel, Manuel Antonio is one of the best places to do it, especially if you are on your honeymoon in Costa Rica! Otherwise, there are hotels of all price points.
High end luxury hotels ($250 and up)
Mid Range ~$100, 150
Hotel Vela Bar (adults only and right at the entrance of the national park)
Hotel San Bada (also at the entrance of the park)
Tico Tico villas (adults only)
Hostels
Manuel Antonio Travel Tips
Manuel Antonio is 3 hours from San Jose. From San Jose, you can fly to the local Quepos airport or take the bus to Quepos (6, 9, 12, 2:30 PM, 6 PM and 7:30 PM from Calle 5, AV 19/20 Terminal Transportes Tracopa) and then take the bus from Quepos to Manuel Antonio. Or you can rent a car from San Jose and drive. The route goes through two main highways and are all paved.
This area is very hot and humid so bring plenty of sunscreen, a hat and mosquito repellent. Pack lots of quick dry clothes.
The busiest times in Manuel Antonio are mid December – April and July/August. Quietest times are September – November.
In rainy season, it is usually sunny in the morning and rains in the late afternoons. Go as early as possible for best weather.
Quepos is the closest town to Manuel Antonio and there is a bus from Quepos to the national park that runs all day and costs 340 colones.
It is best to book tours before your trip in high season (December – April).
Read about other things to do in Costa Rica below!
Awesome things to do in Puerto Viejo
Best things to do in La Fortuna
This post has affiliate links.