The Rio Frio safari float was by far, the most enchanting and peaceful boat rides I've ever done in Costa Rica. This 2 hour pure nature safari ride quickly climbed to the top of my list of things to do in La Fortuna and Arenal after I had an incredible day floating down a gorgeous river surrounded by nothing but nature.
There are Amazon affiliate links in this post.
Rio Frio Safari Float (Cold River)
The Rio Frio is a slow moving river in the Caño Negro Wildlife Reserve, stretching from the hills of Los Chiles near the Nicaraguan border in Alajuela to Guatuso, about an hour drive from La Fortuna. The Caño Negro Wildlife Reserve is considered to be one of the most bio-diverse areas in Costa Rica. This is an unspoiled area in the country that only few people get a chance to visit!
If you're looking for an unique wildlife watching experience out of Arenal or La Fortuna, put this one high on your list!
Pure Nature Safari Float

We arrived in Guatuso for the start of the rafting trip in the backyard of a local's home, which sits on the bank of Rio Frio. I went with a family of four so our group was small. It was just the five of us plus our guide so we had the best attention.
The first time I did a morning tour in November, the second time we did an afternoon in May. We had wonderful weather both times (cloudy but no rain). The afternoon tour was a bit noisier (there are some houses along the river) but we saw lots of wildlife both times. I would recommend the morning over the afternoon though, we saw more animals in the morning.
Start of the Safari Tour
This nature safari isn't like others, it's on a raft instead of a boat with an engine and we were the only ones on the river. Our guide did the majority of the paddling, navigating the calm waters to get us as close as possible to the wildlife. With engines, animals scare easily and you can't get into the tight corners as you would with a small raft.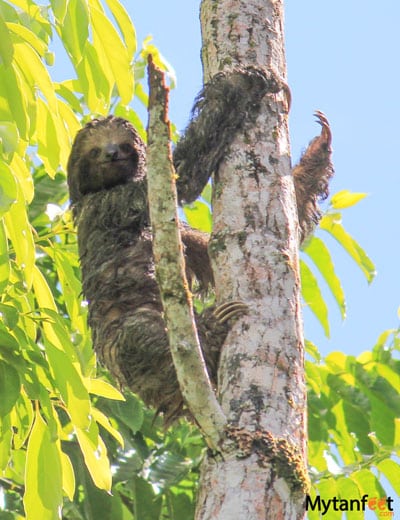 So there we were, the 6 of us on a raft, floating down this small but peaceful river when no more than 2 minutes after we pushed off, our guide pointed to the trees for our first wildlife encounter.
This juvenile three toed sloth was climbing down a tree right above our heads! Our guide got us into the right position so we could see him in full view as he clambered down.
As sloths only touch ground to go potty once a week, we caught him right in the act. We watched him climb down until he disappeared out of view into the bushes.
We hadn't even been on the river for more than 5 minutes and we already saw one of my favorite animals in Costa Rica! From that point and on, I couldn't wait to see what other exciting wildlife encounters we'd have.
We floated down the river, quietly admiring its natural beauty and wondering what other animals called these waters home. And we found out soon enough.
Wildlife on the River
We saw adult, baby and juvenile Jesus Christ lizards scampering on the water, male green iguanas in orange breeding colorations, a huge troop of white face and howler monkeys flying from tree to tree, an otter slyly slinking into the water, a caiman sunbathing and tons of birds including kingfishers, trogons and anhingas.
No matter how boat rides I've done before, Costa Rica still awes and impresses me!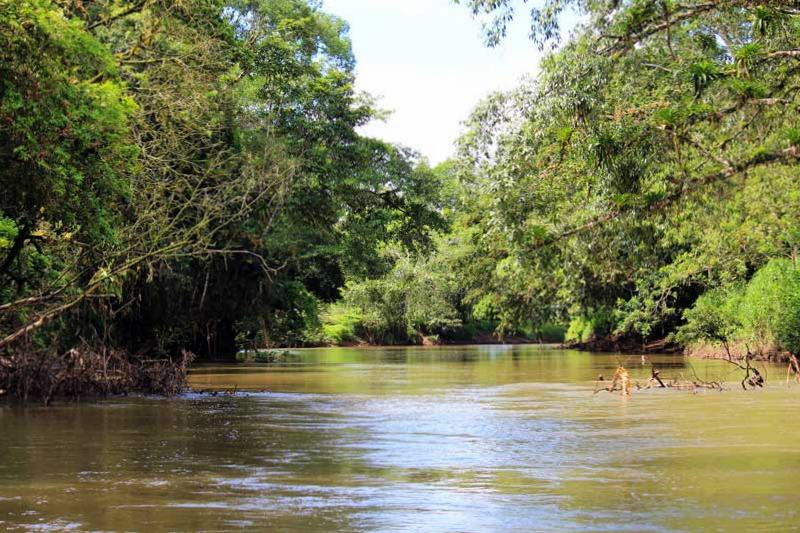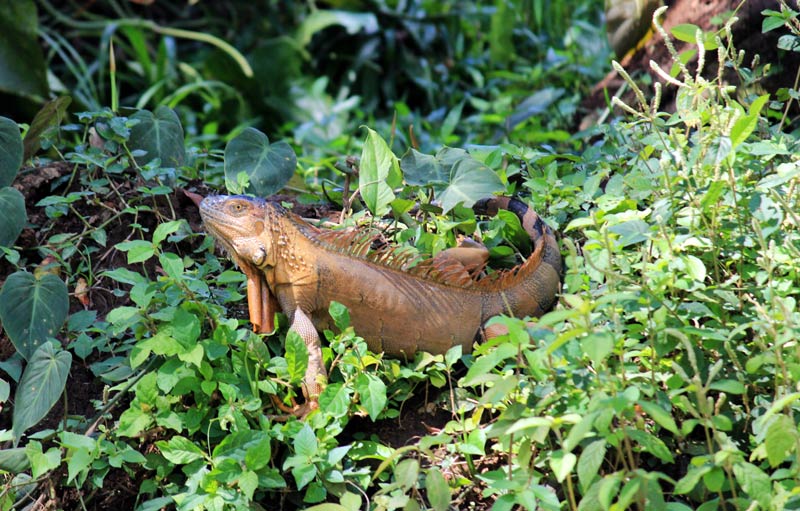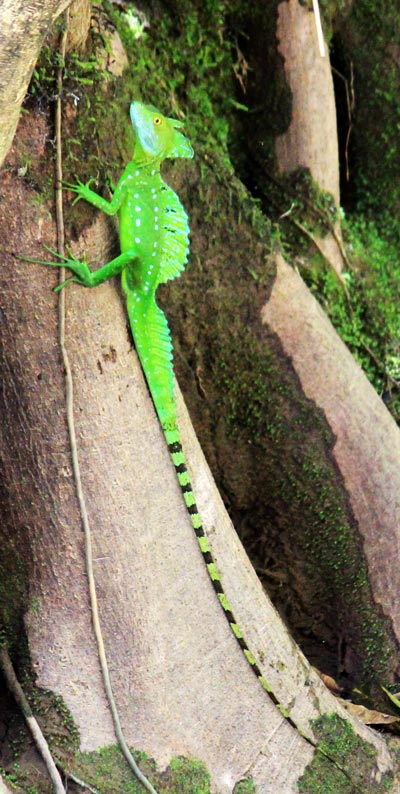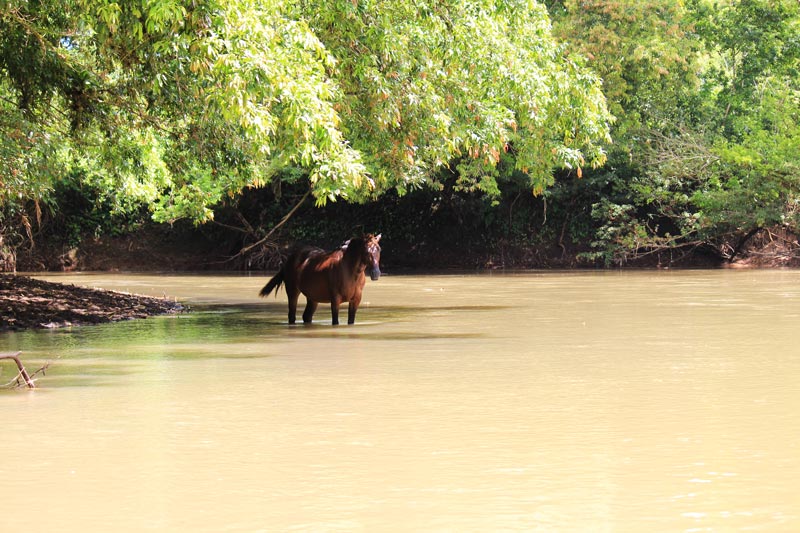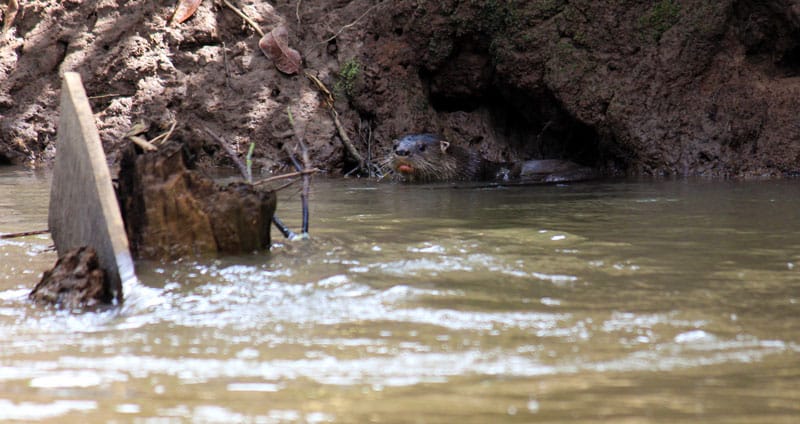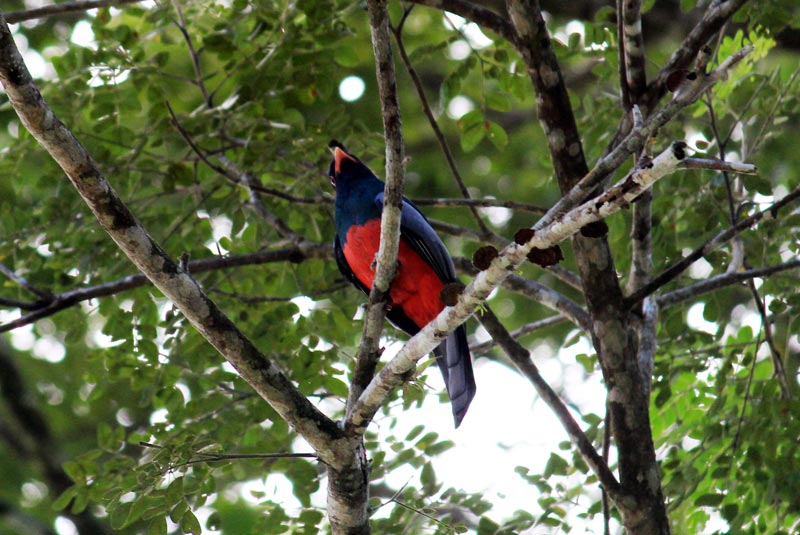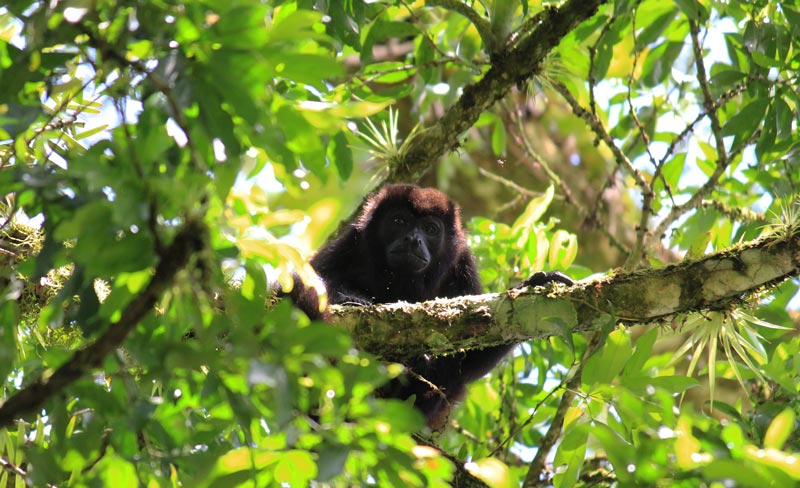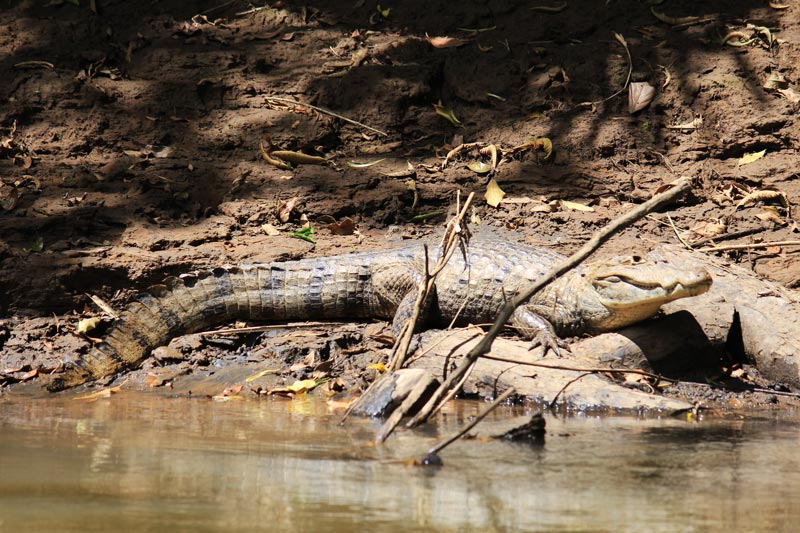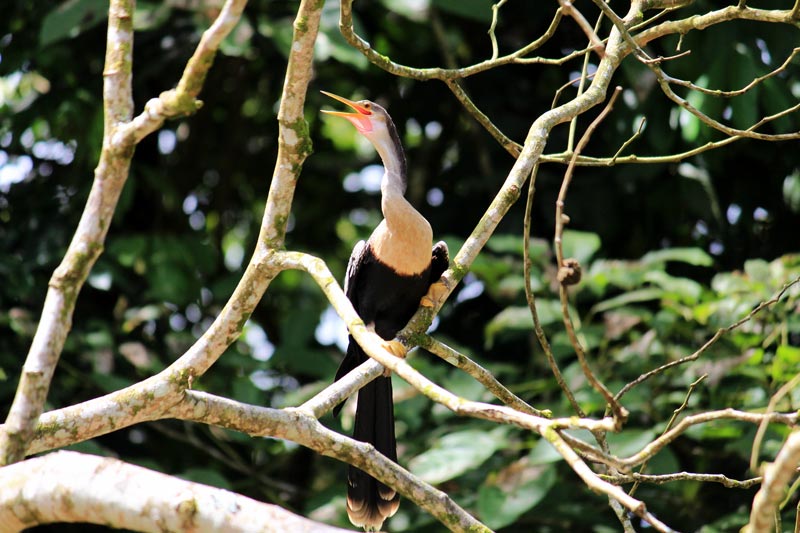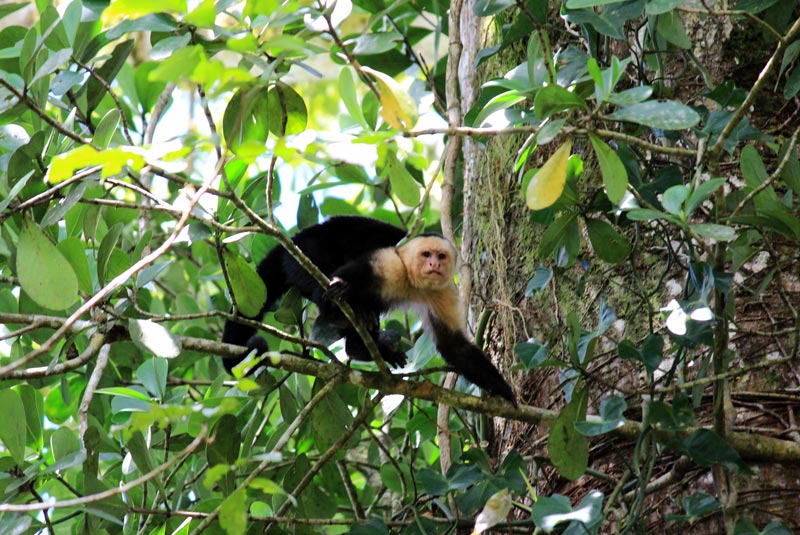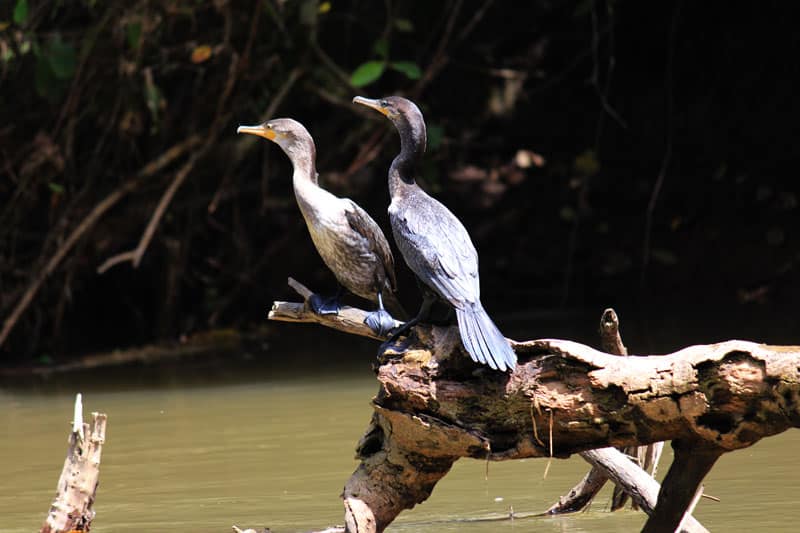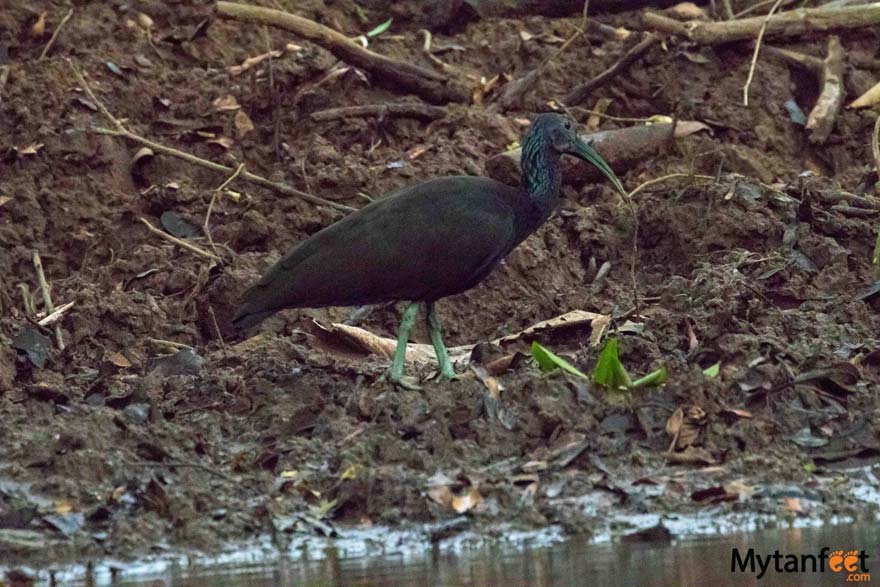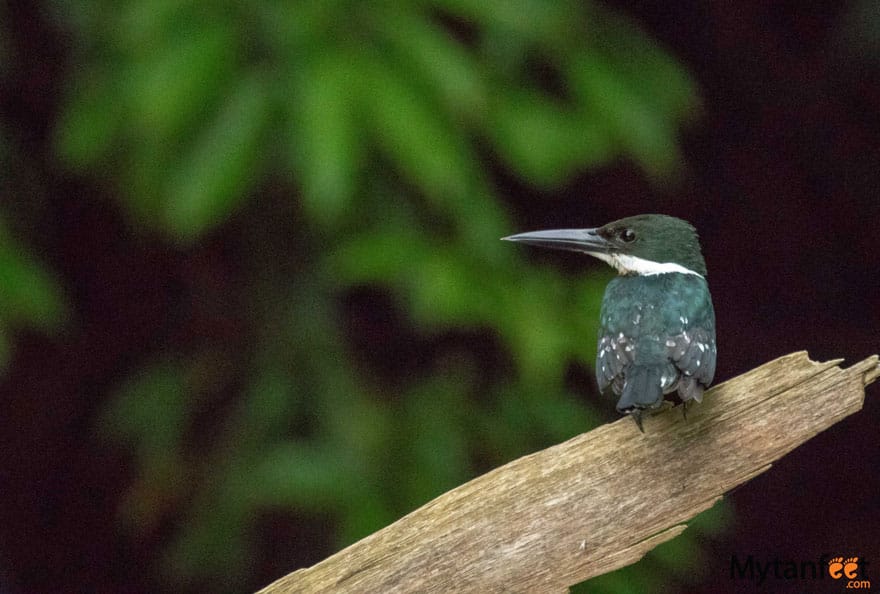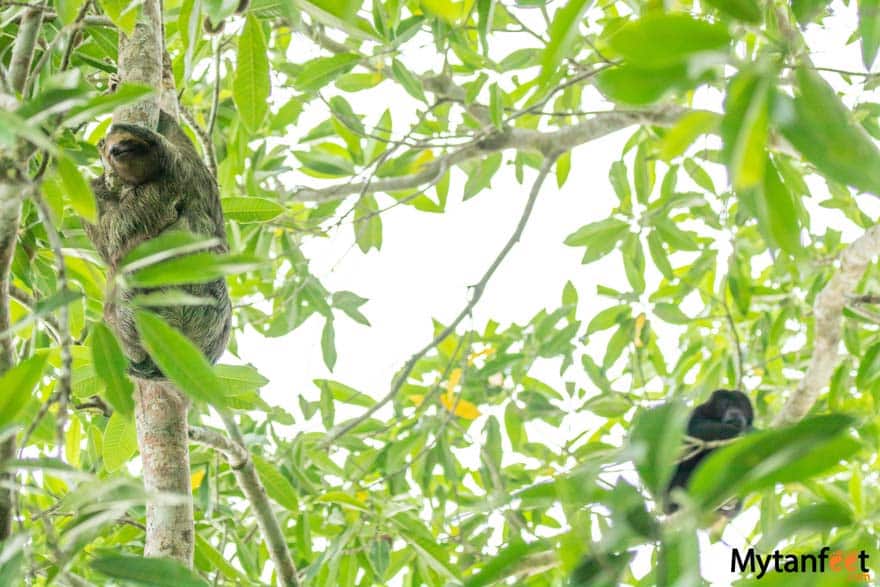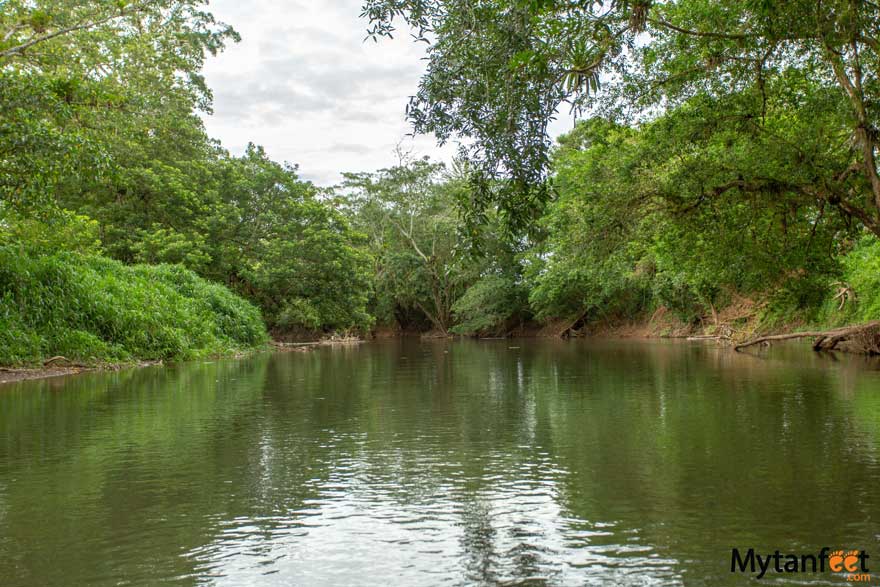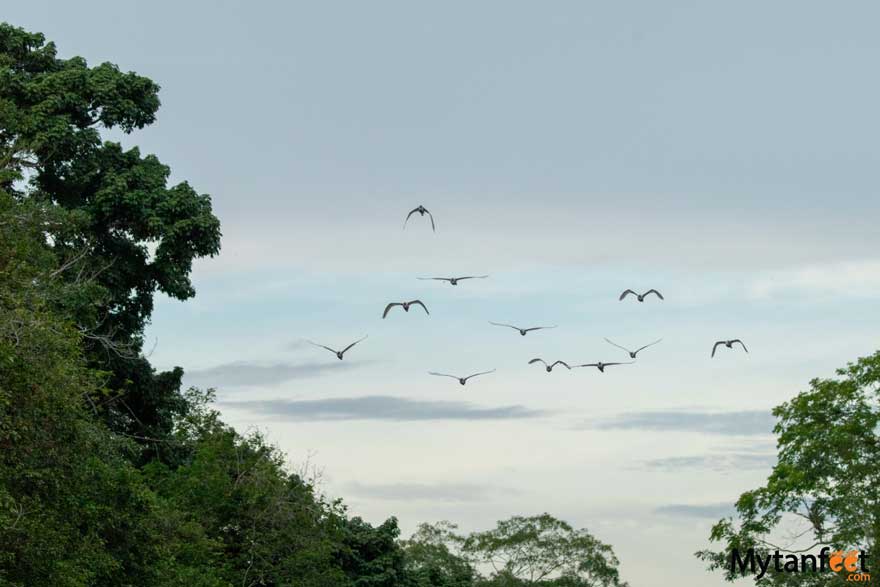 Great Tour for Families
The little girls on the boat were having a blast and by the end, they were even pointing out monkeys and iguanas! Although we had to be as quiet as possible on the river as not to disturb the animals, I could tell they were having trouble keeping their excitement inside.
It made me happy to see the younger generation having a wonderful time learning about nature and being outside. They kept asking what everything was and would listen intently to our guide as he explained to them about each animal and their special characteristics. By the end of the boat ride, they kept chattering about that awesome monkey next to them and the ginormous iguana in the tree and it continued on all the way back.
At the end of the safari float, they took us to a local's house not too far away to give us fruit juice and snacks, a nice way to end the day before we headed back to La Fortuna.
La Fortuna safari float video
You can watch a video of the pure nature safari float we did in May 2018 below.
What to know about the La Fortuna safari float

You can bring a small backpack on the raft, preferably waterproof in the rainy season
Bring a good zoom lens for your camera!
It is really hot in this area so bring sunglasses, a hat and sunscreen.
I wore long hiking pants to ward off mosquitoes and KEEN sandals, but definitely bring mosquito repellent if you're wearing shorts.
The tour company provides water on the bus.
They run two tours, one in the morning (8 AM) and one in the afternoon (1 PM).
You won't get wet in the raft so no need to bring a change of clothes.
Snacks and drinks are provided after the rafting.
Tour Company and Discount
Our tour operator partner in La Fortuna is the only company that operates the safari float on this specific section of the river. They actually  operate this tour in 3 different sections of the Rio Frio with 1 boat per section.
We have a partnership with our partner to give our readers 7% off this tour. Note that this tour is called Pure Nature Safari Float. Caño Negro boat tour is another tour on the same river but with a motor boat. This is on a raft with no motors.
If you're in Manuel Antonio and would like to do a similar boat tour, check out the Damas Island Mangrove. You can go on a boat or kayak through the mangroves to see wildlife.
Read about other things to do in La Fortuna below!
La Fortuna waterfall: Beautiful waterfall in the rainforest. Easily accessible though requires over 400 steps to get to the bottom.
Horseback riding La Fortuna: Ride through valleys and rainforests for beautiful views.
Arenal Combo tour: 4 in 1 combination tour. Includes hanging bridges, La Fortuna waterfall, volcano hike and hot springs.
Balsa River rafting: Easy Class 2 and 3 white water rafting, only 30 minutes from Fortuna.
Penas Blancas safari float (similar to this one but closer to La Fortuna)
There are Amazon affiliate links in this post.