Lean in! Lean in!
I automatically leaned into the boat, locking eyes with Yeison a second before we hit a huge rock and then spun madly into the next rapid. The next thing I knew, we were floating through a calm section of the river with a minute to breathe before we entered the next rapid.
Right paddle! Duro!  Our guide called out.
We spun a little less quickly in the next rapid, leaving me with the feeling of wanting more. These rapids were short and sweet, perhaps a bit too short for my taste but this was the easy part of our 2 day white water rafting trip in Costa Rica. Rapids only reached Class 1-2 at this section of Rio Pacuare, class 3 and 4 rapids were waiting for us tomorrow after we spent a night at the lodge recharging our batteries.
If you're coming to Costa Rica for outdoor adventure, white water rafting has to be on your list. And if you're looking for more hardcore adventure than a 1 day white water rafting trip, do a 2 day trip. It's one of the most unique experiences you can have in Costa Rica!
Book Your Rio Pacuare Costa Rica Rafting Tour!
Yeison and I have done the 1 day white water rafting trip on Rio Pacuare before and it's one of my favorite things to do in Costa Rica. We went with Rios Tropicales, one of the oldest tour companies and went with them again for our 2 day white water rafting trip, staying at their lodge on the river overnight.
You may be wondering what a 2 day white water rafting trip in Costa Rica actually entails. Basically, you split up the 1 day trip into 2 days. You raft the easy portion of the river on day 1, stay one night at the lodge and raft the rest of the river on day 2.
Day 1 of the 2 day White Water Rafting Trip in Costa Rica
The first day is simply rafting to the lodge which is not too far from the start of the white water rafting on Pacuare River. They warm you up to the rapids which is great if you've never rafted before, going through only Class 1 and 2, maybe a couple 3's depending on the water level.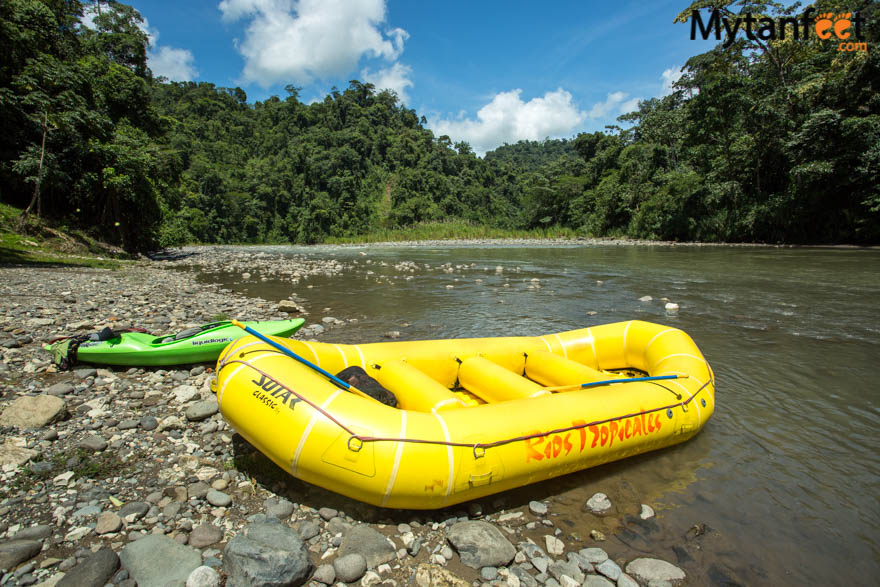 The Rio Pacuare is one of the best rivers in the world for white water rafting with Class 1-5 rapids. Kayakers and rafters from all over the world come to Costa Rica specifically to raft this river!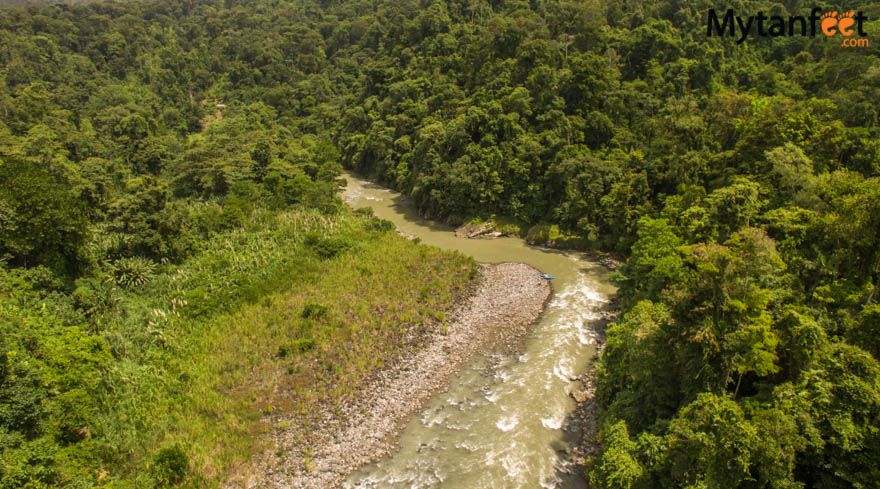 We rafted about 45 minutes or so through some easy Class 1 and 2 rapids before stopping at a nice place for lunch. The Rios Tropicales crew put out a huge spread for us and we even saw a Keel-billed toucan! Not a bad place for a picnic right?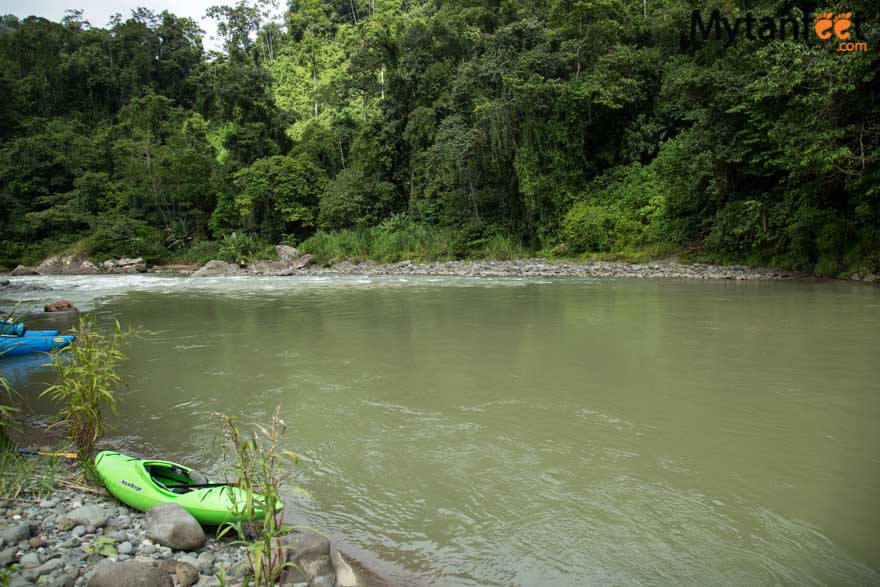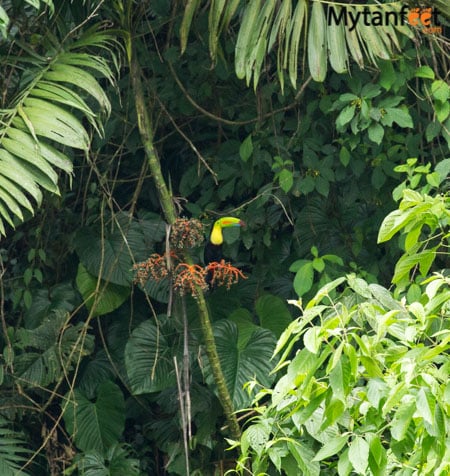 This portion of the rafting doesn't take too long and by leaving early in the morning, you'll get to do other activities at the lodge. After lunch, we rafted another easy 20 minutes to the lodge where we immediately geared up for more adventure.
At the Rios Tropicales Lodge, they have hiking trails, horseback riding trails, a canopy tour and 2 waterfalls for canyoning so there is absolutely no shortage of adventure. We had a bit of time in the afternoon before the rain came so we did a couple cables on the canopy tour and rappelled down a small waterfall.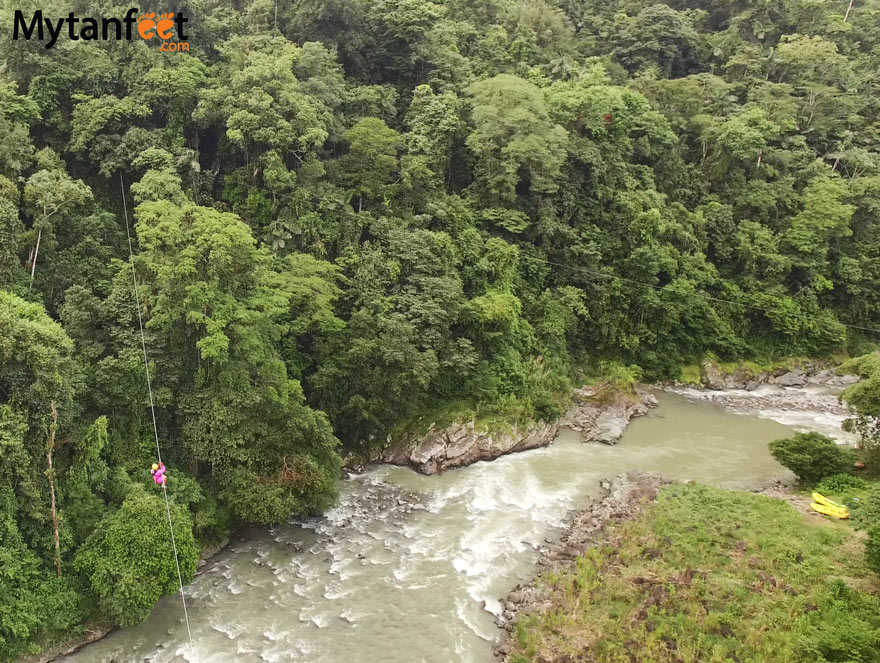 By staying overnight at the lodge, you get to experience a part of Costa Rica few people are lucky to see as the river sits in the Talamanca mountain range, a fairly unexplored part of the country.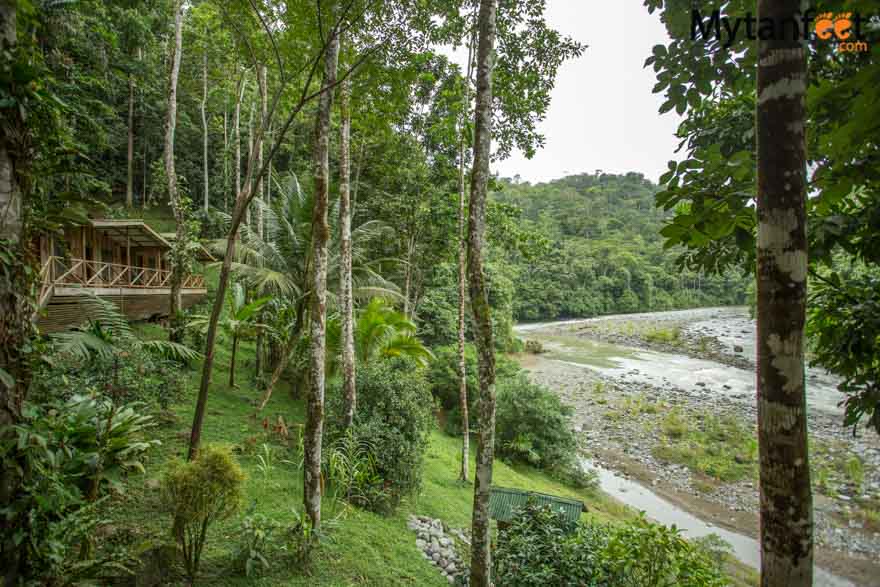 After a fun day of rafting, ziplining and canyoning, we rested up for the next day to raft the rest of the way. Day 2 has Class 3 and 4 rapids so we got a good night's sleep since it was going to be an exciting day!
Day 2
I remember this section of the river clearly from when we did the 1 day white water rafting trip. I remember thinking at the beginning, "Wow this isn't too bad!" but that was during the Class 1-2 rapids.
I recall falling and almost falling several times as we spun frantically through upper and lower Huacas and Cimarones Class 4 rapids. I thought of the sore feeling in my arms as I paddled as hard I could. These rapids are to be greatly respected.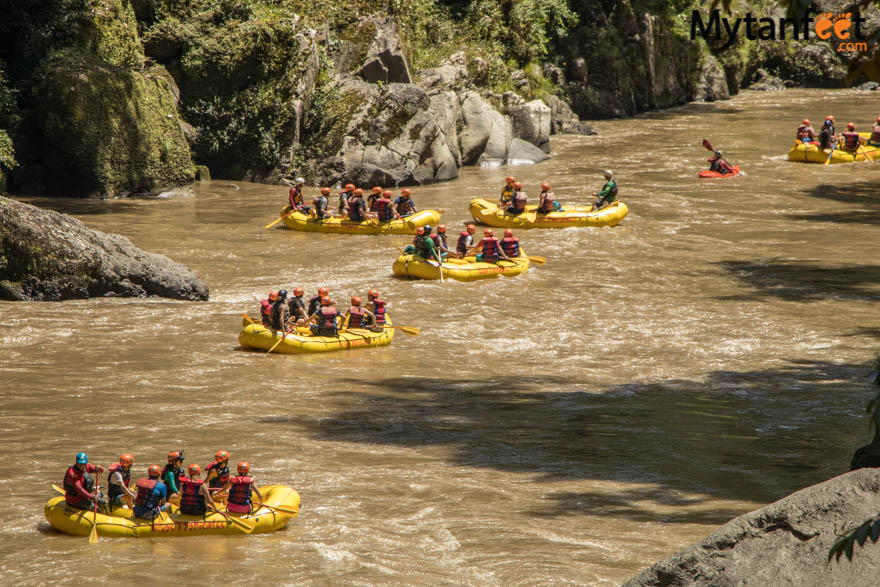 And at the same time, I couldn't wait to raft through this portion of the river. Why? Because this section has several beautiful waterfalls, a deep canyon and incredible views that made me feel like I was in Jurassic Park. I will never forget that feeling the first time I rafted through here, it's something I have cherished and treasured every single day since then.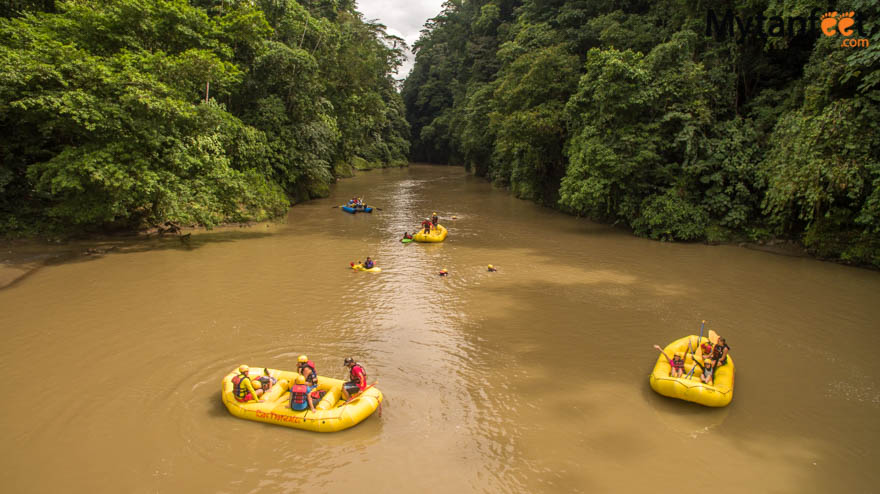 We rafted under waterfalls, waved hi to local indigenous kids fishing on the river and floated past Tiger Herons, Montezuma Orpendolas and Kingfishers. The day was perfect – a bit cloudy with sun and no rain. The cold water refreshed us as we worked our muscles to paddle through the relentless rapids.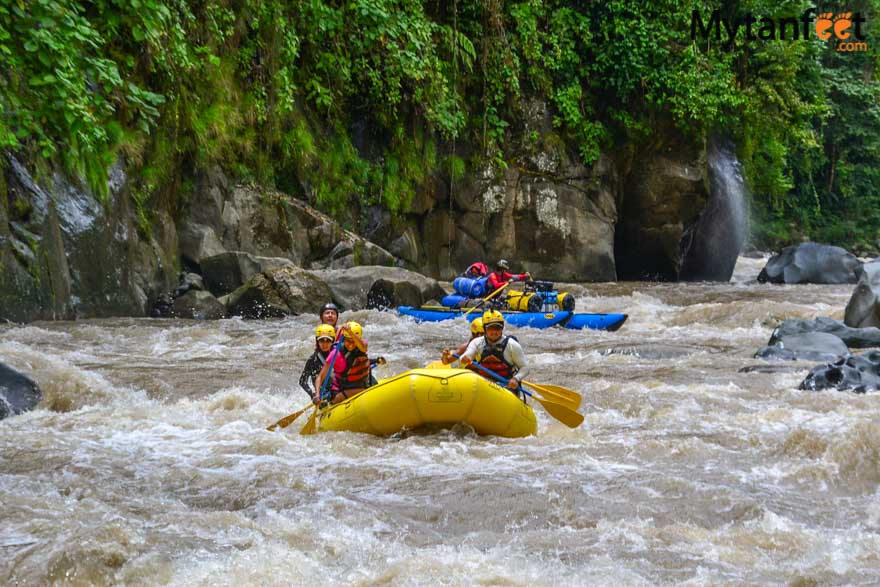 As we neared our final destination, a familiar feeling crept up on me. I didn't want our rafting trip to end! I could have gone on all day spinning, twirling and surfing through those rapids!
We have done plenty of adventures and activities but this 2 day white water rafting trip in Costa Rica is hands down, one of our favorites. For any outdoor lover or adventure junkie, it will be theirs too!
Book Your Rio Pacuare Costa Rica Rafting Tour!
Tips and Info about the 2 Day White Water Rafting Trip
The first day you raft for about 1 hour through the easy rapids. Day 2 is for rafting the rest of the river with Class 3 and 4 rapids and this part is longer, around 2-2.5 hours.
We highly recommend Rios Tropicales as they are the leading company for Rio Pacuare rafting trips and their guides are excellent – many of them are professional rafters/kayakers and have been doing it for most of their life.
For your luggage, they will bring it for you so try to pack light. They wrap it up in waterproof bags so no worries if your backpack or suitcase isn't waterproof.
If you have glasses or want to wear sunglasses, get the strap or else they will fall off.
Wear closed toed shoes or hiking sandals. Our KEENs were perfect.
If you have one, bring your GoPro. They have the helmet mount but you do need to bring the helmet mount for the camera.
Wear clothes that dry easily like a rash guard and board shorts. Don't just wear a bikini or swimsuit because it'll be uncomfortable under the life jacket.
They also offer 3 and 4 day trips so you can spend more time at the lodge. Next time, we'll stay longer so we can go hiking and horseback riding.
The lodge has electricity but no internet.
Read about other adventures in Costa Rica below!
Selvatura Park (ziplining and hanging bridges in Monteverde)