Monteverde, Costa Rica is one of the best places in Costa Rica for nature, adventure, hiking and birding. If you're planning on visiting, here are our Monteverde travel tips so you are prepared for your trip to the village in the clouds.
There are Amazon affiliate links in this post.
Quick Intro to Monteverde, Costa Rica
Now officially a canton, Monteverde was founded by a group of Quakers from the US, looking for a peaceful place to live in the 1950's. They chose Costa Rica for having no army and that area for its fresh climate and excellent dairy farming. Additionally, they set aside a large tract of land for conservation which is now the Cloud Forest Biological Reserve.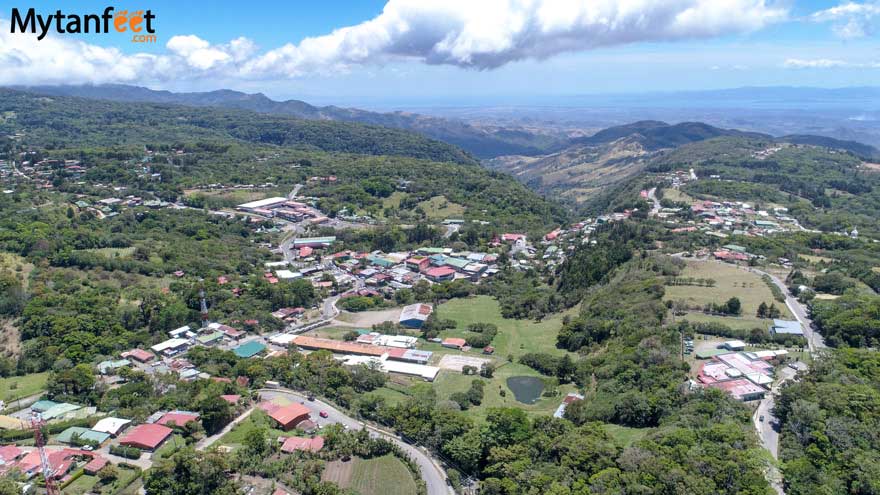 Selected by popular vote as one of the wonders of Costa Rica, Monteverde is also one of the places to see in the world before it disappears. The cloud forests are highly vulnerable and sensitive to any climate changes.
Monteverde Weather and Best Time to Visit
Monteverde experiences typical dry and rainy season but due to its high elevation, average year round temperatures are lower than the coasts. Average day time temperatures in dry season are around mid 70s F (24 C) and average night time temperatures are 60 F (15 C).
For less possibilities of rain, January – April are your best months. March is generally the hottest and driest month.
Dry season starts around mid December and ends around the beginning of May. Rainy season starts around mid May to beginning of December. The rainiest months are generally September and October.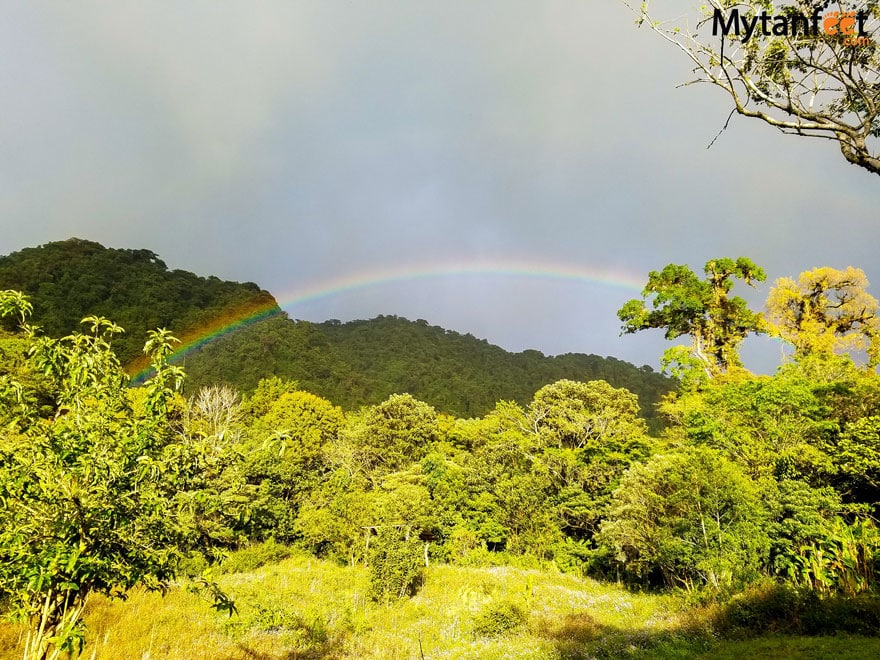 Our Experiences
We visited for a week in March and had several spring showers, mostly in the late afternoon. It sprinkled a bit in the mornings as well and it got very windy and more drizzly at night. But don't fret, the showers didn't last long! It would sprinkle for about 5-10 minutes and then clear up. September, October and November are very rainy months.
We visited in November 2017 and it poured all day. We have also visited once in August, it didn't rain as much but it was cold, cloudy and rainy at night. When we visited in September, it poured every night. It was sunny in the very early mornings and started raining around 11 AM.
We have also visited mid-January and had two beautiful sunny and clear days. The third day, we woke up to intense winds and light showers.
Monteverde Cloud Forest Reserves
There are 3 cloud forest reserves: Monteverde Cloud Forest, Santa Elena Cloud Forest and Children's Eternal Rainforest.
Monteverde Cloud Forest Reserve: The most popular cloud forest reserve of the 3. It has well maintained trails that lead to nice viewpoints, a hanging bridge and waterfall. You can spend a whole day walking through this reserve.
Bosque Nuboso Santa Elena: This reserve sits higher in elevation so it's wetter and cloudier. There is a trail that leads to a spectacular view of Arenal Volcano (on a clear day). You can also spend a whole day in the reserve if you'd like since there are many trails.
Children's Eternal Rainforest: This is the biggest private reserve in Costa Rica with 4 different stations. We visited Bajos del Toro station which has easy trails.
We personally love Santa Elena the most. The scenery was just incredible and the view of Arenal Volcano is amazing. Read our guide to comparing the three cloud forest reserves.
Things to Do in Monteverde, Costa Rica
Monteverde has the perfect mix of nature and adventure. The most popular activity is ziplining through the cloud forest.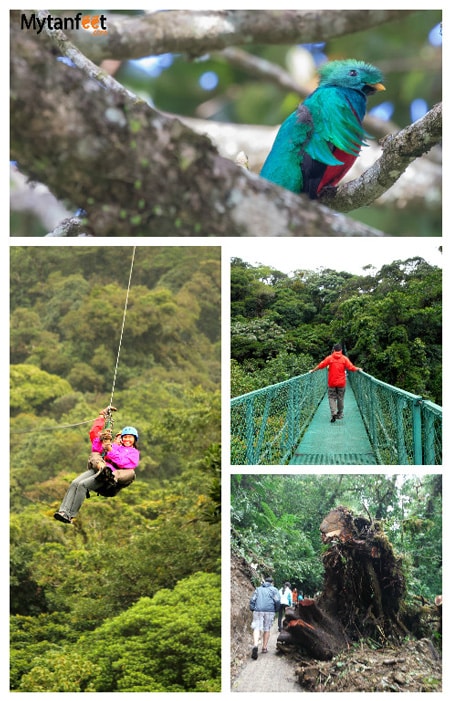 Some other activities are:
Monteverde Night Walk: The cloud forest comes alive at night since many of the animals are nocturnal. If you want to see sloths, it's best to go on a night walk since only 2 fingered sloths live in this area and are mostly nocturnal.
Bird watching at Curi-Cancha Reserve: For bird watchers, you must go to Curi-Cancha Reserve. This reserve has hiking trails and the bird watching is spectacular. We saw toucans, Resplendant Quetzals, hummingbirds, agoutis and spider monkeys!
There are several eco-adventure parks where you can do multiple activities in one day, perfect if you only have one full day in Monteverde. The most popular ones are Sky Adventures and Selvatura Park. Selvatura Park is perfect for those who only have 1 full day in Monteverde because it has ziplining, hanging bridges, butterfly garden, sloth sanctuary, reptile exhibit and a restaurant for a well rounded, fun day in the cloud forest.
Read about our favorite things to do in Monteverde and five awesome free things to do in Monteverde!
Where to Stay
Many of the hotels in Monteverde are small and cozy with beautiful views of the cloud forest. Likewise, there are many hostels and budget options.
Hostel and Budget
Pension Santa Elena and Sleepers Sleep Cheaper Hostel. Another is Selina Monteverde. Hotel Claro de Luna is a good clean budget options in town.
Mid range hotels
Monteverde Country Lodge and Hotel Fonda Vela are two nice mid-range hotels. We stayed at the Country Lodge and really enjoyed it. The restaurant is excellent. Scala Monteverde is a new, 5 bedroom hotel very close to downtown.
High end hotels
For an upscale hotel with a nice view, El Establo Hotel is one of our favorites. It's a fairly large hotel with two pools and restaurants. It has very spacious rooms, all with great views of the cloud forest. Hotel Poco a Poco is another great option for those who want city conveniences (ac, fast Internet, heated pool). Hotel Belmar is a luxury hotel with a gym, mountain and Nicoya Peninsula views, elegant wood furnishings a restaurant on a hill. Senda Monteverde is another luxury hotel in the area.
Airbnb
If you prefer to have a "home away from home" experience, check out Airbnb. We stayed at 2 different Airbnbs in Monteverde and absolutely loved it. Read our guide to using Airbnb in Costa Rica so you're prepared.
Where to Eat in Monteverde, Costa Rica
This area has a decent amount of food with lots of traditional Costa Rican places and other cuisines. Even though the area is touristic, it is not crazy expensive as you'd expect. You can still find good priced sodas (traditional Costa Rican restaurants) and a variety of other food. Here are our favorites.
Restaurante Sabor Tico: Best place for traditional Costa Rican food, not super expensive. Two locations in the plaza and by the soccer field. Dog friendly (outside, the one by the soccer field)
Toro Tinto: Amazing steak restaurant. Also has pasta, salads and burgers.
Orchid cafe: Great coffee, breakfast, brunch and lunch options. Delicious desserts and bread. One of our favorites.
Evy's World: Delicious pastries, bread and cakes
Tree House Restaurant: Has Costa Rican and International. A bit touristy
Choco Cafe Monteverde: Yummy salads, sandwiches and coffee.
Tramonti: Delicious pizza, very nice atmosphere with lights and good wine.
Panaderia Jimenez: They have two locations, both are great. Taty's location serves hot breakfasts.
Taco Taco: Great tacos and burritos. My favorite is the baja del mar.
Location
Map of Monteverde, Costa Rica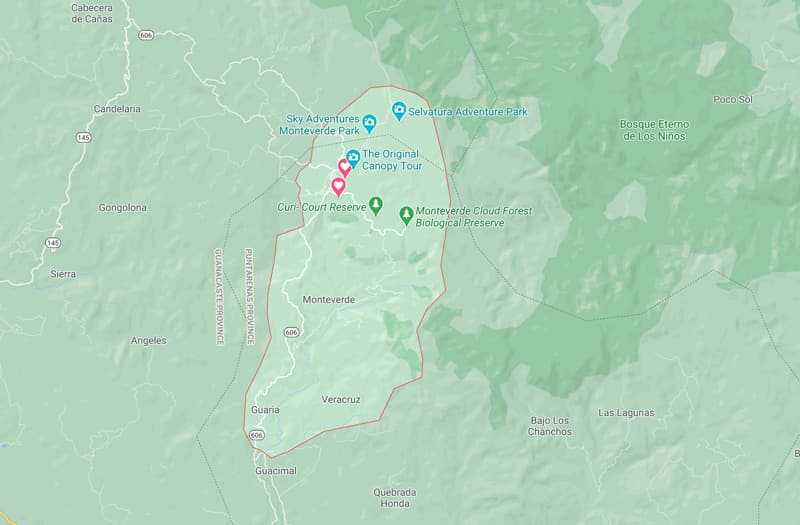 Monteverde is located in the Corridor of Tilaran in the province of Puntarenas, 1500-1800 meters (5000-6000 feet) in elevation. Monteverde is 140 kilometers (67 miles) from San Jose and 114 kilometers (71 miles) from Liberia.
How to get to Monteverde
Bus
From San Jose: There is a bus from San Jose at 6:30 AM and 2:30 PM, it takes 5 hours and costs 2,680 Costa Rican colones.
From Liberia: You will need to take a bus from Liberia to Canas, Canas to Tilaran, Tilaran to Santa Elena. The bus from Liberia to Canas takes 2 hours and there is one every half an hour from 8:30 – 3 PM. Canas to Tilaran buses are at 6, 730, 815, 9, 1030, 12, 1 PM, 1:50 PM, 2:35 PM, 3:15 PM, 4PM and 6 PM. From Tilaran, there are 4 buses that cost 1500 colones: 4 AM, 8:30 AM, 12:30 PM and 5 PM.
From Arenal/La Fortuna: Take the 3 hour bus from Fortuna to Tilaran, then Tilaran to Santa Elena. There is a bus at 8 AM and 4:30 PM at the bus terminal in front of the Fortuna park with Transportes Tilaran-San Carlos S.A.
Shuttle
You can take private or shared shuttles. A shared shuttle costs $55 – $65 USD per person one way depending on your pick up location. A private shuttle from San Jose and Liberia costs around $220 USD one way for 1-4 people. Please contact us to book your private shuttle to Monteverde!
Driving
Monteverde is about a 3.5 hour drive from San Jose through Sardinal Route 606. From Liberia, it is also about a 3.5 hour drive through Las Juntas Route 145. Please read our Monteverde road conditions post for information about Monteverde routes and road conditions because Monteverde is one of the destinations where a 4wd/4×4 is highly recommended. If you plan to rent a car, get our Costa Rica car rental discount here.
Taxi Boat
If you are coming from La Fortuna/Arenal, you can drive or take the taxi boat across Lake Arenal. The trip takes around 3 hours and costs from $45 USD per person. They offer 2 routes a day, one in the morning around 8 AM and one in the afternoon around 2 PM.
How to Get Around Monteverde, Costa Rica
If you do not have a car, you can:
Take a taxi. There are plenty of taxis in Santa Elena town.
Uber. We saw a couple of Ubers in downtown but not many.
Walk if you are close to Santa Elena town or in Cerro Plano. It is quite hilly so put on your good walking shoes and bring your rain jacket.
Book tours with transportation included.
Take the bus to the attractions. There are buses to Santa Elena Reserve, Monteverde Cloud Forest and Curi-Cancha Reserve.
Santa Elena Bosque Nuboso Shuttle Bus
Santa Elena downtown to Bosque Nuboso Santa Elena: 630 AM, 830 AM, 1030 AM and 12:30 PM. Costs $3 USD per way. Must be reserved in advance at the Monteverde Info Center or by Whatspp 8346 0748 or 8964 2288. Returns at 9 AM, 11 AM, 1 PM and 4 PM.
Monteverde Cloud Forest Reserve Bus
Santa Elena downtown to Monteverde Cloud Forest Reserve public bus: 615 AM, 730 AM, 930 AM, 120 PM and 3 PM. Departs from Banco Nacional in Santa Teresa and costs 700 colones or about $1 USD per way.
Return is at 640 AM, 830 AM, 11 AM, 2 PM and 4 PM.
Driving
The main road through Santa Elena town (Route 606) and Cerro Plano is paved but other than that, all the other roads are unpaved and very bumpy. This is why a SUV 4wd/4×4 is recommended as the roads aren't in good conditions.
What To Know About Visiting Monteverde, Costa Rica
Most people stay 1-2 days. For 1 full day in Monteverde, most people do either a full day at the adventure parks or a full day hiking the reserves. People who stay longer are usually the birdwatchers.
Bring a jacket and long pants. At night it gets cold, especially if it's windy and this area can rain anytime of the year. There are lots of clothing stores in downtown Santa Elena if you forget to bring a jacket.
Most of the reserves have binocular for rent. If you're there to see birds/photograph animals, you must have a telephoto lens. I used a 100-400 mm lens on a crop sensor Canon 80d. Make sure you have a good sturdy tripod.
A common question we get is if they should visit Monteverde or Arenal. Both are very different so you will need to read up on them to decide. Check our post comparing Arenal and Monteverde to see which one is right for your itinerary. If you can, visit both!
What to Pack for Monteverde, Costa Rica
Warm clothes and a waterproof rain jacket. I love my North Face rain jacket.
Closed toed hiking shoes, waterproof recommended. If you wear trainers or running sneakers, they will most likely get wet and muddy. Bring a good pair of hiking shoes especially if you're planning to hike the cloud forest reserves. When we visited Selvatura Park, we wore our KEEN hiking sandals which was fine since we were mostly walking on hanging bridges but my feet were cold since it started raining.
Waterproof gear: backpack, phone cover, etc. This is a must especially if you are a photographer and carrying around camera equipment. You can also get a rain cover for your backpack if it's not waterproof. We brought our Aqua Quest waterproof backpacks which worked spectacularly.
Monteverde, Costa Rica Video
Check out our short video to see Santa Elena town, some of the cloud forest reserves and wildlife.
Read other Costa Rica guides here!
This post has affiliate links.