Are you looking for a sample Costa Rica itinerary? In this post, I have outlined our favorite Costa Rica itinerary ideas. You'll find recommendations for itineraries of 4 days to 1 month, very helpful for your Costa Rica trip planning.
We have created many itineraries for our family and friends and Yeison was an itinerary planner when he worked for a Costa Rican travel agency, so we know exactly what to include and what information is important. We have written these itineraries to give you a kickstart to your Costa Rica itinerary planning. Feel free to change them up according to your own wants and needs!
What You Will Find In These Costa Rica Itinerary Ideas
Destination Information
Each itinerary contains a short snippet of important information about each destination such as what the place is known for and the highlights of the area.
Transportation
How to get around this itinerary. Distance and driving times from San Jose and Liberia Airport. Also has information on how to get around each destination.
Where to stay, what to eat, what to do
Our recommendations for hotels, hostels, lodges and Airbnb/vacation rentals. Also includes recommendations for restaurants and things to do and day tours.
Budget
An estimation of how much you will spend for that itinerary, particularly on hotels and tours.
Extra Travel Tips
Miscellaneous travel tips related to the Costa Rica itinerary ideas. Kid friendly? Better for couples? Things to know about certain destinations, tours, etc. Recommendations for other beaches and towns to visit/stay nearby. What to pack. Weather. All that kind of good stuff so you are prepared for your trip.
Discounts
We include our own Mytanfeet exclusive discounts so you can save money on car rentals, hotels and tours. There are also helpful links to other posts and resources in the itineraries so you can be fully prepared for your trip.
I'll be updating this post whenever I write new itineraries so don't forget to check back!
One Month Coast to Coast
Highlights
Destinations: Puerto Viejo de Talamanca, La Fortuna, Monteverde, Playa Hermosa, Samara, Manuel Antonio, Uvita and Drake Bay.
This itinerary goes to both the Caribbean and Pacific coasts of Costa Rica. Must rent a car for the ultimate road trip adventure. If you don't rent a car, you will have to book shared/private shuttles.
Must fly into and out of SJO (San Jose International Airport).
For adventure, beach, wildlife and nature lovers looking to experience the best of Costa Rica all in one trip. Ideal for active travelers: solo travelers, couples, backpackers and older families.
Two Weeks Beach, Adventure, Nature, Forest
Highlights
Destinations: La Fortuna, Monteverde, Santa Teresa and Playas del Coco
Fly into LIR or SJO Airport, must fly out of LIR Airport.
Includes beach, rainforest, volcano, cloud forest, adventure and relaxation. Ideal for any traveler as it has a mix of relaxation, beach time and some adventure. Good for solo travelers, backpackers, couples and families.
Two Weeks: Tortuguero, Arenal, Monteverde, Guanacaste
Highlights
Destinations: Tortuguero, La Fortuna, Monteverde, Tamarindo/Samara/Gulf of Papagayo
Two Weeks: Tamarindo, Monteverde, Bijagua and Rincon de la Vieja
Highlights
Destinations: Monteverde, Bijagua, Rincon de la Vieja and Tamarindo. Visits the cloud forest, rainforest, volcano and beach.
Must fly in and depart from LIR Airport. You must rent a car – 4wd or at least a car with high clearance.
Is ideal for those who like hiking and nature – this Costa Rica itinerary goes to just 1 beach town so more rainforest, less beach. This itinerary focuses a good deal on hiking to see the dry and tropical rainforests so travelers need to be active and with good energy.
10 Days Chasing Waterfalls: Rincon de la Vieja, Bijagua, Bajos del Toro and Manuel Antonio
10 Day Itinerary: San Jose, Puerto Viejo and Manuel Antonio

One Week Itinerary: Jaco, Manuel Antonio and Uvita

Costa Rica Family Itineraries: 7/8 days (2 itineraries)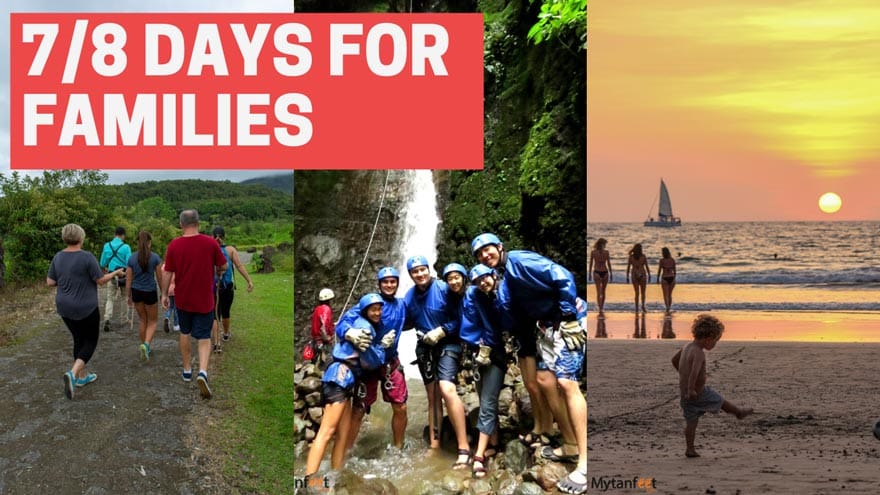 Costa Rica Itinerary 8 days: Playas del Coco and La Fortuna

Guanacaste 5 Days
San Jose 5 Days
5 Days Arenal and Monteverde