Cahuita National Park is one of the best national parks in Costa Rica due to its stunning white sand beaches, lush jungle and plethora of wildlife. It's not very far from Puerto Viejo and it's free, making it one of the must do's in the Caribbean south. If you love wildlife, hiking and nature, then you have to visit Cahuita.
We visited for the first time in November 2017 and it's now one of our favorite national parks in Costa Rica.
**Update August 2019** Cahuita National Park now has a handicap accessible trail! It goes all the way to the beach so you can enjoy the rainforest and the beach!*
There are Amazon affiliate links in this post.
Click to skip to the section.
National Park Information
As the most easily accessible national park in the Caribbean south of Costa Rica, Cahuita is a favorite among many. It consists of 2,732 acres of land and 55,200 marine acres and was created to protect the largest coral reef in the country. With stunning white sand beaches, a plethora of wildlife and a well maintained walking trail, this national park is a must for anyone visiting Puerto Viejo in the South Caribbean of Costa Rica.
The 600 acre reef has around 35 species of coral, over 100 species of fish and mollusks, crustaceans and sea turtles. There are also a few rivers in the park so a variety of wildlife can be seen such as white face monkeys, herons, caimans, sloths, snakes and lizards.
Cahuita is not that touristic and is the perfect place for any traveler wishing to experience the Costa Rican wildlife, jungle and beaches in a pristine and peaceful area.

Location and Directions
You can easily go from Puerto Viejo to Cahuita by driving or bus. From Puerto Viejo to Cahuita it is around 17 kilometers (10.5 miles)
From Puerto Viejo, just get back on the main road and drive north. Turn right when you see Restaurante Cabinas Vaz #2 to get to the Kelly Creek entrance. Continue straight and turn right at the intersection to reach the ticket office.
By bus, you can take the Limon to Puerto Viejo bus and get off at Cahuita.
How to get to Cahuita from San Jose by bus: There is a bus leaving from Terminal Atlantico on Ave 7/9, Calle 12 every day at 6, 10, 2 PM and 4 PM. Arrive 30 minutes – 1 hour early to purchase tickets and it arrives at the Cahuita bus terminal.

Cahuita Town

The national park is in Cahuita town which is a small local town. It's a nice place to stay if you don't want to be in the midst of all the Puerto Viejo ruckus. There's not too much there but that is exactly why people love it.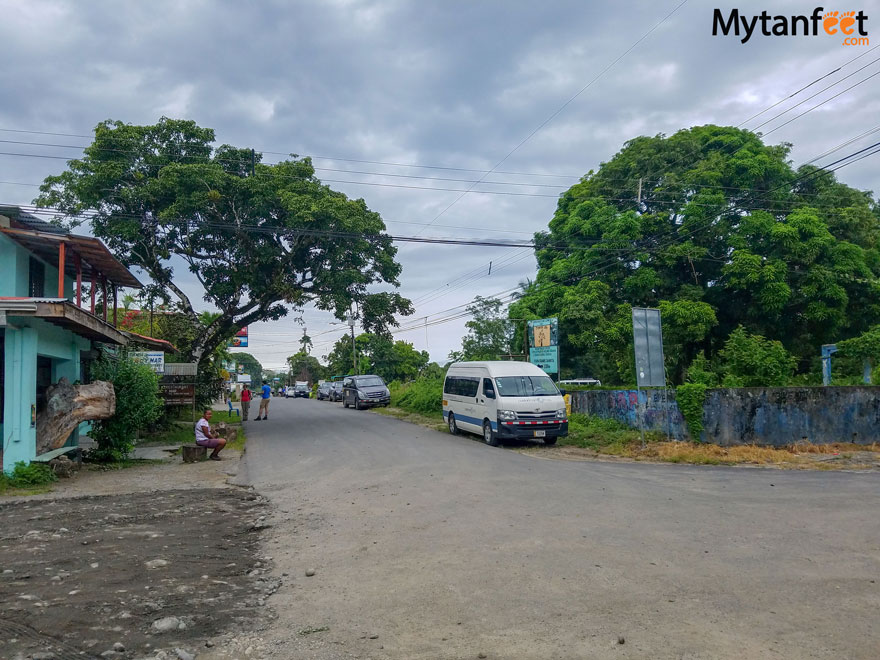 Even with the national park, there aren't as many tourists in Cahuita as Puerto Viejo. You'll see mostly locals and tourists going to the national park for the day. Many foreigners choose to live in Cahuita rather than Puerto Viejo because it's much quieter and more peaceful in this area.

Hours and Entrance Fee
The Cahuita National Park entrance is free, it's by donation at the main entrance. However, if you enter the park through the Puerto Vargas sector which is closer to Puerto Viejo, it is $5 for foreigners and 1,000 colones for Costa Ricans.
The national park is open every day 8 AM – 4 PM and Cahuita Point closes at 2 PM.

Map
Here is the map of Cahuita National Park. You can see the hiking trails, the coral reefs, the various view points and the different entrances.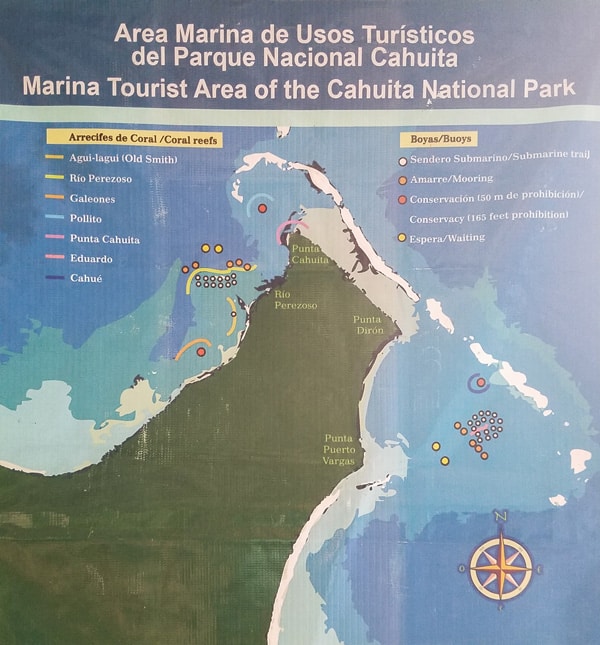 There are maps at the entrance office but it's a fairly straightforward path. The trail goes along the shore the entire way and you can see on the map where the reefs and rivers are.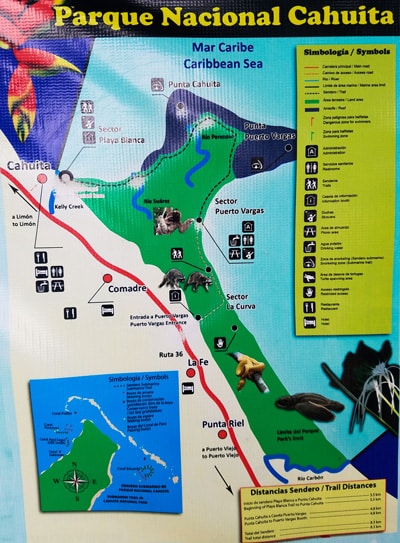 The entire trail is 8 kilometers (almost 5 miles) but it is not a loop, it's a straight line. So if you want to hike the whole park, you will need to back track and that is pretty long. Most people walk to Punta Cahuita from Kelly Creek or you can do the whole hike from K.Creek to Puerto Vargas and then take a taxi back to pick up your car (or vice versa). There is a parking lot at the Puerto Vargas entrance.

Cahuita National Park Beaches
There are two beaches inside Cahuita: Playa Blanca and Puerto Vargas. These are two of the most beautiful beaches in Costa Rica with gentle palm trees, white sand and bright blue water.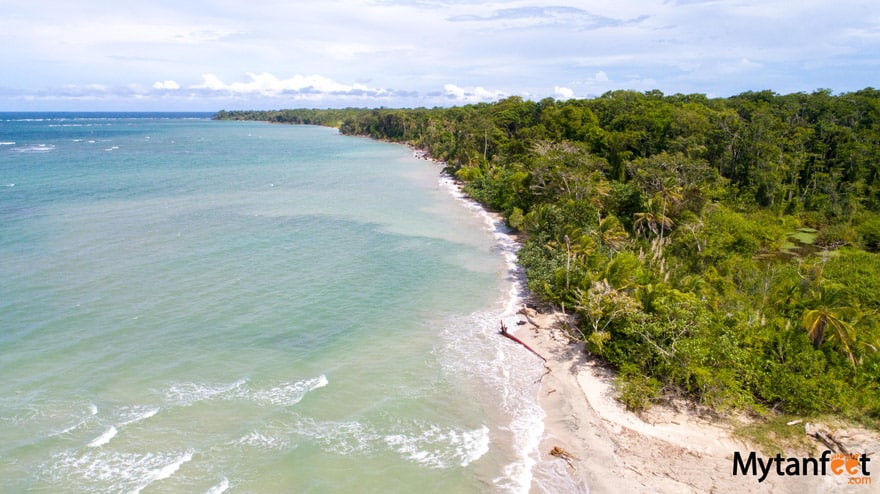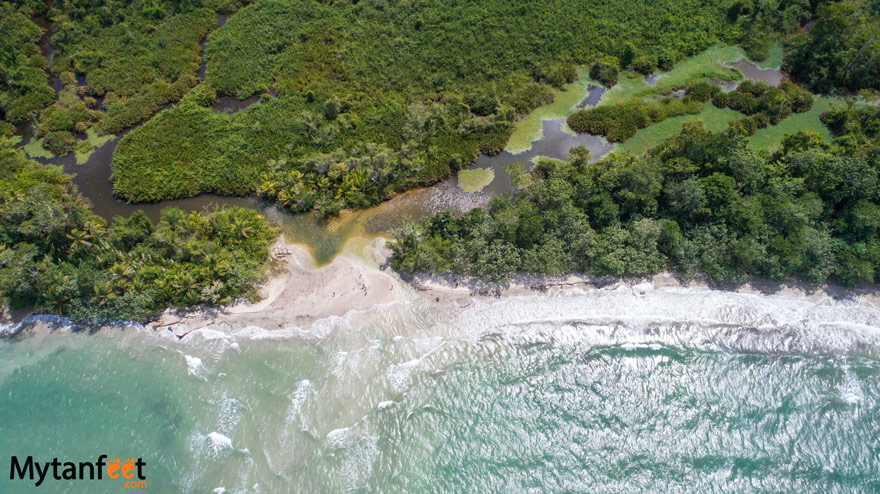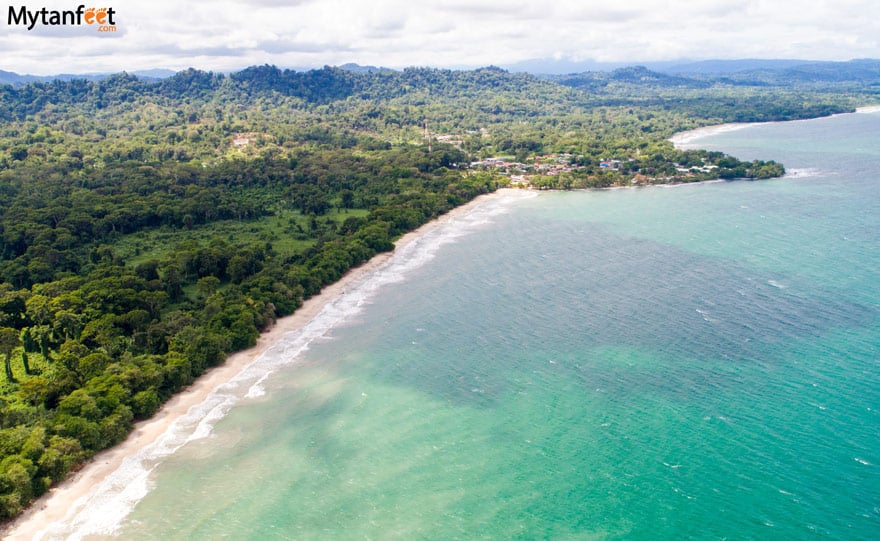 Both have white sand, calm waters and contain coral reefs. Swimming is allowed but do be careful not to stand on coral. Although the beaches are nice for swimming, most people go to Cahuita to hike and see wildlife.

Wildlife

One of the reasons why people love the Caribbean coast is the abundant wildlife. Cahuita National Park is one of the best in Costa Rica to see animals because of the year long lush rainforest.
As you enter the national park, make sure to check out the river on the right hand side. We saw a 2-fingered sloth, Jesus Christ lizards and a heron right there! I was stunned by how much wildlife we saw right off the bat and we had barely started the hike!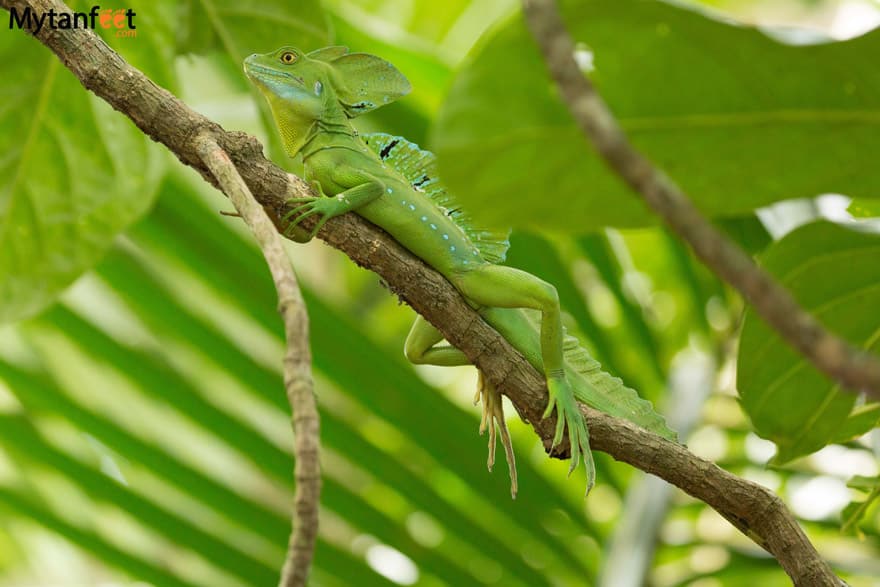 Since we did a guided hike, we were able to see a lot of wildlife thanks to our guide. We saw howler monkeys, several sloths and two pit viper snakes, right from the trail in the park. A word of caution: make sure not to stray off the path or go around touching trees and bushes. We saw a couple viper snakes curled up in the trees not too far from the path.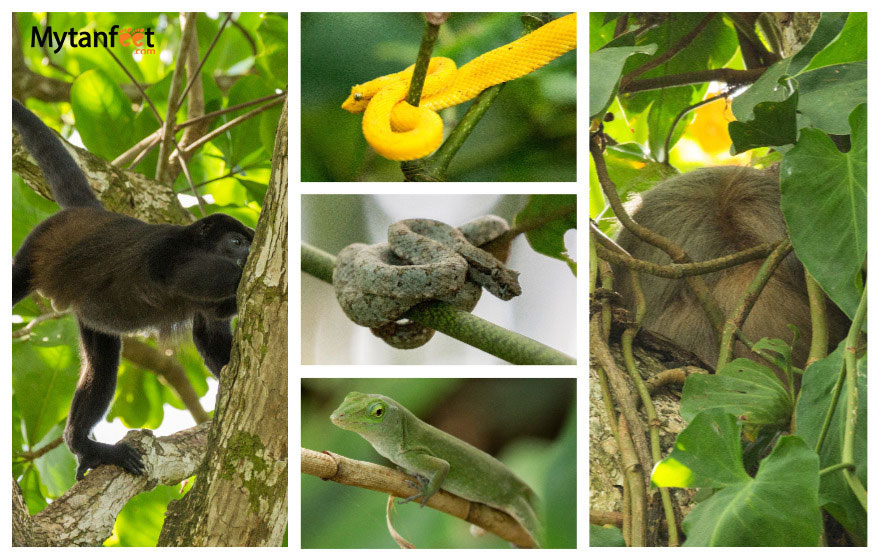 You can also see anteaters, crabs, white face monkeys and caimans. White face monkeys are usually sen in Cahuita but we didn't get lucky that day.
I don't really know which other national park in Costa Rica where you can see so much wildlife in a short distance except Manuel Antonio National Park and Corcovado National Park! We could have spent all day there looking for animals.
Cahuita National Park tours
We highly recommend doing a guided hike in Cahuita. There is plenty of wildlife but it can be hard to see to the untrained eye so it will be very nice to have a guide to find and point them out.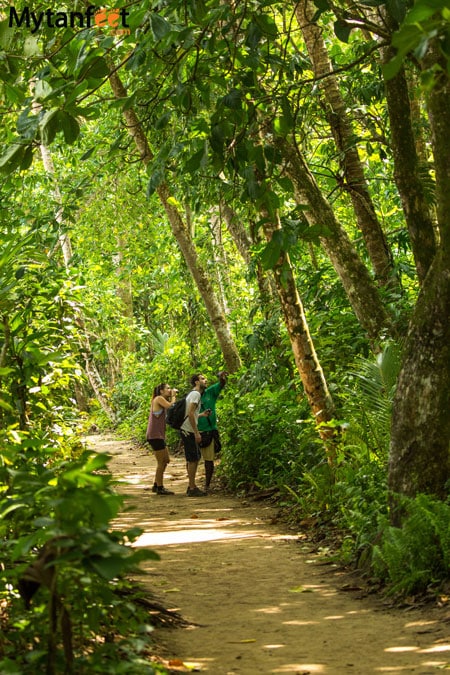 Other tours you can do in Cahuita are snorkeling tours. Since this park protects coral reefs, the snorkeling is excellent but you must go on a tour, you can't bring your own gear and go on your own.
Snorkeling depends on the conditions since visibility is not great on the Caribbean coast but the best months are September and October (the Caribbean summer months). Cahuita snorkeling tours will take you on a boat out to Punta Cahuita to snorkel a bit and then take you on a guided hike through the national park. Tours cost $55 per person and includes transportation with Caribe Fun Tours.
Hotels
There are many hotels in Cahuita town and near the entrance of the national park. Here are a few hotels we recommend:
Kelly Creek Hotel: This hotel is right at the entrance of the national park. It has 4 rooms, hammocks on the porch and includes breakfast. One of the most popular hotels in Cahuita.
Hotel El Encanto: Small hotel with bungalows, standard rooms and suites. 5 minutes from the national park, has a massage area and restaurant.
Hakuna Matata Hostel: Nice hostel by the bus station with a pool, shared kitchen and hammocks.
Atlantida Lodge: This small hotel has suites and standard rooms, a restaurant, bar and a nice garden.
As for restaurants, there is a nice local restaurant called Soda Kawe. Villa Amapola and El Rincon del Amor are two other good options.
What to Know Before You Visit Cahuita, Costa Rica

There are toilets, showers and picnic tables at the Kelly Creek station. When we went, there wasn't any toilet paper or soap so bring tissues and hand sanitizer.
The weather in Cahuita is typical Caribbean weather so it doesn't follow the normal tropical seasons. There are no distinct dry and rainy seasons on the Caribbean coast and it may rain all year long. The summer months are September and October and the rainiest months are normally June and November. This area is also very humid.
Mosquito repellent and suncreen is a must. Since this area is so humid, mosquitoes are very bad. If you have camera gear, make sure to bring a waterproof backpack.
You can wear shorts and a tshirt. For shoes, you don't need hiking shoes or boots. The trails are all flat and nicely laid out so you can even wear flip flops.
There is parking at both entrances but don't leave valuables in the car.
If you have your own transportation, you can hire a guide at the national park. Make sure they are ICT Certified (Costa Rican tourism board). Ask to see their badge.
Don't feed or touch the animals. Don't stray off the path.
If you want to photograph wildlife, we recommend a telephoto lens of at least 300 mm and a tripod.
Our Cahuita Video
Read about other national parks in Costa Rica below!
Rincon de la Vieja National Park
There are affiliate links in this post.