Considered one of the most beautiful beaches in Costa Rica, Playa Flamingo boasts the classic characteristics of a tropical beach paradise with pillowy soft white sand and clear blue waters. This crescent shaped beach houses the country's largest marina and is a favorite among beach bums.
But for those looking to visit a stunning beach without the hustle and bustle of a busy beach town, Flamingo offers everything one needs for a relaxing vacation getaway. In this Flamingo beach guide, you will read about the town and beach to help you plan your visit.
This post has been updated March 2018.
Click the section to skip to it.
Playa Flamingo Costa Rica Location
Playa Flamingo Costa Rica map.
Flamingo beach sits in between Brasilito Bay and Potrero Bay in the
Guanacaste
province next to some of the most beautiful beaches in the country. Flamingo is 41 kilometers (27 miles) from Liberia Airport.
How to get to Flamingo
Driving
From Liberia Airport, it is about a 1 hour and 15 minute drive. You can find the route on Waze and make sure it is the route through Huacas. Sometimes Waze will try to take you through Route 911 which is an unpaved hilly road so if you aren't renting a high car, do not go on that route. Huacas and Belen are all on well paved roads.
Bus
There is a bus every day from Liberia to Flamingo at 430, 6, 8, 11 and 6 PM with Transportes La Pampa from the main bus station in the city. This is about 2.5 hours. From San Jose, there is a bus every day at 8, 1030 and 3 PM with Empresa Tralapa on Calle 20, Ave 1-3. This takes 6 hours.
Shuttle
You can take shared and private shuttles to Flamingo. From Liberia Airport to Flamingo, a private shuttle is around $80-90 and a shared is $55 per adult from San Jose with Interbus.
To get around Flamingo, you can walk since it's a small beach. But to go to other beaches and towns, you will need to rent a car because it is difficult to get around this part of Guanacaste without one. There are taxis to nearby towns but those will add up greatly since some beaches are far away.

The Beach and Town
Although Flamingo is a well known beach, it still feels like you're in your own paradise. There are plenty of trees to lay in the shade, the waves are soft enough for swimming and the scenery is beautiful. If you're looking for a white sand beach in Costa Rica, this is one of the best!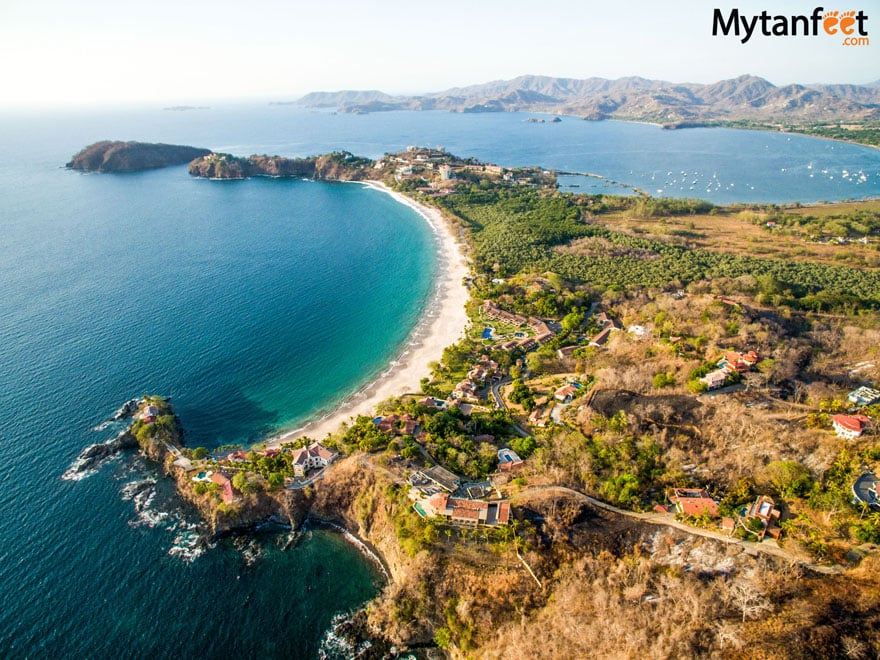 Flamingo doesn't have a dedicated downtown but there is one main road that runs along the beach that has restaurants, hotels, houses and small grocery stores. Due to Flamingo's excellent location and natural beauty, many wealthy foreigners and Costa Ricans choose this area to develop their projects or build their dream retirement home. Because of this, you will find only mansions, luxury condos and high end hotels in Flamingo.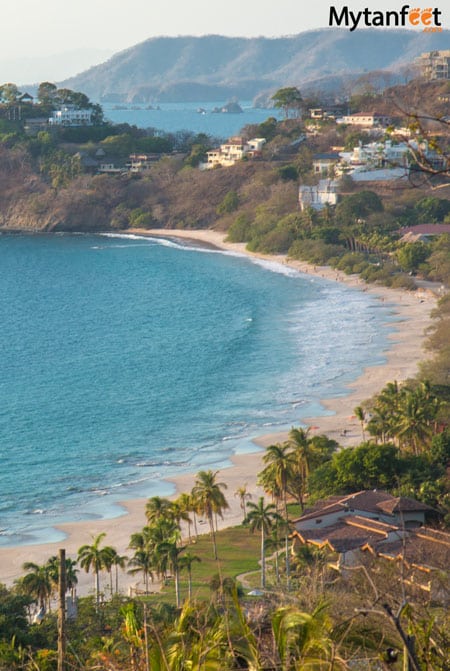 You may wonder where this beach got its name from. During some times of the year in the right weather conditions, the sand turns a very light pink like in the picture above. This is why it's called Flamingo!
You can watch an aerial video of Brasilito and Flamingo in the video below. Skip to second 30 to see Flamingo.
Things to do in Flamingo
Since Flamingo is close to many other beaches/beach towns, you can easily enjoy the activities in the area.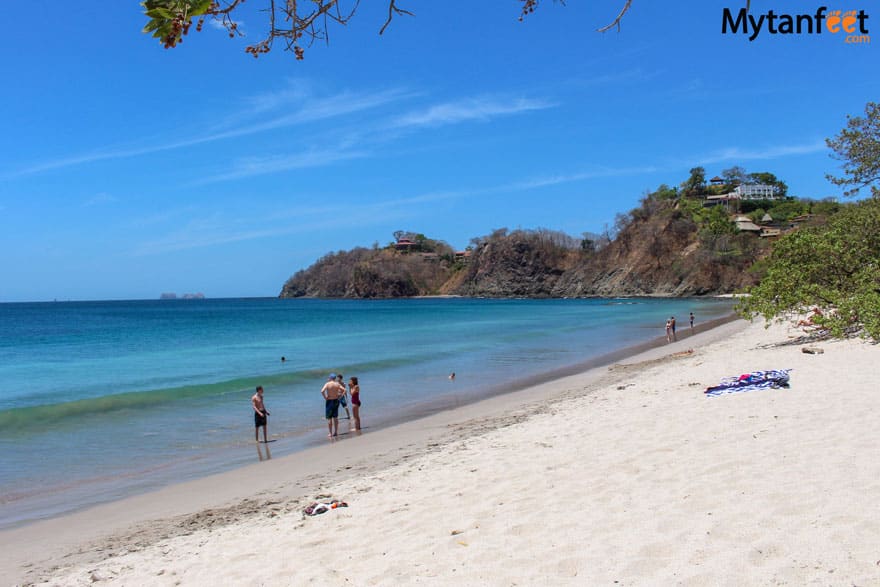 Here are some fun things to do in Flamingo.
Fishing
With its world class marina, Flamingo is known for excellent fishing. You can take a deep sea fishing trip to catch marlin, rooster fish, sail fish, grouper and other big fish (catch and release only). You can also do in shore fishing trips to catch snapper, tuna, jacks and wahoo (you can keep these). Flamingo Sport Fishing runs fishing charters out of the marina.
Snorkeling
Snorkeling is a MUST do in Flamingo! There are some great snorkel spots nearby and the best way is to take a boat ride as the snorkeling spots are not on shore. For the best experience, a private snorkeling tour in Flamingo is a must, especially for families and friend groups.
Scuba Diving
Flamingo is also well known for incredible scuba diving since the Catalinas Islands are nearby. There are several dive shops in and around Flamingo like Pacific Coast Dive Center and Costa Rica diving where you can go on dives or get your certification.
Sunset Sailing
Go on a sunset cruise from Playa Potrero to see beautiful views of the coastline and snorkel.
ATV Tours
Take an ATV to go around Flamingo and nearby beaches. Most tours go up to an awesome view point of Brasilito and Flamingo.
Visit Other Beaches
Flamingo is close to some of the nicest beaches in Costa Rica and it's worth venturing to one or two. Some great beaches are Brasilito, Potrero, Mina, Danta, Las Catalinas, Conchal, Grande or Avellanas.
Day Trips
You can also take day trips from Flamingo since it's an excellent home base in Guanacaste. Do the Guachipelin adventure tour in Rincon de la Vieja to go ziplining, horseback riding and white water rafting, visit Arenal Volcano National Park, beach hopping in Playas del Coco, go on the Nicaragua one day tour, learn to surf at Tamarindo, see turtles at Ostional Wildlife Refuge or go ziplining and see sloths at Diamante Eco Adventure Park.
You can also take Flamingo snorkeling excursions right from the marina. Our recommendation is to take a private boat tour so you can experience the beautiful hidden beaches and coastline to the max!
Looking for a unique activity? Splurge a little and go on a scenic Costa Rica helicopter tour. See the stunning Guanacaste coast from the air!
If you want to visit some less touristy beaches in the area, check out Puerto Viejo Conchal, Playa Mina, Playa Lagartillo and Playa Prieta.
Flamingo Beach Costa Rica Hotels
Since Flamingo is a high end beach town, you will find mostly luxury condos, apartments, hotels and house rentals. For those on a budget, you will need to stay in Potrero or Brasilito since there are more budget friendly options there.
Luxury homes are very common in this area. If you're looking for long term rentals, you can find a gorgeous 3 bedroom villa with ocean views starting at $2,500 a month. Check Homeaway, VRBO or Airbnb.
For hotels, check out Margaritaville, Flamingo Marina Resort, and Paradise Flamingo Hotel.
Flamingo Costa Rica Weather
Flamingo is in northern Guanacaste, one of the hottest places in Costa Rica. This area experiences longer dry seasons which is one of the reasons why its so popular. Dry season is from beginning of December to beginning of May and rainy season is from mid May to end of November. It doesn't normally rain too much May – August and the rainiest months are October and November.
Highest temperatures in Flamingo are 90s to 100s in dry season (32 to 38 C) during March and April. Make sure to bring plenty of sunscreen, mosquito repellent as well as a hat and sunglasses!
*This post has affiliate links*