Playa Hermosa, known for its fantastic surfing waves is an excellent place to stay if you're looking for a laid back chill beach atmosphere. As it is very close to Jaco, a popular, bustling beach town, visitors can enjoy the exciting nightlife of Jaco but come back to a quiet, low key beach to sleep. Here is our guide to Playa Hermosa (Jaco), Puntarenas.
Hermosa means beautiful in Spanish and with so many beautiful beaches in Costa Rica, make sure not to get it confused with the Playa Hermosa in Guanacaste, Playa Hermosa in Santa Teresa or Playa Hermosa by Uvita!
There are affiliate links in this post.
Location
Playa Hermosa is 106 kilometers (66 miles) from San Jose. It is 8 kilometers (5 miles) from Jaco beach.
How to Get to Playa Hermosa (Jaco)
It is not difficult to get to Playa Hermosa. You can drive, book a shuttle or take the public bus as it is only about a 1.5 hour drive from SJO International Airport.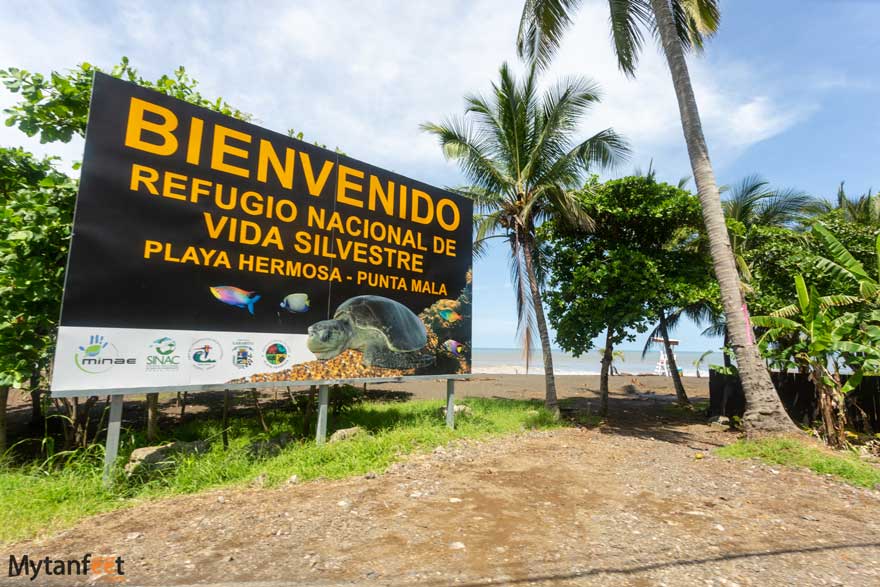 Driving: From San Jose, it is about a 2 hour drive on a route that goes through a well paved highway. Make sure to stop at the famous Crocodile Bridge along the way!
Bus: Take the bus in San Jose to Jaco from Terminal 7 10, then at the Jaco bus stop, take the bus to Quepos. Tell the bus driver you want to get off at Playa Hermosa and they will drop you off in town.
Shuttle: You can take private shuttles that are around $160 USD one way from SJO International Airport depending on the number of people.
You can use GPS app like Waze or Google Maps to get to Hermosa. The turn will be to your right off the main highway and you will see lots of signs along the way.
If you're driving, there is a very nice viewpoint right outside of Jaco that I recommend to stop at. There is a big JACO sign and you will see several cars stopped there. You may even see some Scarlet Macaws there!
Parking
There isn't really one dedicated parking lot at Hermosa beach. Instead, you will find areas to park on the street running parallel to the beach. You'll see lots of cars parked like the photo below and anyone can park there.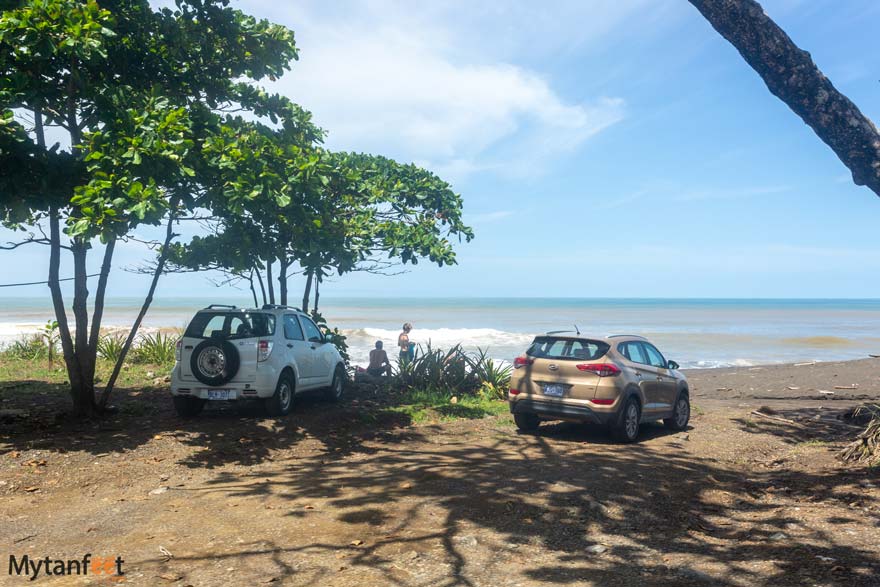 There aren't any parking guards or security so make sure to lock your doors and roll up your windows if you park. If your whole group plans to go surfing, we recommend to purchase a Master Lock to lock the car key, especially if you have an electronic car key.
4×4 required?
Nope! The road to Playa Hermosa is on a highway and then road through Hermosa is on a partially paved road. There are some big potholes so just drive carefully around them but a 4×4 is not necessary. You will see most visitors rent a 4×4 however as they probably plan to drive further down south where that type of car is required (Costa Ballena, Osa Peninsula, Pavones, etc).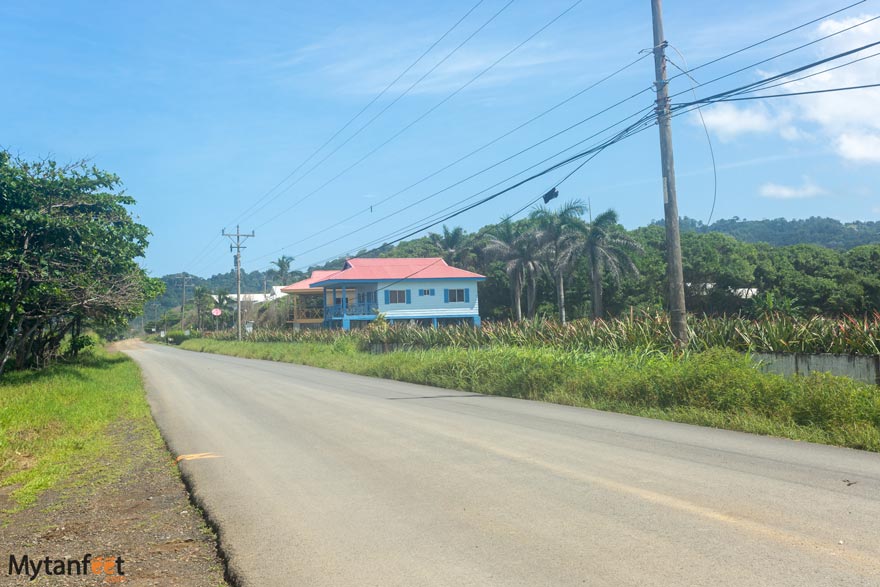 The road is partially paved and it will end at a gated community. Because Hermosa beach is also part of a wildlife refuge, they don't have roads that go further down the beach.
How to Get Around
If you decide to use Playa Hermosa as your home base in Costa Rica or are simply staying for a few days, the best way to get around is by car. There isn't too much at Hermosa except for the several restaurants and hotels spread out in the small town center. Most of the restaurants, shops, banks, supermarkets are in Jaco and attractions require a car to get there.
Playa Hermosa Beach
Hermosa beach is a long and wild one, stretching for a total of 7 kilometers (4.3 miles) total including the part of the refuge. It has dark sand, not much shade and consistent surfing waves.
You won't find large crowds, bars blasting reggaeton or parties on the beach here. Instead, you'll notice it's quiet, with just the sound of the birds and waves to listen to. Every time we've visited this Playa Hermosa by Jaco, we only see a handful of people and majority of them are surfers.
The tranquility is one of the reasons why people love Hermosa, even those who don't surf.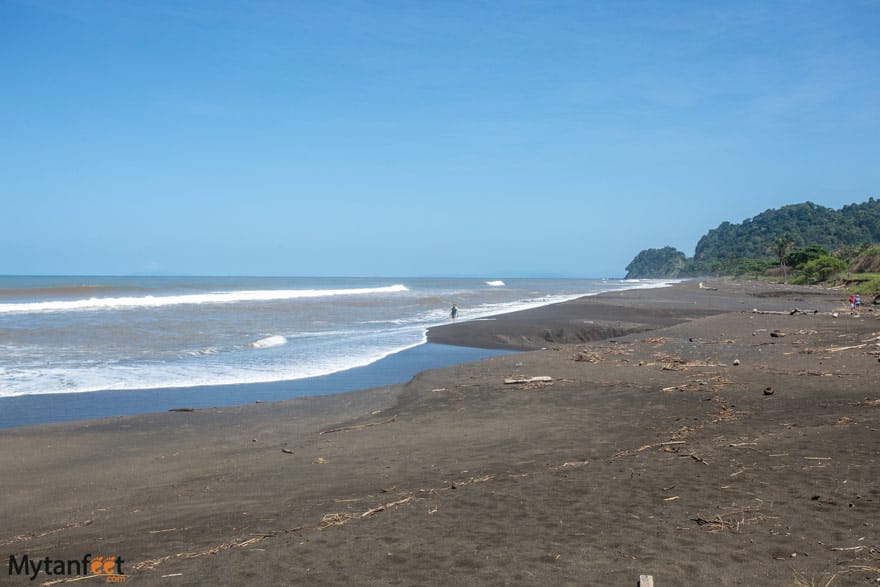 It's perfect for long strolls on the beach, watching the sunset and relaxing with a cold beer while you watch the surfers paddle out.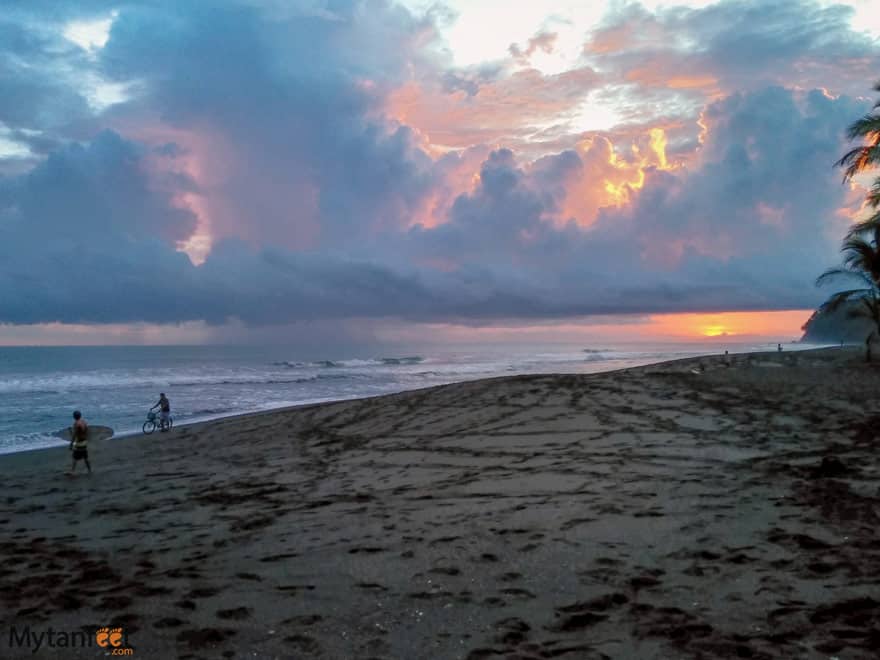 Surfing Playa Hermosa
Being on the Central Pacific coast and a surfing beach, Playa Hermosa is not suitable for swimming at all. It's perfect for catching sweet barrelling waves which is why this beach is known as the national stadium for surfing in Costa Rica.
This name is now even more appropriate as Playa Hermosa was named the first World Surfing Reserve in Central America in 2020. This is a huge deal for the local community and for the beach as it'll pump up its status as a premiere surfing beach even more!
Note: This beach does experience rip tides and strong currents so it is not suitable for swimming at all, whether you're an adult or experienced swimmer. There aren't lifeguards at this beach either so whatever you do is at your own risk.
In addition, Hermosa beach is not suitable for first timers or fresh beginner surfers. If you want to take a lesson, then Jaco is your best option for surf lessons, especially beginners. But if you are a shredding shortboarder with plenty of worldwide surfing experience, then Hermosa is a surfing beach you need to visit in Costa Rica! Lots of locals go to Playa Hermosa to kayak surf or stand up paddle surf too.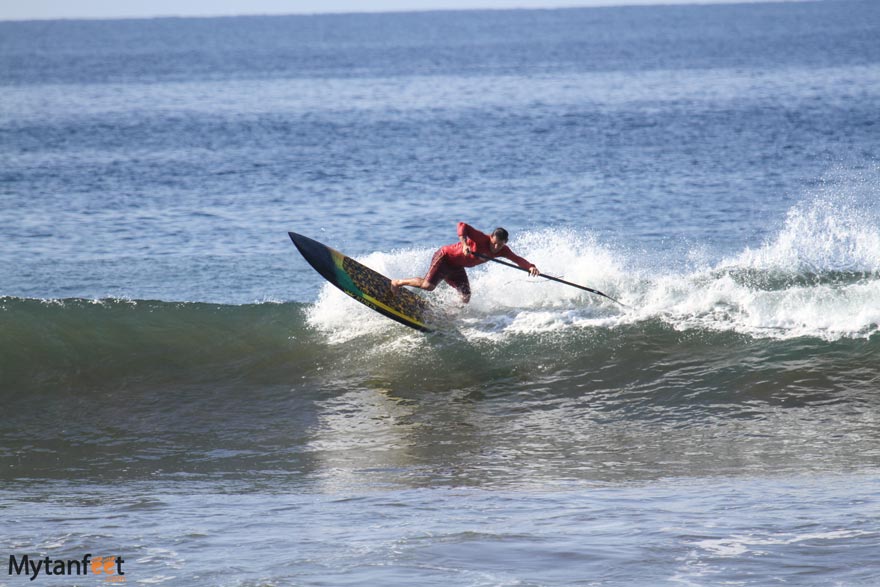 If you need to rent boards, you can rent surf boards in Playa Hermosa at Hermosa Rider Surf School or any of the surf shops in Jaco. You can rent daily or weekly, daily is around $20 USD and weekly is around $120 USD.
Hotels and Surf Camps
There are a few rentals and a handful of small hotels in Playa Hermosa, don't expect any huge resorts. You can also find many vacation rentals on Airbnb and VRBO as there are some nice neighborhoods in the area.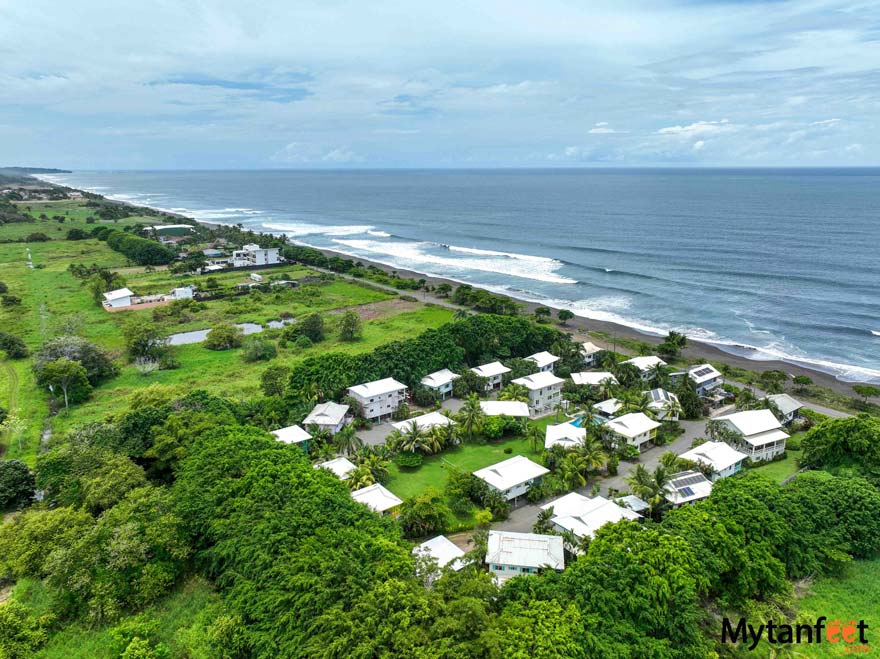 Playa Hermosa may be a good place for you to stay if you do not want to be in a busy tourist town like Jaco or you plan to surf there and you will have to rent a car to get around. If you do not plan to rent a car and would rather be close to all the action, then you should stay in Jaco instead.
As for surf camps, Hermosa Riders Surf School and Surf Inn Hermosa are two places in Hermosa that offer surf vacation packages and intermediate to advanced lessons.
Restaurants
You can find several restaurants throughout Hermosa, most as part of a hotel. The Backyard Hotel has a good restaurant, Pizza Pata is a nice local spot for pizza, Vista Hermosa is a good restaurant and bar and Hotel Las Olas has good sushi.
Things to do and Day Tours from Playa Hermosa
Playa Hermosa by Jaco is in a great location to experience beach, jungle, wildlife and nature, not just surf. Two wonderful national parks, Carara and Manuel Antonio are within a 1 hour drive and there are many adventures park like Vista Los Sueños, Rainforest Adventures and the Ranch nearby to zipline, horseback ride, ATV and go canyoning. An awesome day tour is the Tortuga Island 1 day cruise to see a white sand beach and go snorkeling.
You can check our post "things to do in Jaco" for more ideas.
There are tour companies in the Jaco area that include round trip transportation from Playa Hermosa. Feel free to contact us if you're interested in booking tours from Hermosa!
If you happen to visit during the rainy season months like June – November, it is possible to go with a guide for sea turtle nesting tours. When we stayed at Hotel Tramonto in November, there was a guide offering turtle tours and the guests saw two turtle nesting that night. The turtle conservancy sometimes does baby turtle releases, check the ReservePlayaTortuga Instagram page to see when they announce baby sea turtle releases. This is mostly during October and November.
What to Know About Visiting Playa Hermosa, Puntarenas
Although most non-surfers stay a night or two, it is possible to stay at Playa Hermosa as a home base or for a longer stay. If you do stay longer than a night or two, we highly recommend renting a car to get around.
Not the best place to base yourself in Costa Rica for young families due to lack of accommodation options, restaurants and services.
Not a good beach for swimming.
Read About Other Surfing Beaches below!
Tamarindo (beach town in Guanacaste)
Playa Grande (popular surfing beach in Guanacaste)
Playa Avellanas (another popular surfing beach in Guanacaste)
Cocles (beach in the South Caribbean)
Dominical (popular surfing beach town about 1.5 hour drive from Playa Hermosa)
Costa Rica Vacation Checklist