Jaco beach is the closest beach town to the capital city of San Jose, making it a popular destination for locals and tourists. Known for having some of the best waves in the country, Jaco attracts visitors from all over the world looking to soak up sun and surf for their vacation.
Jaco Beach
Jaco beach is 2 miles (3.2 km) of pure surfing waves with dark sand and deep blue waters. The surrounding landscape stays green all year long due to the nearby Tarcoles river and high humidity of the tropical rainforest.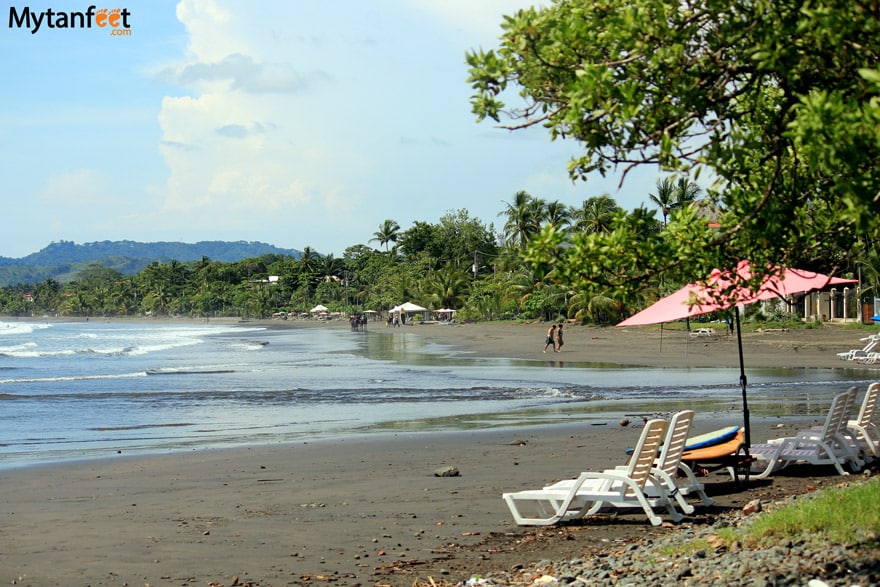 The shore is fairly rocky, therefore it's not the best for sunbathing or laying out but you can find a few sandy and shady spots. Jaco beach is best for surfing and long walks, especially during sunset time.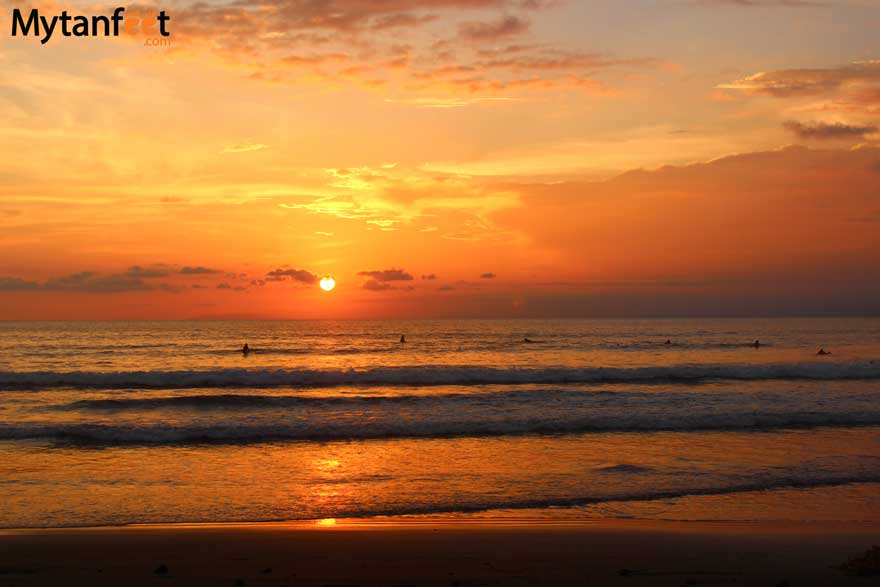 Our favorite spot on this long beach is at the south end. This spot is popular for surf lessons and there is a nice walking path made from recycled plastic bottles.
You can swim in Jaco Beach but be careful of rip tides which are common. Do not go all the way out in the ocean, it's best to stay within knee level water. Do not let young children, kids and babies in the water unsupervised at all.
The Town
As Jaco is so close to the capital, this beach town is the most developed one in Costa Rica. There is everything available such as pharmacies, restaurants, supermarkets, banks, ATM's, souvenir stores, car rentals, all inclusive resorts and condos. It is very much like a city beach.
See what the town looks like in the video below! Taken July 2022.
Things to Do in Jaco, Costa Rica
Below are our recommended things to see and things to do in Jaco. You can read the full things to do in Jaco blog post here.
Surfing
Take a lesson at any of the surf shops in town to experience the feeling of catching waves.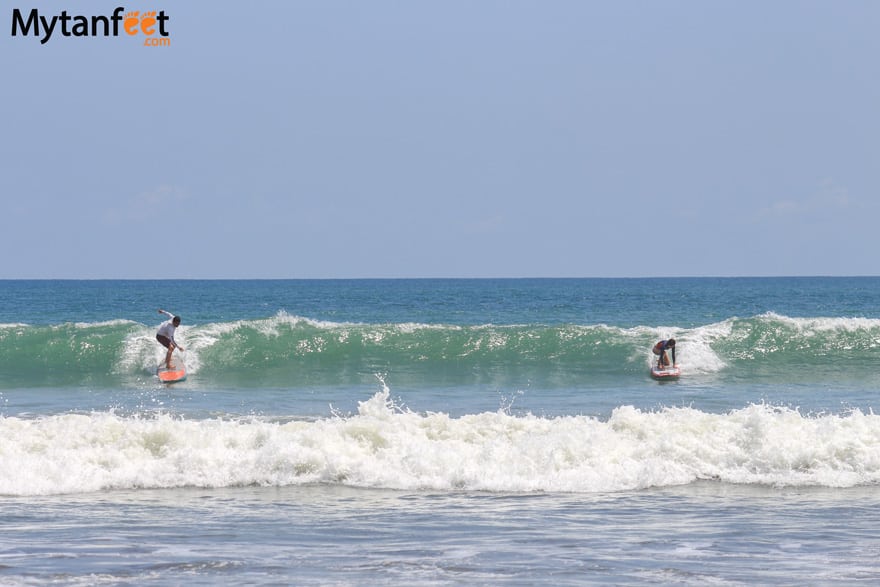 A group lesson costs around $50 USD per person for about 2 hours. Private lessons are also available.
Stand Up Paddle Board
For SUP classes, the best place is at Playa Herradura or Agujas. We did a stand up paddle boarding tour and snorkeling tour with Kayak Jaco from Playa Agujas. We went all the way to Playa Mantas and then to Playa Blanca which was a wonderful experience as we got to see wildlife and snorkel.
Vista Los Sueños Adventure Park
Go ziplining, ATV'ing canyoning and horseback riding at Vista Los Sueños. They have a beautiful property with ocean views and a delicious restaurant. They've added a chocolate tour for a full day of Costa Rican fun, adventure and culture. Get our Vista Los Suenos discount here!
Jaco Waterfall Tour
Because of the lush mountains outside Jaco, there are many waterfalls. As many of them are up in the mountains that require a 4×4, the best way to see them is to go on a waterfall tour.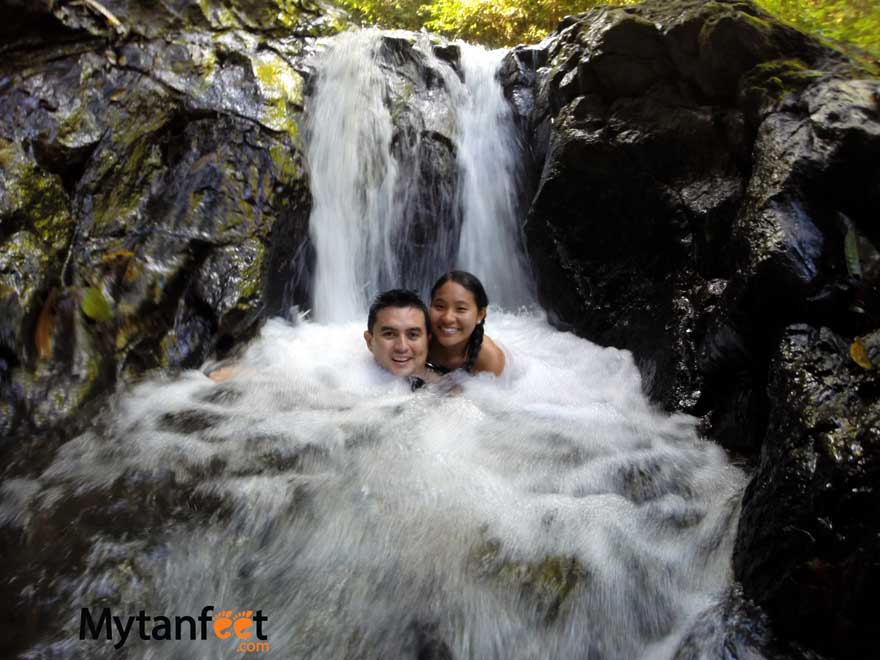 The Jaco waterfall tour is one of my favorite things to do in Jaco. Hike, jump off and walk up over 10 waterfalls in the deep rainforest!
A very popular waterfall just 2 hours away is the Nauyaca Waterfalls. You can hike, horseback ride or take a 4×4 truck to these absolutely impressive waterfalls.
Miro Mountain Viewpoint and Hike
For the best view of Jaco, hike up to Miro Mountain right outside town. It's an abandoned building that has been tastefully decorated by local graffiti artists and it's a fun hangout spot (and you'll work up a good sweat to get there).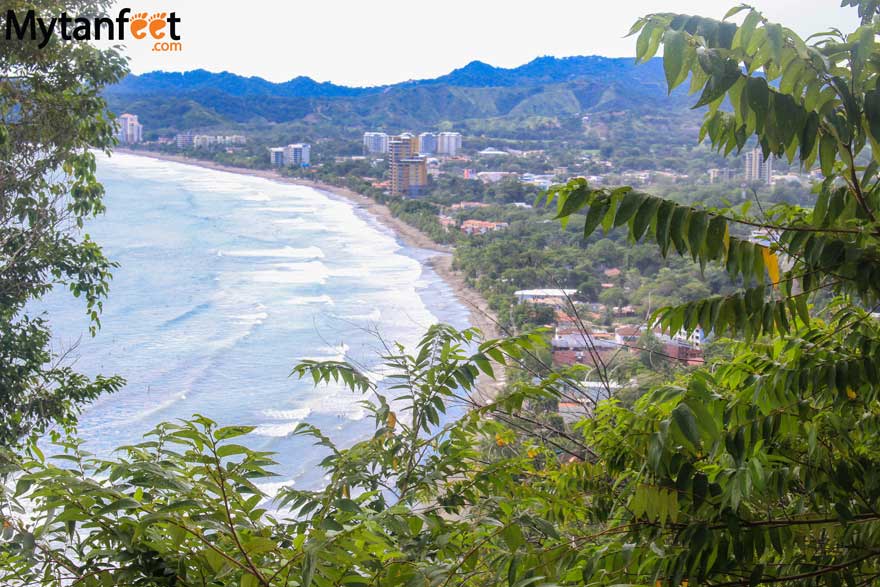 It's outside Jaco on the south end and takes about 30 minutes to get to the top. We do not recommend to drive there as there is no parking, it's best to walk all the way. It's a fantastic spot to watch the sunset, have a beer and chill.
Tarcoles River Boat Safari Cruise
The nearby Tarcoles River is home to many river birds and crocodiles, making it a fun half day tour to see wildlife and nature.
Manuel Antonio and Carara National Park Day Trip
Carara National Park and Manuel Antonio National Park are two excellent national parks for hiking and wildlife. Manuel Antonio is a very popular national park so it is easy to get to from Jaco with a direct bus.
You can read this article to see how to take the bus to Manuel Antonio from Jaco. Unfortunately there is no direct bus to Carara so if you don't rent a car, we recommend booking a tour. The drive from Jaco to Manuel Antonio National Park is about 1 hour and the drive to Carara is about 20 minutes.
Which national park to visit, Manuel Antonio or Carara? Carara is best for birders as this park is home to a myriad of tropical birds as it's right on the border of tropical dry and rain forest. Manuel Antonio is best for those who want white sand beaches, light hiking and easy wildlife watching. They offer vastly different experiences.
Jaco Weather
The weather in Jaco is hot and very humid and experiences typical tropical dry and rainy seasons. Average daytime temperatures are mid 80s F (29 C) in the dry season without much change throughout the year.
Dry season is from December – end of April and rainy season from beginning of May – December. The hottest months are March and April, similar to the rest of the country.
Due to the fact this area is more humid, Jaco can rain especially hard in September – November, mostly in late afternoon and night. A typical rainy season day starts with a very sunny and hot morning and then clouds and rain in the late afternoon and night.
Read more about Costa Rica weather in this post.
Jaco Location
Jaco, Costa Rica map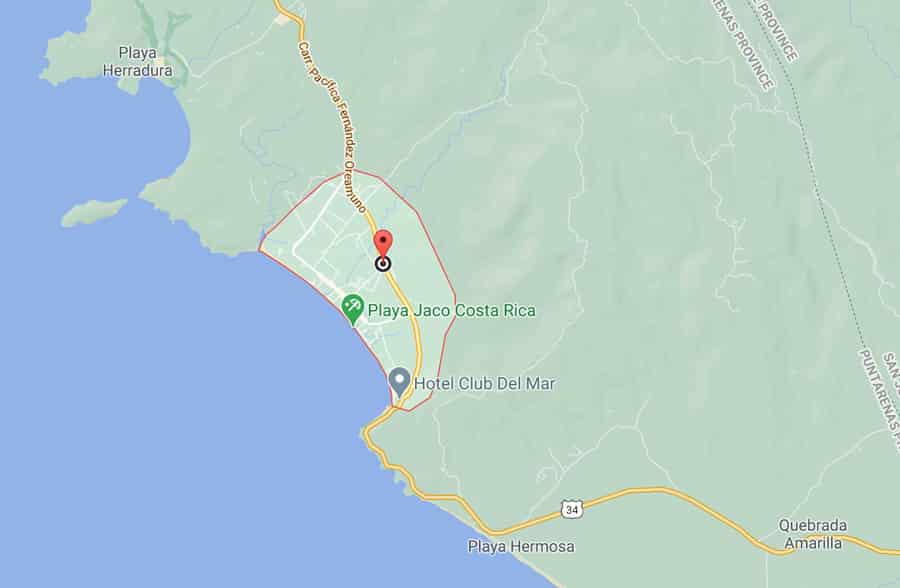 Jaco is 60 miles (97 kilometers) southwest of San Jose on the Central Pacific coast in the Puntarenas province.
The closest international airport to fly into for Jaco is the San Jose International Airport (SJO airport code).
How to get to Jaco from San Jose
Jaco is about a 1.5 hour drive from San Jose International Airport, making it it one of the best beach towns in Costa Rica to get to without a car.
Bus: To take the bus to Jaco from San Jose International Airport, you must go to the 7-10 bus station in downtown San Jose. It is about a $5 USD ride and 2 hour bus ride. You can read our guide on taking the bus from San Jose to Jaco.
Shuttle: You can book a private or shared shuttle. The private shuttle costs around $120-150 USD for 1-6 passengers one way. A shared shuttle costs ~$52 USD per passenger with Interbus/Tropical Shuttle.
Driving: The drive from San Jose to Jaco is all on a well paved highway. You need to get onto Route 27 and exit at Jaco to Route 34. It's about a 1.5 hour drive with no traffic and there are a few toll booths that range from $.20-$1.80 USD.
If you plan to drive, make sure to get our Costa Rica car rental discount here!
How to get to Jaco from Liberia
Driving: From Liberia, it's about a 3.5 hour drive on the highway.
How to get around Jaco
You can walk, bike, taxi or rent a scooter/ATV. It takes around 30 minutes to walk from end to end of town so it's a big town. If you go out at night, we recommend to take a taxi. There are also a handful of Ubers in Jaco.
The main bus station is across from the Best Western at the north end of the beach.
Jaco Beach Hotels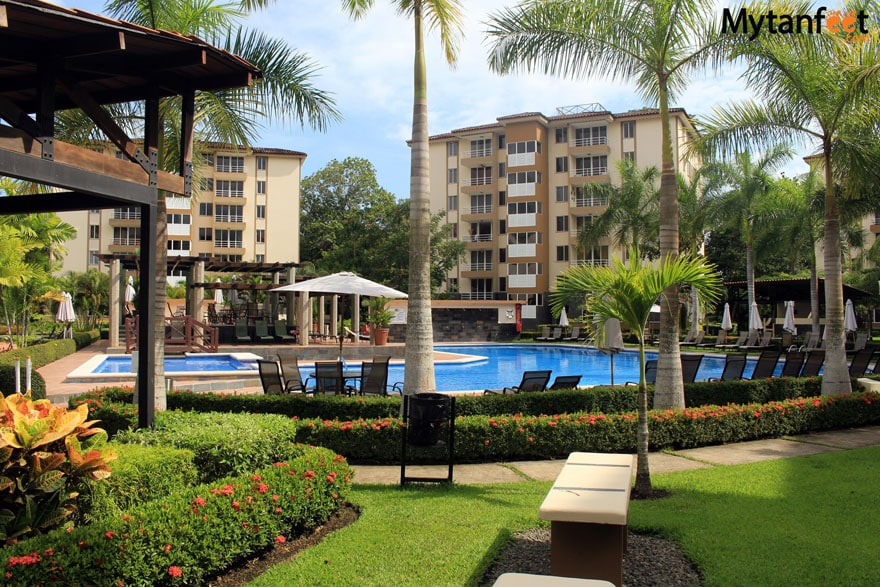 You can also find many Airbnbs and vacation rentals. Vista Las Palmas is a luxury condo complex on the beach with huge rooms and ocean views. Costa Linda is a smaller condo complex on the north end. Paloma Blanca, Jaco Gardens, Lapa Living and Sueños del Paraiso are other nice condo complexes for long and short term rentals.
Jaco Restaurants
Jaco has some of the best restaurants in Costa Rica. Here are some of our favorites.
Soda Garabito: A good Costa Rican restaurant, has excellent gallo pinto (Costa Rican breakfast)
Soda Jaco Rustico: One of the best Costa Rican restaurants in town
El Manglar: Fantastic restaurant on the north end of town, has burgers, salads, pasta, bowls. Huge portions and nice chill vibe
Koko Gastro Pub: One of our favorite places in Jaco. Excellent breakfast, lunch and dinner. They specialize in tuna and their bowl and tacos are excellent.
The Pizza Shop: Yummy pizza and sandwiches.
Pesca Seafood House: A little expensive but delicious seafood and great drinks. In Jaco Walk.
Tacobar: Fish tacos with a really good salad bar
Cevichera Jaco: Our favorite place for ceviche and its cheap.
Pachi's Pan: Local bakery with pastries, cakes, sweets, empanadas and coffee. Get the enchilada with chicken or beef, it's a meal in itself!
El Barco: Great place for gelato
Bagel Boys: For those who like bagels and bagel sandwiches
Oasis: Yummy nachos and pizza
Amancios: One of the best for Italian food (lasagna is excellent)
Amara: Cute place for Mediterranean food like hummus, seafood and gyros.
Tsunami Sushi: Pretty good place for Americanized style sushi. They have 2×1 on Wednesdays.
Arigato's: An excellent sushi place, more authentic
Graffiti Cafe: Nice place in Jaco walk for tacos, steak, etc.
Ridiculous Burgers: A bit pricey but you get huge burgers and they have lots of options.
Nightlife in Jaco, Costa Rica
Nighttime in Jaco is always busy with plenty of lively bars and clubs and you will definitely have a memorable time. Our favorite bar is Isaga. Excellent mix of local and tourist!
Another great place for nightlife in Jaco is Le Loft for an upscale atmosphere, VIP section and bottle service. Orange Pub is a popular club and Surf Dogs usually has live music with great drink promos. The Beer House is also another fun place for craft beer and nightlife.
Shopping and Gas
There are a ton of souvenir stores in Jaco in downtown so you can do some great shopping. You can find everything from carved wooden statues, sarongs, tshirts, bikinis, paintings and jewelry. You can read what our favorite Costa Rica souvenirs are.
My favorite store is Tico Pod because they have a fun mix of jewelry, paintings and other trinkets. Dantica Gallery also has some beautiful pieces. Dkoko, Del Toro, Marveca and Bikini Love Designs are super cute bikini stores.
For groceries, there is a Mas X Menos and Super Trust Mart on the main street and Maxi Pali supermarket in the back of town. In Herradura plaza, there is an Automercado supermarket. Then there are many smaller markets like Rapid 24 hours supermarket and Pali.
There are a couple gas stations outside of Jaco near Herradura.
Oh Thursdays and Fridays, there is a farmer's markets with stands selling fresh produce, pastries, bread, clothing, jewelry, souvenirs and other odds and ends.
Traveling and Living in Jaco, Costa Rica
For tourists, it's a great beach town with excellent restaurants, great infrastructure, awesome waves and fun parties. Ideal for first time visitors to Costa Rica, solo travelers and couples. Families can also enjoy Jaco but it is not as family friendly as other destinations such as Manuel Antonio or La Fortuna.
As for living, we lived in Jaco for 6 months in 2015 and had a great experience. We really enjoyed all the excellent restaurants, the location to the South Pacific (like Manuel Antonio, Dominical, Uvita) and how convenient it was in town.
I can definitely see why most foreigners who live in Jaco are transients and digital nomads and not as many permanent residents. After all, it's a beach town with all the conveniences and services of the city at the beach and it's only 1.5 hours from the main international airport. For any digital nomad, Jaco is certainly an excellent location for a home base.
Read other beach guides below!
Or read this article, if you're trying to decide between Tamarindo & Jaco for surfing.
This post has affiliate links.