Jaco, Costa Rica is the closest beach town to the capital city of San Jose, making it a popular destination for locals and tourists. Known for having some of the best waves in the country, Jaco attracts visitors from all over the world looking to soak up sun and surf for their vacation.
Location and Directions
Jaco, Costa Rica map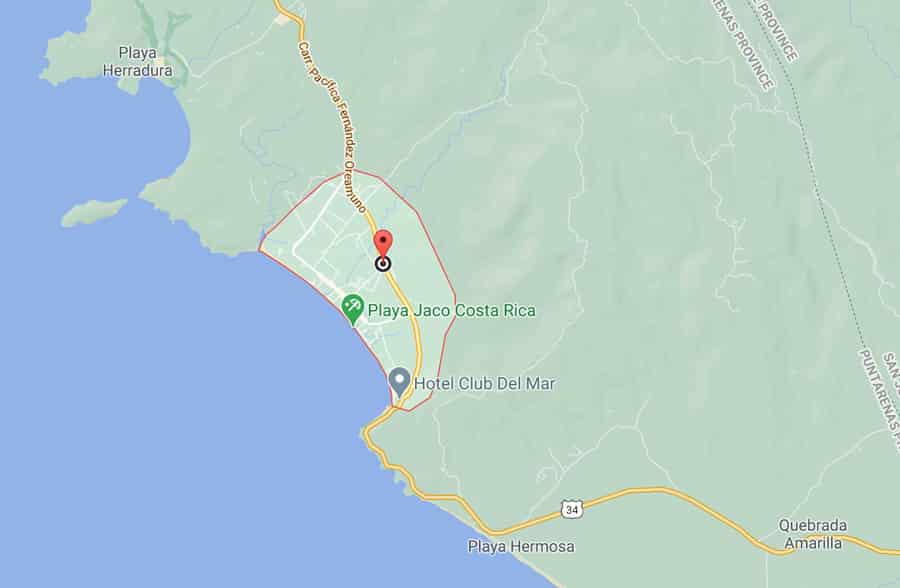 Jaco is 60 miles (97 kilometers) southwest of San Jose on the Central Pacific coast in the Puntarenas province.
How to get to Jaco from San Jose
Jaco is not too far from San Jose International Airport making it it one of the best beach towns in Costa Rica to get to without a car.
Bus: To take the bus to Jaco from San Jose International Airport, you must go to the 7-10 bus station in downtown San Jose. It is about a $5 USD ride and 2 hour bus ride. You can read our guide on taking the bus from San Jose to Jaco.
Shuttle: You can book a private or shared shuttle. The private shuttle costs around $120-150 USD for 1-6 passengers one way. A shared shuttle costs ~$49 USD per passenger with Interbus.
Driving: The drive from San Jose to Jaco is all on a well paved highway. You need to get onto Route 27 and exit at Jaco to Route 34. It's about a 1.5 hour drive with no traffic and there are a few toll booths that range from $.20-$1.80 USD. It is best to pay these tolls in Costa Rican currency. If you have to, you can use small USD bills ($1 and $5) and they will give you your change back in Costa Rican colones.
If you plan to drive, make sure to get our Costa Rica car rental discount here!
How to get to Jaco from Liberia
Driving: From Liberia, it's about a 3.5 hour drive on the highway.
How to get around Jaco
You can walk, bike, taxi or rent a scooter/ATV. It takes around 20 minutes to walk from end to end of town. The main bus station is across from the Best Western at the north end of the beach.
Jaco Beach
Jaco beach is 2 miles (3.2 km) of pure surfing waves with dark sand and deep blue waters. The surrounding landscape stays green all year long due to the nearby Tarcoles river and high humidity of the tropical rainforest.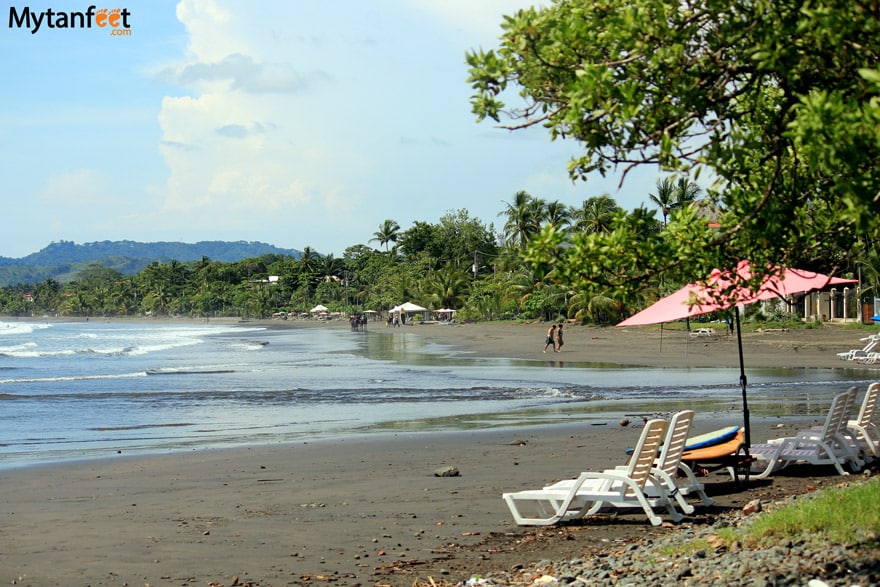 What's even better is that Scarlet Macaws are commonly seen flying around the beach and the surrounding hills. As a result, you have forest, beach and wildlife at Jaco!
Another great thing about Jaco are the spectacular sunsets as you get a full view of the sun going down.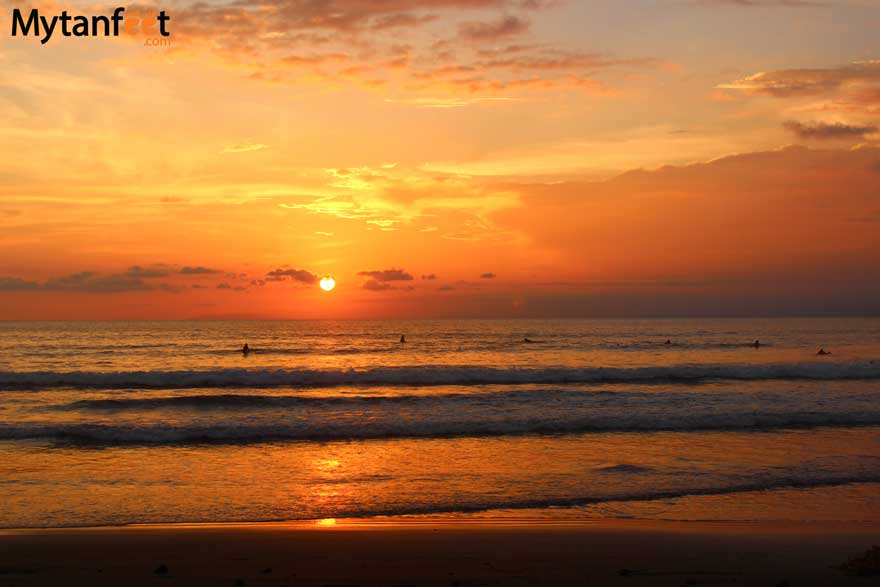 Our favorite spot on this long beach is the south end. This spot is popular for surf lessons and beginners and you can find many surf shops in on the street going to the beach. They also have a very nice walking path at that end, which was a recycled bottle project.
The north end can get crowded because that is where the Croc's Hotel is and where many Costa Ricans camp and party on the weekends. For that reason, we prefer the south end to surf and watch the sunset.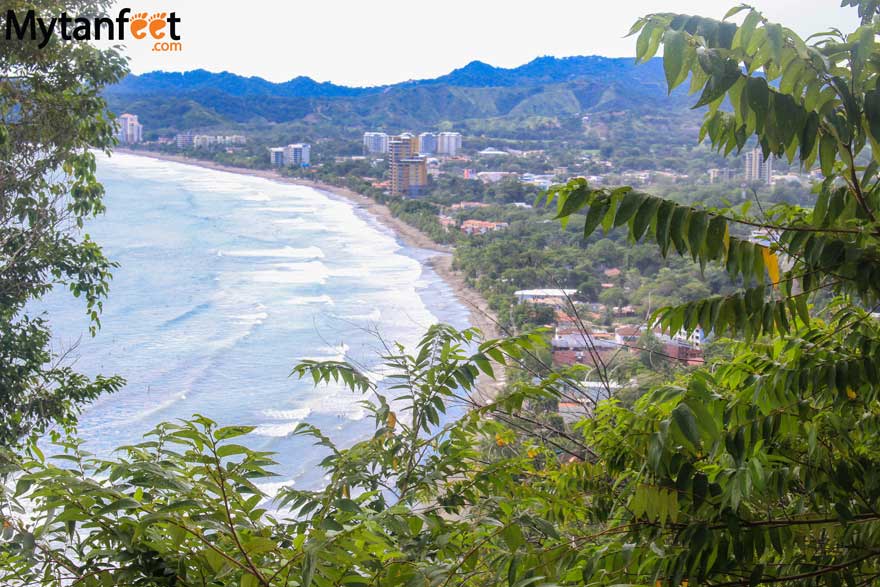 Keep in mind that the shore is fairly rocky therefore it's not the best for sunbathing but you can find a few sandy and shady spots. Just make sure to keep an eye on the tide because it will come all the way up in high tide!
Similarly, make sure to be careful of rip tides which are common in Jaco. This is why Jaco beach is best for surfing, not swimming.
The Town
Due to the fact that Jaco is the most developed beach town in Costa Rica, you can find everything like pharmacies, restaurants, supermarkets, banks, ATM's, souvenir stores, car rentals, all inclusive resorts and condos.
See what the town looks like in the video below!
As you can see in the video, Jaco has nice roads with painted lines. There are also marked parking spaces and sidewalks, something not very common in beach towns in Costa Rica.
This video was taken in 2014. It's pretty much the same now except there is a new Jaco Walk Plaza and some businesses have shut down/moved.
Jaco Weather
The weather in Jaco is hot and very humid due to its location on the coast. Average temperatures are mid 80's to low 90's F (29 C) in the dry season and low 80s F (26 C) in rainy season.
Jaco experiences typical tropical weather however. Dry season is from December – end of April and rainy season from beginning of May – December. The hottest months are March and April, similar to the rest of the country.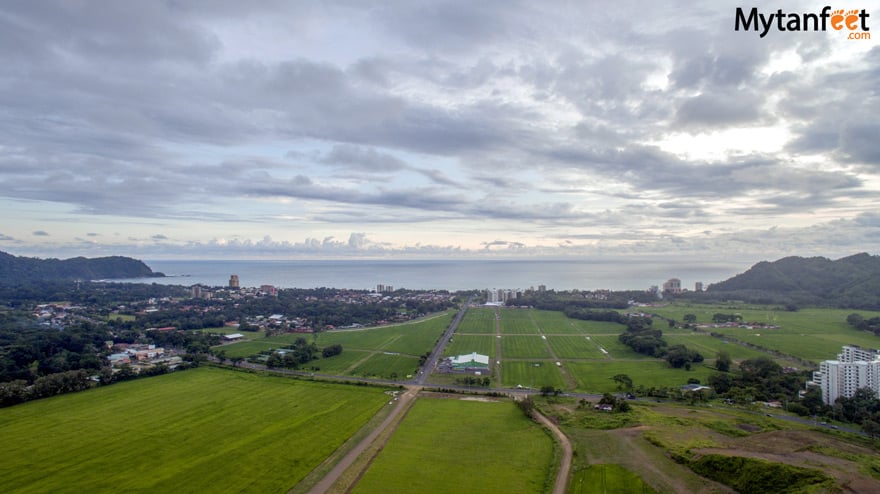 Due to the fact this area is more humid, Jaco rains especially hard in September – November, mostly in late afternoon and night. A typical rainy season day starts with a very sunny and hot morning and then clouds and rain in the late afternoon and night.
Read more about Costa Rica weather in this post.
Things to do in Jaco, Costa Rica
Although the main activity in Jaco is surfing, there are plenty of other activities to enjoy. Solo travelers, families and couples will all find something fun to do!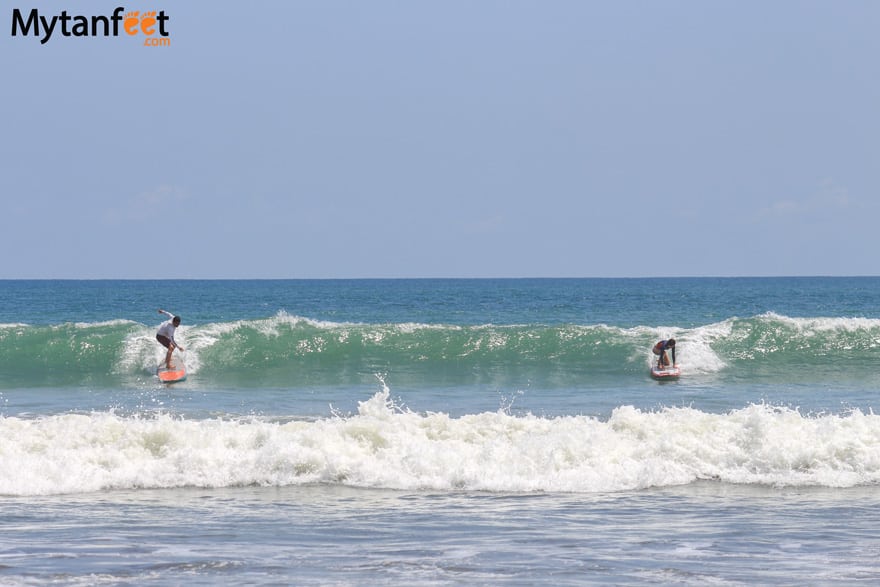 Stand up Paddle Board
Take a SUP class or SUP tour. For SUP classes, the best place is at Playa Herradura or Agujas. We did a stand up paddle boarding tour with Kayak Jaco from Playa Agujas which was really nice.
Adventure Parks with ziplining, horseback riding and ATV tours
Go ziplining, canyoning and horseback riding at Ocean Ranch Park or Rainforest Adventures. Rainforest Adventures also has a tram that goes up the forest for beautiful views. Likewise, Los Sueños has a great property with ziplining, ATV and other activities.
Jaco Waterfall Tour
Because of the lush mountains outside Jaco, there are many waterfalls. As many of them are hidden or require a 4×4, the best way to see them is to go on a waterfall tour.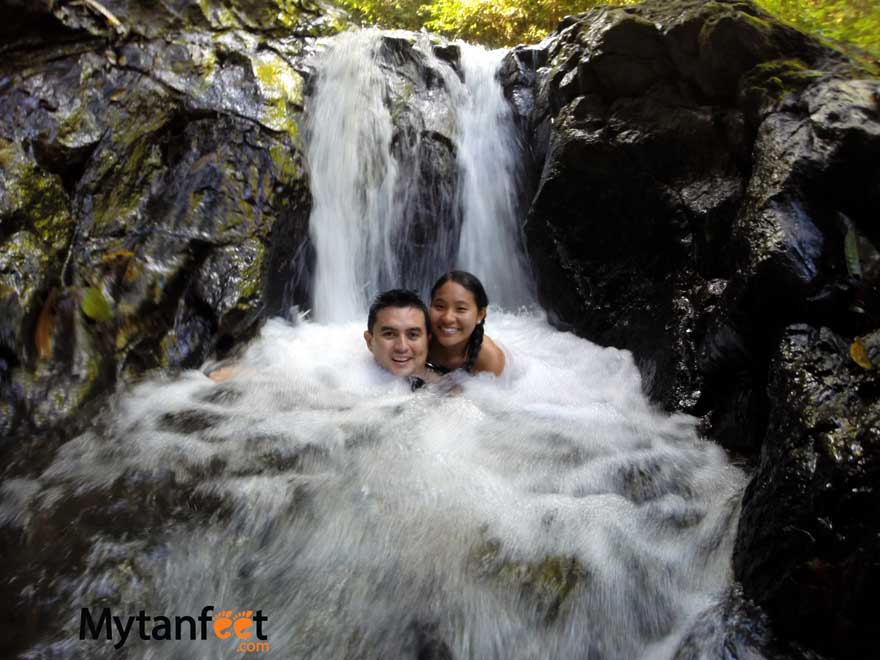 The Jaco waterfall tour is one of my favorite things to do in Jaco. Hike, jump off and walk up over 10 waterfalls in the deep rainforest! We did this tour with a company called Costa Rica Waterfall Tours.
There is also a bigger waterfall called Bijaguas which is an hour hike and 20 minute car ride from Jaco.
Manuel Antonio and Carara National Park Day Trip
Luckily, there are some national parks very close to Jaco that have excellent hiking and wildlife watching: Carara National Park and Manuel Antonio National Park. Because Manuel Antonio is very popular, it is easy to get to from Jaco.
You can read this article to see how to take the bus to Manuel Antonio from Jaco. Unfortunately there is no direct bus to Carara so if you don't rent a car, we recommend booking a tour.
The drive from Jaco to Manuel Antonio National Park is about 1 hour and the drive to Carara is about 20 minutes.
More things to do in Jaco, Costa Rica
But that's not all there is to do in Jaco! Some other popular activities are kayaking, ATV, sport fishing and bird watching. Read about more things to do in Jaco here. If you want to do any day tours in Jaco, please contact us to get 7% off!
Surf Camps
Since Jaco is such a great beach for surfing, there are many surf camps and schools in town. The most popular ones are School of the World, Vista Guapa, Tortuga Surf Camp, Jaco Surf School, Room2Board and Surf Factory
Nightlife
Nighttime in Jaco is always busy with plenty of lively bars and clubs. In fact, Jaco is probably the biggest party beach town in Costa Rica. Because Jaco is known for a crazy night life, you will definitely have a memorable time. Our favorite bar is Isaga. Excellent mix of local and tourist!
Another great place for nightlife in Jaco is Le Loft for an upscale atmosphere, VIP section and bottle service. Orange Pub is a popular club and Surf Dogs usually has live music with great drink promos. The Beer House is also another fun place for craft beer and nightlife.
Jaco Beach Hotels
Here are our recommended hotels in Jaco.
Hotel Doce Lunas: This hotel has won awards for being the most romantic getaway in Costa Rica. Located just outside downtown Jaco.
Oceans Diamante del Sol: Small apartments/studios. They are very close to the center of town and are pet friendly.
Best Western Jaco Beach: This is an all-inclusive on the beach. Popular with locals.
Croc's Casino Resort: Has a Las Vegas style casino, a huge pool, on the beach and modern rooms.
Birds of Paradise: Newly renovated budget hotel with a pool right in downtown.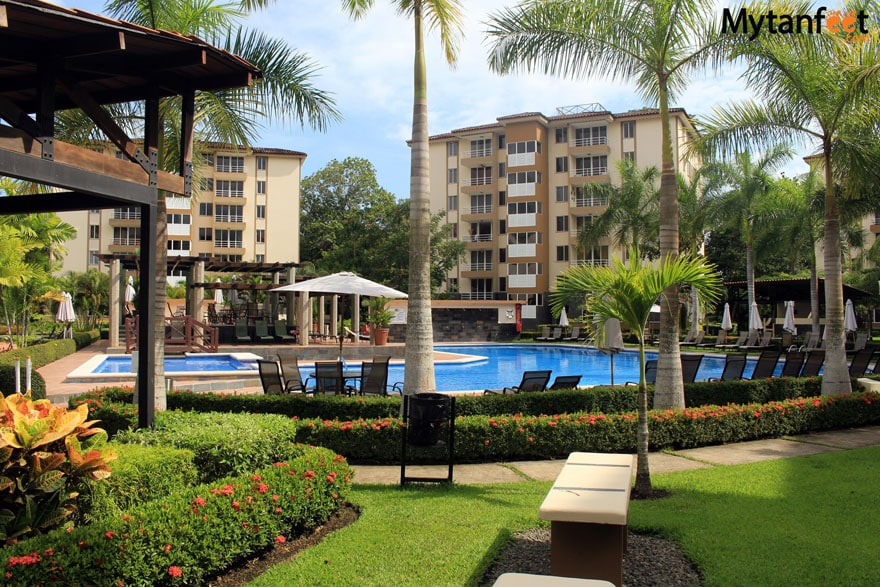 You can also find many Airbnbs and vacation rentals. Vista Las Palmas is a luxury condo complex on the beach with huge rooms and ocean views. Costa Linda is a smaller condo complex on the north end.
Jaco Restaurants
Thanks to its close proximity to San Jose and high competition, Jaco has some excellent restaurants with all types of food. Here are some of our favorites.
Soda Rustico: Best place for Costa Rican food. Lunch is around $5-6, open every day.
Soda Garabito: Another decent local place.
The Pizza Shop: Yummy pizza and sandwiches.
Tacobar: Fish tacos with an all you can eat salad bar. Serves $3 breakfast.
Cevicheria Jacobeno: Our favorite place for ceviche.
Pachi's Pan: Local bakery. Better for pastries and sweets.
El Barco: Great place for gelato
Tsunami Sushi: Pretty good place for sushi. They have 2×1 on Wednesdays.
Graffiti Cafe: Amazing food with huge portions. Try their coffee and chocolate steak!
Puddlefish Brewery: Upscale bar food. It is also part of Graffiti so you can order from both menus at either place.
Shopping
There are a ton of souvenir stores in Jaco in downtown so you can do some great shopping. You can find everything from carved wooden statues, sarongs, tshirts, bikinis, paintings and jewelry. You can read what our favorite Costa Rica souvenirs are.
My favorite store is Tico Pod because they have a fun mix of jewelry, paintings and other trinkets. Dantica Gallery also has some beautiful pieces. Dkoko, Del Toro, Marveca and Bikini Love Designs are super cute bikini stores.
For groceries, there is a Mas X Menos on the main street and Maxi Pali supermarket in the back of town. In Herradura plaza, there is an Automercado supermarket.
What to Know About Visiting Jaco
If you've heard that Jaco is known for prostitutes and drugs, unfortunately you are correct. It has gotten that reputation due to the increase amount of tourists with those intentions as it grew economically and commercially.
It has gotten drastically better over the past few years however. We saw police cars on every street and many families, locals and foreigners, come to visit.
The bottom line is that Jaco is a city beach and you shouldn't let the bad rep prevent you from visiting. If you are the type of traveler who likes cities, parties and surfing then Jaco is a great town for you to visit.
If you're more interested in staying outside this busy beach town but still want to enjoy all it offers, consider staying at nearby Playa Hermosa instead. It's a 10 minute drive and a surfing beach with few restaurants and hotels but very quiet and laid back.
Living in Jaco, Costa Rica
We lived in Jaco for 6 months in 2015, it was fun and enjoyed living in town. We don't live there anymore but you can read more about what we thought about living in Jaco in this article.
I can definitely see why most foreigners who live in Jaco are transients. After all, it's a beach town geared more towards young entrepreneurs who want all the conveniences and services of the city at the beach. For tourists, it's a great beach town with excellent restaurants, great infrastructure, awesome waves and fun parties.
Read other beach guides below!
Or read this article, if you're trying to decide between Tamarindo & Jaco for surfing.
This post has affiliate links.