If you have a day in San Jose and are interested in the best way to spend a fun night out, then definitely check out the Ram Luna dinner show. Ram Luna is a Costa Rican restaurant up in the mountains outside San Jose that offers everything Costa Rica from food, music, decorations and service.
Read on to see what it's like and why we think this Costa Rica dinner show is one of the best places for tourists to immerse themselves in Costa Rican culture in San Jose!
Map
Ram Luna map
Ram Luna Restaurant is in San Jose, 30 kilometers (19 miles) and a 50 minute drive from San Jose International Airport.
How to Get To the Ram Luna Costa Rica Dinner Show

Driving: From downtown San Jose, it is about a 30 minute drive to Ram Luna but in rush hour, it can take up to an hour or more. You can find Ram Luna on both Google Maps and Waze. We highly recommend using Waze as your GPS since it will help you navigate through city traffic.
Taxi/Uber: You can use Uber in San Jose and it costs around $10-15 one way.
Tour: You can book this Costa Rica dinner show with a tour company. They provide roundtrip transportation, a bilingual guide, the buffet, show and an open bar. The Ram Luna dinner show costs $70 USD per person and we have a 7% discount which you can get through our San Jose day tours discount page. This is available only on Wednesdays and Thursdays.
Ram Luna Hours
Closed on Mondays. Tuesday through Wednesday 4-10 PM. Fridays 4-10 PM. Saturday 12-11 PM and Sundays 12-10 PM. The buffet and show is called "Tierra Tica" which is on Wednesday and Thursdays.
The Restaurant and the View

The Ram Luna restaurant sits up in the mountains outside of San Jose. Make sure to bring a sweater because it can get chilly at night. As soon as you enter the restaurant, you'll see it is decorated very nicely with lots of traditional Costa Rican flair. But the thing that takes the spotlight at Ram Luna is the view of the city below which is absolutely spectacular!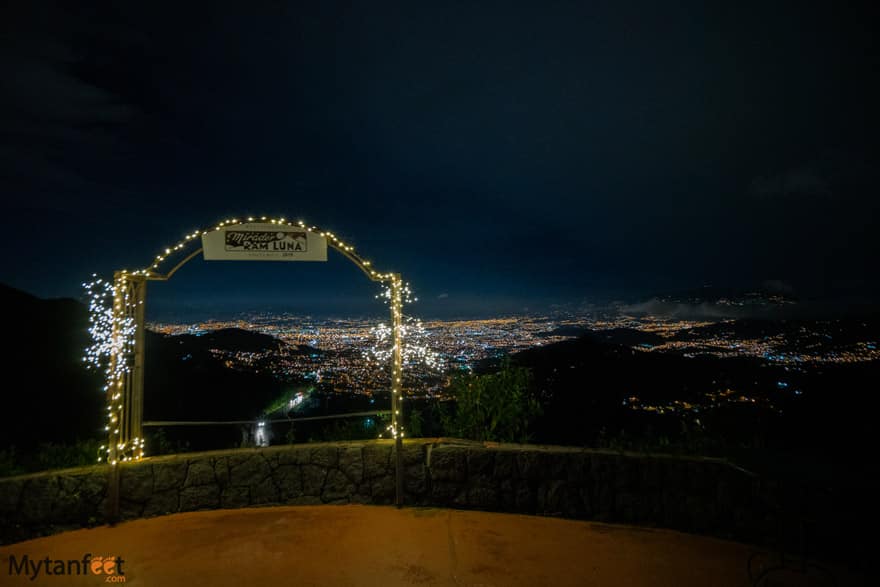 I love how they put a little altar and decorated it with nice nights. They also have a fireplace and sitting area by the viewpoint which is lovely.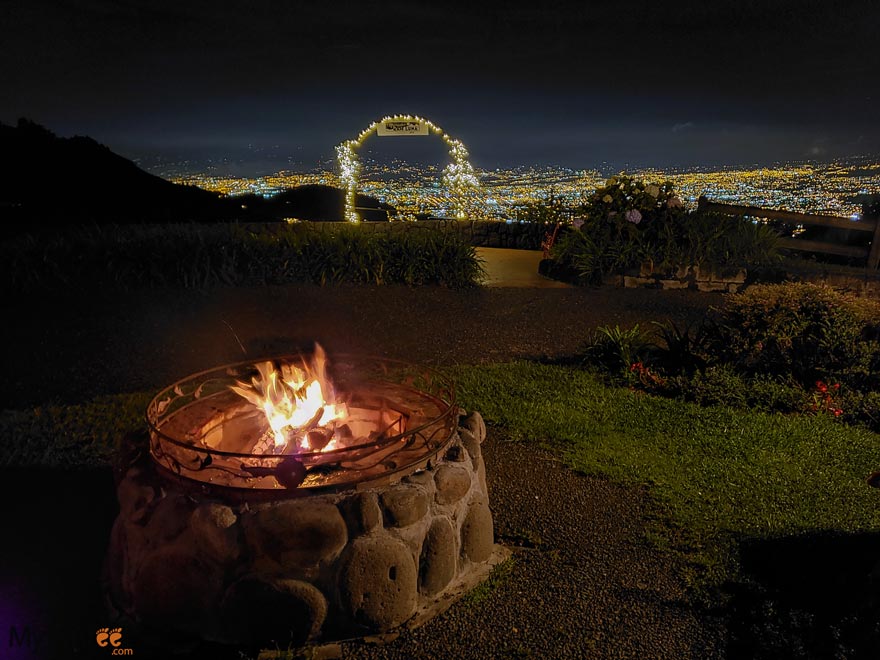 After we took some photos and checked out the view, we headed inside to eat dinner.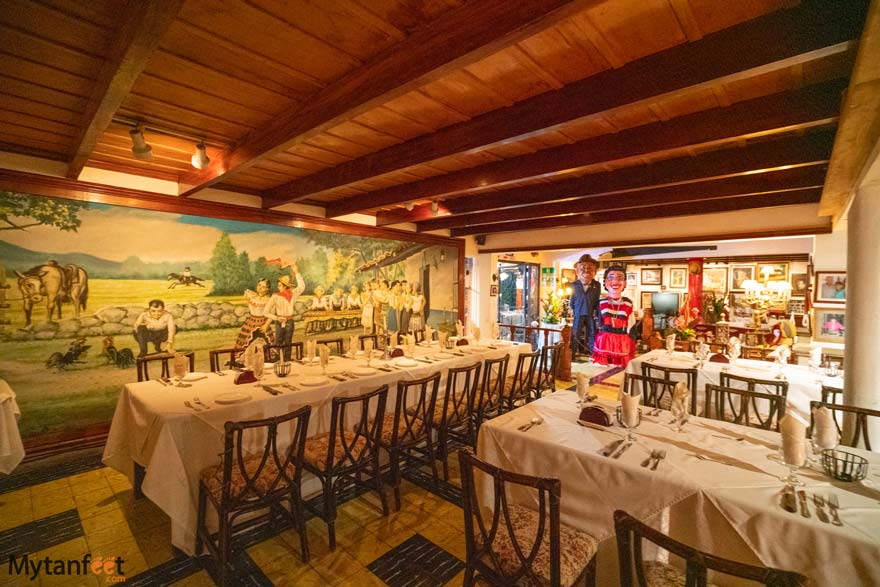 Dinner
Although buffets don't always offer the highest quality, we felt like this one was pretty good. All food was Costa Rican and they had signature dishes from different regions of Costa Rica like rice and beans from the Caribbean coast.
The buffet had rice with chicken, beef stew, white rice, beans, salads, chips, plantain ceviche, picadillo, chicken, rice and beans and arroz con leche. Plenty of options for everyone, even vegetarians and vegans!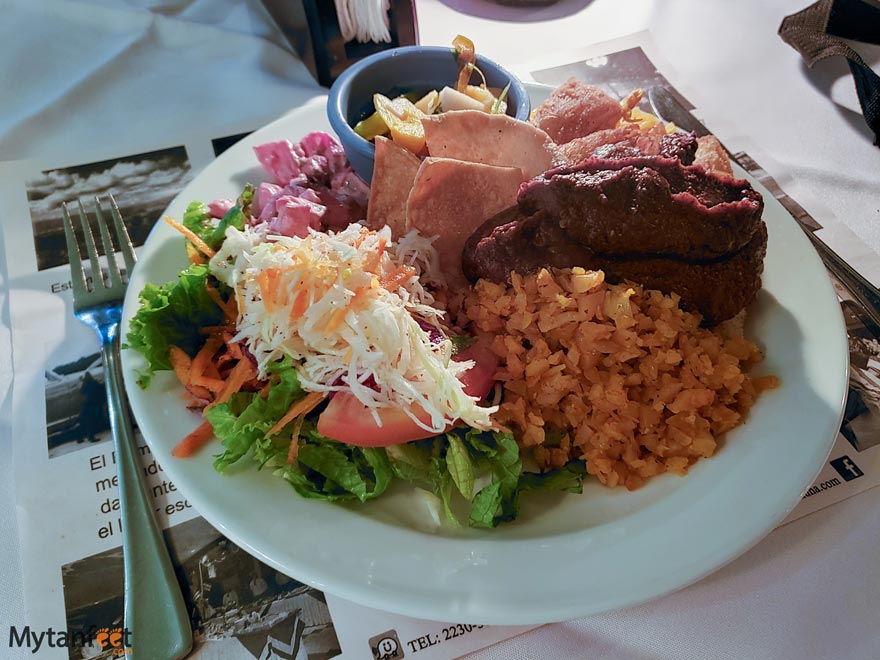 They let you go back as many times as you want and we tried a little bit of everything. Their Caribbean chicken, plantain ceviche, beef stew and arroz con leche were our favorites.
If you like pork, you will love their chifrijo table! A chifrijo is a classic Costa Rican bar dish with rice, guacamole, pico de gallo, beans and fried pork. They have a whole table dedicated to making your own chifrijo.
The restaurant has a gorgeous view of the city so if you can, grab a table by the windows to dine in style.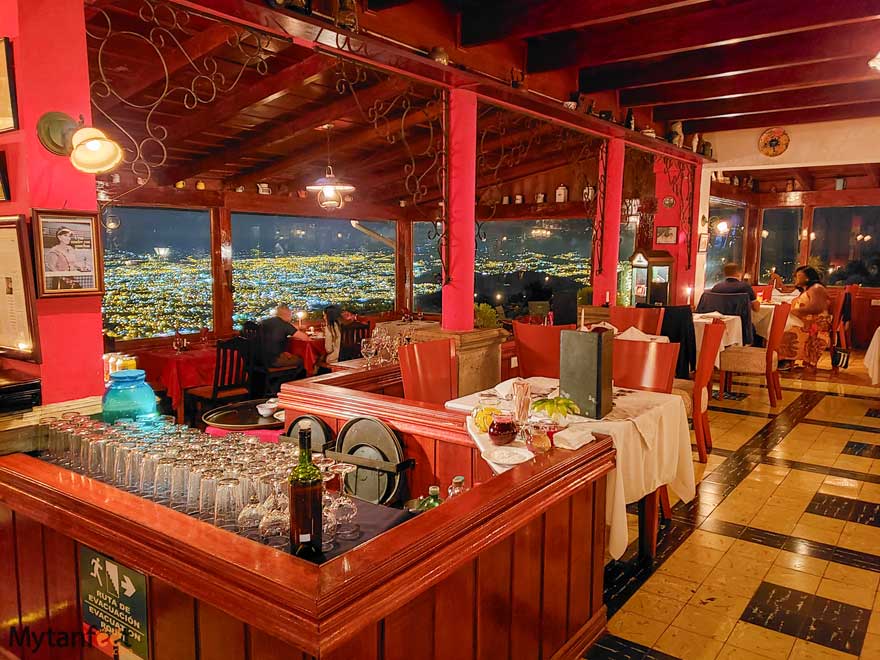 The show starts around 830 PM or so and they have a great MC who gives a very nice welcome. After the introduction, the dance show starts!
Ram Luna Dinner Show
This Costa Rica dinner show is about 1 hour long. It showcases the traditional dances of Costa Rica in traditional dresses and costumes. The MC gave a short introduction and explanation of where each dance and clothing came from since it varies throughout the country.
I love watching Costa Rican traditional dances because the women's dresses are gorgeous!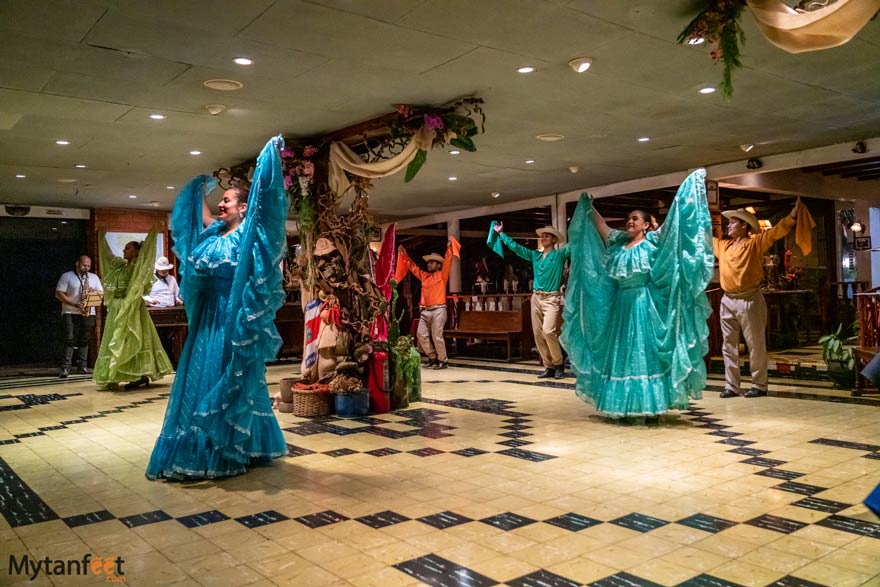 The performance had 3 parts: two with the dancers in different costumes and the last part had the masks and they asked audience members to dance with them. This is another tradition in Costa Rica, the masks. In Costa Rica, the masks are a fun part of their traditions and they have parades and festivals with them. It is even a profession, a professional mask maker!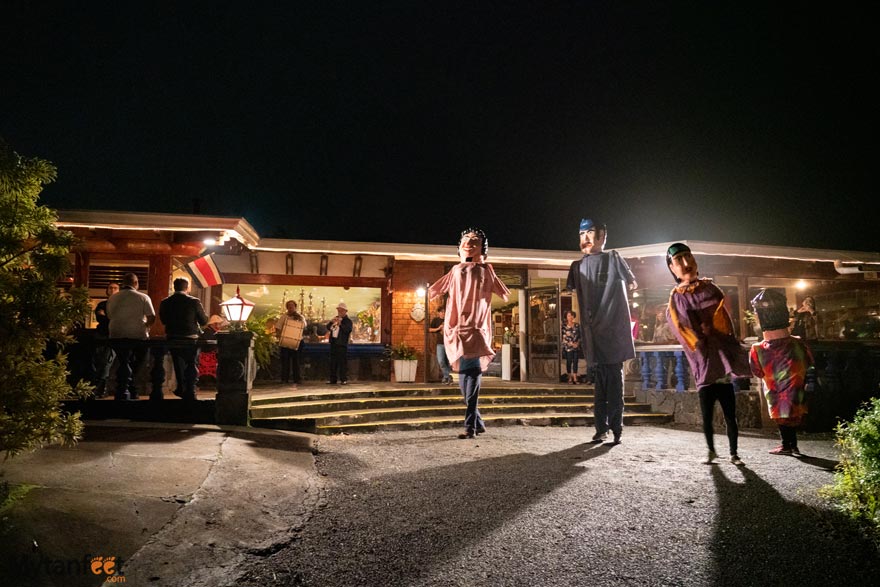 After the performance, we had some dessert and enjoyed the city view. We went beginning of October and luckily got a clear night with no rain. It was fairly chilly and I was very happy I brought my jacket!
Overall Thoughts

We really enjoyed the Ram Luna dinner show. The food was hearty and very good, the performance was fun to watch and the view was incredible. It's definitely a place I would love to take my parents and friends to experience a night of Costa Rican food and culture. Even though it may seem like it's only for tourists, we also saw lots of locals at Ram Luna, all dressed up for a night out in town.
It's also a popular spot for city Costa Rican to propose, renew vows and hold birthday/Quinceañeras, so it's not just for tourists which is super nice!
We highly recommend visiting Ram Luna for a fun night of Costa Rica fun whether it's a romantic date or a night out with friends and family. Don't forget if you would like to book the dinner show with transportation, we have a discount for it!
If you want a full day of Costa Rican culture, we highly recommend to do the San Jose city tour in the afternoon and then Ram Luna at night.