As part of the Marino Las Baulas National Park, Playa Grande in Costa Rica is an important beach not just for surf lovers but for the nature and wildlife. Located along the Tamarindo Bay, Grande plays a key role in leatherback turtles nestings. Though the beach is open to the public, visitors aren't allowed to go after nightfall in order to protect the turtles and their babies.
With tan colored sand and bright blue waters, it's a beautiful surfing beach in Guanacaste that locals adore and visitors from all countries seek out. Separated from Playa Tamarindo by the Matapalo River, Grande offers travelers a less crowded beach to catch the perfect wave.
Location
Playa Grande map
Playa Grande is 64 kilometers (40 miles) and a 1 hour and 10 minute drive from Liberia International Airport. It's about a 20 minute drive from Tamarindo.
Directions
From Liberia International Airport, take a right. Continue on this main road through Comunidad, Filadelfia, and to Belen. Once you get to Belen, you'll see many signs for Playa Grande. Follow those and take the left into Matapalo (you'll see another sign). Take another left at the intersection where the road curves a bit and keep going until you reach the beach.
You can use Waze and Google Maps to get there which is the best way to the main entrance. Look for Playa Grande and it is right where Hotel Las Tortugas is.
A 4×4 is not absolutely necessary to go to Grande.
Parking
There are two parking lots at the main entrance and it costs 2000 colones per car.
Grande Beach
Once at the beach, you'll see a restaurant/bar to the right and the beach up in front of you. Grande beach is a vast one with no trees around so if you plan to have a beach day, be warned there are no shady spots unless you bring your own umbrella.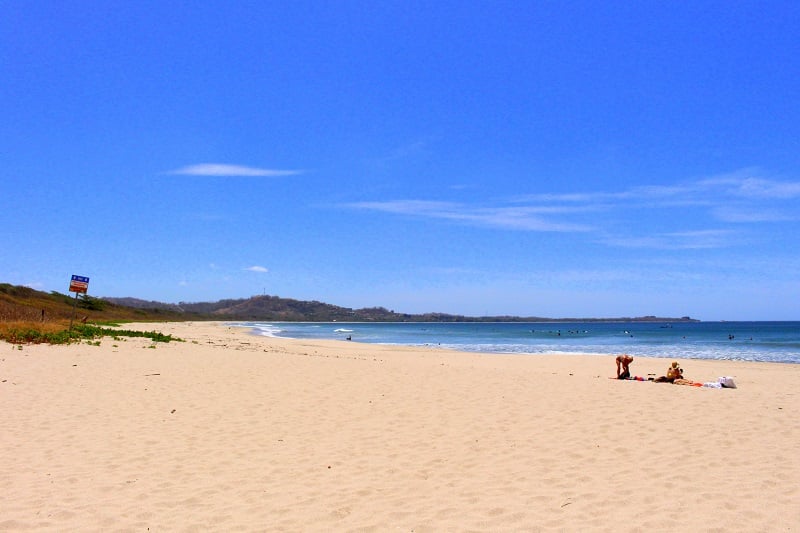 But if you're a surfer, you'll in the right spot. Grande has constantly been known for having some of the best waves for both beginners and pros.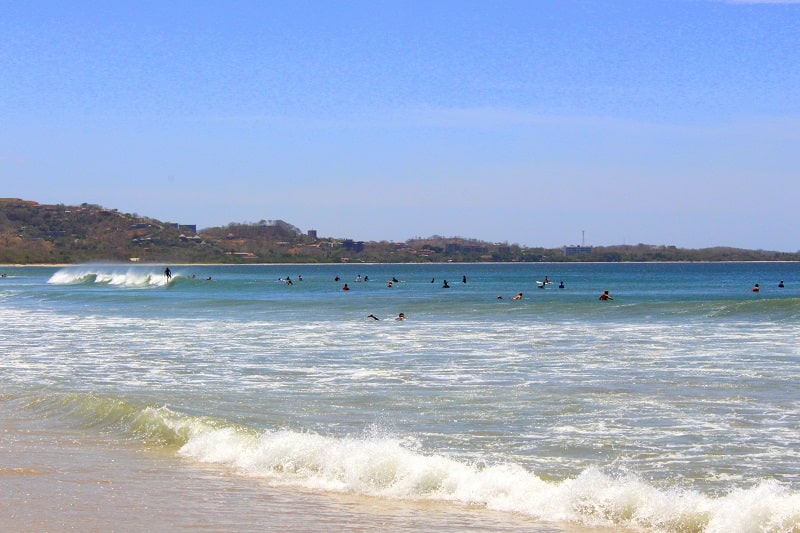 With consistent and moderate surf breaks, beginners can sharpen their skills during low tide and the pros can enjoy bigger swells, especially during March to November. Although there are usually many surfers out in the water, it is a fairly long beach and less popular than Playa Tamarindo so it is easier to find a spot.
We like to surf at Grande on the south end where waves are good for beginners and there aren't many people.
Other Activities
Waves are not the nicest for swimming since it's a surfing beach and waves can get big. Visitors also need to be aware of rip currents and if they want to do snorkeling or swimming, they can go to Playa Ventanas right next door.
There are plenty of things to do nearby such as the Rio Matapalo for kayaking and wildlife watching. Other activities are available outside of Grande such as ziplining, hiking, sailing, kayaking, and much more. You can certainly base yourself in Playa Grande to explore Guanacaste. Check our guide "things to do in Tamarindo" for ideas.
If you want to take a surf lesson, check out Frijoles Locos. For a group lesson up to 4 people, it costs $30 for 90 minutes. Private instruction is more expensive at $120 for 90 minutes.
Where to Stay
A few hotels line the beach or are on the road on the way to the beach so you won't have to waste any time getting from your room to the water. Click here to see the hotels available in Grande. Most are at affordable prices and are mostly boutique or small hotels/inns. Rip Jack Inn, Hotel El Manglar, Flor y Bambu and Sol y Luna Lodge are popular choices.
You can also join a surf camp, Playa Grande Surf Camp.
Many people rent vacation rentals at Playa Grande as there are many nice houses and condos in the area.
Where to Eat
Cafe Mar Azul is a nice breakfast place, Cafe de Pueblo has good pizza, Ripjack Inn (part of the Hotel Ripjack Inn), Kike's Place, The Marber, El Huerto Pizzeria and the Great Waltini's at Hotel Bula Bula.
Visiting Playa Grande
If you're visiting Playa Grande to see the leatherback turtles, know that the population of nesting mothers has declined quite drastically. You have to go with a guide since the beach is not open to the public after nightfall (6 PM) and it is not a guarantee you'll see one. If you want to see turtles, it will be better to go to Ostional.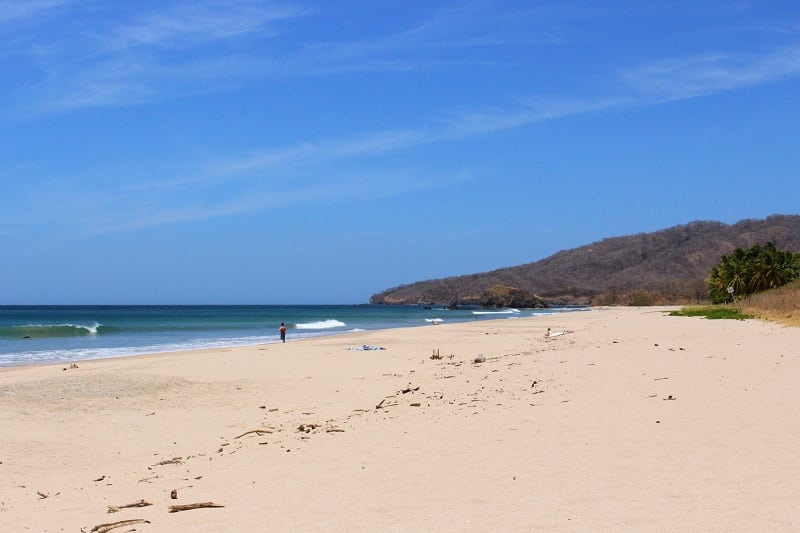 Be respectful of the fact that Grande is part of a national park and don't litter, make bonfires or go there late at night. It is a beautiful, clean and spotless beach and they have to keep it that way for the wildlife and turtles.
Want to read about other surfing beaches in Costa Rica? Here you go!
Dominical: Popular surfing and hippie beach town in the South Pacific Coast
Jaco: Popular surfing beach town, only 1.5 hours from San Jose. Most developed beach town
Mal Pais: Small fishing village by Santa Teresa. Great surfing waves and fishing
Esterillos Oeste: Small beach town about 20 minutes south of Jaco. Great surfing waves, few hotels, nice local atmosphere
Junquillal: Nice, local beach in the small rural Junquillal town in Guanacaste. About 30 minutes south of Tamarindo
Puerto Viejo: Local part of Conchal beach in Guanacaste
There are affiliate links in this post.