As part of the Marino Las Baulas National Park, Playa Grande in Costa Rica is not just a beautiful beach, it's an important beach for turtles and wildlife. It's also one of the best beaches for surfers looking to score some fast and fun waves.
With tan colored sand and bright blue waters, you don't have to be a surfer to fall in love with Playa Grande. Separated from Playa Tamarindo by a protected estuary, Grande offers travelers a less crowded beach to catch the perfect wave or enjoy a nice long walk during sunset time.
Location
How to Get to Playa Grande(Driving/4×4 required?)
You can use Google Maps or Waze as your GPS. If you want to go to the main parking lot, you can enter Hotel Las Tortugas as your destination. Along the drive once you get closer, you'll see many signs for Parque Nacional Marino Las Baulas.
This route does not require a 4×4, it is paved the whole way from Liberia Airport to the main entrance of Playa Grande. Do note that once you turn left in Matapalo towards Playa Grande, the road does get narrow and curvy so drive slowly and carefully.
You will see locals will drive very fast and may tailgate you, but just keep calm and drive how you feel comfortable. Just let them pass you on their own accord.
However, a 4×4 or 4wd is recommended if you do plan to explore the Guanacaste province and other areas of Costa Rica.
By Boat from Tamarindo
Even though Tamarindo and Grande are very close, it's about a 30 minute drive from one to another as it's separate by the estuary. Because of this, there is a way to get to Grande by Boat which is much faster for surfers if they live in Tamarindo.
The boat ride from Tamarindo beach to Grande beach across the estuary costs about $1 USD) one way. There are many locals with boats who can take you.
Many surfers will park at Tamarindo at the north end of the beach, take the boat to Grande and then boat back to Tamarindo after their surf session.
Please DO NOT swim across the river mouth as there are crocodiles there and there have been attacks before by people trying to walk/swim across. The river mouth connects to the Playa Grande estuary which is home to many crocodiles!
Playa Grande map. (Remember, this is the Playa Grande in Guanacaste).
Playa Grande is 64 kilometers (40 miles) and a 1 hour and 10 minute drive from Liberia International Airport.
Located along the Tamarindo Bay, Grande is perfect for those looking for a more low key beach away from the bustling Tamarindo town which is a 30 minute drive away.
Getting Around Playa Grande
The best way to get around Playa Grande is by renting a car. There are no public buses to Playa Grande and the area is very spread out. Since there isn't really a town or town center with everything, you will have to drive a bit to get to a full size supermarket, pharmacy, bank and other services.
Parking
There is a good size parking lot at the main entrance to Playa Grande. You have to park in the area outside or along the street.
They charge 2000 colones fee to park.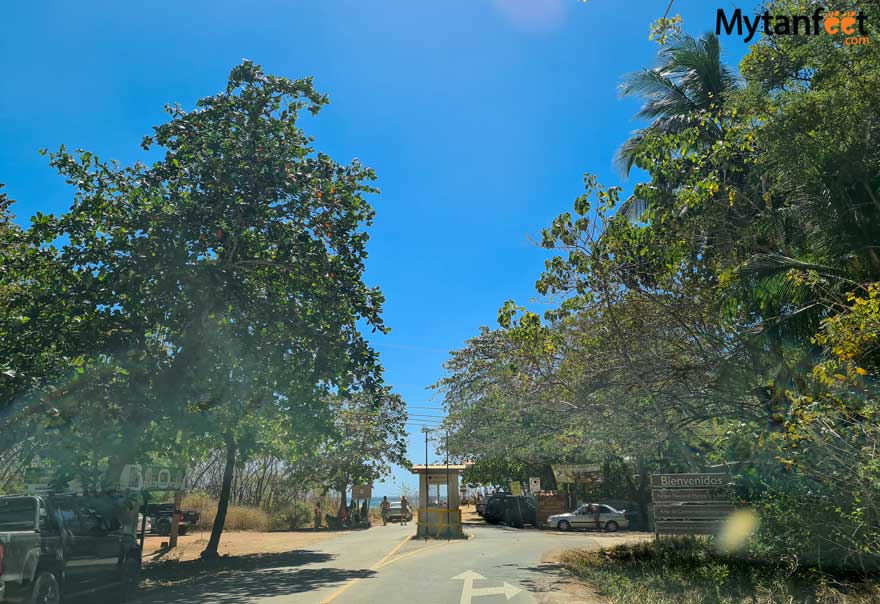 There will be some local "parking guards" sitting around the parking lot. However, do not leave any valuables in the car, roll up your windows and lock your doors.
On weekends, the parking lot may get very crowded so you may have to park further down the street so be even more vigilant about not leaving any valuables in your car.
Fee
No fee to go to the beach but there is the parking fee.
Services
There is a beachfront restaurant called Taco Star at the main parking lot but no other services (public bathrooms, showers, changing rooms, etc.)
Playa Grande Beach
Playa Grande is a long, vast beach with not much shade but soft tan sand and sparkling blue waters.
If you plan to spend the day there, we do recommend to bring your own umbrella if possible because there aren't any trees for shade and it is very hot!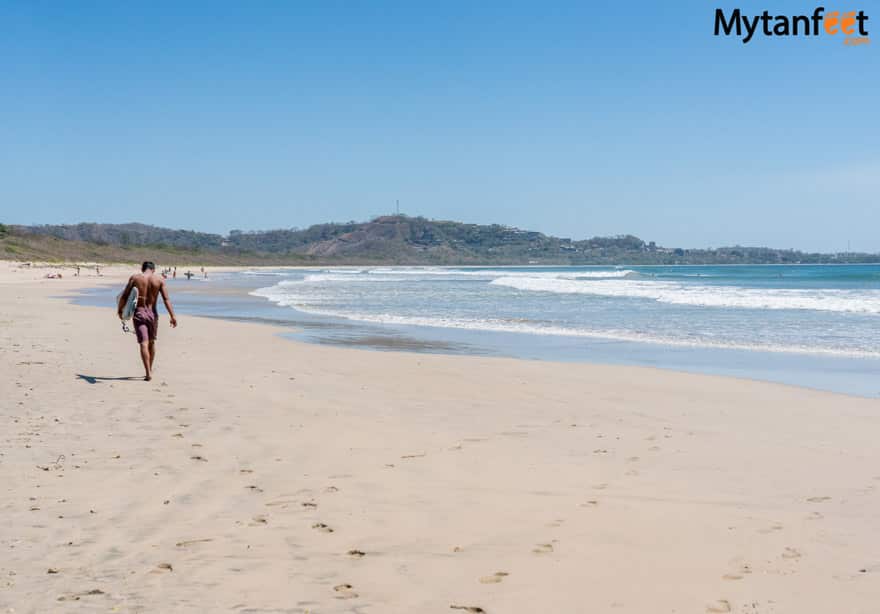 But if you're a surfer, you'll in the right spot. Grande is known for having excellent, constant waves for both intermediate and advanced surfers. Local surfers love Playa Grande, thanks to its many surf points and breaks.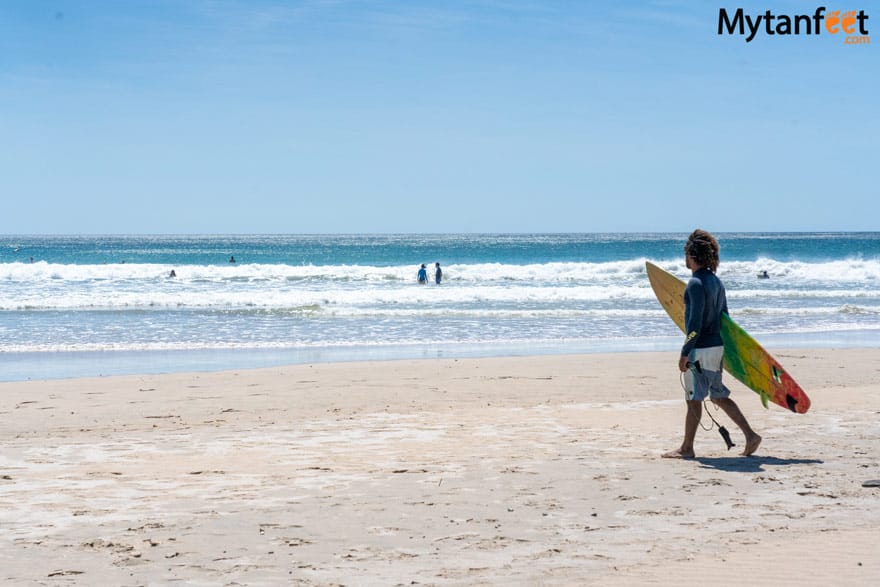 When there's a swell, Grande is big. They named this beach very appropriately! (Grande means big in Spanish). Waves are fast and strong with left and right hand tubes at the many breaks.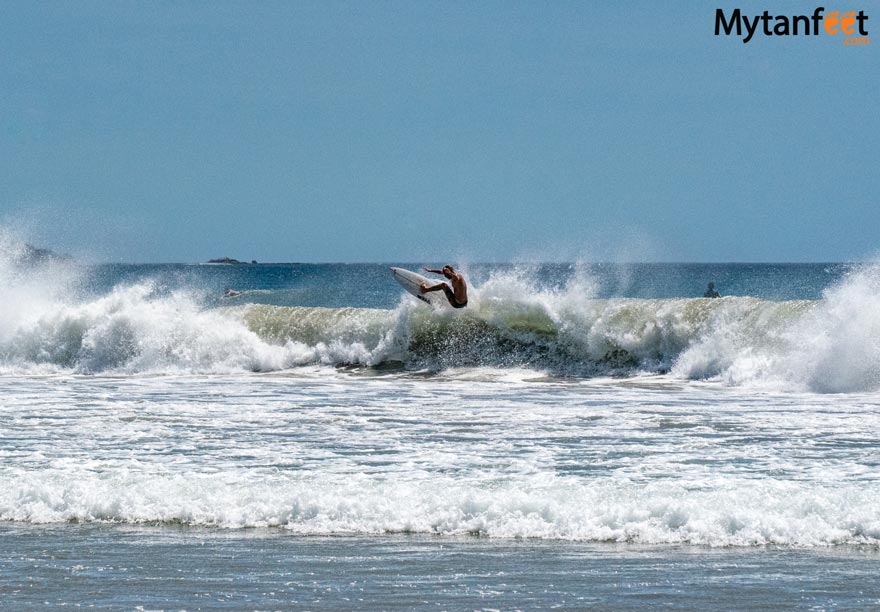 You can find waves for beginners up to advanced surfers, for both longboarders and short boarders. For long boarders, we like to go to the Casitas point or by the estuary/river mouth (south end of the beach).
To get to the Casitas point, you can take the boat from Tamarindo. Or you can drive to Palm Beach Estates and park there. On Google Maps, it's marked as "Playa Grande parking for walk to south beach access at river."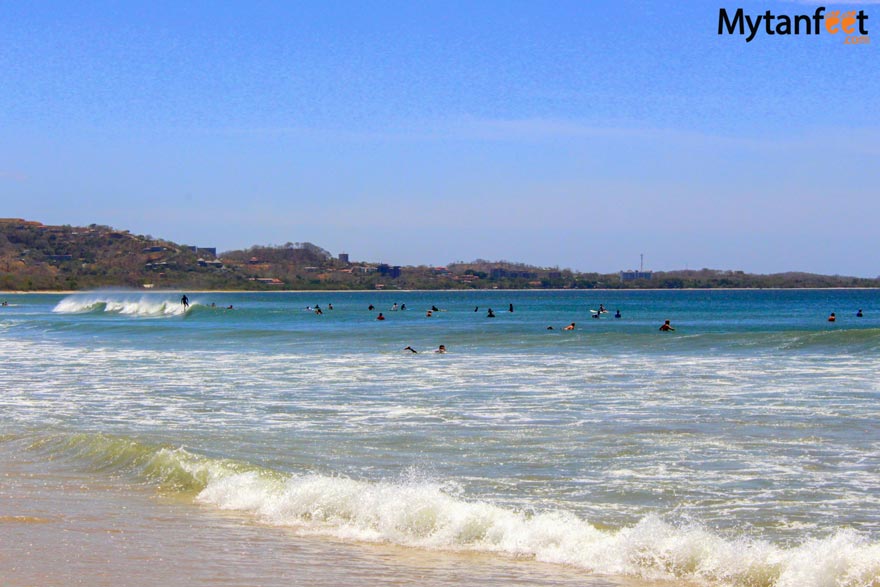 This is why many locals will take the boat from Tamarindo to Grande as it'll drop you off right as the Casitas surf break and you don't have to worry about your car.
Things to do at Playa Grande
Waves are not the nicest for swimming and it can get big and strong. Visitors also need to be aware of rip currents at Playa Grande. Snorkeling is not possible at this beach.
Surf Lessons
If you want to take a surf lesson, check out Frijoles Locos, Mojo or A Cachete Surf. Group lessons are around $50 USD per person and you can also choose private lessons.
Playa Ventanas and Playa Carbon
Playa Ventanas neighbors Playa Grande to the north which is accessible by car or walking on the beach. Many people like to get their 10,000 steps in by walking all the way from Grande to Ventanas and back. It's a long but really nice walk.
If you want an even longer walk to work up more of a sweat, you can keep going up to Playa Carbon. There you can do some snorkeling and play in the tidepools during low tide.
Something else you have to do at the beach is to watch the sunset. From Playa Grande, you get a full view of the sun going down and it is just stunning. Just remember that as Playa Grande is part of the Marino Las Baulas National Park, the beach is closed after dark.
Turtle Nestings
As part of the Marino Las Baulas National Park, Playa Grande is a turtle nesting beach for leatherback turtles. The season is October to February with the peak time in December and January.
However, the number of nesting turtles has decreased unfortunately and they are not as abundant as they used to be. You can inquire about a turtle viewing turtle during the season to see if any companies or guides will take you though.
Otherwise, it is better to go to Ostional Wildlife Refuge to see nesting turtles (2 hour drive one way). Highly recommended the months June – December (must go with a guide).
Sometimes in the months of February and March, turtles have shown up randomly to nest on Playa Grande beach. And in the early mornings, the hatchlings come out and make their way to the sea. It's not often and it's not common, but it has happened.
Day Trips from Playa Grande
If you plan to base yourself in Playa Grande for your vacation, there are many fun day trips from Playa Grande and places to visit. Here are our recommended day trips, all these require at least a 1 hour drive except for Flamingo and Black Stallion Estates.
Diamante Eco Adventure Park (ziplining, animal sanctuary, cultural tour): Adventure park with an oceanview zipline, animal sanctuary, local house with cultural tours, botanical garden and beach club.
Hacienda El Viejo Wetlands (culture, nature): Family owned sugar cane plantation and private wildlife refuge. Offers cultural, rum and wildlife watching safari tours. Get our El Viejo discount in this link!
Palo Verde National Park: This national park protects the important Tempisque valley and river, home to a plethora of river birds, reptiles and migratory birds. Excellent place for a safari wildlife watching boat tour.
Scuba diving: Go on a discovery dive if you're not certified or for a 2 tank dive at the Catalinas Islands. Departure is from Flamingo marina, just a 30 minute drive from Grande and you'll have opportunities to swim among fish, turtles, manta rays and sharks!
Since Grande and Tamarindo are so close, you can check our things to do in Tamarindo for more ideas of activities and day trips.
Beaches to Visit from Playa Grande
From Playa Grande, you have a grand selection of amazing beaches to visit. Here are our top picks.
Conchal beach, Avellanas, Flamingo, Langosta and Potrero. Then there are a ton of hidden, more locals beaches like Danta, Penca, Prieta, Mina and Real.
You can watch our video below to see what some of these beaches look like!
Where to Stay
There are a few decent surf hotels and lodges such as Ripjack Inn, Flor y Bambu Glamping, Sol y Luna Lodge and Grateful Hotel. For unique lodging, check out Pipe House which has rooms made out of recycled concrete tubes.
Grateful Hotel sometimes has live music on Sunday so it's a nice spot to go for some nightlife and entertainment.
Additionally, Playa Grande has many vacation rentals which we recommend for families or large groups. Check out Booking.com or Airbnb, especially if you're visiting with a large group or family. Look for neighborhoods like Palm Beach Estates, Las Ventanas de Playa Grande and the one on the way to Playa Ventanas (Casa Tres Cocos/Naranja/).
Where to Eat
Pots n Bowls, Cafe Mar Azul, Cafe de Pueblo, Kike's Place, El Huerto Pizzeria and the Great Waltini's are good places to eat. RipJack Inn also has a restaurant. Pinto Quemado is a good barbecue place.
If you like craft beer, we recommend to stop by Brothers of Ale in Huacas and Las Olas Brewing in Playa Grande.
Visiting Playa Grande
You can stay in Playa Grande for a few nights or use it as a home base for your Costa Rica vacation. Or just visit Playa Grande for a day from Tamarindo. Either way, it is a must see beach in the Northern Guanacaste region.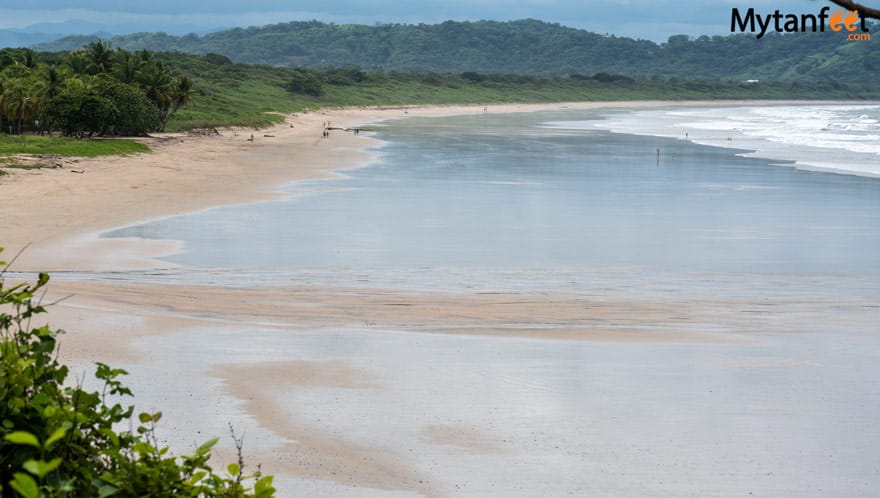 Our best tip for staying in Playa Grande is to rent a car if you plan to stay for more than one night.
Supermarkets in Playa Grande
There is a mid-size supermarket called The Store on the way to Playa Grande. For bigger full size supermarkets, you will have to go into Tamarindo or Huacas.
Our personal recommendation is to get supplies after you land at Liberia Airport. There is a Walmart and a Peri Mart in Plaza Santa Rosa in Liberia, about a 10 minute drive from the airport and both are full size supermarkets.
Groceries are a bit cheaper in Liberia and then for other things you need during your trip, you can go to The Store or any of the other supermarkets in Huacas or Tamarindo.
Shopping, Health, Etc.
There is a medical clinic in Playa Grande called Playa Grande Clinica, part of the Beachside Clinic.
For shopping, there is a cute swimwear shop called Bahia Swimwear.
Want to read about other surfing beaches in Costa Rica? Here you go!
Dominical: Popular surfing and hippie beach town in the South Pacific Coast
Jaco: Popular surfing beach town, only 1.5 hours from San Jose. Most developed beach town
Mal Pais: Small fishing village by Santa Teresa. Great surfing waves and fishing
Esterillos Oeste: Small beach town about 20 minutes south of Jaco. Great surfing waves, few hotels, nice local atmosphere
Junquillal: Nice, local beach in the small rural Junquillal town in Guanacaste. About 30 minutes south of Tamarindo
There are affiliate links in this post.