Although there is a lot of information about Costa Rica on the web, there is still so much misinformation. As we have been traveling around Costa Rica together for over ten years, we've learned a lot and want to share that knowledge with you whether you're a first time visitor or repeat visitor.
Here are 17 things to know about Costa Rica before you visit.
There are Amazon affiliate links in this post.
1. Costa Rica is not as cheap people think
This is one of the most important things to know about Costa Rica. Many people assume that Central America automatically equals cheap travel. This is the biggest common misconception about Costa Rica. Yes, its neighbor, Nicaragua is dirt cheap but it's is also one of the poorest countries in Latin America so you can stretch your money very far there.
Those who don't know this about Costa Rica get an unfortunate surprise when they see prices here. Tours can easily cost $150 USD a person, food can be the same price as Canada/USA/Europe and gas has always been more expensive at around $5-6 USD a gallon. Without careful planning, you can blow through hundreds of dollars fairly quickly.
But we can help! Read about the cost of Costa Rica in these posts to help you stay within your budget. Also don't forget to take advantage of our Costa Rica deals! We have discounts for car rentals, tours and a couple hotels.
2. Costa Rica is a small country but it takes longer than it seems to get around
Costa Rica is a little smaller than West Virginia and Denmark so it's easy to think you can road trip the whole country in a week. Technically you can, but trust me, that wouldn't be very fun!
This is because of the not so great infrastructure so the roads in Costa Rica are never as the crows fly. The average speed limit on the highways here is 80 kmph (~50 mph). Many routes only have one lane which causes lots of congestion and traffic as all the trailer trucks use the same route. There is no one road that goes all around Costa Rica either that easily connects coast to coast.
So when planning out your driving routes, make sure you always add at least 1 hour to whatever what your GPS says. Read more about getting around Costa Rica here to plan out your trip.
For example, Tamarindo to San Jose is 259 kilometers or 161 miles. On a good day if we leave at like, midnight or 4 in the morning, it takes us 4-4.5 hours. However, due to lots of construction and more people on the road, the average drive time now is 5.5 hours. One time it took us 10 hours because an deadly accident occurred on the one lane roads. Unfortunately we were standstill for 2 hours and ended up arriving in San Jose during rush hour.
This is one of the mistakes to avoid when traveling in Costa Rica. Don't try to drive everywhere, don't drive cross country routes everyday and always know that your drive will take longer than what the GPS says. For a one week trip it's best to choose 2 destinations or pick a home base and do day trips. Plan smart, travel easy.
3. Tap water is safe to drink in Costa Rica
In the Central Valley cities, you can indeed drink the tap water. We have no problem drinking tap water in San Jose, Heredia, Cartago and some mountain areas like Monteverde.
Though tap water is generally safe to drink, I still recommend bringing a filter if you're sensitive. You can also help the environment by bringing an insulated water bottle and filters instead of buying bottled water.
The more remote and rural places generally don't have drinkable tap water however. These are places like Tortuguero, Osa Peninsula, Santa Teresa, Sarapiqui and Golfito. Hotels will indicate whether the water is safe and tour guides will let you know which faucets to use. Some hotels will have a bottled water station for you to fill up your bottles.
Read more about drinking tap water in Costa Rica.
4. Dengue, not malaria is the main disease from mosquitoes in Costa Rica
The mosquito borne disease travelers should concern themselves with in Costa Rica is dengue fever, not malaria. Costa Rica has many more cases of dengue than Malaria and Zika.
Remember, mosquitoes are in Costa Rica year round and are worse in rainy season. Mosquitoes breed in stagnant water so bring plenty of repellent and cover up. Read our tips for protecting yourself against mosquitoes in Costa Rica.
Extra travel safety tip: Make sure to purchase travel insurance just in case you do catch something! You can read more about Costa Rica travel insurance in this post.
5. Costa Rica gets cold but it doesn't snow
Costa Rica experiences typical tropical weather but it has many micro-climates. It doesn't snow but it does get quite cold in some areas due to the high elevation. You can read more about Costa Rica weather in this post.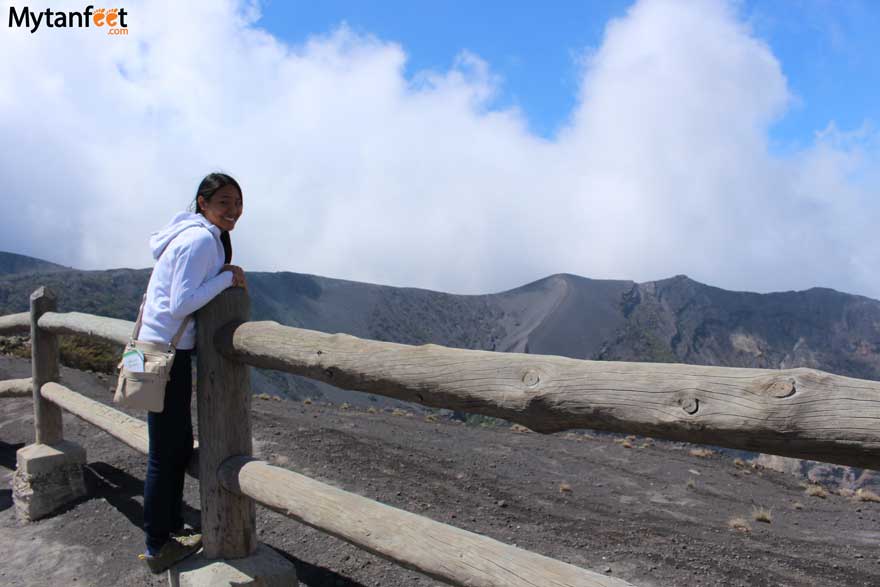 Some of the colder areas are Monteverde, Poas, Vara Blanca, San Isidro de Perez Zeledon, Chirripo and San Gerardo de Dota. Temperatures in those areas can get down to a chilly 50s Fahrenheit (10 C) at night if the winds are strong. The coasts stay nice and hot, mostly in the 80s and 90s Fahrenheit (27 – 32 C) during the day.
Make sure to research the area you are visiting so you come prepared. For packing tips, check out our Costa Rica packing list to see what you need to bring for different activities and destinations. Our must have items are an insulated water bottle, microfiber towel, battery pack, sunscreen SPF 50, sunglasses, dry fast clothes and mosquito repellent.
6. US dollars are readily accepted and are the standard currency in tourism
Hotels and tour companies quote their prices in USD in Costa Rica. This is normal in tourism. Additionally, Costa Ricans can have bank accounts in USD as mortgages and car payments are quoted in USD. US dollars have become the standard currency in tourism.
So when you're trying to get your money together, don't stress too much about exchanging it all beforehand as it's not 100% necessary if you are from the USA. USD is accepted in pretty much every touristic destination.
If you are Canadian however, it will be better for you to have Costa Rican currency due to the Canadian dollar and USD exchange rate. Ask the hotels or tour companies if you can pay in colones instead and how much the exchange would be. Canadian dollars and other currencies are not accepted in Costa Rica, only USD.
Also make sure you check what the exchange rate is. The exchange rate changes everyday, sometimes even hour so you need to check. Since the current the exchange rate is around 540 CRC to 1 USD, some places may try to stiff you by using a 500 to 1 rate and you will lose out a bit. The best place to exchange currency is at the bank, not at the airport exchange rate booth.
Read more about handling money in Costa Rica.
Tip for exchanging currency: supermarkets accept USD and if you pay in USD, they will give you your change back in Costa Rican colones. Easy way to exchange money without having to go to the bank. Just make sure to calculate the exchange rate. The supermarket should have a sign of the exchange rate for the day near the front or by the cashier.
7. You can still visit Costa Rica in rainy season and have a great time!
Dry season in Costa Rica has the best weather. Thanks to the sunny days, it is also our high tourism season because everyone wants to escape the winter up north.
Costa Rica's rainy season is around beginning of May to end of Nov/beginning of December. The rainiest months for most of Costa Rica is September and October and November and June for the Caribbean.
Yes it rains and you do need to pack and research more for rainy season. But you will still have a great time! Check out our Costa Rica rainy season packing list for tips.
Here are some other things to know about why it's actually awesome to visit Costa Rica in rainy season.
Rainy season is also Costa Rica's low season. This means less tourists!
Prices for hotels and tours go down and businesses throw lots of promos in October. It's the best time to travel cheap in Costa Rica.
A typical rainy season day is sunny and hot in the morning, cloudy in the afternoon and rainy in the evening/night.
Rainy season is the best time to see certain wildlife like humpback whales and turtles.
To read more about visiting Costa Rica in rainy season, click the link. Personally, we love rainy season in Costa Rica. Less crowds, not as hot, more wildlife and it's cheaper!
8. Sloths aren't everywhere (sorry)
As much as I hate to break it to you, sloths aren't everywhere. I know Costa Rica markets their cuddly sloths so much it seems that the roads are crawling with them but it's not true. Sloths, being the masters of camouflage, are normally very difficult to see without a guide or trained eye.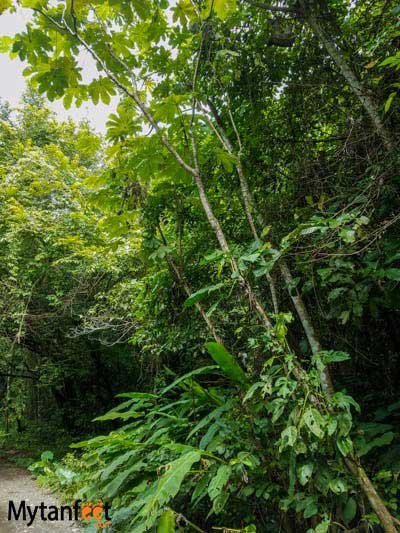 Additionally, there are some places where sloths aren't found in Costa Rica which a lot of tourists don't realize. For example, it is incredibly difficult to see one in Guanacaste due to the extremely dry climate. But if you visit the South Pacific or the Caribbean coast, sloths are much more common thanks to the lush rainforest.
One of the main "complaints" I've heard from visitors is that they didn't see a sloth. I asked them where they were in Costa Rica and many of them were at the Pacific coast or in the city where sloths don't live. If you want to see a sloth, then you need to go to where they live! Find out where are the best places to see sloths in Costa Rica in our guide.
To make sure you see a sloth, hire a guide. They have trained eyes and will have binoculars or telescopes to find them. If you're staying on the Guanacaste coast and want to see sloths, check out this awesome Rainforest and Sloth day trip!
9. Police can stop and ask for your papers at any time
In Costa Rica, police are legally allowed to stop any car and ask for papers. Always have a color copy of your passport and photo of your tourist stamp with you. Remember that to legally drive in Costa Rica as a tourist, you need to have your original passport (not a color copy), your original driver's license and a valid tourist stamp with you.
If a police stops you, they'll ask you for your passport, ask you where you're going and then send you on your way. Most of the time they don't ask anything else and many of them speak some very basic English.
Also something else to note is that the police in Costa Rica are generally very nice. They don't have a "shoot first ask later" mentality here and are willing to help tourists out. Likewise, there is a tourist police (policia turistica) that are specifically to help tourists so don't be afraid to ask them questions.
10. Wi-Fi is readily available…
…at hotels. It is common for hotels to offer free Wi-Fi and many of them have it available throughout the whole property. Some hotels may only have it in reception but it is free.
However, it's hard to find open Wi-Fi in public places. It's not like NYC where you can find a Starbucks and use the free Wi-Fi. If you see a restaurant with a secure Wi-Fi connection, you can ask them for the password. I've found most places are OK with giving it out as long as you are a customer.
If you always want Internet during your time in Costa Rica, we highly recommend getting a prepaid SIM card for your phone or renting a Wifi hot spot. Find out how to get a prepaid SIM card in Costa Rica. Car rentals also have Wi-Fi hot spots for rent.
Travel tip: The way SIM cards work is you will take out the existing SIM card in your smartphone you use at home and put in the Costa Rican one. Now your phone will be on the Costa Rican network so you can make local calls and texts in Costa Rica and be able to go on the Internet. Your phone number from home will NOT work anymore. A prepaid SIM card will subtract the credit used from calls/texts/internet from your balance accordingly. When your balance is low, you can add more credit to it at a supermarket or cell phone store. If your phone has eSIM, eSIM is also available in Costa Rica. Airalo is a good option for eSIM.
11. The standard tipping amount is 10%
This is something important to know about Costa Rica. First of all, tipping is not absolutely mandatory in Costa Rica. This is because tip, or service tax, is normally already included in the price so Costa Ricans don't tip extra. Service tax is 10% in Costa Rica.
However, if you would like to tip your guide, driver, hotel maid, etc. you may do so and it is very well appreciated. The standard amount to tip in Costa Rica is 10% and you can tip in Costa Rican colones or USD. You can tip more or less depending on how you feel the service was too.
Read more about tipping in Costa Rica in this post.
12. You must drive defensively in Costa Rica!
People are always surprised by the driving in Costa Rica. It's something I warn people about when they are renting a car in Costa Rica because the driving here is not well organized due to the not so great infrastructure.
Simply stated, always drive defensively, especially in the cities. Don't get stressed out or mad because it is a fact that you will get cut off and tailgated. You will see cars jump the line, not heed stop signs, run red lights and not use blinkers.
Of course not all Costa Ricans drive this way but for the most part, it is like that, especially in the cities. Once you get out to the rural areas, it's much more relaxed since there are less cars but you still need to drive defensively due to the infrastructure. There are always people, dogs, chickens, cows and other things in the middle of the narrow road thanks to lack of sidewalks, street signs and street lights. Get our Costa Rica car rental discount here and save some $$!
13. San Jose's not as bad as people make it out to be…
…for a day. San Jose is not the biggest nor prettiest capital city but it does have some hidden gems. You do not need many days in San Jose, just a day, day and a half or two is enough. You can find some of the best restaurants and craft beer in San Jose!
Then there are the cultural treasures: the National Theater and museums. Any history lover will want to stop by the city as there are few museums of this quality anywhere else in the country.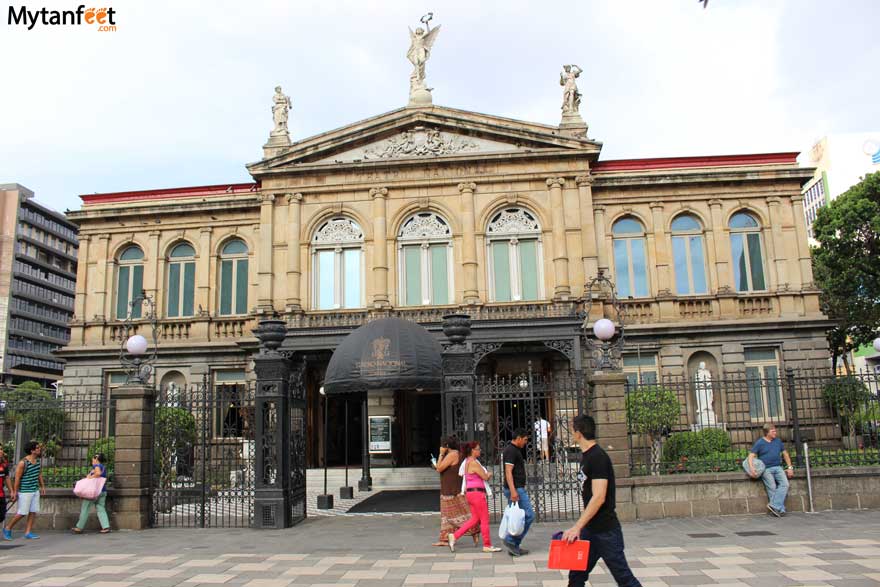 So when it comes down to it, San Jose really isn't as bad as people make it out to be for 1 or 2 days. And honestly, it is the best place to experience Costa Rican life since over 1 million Ticos live and work in the capital city (out of a population of nearly 5 million).
Also, we know many tourists who use San Jose as their home base and book day trips for their vacation. San Jose is centrally located so you can see many beautiful places on a day excursion.
Have a few days in San Jose? Check out our San Jose, Costa Rica travel guide for the best things to do or our San Jose day trips post. You can even get our San Jose tours discount to save some money!
14. English is widely spoken but not all Costa Ricans speak English
People assume that because Costa Rica is a touristic country and that there are so many North Americans here, that all the locals know English. Though many Costa Ricans know a degree of English, not all of them do. The Costa Ricans with higher education and who work in tourism, real estate or call centers are generally fluent in English.
But don't assume that all Costa Ricans know English. For tourists, you can get around Costa Rica without knowing Spanish, but it is helpful to learn at least the basic words. You can download our handy Costa Rica Spanish cheat sheet to learn a little. Personally, we always learn how to say the basics like hello and thank you in the language of the country we're visiting to be polite.
15. It gets dark by 6 PM everyday in Costa Rica
And the sun rises around 6 AM everyday since Costa Rica is only 8-12 degrees from the equator. It changes only about 15 minutes throughout the year. Being a tropical country, Costa Rica doesn't have Daylight Savings Time either.
So make sure to take into account that it gets dark by 6 PM everyday when planning your trip. Many places close at 5 PM too, not many places open late night nor are there really any 24 hour supermarkets or restaurants. In Costa Rica, you will learn to enjoy the early mornings. Plus, it's a bit hard to sleep in with so many monkeys howling and birds chirping at 5 AM!
Personal tip: we don't recommend to drive long distances after dark or to walk on the beach or streets at sunrise or after sunset.
16. Costa Rica doesn't have much in common with Mexico
For some reason, many foreigners think Costa Rica is like Mexico. But Costa Rica and Mexico are completely different!
Costa Rican food isn't like Mexican food at all and even the Spanish is different. In Costa Rica, they don't say andale andale or anything like that. They are two completely different countries with their own cultures, traditions and customs.
So when you visit Costa Rica, don't crack any jokes about Costa Rica being Mexico or Costa Ricans as Mexicans. It's one of the points about being a responsible traveler and as guests in a country, we have to be respectful.
PS. Costa Rica is not Puerto Rico either. For some reason lots of people get these two mixed up! We get a lot of "Costo Rico" or "Costa Rico" comments. People even think Costa Rica is an island, which it is not. We have even had people book their flight to San Juan, Puerto Rico instead of San Jose, Costa Rica! Do not make this mistake when planning your trip to Costa Rica!
17. Costa Rica doesn't have a military and theft is the most common crime against tourists
Did you know that Costa Rica is one of 23 countries in the world with no military? There is only the police force, the OIJ and GAO (like a SWAT team). Because of the lack of military, Costa Rica is a a peaceful country, making it one of the safest countries in Latin America for traveling, especially families.
The most common crime in Costa Rica is theft: car/house break ins and pick pockets. To prevent this, a lot of it is common sense. Don't hang your purse on the back of your chair, don't put your backpack in the overhead compartment of the bus, don't leave your wallet on the dashboard of your car, don't leave your car windows open.
So when you're traveling in Costa Rica, make sure to always lock the door, roll up the windows, have one person stay with your stuff at all times and don't leave any valuables visible in the car. Don't park in remote, dark areas. Don't leave your belongings unattended on the beach. Use your common sense. Be alert and aware.
You can read more Costa Rica safety tips here and our Costa Rica tourist scams.
Read more Costa Rica travel tips below!
Types of accommodation in Costa Rica
Costa Rica Vacation Checklist