One of the best things to do in Manuel Antonio is a catamaran cruise. These cruises depart from Quepos and sail out to sea, around the bays and peninsulas for a fun day out in the ocean. Guests have opportunities to snorkel, swim and see wildlife.
We did a morning catamaran cruise in Manuel Antonio and you can read more about it below!
Manuel Antonio Catamaran Cruise Video
First, we made a video in case you'd like to watch. You'll see why exactly a catamaran cruise is one of the must do things in Manuel Antonio for families and couples.
Manuel Antonio Catamaran Cruise Cost
The cost of the Manuel Antonio catamaran cruise is around $92 USD per person. In case you are interested in booking this excursion, we offer small discounts for tours in Manuel Antonio such as mangrove kayaking, national park hiking, ziplining and white water rafting. Click the link to get our Manuel Antonio tours discount!
Tour Times
During dry season (December through April), the catamaran cruise runs both morning and afternoon (Sunset). Morning catamaran cruise times are 8 AM to 1230 PM. Afternoon cruise times are 1 PM to 530 PM. During rainy season (May through November), the cruise only runs in the morning – they do not operate the afternoon tour due to weather conditions.
The Boat
The catamaran can hold up to 100 people and has two levels with a bathroom, covered seating areas and trampolines. It also has waterslides and a bar.
The catamaran depart from Marina Pez Vela which is just a 10 minute drive from Manuel Antonio.
What to Bring
Sunglasses, towels, change of clothes, hat, sunscreen, sandals, day bag and we recommend you to wear your swimsuit. Please also take anti-nausea medicine at least 30-45 minutes before if you are prone to seasickness.
What the Cruise Includes
Roundtrip transportation from hotels in Quepos and Manuel Antonio, bilingual guide, snacks, lunch and beverages like water, juice and soda. Alcoholic drinks for purchase on board the boat.
What the Manuel Antonio Catamaran Cruise is Like
So much fun! We did this adventure in July 2022 and although we went in the middle of rainy season, the morning stayed dry and clear. We got gorgeous views of the coast but snorkeling clarity was not good due to some red tide and debris from the rain the night before.
It did start raining as soon as we got back to shore around 1 PM so that is why the cruise is only available in the morning during rainy season.
I am prone to seasickness on a catamaran so I took anti-nausea medicine before we went. You can purchase anti-nausea medicine from any pharmacy, I purchased mine from a pharmacy in Quepos (make sure to ask them for non drowsy).
During the months of August and September, it is possible to see dolphin and humpback whales out in the ocean. There are some possibilities in July too but we unfortunately didn't get lucky.
Below are some photos from our Manuel Antonio catamaran cruise excursion. We really enjoyed this activity and it is a must do in Manuel Antonio. All the kids on the boat had an absolute blast jumping off the boat and swimming so it's one of the best things to do in Manuel Antonio for families! Don't forget to get our discount off this tour to save some $$!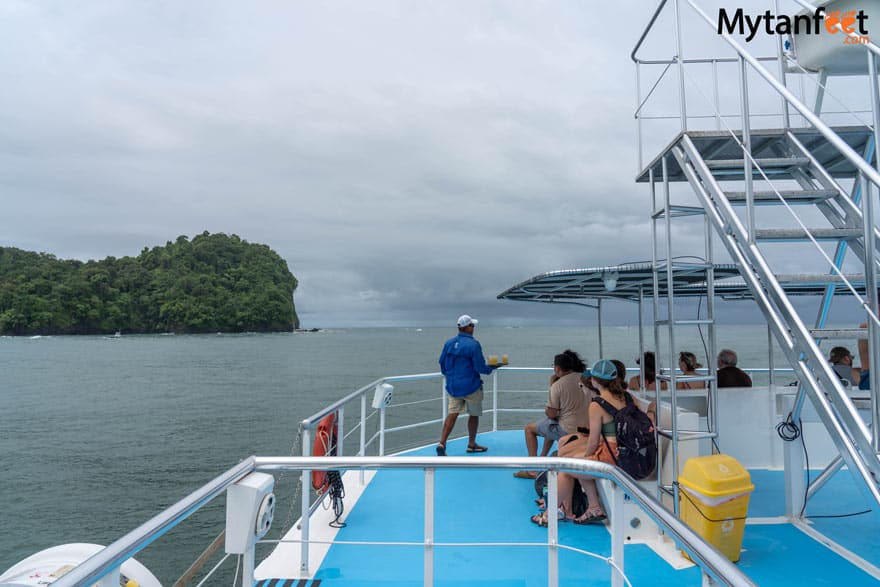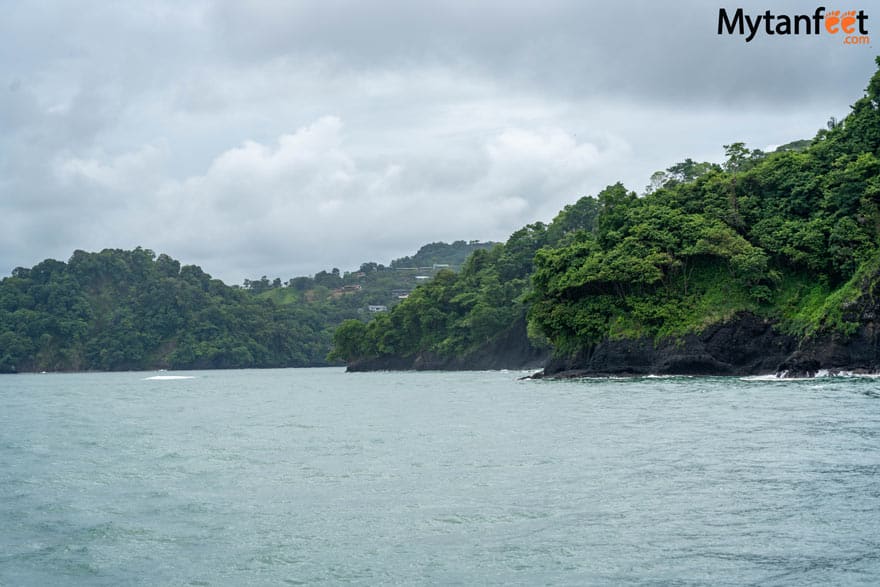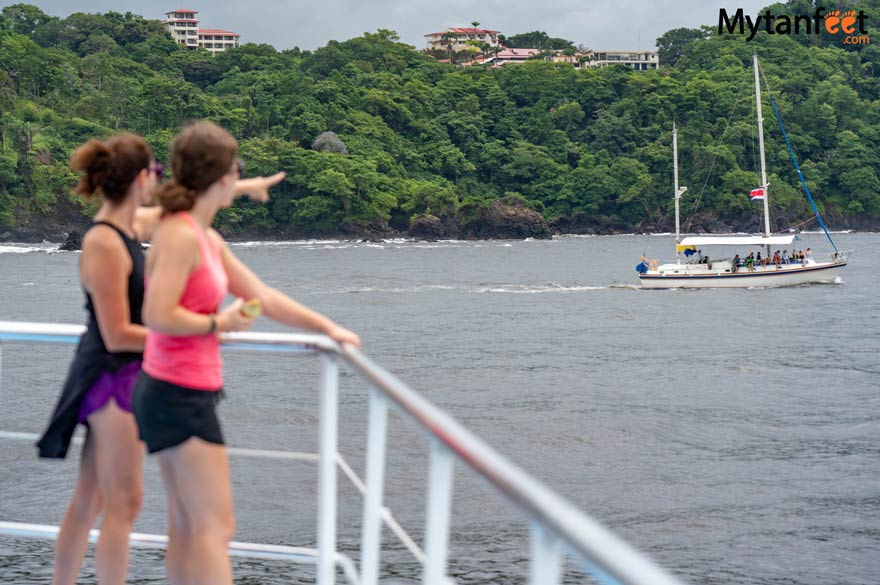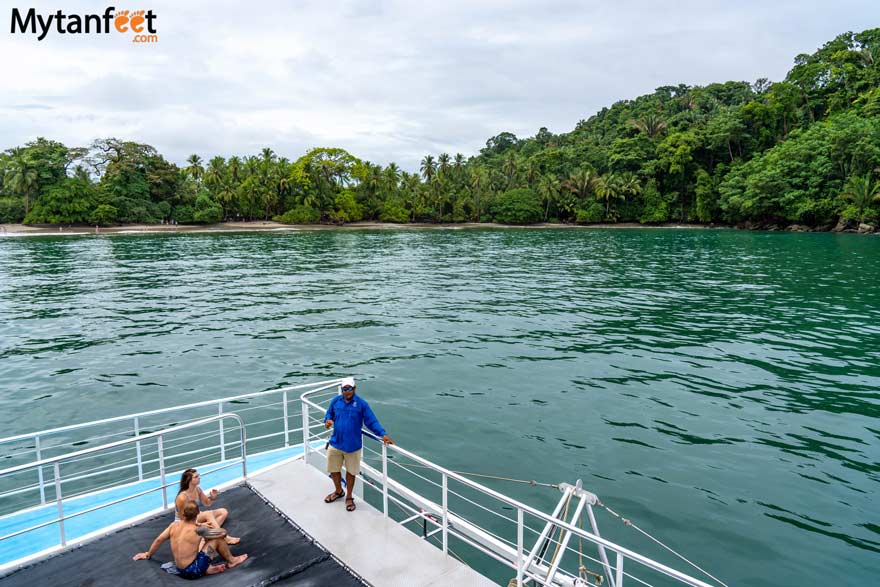 Other Posts About Manuel Antonio
Damas Island Mangrove Kayak/boat
Itineraries that include Manuel Antonio
Costa Rica 1 month itinerary. Destinations are Puerto Viejo de Talamanca, La Fortuna, Monteverde, Playa Hermosa, Samara, Manuel Antonio, Uvita and Drake Bay.
Costa Rica 10 day itinerary. Destinations are Rincon de la Vieja, Bijagua, Bajos del Toro and Manuel Antonio.
Costa Rica 1 week itinerary. Destinations are Jaco, Manuel Antonio, Uvita.
Costa Rica 10 days. Destinations are San Jose, Puerto Viejo and Manuel Antonio.
Costa Rica 1 week family itinerary. Destinations are San Jose, La Fortuna and Manuel Antonio.