If you're an avid birdwatcher and planning to visit Monteverde, then you must visit the Curi Cancha Reserve. The Curi Cancha Reserve is one of the best places in Monteverde to see Resplendant Quetzals and many other birds.
In this guide, you will find out what the trails are like, what birds you can see and a comparison of Curi Cancha and Monteverde Cloud Forest.
There are Amazon affiliate links in this post.
Curi Cancha Information
Curi Cancha Reserve became an official wildlife refuge in 1997 and has been welcoming tourists since 2011. It protects 83 hectares (205 acres) of virgin rain forest, open pastures and secondary growth forests. Over 200 species of birds have been spotted in Curi Cancha making it a must for bird lovers.
Location and Directions
How to get to Curi Cancha Reserve: From Santa Elena town, head east towards the Monteverde Cloud Forest Biological Reserve. The road will soon turn to gravel a little after the El Establo Hotel and continue on this road for a few minutes. You will see a large sign on your left for the reserve. Turn left onto this road and drive another minute. It's 300 meters northeast of the Monteverde Cheese Factory. It's about a 15 minute drive from Santa Elena.
You can find Curi Cancha on Waze. The road is unpaved so we recommend a high car, Monteverde is known for having bad roads. You can read more about Monteverde road conditions in this post.
Curi Cancha Reserve Price and Hours
Curi Cancha is open 7 AM – 3 PM and 5:40 PM – 7:30 PM every day for self guided tours. The entrance fee for foreigners is $20 USD for adults and $12 for children ages 5-20.
Map
You can get a map of Curi Cancha for free at the ticket office.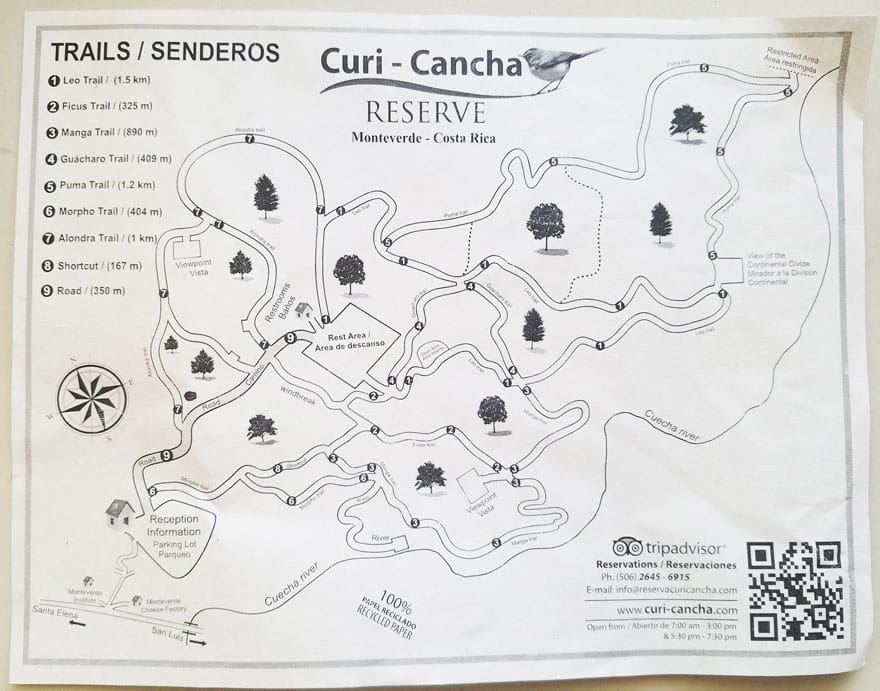 As you can see, the trails are not very long and they have a bathroom inside the reserve, rest areas and viewpoints.
Curi Cancha Hiking Trails
There are several different trails in the reserve, you don't need to walk all of them if you don't want to but they aren't very long. Here are some photos of the trails in the reserve.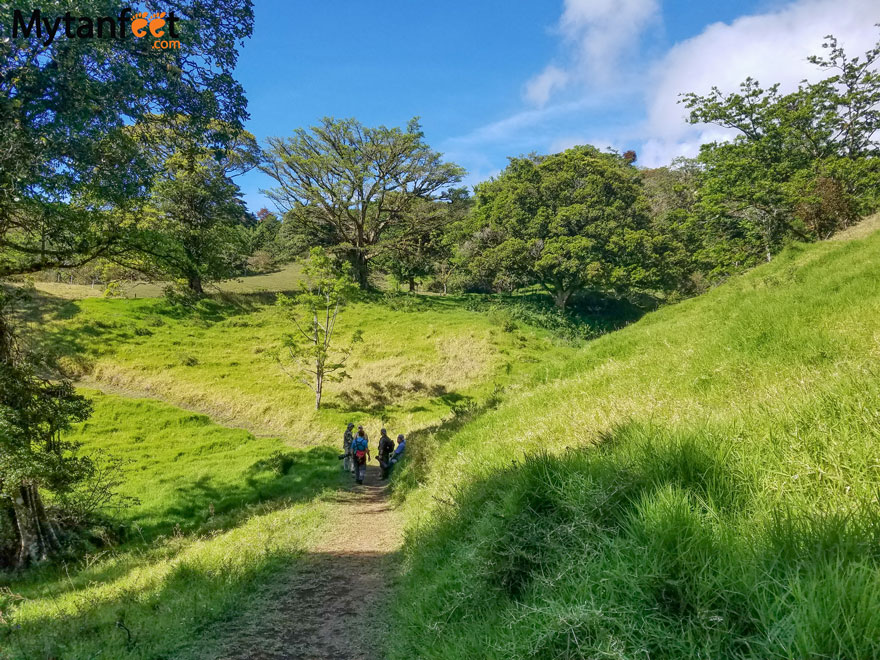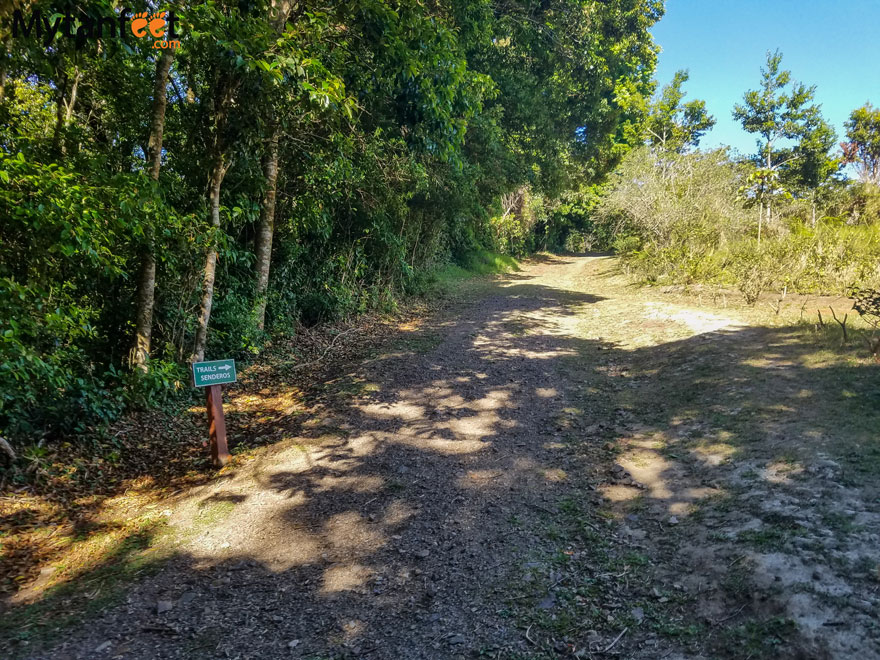 The trails are very well maintained and outlined with excellent signage, however there isn't a handicap trail. To hike the entire reserve at a leisurely pace may take you most of the day, especially if you're stopping to see wildlife and taking pictures. There is a nice viewpoint of the Continental divide from the Puma Trail.
We visited the reserve again in September and although it wasn't Quetzal season, we saw tons of toucans and hummingbirds. My parents were fascinated by all the orchids. We walked through the Leo trail where there is a really cool avenue of trees that you can walk through.
Although it started raining by around 11 AM or so, it was amazing to see the clouds roll in and surround us as we walked through the reserve. It really made us feel like we were floating high up in the clouds!
Curi Cancha Reserve Birds
There are over 800 species of birds in Costa Rica and you can see many of them in Curi Cancha. We saw Keel-billed toucans, lots of hummingbirds, mot mots, orioles and quetzals!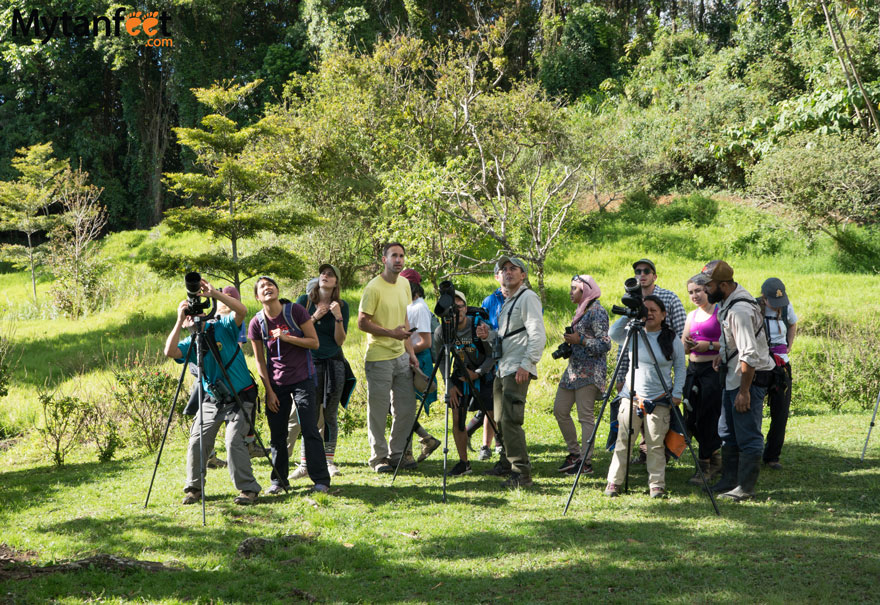 During the morning walk, we were joined by two other birdwatching groups so the trails felt fairly empty. Compared to when we went to Monteverde Cloud Forest, Curi Cancha was practically empty! Monteverde got so crowded that we would have to be constantly stepping aside to let large groups of people pass us.
Here are some photos of the birds we saw.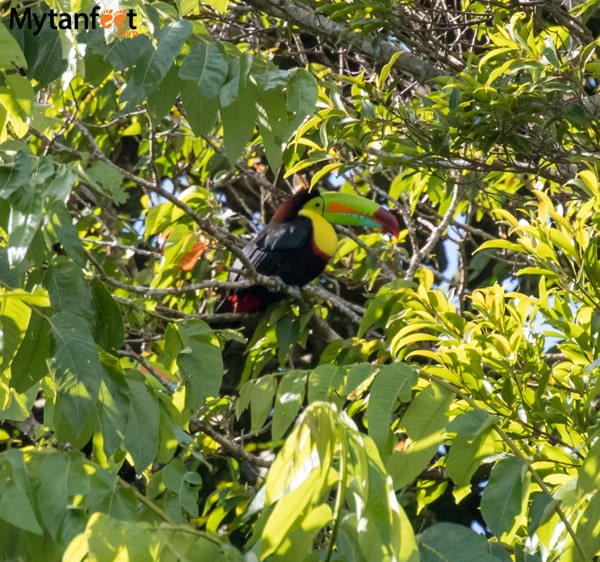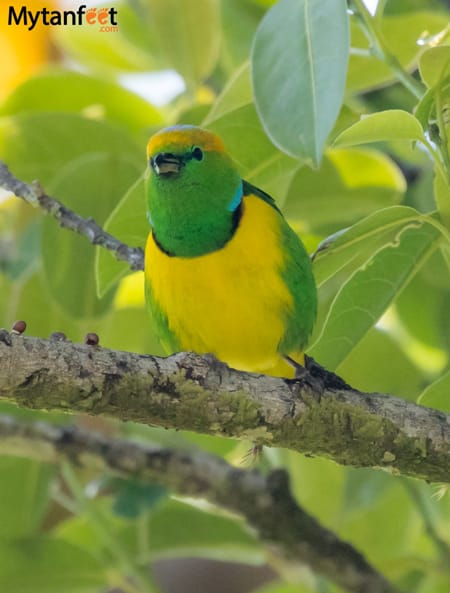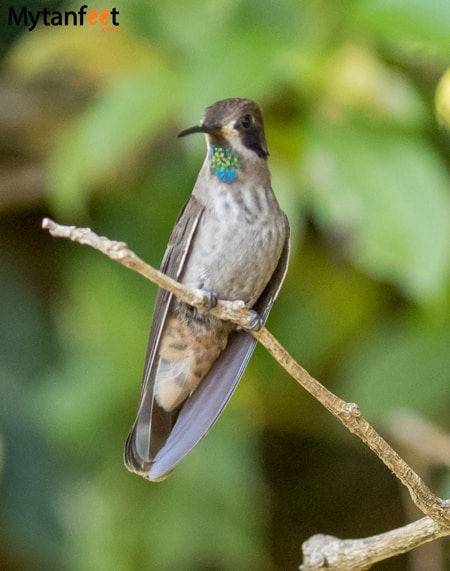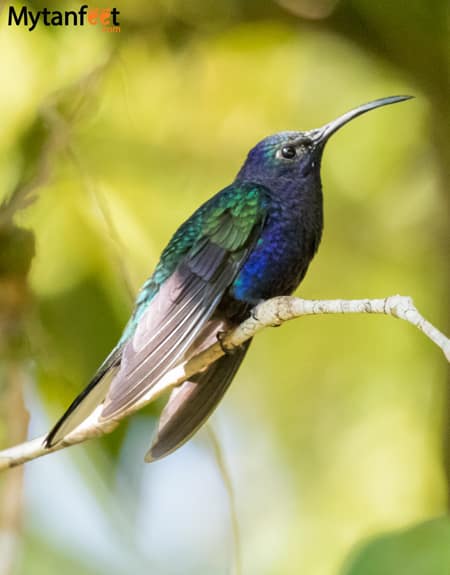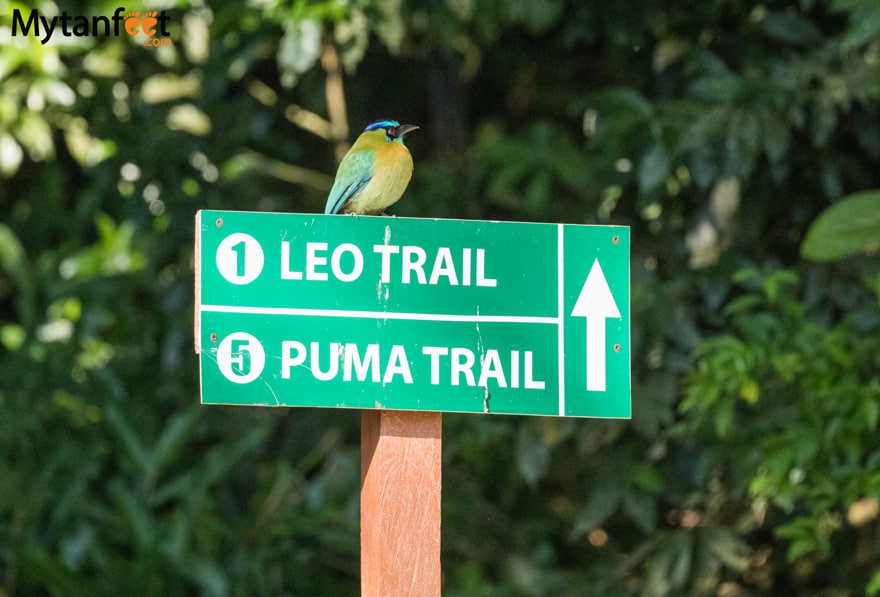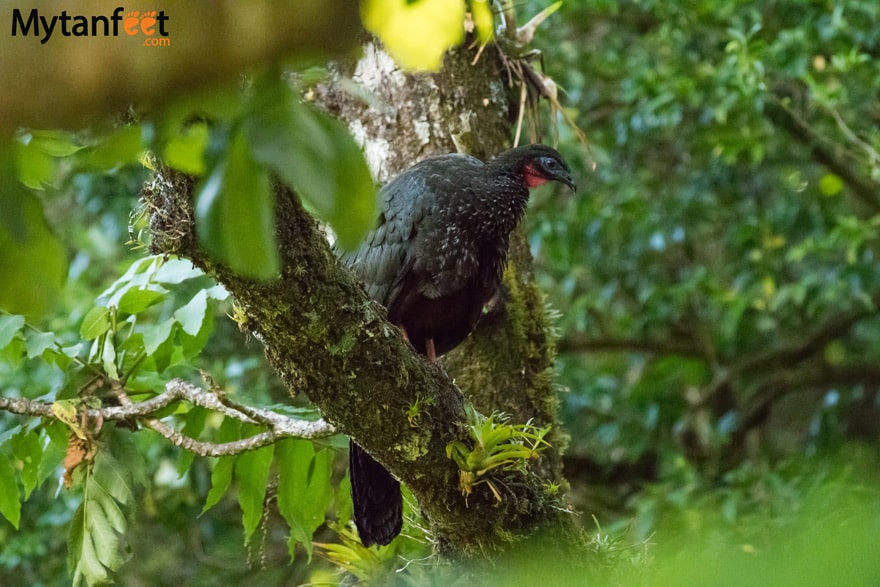 Resplendant Quetzals
We saw the Resplendant Quetzals in a huge avocado trail by the Alondra Trail, not far from the main entrance of the reserve. When you enter the reserve, take the first left through the forest. You will see the avocado tree on the other side.
We spent a couple of hours filming and photographing these incredible birds at this tree. About February to June is their mating season so we could hear the males chirping and competing for the females. We saw a total of 5 Quetzals in this tree!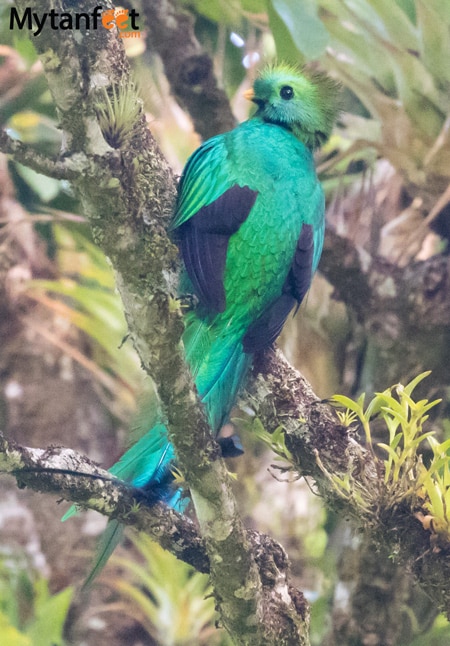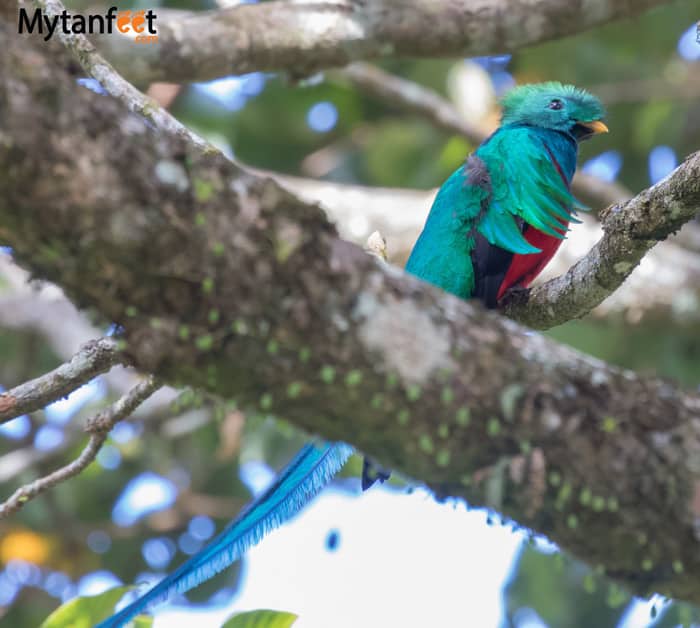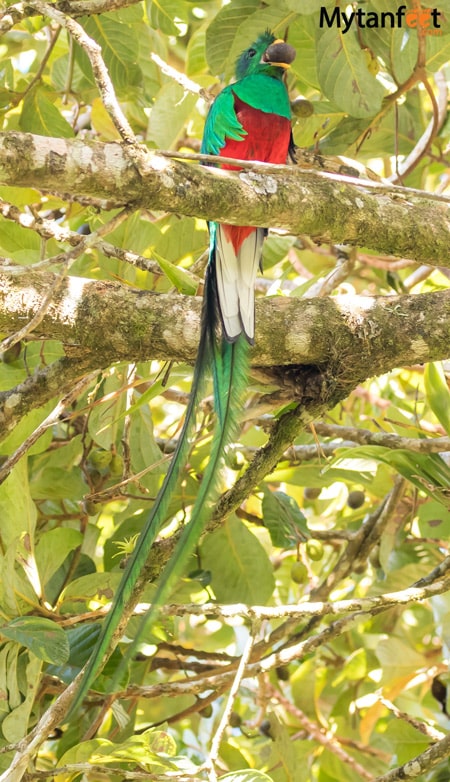 Here is a photo of the avocado tree we saw them in. There is a park bench and small viewing area which is where we set up our tripods and waited for the quetzals. I hope you see them too when you visit!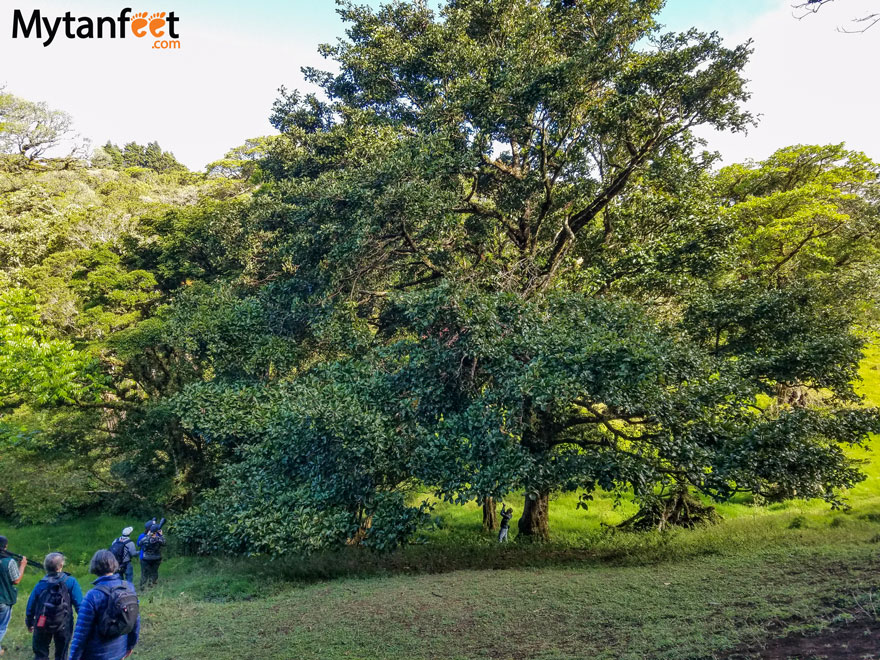 It can be hard to see the quetzals if they are perched really far into the tree. Keep your eyes open at this tree though and wait at least 15 – 20 minutes because they spend most of their time just sitting very still in the tree. It is only when they were eating avocados and males were flying around when we noticed they were there.
Resplendent Quetzals are such gorgeous birds, their green and red color sparkles in the sun!
Curi Cancha Vs Monteverde Cloud Forest
First of all, both are great places for hiking but there are pros and cons to both.
The cloud forest reserve gets incredibly busy during high season (December – April) When we visited in March, we kept running into large tour and school groups. There were only maybe 2 or 3 times when we didn't see anyone for a few minutes. We didn't see any wildlife in the Monteverde Cloud Forest either. However, Monteverde has nicer views since it is in the cloud forest and there is a view point where you can see both the Pacific and Atlantic.
I recommend Monteverde Cloud Forest for those who want more long hikes since trails are much longer and for those who want to see the cloud forest. Go early so it's not as crowded.
Curi Cancha
Curi Cancha is best for short walks and bird watchers as it is much more open and you can stay in one spot for a long time. Because of the large avocado tree in the front, it's easier to spot Resplendant Quetzals since they love that tree. However, Curi Cancha is not as "cloud forest" and the view point in this reserve is not quite as nice as the one in the Monteverde Cloud Forest Reserve. The trails are shorter in Curi Cancha so it's also a good option if you don't want to hike for a long time.
I recommend Curi Cancha for birders and wildlife photographers because it's much easier to see wildlife. When my parents visited, we took them to Curi Cancha because my mom desperately wanted to see toucans. And she saw 6!
Either one is excellent for hiking but if you love birds or are a photographer, Curi Cancha is much better. If you can, I recommend visiting both because they offer very different experiences.
Curi Cancha Guided Hikes
You can visit Curi Cancha on your own but if you really want to see birds, you need to hire a guide. Curi Cancha has guides for hire directly on their website (no transportation). Read more about guided hikes in Costa Rica to see if you should do them or not.
What to Wear and Other Tips
I recommend wearing closed toed hiking shoes, long hiking pants and a jacket.
Curi Cancha weather: Monteverde is high in elevation (around 1500 meters or 5000 feet) so it is much cooler. Average temperatures are mid 70s F (23 C) in dry season during the day. It can also rain throughout the year, even in the dry season. Bring a rainjacket!
If you're visiting in rainy season, it's best to go in the morning for least chances of rain. Waterproof equipment is a must if you're bringing camera equipment. Read our rainy season packing list.
There are binoculars to rent for $10 USD at the entrance office.
If you want to get photos, you need a telephoto lens. I used my Canon 100-400 mm with a Canon 80D. I saw some people with the Sigma 150-600 mm and 600 and 800 prime lenses. A tripod is also a must. I used a Zomei Carbon Fiber Tripod with a gimbal tripod head.
Video
And here is a short video of us at the reserve with some close ups of the Resplendant Quetzal.
Check out these posts for things to do in Monteverde!
Selvatura Park Monteverde (ziplining, hanging bridges, butterfly/hummingbird garden, insect/reptile exhibit)
Sky Adventures Monteverde (aerial tram, ziplining, hanging bridges)
Children's Eternal Rain Forest
Santa Elena Cloud Forest Reserve
There are Amazon affiliate links in this post.