It changed my life, no joke! You have to do it!
I listened to my friend describe her experience canyoning in Arenal with a bit of skepticism. Changed your life? Sure… everyone says that every time they travel! But I was curious. She wasn't the type of girl to say things lightly so it had to have been something special for her to say it changed her life.
So when I was planning my brother's Costa Rica itinerary, I made sure to book a canyoning tour in La Fortuna. And well, I have to say that my friend was right. It actually changed my life.
If you're visiting La Fortuna/Arenal and you love nature and adventure, canyoning is a must. Read on to see our pictures and videos from this amazing day and why canyoning in Arenal made such an impact on my life (and get 7% off this tour!).

There are Amazon affiliate links in this post.
That time we went canyoning in Arenal
We went with Pure Trek Canyoning which is the leading canyoning company in Costa Rica so we were in good hands. They drove us to the main office, located in the forest surrounding La Fortuna waterfall on one of those indestructible Toyota 4X4 to get all suited up.
For those who have visited Central America before, you know that it's incredibly common to ride in the back of these trucks as transportation, especially in not so nice roads. But as it was my brother and friends' first time here, this was kind of a surprise.
"We have to ride that?" my brother asked in dismay. "Hey, be grateful because in Nicaragua we didn't have seats… or a cover… or bars to hold onto!" I replied.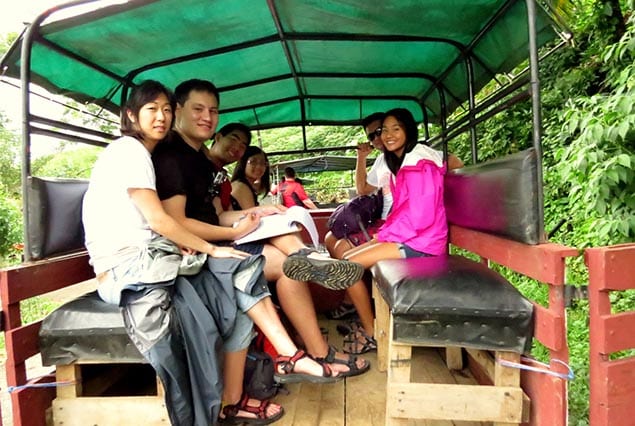 I think we were all kind of nervous and excited to do the canyoning. We suited up and the guides gave us the shortest safety presentation I've ever heard.
Hold the line with your left hand above, right hand down by your waist. Don't hold tight or else you won't move. Space your legs evenly apart. 4 waterfalls, 1 one rock wall.
Even for ziplining they give you this long schpeel and that's super easy! Well I guess we'll see how it goes. It must be a lot easier than it looks, after all you have someone on top and someone on bottom, two ropes and a harness to help you down. They said that if you get stuck or have trouble, the guides will do most of the work for you (phew).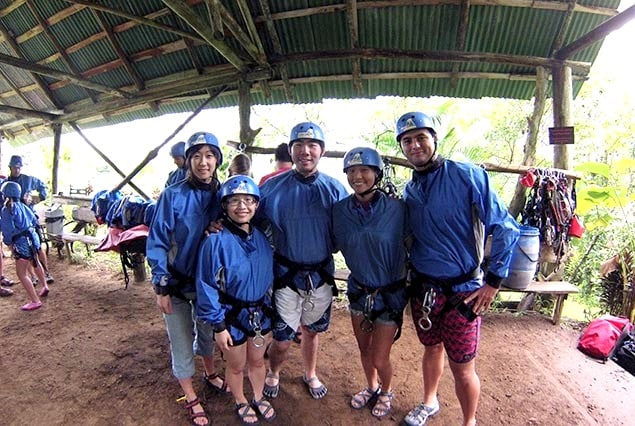 The first rappel was the longest, about 200 feet right next to a waterfall and they let us go 2 at a time. My brother and his wife went first and we could hear them yelling all the way down but I peered over the edge and saw them safely on the bottom. So why were my legs shaking so much?
I have to admit, I was nervous. I consider myself an adventurous person because I'm willing to try anything but I hadn't done many adventures. Ziplining, yes. White water tubing, yes. Ziplining upside down, check. But that was about the extent of my adventure list!
So when it was my turn, I looked at Yeison who was going down the same time as me and smiled big to hide my nerves. See you on the other side! I yelled out. I turned around to position myself and when the guide gave the signal, I took my first leap down into the jungles with only 2 ropes to hold me.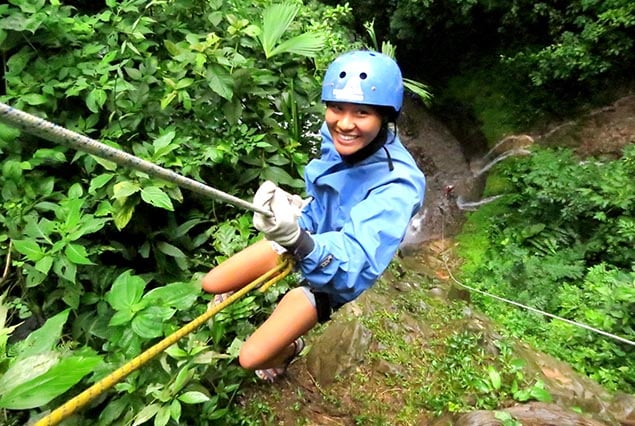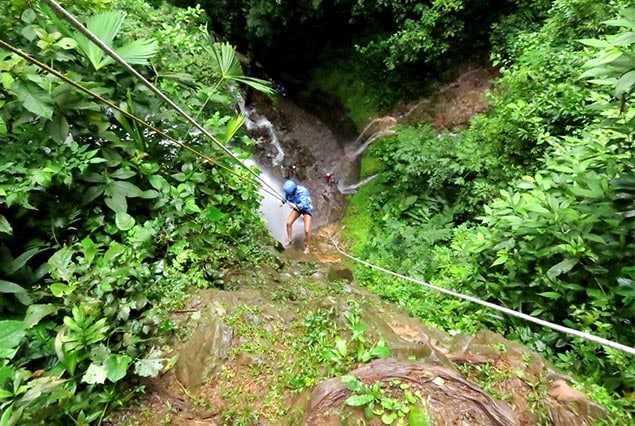 They weren't lying when they said don't hold tight with your hands. Even if you pinch the line ever so slightly, you don't move at all. You have to let open your left hand and just lightly wrap the rope with your right. At first my legs kept flailing around as I got my balance but as soon as I got one good push off, I steadied myself and hopped down like a bunny.
I glanced over at Yeison who was already halfway down, leaping who knows how many feet while here I was, moving only half a foot at a time. OK I need to let go more I told myself. Or else I would've been on that rock forever! I loosened my grip and gave a good push off the rock. Heck yea now that's way more fun!
I landed in the pool and thankfully the guide helped me get straightened as my legs were wobbling a little bit. Though I nearly fell face first into the water, I didn't care – I MADE IT! I eagerly trotted over to the next waterfall to get ready to go again.
The next one wasn't as high but you definitely get wet because you're right inside a waterfall. You have to jump and swing down about 40 feet because there is no rock to push off of and you get a nice spray of water in the face. Refreshing!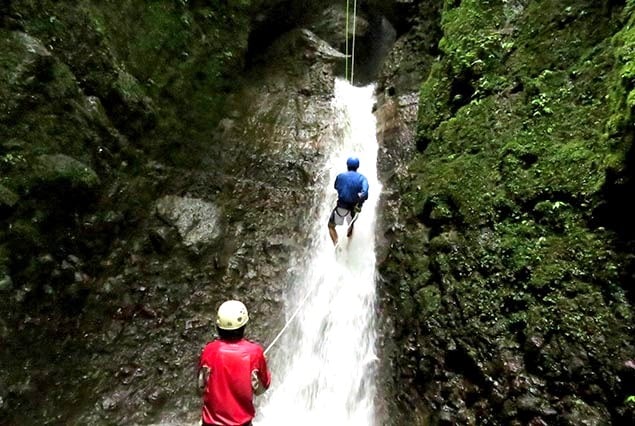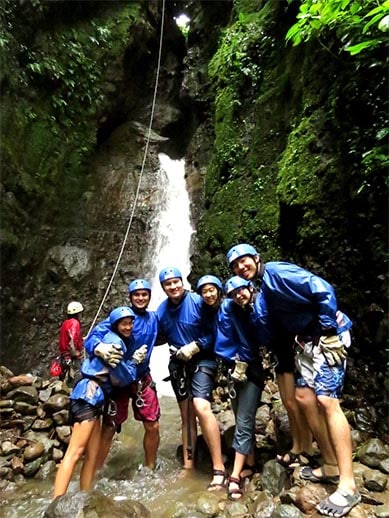 One more rock wall rappel down, another mini waterfall and then onto the last one, a big wide waterfall. By now I felt like a pro and I was wanting more. Pure Trek picked a great last waterfall as this one could be done in two ways. One big leap down or small leaps.
Our guide was encouraging everyone who wasn't sure if they could push off strong enough to go in small jumps. But I think he secretly wanted to get everyone soaked.
Well if everyone else is doing it, I might as well too! I decided to try my luck at taking one giant jump.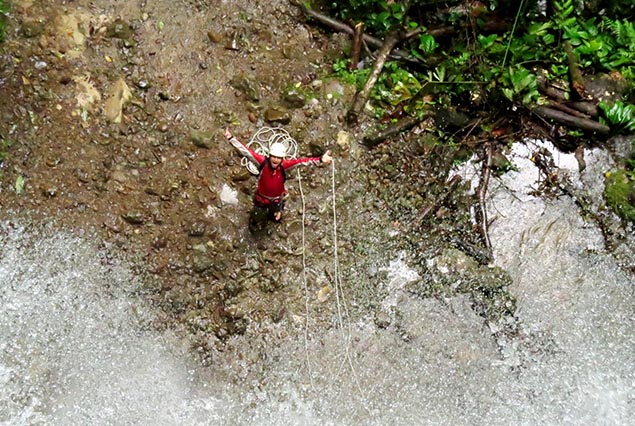 I didn't end up pushing off hard enough and landed about halfway in the waterfall where the guides playfully pulled me into the water. Ahhhhhh! I cried out as the cold water rushed into my face. Woo hoo!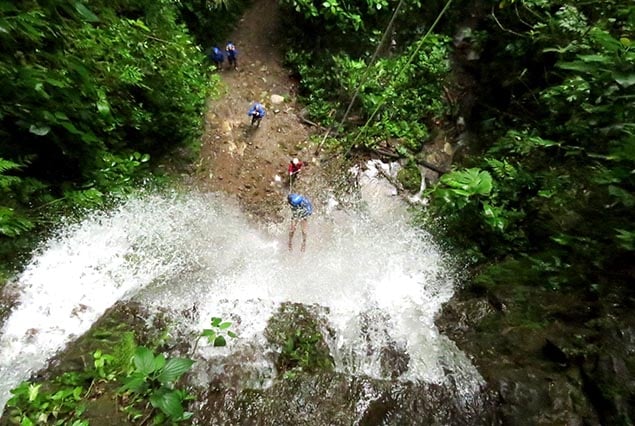 At the end, I was wanting more. More waterfalls, more rock walls. If I had to describe it one word, it'd be awesome. Freaking awesome! I really don't know why I was scared. Honestly! I was so proud of myself for doing it.
Our experience canyoning in Arenal opened up my eyes to outdoor adventure and this is the activity that got me hooked. I can actually trace it back to this very day and whenever anyone asks me what my favorite thing to do in Costa Rica, canyoning is on top of the list. The feeling you get when it's just you, the waterfall and nature is like no other. And that sensation of adrenaline rushing through your body, coursing through every vein makes you feel like you can do anything.
Costa Rica has given me many things including love and a new perspective on life but I never expected an appreciation and necessity for outdoor adventure would be one of them. I hope you feel the same way when you visit as well because there is no feeling like conquering your fear with nature or experiencing nature to the fullest.
Tips for the Best Canyoning in Arenal
Wear clothes that can get wet and dry quickly. You'll wear the blue top over your shirt but your pants will get. I wore jeans which was a terrible idea!
You don't need previous experience. Kids can also do this tour and if they are too scared, they can go with a guide who will take them down. Kids do need to be at least 5 years old to do the tour.
No need to swim.
Wear shoes that can get wet and go from water to land easily. Closed toed hiking sandals are the best since they're the most comfortable compared to wearing sneakers and socks since your feet will get wet. Hiking sandals also give you some traction. Wearing closed toed shoes will be super uncomfortable since you'll have soaking wet socks at the end!
The best camera to use is a GoPro or Sony Action Cam. Some helmets have the mount but you need to bring the attaching mount piece. A point and shoot waterproof camera won't work since you have to use both hands to go down
Don't try to bring your phone to take pictures, you end up getting soaked so don't take any risks. The company has a photographer which you can purchase pictures after.
Price includes lunch.
They have a morning and afternoon tour. The entire tour takes around 4 hours.
If you want to do this tour, we have a 7% discount for canyoning in Arenal!
Read about other things to do in Arenal here!

There are Amazon affiliate links in this post.