If you are staying on the Guanacaste coast and want to experience the rainforest, then this day trip is for you! From beach towns like Tamarindo, Playas del Coco, Flamingo, Potrero and the Papagayo Peninsula, this is the best day excursion to see tropical rainforest and sloths!
If you would like to book the Bijagua rainforest and sloth tour, click here to skip to our booking form at the end of the post!
Travel Time From Guanacaste Beaches
This Guanacaste rainforest sloth tour takes place in Bijagua, a small town up in the Alajuela province. Although this area is famous for Rio Celeste, the sky blue river and waterfall inside Tenorio Volcano National Park, Bijagua is also an excellent place to experience nature and wildlife thanks to the surrounding tropical rainforest.
From Liberia, Bijagua is a 1 hour drive one way.
From Playas del Coco/Ocotal/Hermosa/Panama, Bijagua is a 1.5 hour drive one way. Same with the Papagayo Peninsula resorts such as Four Seasons, Planet Hollywood, RIU, Secrets and Occidental Papagayo.
From Tamarindo, Bijagua is a 2.5 hour drive one way. (We live in Tamarindo so we departed from this area)
From Flamingo/Conchal/Brasilito/Potrero, Bijagua is a 2 hour drive one way.
What the Guanacaste Rainforest Sloth Tour Includes
Roundtrip transportation, bilingual guide, entrance fees, refreshments and lunch.
Difficulty Of Trails
Easy to medium. Both trails are a natural path so you will be walking on dirt, rocks, tree branches and rocks. It does have a slight elevation climb and there are some steps you need to walk up. When it rains, it can get very muddy so wear closed toed, preferably waterproof hiking shoes.
Both trails are very short though. The first one is 2.2 kilometers and the second is not even 1 kilometer (~1.3 miles and less than half a mile).
The hanging bridges guided walk takes around 2 hours and the sloth walk is around 1-2 hours (you can go a bit faster or slower depending on how many animals there are).
Guanacaste Rainforest Sloth Tour Video
Here's our video of our Guanacaste rainforest sloth day excursion from Tamarindo and you can keep reading to see photos!
The First Rainforest Walk
The first stop on our rainforest and sloth tour from Tamarindo was at a private reserve protecting primary rainforest. This reserve was one of the very first in Costa Rica, established back in the 1980's, even before the neighboring Tenorio Volcano National Park!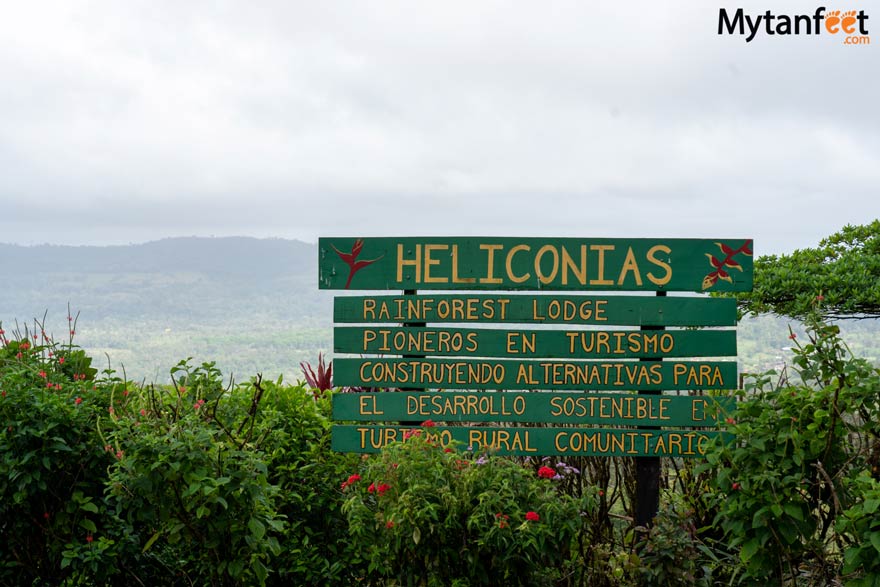 Back in the 80's and those years, the government gave large pieces of land to the Bijaguñno families so that they could make a living off of dairy and cattle farming. However, this family decided not to cut down the forest and to protect it instead.
Because of this, they are truly one of the pioneers of sustainable and eco-tourism in Costa Rica. Back then, everyone else cut down the forests to make room for cattle farms but they had a completely different vision for their piece of land. And so they began building a modest lodge next to the reserve to create a natural and sustainable experience for guests.
Heliconias Rainforest Reserve
As for the reserve, it has a 2.2 kilometer trail (1.37 mile) and 3 hanging bridges through the primary rainforest for visitors to get spectacular views of the forest canopy and see wildlife.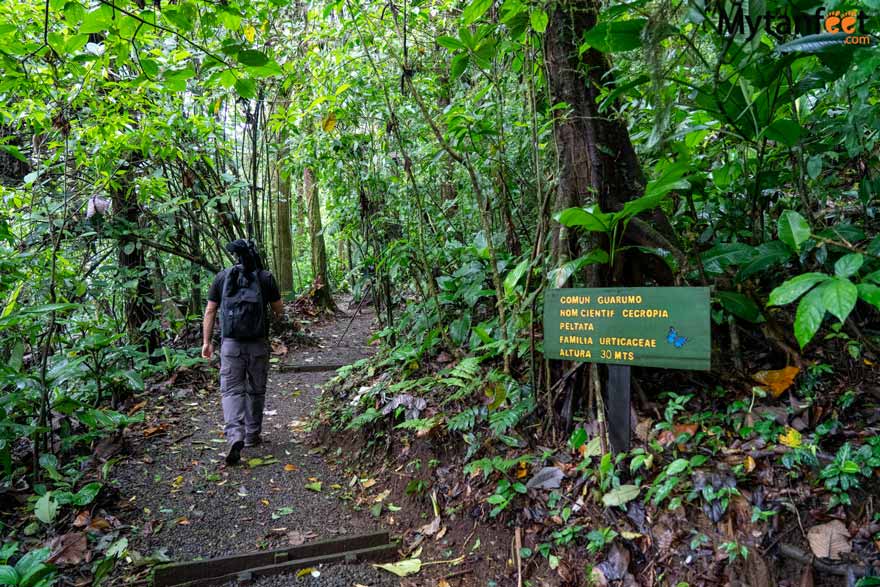 We didn't walk long at all for our guides to spot the first animal: a yellow eyelash pit viper. I know a lot of people are scared of snakes but this snake is a beauty. Scary, yes, but beautiful! I couldn't believe it was just right there in the trees and leaves, just quietly laying there.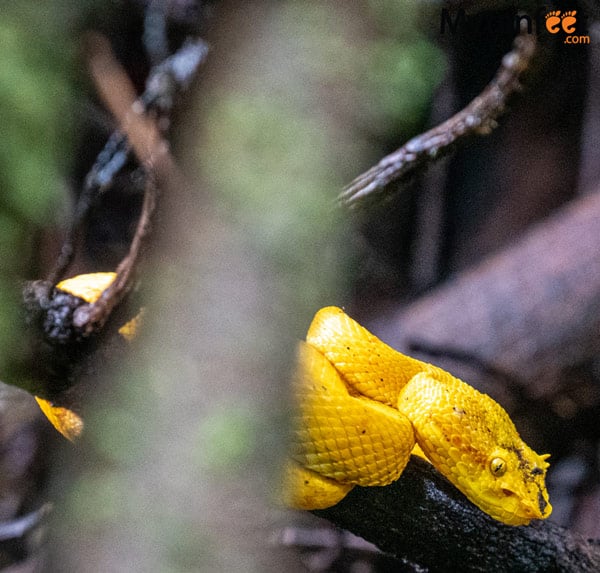 After observing this beautiful snake for a bit, we continued on through the forest. Our guide, Randall, stopped every so often to point out an interesting tree or plant, sharing facts with us about its role in the environment and why it's interesting.
I know it is very cliche to say but it's amazing just how green the rainforest is. And even more so that this was a primary rainforest which meant that it has never been cut down. It was humbling and fascinating all at the same time to see nature in its most pristine and raw form.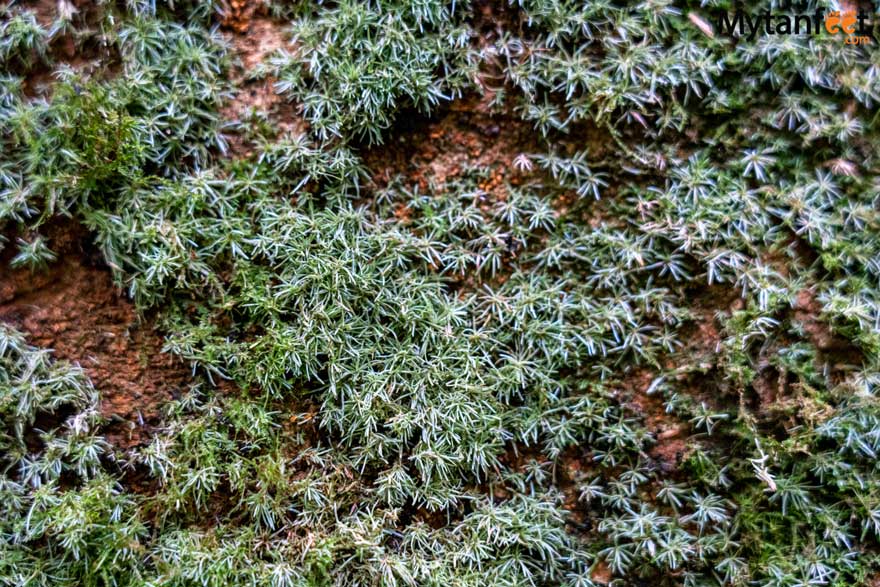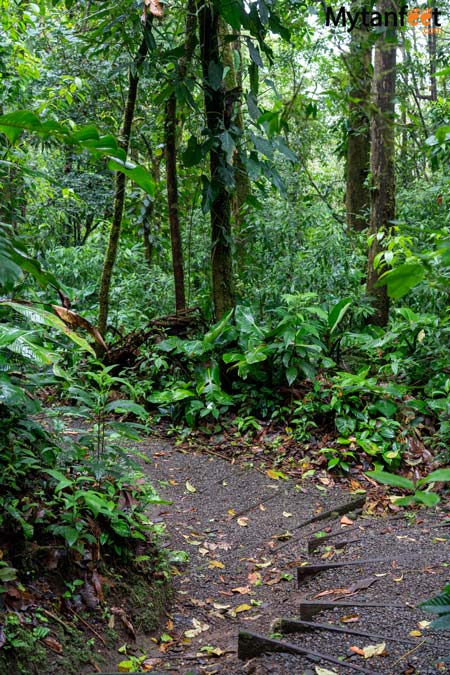 The Hanging Bridges
We soon reached the first hanging bridge. It was 95 meters (312 feet) long and 30 meters (98 feet) high.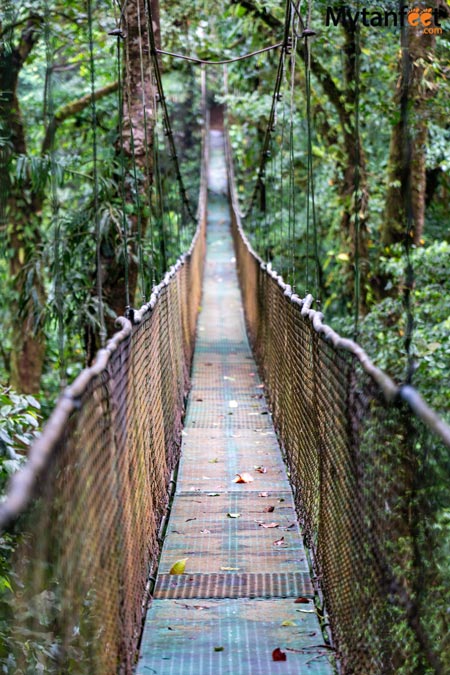 One of the things we really liked about these hanging bridges is that you're not so high up that you're above the trees. Instead, you are at eye level so you truly feel like you're surrounded by the rainforest.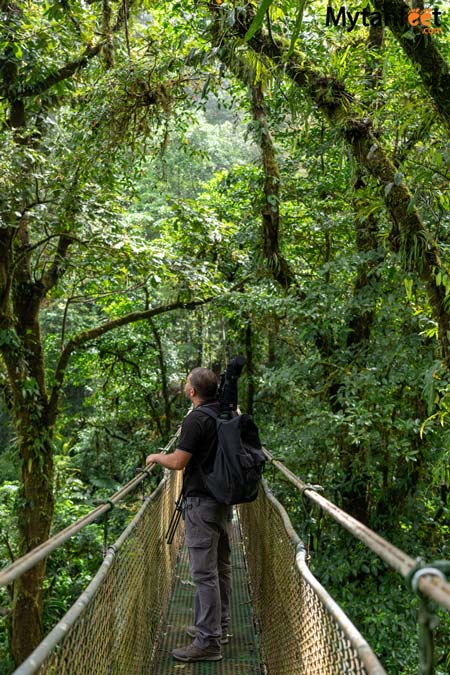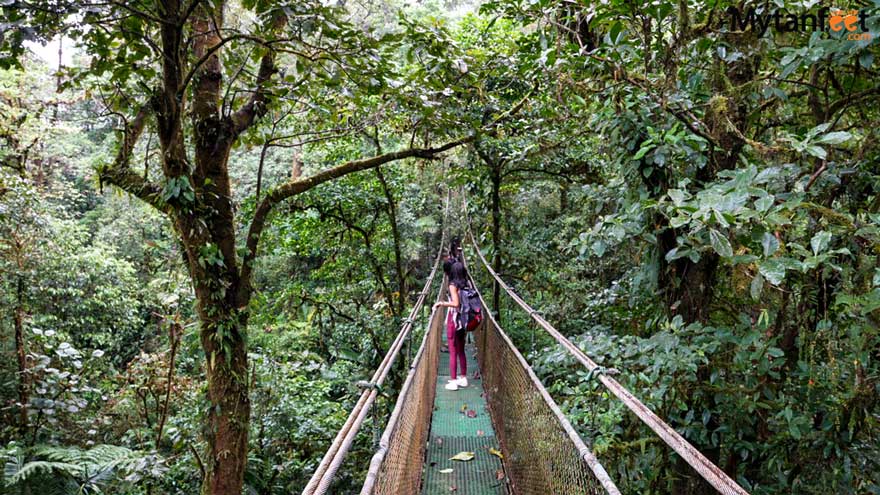 And in typical rainforest fashion, it began raining during our walk. But it actually made the experience more unforgettable because hey, it's the tropical rainforest! They don't call it rainforest for nothing
Tip: Make sure to bring a waterproof rain jacket no matter the time of year you visit Bijagua. Even though we visited in March, which is in the middle of Costa Rica's dry season, it can still rain in this area.
More Photos of Our Guanacaste Rainforest Sloth Tour
Here are some more photos of the rest of our Heliconias – Bijagua rainforest walk. We went through two more hanging bridges and saw another snake and some birds.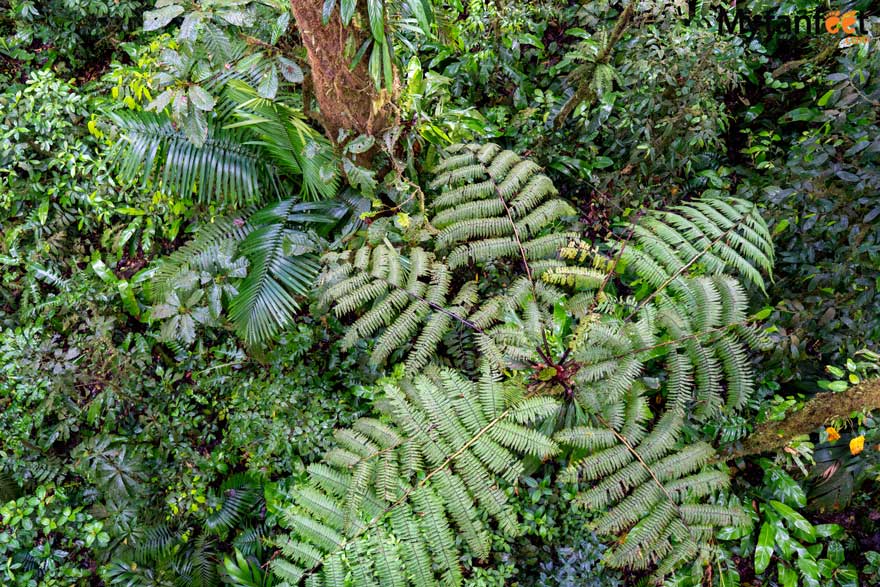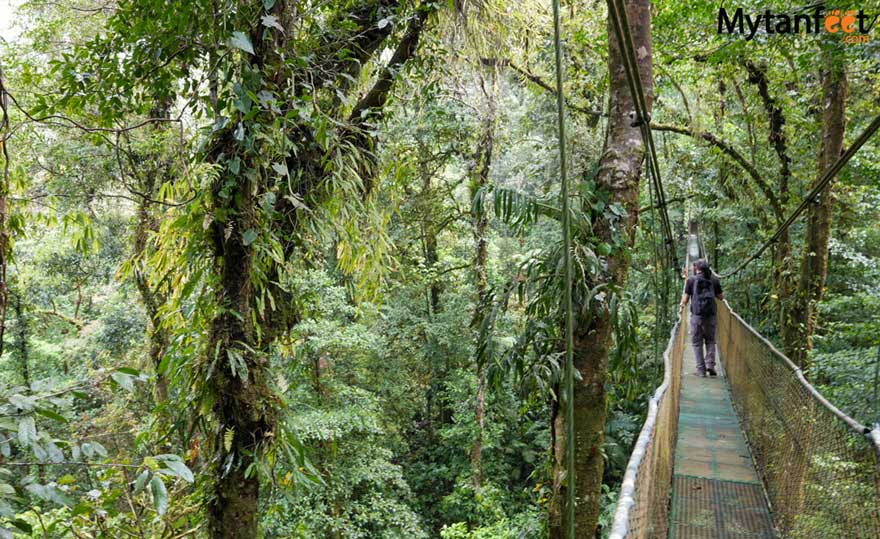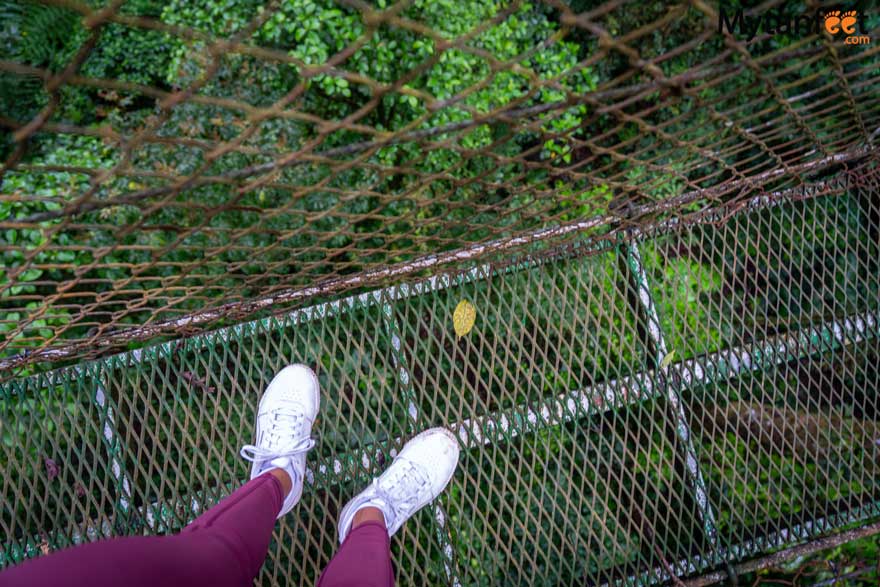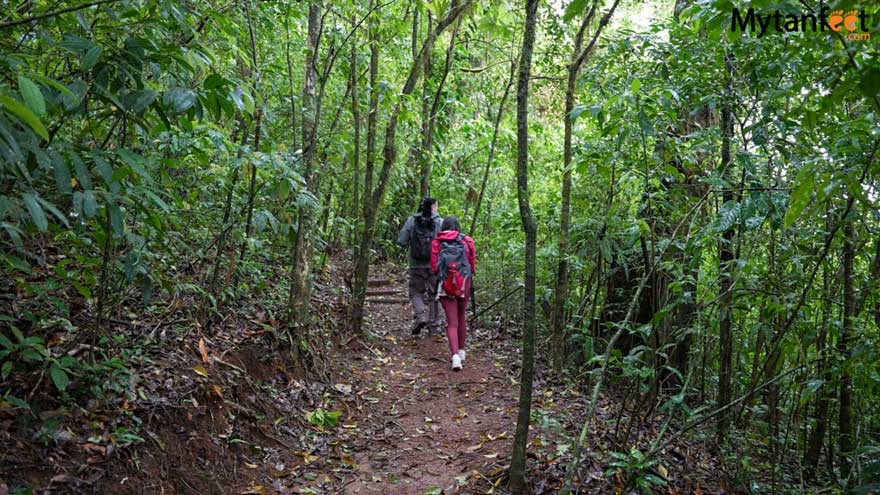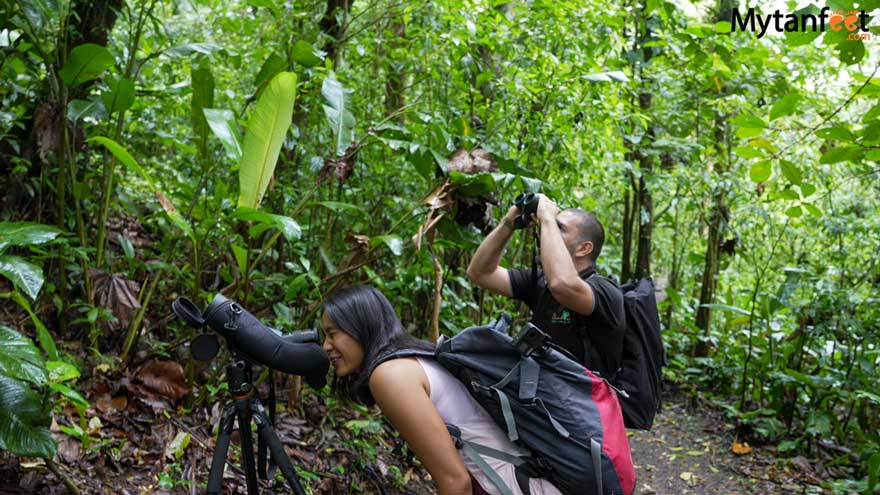 They say a walk in nature soothes the soul and we cannot agree more. Walking through this untouched forest re-energized my mind, body and soul as we have been just staring at computers and stressing out for so long due to the COVID pandemic (Read our Costa Rica COVID post here to get details about entry requirements, restrictions, etc.)
Going back into nature seeing SO much lush and green forest was the perfect medicine for our cabin fever.

Sloth Tour
After we finished our hanging bridges walk, we had lunch at a local restaurant in town and had a traditional lunch (rice, beans, meat, salad, fruit juice). We fueled up and got ready for our next activity: sloth watching!
This part of the day is one many visitors are most excited for as sloths are the animal most visitors want to see the most. Despite what it may seem on social media, it's actually not that easy to see sloths in Costa Rica.
These animals are masters at camouflaging, especially since they are not highly active. Additionally, they only live in certain parts of Costa Rica, they are not found throughout the country.
This is why this rainforest and sloth tour is perfect for those staying on the Guanacaste coast because sloths do not live in those places as its too dry. So for those staying in Tamarindo, Playas del Coco, Flamingo or any of those areas, you won't see sloths there. You must go to the rainforest and Bijagua is one of the best places!
The private reserve is very close to downtown Bijagua and it's a super short trail, not even 1 kilometer. However, there are around 8 sloths that live in this reserve and we were able to see 4 sloths in total. Two of them had babies!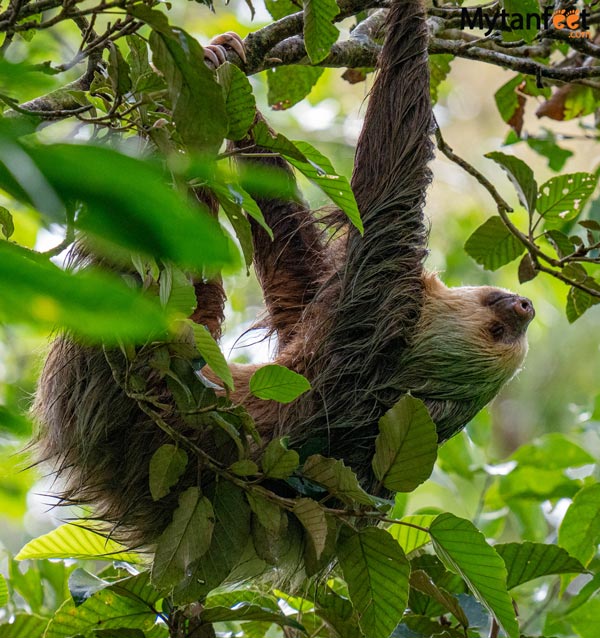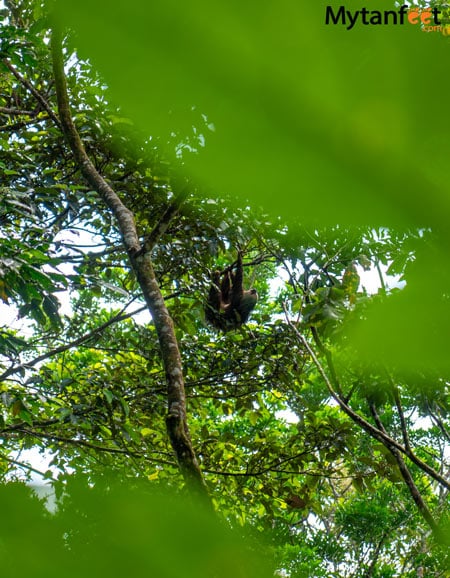 Because it started raining again, I couldn't get any more good photos but you can watch our video above to see the sloths. The one in the picture above was quite active and kept climbing up and down the trees, putting a show on for us!
Overall, our one day rainforest sloth tour from Tamarindo was amazing. We visited in March, right in the middle of Costa Rica's dry season and since we live at the beach, it's incredibly hot, dry and very yellow (95 F or 35 C). We absolutely loved walking through the rainforest, being surrounded by all the green and seeing wildlife in their natural habitat. If for some reason you are going to be in San Jose instead, check out a similar rainforest tour day trip!
This is an excellent day excursion for those who are staying at the beach as their homebase during their time in Costa Rica. Here are some example itineraries of how to fit this Guanacaste rainforest sloth tour in.
Sample Itineraries
Here is a sample 1 week itinerary in Guanacaste.
Book Your Rainforest and Sloth Tour!
If you're interested in booking this Guanacaste rainforest sloth tour or want more information, please fill out the form below. Please note this is for a tour with roundtrip transportation. We do not offer just a guide. If you have your own transportation, you can book the activities on your own.