Lake Arenal (Lago Arenal) is the biggest lake in Costa Rica, situated in the Northern Landlands very close to the town of La Fortuna and Arenal Volcano. This manmade lake not only provides the country with a massive amount of hydroelectric power but is also a beautiful place for water sports and recreation.
If you're interested in visiting Lake Arenal, here is our guide to help you plan your visit. The lake is one of the must do things in La Fortuna and Arenal!
Lake Arenal Tours and Excursions
The easiest way to visit Lake Arenal is to book a tour with a tour company if you don't plan to rent a car in Costa Rica. There are no public buses running directly from the lake to La Fortuna and vice versa often.
The public entrance to the lake is about a 30 minute drive from downtown Fortuna so there are many wonderful half day water excursions to enjoy.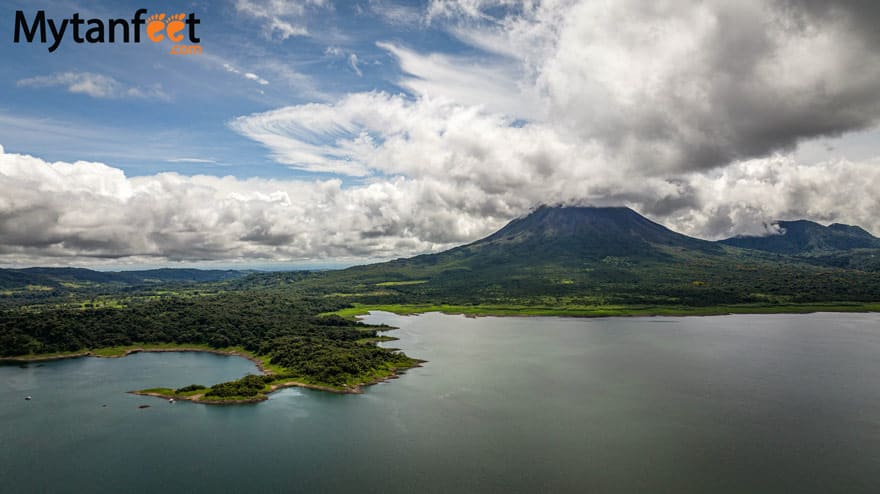 Popular tours are stand up paddle boarding, kayaking, fishing, boat cruise, water biking and kite surfing. You can also horseback ride and mountain bike. If you're visiting with your significant other, our La Fortuna tour partner offers a romantic sunset cruise with wine and cheese on the lake.
If you're interested in booking Lake Arenal tours, we offer a small discount! Click here to get our La Fortuna and Arenal tours discount.
One of Our Favorite Tours
One of our favorite excursions at Lake Arenal is the Arenal Volcano National Park Peninsula sector hike and Boat cruise. It's a half day tour that includes a leisurely walk through a rainforest covered peninsula to see flora and fauna and then a boat cruise on the lake for amazing views. Check it out below in our video and you can also get a discount for this tour in our link.
Visiting On Your Own
If you have a car, you can visit the lake on your own. You can't really go swimming on Lake Arenal and there are no beaches on Lake Arenal but you can partake in the water sports.
For those that rented a car and prefer to go on their own, there is a "public" lake entrance. On Google Maps, type in Arenal Boat Rental Association. This area is operated by a local association and they offer kayak, boat and stand up paddle rentals. You have to pay 4,000 CRC in local currency to enter the property. Then you can rent equipment by the hour. Many Costa Ricans bring their boat to go fishing here too.
They have an outdoor bathroom for a small fee. No other services like food and drink stands. Talk to any of the locals there for rentals.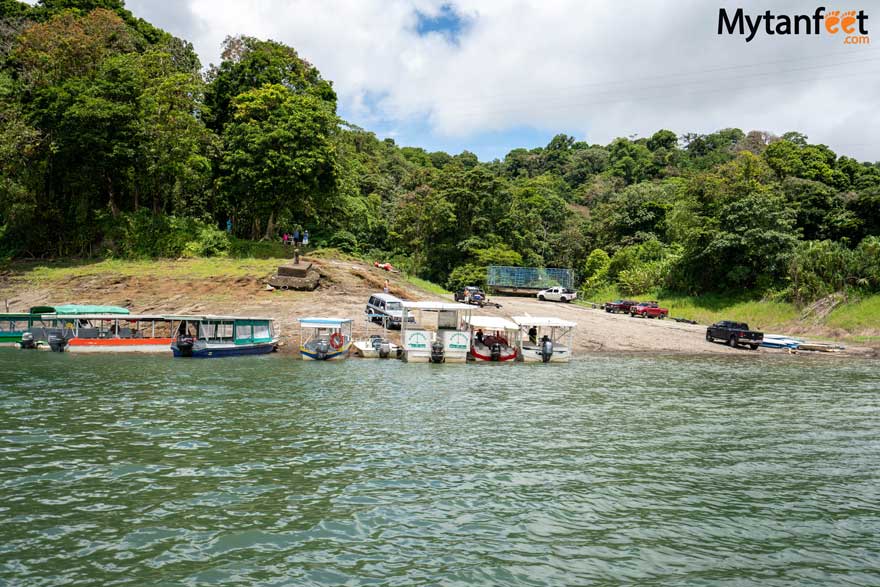 Something to note: these are the prices given us to directly from the locals. If they try to overcharge you, let them know these are the prices listed online. (Google reviews also has prices from previous visitors). Pay them in local currency (CRC) – do not pay in USD. If you pay in USD, it will be much easier for them to stiff you on the exchange rate as it fluctuates constantly and they may not convert using the correct rate. The incorrect exchange rate is 500 to 1, the current rate is around 670 to 1.
Lake Arenal Kayaking, SUP and Boat Rentals
Lake Arenal Boat Rental: 35,000 CRC per hour (~$52 USD) total. One boat can fit around 10-15 people. They'll cruise around the lake and take you to a nice spot for photos of the lake and volcano.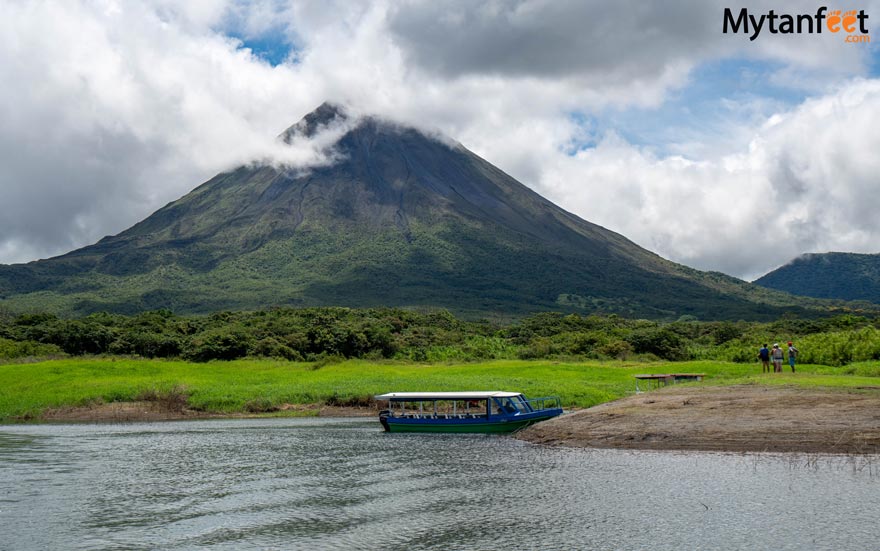 Lake Arenal Kayak and SUP rental: 10,000 CRC for 1 hour (~$15 USD). This is only equipment rental. Please be careful if going on your own and keep an eye on conditions. Lifejacket included. Kayaks are sit on top.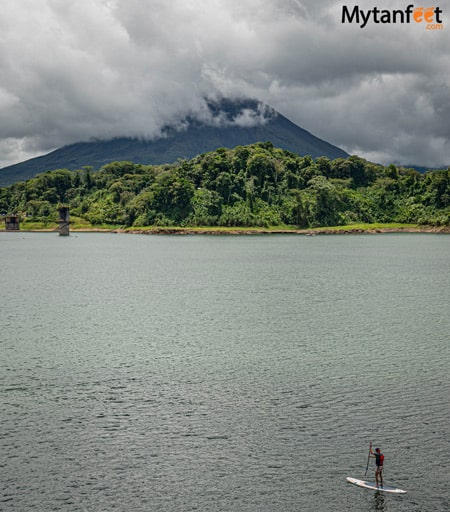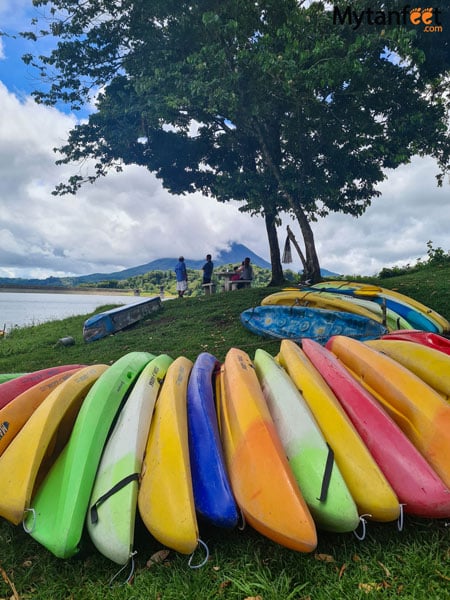 Other Activities and Watersports on Lake Arenal
There are some companies that run other activities on Lake Arenal such was Water Bike Tours, Volcano Watersports and Catamaran Tucan Arenal. You'll have to contact those companies directly to arrange your excursions as they aren't part of the boat association group.
Lake Arenal Hotels
If you want to stay closer to the lake instead of La Fortuna, you can! There are small hotels and Airbnbs along the coasts of the lake and in the small towns like Nuevo Arenal. Some popular hotels are Hotel La Mansion Inn Arenal, Lake Arenal Hotel and Brewery, Lucky Bug, Ceiba Tree Lodge and Los Heroes.
Then in El Castillo, the southeastern part of the lake, there are many beautiful Airbnbs and hotels like Hotel Linda Vista, Arenal Vista Lodge and Rancho Margot.
Plan Your Trip to Lake Arenal
If you stay along Lake Arenal, you should rent a car to make it easy to get around.
If you are landing in Liberia International Airport and are looking to stay somewhere halfway between Guanacaste and La Fortuna, the lake is a great option.
For any excursions that are in the La Fortuna area, tour companies do not provide transportation from hotels around the lake – there will be an extra fee. This is why it's better to rent a car so then that way you can drive yourself to meet the tour group or do the activities on your own.
There is a taxi-boat-taxi that goes across Lake Arenal between La Fortuna and Monteverde. This means you can get picked up from your hotel in La Fortuna, take a boat across the lake and then get dropped off by car in Monteverde on the other side. If you'd like to book this taxi boat, please contact us! (foot passengers only – no cars).
There are affiliate links in this post.