**As of October 2018, the Poas Volcano National Park has reopened with certain restrictions and regulations including pre-purchasing entrance tickets. Read below to find out how to visit**
Poas Volcano National Park is one of the most visited national parks in Costa Rica for several reasons. It has one of the biggest geyser craters in the world with an abundance of breathtaking nature and scenery. Sitting over 2000 meters in elevation, visitors get a chance to experience a volcano and cloud forest all in one day!
Poas Volcano is an excellent day trip from San Jose and great national park to visit for first timers to Costa Rica.
Here is our guide to visiting Poas Volcano National Park. Make sure to read carefully on purchasing tickets because visitors cannot just show up to the park anymore. This post has been updated October 15, 2019.
Poas Volcano National Park
Poas Volcano National Park was created in 1971 to protect the volcano and surrounding flora and fauna. The last eruption was registered on October 2013 without causing any major damage.
However, in 2017, Poas Volcano erupted several times, spewing rocks so big it damaged the roads and buildings in the park. These eruptions forced the national park to close its door for nearly 1 and a half years.
At the end of September 2018, the national park opened its doors again now that volcanic activity has decreased greatly. Officials deemed it safe for the general public and now visitors are able to admire the volcano's impressive crater lake.
In October 2019, Poas Volcano had a couple small eruptions, prompting the park to close for a few days. It is currently open but it is important to check the conditions of this volcano to plan your trip accordingly.
Location
Poas Volcano National Park map
Poas Volcano National Park is about 50 kilometers (31 miles) from San Jose and a 1.5 hour drive.
Itinerary planning tip: If you're planning on going from San Jose – La Fortuna/Grecia/Sarchi/Bajos del Toro), you can stop by Poas Volcano National Park on the way.
How to Get to Poas Volcano National Park
If you rent a car in Costa Rica, the drive is very nice. You can find directions on Google Maps and Waze (just type in Poas Volcano National Park). The road to Poas Volcano National Park is completely paved, no 4×4 necessary.
Along the drive, you will have a great view of the valleys valley and pastures and you'll pass by local stores that sell strawberries and souvenirs. We really enjoy driving there because the views up to the national park are just stunning.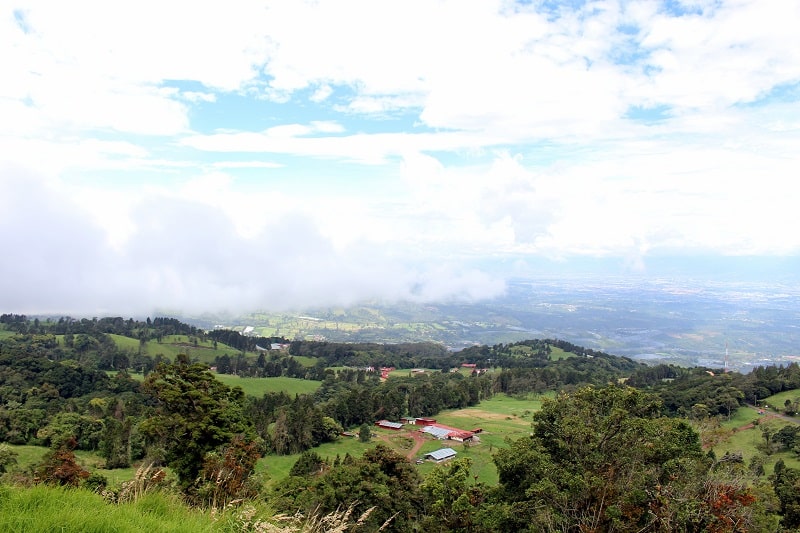 Parking: There is a large parking lot at the national park. It costs 2000 colones per car and 1000 colones per motorcycle.
Bus: There is just 1 bus that departs daily from "Parque de la Merced" in San José at 8 am and the same bus passes by Alajuela around 9 am. Read more about taking public transportation in Costa Rica here.
The same bus will leave the park at 2:30 pm.

Entrance Fee, Park Tickets and Hours
Poas Volcano National Park is open everyday from 7 AM to 120 PM.
The Poas Volcano National Park entrance fee is $15 USD for foreign adults and $5 USD for children ages 2-12. Every visitor has to purchase entrance tickets beforehand in order to visit the park as they are only allowing a certain number of people in the park a day.
How to purchase Poas Volcano National Park tickets
Go to the SINAC website (they have an English option), create an account, register and purchase your tickets there. You have to print your ticket which is what you will show this to the park entrance office. Tickets are nonrefundable and no refunds for no shows.
If you are having trouble on their website, you can read the directions on their Facebook page to purchase tickets.The site is still working out some kinks but you can purchase your tickets on there.
Tip: If you are unable to print your tickets or already in Costa Rica, you can ask Poas Lodge (hotel near the national park) if they can purchase tickets for you. They charge $3.50 per ticket and also have a live webcam so you can see what the crater looks like before you go.

Things to Know About Visiting Poas Volcano National Park
Visitors have to wear a helmet. Do not take it off in the park.
The maximum amount of time allowed in the park is 20 minutes.
All visitors have to watch a safety presentation.
Pregnant women, people with high blood pressure and/or heart problems and those who recently underwent surgery are not recommended due to the high altitude and volcanic activity.
This area is considered cloud forest so it gets cold, bring a sweater.
All trails are closed except the path to the observation point.
Only facilities are bathrooms at the entrance.
Poas Volcano National Park Observation Point
Once you're inside the park, walk on the trail to the crater observation point. This is the only place visitors can go in the national park now, as the lake trails are closed.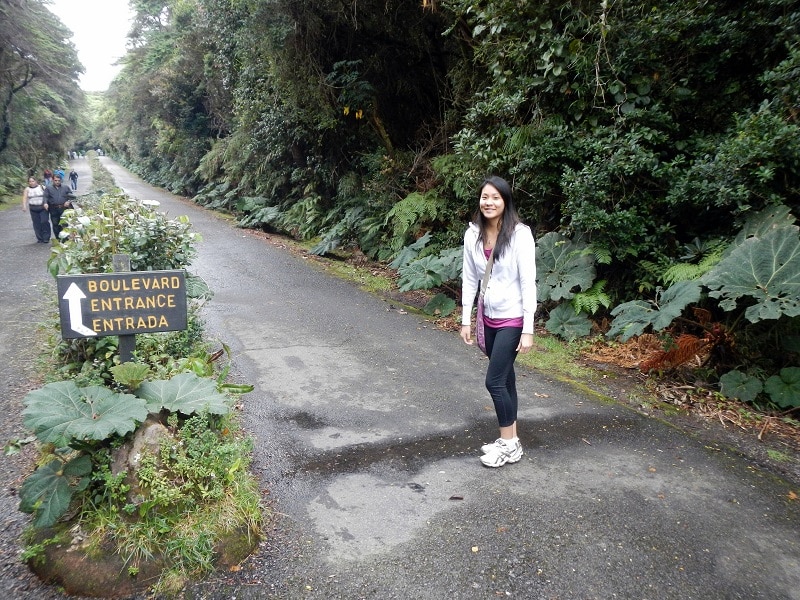 The walk from the entrance to the crater lake view point is very short and all on nicely maintained, flat roads. It is also handicap friendly.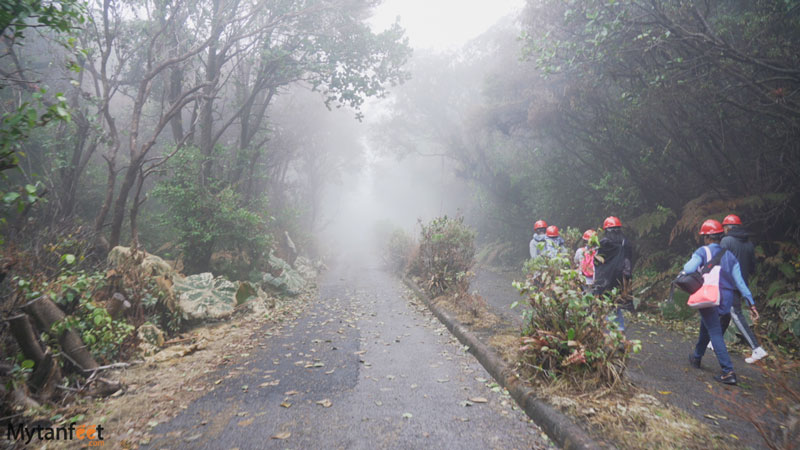 Once you are the view point, you can walk around the platform to see the crater.
Tips for seeing the crater
Since Poas Volcano is up in the cloud forest, it is not always a guarantee to see it completely clear. So don't get disappointed if you arrive and see it covered in clouds though. Unfortunately that's just how it is with the weather in high elevation!
However, for best possibilities to see the Poas Volcano, go during dry season. You'll have less chances of rain and clouds and more chances of a clear sky.
We have visited Poas Volcano National Park 3 times from 2012-2019.
August 2012 (before park closed and volcano erupted)
When we went at the end of August, we were lucky to have a very beautiful and clear day so the crater was clear the whole time we were there. We went early in the morning, right when the park opened around 830 AM.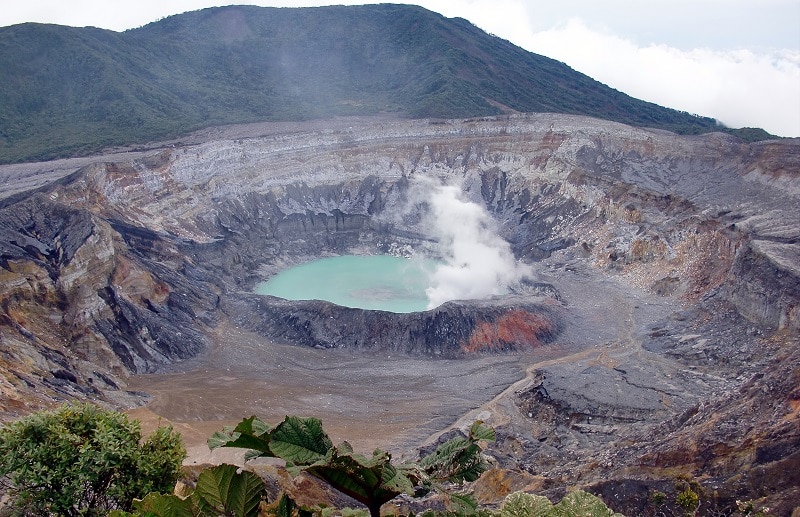 November 2016
The second time we went at the beginning of November, it was incredibly cloudy and we saw nothing but fog. The volcano hadn't erupted yet and the park was operating like normal.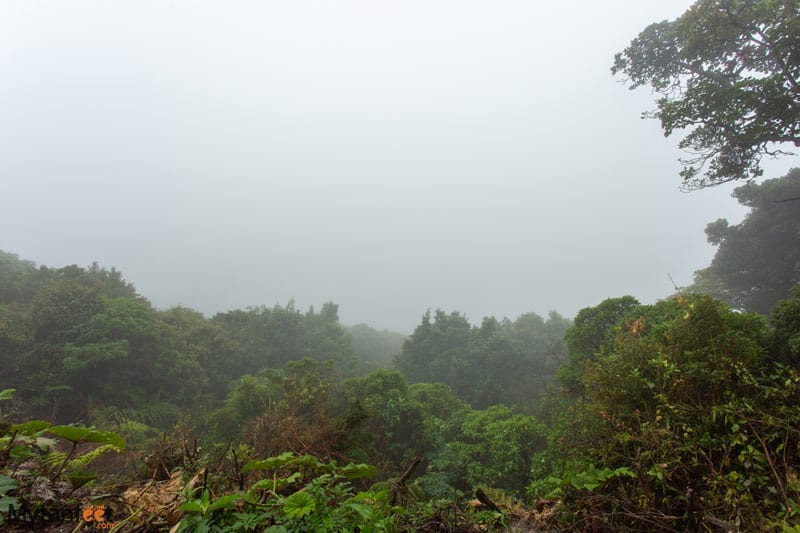 We also tried to visit once in July 2015. The park entrance office also has a webcam so we asked them what it's like. It was raining at the crater and the webcam showed it was very foggy so we decided not to go.
October 2019 (volcano erupted, park had been closed for awhile)
We recently visited beginning of October 2019 and we didn't see the volcano crater either. The volcano had actually erupted a couple times the very beginning of October, prompting the park to close for a few days. It also had a mini eruption the morning we went on October 11th but the park remained open.
Unfortunately, as October is the rainiest month for most of Costa Rica, it was very cloudy and we saw nothing but clouds again.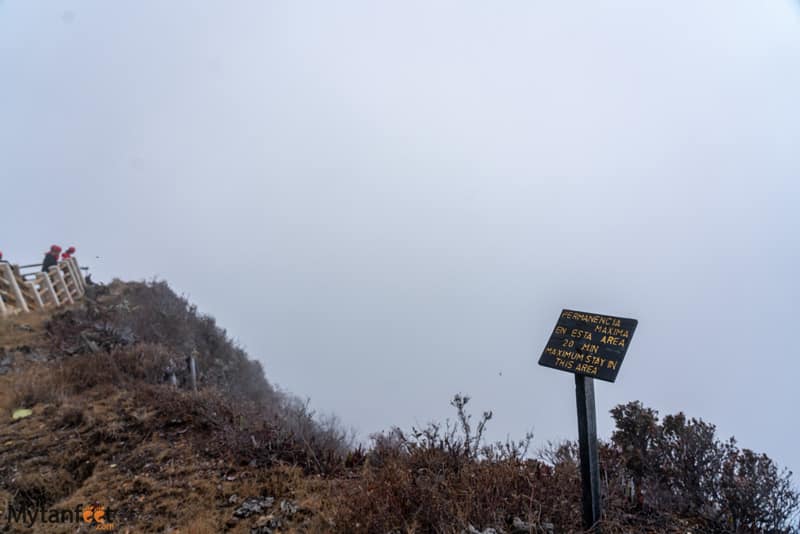 So what's the most important thing to take away from our visits? Go in the dry season! February, March and April are the hottest and sunniest months with the best chances. As you can see, we were pretty unlucky visiting in November and October!

Weather
Poas Volcano sits at around 2700 meters (almost 9000 feet) in elevation so this area gets cold. The average temperature of Poas Volcano is 60s F (around 16 Celsius).
During dry season (end of December to end of April), it can get sunny with temperatures up to mid 70s F (~24 Celsius). In rainy season (beginning of May to mid December), it can get down to low 60s (16 C) or colder if it's windy. However, because it's in the cloud forest it can rain even during dry season.
What to Bring to the Park
We recommend you to bring a sweater or a jacket as it gets chilly. Wear closed toed shoes and long pants
If you are coming in rainy season, make sure to bring a waterproof backpacks to protect equipment. Also make sure to bring a waterproof rain jacket.
Poas Volcano Tours
If you're in San Jose and would like to visit on a tour, you can take a Poas Volcano day tour from San Jose. We have a partnership with Expediciones Tropicales who operates tours to Poas Volcano and we have a small discount for the tours. Now that the park is open again, this is one of the best day trips from San Jose to see what Costa Rica is famous for!
They also do Poas Volcano and Doka Coffee, Poas Volcano, Doka Coffee and La Paz Waterfall Gardens and Poas Volcano, Doka Coffee and Grecia/Sarchi tours. Please click to get our San Jose day tours discount here!
Read about other national parks here!
Arenal Volcano National Park: Popular national park by La Fortuna with the Arenal Volcano, rainforest and lava trails. Great for hiking.
Manuel Antonio National Park: Popular national park in the Central Pacific coast with white sand beaches, hiking trails and lots of wildlife.
Marino Ballena National Park: National park in Uvita with beach and rainforest. One of the best places to see humpback whales.
Carara National Park: National park by Tarcoles and Jaco. Excellent for hiking and birdwatching, has the biggest colony of breeding Scarlet Macaws.
Turrialba Volcano National Park: Closed indefinitely due to the very active Turrialba Volcano but visitors can still drive up to the entrance for a close view.