Just 1.5 hours from downtown San Jose, Poas Volcano National Park is an excellent day trip from San Jose and national park to visit for first time Costa Rica visitors. At this national park, visitors can see two volcano craters 2000 meters up in the cloud forest.
Here is our guide to visiting Poas Volcano National Park. Make sure to read carefully how to purchase park tickets.
Quick Info About Visiting Poas Volcano National Park
No 4×4 or 4wd required. Do be careful when driving as the road is curvy, narrow and steep.
Open 7 days a week from 8 AM to 4 PM (last entry at 2 PM).
Park tickets must be pre-purchased in order to enter. They do not sell tickets at the door.
Pregnant women, people with high blood pressure and/or heart problems and those who recently underwent surgery are not recommended due to the high altitude and volcanic activity.
It can get cold and it may rain any time of the year so bring a sweater and a rainjacket.
Bathrooms are available at the office. There is also a gift shop and small cafeteria.
It is recommended to stay only 10 minutes at the active crater viewpoint due to the gases.
If the gas levels are too high at the crater, they will close the viewpoint or even close the entire national park if they detect high gas levels or high volcanic activity. This is unpredictable but it may occur.
You need around 2 hours at Poas Volcano if you want to walk both trails. For just the main viewpoint, you need just an hour.
Poas Volcano National Park Location
Poas Volcano National Park is about 50 kilometers (31 miles) from San Jose and a 1.5 hour drive. Itinerary planning tip: If you're planning on going from San Jose – La Fortuna/Grecia/Sarchi/Bajos del Toro), you can stop by Poas Volcano National Park on the way.
How to Get to Poas Volcano National Park
If you are renting a car in Costa Rica, the drive up to Poas Volcano is quite beautiful. Make sure to get our Costa Rica rental car discount!
You do not need a 4×4 for Poas Volcano National Park. However, you will need to drive very slowly because the road up the valley is windy, curvy and narrow. Read more tips for driving in Costa Rica here.
GPS: Input Poas Volcano Parking Lot or Parque Nacional Volcan Poas in Waze or Google Maps.
Along the drive, you will have a great view of the valleys valley and pastures and you'll pass by local stores that sell strawberries and souvenirs. We really enjoy driving there because the views up to the national park are just stunning.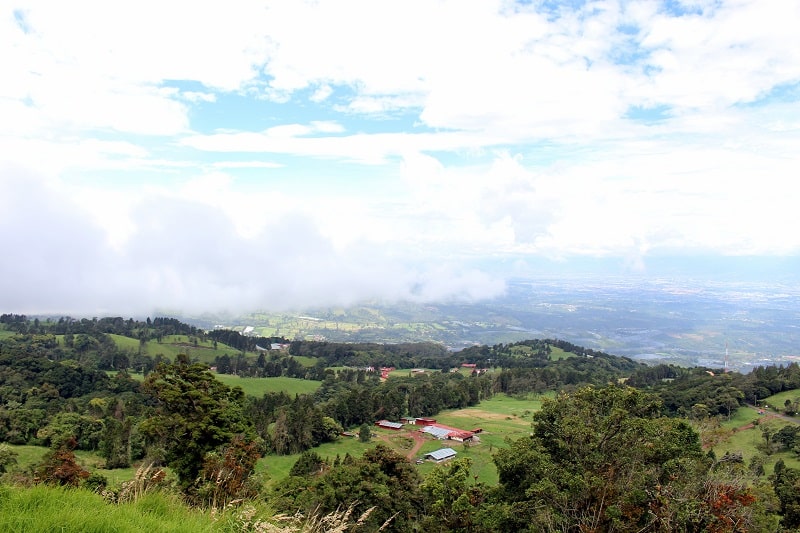 You can stop at one of the souvenir stands along the way to buy some souvenirs and get some snacks. There are also some restaurants with really nice views. We like Típico de Fraijanes and Fresas del Volcan.
Parking
There is a large parking lot at the national park. They will charge you 2000 colones per car and 1000 colones per motorcycle. This parking lot does have surveillance and there is a guard there at all times.
Bus
If you are in San Jose, you must get to Alajuela to take the direct bus to the national park. *Weekends only now.* First, take the TUASA bus that departs from "Iglesia Parque de la Merced" in San José at 8 AM, cost around 1500 CRC round trip. Get off the last stop in Alajuela. Then, walk 200 meters south to the Prospero Fernandez park near the cemetery and take the COOPETRANSI bus that goes directly to the national park. Saturday and Sundays only at 930 AM. Return from the national park at 2 PM to Alajuela with Coopetransansi. Costs around 4000 CRC round trip. One way takes around 2.5 hours.
Read more about taking public transportation in Costa Rica here.
Entrance Fee, Park Tickets and Hours
Poas Volcano National Park is open everyday from 8 AM to 4 PM including holidays. The latest entry into the park is 2 PM.
The Poas Volcano National Park entrance fee is $15 USD for foreign adults and $5 USD for children ages 2-12. Every visitor has to purchase entrance tickets beforehand in order to visit the park as they are only allowing a certain number of people in the park a day. They do not sell tickets at the door. Reservations are set at a certain time but we recommend to arrive around 15 minutes early to check in and park.
How to purchase Poas Volcano National Park tickets
Go to the SINAC website (they have an English option), create an account, register and purchase your tickets there. You can save it on your phone to show to the park ranger or print it out. Tickets are nonrefundable, non changeable and they do not give refunds for no shows.
When you purchase tickets, select "Parque Nacional Volcan Poas" and then select the schedule you want.
What to Know About Visiting Poas Volcano National Park
Poas Volcano National Park was created in 1971 to protect the volcano and surrounding flora and fauna. In 2017, Poas Volcano erupted several times, spewing rocks so big it damaged the roads and buildings in the park. These eruptions forced the national park to close its door for nearly 1.5 years.
At the end of September 2018, the national park opened its doors to welcome visitors once more.
Poas Volcano National Park Observation Point
Once you're inside the park, follow the signs to the observation point. This trail is 600 meters (.37 miles) and takes about 10 minutes on a asphalted road.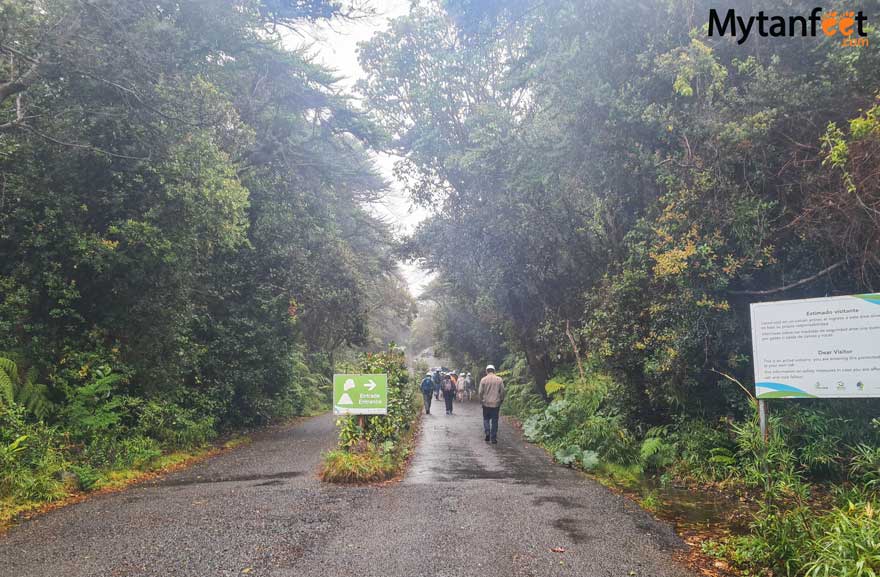 This path is also handicap friendly and is flat. Once you are the view point, you can walk around the platform to see the crater.
It is not a 100% guaranteed to be able to see the volcano crater clear or completely clear. It depends on weather conditions of the day and since it's very high in elevation in the cloud forest, it is fickle. If you arrive and its cloudy, wait. The clouds may clear for just a few minutes to reveal a gorgeous crater lake. We have visited the park 5 times and have seen the crater clear only twice. Once, we got drenched in a rainstorm in March.
August 2012 (before park closed and volcano erupted)
When we went at the end of August, we were lucky to have a very beautiful and clear day so the crater was clear the whole time we were there. We went early in the morning, right when the park opened around 830 AM.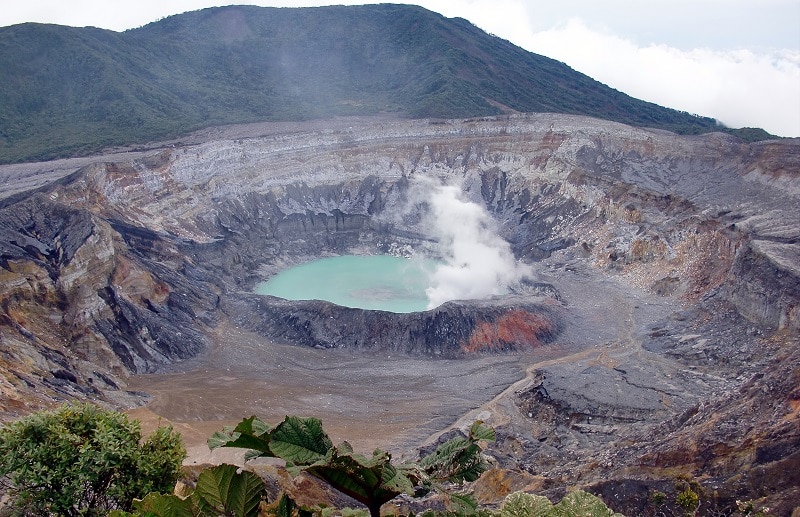 March 2022
We tried again recently but was super unlucky again. Even though March is one of the driest months in Costa Rica, we were having really weird weather these days with lots of wind and cold fronts.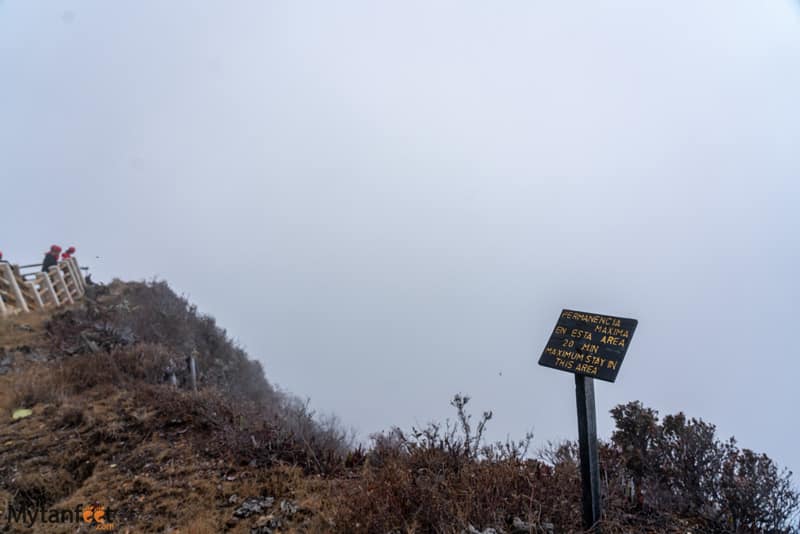 Out of all the times we've been to Poas Volcano National Park, this visit had the worst weather. It was raining a lot and it was very windy. The temperature was 57 degrees F (14 C)!
May 2023
Fifth time was the charm and luck was on our side. Even though we visited in May, which is rainy season, this year was an El Niño year so it was much drier than normal. We arrived around 1045 AM and the crater was as clear as could be!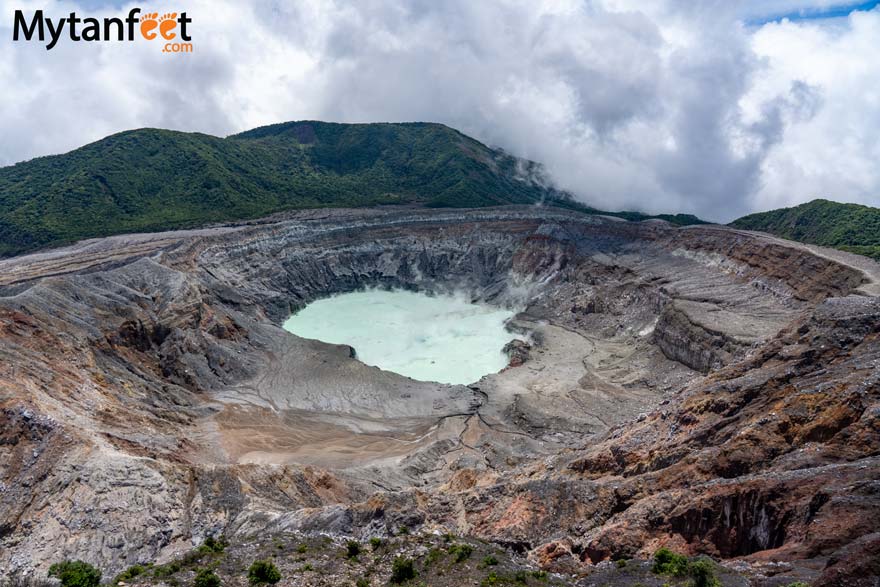 Laguna Botos Trail
The Laguna Botos trail is open to give visitors an additional look at an inactive crater lake. The entire trail is 2.8 kilometers or you can walk to the main lake viewpoint which is 800 meters (.5 miles). The 800 meter trail takes about 20 minutes to get there.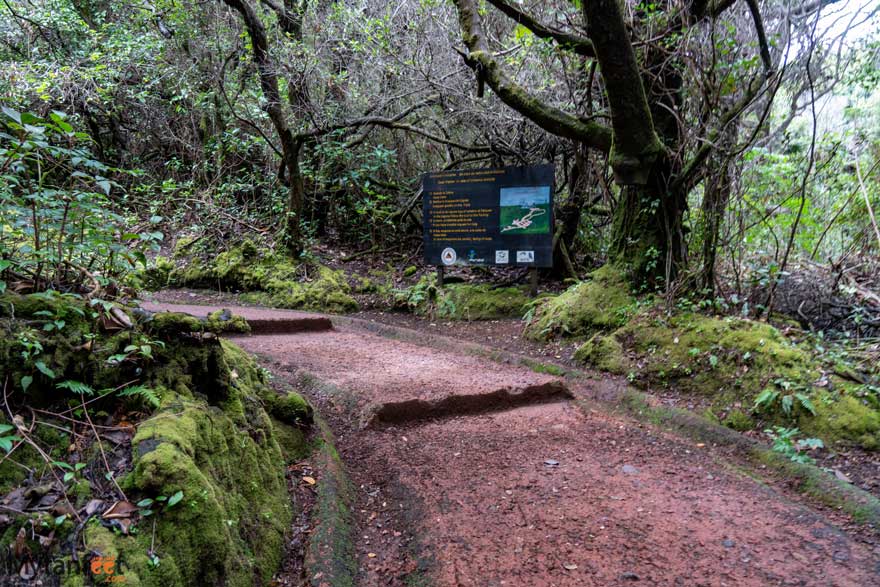 To go back, you walk the same path way so it's about 40 minutes total walk. If you have time, you can continue onto the other two paths. The hours are 8 AM to 230 PM (cannot enter after 230 PM).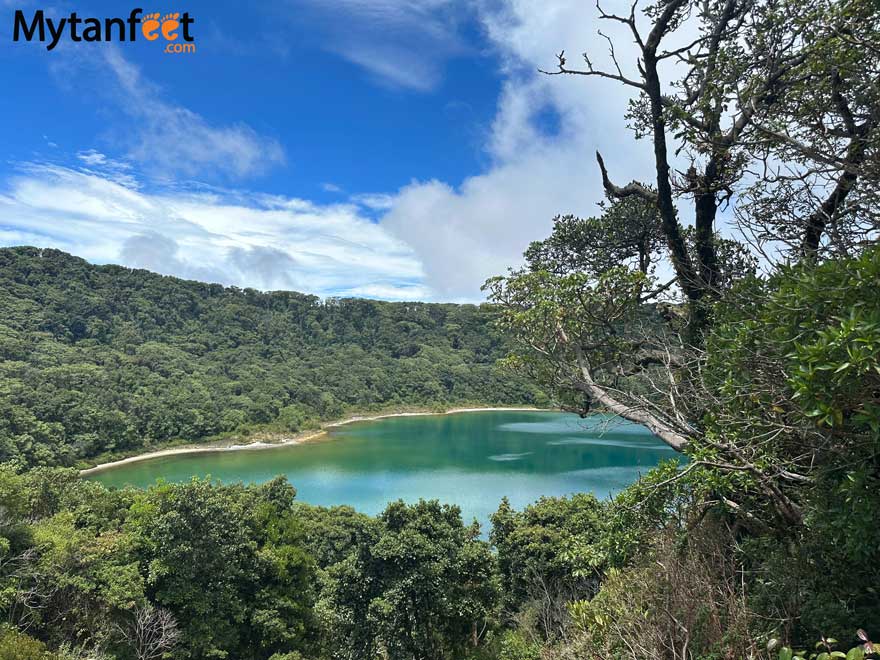 This trail is a medium difficulty. The path is mostly concrete but it does have elevation climb and uneven surfaces, so if you can't walk long on that kind of paths, we don't recommend this trail (like if you recently had surgery, knee replacements, ankle problems, mobility problems, etc.). Laguna Botos is an inactive crater and the lake is gorgeous.
Weather
Poas Volcano sits at around 2700 meters (almost 9000 feet) in elevation so this area gets cold. The average temperature of Poas Volcano is 60s F (around 16 Celsius).
During dry season (end of December to end of April), it can get sunny with temperatures up to mid 70s F (~24 Celsius). In rainy season (beginning of May to mid December), it can get down to low 60s F (16 C) or colder if it's windy/raining. Because it's in the cloud forest it can rain even during dry season.
What to Bring to the Park
We recommend you to bring a sweater or a jacket and a rainjacket or poncho. Wear closed toed shoes and long pants.
I recommend to bring a rainjacket anytime of the year you are visiting Poas, even if you're visiting in dry season. As you can see, it rained while we were there in March which is right in the middle of dry season.
There is a gift shop and small cafeteria.
Poas Volcano Tours
If you're in San Jose and would like to visit on a tour, you can take a Poas Volcano day tour from San Jose. We have a tour partner who operates tours to Poas Volcano with roundtrip transporation included and we have a small discount for the tours. This is one of the best day trips from San Jose.
They offer Poas Volcano + Doka Coffee, Poas Volcano + Doka Coffee + La Paz Waterfall Gardens and Poas Volcano + Doka Coffee + Grecia/Sarchi tours. Please click to get our San Jose day tours discount here!
Another fantastic volcano tour from San Jose is the Arenal Volcano tour!
If You Visit On Your Own
If you rented a car and are visiting Poas Volcano National Park on your own, here are some ideas as a day trip from San Jose.
1. Poas Volcano National Park in the morning (get there around 9 AM). Stay for 1-1.5 hours. Then stop at Fresas del Volcan for a coffee, snack or food if you're hungry. Then do a coffee tour at Hacienda Alsacia Starbucks Coffee Farm and then go back to San Jose.
2. Poas Volcano National Park in the morning around 10 AM. Stay for 1-2 hours depending on if you want the entire both trails. Then visit La Paz Waterfall Gardens Nature Park (get our discount for La Paz tickets here) with buffet lunch included. Go back to San Jose.
3. Stop by Poas Volcano National Park as you drive from San Jose – La Fortuna or vice versa.
4. Do the classic 3 in 1 on your own: Poas + Doka or Hacienda Alsacia Coffee tour + La Paz Waterfall Gardens. We recommend it in that order or you can do the coffee tour first, then Poas. Just make sure to watch the time as the La Paz gardens closes at 5 PM.
Read about other national parks here!
Arenal Volcano National Park: Popular national park by La Fortuna with the Arenal Volcano, rainforest and lava trails. Great for hiking.
Manuel Antonio National Park: Popular national park in the Central Pacific coast with white sand beaches, hiking trails and lots of wildlife.
Marino Ballena National Park: National park in Uvita with beach and rainforest. One of the best places to see humpback whales.
Carara National Park: National park by Tarcoles and Jaco. Excellent for hiking and birdwatching, has the biggest colony of breeding Scarlet Macaws.
Turrialba Volcano National Park: Open for hikes and to see the volcano.
Costa Rica Vacation Checklist