If you're visiting Costa Rica during rainy season, the most important thing about preparing for your trip is to pack properly. Tropical weather is no joke and the rain can come suddenly and quickly.
Here is our rainy season packing list for Costa Rica.
There are Amazon affiliate links in this post.
What's rainy season like in Costa Rica?
First, rainy season for most of the country is from beginning of May to beginning of December. However, it's tropical weather so it can start a little sooner or end a little later. Also, some places may rain more than others.
If you're visiting mid April or mid December, still be aware that it may rain, especially for places up in the mountains or rainforest areas. These are places like San Isidro de Perez Zeledon, San Jose, Uvita, La Fortuna and Bajos del Toro.
The peak rainy season months for most of the country is October and November. September is also fairly rainy as well.
Rain in Costa Rica Video
You can get idea of how hard it rains in Costa Rica in this video. This was taken in Playas del Coco in Guanacaste in May.
This rain lasted about 20 minutes and then stopped. It started back up again about an hour later which is typical rainy season weather. It'll be super sunny one minute, pouring down the next, then sunny again.
Rainy season in different parts of Costa Rica
Caribbean side (Puerto Viejo, Limon, Tortuguero): this area doesn't follow the straight May-November rainy season in Costa Rica. It actually rains throughout the year with October being the driest month. June and November are usually the rainiest months.
Guanacaste (Tamarindo, Gulf of Papagayo, Samara, Santa Teresa): this is is the driest area. In May, it starts getting super cloudy and humid. June can get more rainy in the afternoons and nights. Then in July it'll get hot and dry for a few weeks. In August, it'll start getting more cloudy with few off and on showers. By September and October, it'll start having more consistent rains, mostly in late afternoon, evenings and nights.
Central Pacific (Jaco, Manuel Antonio): Experiences typical rainy season days with sunny mornings and cloudy/rainy afternoons. Very humid. This area can quite hard August – beginning of December at night.
South Pacific (Dominical, Uvita and Ojochal): this area is hot and humid and can rain even in the dry season months. We visited Dominical in February where it poured for almost a week straight.
Osa Peninsula: very humid and when it rains, it pours in the Osa. Mostly at night in rainy season but during September – November it can rain quite a bit, usually afternoons and nights.
Central Valley: This area follows the May-December rainy season and it rains hard in the city. It usually starts raining mid to end of April.
Arenal/La Fortuna: Follows a typical weather season but can rain in April. Rains hard July – November and can on and off during the rain.
Monteverde: The locals jokingly call Monteverde's weather rainy and less rainy. This area is up in the cloud forests so nearly 2000 meters in elevation and rains a lot in rainy season.
What to Know About Costa Rica's Rainy Season
The most important thing to know about rainy season is that it's spontaneous – it is a tropical country after all! It may be a beautiful sunny day out and then it'll become dark and rainy in two seconds. Generally in rainy season, it's sunny in the morning and rainy in the late afternoon and evening. It is common to have showers off and on in October and November.
Read more about Costa Rica weather.
Best Packing List for Rainy Season in Costa Rica
Many of these tips come from personal experience as we know first hand what it's like to backpack the country in the rainiest month and hike up a volcano in the middle of a thunderstorm. Add these items to your normal packing list so you can have a safe and fun time in Costa Rica.
You can check out our complete packing list for Costa Rica or read on for our suggestions for packing for rainy season in Costa Rica.
The Beach (both Pacific and Caribbean)
If you're visiting the beach, still pack summer clothes such as swimsuits, flip flops, tank tops, and shorts since it stays in the 90's and high 80's. It doesn't get cold at night but it won't hurt to throw in a pair of long pants or a light jacket as it does cool down when it rains. I still wear my normal dry season clothes everyday (shorts and tank tops) in the rainy season.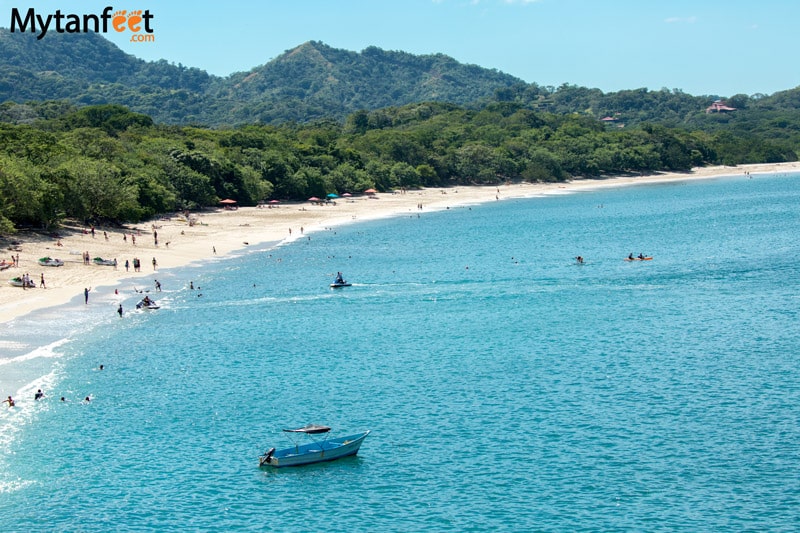 The South Pacific and Caribbean side are much more humid than the North Pacific, so bring some clothes that dry fast like Nike dri-fit. It's difficult to hang dry clothes when it's 90% humidity outside! I avoid jeans as it takes forever to dry.
The Mountains and Cloud/Rain Forest
If you're visiting the mountains or cloud forests, you will need to bring long sleeve shirts, a sweater, closed toe shoes, socks and long pants. It gets quite chilly at night and when it rains so you'll want to come prepared. The coldest temperatures in Costa Rica have been recorded at 15F (9C) at Chirripo National Park in the Talamanca Mountain Range.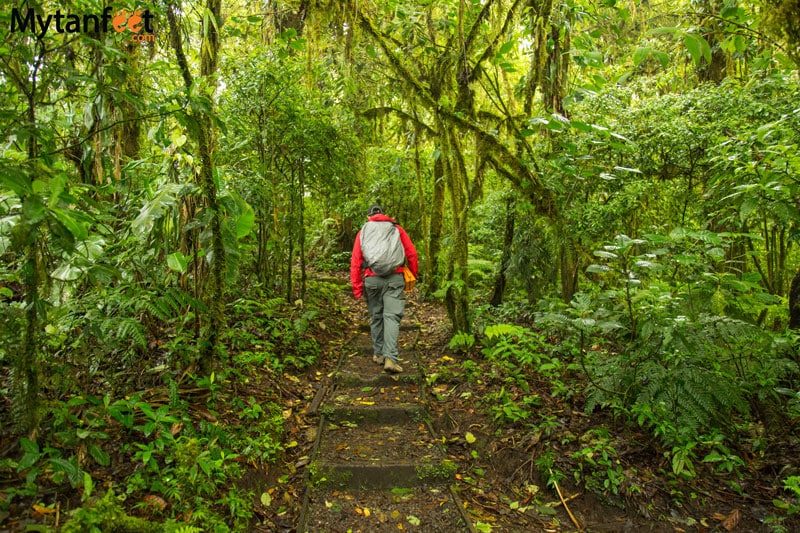 Up in the cloud forests like Monteverde, it can get down to the 60's F at night during rainy season! So make sure to bring a warm jacket and long pants. Other mountain areas that get cold are up in Bijagua, the mountain area around Turrialba like Santa Cruz, San Isidro de Perez Zeledon and Nuevo Arenal by the lake.
Make sure to bring rain gear for Arenal. Down by La Fortuna, it is normal to have sunny mornings and rainy afternoons and if you're staying in the Nuevo Arenal area, it can rain much more.
The City (Central Valley like San Jose, Alajuela, Cartago and Heredia)
The city doesn't get as cold as in the high mountains but it can get fairly cool. Bring long pants, a sweater, socks and closed toe shoes. The Central Valley area has a pretty comfortable climate all year long and during rainy season, you can snuggle up with a blanket and cup of hot chocolate or tea. At night, it can get around the 60's.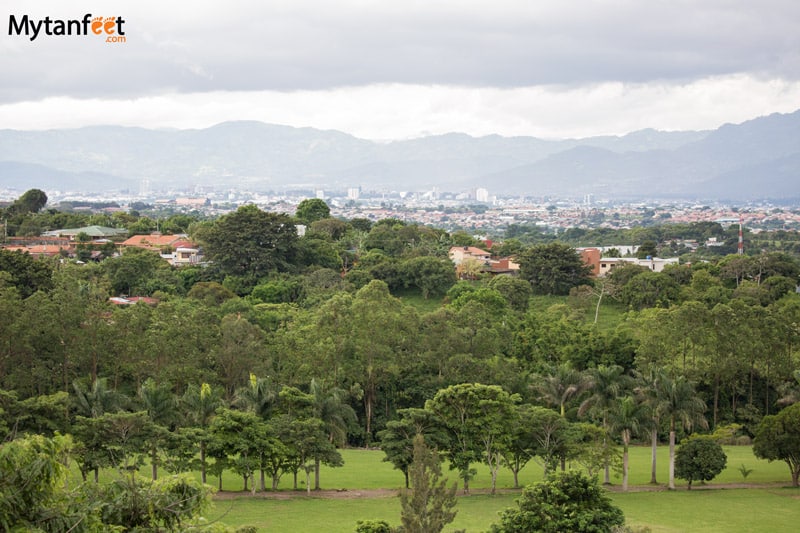 If you go up in the mountains of the Central Valley like the Poas or Irazu area, it gets very cold as you're higher in elevation. If you're up in the mountains of Grecia, San Ramon, Zarcero, Atenas, a sweatshirt is a must!
Packing for Rainy Season in Costa Rica: Important Items to Bring
In addition to your standard Costa Rica packing list, here are some very important items to add to your rainy season packing list for Costa Rica. This will help keep all your electronics and personal items from getting ruined especially if you are caught in a rainstorm.
Waterproof Backpack
I can't stress enough how important it is to bring waterproof equipment. We lost a brand new Canon camera when we got caught in a rainstorm while hiking with a supposedly waterproof backpack. After that, we got a real waterproof backpack, one from Aqua Quest.
We also have these Camelbak Rain Covers and we both also have this IDRYBAG dry bag backpack which has been awesome for boating and hiking.
Plastic bags
Extremely useful when you need to wrap up dirty shoes, collect dirty or wet clothes or wrap your backpack or bag. I like to bring the big white garbage bags that have a drawstring and the normal grocery market bags for dirty clothes. Also great for extra protection for your electronics.
Water shoes/sandals
If you are doing light outdoor activities, closed toed hiking sandals or waterproof trail running shoes are the best shoes in the rainy season.
Yeison and I both have a pair of KEEN sandals that are excellent for tubing and rafting. The sandals let your feet breathe and say goodbye to nasty soggy socks!
For hikes, we both love our Salomon waterproof trail running shoes. These shoes are amazing!
For more advice, check our post on best shoes for Costa Rica.
Ziploc bags
Also useful for zipping up small electronics or things you don't want to get wet, especially if you're going boating or out in the water. Can never have too many, trust me.
Rain jacket
A must have item. And a real, waterproof rain jacket. The best one is a shell because it is very humid in Costa Rica. A shell is light and usually have the armpit vents to lets air flowers through. Yeison and I both adore our North Face Venture shells.
Poncho
That being said, a poncho is not a bad idea either. In the beginning we got a couple ponchos at the dollar store but those were well, dollar quality. We ended up getting more heavy-duty ponchos since we carry expensive camera equipment in our backpacks. Super useful if your rain jacket doesn't fit over your backpack and your backpack isn't waterproof!
Quick dry travel towel
I love love love my micro-fiber towel. It's incredibly useful for tropical weather. When you get caught in rainstorms,use it to dry off when under cover. Or if you're hiking in the national parks, use it to wipe the sweat off. So many uses for a microfiber travel towel.
Waterproof map
Though a physical map isn't completely necessary, a waterproof map is handy.
A flashlight
During rainy season, it is common for the power to go out for hours at a time. At night, it can get a bit scary if you're walking since not all street lights are brightly lit and it gets dark at 6 PM everyday. Bring a flashlight just in case and a headlamp is also super handy.
Any waterproof/water resistant clothing
I bought a pair of water resistant Columbia hiking pants and am obsessed with them. Yeison saw how much I liked them and he bought himself a pair for men.
It's helpful to bring clothes that are quick dry or water resistant because majority of laundry places in Costa Rica don't use dryers and it'll be easier to dry when you're at a hotel and don't have access to a dryer. Clothes with that mildew humid smell is the worst!
Some optional items
And don't forget your sunscreen and mosquito repellent. You will still need to protect yourself from the sun even if it's cloudy out and mosquitoes are worse in rainy season.
There are affiliate links in this post.