Nosara, Costa Rica started off as a small coastal village many years ago and is now one of the most popular tourist destinations in Costa Rica. Thanks to a long surf break inside protected beaches, luxury surf/yoga resorts and boutique hotels and a low key vibe, Nosara has quickly turned into a premiere destination for a luxury beach vacation in the Costa Rican jungle.
If you plan to visit Nosara, here is our guide to help you have the best trip.
Nosara, Costa Rica Location
Nosara is in the Guanacaste province in the Nicoya Peninsula.
How to Get to Nosara, Costa Rica
You can drive, take the bus, book a shuttle or fly. Below are the details.
Where Do you Fly Into to Get to Nosara?
The best international airport to fly into for Nosara is Liberia International Airport. From Liberia International Airport, Nosara is 113 kilometers (70 miles) and about a 3 hour drive.
From San Jose International Airport, it is 246 kilometers (153 miles) and about a 5 hour drive to Nosara.
Driving: The Best Way to Get to Nosara
Renting a car is the best way to get to Nosara but there are a few things to know because of the road, which is not paved all the way. There is a long section of the coastal Route 160 where it is hilly, unpaved and gravel so a 4×4/4wd or car with high clearance is required to get to Nosara.
We made a video of the drive from Tamarindo to Nosara via Route 160 which may be helpful if you plan to take the same route. You can see what the road is like below.
As you can see in the video, there are river crossings and there is a long section of the road which is unpaved.
Public Bus
There is a public bus from San Jose to Nosara departing from the Terminal 7/10 at 530 AM every day. This bus takes around 6 hours.
There is another bus from Nicoya to Nosara with Empresa Traroc Monday – Saturday at 445 AM, 10 AM, 1230 PM, 3 PM and 530 PM. On Sunday they have a bus at 10 AM, 1230 PM, 3 PM and 530 PM. This bus takes about 2 hours.
Shuttle
From Liberia Airport to Nosara, a private shuttle is around $200 USD total for 1-8 people. (You can contact us in case you require a shuttle). If you are bringing multiple surf boards, you will have to book a private transfer due to size of luggage.
If your lodging is outside of town, not at the beach or further away, we recommend to rent a car to get around (more on getting around Nosara below).
Flying
Nosara does have its own airport and Sansa Airlines flies into this airport from San Jose International Airport and Liberia International Airport.
How to get around Nosara, Costa Rica
The best way to get around Nosara is by car but a car may not be absolutely necessary if you're staying in Guiones. Official taxis are few and Uber is non-existent. For those without a car, you can rent a bike, rent a golf cart, walk or hire a tuk tuk.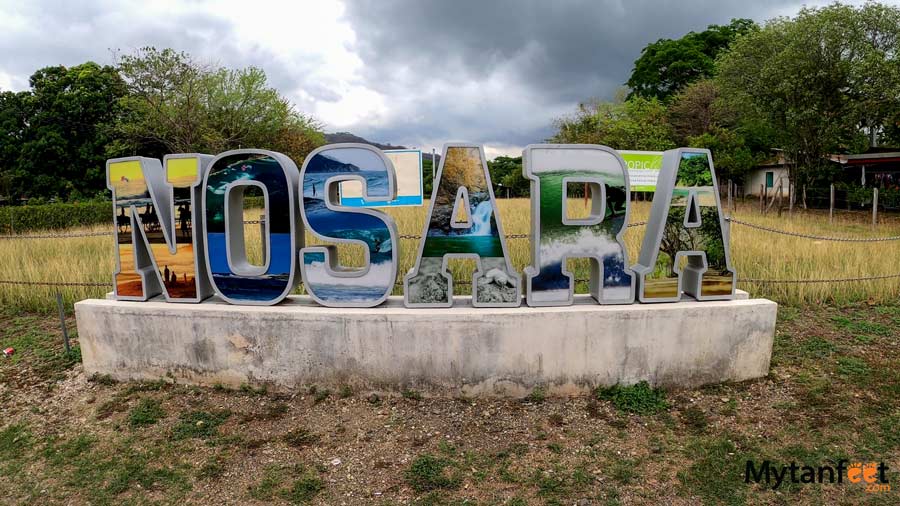 If you're staying in Guiones and are close to the beach, you don't necessarily need a car if you use it as a home base or book private shuttles around Costa Rica. Guiones has restaurants, banks, grocery stores and pretty much all services.
But if you are staying outside Nosara and Guiones like up in the mountains or further away, you should rent a car.
If you want to rent a car in Nosara, Economy has an office in town. For golf cart rentals, check out Nosara Paradise Rentals.
The Town
Nosara itself is a small local town further away from the beach (about 7 kilometers or 5 miles) so most tourists stay in Guiones or Pelada. However, they're say they're going to Nosara since that's how the entire area is called. In those two beach towns, you'll find the surf schools, hotels, banks, restaurants, stores, resorts and surf camps.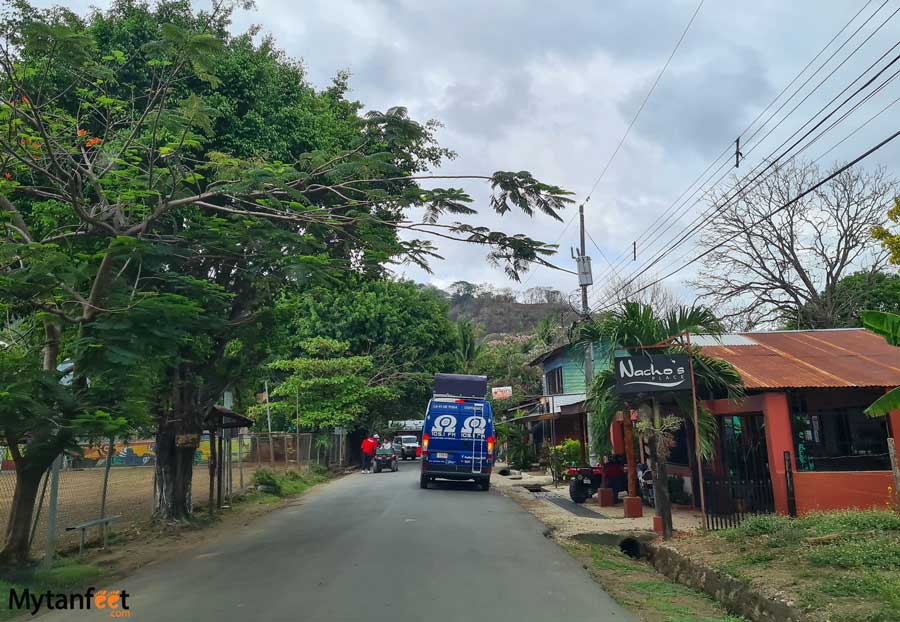 The actual town of Nosara is very small with a couple supermarkets, restaurants, tour offices and the bank. It's also where the local airport and gas station is.
Nosara Beaches
Nosara is home to some gorgeous beaches which are the main attractions of this area.
Playa Guiones
Guiones is the main beach of the area. It has incredible surfing waves, dreamy sunsets and soft sand. If you plan to surf, this is the beach you'll spend most of your time at.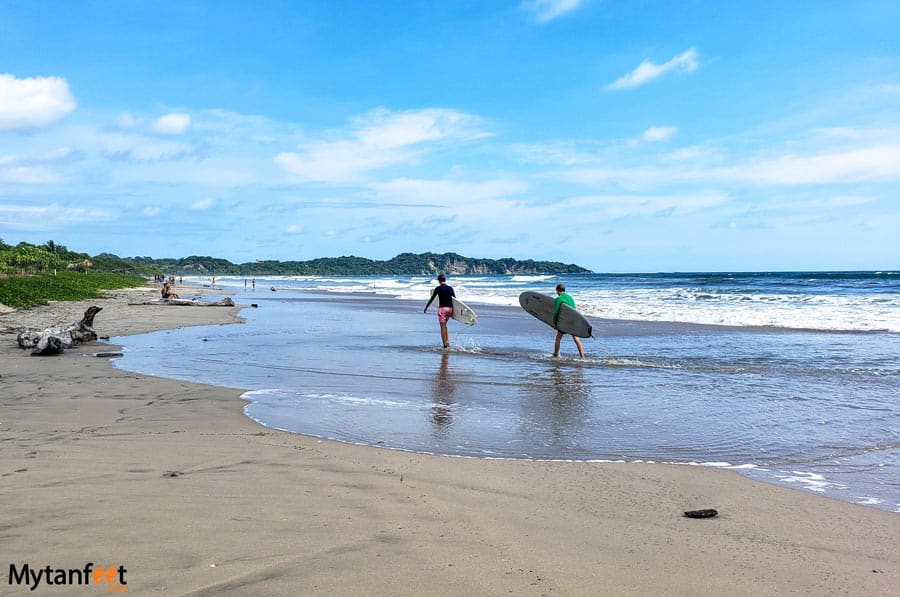 Guiones as mentioned earlier has many hotels, surf camps, restaurants, a bank, clothing stores and grocery stores so it's the man tourism hub of the area.
This beach, Playa Guiones is part of the Ostional National Wildlife Refuge which is why it has empty and pristine shorelines.
Playa Pelada
Pelada is one of our favorite beaches in the area. It's not as big as Guiones and the surf break is more for the locals and expert surfers but we love visiting and walking on this beach.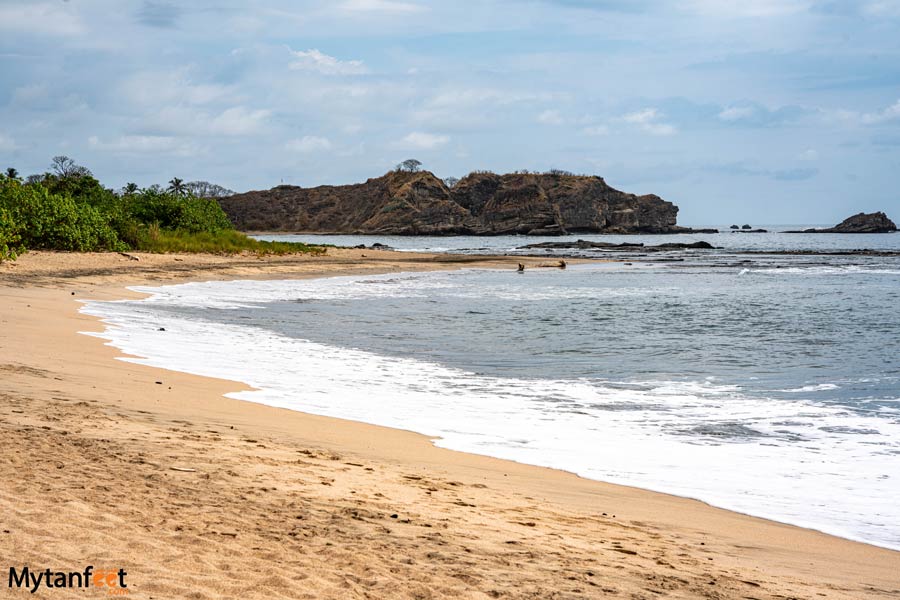 You can swim or walk on the rocks. Just be careful if you swim as waves can get strong.
Pelada is also part of the Ostional Wildlife Refuge.
Playa Nosara
Although named after the town, this beach isn't quite as popular as Guiones or Pelada since it has dark brown sand and has waves more suitable for intermediate and higher level surfers.
Playa Rosada
This beach is appropriately named "pink beach" with stunning light pink colored sand for most of the year. However, this beach doesn't have easy access. You have to walk about an hour on the beach starting from South Guiones to get there.
It is also super important to remember that you must visit during low tide as you have to cross rocks around the jutting peninsula. During high tide, you won't be able to cross the rocks required to get to and out of Playa Rosada so you will get trapped until the low tide comes in.
Things to do in Nosara, Costa Rica
Surf
What to do in Nosara you ask? Surf! And surf. And surf some more. Nosara is home to some of the most luxurious surf camps in Costa Rica with upscale lodging, gourmet food and personalized surf classes and attention.
If you have the $$ and you want to learn how to surf fast, check Surf Simply or Barefoot Surf. They include lodging, surf lessons, equipment, classes and meals.
For surf lessons, check out Burnt Toast, Olo Alaia Surf & Brew, Nosara Surf School, Coconut Harry's, Safari Surf, Moana Surf Resort and Nosara Surf Academy. They all offer multi-day lessons too.
Turtle Tour at Ostional Wildlife Refuge
During the months of May – January, Ostional Wildlife Refuge sees turtle nestings and baby turtle hatchings. This refuge is also home to arribadas which are mass nestings so if you're there at the right time, you can see up to thousands of turtles nesting at one time!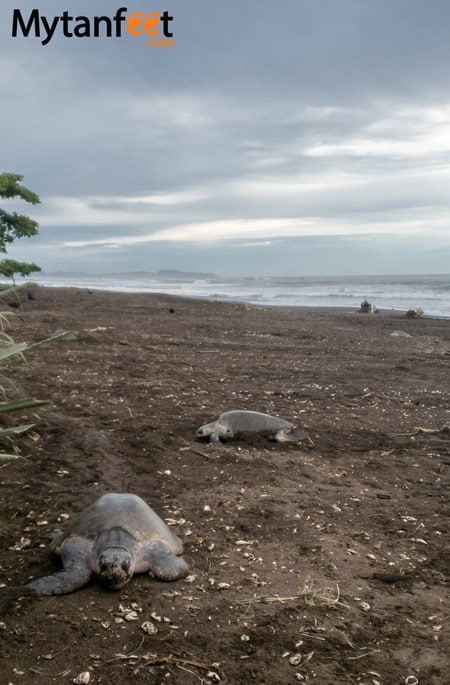 Ostional turtle tours require reservations and a guide and it's just a 20 minute drive from Nosara. You can contact the Ostional Guide Association to make a reservation.
Sunset Cruises
Enjoy a day out in the option on a catamaran, that offers sunset tours, full day cruises and yoga experiences. Sky and Sand and Kaya are popular ones.
Yoga
With a myriad of yoga centers, make sure you take a class or two! Blue Spirit is a favorite, located down in Garza away from the tourism hub.
Kaya Nosara
Offering small group and private tours, this is a great option for private sailing tours. You can also charter their boats.
Reserva Biologica Nosara
This is a private reserve in Nosara on the property of Hotel Lagarta. You can take a guided tour or walk through the trails on the nearly 90 acre reserve. The Nosara River also borders the reserve so you can take a boat or kayak tour down the river to see wildlife like monkeys, anteaters, iguanas, crocodiles and river birds.
Hike
There are actually a handful of trails in Nosara and you can get a VERY good sweat walking through the heat and humidity. You can walk to Playa Rosada, through the biological reserve or even just find some trails in and around town. Playa Pelada has a trail with a nice viewpoint of the beaches.
Nosara Things to Know
Nosara is one of the more expensive beach towns in Costa Rica so keep that in mind if you're on a very tight budget.
Additionally, hotels, surf camps and vacation rentals in Nosara tend to book out quite far in advance. Make sure to book ASAP for Christmas and New Years, spring break and summer.
Nosara is more popular among American, Canadian and European tourists. Not so much among than local Costa Ricans from the cities.
Nosara is a safe beach town but as theft is common in Costa Rica, make sure to never leave your belongings unattended. Likewise, always lock your hotel room door and car doors, roll up windows and don't leave valuables visible.
Coworking spaces are growing. Selina Nosara is popular for digital nomads and there is a new coworking and members only communal space place called Outpost with fully furnished offices, private suites, private offices, a library, meeting rooms, podcast studios and event centers.
Nosara Hotels
When it comes to hotels in Nosara, luxury boutique is the common theme.
The Gardens Hotel (Hotel Guiones): A luxury boutique hotel on Guiones beach. They offer a saltwater pool, free bikes and organic food.
Nomadic Hotel: A beautiful beachfront boutique hotel with one dorm room, private rooms and an apartment. They have a pool and allow kids ages 12 and up.
Selina Nosara: Hostel with shared rooms, private rooms and suites. Also pet friendly and offer surf lessons. Shared rooms start at $25 a bed a night and private rooms go up to $200 a night.
Gilded Iguana: Beautiful hotel in the area with a spa, restaurant, mountain biking, surfing, yoga and more. They also have a nice store. 5 minute walk to the beach. Starts $250 a night.
Moana Surf Resort: Luxury boutique hotel with their own private trail to Guiones beach (5 minute walk). Gorgoue suites, some with a kitchen.
Tierra Magnifica: For amazing ocean and forest views, this hotel has it all as sits on a hilltop up in the mountains. They have a spa, restaurant, and on-site trails.
Bodhi Tree Yoga Resort: They offer luxury yoga retreats and workshops. Treetop rooms, vegan/vegetarian/gluten free food, walking distance to the beach. They also have a spa.
Satori "The Bubble Experience Lodge": For a unique experience, check out the super Instagrammable bubble rooms! There are only 4 bubbles, each with their own private pool.
Cabinas Dilan: Small cabinas right in Nosara downtown near the airport. Good for budget travelers or those who just need a place to sleep for a night.
Restaurants
If you're gluten free, vegetarian, vegan or other, Nosara has a restaurant for you. For cheaper eats, go to Nosara town and hit up one of the Costa Rican restaurants called soda or a bakery (panaderia). The restaurants in Guiones or up in the mountains are more $$$.
K-Rae's Irish Pub and Inn
Beach Dog Cafe
El Local Nosara
Olo Alaia Surf & Brew (Cafe coffee shop)
Tierra Magnifica Restaurant
Cafe de Paris
Marlin Bill's
Rosi's Soda Tica (traditional Costa Rican food)
Soda Vanessa: Costa Rican restaurant in town
Panaderia La Cascada (bakery in Nosara town)
Nacho's Place (another Costa Rican owned restaurant in town)
Soda Mapis (also a Costa Rican restaurant in town)
Shopping
There are a handful of interesting shops in Nosara to check out. You can find lots of swim and surf apparel.
Hot Tamale
Monkey Mafia
Stylez
Jenstones Gallery
Gilded Iguana Hotel has a nice surf and beach store.
Nosara Supermarkets
You will find mainly small "convenience" store markets in Nosara (called pulperias or super) and these will be in Nosara town. There is one big supermarket in Nosara with more goods and food called Rinde Mas.
How to Visit Nosara
A lot of tourists that visit Nosara stay for awhile because of surfing. This area attracts a lot of surfers from California and Australia and their families will stay 1-4 weeks in Nosara, using it as a home base.
However if you're not a surfer, Nosara still has plenty to offer, particularly for more luxury travelers. You can stay a few nights to experience the beach life in Costa Rica and then move onto a rainforest area like Nuevo Arenal or Manuel Antonio.
Many visitors pick Nosara instead of towns like Tamarindo because they don't want to be in so much of a party town.
Read About Other Beach Towns in Costa Rica!
Puerto Viejo de Talamanca: Party beach town on the South Caribbean coast
Santa Teresa: A big surf and yoga town in the Nicoya Peninsula
Dominical: small surf and yoga town in the South Pacific
Uvita: The main tourism hub of the Costa Ballena, home to Marino National Park in the South Pacific