Turrialba Volcano has been making headlines the past few years when it started erupting and spewing ash over San Jose and the Central Valley. Though volcanic activity has been noted since the 80's, it has been gradually getting stronger every year since 2010 with 3 large eruptions in 2015, closing down the San Jose International Airport and creating a national level alert.
Though the national park is closed due to volcanic activity, visitors can still drive up to the entrance to get a close look at Turrialba Volcano. It's worth the drive as it's second tallest volcano in Costa Rica!
Location

Turrialba Volcano National Park is in the Turrialba canton in the Cartago province, about 15 miles (24 kilometers) northwest of Turrialba city.
The volcano is in the easternmost part of the Central Volcanic Range. Turrialba Volcano National Park is 70 kilometers (43 miles) from San Jose and about a 2.5 hour drive one way.
Turrialba Volcano National Park map
About Turrialba Volcano
Turrialba Volcano has 3 craters and two cones: Cerro Tiendilla and Armado. As the second tallest volcano in Costa Ria, Turrialba stands at 10958 feet (3339 meters) above sea level with two different types of forests.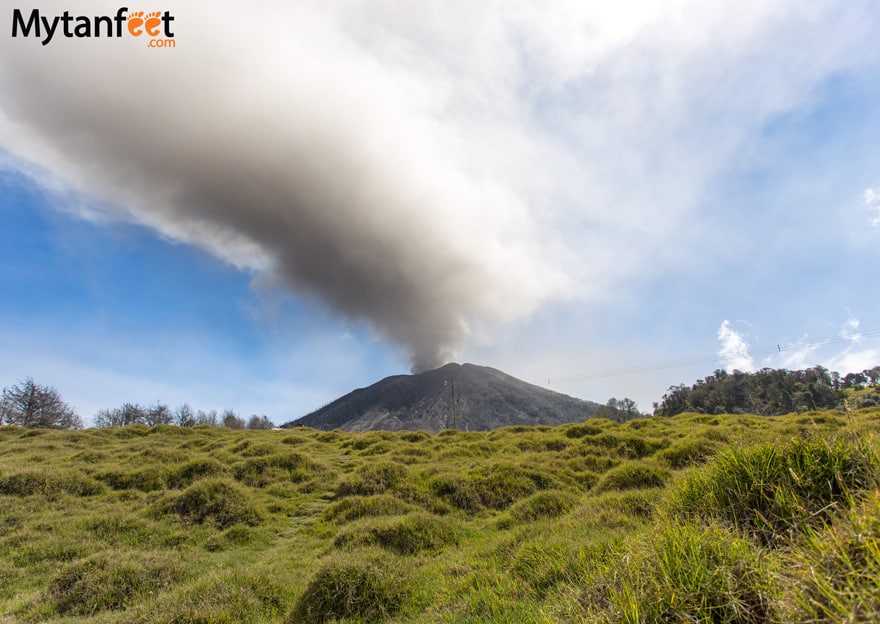 Since it is high up in elevation, temperatures are around 70 F (21 C) in summertime. At the top, there is a view of the Talamanca mountain range, Poas Volcano and all the way to the Caribbean. Various birds and wildlife live in the area including the Resplendant Quetzals, foxes, armadillos and hummingbirds.
Driving Up to the National Park
Since the national park is closed, visitors can drive up to the national park and see the volcano from outside. You have to be at least 2 kilometers (1.2 miles) from the entrance. The road up to the volcano is well paved and there is even a little cafe near the entrance, run by a local Turrialbeño family. They have a great view of the volcano from there or you can find another point along along the road for impressive views.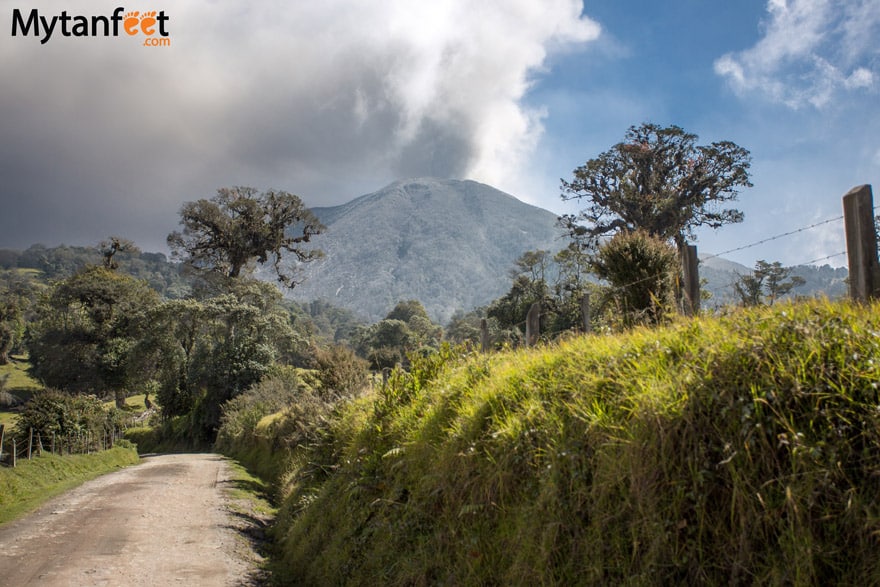 When we visited in March 2017, Turrialba Volcano started erupting again after a month of being quiet. Small eruptions continued the entire 2 hours we were there! Eventually, our car and clothes had a light covering of ash. If you look at the grass, fences and plants on the road, you can see that many of them have a thick layer of ash from previous eruptions.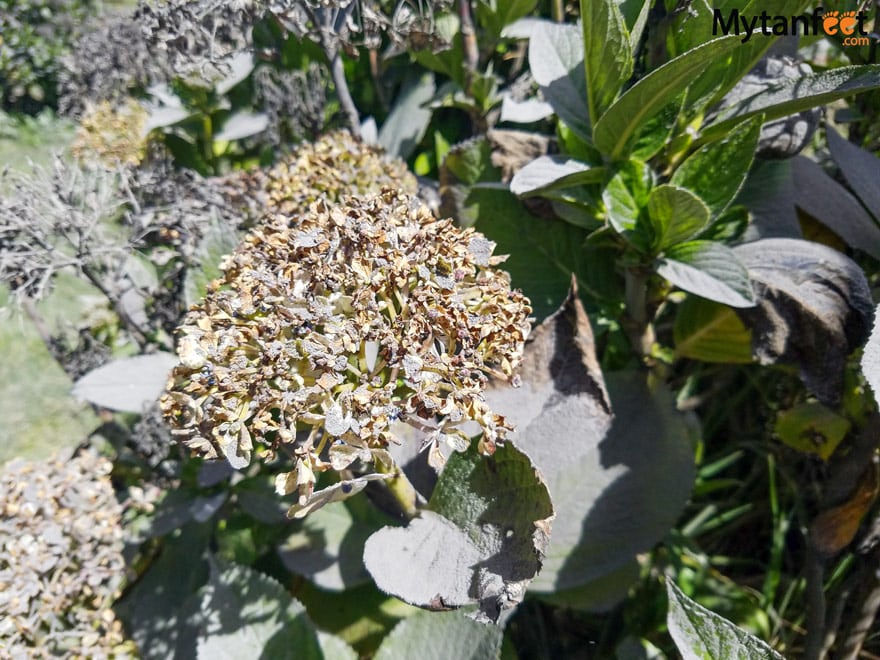 When the national park was open as the volcano wasn't as active, visitors were able to hike up to the observation platforms to take in the views of Irazu Volcano and surrounding landscapes.
Farmers and local families still operate in that area. As you're driving up to the volcano, you'll see crop fields destroyed by the ash. Turrialba is a large farming area and areas close to the volcano has been affected by volcanic activity. But the locals continue on as usual.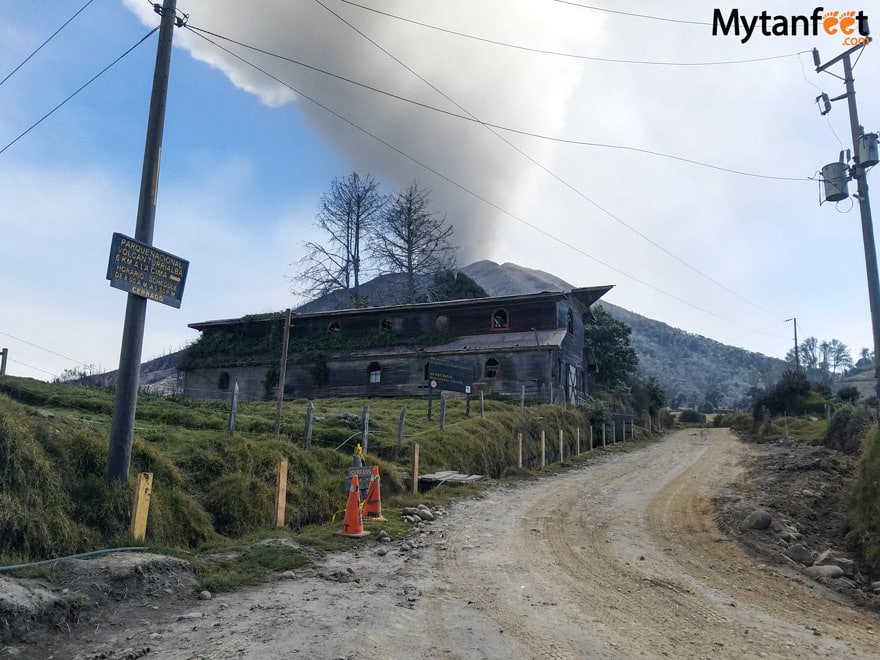 The Road
The road up to Turrialba Volcano is in good shape. Curvy but well paved and only reaches unpaved roads when you get to the top. I highly recommend going slow, there are some beautiful views of Turrialba city and the surrounding landscapes.
You may see some hard core bikers on the way, this road is a popular one for mountain bikers!
Timelapse Video
Here is a quick timelapse video of Turrialba Volcano and the small eruptions.

Since Turrialba Volcano has continuous activity and eruptions, the national park is closed indefinitely. It will only open when it is deemed safe for visitors which may be a long time. But for now, visitors can admire this impressive work of nature safely from afar.
Where to Stay
For our Turrialba trip, we stayed two nights at Guayabo Lodge which has a wonderful view of Turrialba Volcano. From the lodge, we could see the volcano smoking!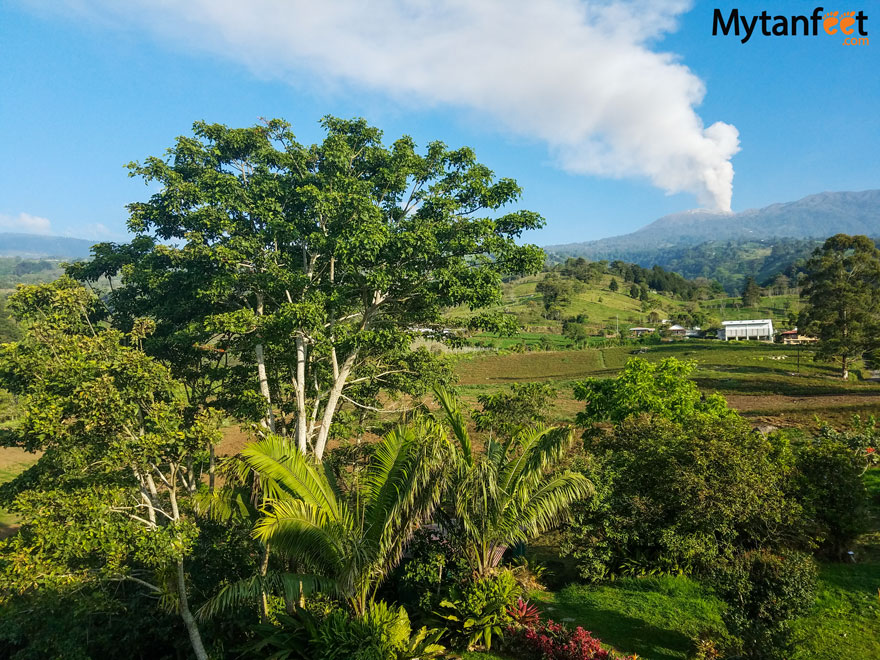 Video of Our Visit
Here's a short video of our visit. We went to Guayabo National Monument after the national park to see the ancient ruins. Great day trip in Turrialba!
Even though the national park is closed, it is still an incredible experience to drive up to Turrialba Volcano. It may be erupting like when we visited, which is thrilling to see but a little scary. It reminds us how powerful nature is and how we need to take care of our planet and respect it.
When it comes to volcanoes in Costa Rica, Turrialba is one of the most extraordinary. You can feel the difference in the air the moment you arrive at the base of the volcano. It is simply astonishing to see the eruptions. Hopefully it will quiet back down one day so they can open the national park again!
Read about other volcanoes in Costa Rica here!
Poas Volcano (another active volcano in the Central Valley)
Read about other things to do in Turrialba here!