Turrialba Volcano has been the most active volcano in Costa Rica the past few years. This volcano is a favorite among Costa Ricans as it's the second tallest volcano in Costa Rica and just a 2.5 hour drive away from San Jose.
If you're interested in visiting, make sure to check the details below because this national park tends to close on and off depending on conditions.
Location
Turrialba Volcano National Park is in the Turrialba canton in the Cartago province, about 15 miles (24 kilometers) northwest of Turrialba city. The volcano is in the easternmost part of the Central Volcanic Range. Turrialba Volcano National Park is 70 kilometers (43 miles) from San Jose and about a 2.5 hour drive one way.
Access to the national park will be from the Tapojo sector via Finca Monte Calas (Route 20)
Turrialba Volcano National Park Hours and Entrance fee
All visits to Turrialba Volcano National Park must be an accompanied guided visit. In order to make reservations, please check this website: https://icetur.com/volc%C3%A1n-turrialba for current updates and availability. They offer just guiding services if you have your own transportation or day tour packages with transportation.
Since all reservations and tickets must be made beforehand, contact ADICETURTURRIALBA.
Phone numbers: 8884-9420 and 2560-4842
Email: info@icetur.com
The Turrialba Volcano National Park fee is $12 USD per person for foreigners, paid by credit or debit card only. Turrialba Volcano National Park will allow entry of visitors from 5 AM to 10 AM December to April and 6 AM to 10 AM May to November.
You can stay a maximum of 4 hours in the park.
About Turrialba Volcano
Turrialba Volcano has 3 craters and two cones: Cerro Tiendilla and Armado. As the second tallest volcano in Costa Ria, Turrialba stands at 10958 feet (3339 meters) above sea level with two different types of forests.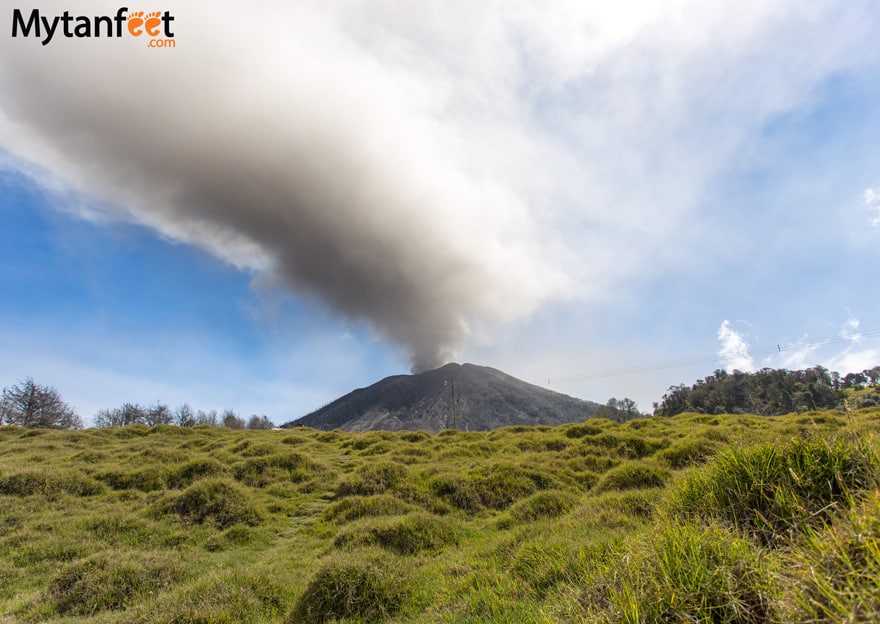 Since it is high up in elevation, temperatures are around 70 F (21 C) in summertime. At the top, there is a view of the Talamanca mountain range, Poas Volcano and all the way to the Caribbean. Various birds and wildlife live in the area including the Resplendant Quetzals, foxes, armadillos and hummingbirds.
Driving Up to the National Park
Since we visited when the park was closed in 2017, we drove up to the national park and saw the volcano from outside. Back then, we had to be at least 2 kilometers (1.2 miles) from the entrance.
The road up to the volcano is not paved but flat with some pot holes here and there. There is a little cafe near the entrance, run by a local Turrialbeño family. They have a great view of the volcano from there. You can find another point along along the road for impressive views.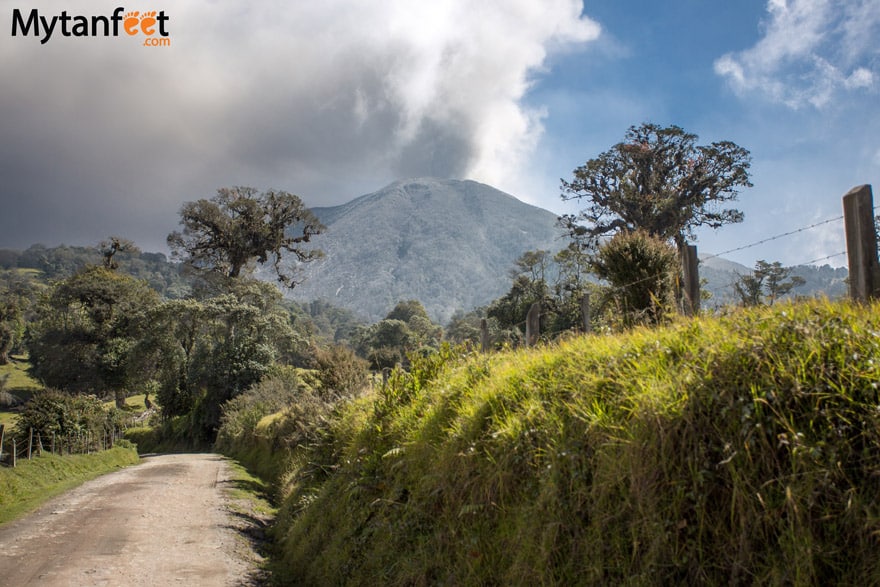 When we visited in March 2017, Turrialba Volcano started erupting again after a month of being quiet. Small eruptions continued the entire 2 hours we were there! Eventually, our car and clothes had a light covering of ash. If you look at the grass, fences and plants on the road, you can see that many of them have a thick layer of ash from previous eruptions.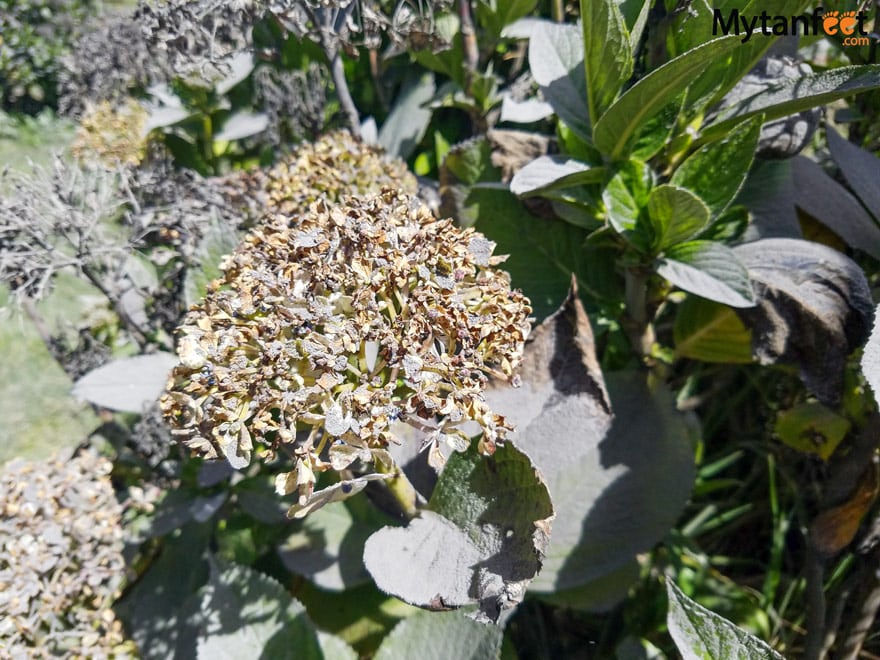 When the national park was open as the volcano wasn't as active, visitors were able to hike up to the observation platforms to take in the views of Irazu Volcano and surrounding landscapes.
Farmers and local families still operate in that area. As you're driving up to the volcano, you'll see crop fields destroyed by the ash. Turrialba is a large farming area and areas close to the volcano has been affected by volcanic activity. But the locals continue on as usual.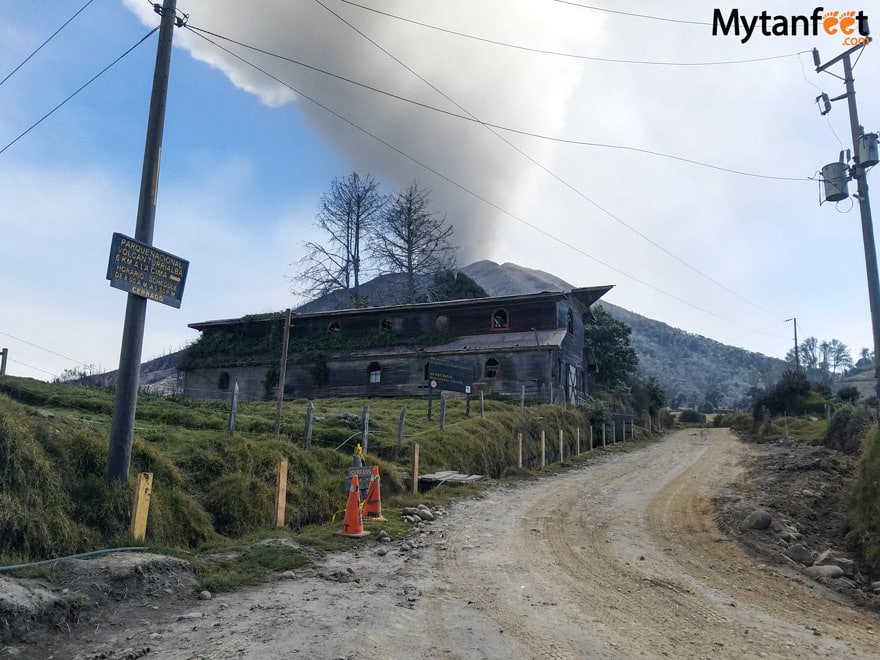 The Road
The road up to Turrialba Volcano is not paved but is a compacted dirt road towards when you reach the top. It is paved at the beginning of the drive and the entire time is curvy and windy. I highly recommend going slow, there are some beautiful views of Turrialba city and the surrounding landscapes.
You may see some hard core bikers on the way, this road is a popular one for mountain bikers!
Timelapse Video
Here is a quick timelapse video of Turrialba Volcano and the small eruptions.

Where to Stay
For our Turrialba trip, we stayed two nights at Guayabo Lodge which has a wonderful view of Turrialba Volcano. From the lodge, we could see the volcano smoking!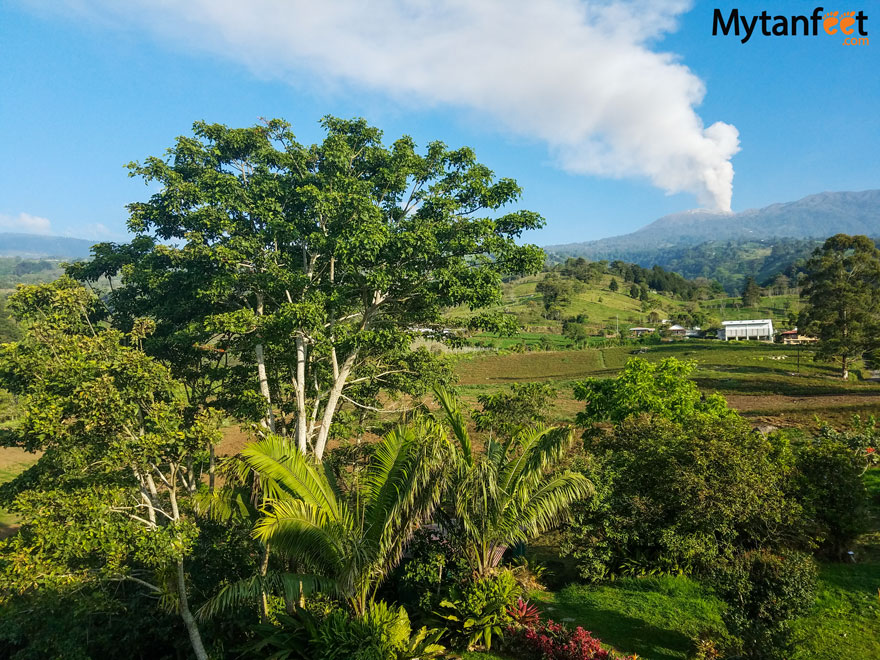 Video of Our Visit
Here's a short video of our visit. We went to Guayabo National Monument after the national park to see the ancient ruins. Great day trip in Turrialba!
When it comes to volcanoes in Costa Rica, Turrialba is one of the most extraordinary. You can feel the difference in the air the moment you arrive at the base of the volcano. It is simply astonishing to see the eruptions. Hopefully it will go back to sleep for the next many years so visitors can enjoy this beautiful park and hike around the base of the volcano.
Read about other volcanoes in Costa Rica here!
Poas Volcano (another active volcano in the Central Valley)
Read about other things to do in Turrialba here!