If you are planning a trip to Costa Rica and don't know where to go, I've listed out the best places in Costa Rica to visit in this destinations guide. We'll help you decide where to travel in Costa Rica depending on what kind of trip you're looking for, who you're traveling with and what time of year you are coming.
There are affiliate links in this post.
Best Places in Costa Rica to Visit: Where to Go in Costa Rica in 2023 and 2024
Quick facts:
Costa Rica is in Central America. Central Standard Time (GMT-6). Drives on right hand side of the road. Official language is Spanish and many indigenous languages are spoken. Currency is called the Colon. Capital city is San José.
Map
Click here to go to our "Best places in Costa Rica to visit" map.
Arenal & La Fortuna
This area is famous for Arenal Volcano National Park, Lake Arenal and the rain forest. La Fortuna is the town that sits at the base of the Arenal Volcano and Arenal refers to the area around the volcano.
La Fortuna is one of the most popular tourist destinations in Costa Rica as it has excellent infrastructure, a ton of hotels at different price points and a handful of fun activities for every traveler.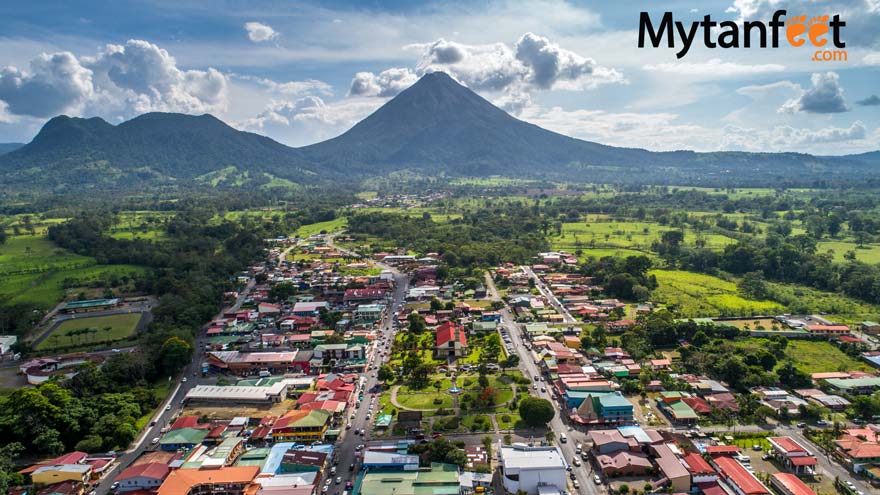 You can fly into either LIR or SJO International Airport for La Fortuna as the distance is nearly the same. Read about driving from Liberia to Arenal and driving from San Jose to Arenal.
Why Visit La Fortuna
La Fortuna is a must for nature lovers as it's surrounded by rainforest and close to an active volcano. It has excellent bird watching, incredible wildlife watching, fun outdoor adventures such as whitewater rafting, zip lining, hot springs and mountain biking. With the nearby forest reserve and the Arenal Volcano National Park with many hiking trails, visitors can have a great time exploring the tropical rainforest.
La Fortuna has all the services for tourists. Furthermore, it has some of the most luxurious rainforest resorts and hot springs in Costa Rica such as Nayara, The Springs, Amor Arenal, Tabacon and Kioro so it's excellent for couples and honeymoons.
Here is our list of the top activities in Arenal and La Fortuna. Our personal favorites are canyoning, hot springs, horseback riding, zip lining and hiking and you can save money on tours with our Arenal and La Fortuna tours discount.
Arenal Volcano National Park
The main attraction of the Fortuna area is Arenal Volcano National Park. This national park features one of the most impressive volcanoes in Costa Rica. Although it used to be one of the most active volcanoes in Costa Rica, you can still see steam and smoke from the top. Hike the many trails for up close views of this volcano.
Looking for itinerary ideas? Check out our sample Costa Rica itineraries from 4 days to 1 month!
Dominical
Dominical is a popular surf town for backpackers, surfers and solo travelers. Likewise, this small hippie surfing beach town in the South Pacific Coast is perfect for those looking for a chill beach vacation.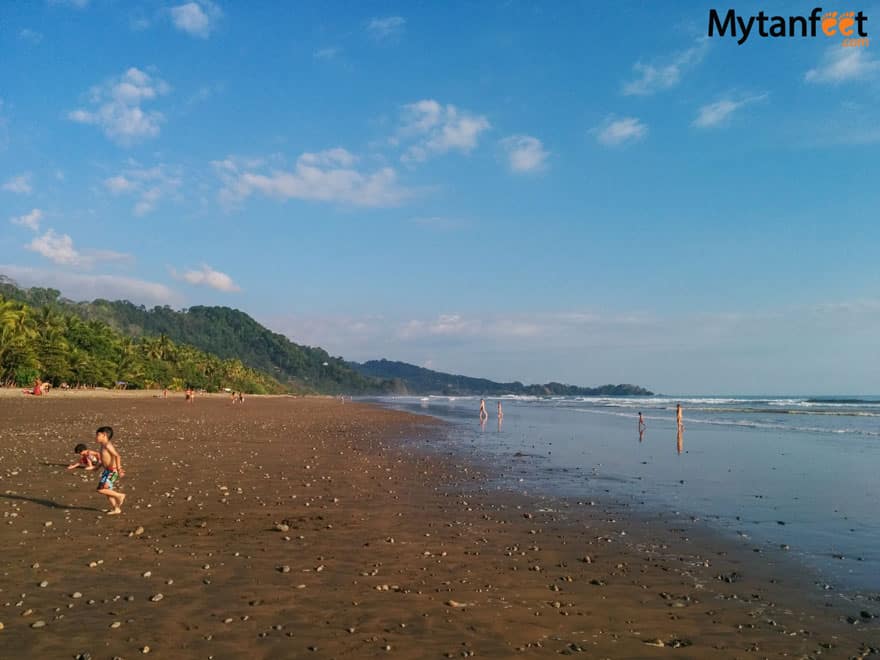 Fly into SJO International Airport for Dominical. From the airport, it is a 3.5 hour drive. You can also fly into the Quepos airport, pick up your rental car and then drive to Dominical. It is recommended to have a 4×4 or high clearance car for this area, depending on your lodging.
Why Visit Dominical
This tiny town is surrounded by lush rainforest and is close to many amazing beaches of Costa Rica's Pacific Coast (Central and South) as well as popular national parks. If you've never seen the Pacific Ocean, Dominical will cross it off your bucketlist for you.
Although the beach is quite rocky, sunsets are incredible and waves are fantastic for expert surfers. Due to it's location, Dominical is a great home base to explore the South Pacific coast.
The best things to do in Dominical is surfing, visiting Nauyaca Waterfalls, watching sunsets on the beach and yoga. There are some absolutely fantastic great day trips from Dominical filled with adventure, wildlife, nature and culture.
Drake Bay
As part of the remote Osa Peninsula in southwestern Costa Rica, tourists pick Drake Bay for its natural beauty, close proximity to Corcovado National Park and abundant wildlife. It's quite an adventure to get to Drake Bay but it's worth it!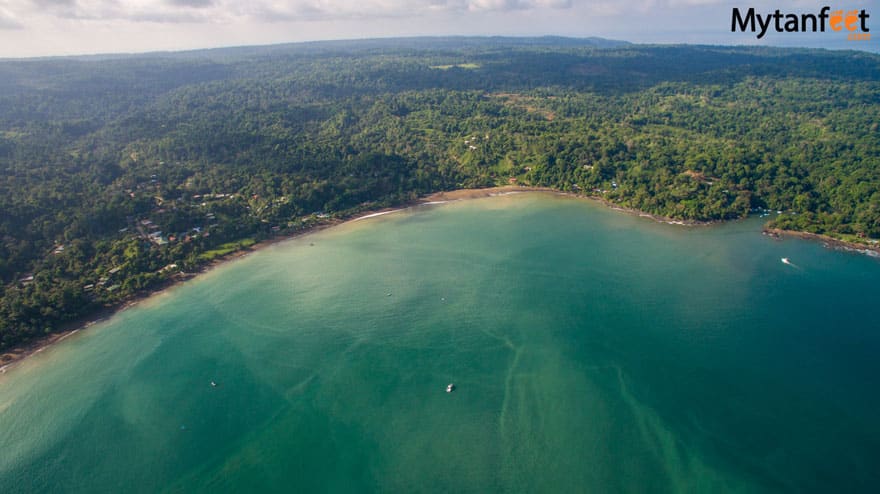 The most common ways to get to Drake Bay is by boat or plane. The best international airport to fly into is SJO International Airport.
Then from the airport, make your way down to Sierpe to take the boat from Sierpe River to Drake Bay. You can also take a 40 minute local flight from San Jose.
It is not highly recommended to drive to Drake Bay due to the road conditions but if you're an experienced off road driver, you can. A high clearance car required in dry season and 4wd in rainy season.
Important things to know about Drake Bay
Drake Bay does not have any banks, ATMs, large medical clinics, hospitals or full service supermarkets. It's also not the most easily accessible destination. For these reasons, we recommend it more for serious nature lovers, adventurous couples, adults and older families rather than young families or seniors with mobility issues or serious health conditions.
Best things to do
Drake Bay is known for amazing wildlife and nature thanks to the nearby Corcovado National Park and protected forest reserve in the Osa Peninsula. In a few days, you can go snorkeling at Caño Island Reserve, hike Corcovado National Park, scuba dive, go horseback riding and go deep sea fishing.
Since it is in the Osa Peninsula which houses 2.5% of the world's biodiversity, you'll see toucans, howler monkeys, Scarlet Macaws, white face monkeys, iguanas and a ton more wildlife! If you're visiting end of December to April or July through September, you can go whale watching to see humpback whales, dolphins and sea turtles.
Recommended hotels
We stayed at Tranquilo Lodge which was very nice. Another luxury all inclusive hotel is Copa del Arbol Beach and Rainforest Resort. There is Drake Bay Backpackers Hostel for budget.
For an even more off the grid place to stay, check out Casa Corcovado Jungle Lodge (upscale) or Jungla del Jaguar Lodge and Hostal. Both are a bit further down the peninsula than Drake Bay.
Flamingo
Playa Flamingo in northwest Costa Rica is excellent for anyone looking for a relaxing beach vacation. Additionally, Flamingo's upcoming new marina has made it an even more well known fishing and scuba diving destination.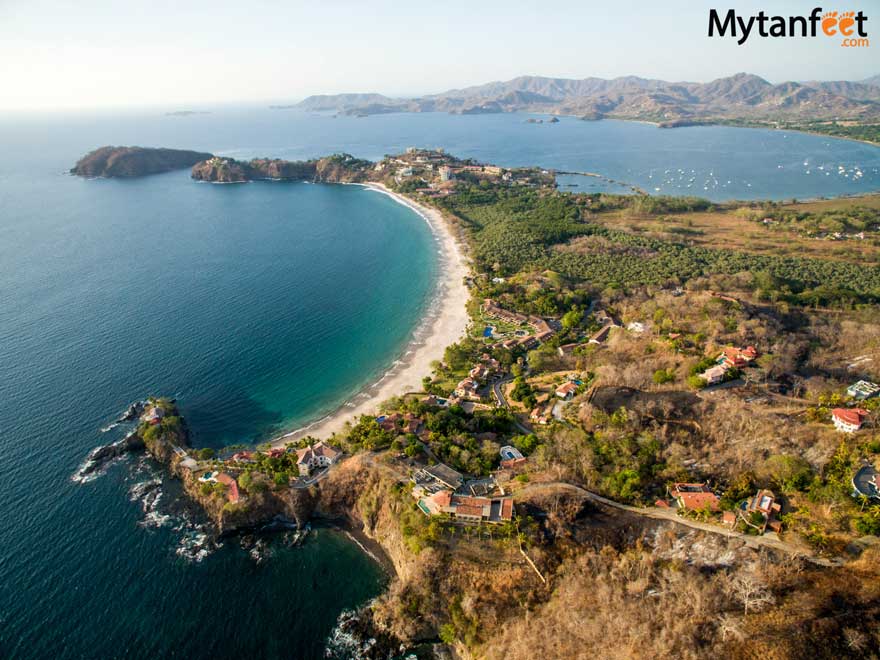 Flamingo is a 4.5 hour drive from SJO Airport and 1 hour drive from LIR Airport.
Why Visit Flamingo
Playa Flamingo is known as one of the most gorgeous beaches in Central America. It's white sand, amazing sunsets and gentle waves are perfect for families. Flamingo is also very close to other great beaches such as Conchal and Penca.
The best things to do in Flamingo is enjoy the beach, watch the sunset, partake in Happy Hour and relax! Right from Flamingo, you can take catamaran sailing trips, snorkeling trips or fishing charters. The Catalinas Islands are a 30 minute boat ride away for scuba diving and snorkeling.
You can do many great day trips such as horseback riding on the beach, hiking in Rincon de la Vieja National Park, hiking to Rio Celeste in Tenorio Volcano National Park, ziplining in Diamante Eco Adventure Park and seeing nesting sea turtles at Ostional Wildlife Refuge.
Get a discount off your Guanacaste day tour here!
Jaco
Jaco is the most developed beach town in Costa Rica since it's only an hour and half drive from San José, the capital city. It's not the prettiest beach on the Pacific coast but it's ideal for those who like a city lifestyle and a thriving night life.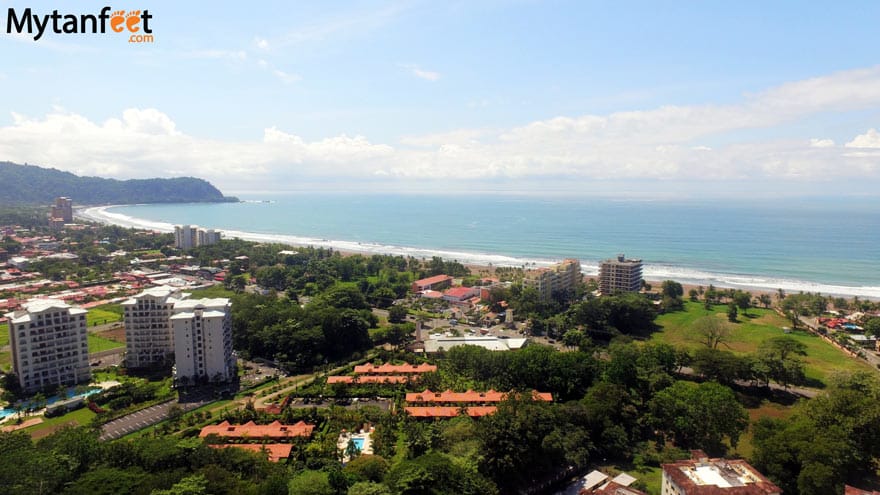 Fly into SJO International Airport for Jaco. From LIR Airport, Jaco beach is a 3 hour drive.
Why Visit Jaco Beach
Jaco has everything for tourists: banks, car rental companies, cell phone stores and frequent buses. If you consider yourself a foodie, Jaco has some of the best restaurants in the country.
The town also has a lively night life with its many bars and night clubs with VIP service. Jaco is known for crazy bachelor parties but it also has a family friendly atmosphere.
Surfing is excellent in Jaco as it has year round consistent waves for surfers of all levels. Jaco is also just a 5 minute drive to Costa Rica's national stadium for surfing: Playa Hermosa.
Jaco is close to many top attractions in Costa Rica such as Carara National Park, Crocodile Bridge, Vista Los Suenos Adventure Park, Manuel Antonio National Park and many great beaches like Esterillos Oeste and Playa Bejuco.
Read our post on things to do in Jaco for more ideas.
Join our mailing list and get our free Costa Rica eBook!
Manuel Antonio/Quepos
Costa Rica's cute sloths can be easily found in this coastal village on the Central Pacific Coast: Manuel Antonio. Manuel Antonio's popular national park, gorgeous white sandy beaches and tropical rainforest makes it the number one tourist area in Costa Rica. Quepos is the local town near Manuel Antonio.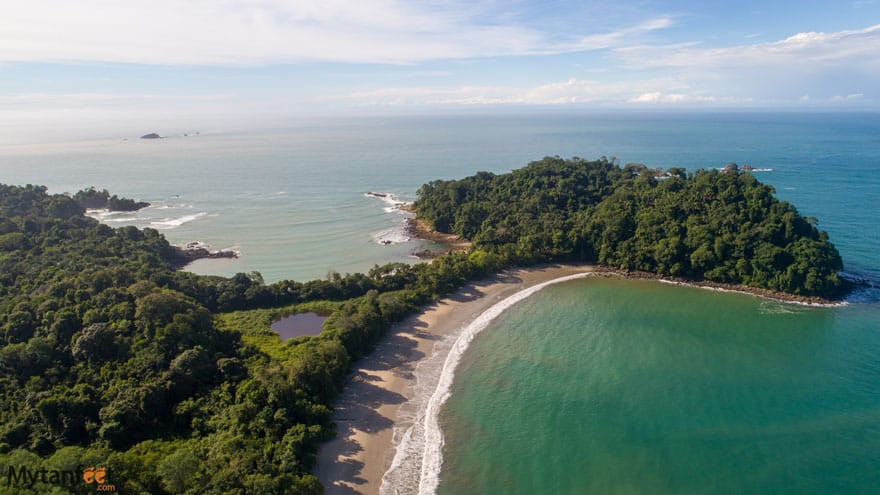 Manuel Antonio is 4.5 hours from LIR International Airport and 3 hours from SJO International Airport. Find out how to get to Manuel Antonio here.
Manuel Antonio National Park
Manuel Antonio National Park is the highlight of this area. There are four different beautiful beaches, various hiking trails to viewpoints and wildlife watching galore. It's one of the best places to see sloths in Costa Rica, as well as 3 different species of monkeys and iguanas.
You can read about other things to do in Manuel Antonio here. We have small discounts for tours in Manuel Antonio including white water rafting, catamaran cruises, night walks and a guided walk of the park with park tickets, roundtrip transportation and bilingual guide included.
Manuel Antonio is also a top honeymoon destination in Costa Rica, as it has a ton of luxury beach and rainforest resorts. Downsides are that this area is very expensive, there are more street hawkers here than other places in Costa Rica and parking is difficult.
Monteverde
This mountain village is the perfect destination for nature lovers, birders and hiking lovers. The canton of Monteverde is home to the Costa Rica's most well known tropical cloud forest. Santa Elena is the main tourism hub of Monteverde.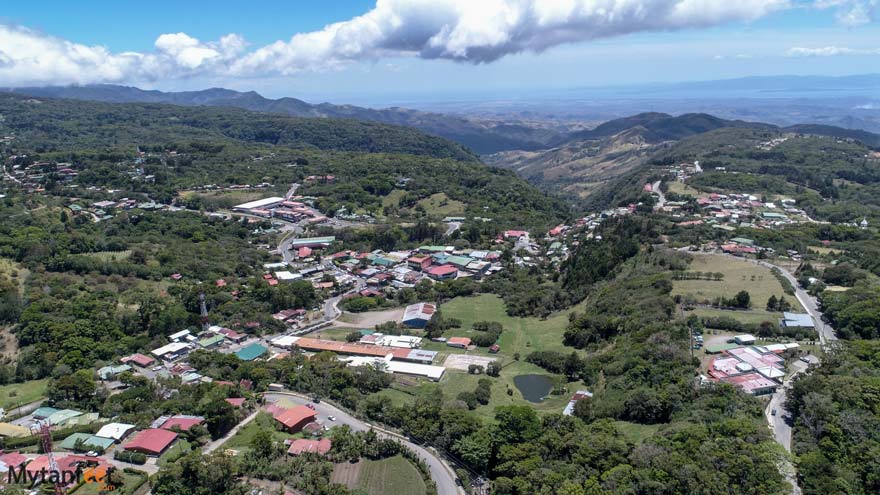 You can fly into either SJO or LIR International Airport to get to Monteverde as they're both about a 3 hour drive. A high clearance car is highly recommended for Monteverde.
Costa Rica's tropical cloud forests are home to three things the country is well known for: zip lining, hanging bridges and bird watching! In the mystical cloud forest, you can spot precious birds like the Resplandant Quetzal. If you love adventure, Monteverde has many adrenaline zip line tours. The Monteverde Cloud Forest Reserve and Bosque Nuboso Santa Elena offers excellent hiking trails and viewpoints.
Our favorite parks in Monteverde are Santa Elena Bosque Nuboso and Monteverde Cloud Forest Reserve for hiking. Then for ziplining and hanging bridges: Selvatura Park, 100% Aventura and Sky Adventures. If you only have 1 full day in Monteverde, Selvatura Park is highly recommended as they have the most activities to do in one day. A guided visit to the Monteverde Cloud Forest Reserve is highly recommended.
Papagayo Peninsula
The Papagayo Peninsula in northern Costa Rica is home to the most all-inclusive resorts in Costa Rica and some of the most beautiful white sandy beaches. As it's only 30 minutes from the LIR International Airport, the Papagayo Peninsula is another top honeymoon and luxury destination.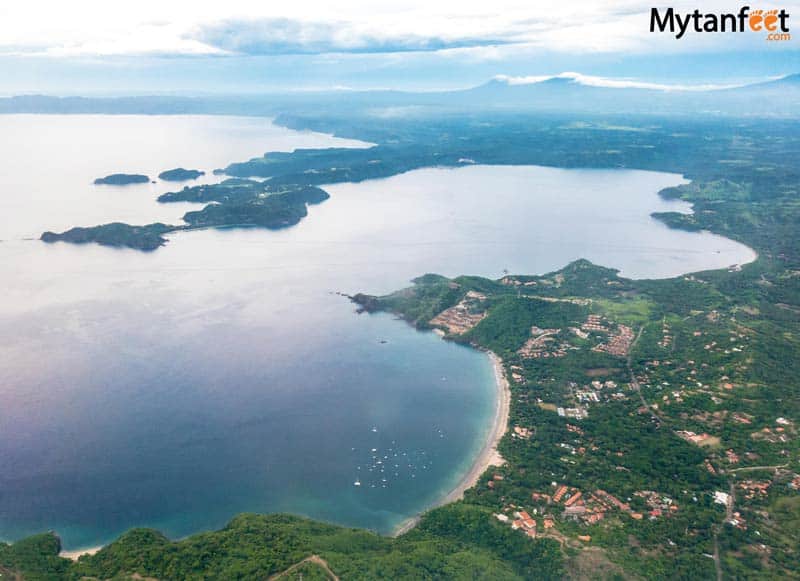 Why Visit
For a luxury beach vacation or if you want to stay at a beachfront all inclusive. Recommended luxury boutique hotels and all inclusive resorts are Four Seasons, Planet Hollywood, Andaz Papagayo, El Mangroove Resort, Occidental Papagayo, Secrets, Riu Palace and Riu.
The best things to do in the Papagayo Peninsula are swimming, snorkeling, stand up paddle boarding, kayaking, jet skiing, fishing, surfing at Witch's Rock in Santa Rosa National Park, scuba diving and beach hopping. You can also book many different day excursions such as Rincon de la Vieja National Park, a ziplining/horseback riding/hot springs combo at Vandara or Guachipelin or visit the Llanos de Cortes waterfall.
Playas del Coco
Playas del Coco is the main beach town in the Gulf of Papagayo and is also a popular town for American and Canadian retirees. It used to be a small, sleepy fishing village and has become very popular in the last several years.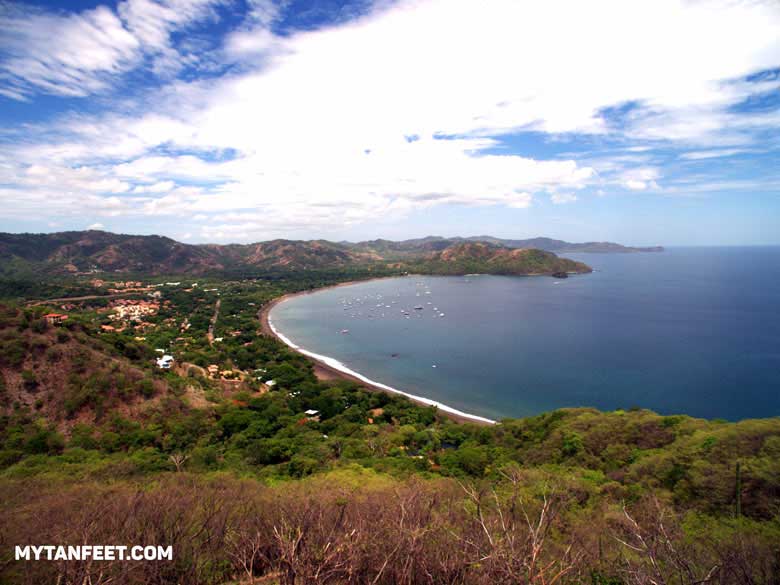 Playas del Coco and the surrounding beaches (Ocotal/Hermosa/Panama) is a 25 minute drive from LIR International Airport and a 4 hour drive from SJO International Airport. Find out how to get to Playas del Coco here.
Why Visit
Coco has some of the best weather in Costa Rica as it tends to have a longer dry season. It's rainy season (aka green season) tends to be a bit shorter and not quite as intense as other locations.
If you're a senior or are retired, you will love Coco as it's full of retired expats, retired immigrants and snowbirds. Families love Playas del Coco too for its more laid back and small beach town vibe.
The best things to do in Playas del Coco are watch sunsets on the beach, enjoy Happy Hour and people watch in the park. Thanks to Coco's excellent location, you can do a lot of fantastic day trips to national parks, waterfalls and private reserves. Do not miss out on any ocean activities like sunset sailing, surfing, fishing, snorkeling and beach hopping. Our absolute favorite tour is a private Coco boating tour to see different white sand beaches, snorkel in crystal clear waters and see wildlife like sea turtles and dolphins.
Puerto Viejo de Talamanca
Known for its laid back, chill Caribbean vibes, Puerto Viejo de Talamanca is a destination unlike any other in Costa Rica. With pristine white sand beaches with crystal clear water, it's a favorite for snorkeling and a relaxing beach vacation. Combine that with common sloth sightings, unique dishes and friendly locals, Puerto Viejo finds its way into every visitor's heart.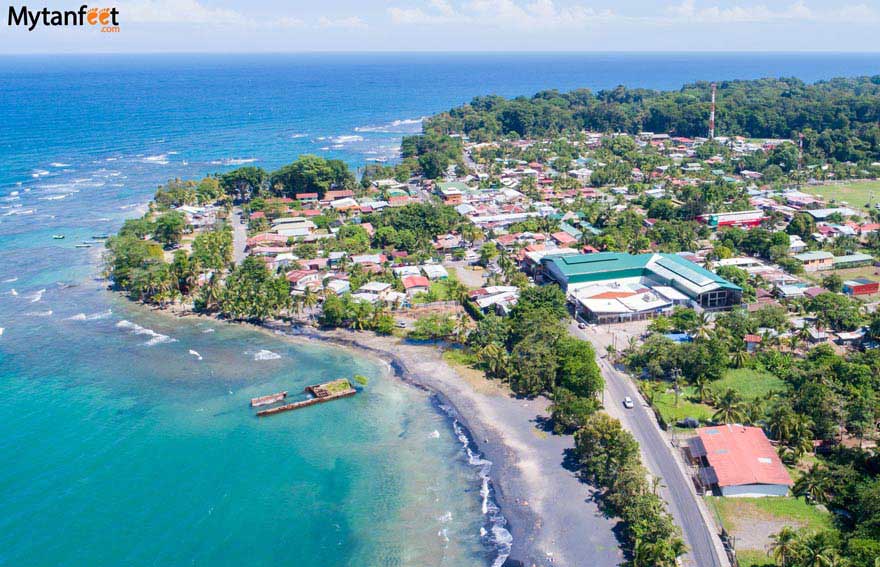 Puerto Viejo de Talamanca is a 5 hour drive from SJO International Airport.
Why Visit
Costa Rica's South Caribbean coast is completely unlike the rest of the country. Puerto Viejo has a huge mix of cultures, thanks to its Afro-Caribbean roots and nearby indigenous communities. The town is very small and has one main paved road starting from Cahuita all the way down to Manzanillo. Within those 30 something kilometers, there are a handful of beautiful white sand beaches of the Caribbean sea surrounded by lush rainforest.
Something important to note is that since the Caribbean Coast does not follow Costa Rica's typical tropical climate, October is the best month to visit Puerto Viejo. During this month, the rest of the country is raining and storming.
Recommended things to do are a visit to Cahuita National Park to hike and snorkel, surf at Playa Cocles, learn about wildlife at the Jaguar Rescue Center, eat delicious rice and beans, swim in the warm Caribbean sea and hit up beach bonfire parties. Read about other things to do in Puerto Viejo here.
Samara
Samara is a very family friendly beach town in the South Guanacaste zone. It is an excellent town to see beautiful beaches, surf, relax and adventure.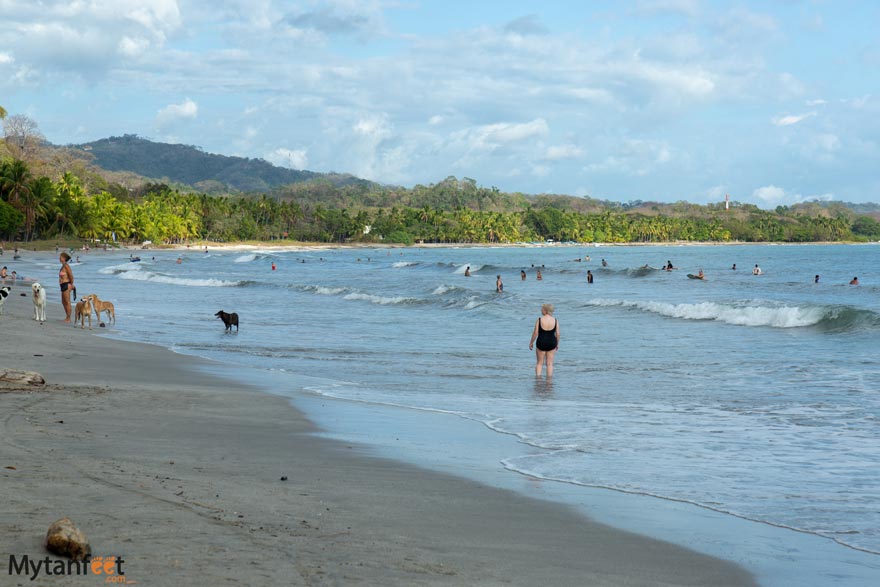 Samara is 2 hours from LIR International Airport and 4.5 hours from SJO International Airport.
Why Visit
Samara is very tourist friendly with plenty of hotels, restaurants, info centers, banks and tour operators. It's a small family friendly town with a holistic focus on wellness, making it ideal for yogis, vegans and surfers. There is less of a party scene here in Samara than in Tamarindo.
The best things to do in Samara is surfing, kayaking and snorkeling at Isla Chorro, visiting nearby beaches like Playa Barrigona and visiting Samara Waterfall. There is plenty of adventure too like fishing, ATV and hiking.
Samara actually has a beachfront all-inclusive resort and an adult only luxury resort: Hotel Villas Playa Samara and Azura Beach Resort.
San José
Although San José is the capital city, you can see the city in one or two days easily since it's not that big. It has a great food scene and is one of the best places to visit in Costa Rica to learn about culture and history.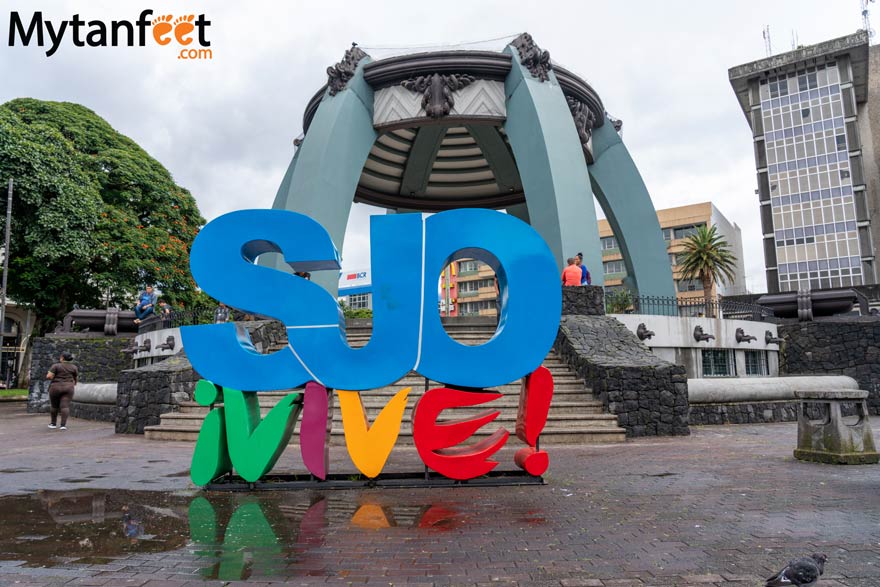 San José is 30 minutes from SJO International Airport.
Why Visit
Being the capital city, San José has absolutely everything for tourists to experience typical Costa Rican city life. Visit the various museums, walk through downtown, stroll through La Sabana Park, eat at Barrio Escalante (the foodie neighborhood), hit up some night clubs and take a city tour. We love the National Theater and the Jade Museum.
San José is an excellent home base to visit Costa Rica if you are only there for a few days. From San José which is in Central Costa Rica, you can take day trips to many different places like the La Paz Waterfall Gardens, Poas Volcano, Arenal Volcano tour and Irazu Volcano National Park to see active volcanoes, coffee tours, and Rainforest Adventures near Braulio Carrillo National Park for hiking and wildlife. Get our La Paz waterfall gardens discount here!
Read our San Jose travel guide and post about day trips from San Jose. (We offer small discounts on San Jose day tours.)
Recommended hotels
Adventure Inn: A cozy boutique inn with a gym, office area and restaurant near the airport. Get 10% off your booking in the link!
Gran Hotel: This hotel is excellent for a home base in downtown San Jose. You're close to all the attractions and walking distance to everything.
Hotel Presidente: Another hotel in downtown San Jose, has a cafe/bar with a great view of the Avenue.
Santa Teresa
Santa Teresa's vast beaches, excellent surfing waves and remote location is another beloved surfing, yoga and wellness destination in Costa Rica. Although Santa Teresa is a bit far from the airports, it's worth the journey to visit this idyllic beach town in the Nicoya Peninsula.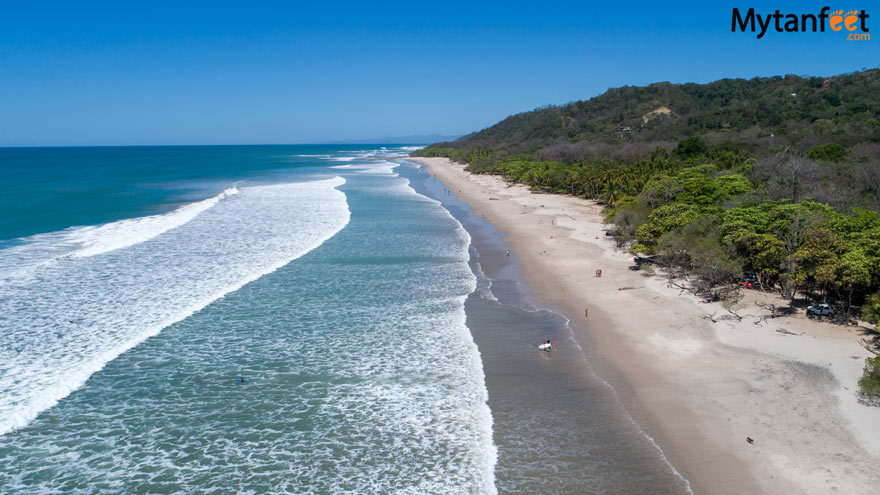 Fly into SJO International Airport and then take the Puntarenas ferry or drive to Santa Teresa (4-6 hours). If you fly into Liberia International Airport, make sure to drive around the Nicoya Peninsula via Route 21. 4wd or high clearance car highly recommended.
Why Visit
Santa Teresa's location makes it far from main services like hospitals but it has pretty much everything for tourists at least for hotels, tour desks and restaurants. Since Santa Teresa is a cash heavy community, make sure to bring plenty of USD and Costa Rican colones because there is only one ATM servicing this entire community and it runs out of money often.
Santa Teresa is Costa Rica's premiere destination for digital nomads. It has a very "young hip" vibe as it's full of young adults, college students, backpackers, solo travelers, surfers and nomads.
The best things to do in Santa Teresa are the walk the beaches, watch the sunset on the beach, go surfing, practice yoga on the beach, party and go fishing. There are also many great places to visit on a day trip from Santa Teresa like Montezuma, Tortuga Island and Curu Wildlife Refuge.
Tamarindo
Tamarindo is one of the best places to go in Costa Rica for the first time as it's a popular beach town in Guanacaste with excellent surfing waves and a fun nightlife. It's a favorite for families looking for a fun beach and convenience.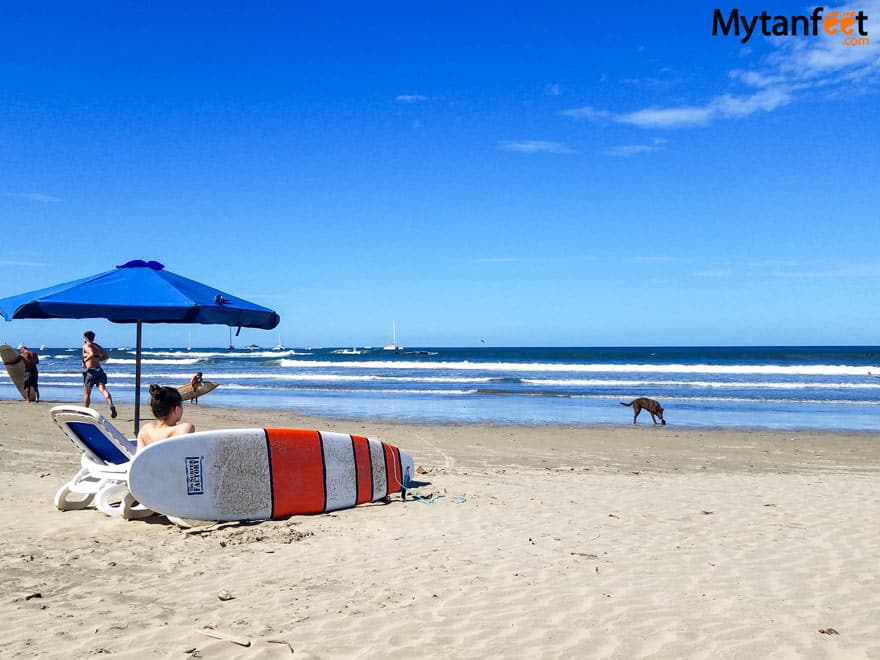 Tamarindo beach is a little over a hour drive from LIR International Airport and 4 hours from SJO International Airport. There is also a domestic airport 5 minutes outside town. Find out how to get to Tamarindo here.
Why visit
Tamarindo has everything: an airport, car rental companies, hostels, banks, souvenir stores, pharmacies, tour companies and supermarkets. It's a small enough that you can walk everywhere.
It's extremely important to know that Tamarindo is a party town. It gets extremely rowdy and crowded during holidays like Christmas, Spring Break and Holy Week. It's also host to a couple of big electronic music festivals. Many Americans visit Tamarindo.
The best things to do in Tamarindo are surfing, tanning, long walks on the beach, sunsets, happy hour and hitting up bars. If you go out at night, be extremely careful of your belongings.
From Tamarindo, you can enjoy many day trips to the national parks and other attractions. Don't miss a visit to Playa Grande to hopefully catch a glimpse of nesting leatherback sea turtles in the Marino Las Baulas National Park! Read our post for more info on things to do in Tamarindo as you can easily spend many days in Tamarindo doing something different.
Tortuguero
Although Tortuguero is in a remote area of the North Caribbean that is only accessible by boat or plane, it's actually one of the best places in Costa Rica for first time visitors. This area, nicknamed the "Little Amazon" of Costa Rica is one of the best for wildlife watching, nature and rainforest!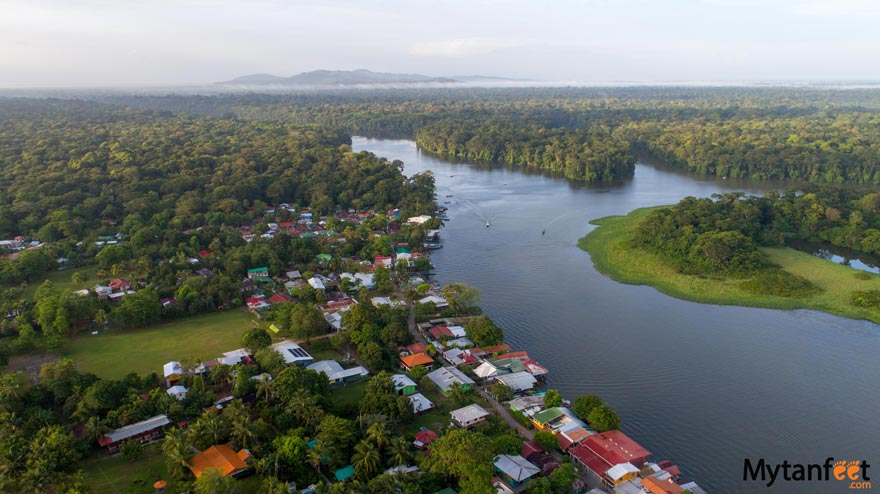 To get to Tortuguero, you need to fly into SJO International Airport, Then, take a plane directly to the village or drive to the La Pavona dock and take the boat. From San Jose, Tortuguero is around a 4-5 hour journey by bus and boat. The plane ride is only about 45 minutes. Find out how to get to Tortuguero here.
You can travel independently or book a Tortuguero package that includes roundtrip transportation, a visit to Tortuguero National Park, meals and lodging. Get our Tortuguero discount here.
Why Visit
Tortuguero is an excellent first destination in Costa Rica because it's such a lush rainforest with abundant wildlife, giving tourists a great first impression of Costa Rica. The Tortuguero National Park protects nesting green sea turtles and is the main attraction of the area. The best months to go to Costa Rica for Tortuguero is September as that is the peak of the nesting green sea turtle season.
Recommended Hotels
Evergreen Lodge, Aninga and Pachira: Lodges owned by Pachira that are next to Tortuguero National Park. All have a pool, restaurants, Wi-fi, bars and variety of rooms and bungalows. (Get our Pachira Tortuguero packages discount here!)
Manatus: Another lodge near the national park. Only hotel with AC.
Mawamba: Lodge with its own entrance to Tortuguero beach and village.
Uvita
Uvita is a small coastal town on the South Pacific coast famous for humpback whales, Marino Ballena National Park, beaches, and lush rainforests. It has a very laid back, mellow and relaxing vibe but it has been growing rapidly the last several years.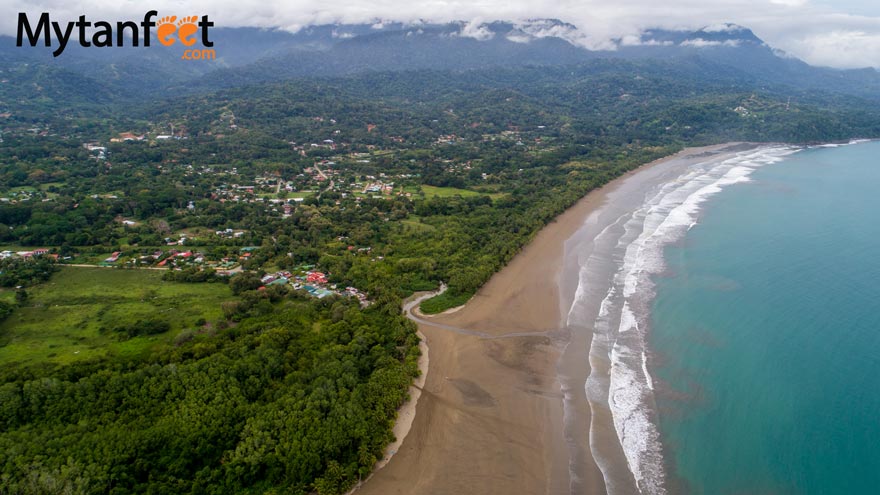 Uvita is 3.5 hours from SJO International Airport and 5.5 hours from LIR International Airport.
Why Visit
Uvita has everything for tourists: supermarkets, banks, tour companies, hostels and international restaurants. The Costanera Sur highway Route 34 is paved as well as the main road through town. However it is hard to get around if you don't have a car so it is highly recommended to have a rental car for Uvita, preferably a 4×4.
This area is way less touristy than the North Pacific so perfect for those who don't like crowds. However, there aren't any white sand beaches down in the South Pacific and there are more rip tides as its direct to the Pacific Ocean.
The best things to do in Uvita are whale watching, snorkeling at Cano Island, walking the beaches and watching the sunset at Marino Ballena National Park and surfing. Here are more ideas of things to do in Uvita.
Hotel Recommendations
Manoas: They have glamping tents and villas/apartment rentals and their own river access. 4X4 required, only 2 kilometers from Uvita town.
Los Laureles: Cute family run hotel near town, has an excellent restaurant. Big property with rooms and suites
Getting Around the Best Places to Visit in Costa Rica
The easiest way to reach most of these destinations is by renting a car. I will also list other transportation options and you can read our "How to get around Costa Rica" guide to find out more. Renting a car? Get our Costa Rica car rental discount here!
Costa Rica Vacation Checklist