As the tallest volcano in Costa Rica standing at 11,260 feet (3,432 meters), Irazu is undoubtedly one of the most impressive natural attractions in the country. No noticeable activity has occurred since the 90s, making Irazu Volcano National Park an excellent place to see a spectacular volcano crater.
Here is our guide to help plan your visit!
How to get to Irazu Volcano from San Jose
Irazu Volcano National Park is 55 kilometers (34 miles) east of San Jose in the Cartago province.
Driving
You will need to drive to Cartago from San Jose first. The drive is about 1.5 hours depending on traffic. You can find use either Waze and Google Maps and set the national park Sector Crater as your destination.
Bus
There is one bus that leaves everyday at 8 AM from Ave 2, Street 1-3 in downtown San Jose, south side of Gran Hotel Costa Rica by the National Theater. It arrives at the national park at 10:15 AM and leaves the park at 1230 PM. There is only one bus per day.
Entrance Fee and Hours
There are two parts of the national park: Sector Crateres and Sector Prusia. Sector Craters is the most popular as it has the crater viewpoints, where the tourists and tour groups go. Sector Prusia has trails for hiking and trail running.
Irazu Volcano National Park entrance fee for Sector Crateres is $16.95 USD per adult, $5.65 USD per child (2-12) and is open every day from 8 AM to 4 PM.Prusia Sector is open everyday from 8 AM to 33 PM everyday. The national park fee is the same for this sector.
The last entry for Sector Crater is 2 PM, the last entry for Sector Prusia is 1 PM.
You must purchase park tickets online at https://serviciosenlinea.sinac.go.cr/. You also need to carry a photo of your passport ID page or your passport with you to show to the park rangers.
Irazu Volcano Facts
Irazu Volcano erupted in 1963 and created quite a frenzy as it happened on the same day that then US president John F. Kennedy arrived in Costa Rica.
The park was established not too long before in 1955 to protect the flora and fauna and various ecosystems and biomes that exist in the area.
Irazu Volcano National Park Map
Below is the map of the national park for the Crater sector. This is the most popular section of the park since you can see the volcano crater and water.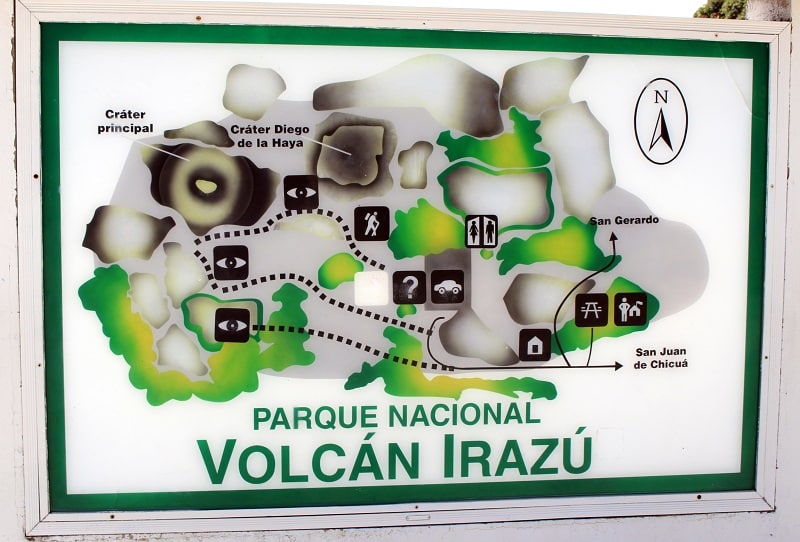 There is another map at the entrance that shows more tourist information (bathrooms, picnic tables, food, etc.). They don't give physical maps.
The Craters Sector
Once you arrive at the national park, you'll walk about 300 feet on a well paved trail. There aren't any hiking trails in this part of the national park and the craters are easy to see.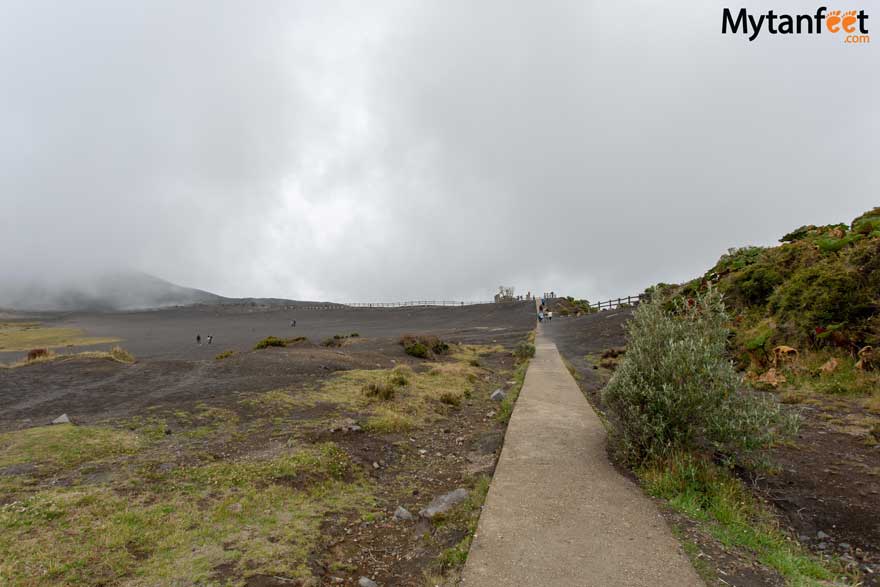 Although there are 4 craters in the park, you can't see all of them. The two craters that you can easily see are the main crater and the Diego de la Haya crater. The first one you'll see on your right hand side is Diego.
Diego de la Haya Crater
The Diego de la Haya crater lies 300 feet (91 meters) down and is known for its lake which can change colors from emerald green to red. When we visited in 2015 and 2018, it was dry.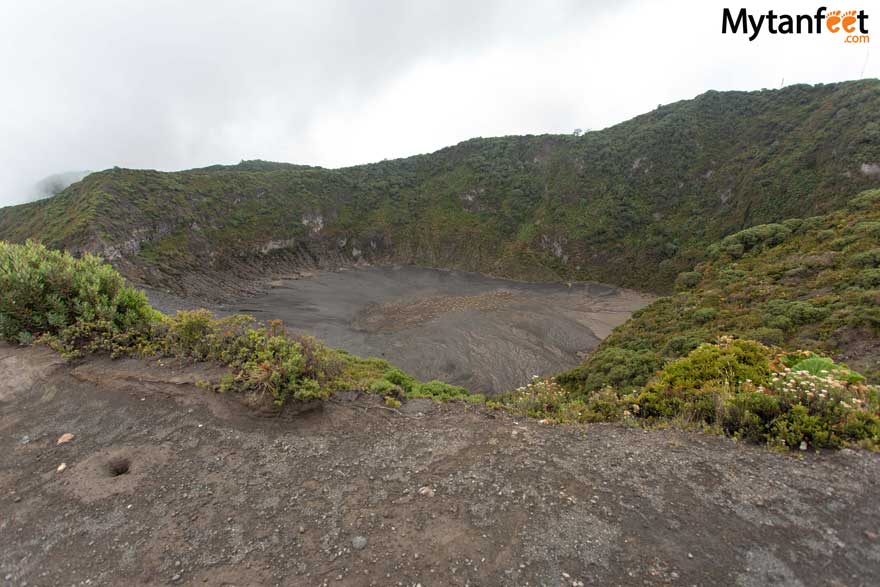 Unfortunately there aren't any billboards or signs with any facts about this crater. It would be interesting to read if they had some, otherwise it's just an empty crater.
That's not too exciting so keep walking forward to the main crater which is much more impressive to see.
Main Crater
The main crater used to be dry like Diego de la Haya but in 2016, the water in the crater came back. It had been dry for a couple years and suddenly starting coming back, delighting visitors with its extremely bright blue water.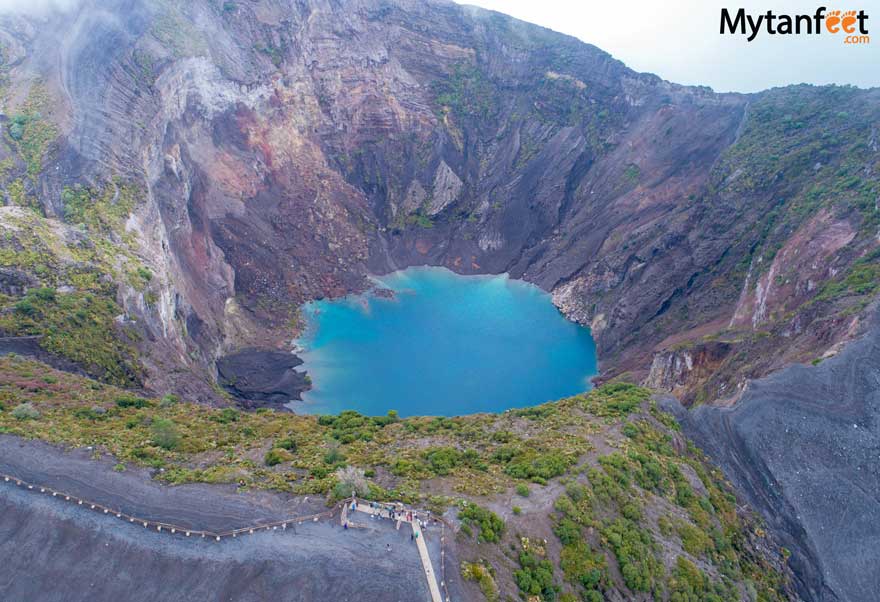 At the barrier, you can see the brilliant blue-green color of the water in the crater below. Surrounded by dark ash and sand, the color is absolutely astonishing.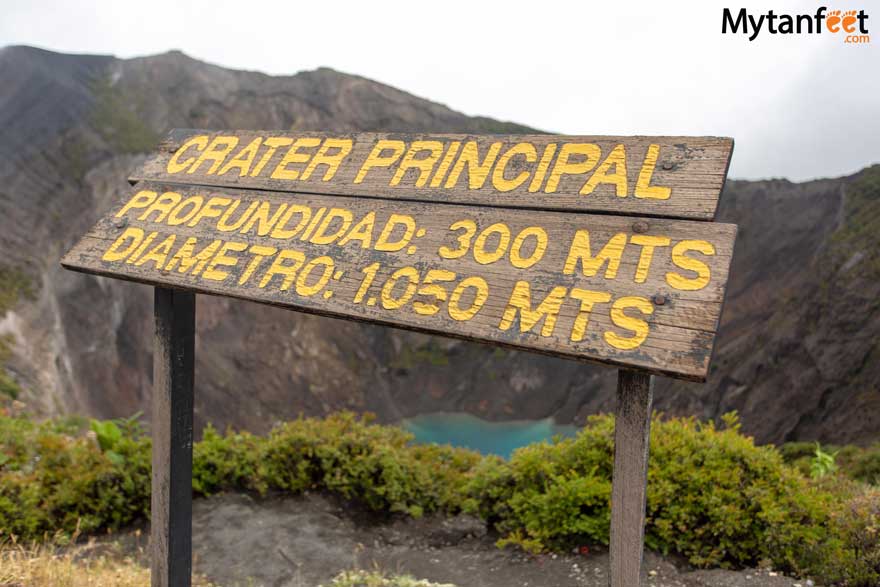 It is a bit hard to see the whole lake so I saw some people stepping on the barrier to get photos. I stood up to get some photos but please don't cross the barrier!
If you want to keep walking, you can continue on the trail to see the other side of the crater. You can also see Playa Hermosa behind you.
Playa Hermosa
Playa Hermosa is the very flat and plain terrace between the other craters. Supposedly this area actually holds the most water when all other three craters lakes are full!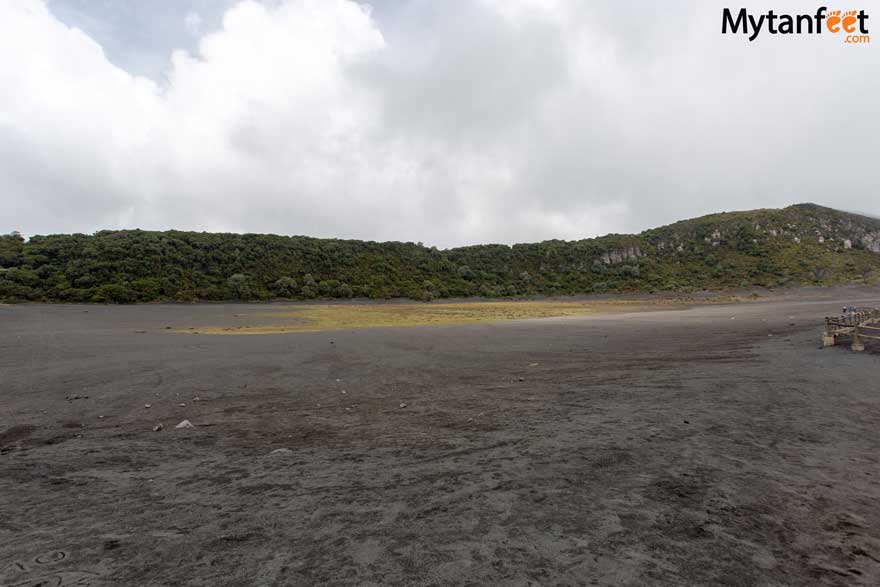 Around both craters it is astonishing to see vegetation this high in elevation. Primary, secondary and cloud forest exist in the park area and we saw plenty of trees, poor man's umbrella plants and yellow flowers here and there.
Besides the craters and short loop, there isn't anything else. Outside the national park is a small picnic area, bathroom facilities and visitor center.
Highest View Point
There is also a view point at the highest point of the national park (around 3,500 meters, 11000 feet). Sadly, when we went, it was super cloudy so we couldn't see anything.
It's a turn to the left right before you go down the hill to the national park parking lot.
What to Know About Visiting
Try to go early in the morning for less people. It gets busy around mid morning. We went during end of May and the parking lot was packed.
If it's cloudy, wait. The clouds may clear up again in a bit.
No accommodations in the park.
Don't feed the wildlife and don't litter.
There is a small cafeteria and gift shop outside the park for snacks, souvenirs and drinks.
A visit to this national park will not last long, especially on a cloudy day. There are beautiful views as you go up to the national park and if you're going on your own, I recommend visiting Finca Sanatorio Duran nearby to make it more worth the trip up. If you visit in January, there is a farm in Prusia that has a field of yellow flowers that is very photogenic.
Irazu Volcano Weather
The weather in this area is much cooler since it is very high in elevation. Make sure to bring a jacket, wear long pants and shoes. If you go in rainy season, definitely bring a rain jacket!
Irazu Volcano Tours
You can take an Irazu Volcano tour from San Jose and most tour companies will combine it with other activities since the national park doesn't take more than 1 hour or so at most. You can do a Irazu Volcano half day tour or a Irazu Volcano and Cartago (Orosi/Lankester Gardens) day tour. Click here to get our discount for this tour!
Video
Watch our video of the national park here.
Want to read about other national parks in Costa Rica? Here you go!
Palo Verde National Park: National park in Guanacaste that protects the Tempisque Valley and River, making it a great place to see wildlife. Best way to experience it is a boat ride down Tempisque river
Carara National Park: National park by Jaco. Great for birdwatching and hiking
Manuel Antonio National Park: Very popular national park in the Central Pacific with hiking trails, white sand beaches and wildlife.
Turrialba Volcano National Park: Closed, but you can drive to the entrance to see the active Turrialba Volcano.