If you're interested in Costa Rica whale watching tours during your vacation, this guide will help you plan your visit. You'll read about the different whales, the best places and times to see them and the best whale watching tours in Costa Rica.
**If you're ready to book a whale watching tour in Uvita, click here to jump down to the booking form to reserve your tour!*
What Whales in Costa Rica Can You See?
The most common whale to see in Costa Rica are the humpback whales as they pass by Costa Rica more than 6 months of the year. In fact, Costa Rica has the longest humpback whale watching season in the world thanks to both the Northern and Southern hemisphere whales passing by.
The other whales that pass by Costa Rica are deep ocean dwellers. Bryde's Whales are also seen in Costa Rica. Orcas have been seen but are not common in Costa Rica.
Another whale you may see are pilot whales, which are actually the second largest oceanic dolphin!
Best Time to Go Humpback Whale Watching in Costa Rica
Officially, the humpback whale season in Costa Rica is December to end of March/beginning April and mid/end July to November. Uvita, a small beach town in the South Pacific coast is the only place that has a great abundance of humpback whales during both times of the year. For this reason, Uvita is the best place in Costa Rica to see humpback whales.
The best time to see humpback whales in Costa Rica is January, February, August and September. This is when whales are very active and more abundant as they come to breed and raise their young. Those months are the best time to go on a Costa Rica whale watching tour! You can see whales all along the Pacific coast of Costa Rica during those months. April and July are right at the tail end/beginning of whale season so it's not the best time or have as many opportunities.
Humpback Whales in Costa Rica
Two types of humpback whales pass through Costa Rica: Southern and Northern Hemisphere.
The Southern Hemisphere humpback whales travel from Antarctica to Costa Rica from late July through early November.
Northern hemisphere whales head to Central America from Alaska from the months of December to March.
Because of this, Costa Rica has the longest humpback whale season in the world!
Best Places to See Whales in Costa Rica
Osa Peninsula
Drake Bay and Golfito (Golfo Dulce) are two excellent places to see whales. There are also many dolphins.
Gulf of Papagayo (Guanacaste)
Humpback whales are commonly seen in the Gulf of Papagayo during the months of July – September. We have seen humpback whales multiple times in this area during the months of July and August.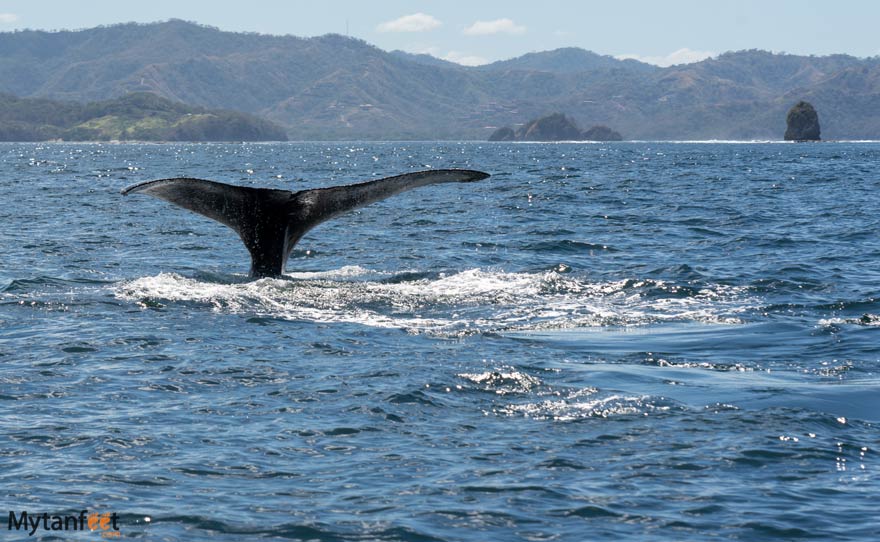 It's not as common to see humpback whales in this area December – March but they are around, especially in February. In February 2021, we saw a mom and baby on our way to Witch's Rock in Santa Rosa National Park!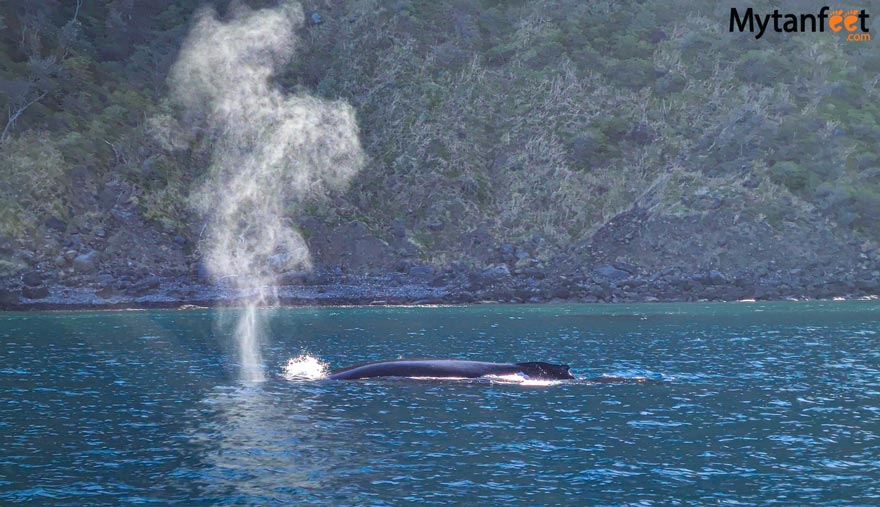 Although there aren't dedicated Gulf of Papagayo/Guanacaste whale watching tours, you have a chance to see them on a snorkeling or beach hopping tour.
Tamarindo/Conchal/Flamingo
You can also see humpback whales on a boat tour out of Tamarindo and Flamingo. Must boat out of the bays to see them. In August and September, many sailing tours will specifically try to boat around and look for whales
I saw a humpback whale breaching coming back from a scuba diving excursion at the Las Catalinas Islands in August. It was amazing!
Uvita
The national park in Uvita, Marino Ballena National Park was created specifically to protect the waters as this is considered the best place in Costa Rica to see humpback whales. This area offers the best whale watching in Costa Rica and you have the best chances of seeing humpback whales in Uvita in Costa Rica.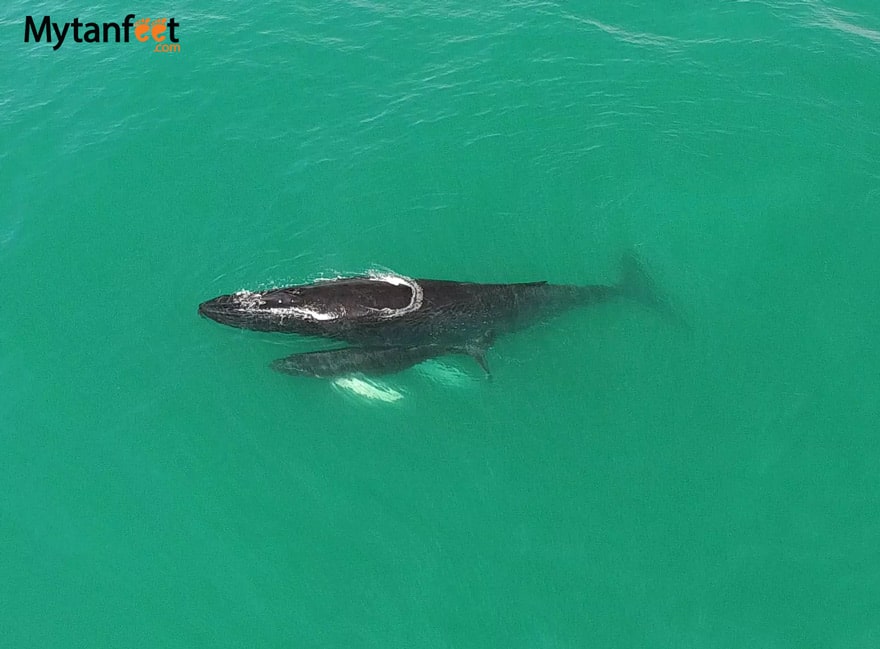 It's common to see mom and baby whales together as this is the time where mothers nurse their young and teach them how to breach, dive and feed. The babies are very playful and sometimes when you see them they are splashing their fins around and eagerly jumping out to practice!
Gulf of Nicoya
Another good place to see whales are in the Gulf of Nicoya. If you take the Tortuga Island day cruise during the whale season, there's a good chance you may see some in August and September!
Manuel Antonio
It is possible to see humpback whales from Manuel Antonio during July, August and September.
Costa Rica Whale Watching Tours
Whale Watching Tours Manuel Antonio: Visitors have a chance to see them during the season on a catamaran cruise (mostly August and September). Some companies may also offer to take you to Uvita for whale watching if whales have not been seen in Manuel Antonio.
Whale Watching Tours Tamarindo: There are no specific whale watching tours out of Tamarindo but you can go on a catamaran or sailing tour. On these sailing tours, it is possible to see whales during the season, particularly July – October. Check Antares, Dream Chaser, Marlin del Rey for open sailing tours.
Whale Watching Tours Flamingo: There are several private boating companies in Flamingo that offer possibilities to see whales during July – September during their tours. Click here to read about our favorite private snorkeling experience in Flamingo.
Whale Watching Tours Playas del Coco/Gulf of Papagayo: There aren't any specific whale watching tours but if you go on a catamaran sailing tour or a private boating tour, you have a chance to see them in July – September, January and February.
A private boating tour is best because the boat captain usually has a radio to communicate with other captains and go look for the whales if spotted. This isn't possible on an open tour as they have to stay on a set schedule and route.
Whale Watching Tours Uvita: There are several companies that operate specific whale watching tours almost all year round. We have gone twice and saw whales both times.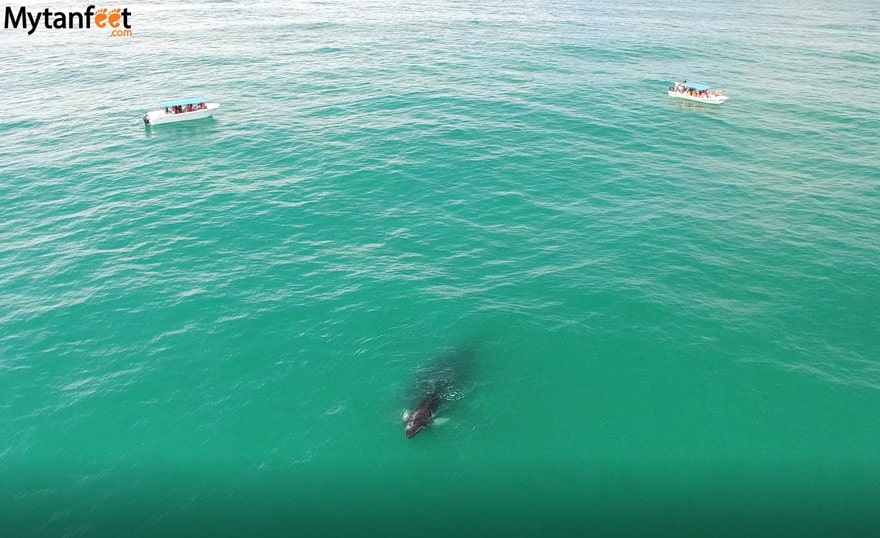 Whale Watching Tours Drake Bay: Divine Dolphin runs dolphin and whale watching tours during the seasons.
What to Know About Costa Rica Whale Watching Tours
Uvita and Drake Bay are two places in Costa Rica that runs tours during both seasons
Because of this, try to fit in a dedicated stay to Uvita in your itinerary if you really want to see humpback whales. Click here to check out a 1 week itinerary that includes Uvita!
Take anti-nausea medicine
When we went whale watching in Uvita, I got extremely seasick because I was taking pictures with my camera and on a rocking boat. I highly recommend taking anti-nausea medicine if you are prone to seasickness or if you are planning to take pictures.
Costa Rica doesn't allow swimming with dolphins or whales
No touching or swimming close to them.
Know that nature is unpredictable
Nature will do what it will and even if it's the season, you may not see whales. If seeing humpback whales are on your bucket list, try to go on a whale watching tour in Uvita or Drake Bay during August and September to maximize your chances.
Book Your Whale Watching Tour in Uvita Below!
If you're interested in booking a whale watching tour in Uvita, please fill out the form below and we will be happy to help.