For wildlife watching in Arenal, by far the easiest and best way is to go on a river safari float ride. The most popular river for a boat ride is the Rio Penas Blancas, only a 20 minute drive from La Fortuna.
Rio Penas Blancas runs through the Tilaran Mountain Range and though some parts of the river has high class rapids, a good portion of it has very calm water, perfect for a leisurely boat ride. It's an incredible place to see monkeys, caimans, reptiles and birds while floating down a beautiful lush river.
Penas Blancas Safari Float

We got picked up at 8 AM and by 8:45, we were already floating down a river as the drive to Rio Penas Blancas takes barely 25 minutes from La Fortuna town. The beauty about this tour is that you are in a raft, not a boat with an engine so you can get closer to the animals without disturbing them.
And without the loud sound of a motor, you feel like you're miles deep into the jungle as you only hear birds chirping, monkeys howling and the river running all around you.
Here are some photos of the river and animals we saw.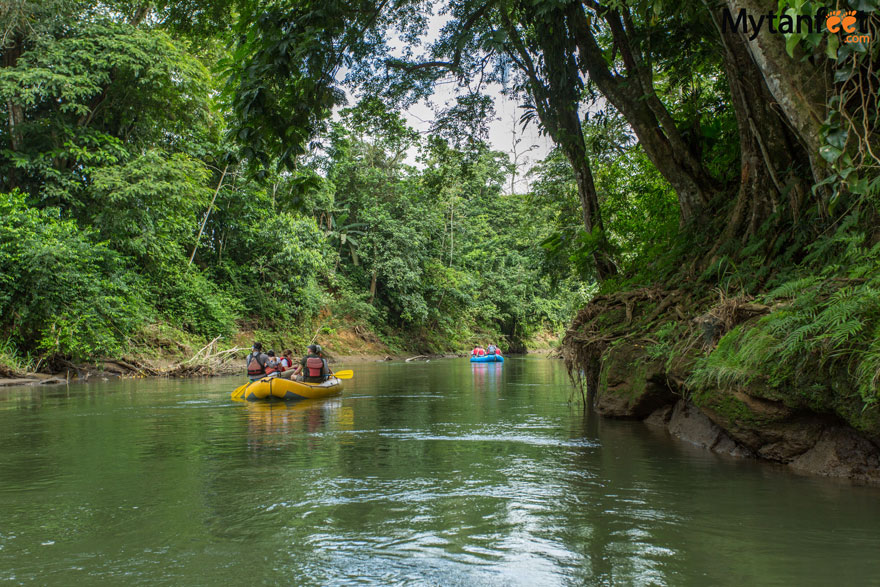 As we glided down the river, Hugo, our guide pointed out the first animal of the day: a heron.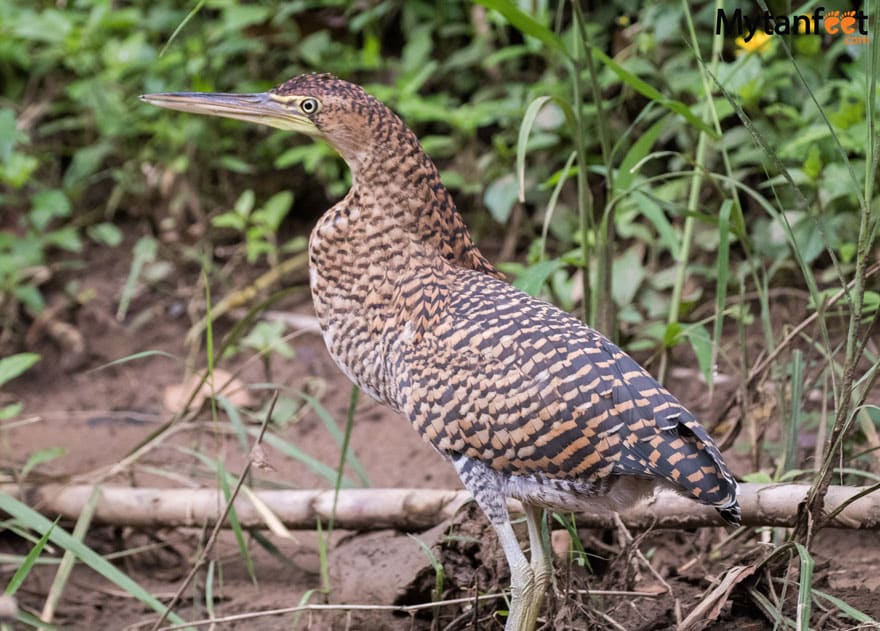 Even though I brought my 400 m lens with an extender on a Canon 80d, we were able to get super close to the heron with spooking him because we were on a raft. We weren't more than 6 feet away from this guy!
And that was how it was for the entire boat trip. We got so close to some White Faced Monkeys (who are incredibly curious and smart), that we thought they were going to jump in the raft to steal our cameras!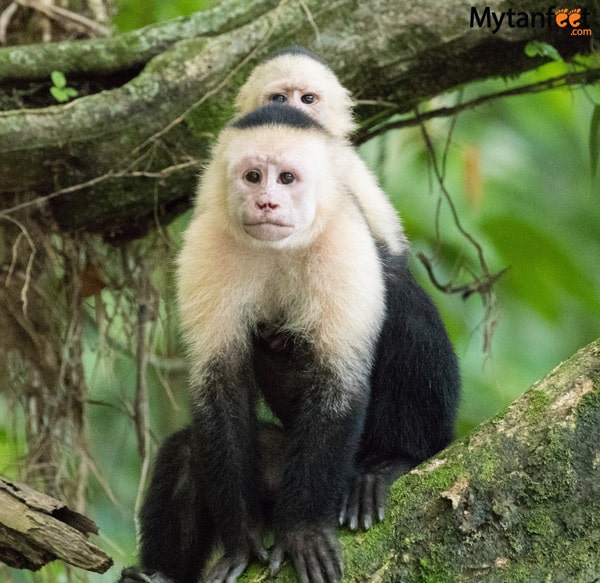 It was a perfect day out on the river. Sunny but a little cloudy so it wasn't terribly hot. Not very windy so the river was very calm. The water glowed green from the reflection of the trees towering over us, providing incredible scenery the whole way.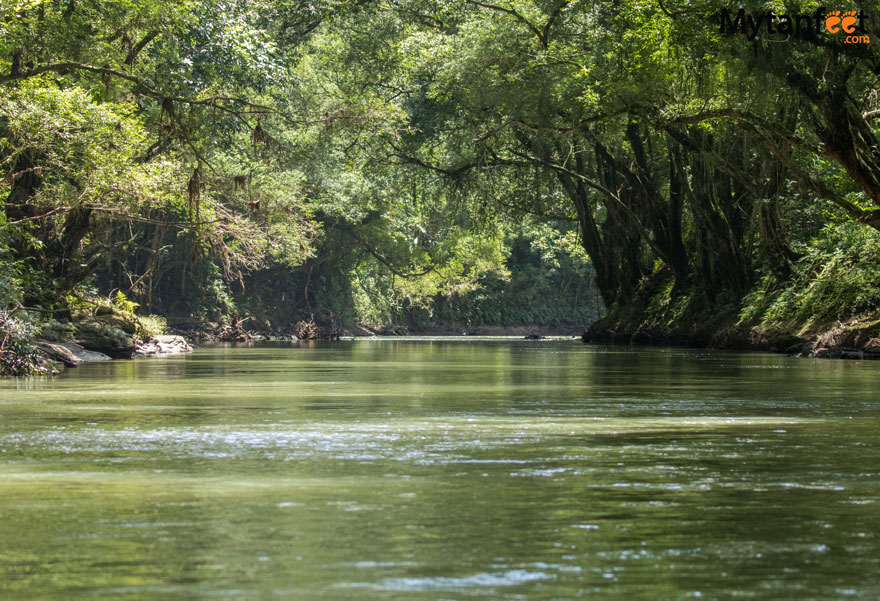 We were also lucky to see a caiman sunbathing, bats, Jesus Christ lizards, howler monkeys, a 2-fingered sloth and my favorite encounter – a sleeping porcupine our guide somehow saw in a hole.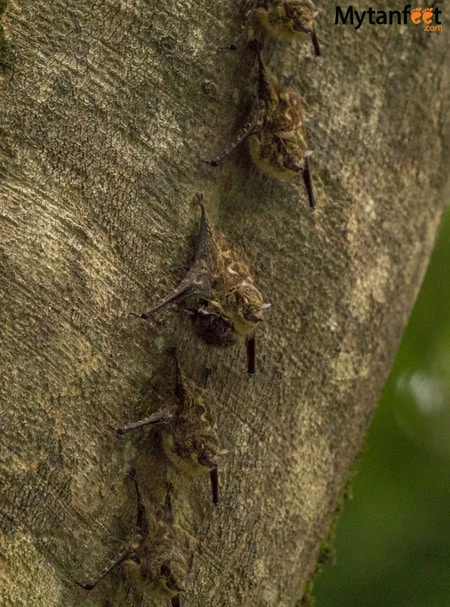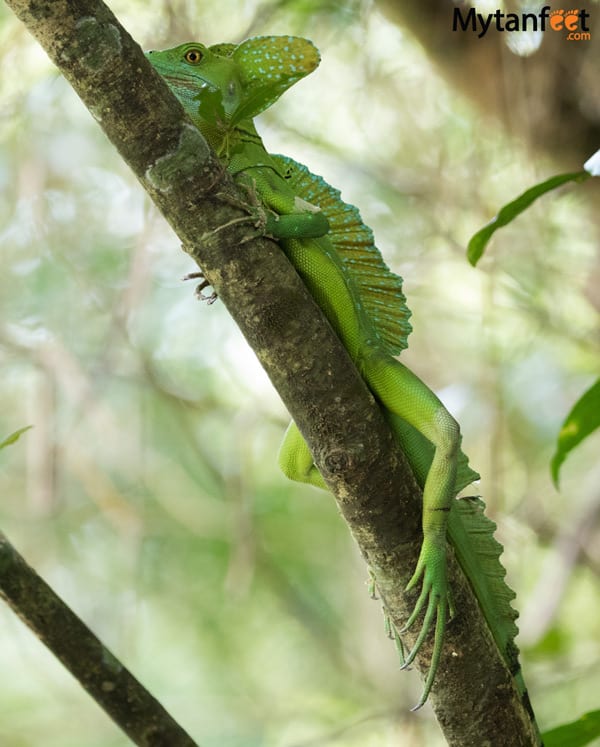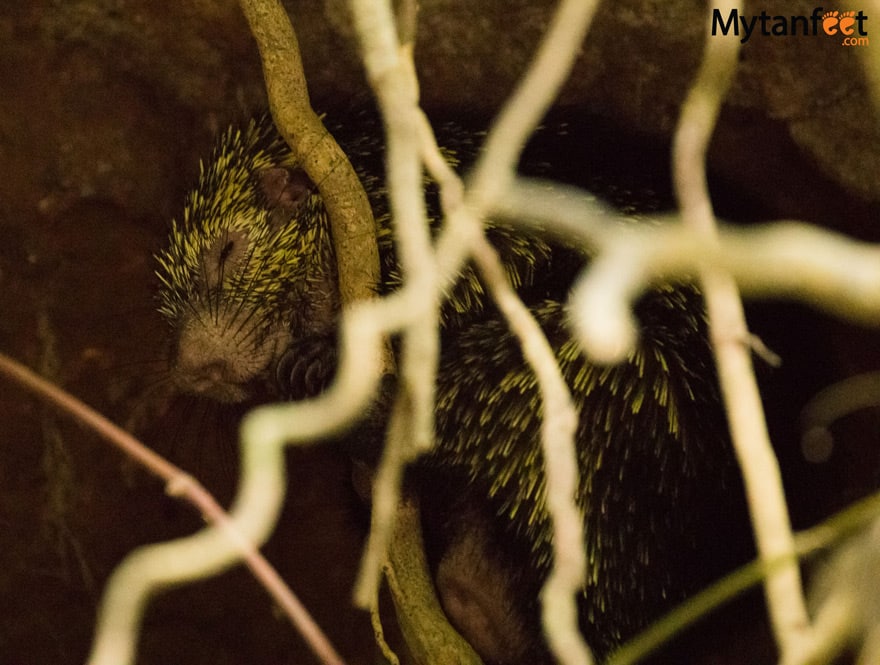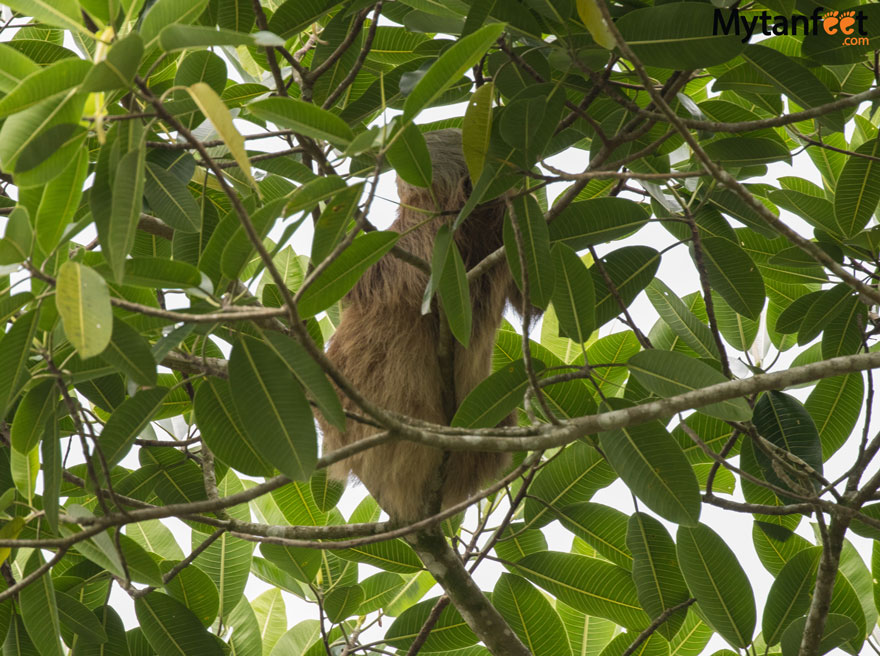 When we reached the end of the tour, we got out and walked to a nearby local house to have some juice and snacks. The family who lives there made us natural fruit juice (starfruit that day), fried plantains and yuca bread – all homemade. Delicious and super refreshing way to end a lovely day out on a river surrounded by exotic wildlife!
About the tour
They have two tours: morning and afternoon. Pick up time in morning is around 7 AM, afternoon is around noon (depends on your hotel, times may vary).
The kind of boat they use is the same for white water rafting, it is an inflatable raft.
Bring a hat, sunglasses, camera. You can wear any kind of shoes since you will not be getting into the water and the river is very calm.
You can wear shorts and a shirt, you don't need to wear long pants if you don't want to. This area is hot.
You won't be paddling, only the guide paddles. They may ask one member of each boat to help them paddle a little bit but the water is super calm.
The river is shallow and they give you life jackets.
There are crocodiles and caimans in this river but the guide does not go straight up to them. You will not fall out of the raft either since there are no rapids or waves. Life jackets are mandatory as a safety precaution, not because you will be swimming or going in the water.
The boat ride is 2 hours. Since it's only a 20 minute drive, this is an excellent half day morning tour and you will have the rest of the day to do another tour if you want.
Watch a video of the Rio Penas Blancas safari float!
If you have more time and don't mind a longer drive, I recommend going on the Rio Frio Safari Float (Cano Negro Wildlife Refuge).
It is a longer drive from Fortuna (1.5 hours) but our tour operator partner is the only one who operates a safari float on this specific section of the river so it's a bit more expensive. Additionally, Caño Negro Wildlife Refuge is one of the most pristine refuges in Costa Rica and there is no public entrance so you will be one of the very few who have ever visited this part of the country. I wrote a post about the Rio Frio Safari Float (called pure nature safari) here.
We have a 7% discounts for both tours you can get here!
However, if you don't want to spend all day or more money, the Penas Blancas Safari Float is an excellent option.
Read more things to do in La Fortuna and Arenal here!
If you happen to be in Manuel Antonio and would like to do a similar tour, the Damas Island mangrove boat tour is excellent. You can also kayak through the mangroves!