If you're visiting the Guanacaste province and looking for a full day excursion of fun and adventure, then you have to check out the Guachipelin one day adventure pass. It consists of ziplining, horseback riding, white water tubing, lunch, hot springs and mud baths. This day tour is one of our favorite things to do in Guanacaste!
If this sounds like something you would like to do during your vacation, read below to see what the Guachipelin one day adventure pass is like! You can also scroll to the bottom of the post to request your passes or book a tour.
Guachipelin One Day Adventure Pass Video
Check out our Guachipelin one day adventure pass video to see what it's like!
Hotel Hacienda Guachipelin
Hacienda Guachipelin is 20 kilometers from Liberia in the small town of Curubande. It's 5 kilometers from the entrance of Rincon de la Vieja National Park. It used to be a cattle farm but the owners decided to turn it into a mini adventure park since they have a river and lots of waterfalls on the property. As today, Guachipelin offers one of the most popular and fun day tours in Guanacaste!
They also have small cabins so visitors can stay overnight and experience more of Rincon de la Vieja but the most popular activity is their one day tour.
Guachipeline One Day Adventure Pass Ziplining
First, up was the canopy tour (ziplining). I wasn't sure what to expect but I was pumped for a fun day of zipping through the trees!
The first few ziplines were a piece of cake, short and sweet and they even let us go upside down on a couple of them which was awesome! Then it went through the river canyon which was amazing. They have an optional rappel and rock climb, and then you have to tarzan swing over the river.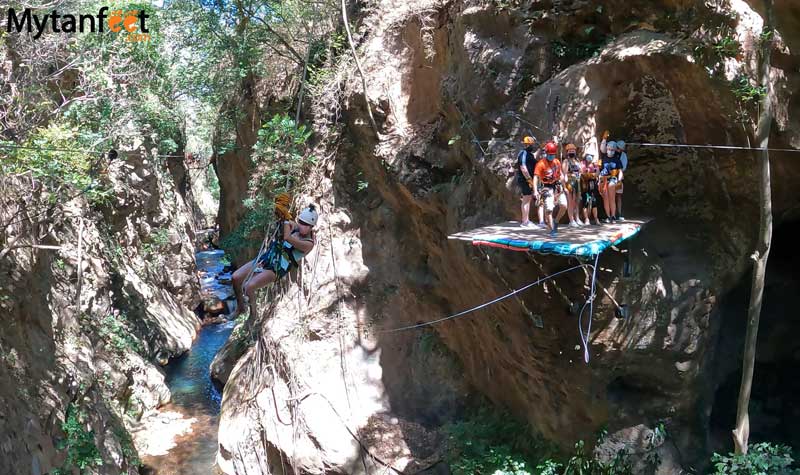 So much fun!
Horseback Riding
After we finished the canopy tour, we headed back to the main office and got a little breather before our next activity: horseback riding! We geared up, got on our horses and headed off into the forest.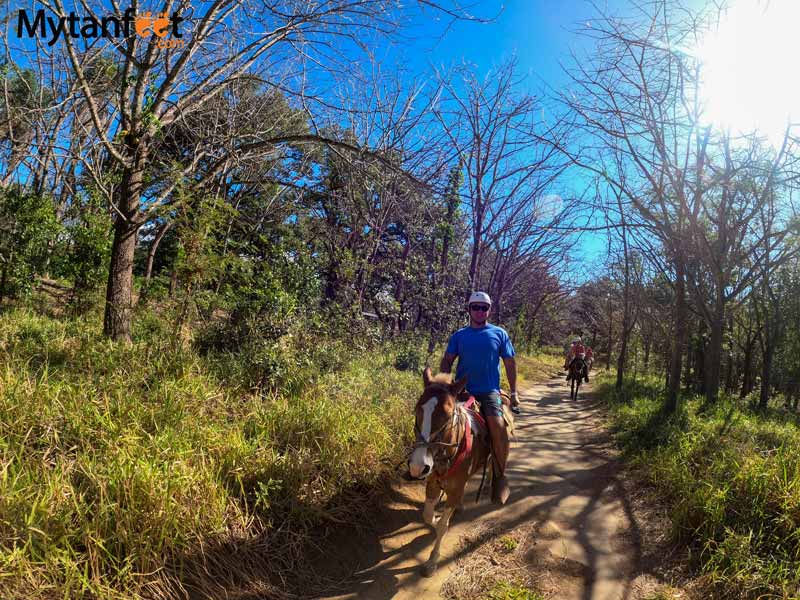 The entire horseback riding was about 1 hour and we stopped quickly at a blue waterfall on the way. When we finished the horseback riding, we got on the Guachipelin bus to take us to the white water tubing start point.
Our guide explained to us about the tubing, the proper way to sit on the tube and safety tips. After that we put on our helmet and life jackets, carried our tube down and started our next adventure!
Guachipelin White Water Tubing
This river with class 1 and 2 rapids runs through Rincon de la Vieja and the entire tubing tour is a grand total of 5 kilometers (3.1 miles), lasting about 1-1.5 hours.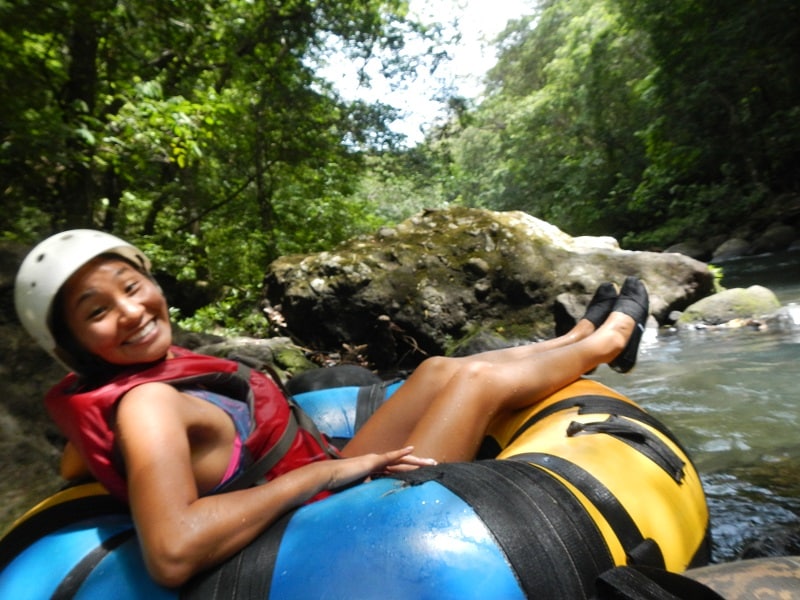 This was probably the most fun hour I've ever had. The rapids weren't too big so there is very low chance of falling out or any feeling of danger but they were strong enough that you get knocked around enough like bumper boats and you have handles to hold onto. I felt like a little kid on a hot summer day at the water park except this time, I was floating around in a beautiful natural river!
There are lazy pools after every few falls where you can float around and take it all in: the delicious refreshing water, the sun, the gorgeous sky, the trees and the wildlife.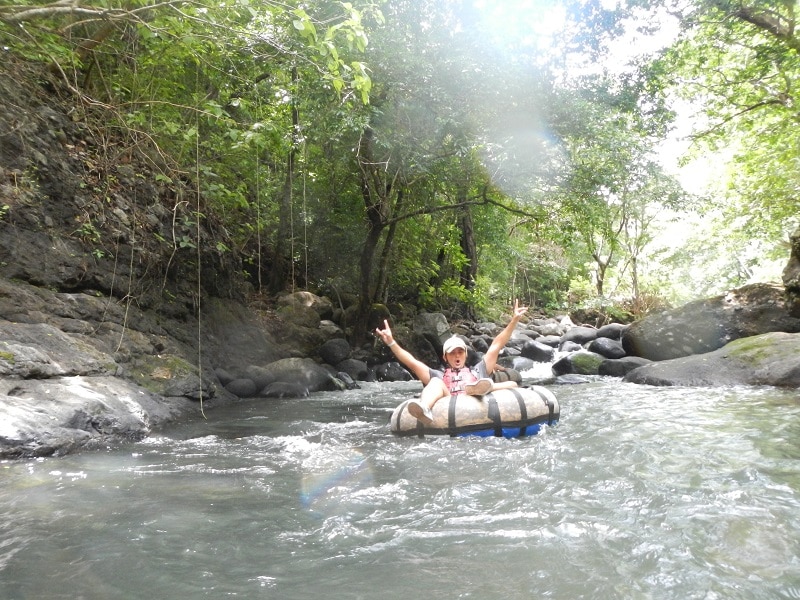 At first I thought an hour would be plenty of time for the tubing but at the end I was so bummed it was over already! By the time we finished, it was 2pm and I was ready for some delicious buffet lunch.
Lunch
Lunch is at the Hacienda Guachipelin restaurant and it's buffet style with typical Costa Rican food. They offer lots of salads, rice, beans, veggies and meat.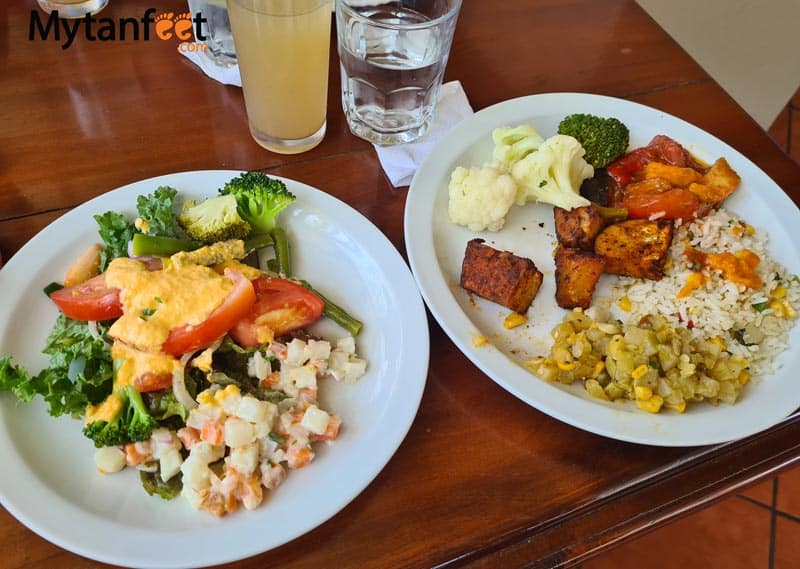 After lunch, you can take as much time as you want to get to the hot springs. You do need your own transportation for this part since the hot springs are 5 kms away from the adventure center.
There are a lot of signs for the hot springs that will point you the right way.
Guachipelin Hot Springs and Mud Baths
You can stay as long as you want at the hot springs which closes at 6. The receptionist will give you towels and there are bathrooms/changing stations at the entrance. From there, follow the trail down to the hot springs. You'll cross one hanging bridge which has a great view of the hot springs!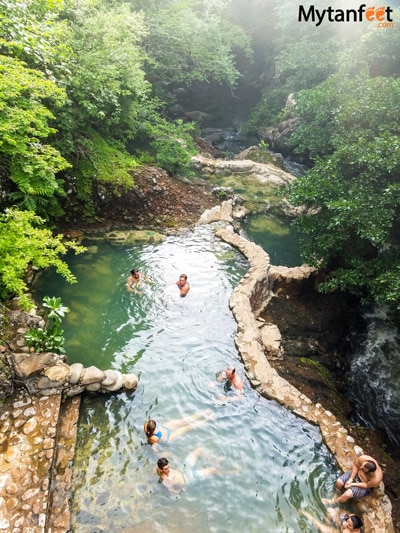 The proper way to do the whole mud baths-hot springs thing is like this. First, cover yourself in mud. Like your whole face, body, chest, everything. Let it dry and then wash off in the showers or if you're feeling adventurous, in the river. The water is so refreshing!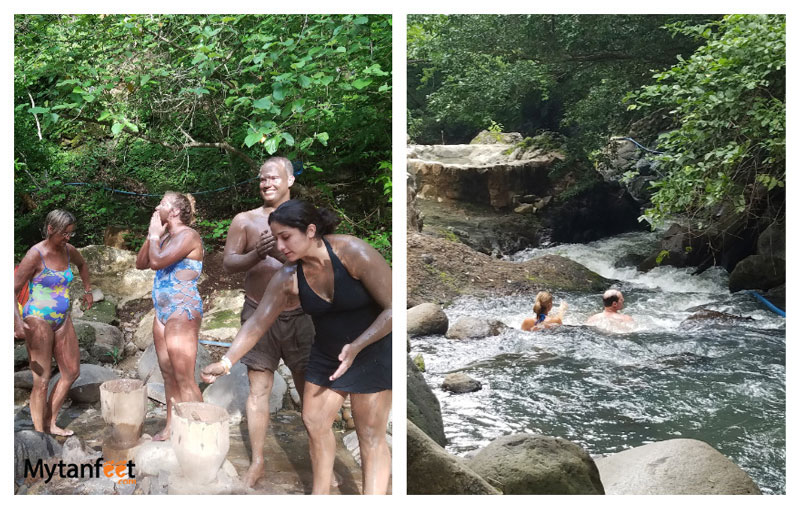 Once you wash all the mud off, then jump into the hot springs and relax! There were only two pools for the hot springs but they are right over a river so you are surrounded by nature. I loved the hot springs at Guachipelin since it's right next to a river. Soaking in natural hot water while listening to the river running is so soothing and relaxing.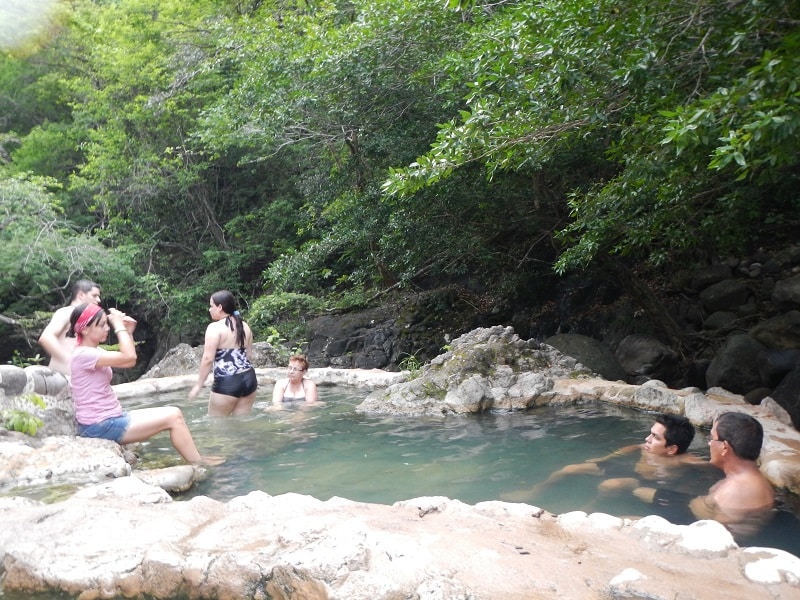 After the hot springs, you'll feel SO relaxed and ready to go home. We stayed about 1 hour at the hot springs. Hot springs close at 6 PM and you can stay as long as you want until they close.
The End of a Fun Day
This is one of our favorite tours in Costa Rica since you get a little bit of everything in this tour: excitement, adrenaline and relaxation. It's one of the best ways to experience the dry tropical forests, nature and volcanoes of Guanacaste.
What to Know About the Guachipelin One Day Adventure Pass
The order of activities may change depending on the number of people and the schedules at the park for the day.
Hiking sandals are the best shoes to wear for this tour. You can go from water to land easily, your feet can breathe and it won't be uncomfortable if they get wet compared to wearing socks. Closed toed shoes are mandatory during the white water tubing.
There are bathrooms and changing facilities at the main area and at the hot springs.
Mosquito repellent and sunscreen are a must.
Eat a good breakfast!
You will need your own transportation to the hot springs. The hot springs are about a 10 minute drive from the activity center. If booking a tour, the tour company will take you there.
Don't lose the towels at the hot springs, they will charge you if you do.
Hacienda Guachipelin Adventure Tour Companies
Please fill out the form below to book your tour or get your tickets! Select tour if you do not have your own transportation and require a tour with roundtrip transportation included.