Mal Pais, Costa Rica is the southern neighbor of the popular tourist town, Santa Teresa but many people lump Mal Pais, Santa Teresa and Playa Carmen in as one. While Santa Teresa and Playa Carmen has grown substantially to become one of the top tourist destinations in Costa Rica, Mal Pais has retained its rural and relaxed local vibe.
If you're visiting Santa Teresa and prefer to stay away from the commercialized touristy areas of the town, check out Mal Pais. Even though the name in Spanish means "bad country" (because it's not good to live in during summer since all the rivers dry up and it gets very dusty), it's actually the complete opposite for tourists. especially those who enjoy fishing and surfing.
Mal Pais Location
Mal Pais is located in the Nicoya Peninsula, very close to Santa Teresa.
How to get to Mal Pais
It is always a bit tricky to get to this part of the country due to the roads (there isn't a straight road throughout the coast). The most popular way is by taking the Puntarenas ferry.
By Ferry
The Puntarenas to Paquera ferry is a very normal way to get to Mal Pais and those areas of the Nicoya Peninsula. You can drive/bus to Puntarenas, take the ferry and then drive/taxi/bus to Mal Pais from the Paquera dock. Read our step by step guide on taking the Puntarenas Paquera ferry.
By Bus
From San Jose: There is a direct bus from San Jose to Mal Pais every day at 6 AM and 2 PM and this bus goes all the way to Santa Teresa. It leaves San Jose at Ave 7, Calle 10 Terminal 7-10 with Transportes Hnos Rodriguez. This bus costs around 7000 colones one way per adult and 2000 colones for a surfboard. This route goes by of the ferry and includes the ferry ticket price (810 colones per adult).
When leaving Santa Teresa, you can take the 6 AM bus in town. There is an afternoon bus at 2:30 PM but only from Cobano so you will need to first bus to Cobano.
From Guanacaste: You can bus to Liberia, Liberia to Puntarenas, take the ferry and then bus/taxi to Mal Pais.
By Driving
From San Jose and Guanacaste: You can drive to Puntarenas, take the ferry and drive to Mal Pais.
By Shuttle
You can take private and shared shuttles to Santa Teresa. A shared shuttle from San Jose and Liberia is around $59 USD per adult. You can read this post on taking shuttles in Costa Rica to learn more.
A private shuttle can run around $300-350 USD one way since it's a long drive (at least 6-8 hours depending on traffic in San Jose and if you go via ferry). If you are coming from Montezuma, there is a shared shuttle to Santa Teresa for $10 USD per person every day (check with the Montezuma info center in town).
By Plane
Fly into Tambor Airport which is about a 50 minute drive to Mal Pais. There is a new airport in Cobano which is closer, but it's for private flights as of now.
Getting around
The main mode of transportation to getting around Mal Pais and Santa Teresa is car or ATV. You can rent ATVs in Santa Teresa for ~$70 USD a day, ~$50 USD a day per week. There is one unpaved road that goes all the way from Mal Pais to Playa Hermosa. It's about 11 kilometers so most people rent a car for that area, take a taxi or rent an ATV/motorcycle.
Mal Pais, Costa Rica Town
Mal Pais is a tiny village and doesn't have much. Since it's primarily a fishing village, you can find the main fishing port where local fishermen go about their daily lives and tourist go for world class fishing. It also has great surfing during certain times of the year when there is a swell but other than that, you won't find much else.
You will need to go into Santa Teresa for supermarkets, banks, pharmacies and things like that.
Playa Mal Pais and Nearby Beaches
We stayed in Mal Pais for a couple nights and explored the surrounding beaches. There are several beaches in Mal Pais, the main one being Playa Mal Pais. To the south is Playa Cuevas and north is Playa Mar Azul. The 6 kilometer rocky coastline from Carmen to Cuevas boasts some incredible scenery.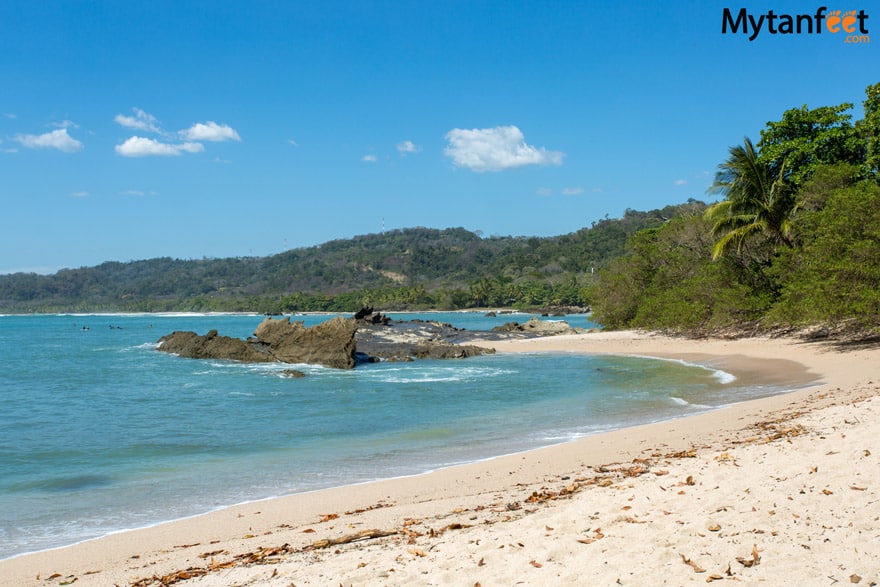 Since most people go to Playa Carmen or Playa Santa Teresa, we only saw a few people at Playa Cuevas, Mar Azul and Playa Mal Pais. Due to the formation of the coastline, there are random inlets and pockets of vast empty beaches.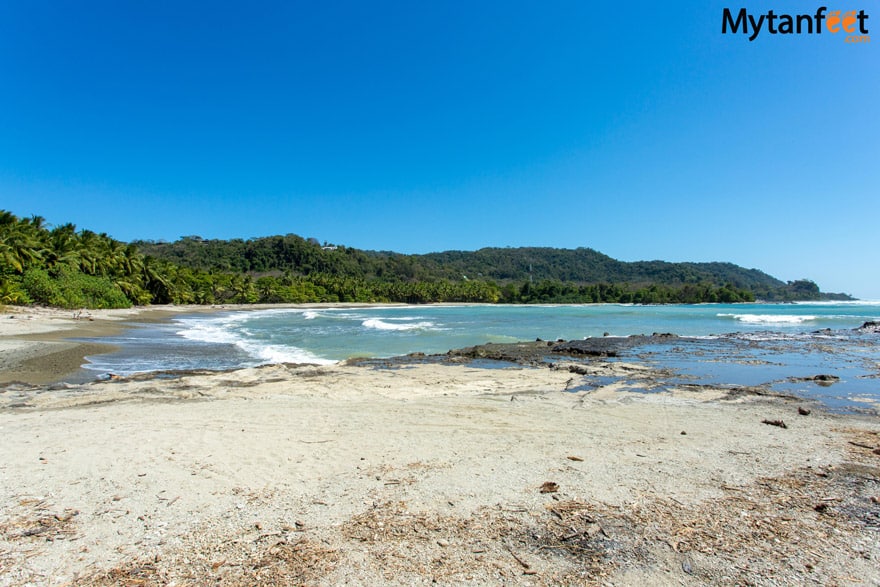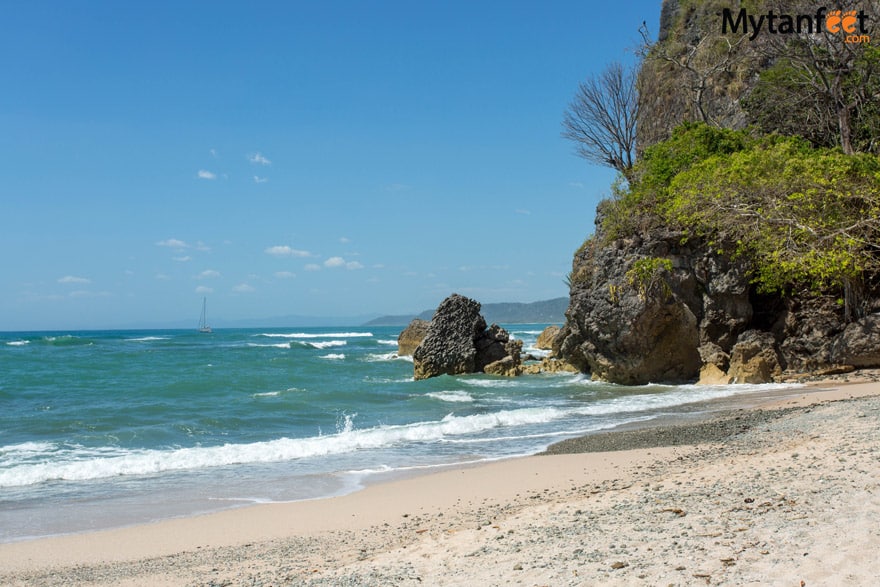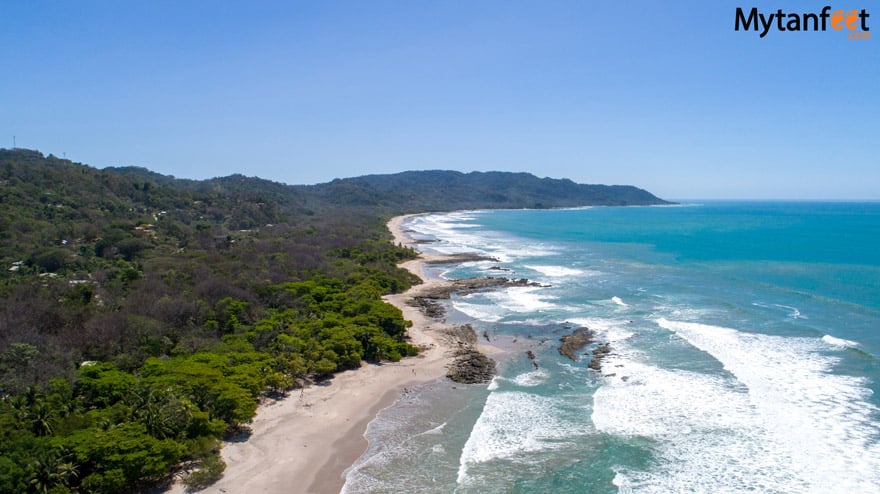 To the south of Playa Cuevas is the Cabo Blanco Nature Reserve but there is no direct access to the reserve from this end.
Mal Pais, Costa Rica Surf
As you can tell, Mal Pais has world class surfing. When there are swells (normally January and February), the strong waves can get up to a few meters high! People from all over the world come to Mal Pais and Santa Teresa to surf, even celebrities like Tom Brady.
Although waves are better for intermediate to expert level surfers, you can take lessons or join a surf camp as a beginner since the entire coastline from Playa Hermosa to Mal Pais has surfing waves. Check out Mal Pais Surf Camp for lessons or to join a surf camp.
Mal Pais Hotels
There aren't a ton of hotels in Mal Pais itself but there's a good chunk for all types of travelers. You can choose from hostels, budget hotels, apartments and high end hotels in Mal Pais, Santa Teresa and Playa Carmen. Since yoga is a big thing on this side of the country you can also find several yoga and surf retreats like Indigo Yoga Resort.
We stayed at an Airbnb in Mal Pais that was nice. The villa is called Casa Sol. Casa Chameleon Mal Pais is the nicest hotel in the area with a spa, 6 luxury villas each with their own private plunge pool and air conditioning.
We have also stayed at Hotel Santa Teresa before in Playa Carmen. It was near the beach and in town, had air conditioning and spacious rooms.
For a hotel with ocean view, Hotel Vista Las Olas is the top choice. They also have a restaurant where you can go for cocktails at sunset hour.
In Santa Teresa, Selina is an excellent one for budget travelers, backpackers and digital nomads. They have a Selina North and Selina South in Santa Teresa.
Weather
Mal Pais experiences typical tropical weather with dry and rainy seasons. Dry season is from beginning of December to end of April and rainy season is from beginning of May to end of December. Average temperatures in dry season are around 90's Fahrenheit and rainy season is around high 80's. Rainiest months are October and November, driest months are January – April.
When dry season rolls around, all the rivers dry up and this area gets incredibly dusty because the roads are narrow and unpaved. When we visited in February, it was so hot and dry that we could feel it as we were breathing and had to cover our mouths walking through town.
What to Know About Visiting Mal Pais, Costa Rica
In dry season, the roads between Mal Pais and Santa Teresa gets extremely dusty so if you are riding an ATV, bring a scarf or bandanna to cover your face.
There aren't any supermarkets in Mal Pais. You will need to go into Santa Teresa to buy groceries, go to the bank, pharmacy, etc.
Be very careful when walking on the beach, especially by yourself. We don't recommend walking by yourself early in the morning or at night and don't leave your belongings unattended at the beach.
Want to read about other beach towns in Costa Rica? Here you go!