If you love coffee, then you must try Costa Rican coffee. Costa Rica is known for producing high quality coffee, in fact it's one the best in the world!
Read all about Costa Rican coffee in this post and why we highly recommend you to go on a Costa Rica coffee tour!
There are Amazon affiliate links in this post.
Costa Rica Coffee History
When you hear about Costa Rican coffee, you will probably think about good quality and strong flavor. Both thoughts are correct but this reputation is not a coincidence. Costa Ricans take their coffee very seriously and are proud of what we call our golden beans.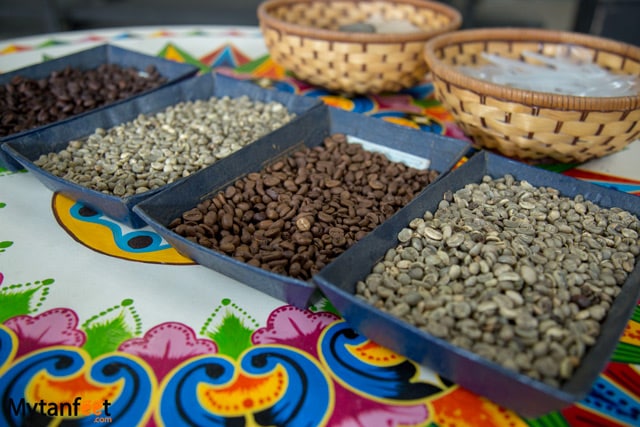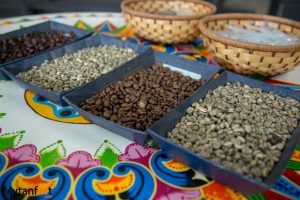 In 1720, the first coffee beans where brought to Martinica and then to Costa Rica at the end of the XVIII century. Due to the ideal climate in the mountains, coffee became one of their largest exports and an important part of the Costa Rican economy.
Costa Rica was the first country in the area to develop the coffee industry. Since then, the government has been motivating farmers to grow coffee. Although Costa Rica produces around 1% of the world's coffee production, the coffee quality is exceptionally high. And nowadays, big companies like Starbucks have their own coffee plantation in Costa Rica since it has such great conditions!
Costa Rica's coffee has won plenty of international contest and certifications. In Japan, the winner of the world coffee competition used Costa Rican coffee to make his winning cup, saying that he only uses that coffee because it is the best in the world.
Costa Rican Coffee Facts
Coffee was such an important product for Costa Rica that laws were passed pertaining to it's cultivation. Back in 1989, it was prohibited by law to cultivate the Robusta coffee due the poor quality. After this, the coffee farmers decided to stop producing another kind of coffee called Catimores.
All these efforts were made in order to produce only Arabica Coffee, which is the highest quality. More than 80% of Costa Rica's coffee plantations are located between 800 meters and 1600 meters altitude, planted with fertile volcanic grounds and temperatures from 17 to 28 Celsius degrees.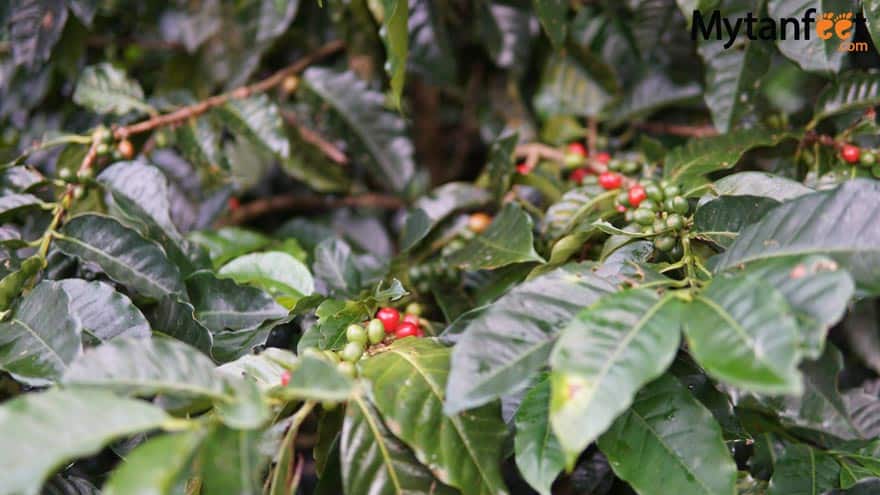 This is the perfect environment to produce an excellent product. Coffee plants do not like extremely hot weather and thrive in a higher altitude.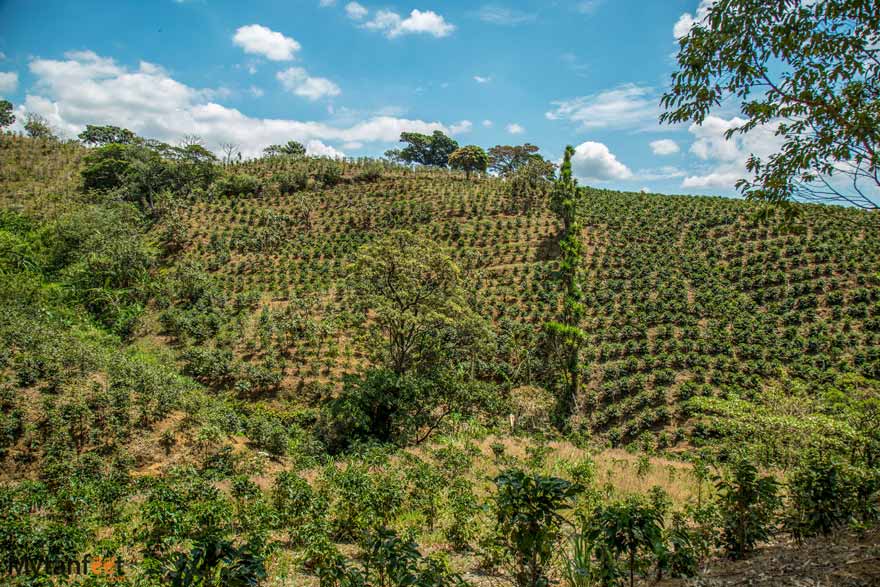 The best places to grow and produce coffee in Costa Rica is the Central Valley, namely the mountainous areas of San Jose, Cartago, Alajuela, Grecia, Heredia, Monteverde and Turrialba.
Costa Rica Coffee Tours
If you want to try special Costa Rican coffee, then you must take a coffee tour at a beneficio, or a coffee plantation. If you go to the plantation, you will get to see the entire procedure and be able to taste and purchase their coffee.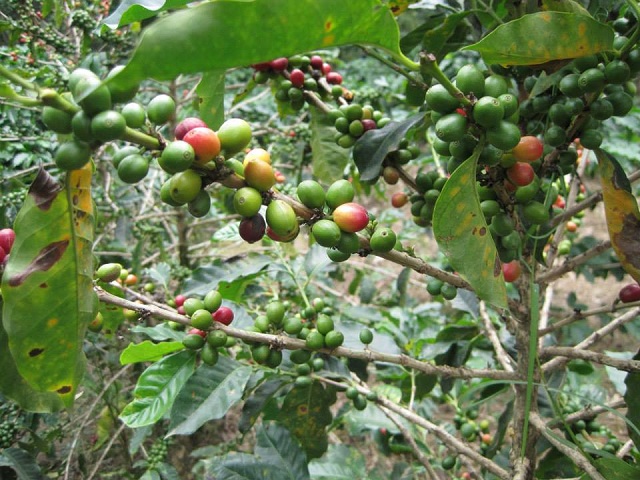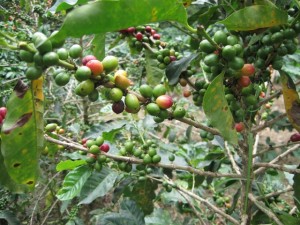 It's very interesting to see the fusion between old and new technology because they use both ways to process coffee – by hand and by machine. Costa Rica still picks all their coffee by hand but have adapted new technologies to make the entire process faster.
On a Costa Rica coffee tour, you will see what the coffee plant looks like, the coffee cherries, how they pick and peel them to get the bean, how they separate the quality of beans and how that cherry turns into what we know as coffee we buy in the supermarket.
And of course – you get to try delicious coffee and sample different coffee products!
The Best Costa Rica Coffee Tour
The best places for coffee tours in Costa Rica are San Jose, Heredia, Alajuela, Naranjo, Cartago and Monteverde since those are the best places to grow coffee in Costa Rica due to the elevation. They grow what they call first grade coffee.
In fact, the coffee is so good that Starbucks even bought and opened up their own plantation! The Starbucks plantation, Alsacia is now open to the public for visitors and tours.
As for tours, the best Costa Rica coffee tours are the Doka Estate Coffee Tour in Alajuela, Don Juan in Monteverde, Tio Leo in Liberia, San Luis in Monteverde, Golden Bean in Turrialba, Espiritu Santo in Naranjo, Coopedota in San Dota and Finca Rosa Blanca in Heredia. We loved all of them and even though they talked about coffee, each one was unique and different.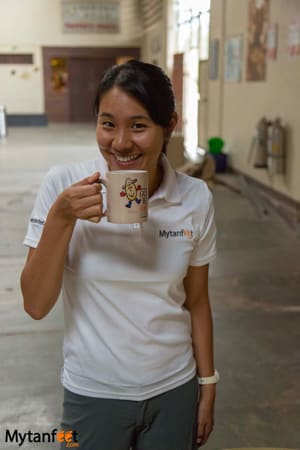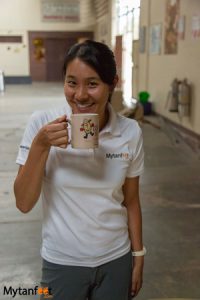 Another coffee tour we really like is the La Fortuna coffee tour. Although La Fortuna doesn't grow first quality coffee, you can still learn about it on a local family farm.
Tip: The best time to take a Costa Rica coffee tour is October – March as this is their production and harvest season. You will be able to see the whole process in action!
In Guanacaste, Tio Leo, Tamarindo Coffee Roasters and Sun Burst offers small tours for roasting coffee. Guanacaste is not a good place to grow coffee at all since it's too hot and is at sea level but they are able to roast coffee. Buena Vista Lodge also has their own small coffee station.
One reason why we we recommend taking a Costa Rica coffee tour on a big plantation is that these businesses export majority of their coffee because it's such good quality. You can only purchase their coffee on their plantation, you can't find them at the Costa Rican supermarkets!
If you plan to bring Costa Rican coffee back as a souvenir, here are our favorite brands.
Costa Rica Coffee Brands and Souvenirs
Coffee is one of the best souvenirs in Costa Rica since it's widely available and not too expensive. 1820 and Britt are the two most popular brands of Costa Rican coffee to buy as souvenirs.
1820 is much cheaper at around $4 USD for 500 grams and Brit is more expensive at around $9-11 USD for a 380 gram bag.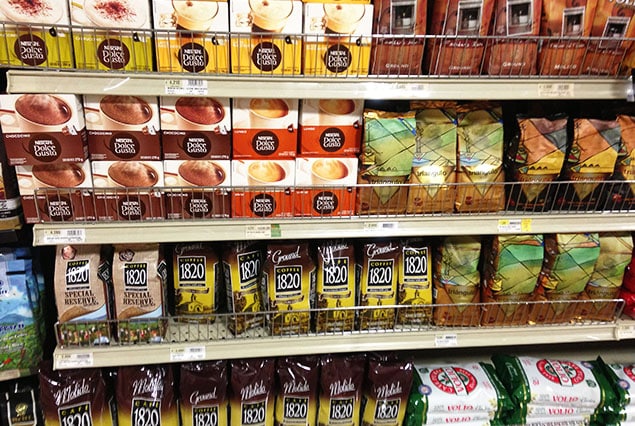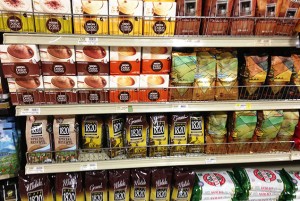 Other Costa Rican coffee brands you can find in the supermarket are Cafe Rey and Dorado. Those you will find in every grocery store. Our personal favorite coffees are Peaberry by Doka, French Roast by Doka, Terrazu by Cafe Rey, San Luis and 1820.
This is why if you're looking for a special type of coffee as gifts, we recommend taking a Costa Rica coffee tour so you can purchase coffee directly from the producers.
Costa Rican Chorreadors
Another interesting thing about coffee is how the locals make it. Traditionally, Costa Ricans use a chorreador to make coffee which is their coffee maker. A chorreador is essentially a wooden stand and they use a cloth "sock" as a filter.
Although most people nowadays use a normal coffee maker due to time, this is how they used to make it back in the day. Due to the cloth filter, the chorreador gives a much richer flavor. The "sock" they use as a filter retains more flavor and doesn't taste plasticy.
For souvenirs, a chorreador makes a great gift. You can buy a painted chorreador for about $20 and they are in all the souvenir stores. If you don't have time to go shopping, the Brit souvenir store in the airports sell them too.
Read more about Costa Rican food and drink below!
Traditional dishes of Costa Rica
There are Amazon affiliate links in this post.