If you're looking for a small, local town to visit in Costa Rica, then Zarcero should be at the top of your list. It's a charming little town up in the mountains of Alajuela with a fantastic topiary garden and beautiful church, just a 1 hour drive away from San Jose.
Whether you pass by Zarcero, take a day trip there or stay a couple nights, here is what you need to know about visiting.
Zarcero town
Zarcero is a small town in the canton of Zarcero in the Alajuela province with just a little under 5000 residents. You'll see local kids and families hanging out at the park and farmers chatting and drinking coffee in the mornings. Zarcero offers an incredibly nice experience for tourists to see a local Costa Rican farming town.
When Yeison was a kid, his mom would take him and his sisters to Zarcero on the weekends to visit the gardens. It's a very popular spot for San Jose locals to visit.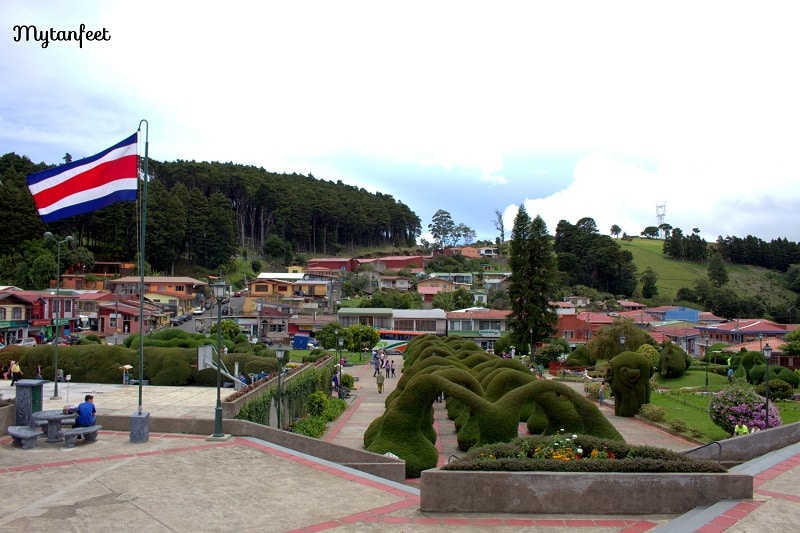 The town is very small and you can drive through it in a few minutes. They are well known for their dairy farming so you will see lots of farms on the outlying mountains.
The Topiary Garden
Zarcero is the most famous for their topiary gardens centrally located in front of the church. Called Parque Francisco Alvarado, it was created by Evangelisto Blanco in the 1960's who was inspired to trim the bushes to turn the area into an amusing park. Since then, the beautifully sculpted shrubs have become the main attraction. Visitors and locals love to stroll through the arches and marvel at the various shapes that have taken form.
You can find monkeys, dinosaurs, elephants and many other animals and don't be surprised if you find one that looks kind of bizarre or seems a bit off from the real animal.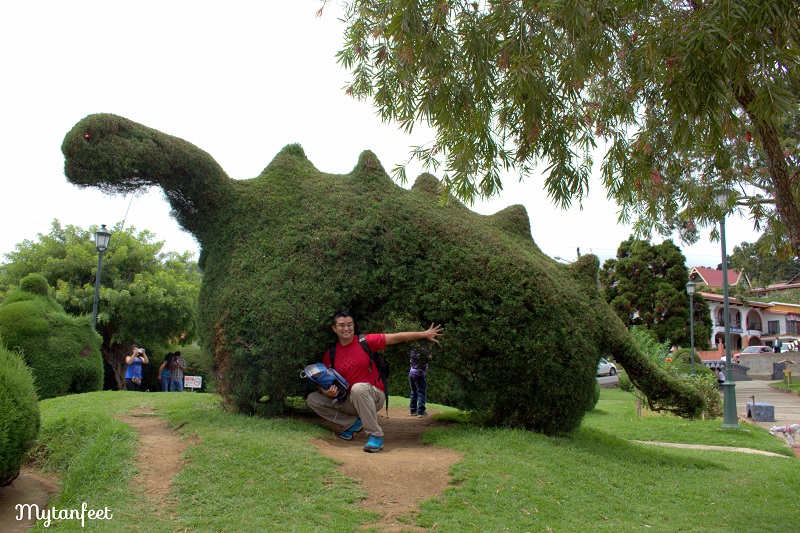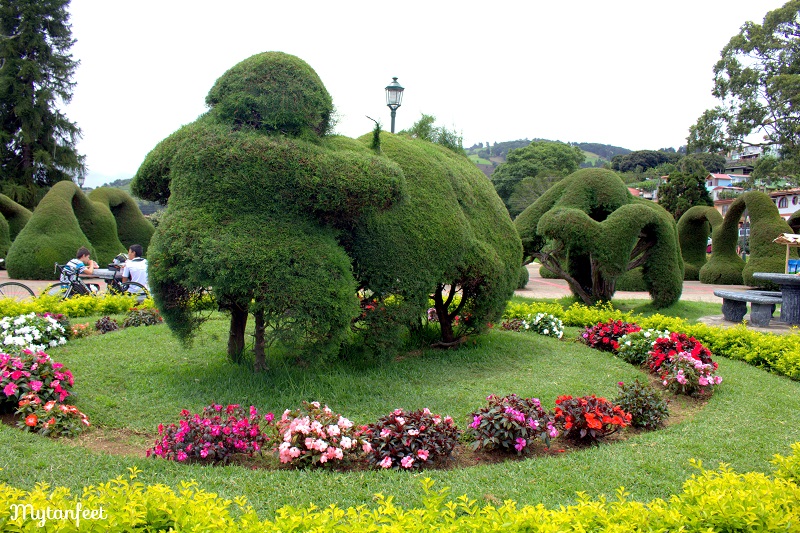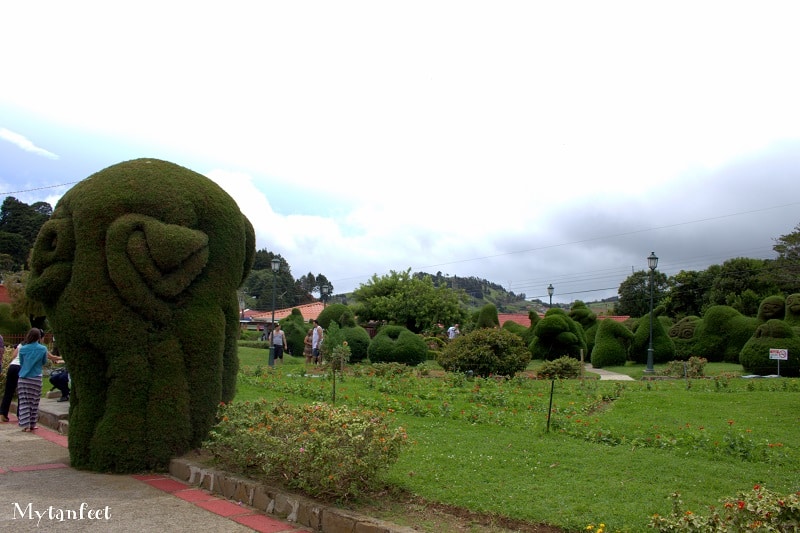 The Church
Another attraction in Zarcero is the church, Iglesia de San Rafael located right up the steps from the park. This pink and blue church built in 1895 is an impressive one with beautiful paintings and decorations inside.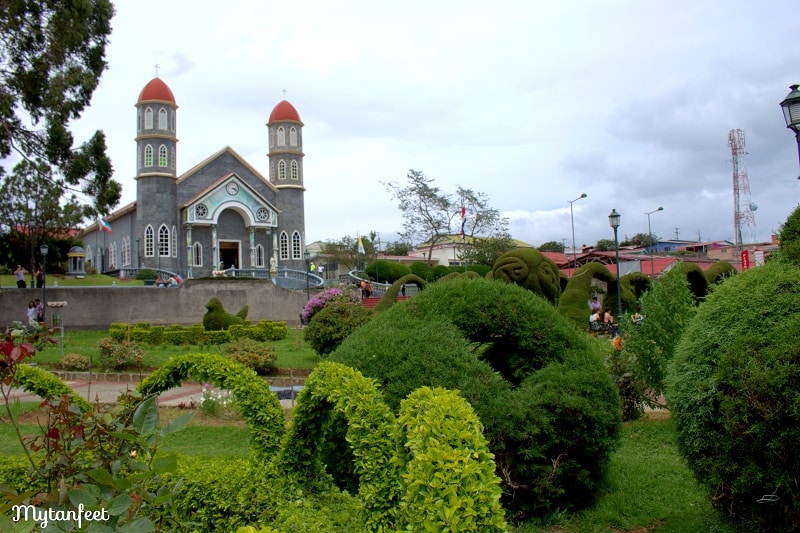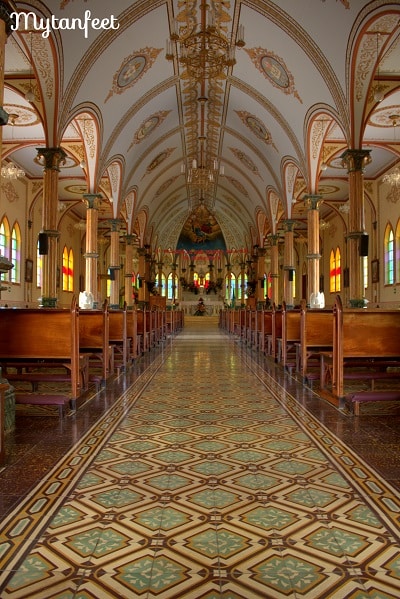 If you have a car, you can park in the parking lot behind the church. They take donations (recommended to give 1000-2000 colones) and they also have a bathroom (500 colones).
Location
Zarcero map
Zarcero is 49 kilometers (30 miles) from San Jose and about a 1 hour drive.
Directions
By driving: Take Route 1 out of San Jose (from the airport) and exit onto Route 141 to start driving north. The road gets very windy and curvy when you turn onto Route 141 so go slow.
By bus: There is a bus company called Transportes Zarcero that leaves from the Coca-Cola station in San Jose at 915 AM, 1220 PM, 420 PM and 520 PM. This one is direct and takes 1.5 hours. An adult ticket is around 1200 colones (~$2.00)
You can drive a sedan to Zarcero, you don't need a 4×4 or 4wd. The road is a bit windy and curvy, so make sure you take anti-nausea medicine if you get sea sick and drive slowly.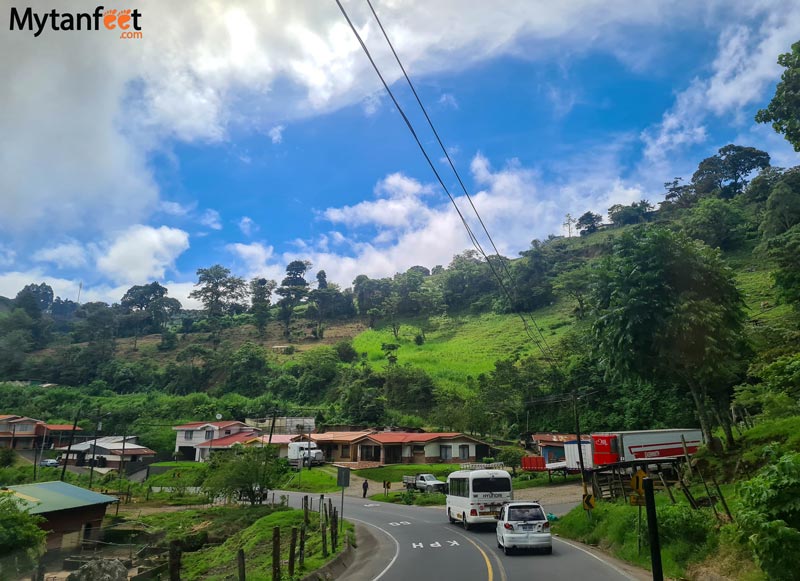 Other attractions
Zarcero is also well known for their dairy products and local produce. As you drive along the road to the town, you can see small stands with what looks like big white balls hanging outside. Those are actually balls of cheese called queso palmito which are homemade and a famous product of this region.
Other yummy local delights are the cajetas (caramel candy), cheese crackers, natilla (sour cream) and various other produce.
Visiting Zarcero
Since the town is very small, most tourists visit when they're driving from San Jose to Bajos del Toro or if they're in the Grecia/Palmares/Sarchi area. If you're hungry, stop by Rancho de Ceci for hot chocolate and hearty Costa Rican breakfasts and lunches.
Read about other towns in Costa Rica!