Grecia, Costa Rica is a town located in the Central Valley and despite the name (it means Greece in Spanish), there are not many influences from Greece around. It's a very nice city surrounded by mountains and rolling valleys with a fresh and cool climate.
Named as one of the cleanest cities in Latin America, Grecia is the ideal place to visit to see a typical Costa Rican town.
Location
Grecia, Costa Rica map
Grecia, Costa Rica is 1 hour drive from
San Jose
.
The Town
Grecia is like other Costa Rican towns with a central park and church. It's not a small one by any means but it doesn't have the hustle and bustle of San Jose.
Instead, you'll see families spending time at the park and going to church, kids skateboarding and people enjoying their daily life.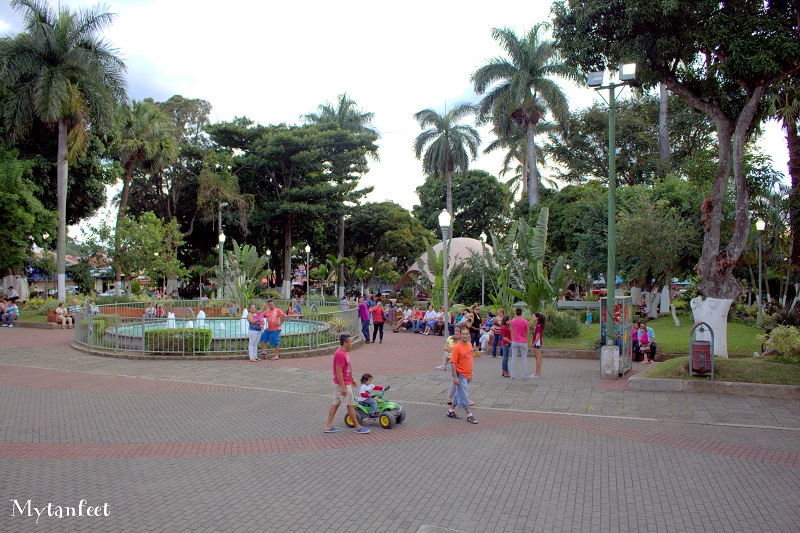 You can find shops for all your needs, sodas and international restaurants. On the outskirts of Grecia are various neighborhoods that have great views of the valley.
Living in Grecia as a Foreigner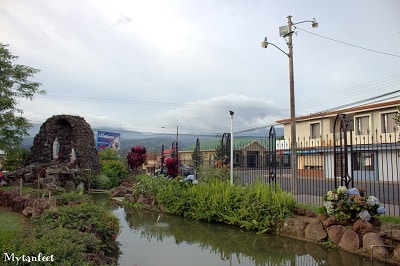 Grecia's popular with retirees, housing one of the largest expatriate communities in the country. This city attracts those who like the city but don't want to live in San Jose.
Curious to know if Grecia is the city for you to retire in?
I recommend taking due diligence tours and staying in Grecia for at least a couple months to see if you like it.
Personally as a young couple (20's and 30's) with no kids working as entrepreneurs and digital nomads, we wouldn't live in Grecia full time. It's too quiet and close to San Jose for our taste.
I love the weather but it's a bit boring for us as we like to be close to the beach and be around other people our age. It is mostly retirees that move to Grecia.
It can also be a good place for families who prefer to live in a local town. Grecia would be a wonderful place for kids to grow up in Costa Rican culture and learn Spanish since it's not that Americanized and there are still more locals than foreigners.
Grecia, Costa Rica Weather
If you love fresh mountain weather, Grecia has exactly that. It doesn't get too hot like the coast and the air always feels crisp and clean.
The average temperature in Grecia is around mid 80's during dry season and cools down at night. During rainy season it can get as cool as the low 70's and high 60's. In general, it has moderate, spring like temperatures all year round.
For those who don't like extremely hot weather, Grecia has the ideal climate. You don't need to worry about being too hot or too cold! (Read more about Costa Rica weather in this link).
Grecia Church
The main attraction of Grecia is the church, the Iglesia de Nuestra Señora de la Mercedes which is completely made out of red painted steel. This church has two funny urban myths as to how it came to this town.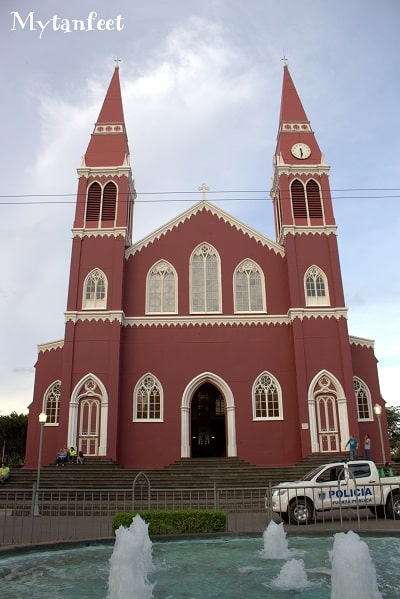 The church was supposed to go to Greece but was incorrectly shipped to Grecia, Costa Rica
Sent to the wrong Greece.
The church was supposed to go to a city called Punta Arenas in Chile but accidentally disembarked in Puntarenas, Costa Rica.
It was on its way to Chile but got unloaded in Puntarenas when someone incorrectly read the name wrong. It was reassembled in Grecia and stayed there.
They also say that some parts of the church were missing so the back is incomplete. I think out of those two, the second one is my preferred version.
The real story is that the church was built through a joint effort of the town and the Costa Rican government.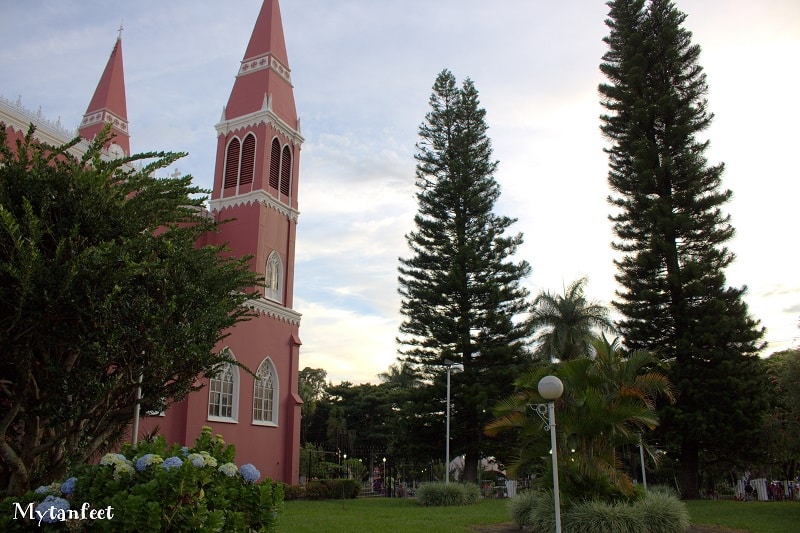 Visiting Grecia
We loved visiting Grecia for the weather, small town charm and beautiful valley views. It also have a very quiet and peaceful atmosphere, perfect for anyone who wants to visit a more local town in Costa Rica.
When it comes to things to do, it's close to the city and other attractions so you're in a great location. You can visit natural attractions such as Catarata del Toro, Los Chorros waterfalls and many national parks.
The views in Grecia are just beautiful and it was a refreshing change from the beach. The locals are so friendly and I can definitely see why many expats choose Grecia as their new home.
Want to read about more towns and beaches in Costa Rica? Here you go!