Grecia, the small town up in the mountains outside San Jose is one of the best places in Costa Rica to experience a typical local town with excellent weather and beautiful valley views. It's one of the cleanest cities in Latin America and the most popular town for American and Canadian retirees who love mountains and fresh weather. Whether you plan to relocate, retire or visit Grecia, here is our guide to help you plan your trip.
Location
Grecia, Costa Rica is in the Alajuela province, 29 kilometers (18 miles) from San Jose International Airport taking Route 1 and about a 35 minute drive. From San Jose downtown, it is 45 kilometers (28 miles) and about a 1 hour drive. The route goes through the highway for the most part and the roads are paved in town.
How to get to Grecia
The best way to get to Grecia is by renting a car. As this isn't a touristic area, there aren't transportation options like local airports or shared shuttles. Hotels and rentals are spread out outside of town and there aren't direct buses to attractions so the easiest way to get around is by car, especially as it is mountainous up in Grecia. However, the public bus to Grecia is very good from San Jose.
Driving: The drive from San Jose and San Jose International Airport is not a bad one. The route goes through the highway for the most part and the roads are paved in town. The only thing would be that San Jose does have a lot of traffic but once you get out of the airport onto the highway, it's an easy drive. You can use Waze or Google Maps to set your location as Grecia.
Public Bus: There are buses between Grecia and San Jose every 10 minutes during rush hour and every 30 minutes from 04:00 AM to 08:30 PM. From San Jose to Grecia the service works from 05:40 AM to 10:20 PM
The Town
Grecia is like other Costa Rican towns with a central park and church. If you like to people watch, the park is the best spot to go as many local families talk, play with their kids, walk and have an ice cream in the evenings after work. Around the park, you'll find stores, restaurants and businesses.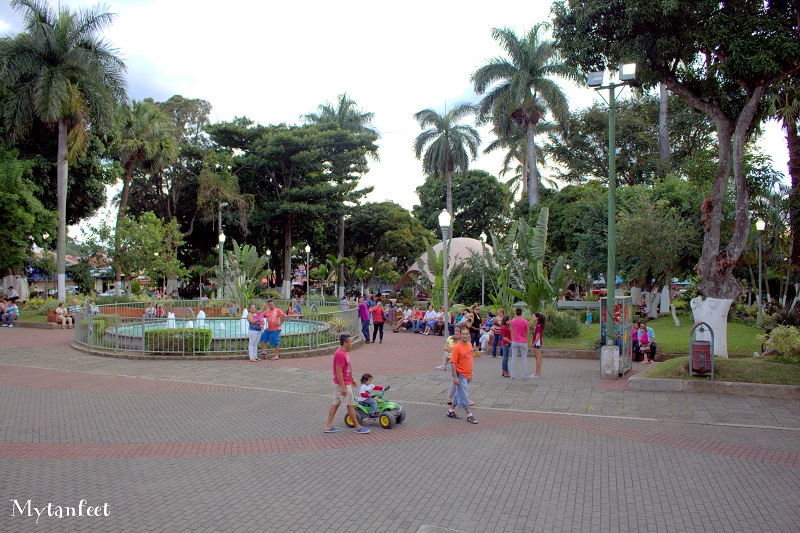 Grecia isn't a big town but it's not that small either. Due to the narrow roads, it can get congested during rush hour and parking may be hard to find since it's all street parking without official parking lots.
Restaurants
MAS Q SABOR: Local restaurant with awesome nachos and Mexican food. Big portions!
Restaurante Pizza Macho: A little bit of Costa Rican, Italian and American with pulled pork sandwiches, traditional Costa Rican dishes and pizza.
La Casa de Miguel: favorite for locals and tourists. Steakhouse with big portions and really nice service. Good place for a more upscale meal.
El Patio Restaurante Gourmet: Yummy cafe with bread, coffee and pastries
El Rancho de Nelson: One of the best typical restaurants in the area
Restaurante 0 Estres: small place with a mix of dishes like chicken, fish, ceviche, soup and pasta. Very reasonable prices.
Casa Nosstra: Restaurant bar with a nice view of the town. They have hamburgers, steak, seafood and a traditional dishes. Fine dining with moderate prices.
Arte Latte Cafeteria y Restaurante: Coffee shop with tasty sandwiches and salads in a chill setting.
Restaurante Madre Tierra: Big portions, Costa Rican food, meat, seafood, coffee.
Hotels
You can find cute B&B's and small hotels in Grecia with reasonable prices. You can also check vacation rental sites like Airbnb, VRBO or Homeaway if you would like to rent a house instead which is a bit more common. As for hotels, here are some recommended ones.
La Terraza Guest House B&B: Between $69 USD and $89 USD per night in the regular rooms and $119 USD for an equipped apartment.
Hotel Mango Valley: very nice hotel outside Grecia with beautiful views, garden and outdoor pool. The double room for a night stars at $75 USD.
Finca Vibran Bed and Breakfast: small hotel located in a coffee farm in San Isidro de Gracia with trails, coffee plantation, gardens and gazebo with beautiful views. The price for a double room is around $ 125 USD per night.
Villas Escondidas: Small hotel close to downtown Grecia with gardens, a small waterfall, outdoor pool and terrace. The price for a double room is around $75 USD per night.
Living in Grecia as a Foreigner
Grecia's popularity with American and Canadian retirees makes it one of the largest expatriate communities in the country. This city attracts those who like the city but don't want to live in San Jose.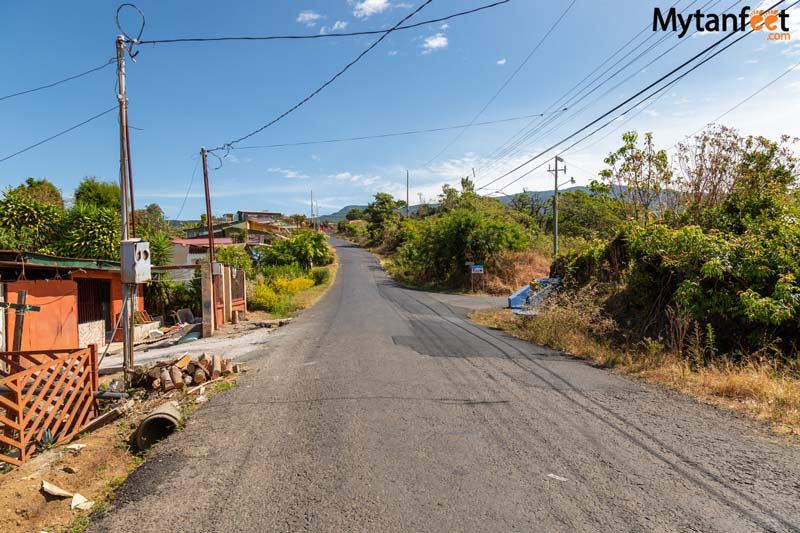 Curious to know if Grecia is the city for you to relocate to?
I recommend taking due diligence tours and staying in Grecia for at least a couple months to see if you like it.
Personally as a young couple in their 30's with no kids and who are entrepreneurs that like to surf, Grecia is not the place for us. It's too quiet and close to San Jose for our taste. I love the weather and I love visiting but it's a bit boring for us as we surf. This is the reason why it's mostly retirees who relocate Grecia.
It can also be a good place for families who prefer to live in a local town. Grecia would be a wonderful place for kids to grow up as they'll be completely immersed in Costa Rican culture, since it's not that Americanized compared to coastal towns.
Grecia, Costa Rica Weather
If you love fresh mountain weather, Grecia has exactly that. It doesn't get too hot like the coast, it's not humid and the air always feels crisp and clean.
Grecia does experience typical tropical Costa Rican weather with a dry and rainy season. The average temperature in Grecia in the dry season is around the 80s F (26 C) during the day and cools down at night. There's always a comfortable breeze and the air is so crisp.
Grecia Church
The main attraction of Grecia is the church, the Iglesia de Nuestra Señora de la Mercedes which is completely made out of red painted steel. This church has two funny urban myths as to how it came to this town.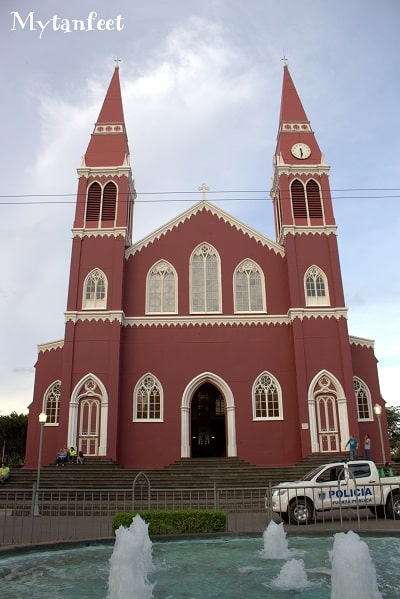 The church was supposed to go to Greece but was incorrectly shipped to Grecia, Costa Rica
Sent to the wrong Greece.
The church was supposed to go to a city called Punta Arenas in Chile but accidentally disembarked in Puntarenas, Costa Rica.
It was on its way to Chile but got unloaded in Puntarenas when someone incorrectly read the name wrong. It was reassembled in Grecia and stayed there.
They also say that some parts of the church were missing so the back is incomplete. I think out of those two, the second one is my preferred version.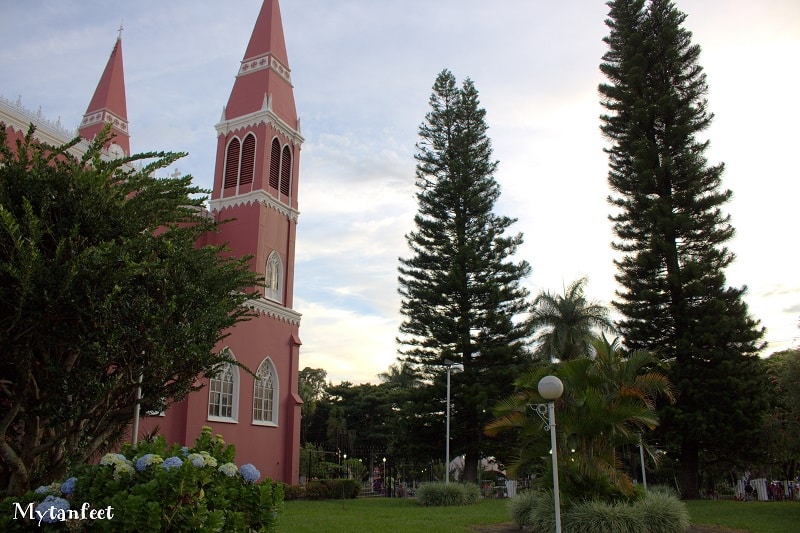 The real story is that the church was built through a joint effort of the town and the Costa Rican government.
Things to do in Grecia
When it comes to things to do, it's close to the city and other attractions so you're in a great location. By car, you can easily visit Sarchi and go shopping at the Fabrica de Carretas Eloy Alfaro and see the giant ox cart. Other small towns you can visit are Zarcero to see the topiary gardens, Bajos del Toro for hiking, Atenas and San Ramon.
Some natural attractions for day trips from Grecia are Catarata del Toro, Poas Volcano National Park and La Paz Waterfall Gardens. In Grecia, you can visit the Forest Reserva Bosque del Niño which has easy trails, a nice playground and park facilities.
Los Chorros Recreational Park is also in Grecia but this place is a bit abandoned as it has been the center of conflict between the locals and the municipality. There are two waterfalls in the park which are very nice. Unfortunately it's no longer an official service so it's not in the best conditions, there are no bathrooms, guards or services as it's not being maintained. People can still go but at their own risk.
Coffee
As Grecia sits at the ideal elevation for growing coffee, there are many cafetals (coffee plantations) around. You can take a coffee tour at Doka Coffee Estate, Tio Jose and Espiritu Santo Coffee Tour.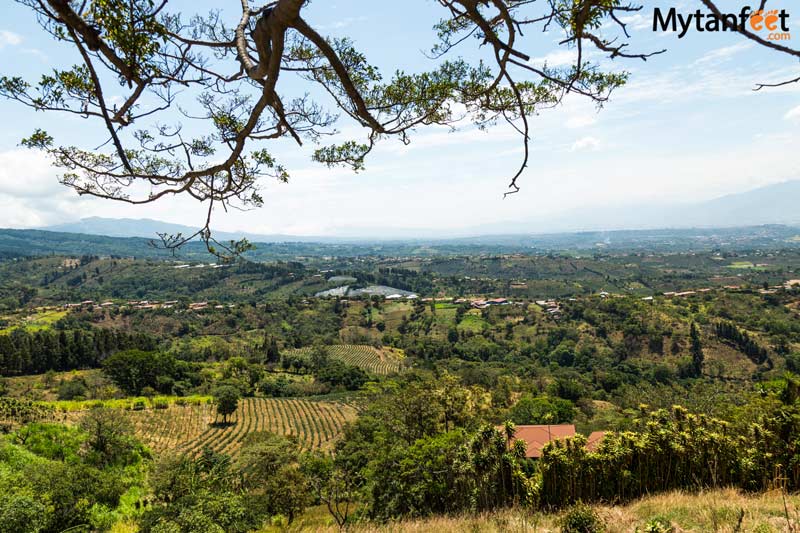 I can definitely see why many foreigners choose to relocate to Grecia. We love visiting Grecia for the weather, small town charm and beautiful valley views. It also have a very quiet and peaceful atmosphere, perfect for anyone who wants to visit a more local town in Costa Rica.
Read about other cities in Costa Rica!
Cartago: One of the cities in the Central Valley, close to San Jose.
Turrialba: Known as the gateway to the Caribbean, this farming and agriculture town also has lots of adventure
La Fortuna: Popular tourist destination for adventure, wildlife and nature
Bijagua: Small rural town at the base of Tenorio Volcano National Park, home of Rio Celeste